I have realized that when you add something to your life something else must go. Since starting this blog, I've added computer and baking time and have neglected the housework. I know what I'll be doing once I drive the kids to school tomorrow morning.
This one comes from The Fannie Farmer Cookbook Thirteenth Edition, pg. 628; author, Marion Cunningham; publisher Alfred A. Knopf, Inc.; ISBN 0-394-56788-9.
Chewy Peanut Butter Brownies
½ cup peanut butter
4 tablespoons butter, softened
1 cup brown sugar
1 teaspoon vanilla
2 eggs
2/3 cup flour
1 teaspoon baking powder
¼ teaspoon salt
½ cup chopped salted peanuts
Preheat the oven to 350º. Grease an 8-inch square baking pan. Combine the peanut butter and butter in a mixing bowl, and beat until smooth and well blended. Add the brown sugar and vanilla and beat well, then add the eggs, and beat until the mixture is light and fluffy. Combine the flour, baking powder, and salt, then stir and toss them together. Add to the first mixture and beat until completely mixed. Stir in the peanuts. Spread the batter evenly in the prepared pan and bake for 25-30 minutes, or until the top appears dry and a toothpick in the center comes out barely clean.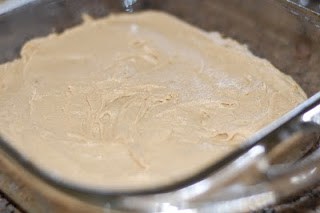 Remove from the oven and cool on a rack. Cut in 2-inch squares.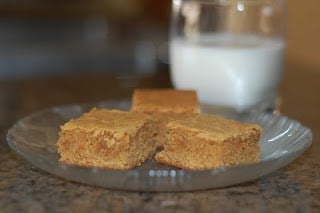 I omitted the nuts because we have a family member who doesn't like them. The brownies were quite good, but I felt that there was something missing. I think it's that I'm stuck believing that brownies need to have some chocolate in them. I think these would be delicious with some chocolate chips or some melted chocolate swirled into the batter.
Happy baking!