This Peanut Butter Cucumber Sandwich may not be your typical lunch fare, but one bite of this peanut butter and cucumber combination and you might just be hooked! It will be perfect for tea sandwiches, too!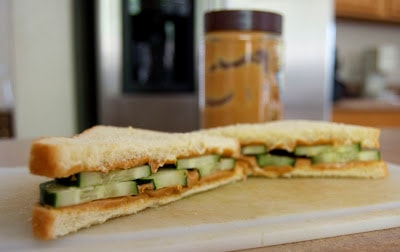 Yeah, I know. It's weird. BUT, it's the latest craze that's sweeping the nation ~ Peanut Butter Cucumber Sandwiches!!!
It is, believe me!! Or maybe it's a craze in another part of the world and it just hasn't made its way completely over here yet.
Ok, well, I can dream, can't I? Wouldn't that be neat though if I started a fad, trend, whatever-you-want-to-call-it-thinga-ma-jigger? But I can't be credited with inventing the thing because it was introduced to me at horse camp when I was…good grief, I don't even remember how old I was ~ I must have been 12 or 13 or so.
So the story goes like this and it's one of my more interesting experiences, I must say. One of my mother's best friends had three children and her oldest who was about 3 years younger than me rode horses and took lessons through this woman.
This woman also had three children and at their home, they raised rabbits and chickens, etc. One summer my mother and her friend signed us up for horse camp, but really I'm thinking they were ponies. Aaah, I don't remember.
SAVE THIS PEANUT BUTTER CUCUMBER SANDWICH TO YOUR FAVORITE PINTEREST BOARD!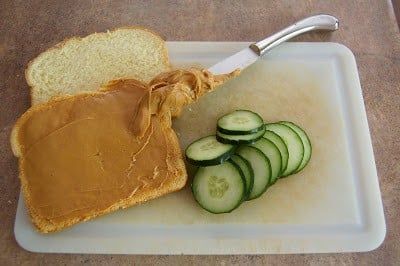 What I do remember is that the dang white one, whatever the heck it was, started taking off on me as we were riding a trail through the woods and scared the living bejeezus out of me! I couldn't stop the thing and I was screaming, brushing up against tree branches, being jostled in the saddle and terrified of being thrown from the gosh darn four-legged creature!
My screaming, of course, must have really pleased the animal. And I KNOW he sensed my fright because he just wouldn't stop trotting, cantering (ooh, see, I learned something that week that stuck with me!) or running full throttle. Needless to say, I haven't been on a horse, pony, donkey, or otherwise, since.
Except for the ones that are stationary and move around in a circle to music. You got it, a carousel. Something else I remember about the camp was the food that was served. The mother made some pretty darn good bars made out of chocolate chips, cheerios, white cake mix, and condensed milk, and now I can't remember the recipe.
We also went out to the backyard one night to pick out our dinner. That didn't make me too happy and I REALLY didn't like seeing Peter Cottontail hopping around all footloose and fancy-free in his cage just before…well, you know. It was disturbing and I was afraid to eat that night, but it's true what they say,… it tastes a little like chicken.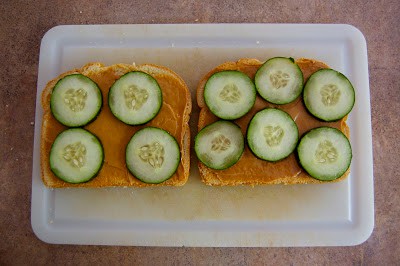 One of the better memories of that week, or maybe it wasn't a whole week, but it sure felt like it, was the sandwiches we were served for lunch. And yes, I turned my nose up at them, too, when I first heard the mother tell us what was on them…peanut butter and cucumber.
What?!
Peanut butter, ok. And we all know that peanut butter goes with jelly. JUST jelly! Cucumbers??? No, just peanut butter and cucumbers, no jelly. Be real. NOBODY puts cucumbers on their peanut butter sandwiches. That's just plain gross! (I never said that to her because I was NEVER one to mouth off to my elders. Kick a boy in the shin with my hard toed saddle shoes, yes, but never disrespect an adult.
Mom would slap me across the face, she would.) Anyway, I love cucumber and peanut butter, but separately, NOT together. Good grief! If I don't eat this, I'll be hungry, so I guess I'll try it. I don't think it will kill me. At least I hope it won't…And I have to say,…that will be revealed after the recipe. 😉
SIGN UP FOR THE WEEKLY
365 DAYS OF BAKING & MORE
NEWSLETTER BELOW!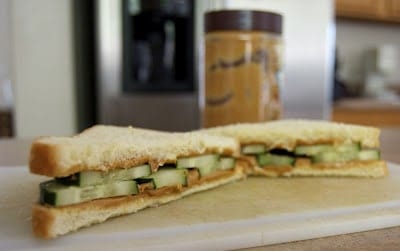 Peanut Butter Cucumber Sandwich
Not your typical everyday flavor combination, but one bite into this Peanut Butter Cucumber Sandwich and you just might be hooked!
Print
Pin
Rate
Ingredients
2

slices

potato bread

or your favorite bread

2-4

tablespoons

creamy peanut butter

or crunchy

8-10

slices

unpeeled cucumber
Instructions
Place both slices of bread on a plate. Spread each with the desired amount of peanut butter.

Evenly distribute the cucumber slices on top of one slice of bread covered with peanut butter.

Take the slice of bread with just the peanut butter and place it peanut butter side down on top of the one covered in cucumbers. Slice in half.
Nutrition
Serving:
1
g
|
Calories:
413
kcal
|
Carbohydrates:
46
g
|
Protein:
19
g
|
Fat:
19
g
|
Saturated Fat:
3
g
|
Sodium:
456
mg
|
Potassium:
873
mg
|
Fiber:
7
g
|
Sugar:
14
g
|
Vitamin A:
73
IU
|
Vitamin C:
2
mg
|
Calcium:
168
mg
|
Iron:
2
mg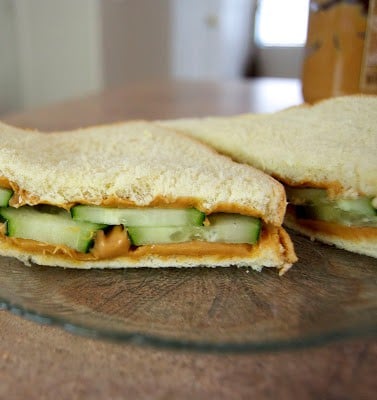 I rate everything I make on a scale of 1-4 and this Peanut Butter & Cucumber Sandwich earned 3 1/2 rolling pins.
While I realize this sandwich may not be for everyone, it may be for someone and that person may be YOU! Heck, even my kids look at me like I have two heads whenever I put this sandwich together. You'd think that since I'd been a kid when I first had it that my kids would have grown up on the stuff.
Not the case. They think the combination is just plain old weird. Kinda like their mother, I guess.
I like this sandwich because you get the great taste of peanut butter with the cool, crisp crunch of the cucumber. And it's good for you!
Need some more peanut butter in your life? Well here are a few recipes to solve that craving!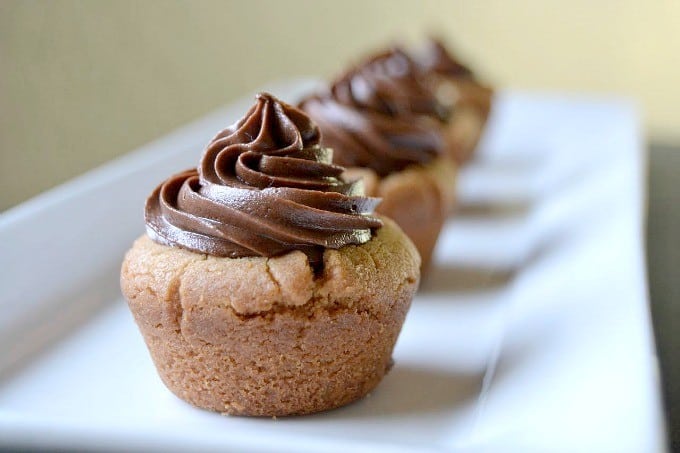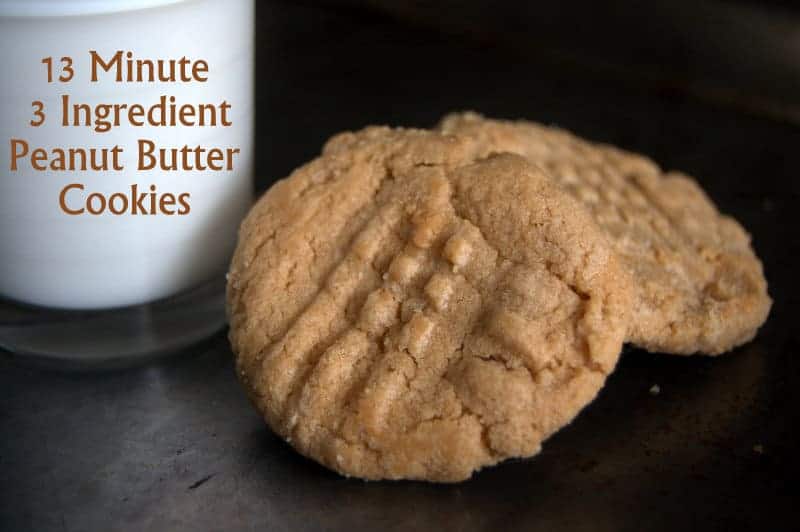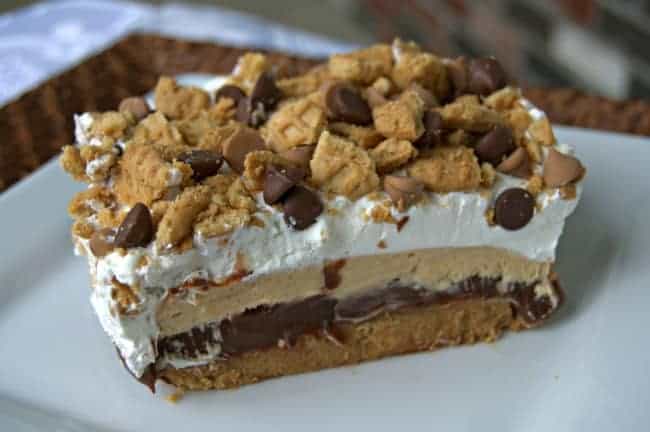 It really is quite tasty and you KNOW I wouldn't post it if it weren't because…I just ain't that a way! PLEASE, just try it. It could be your kids' new favorite sandwich in their lunch box. And you could come out looking like a genius!
Can you imagine, "Mom, this is GREAT!! How did you think of this??!!" And then their friends at school will be begging to switch sandwiches and before you know it we have our Peanut Butter & Cucumber Sandwich taking over the nation. It will happen. And it all starts with a knife and two slices of bread.
If you try it, please let me know what you think and how far we've gotten with the taste that's sweeping the nation. 😉