This Peanut Butter Cucumber Sandwich may not be your typical lunch fare, but one bite of this crunchy, creamy combo and you just might be hooked! The unique pairing of peanut butter and cucumbers makes a perfect lunch or filling for tea sandwiches.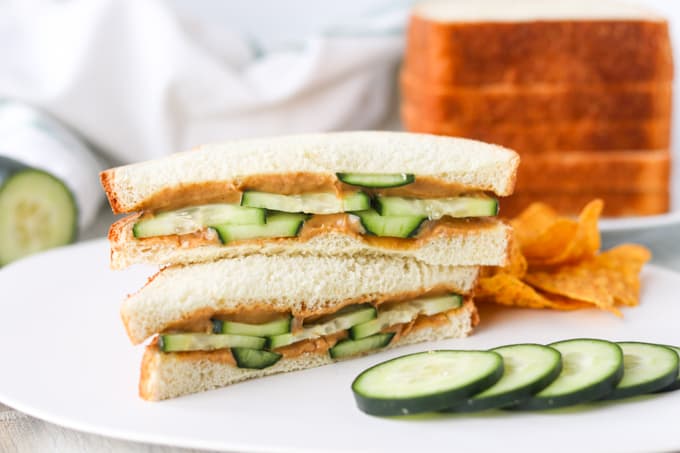 No, I haven't lost my mind. Cucumber and Peanut Butter belong together. I said it.
Yes, I said it. Other peanut butter sandwiches have had plenty of time at the top. Now it's time to let cucumbers take the spotlight in this easy sandwich recipe.
Don't turn your nose up, you might have just found a new favorite!
SAVE THIS PEANUT BUTTER CUCUMBER SANDWICH TO YOUR FAVORITE PINTEREST BOARD!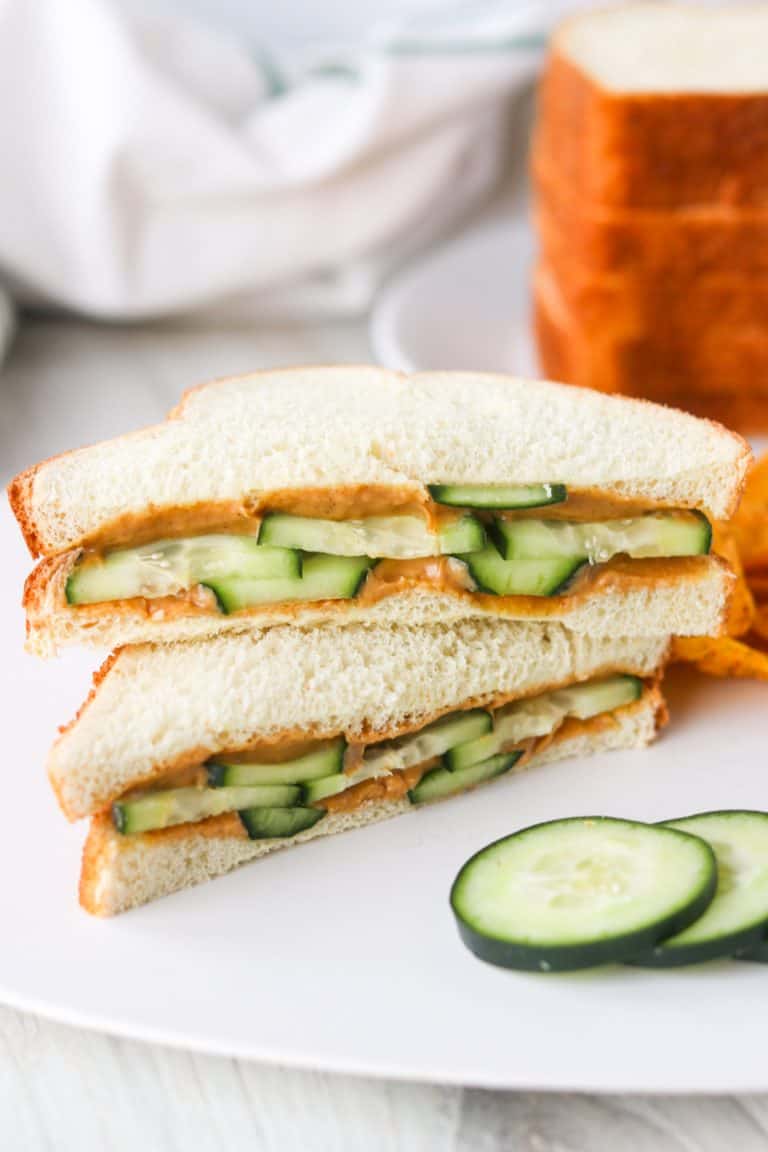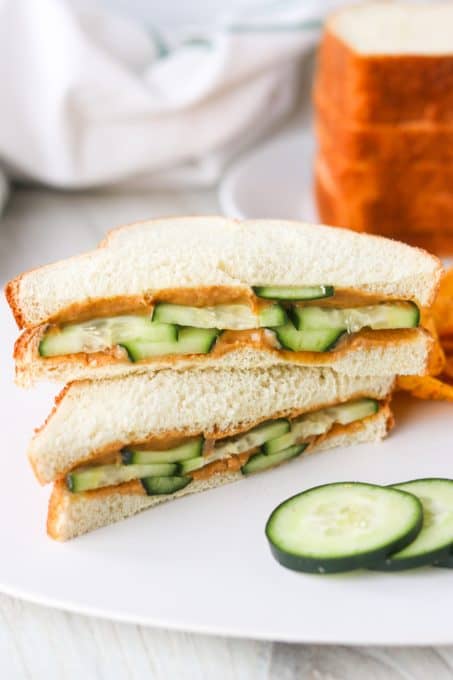 Think of this recipe as the sandwich version of dipping celery sticks in peanut butter. The simple crunchiness of cucumbers pairs perfectly with creamy, nutty, slightly-sweet peanut flavor. It sounds weird, I know, but you have to try it!
I was first introduced to this wacky concept at horse camp, years and years ago. To my recollection, I didn't have the best time at the camp, but there was one highlight: Peanut Butter Cucumber Sandwiches.
They served these to us at lunch all week long. The first time I heard what was in between the two pieces of white bread on my paper plate, I turned up my nose. Like most kids, I was accustomed to familiar childhood staples like Fluffernutters and good ol' PB&J.
But veggies?! In a sandwich?! You've got to be kidding me.
Ok, I know, cucumbers are technically a fruit, but I still often think of them as a vegetable.
Thankfully, I was hungry enough to take a tiny, cautious bite of this strange new food. That's all it took. I gobbled up every last bite of that first Peanut Butter Cucumber Sandwich and I haven't looked back.
In fact, a life long love of putting cucumber on my peanut butter sandwiches is just about the only thing I took with me from the week of horseback riding camp. Who woulda guessed?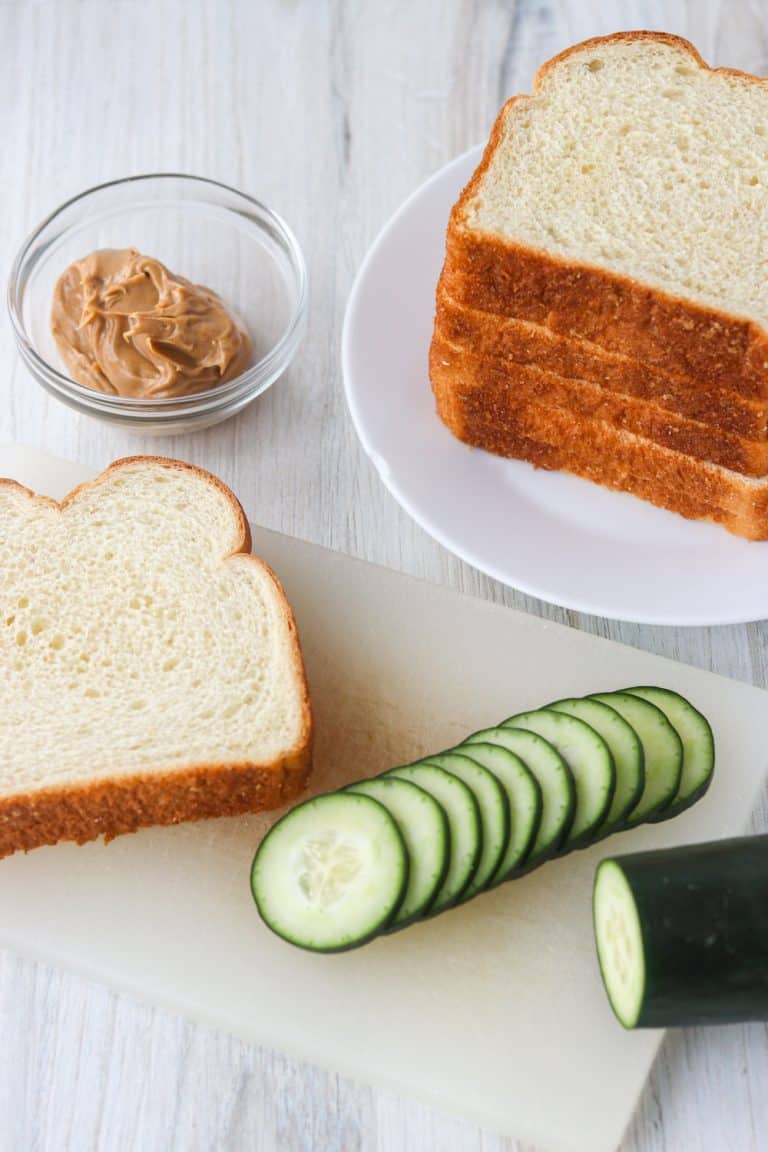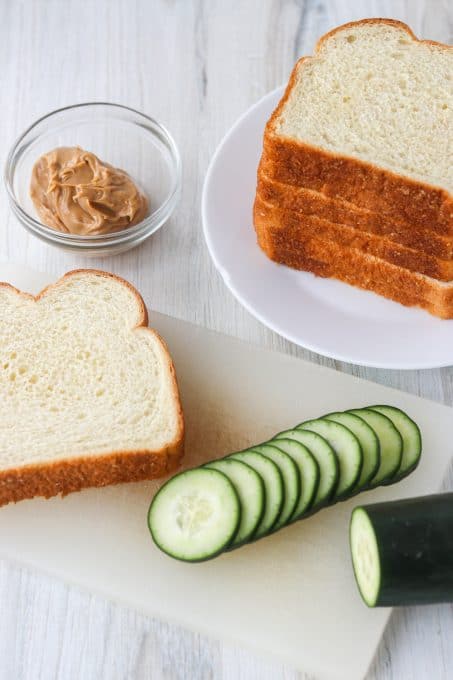 What do I need?
Like the name suggests, you only need three ingredients to make this sandwich.
potato bread – or your favorite sandwich bread.
sliced cucumber
peanut butter
What kind of peanut butter is best?
I like smooth peanut butter in my sandwiches, but crunchy is a tasty option too. You can use the sweetened shelf-stable peanut butter or the all-natural kind. Use the peanut butter you like to eat best!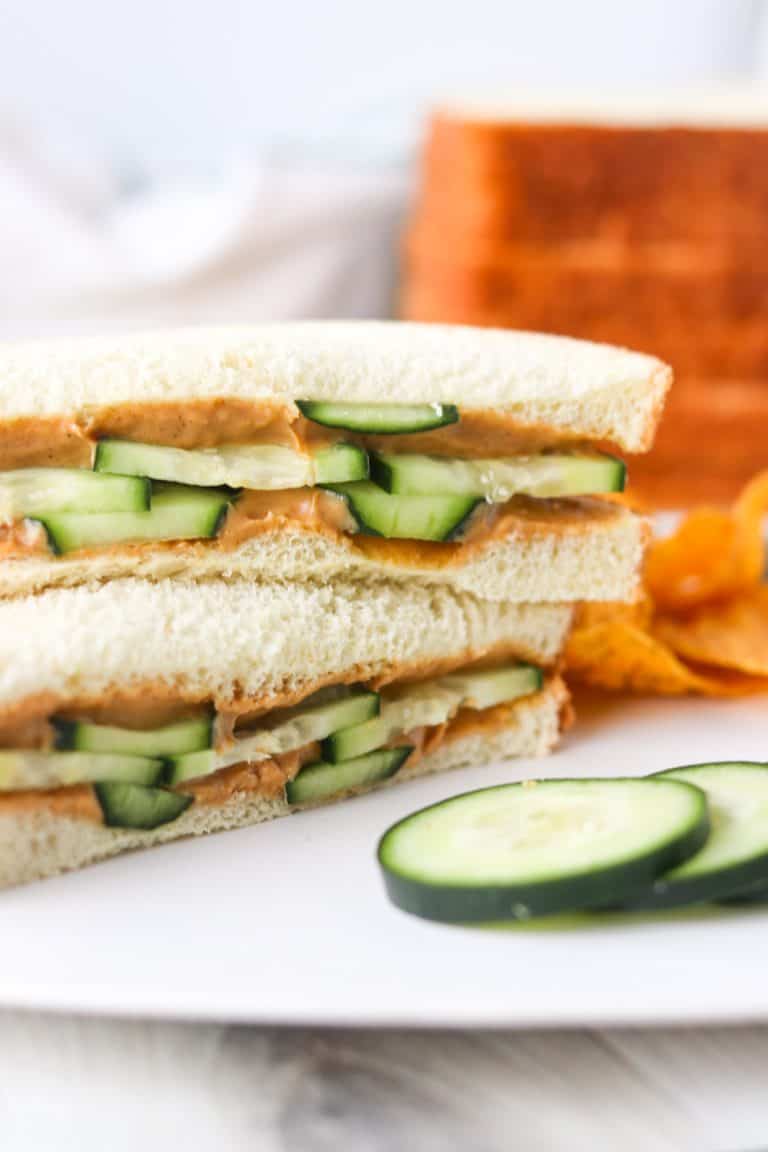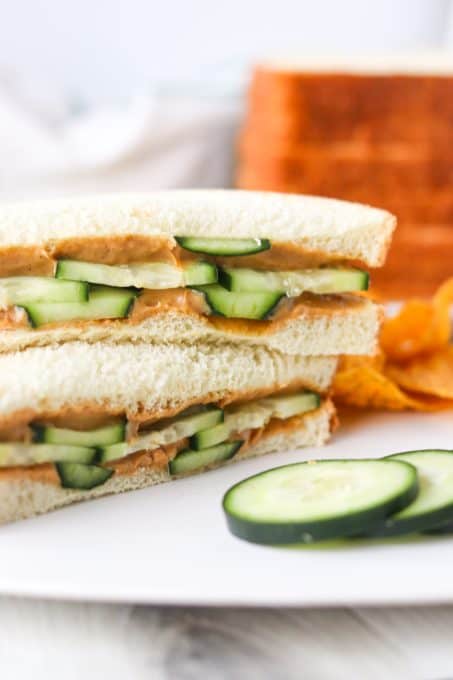 Peeled or unpeeled cucumbers?
You don't need to peel the cucumbers here. In fact, I think the cucumber sandwich tastes better with the peels in tact. The cucumber skin holds in some of the water so the sandwich doesn't get soggy, and adds a little more texture.
Tips and Tricks
Slice the cucumbers thin. I recommend them 1/4 to 1/2 inch thick.
Put peanut butter on both slices of bread. The peanut butter keeps the water from the cucumbers from soaking into the bread.
To make tea sandwiches, cut off the crust and slice each sandwich into triangles, squares or rectangles ("fingers").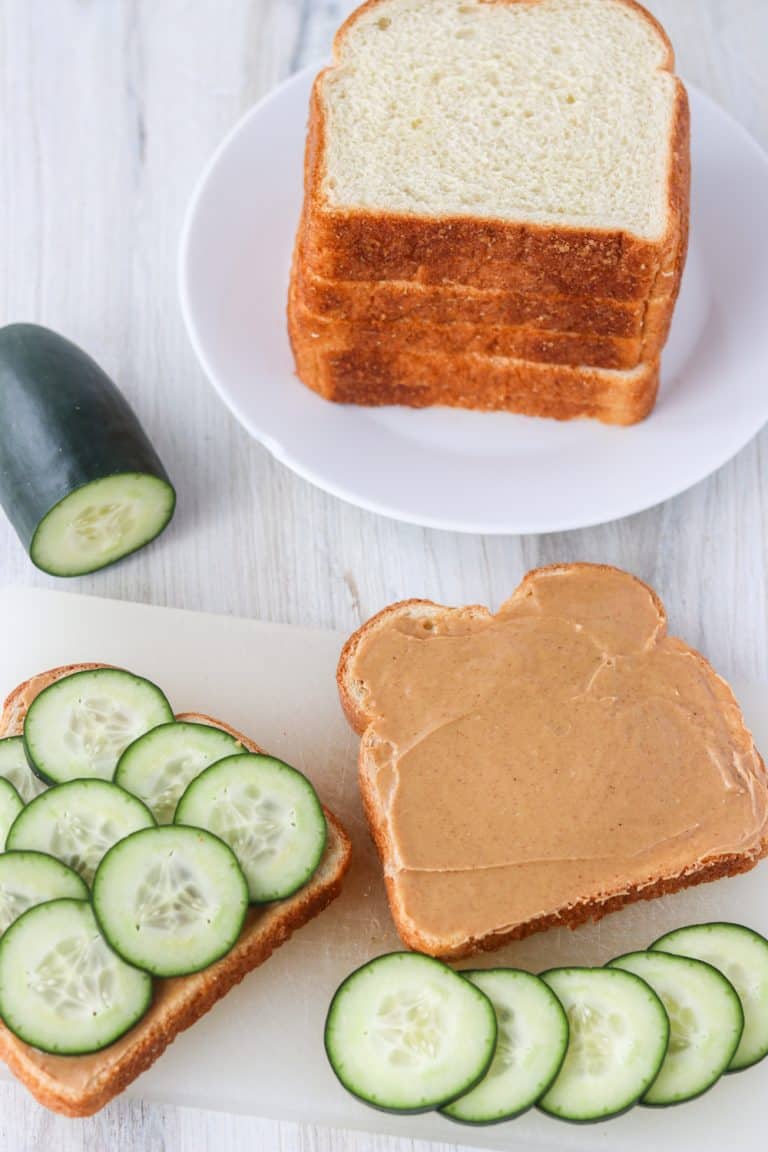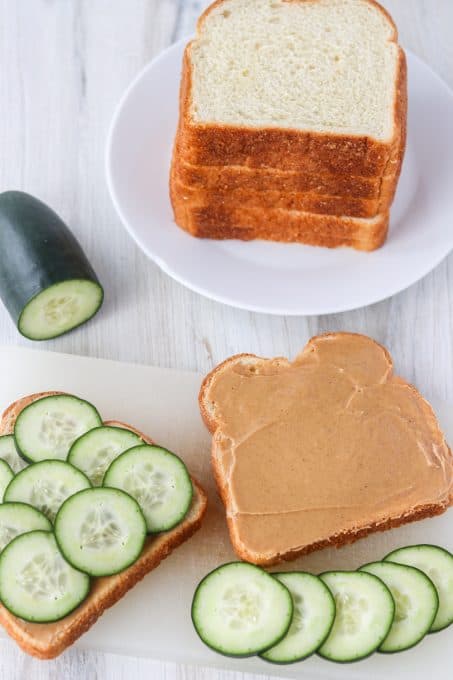 Peanut Butter Recipes
Need some more peanut butter in your life? Here are a few more recipes to take care of that craving.
If all else fails, there's always an open peanut butter jar and a spoon. Sometimes you just GOTTA have some peanut butter!
Sandwich Recipes
Don't worry. I don't ONLY eat sandwiches with cucumber and peanut butter. I love a classic meat and cheese combo too, like these Ham and Cheese Party Sandwiches and this Easy Meatball Sub Sandwich.
Need a sandwich that's perfect for a weeknight meal? Try this Slow Cooker Chicken Sandwich or my family's favorite BBQ Root Beer Chicken Sandwiches.
SIGN UP FOR THE WEEKLY
365 DAYS OF BAKING & MORE
NEWSLETTER BELOW!
Tired of the same old peanut butter sandwiches? Be bold and try this surprisingly delicious Peanut Butter Cucumber Sandwich for lunch this week. It might just become your kid's new lunchbox favorite!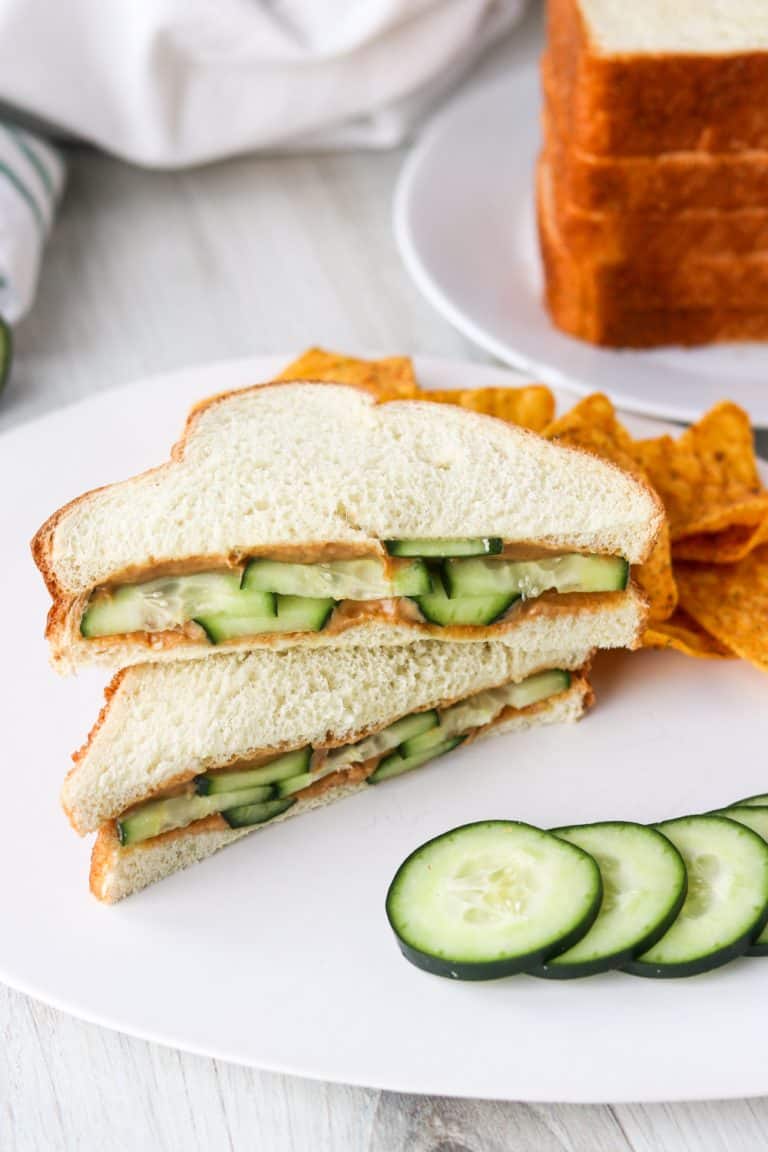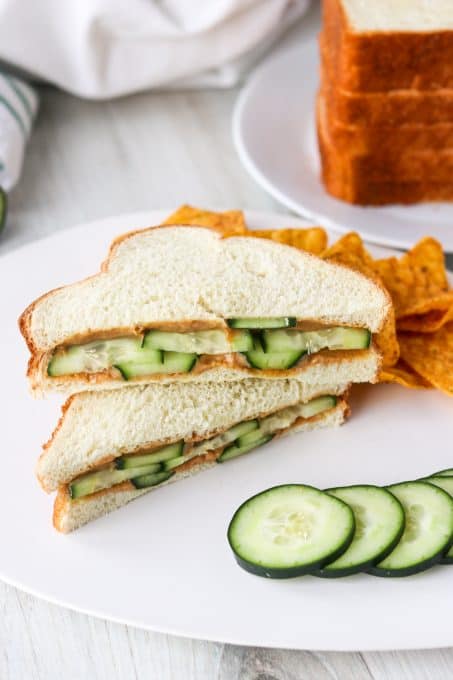 Peanut Butter Cucumber Sandwich
This Peanut Butter Cucumber Sandwich may not be your typical lunch fare, but one bite of this crunchy, creamy combo and you just might be hooked! The unique pairing of peanut butter and cucumbers makes a perfect lunch or filling for tea sandwiches.
Ingredients
2 slices potato bread or your favorite bread
4 tablespoons creamy peanut butter or crunchy peanut butter
8-10 slices unpeeled cucumber
Instructions
Place both slices of bread on a plate or cutting board. Spread each slice with two tablespoons of peanut butter. You can add more or less to your liking.

Evenly distribute the cucumber slices on top of one slice of bread covered with peanut butter.

Take the slice of bread with just the peanut butter and place it peanut butter side down on top of the one covered in cucumbers. Slice in half.
Nutrition
Serving: 1g | Calories: 601kcal | Carbohydrates: 52g | Protein: 27g | Fat: 35g | Saturated Fat: 7g | Polyunsaturated Fat: 9g | Monounsaturated Fat: 16g | Sodium: 602mg | Potassium: 1080mg | Fiber: 9g | Sugar: 17g | Vitamin A: 113IU | Vitamin C: 2mg | Calcium: 190mg | Iron: 3mg
Did you make this recipe?
Share it with me on Instagram and make sure to follow me on Pinterest for more recipes.
This post was originally published on 8/29/12. It has been updated in format and with new pics on 1/25/22.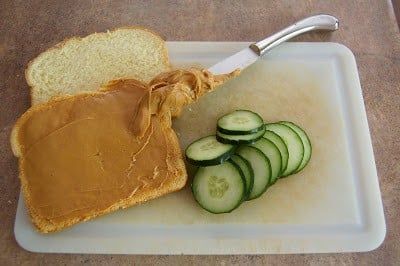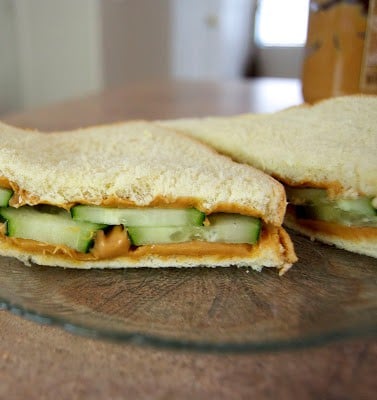 Reader Interactions