This Baked Apple Cinnamon Pancake brings together classic fall flavors in one easy recipe. By baking the batter in the oven, you can create a perfect apple pancake breakfast. No griddle or flapjack flipping required!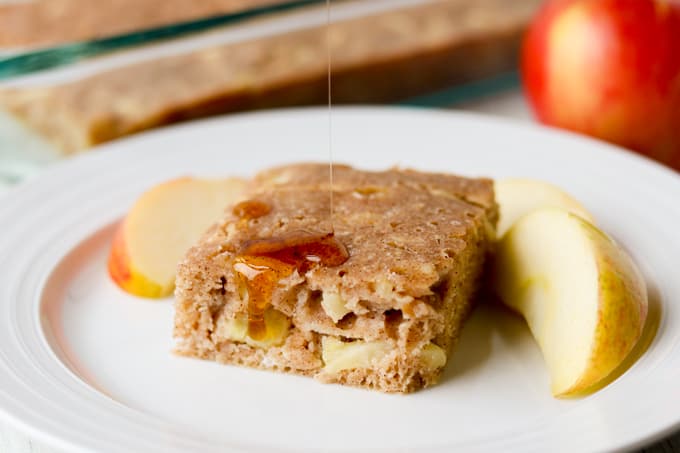 We can really never eat enough pancakes here at the 365 homestead.
Plus, there's never a wrong time to eat pancakes.
We have "breakfast for dinner" at least a couple of times a month. And the most requested menu item is always (you guessed it) pancakes.
SAVE THIS BAKED PANCAKE RECIPE TO YOUR FAVORITE PINTEREST BOARD!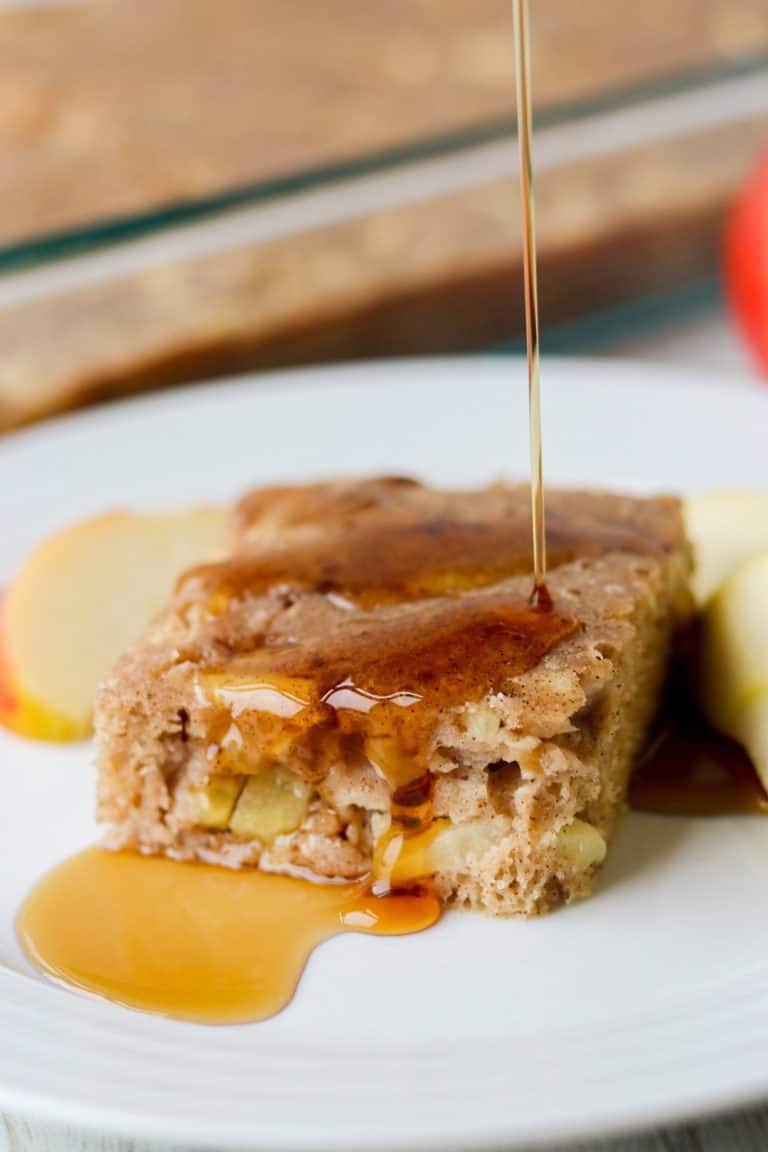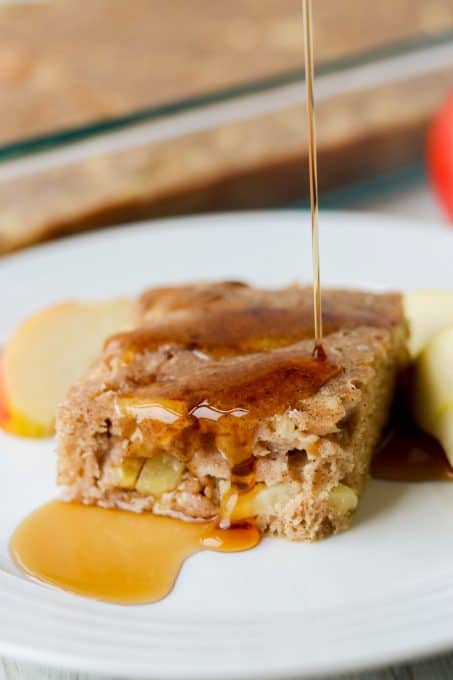 I can't get enough of pancakes in all their forms. Banana Peanut Butter Chip Pancakes and Cranberry Pancakes and Buttermilk Pancakes , oh my!
For me, it all started back when I was a kid and we'd go to IHOP (International House of Pancakes). Oh, how I LOVED digging into a plate of the silver dollar pancakes and all the different syrups.
One of the best things about being a grown-up is that I can now make pancakes whenever I want, however I want.
These days, I often find myself trying to decide between a pancake topped with fruit or a pancake topped with syrup. Lucky for me, I can have BOTH! This apple cinnamon baked pancake combines the best of both worlds.
You'll love the combination of fluffy pancake with juicy apples and cinnamon spice!
Baked Pancake
My love for pancakes does not extend to a love of flipping pancakes. Don't get me wrong, I'm a pretty darn good pancake flipper by now. I've got my technique down pat.
Still, sometimes I don't want to stand over the stove flipping pancake after pancake. While I could use those days to make Waffles or Baked Cinnamon French Toast, sometimes only a pancake will do. On those occasions, you need a good baked pancake recipe!
Baking one BIG cinnamon apple pancake in the oven, means I can pour the batter into a pan then walk away while it cooks perfectly every time.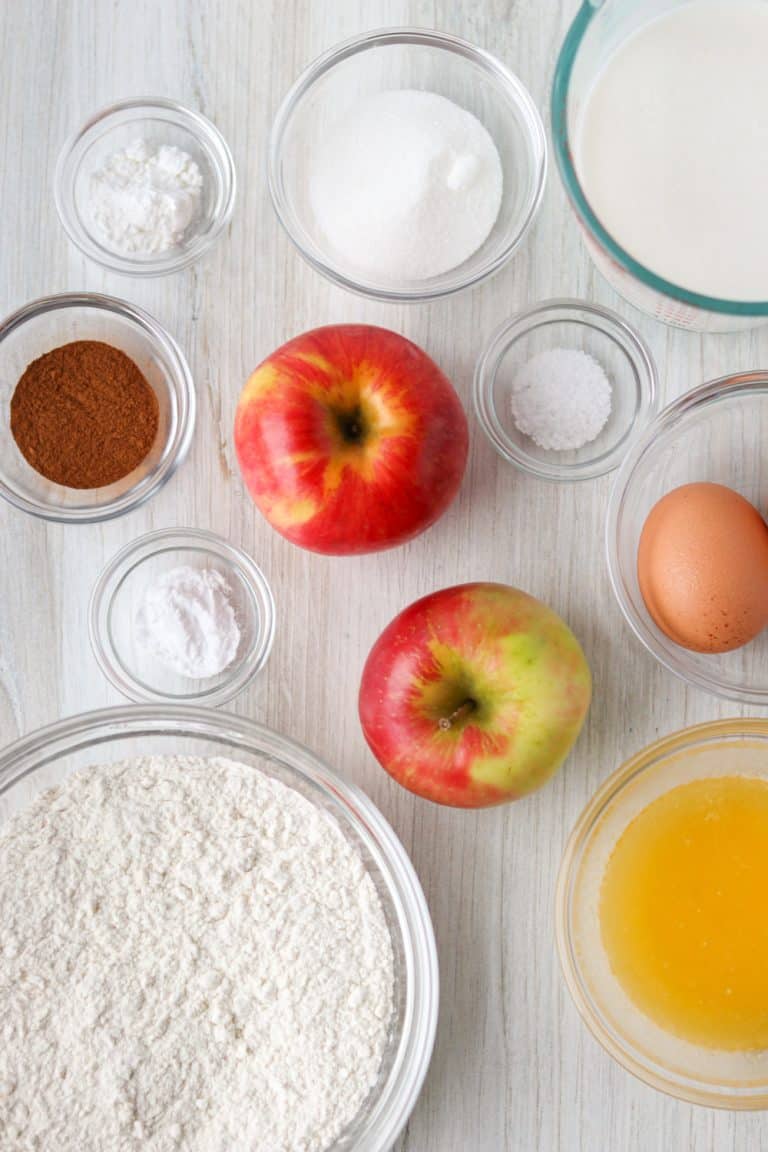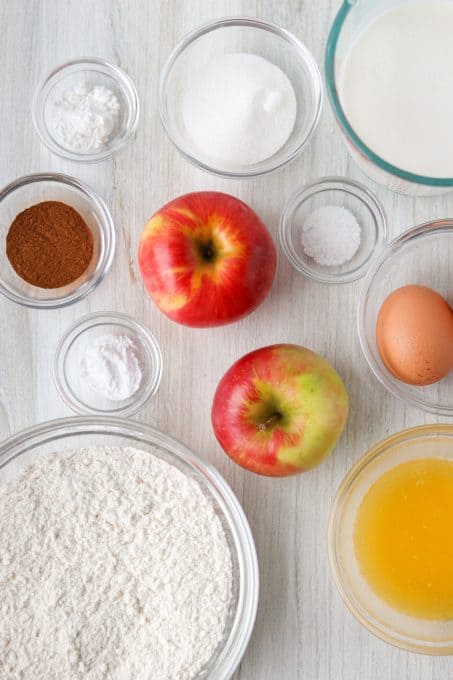 What do I need?
Here are the ingredients you'll need for this apple cinnamon pancake recipe.
apples
sugar
cinnamon
baking soda
baking powder
salt
buttermilk
eggs
butter
flour
Pro Tip: Make your own homemade buttermilk by whisking 1 cup of regular milk with 1 tablespoon of white vinegar. Let the mixture sit to curdle for about 15 minutes then proceed with the recipe as directed. I do this almost every time a recipe calls for buttermilk and it works exactly like the stuff that comes in a carton at the store AND it's THE secret ingredient in my grandma's Griddle Cakes!
(If you choose to do this for this recipe, you'll need 1 ½ tablespoons of white vinegar for the 1 ½ cups of milk called for.)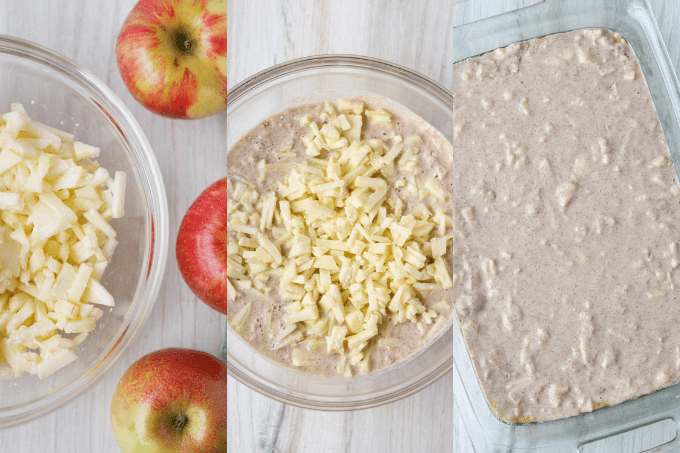 How to Make a Baked Pancake
This baked apple cinnamon pancake is so quick and easy to make. The most labor intensive step is peeling and coring the apples, but it's well worth it for this tasty baked pancake!
STEP 1. Combine the dry ingredients (flour, sugar, baking powder, baking soda, cinnamon and salt) in a large mixing bowl.
STEP 2. Peel, core and dice two apples, then toss them with a little of the reserved flour.
STEP 3. In another bowl, beat together buttermilk, eggs and melted butter. Now add that mixture to the dry ingredients and mix until just combined.
STEP 4. Fold the apples into the batter.
STEP 5. Pour the batter into a 9 x 13 baking dish and bake for 25 – 30 minutes.
Serve slices of the baked pancake topped with maple syrup! It would also be delicious with Vanilla Bean Whipped Cream!
You can even make a plain baked pancake and top it with this easy 3 Ingredient Strawberry Sauce.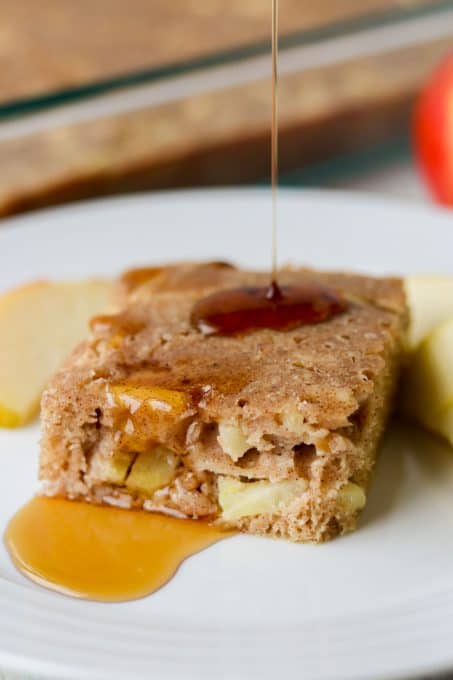 Tips and Tricks
Save even more time by buying sealed packs of pre-peeled chopped apples from the grocery store.
Be careful not to overmix the dry and wet ingredients when combing them. Vigorously beating the batter will make the pancake tough.
The pancake should be golden brown on the edges when it's fully baked. Be careful not to overbake or the edges will begin to burn.
After you try this Baked Apple Cinnamon Pancake recipe, check out some of my other favorite pancakes. . .
SIGN UP FOR THE WEEKLY
365 DAYS OF BAKING & MORE
NEWSLETTER BELOW!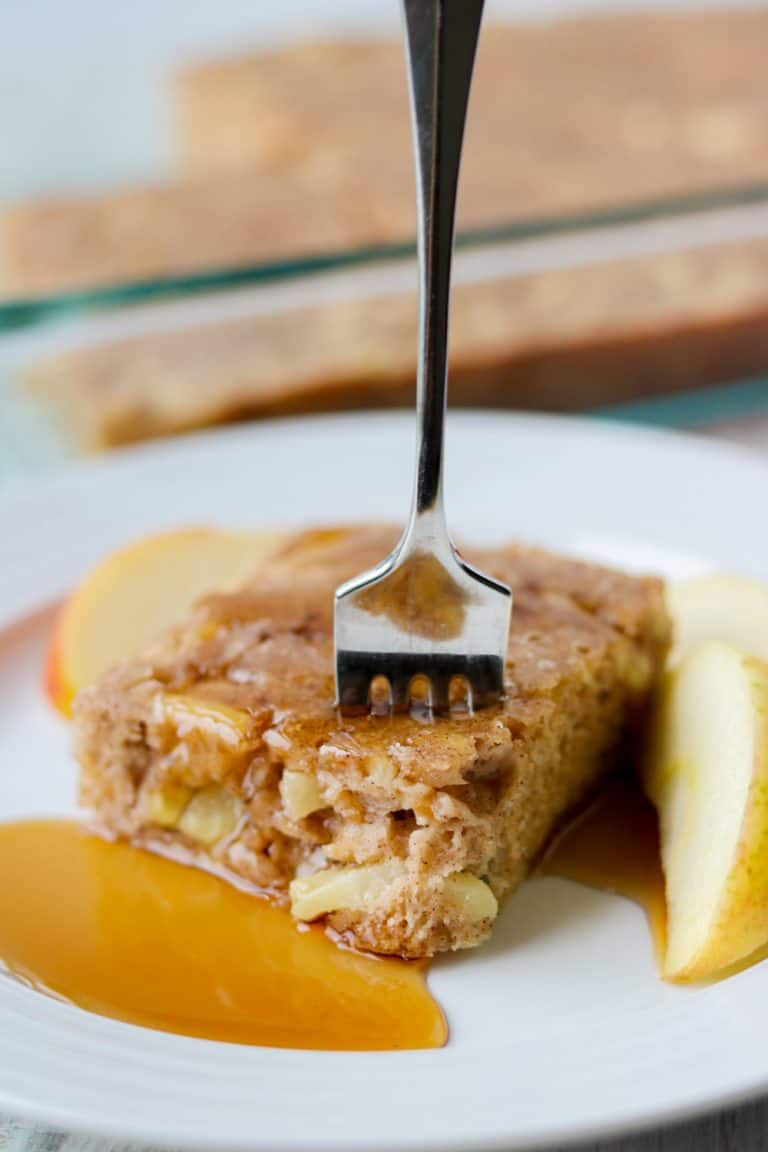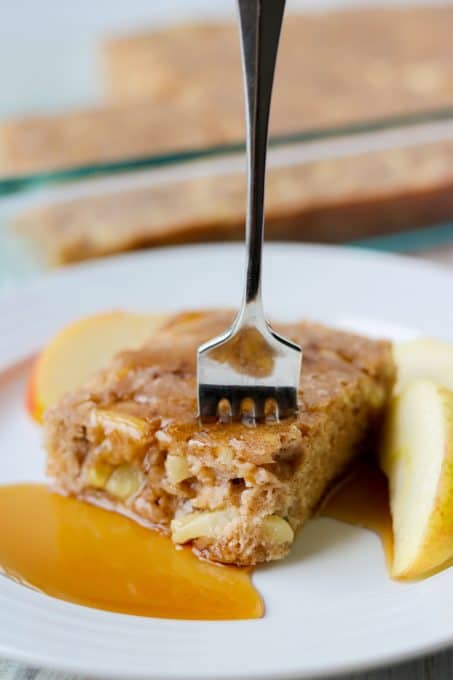 When Baked Apple Cinnamon Pancakes are on the menu, you know it's going to be a good day!
Baked Apple Cinnamon Pancake
This Baked Apple Cinnamon Pancake brings together classic fall flavors in one easy recipe. By baking the batter in the oven, you can create a perfect apple pancake breakfast. No griddle or flapjack flipping required! 
Equipment
1 9 X 13-inch baking dish

1 rubber spatula
Ingredients
2 cups flour
2 tablespoons sugar
2 teaspoons cinnamon
1 ½ teaspoons baking powder
¾ teaspoon baking soda
½ teaspoon salt
1 ½ cups buttermilk
2 eggs
4 tablespoons unsalted butter melted
2 apples Jonagold, Braeburn, Honeycrisp, Pink Lady are best
Instructions
Remove 1 tablespoon of flour from the 2 cups, and place it into a medium mixing bowl to be tossed with the apple pieces. Coating the apple with some of the flour will help suspend it in the batter.

Preheat oven to 350 degrees F.

Prepare a 9 X 13-inch baking dish by spraying it with cooking spray.

In a large bowl, whisk together the flour, sugar, cinnamon, baking powder, baking soda and salt.

In a medium bowl, combine buttermilk, eggs and melted butter.

Peel, core and dice the apples, and put into the bowl with the tablespoon of flour. Toss to coat.

Pour the buttermilk mixture into the dry ingredients and mix until just combined.

Fold in the diced apple.

Pour the batter into the prepared baking dish.

Bake for 25-30 minutes or until lightly golden around the edges.

Serve with maple syrup.
Nutrition
Serving: 1g | Calories: 245kcal | Carbohydrates: 36g | Protein: 6g | Fat: 9g | Saturated Fat: 5g | Polyunsaturated Fat: 1g | Monounsaturated Fat: 2g | Trans Fat: 1g | Cholesterol: 61mg | Sodium: 313mg | Potassium: 238mg | Fiber: 2g | Sugar: 10g | Vitamin A: 335IU | Vitamin C: 2mg | Calcium: 105mg | Iron: 2mg
Did you make this recipe?
Share it with me on Instagram and make sure to follow me on Pinterest for more recipes.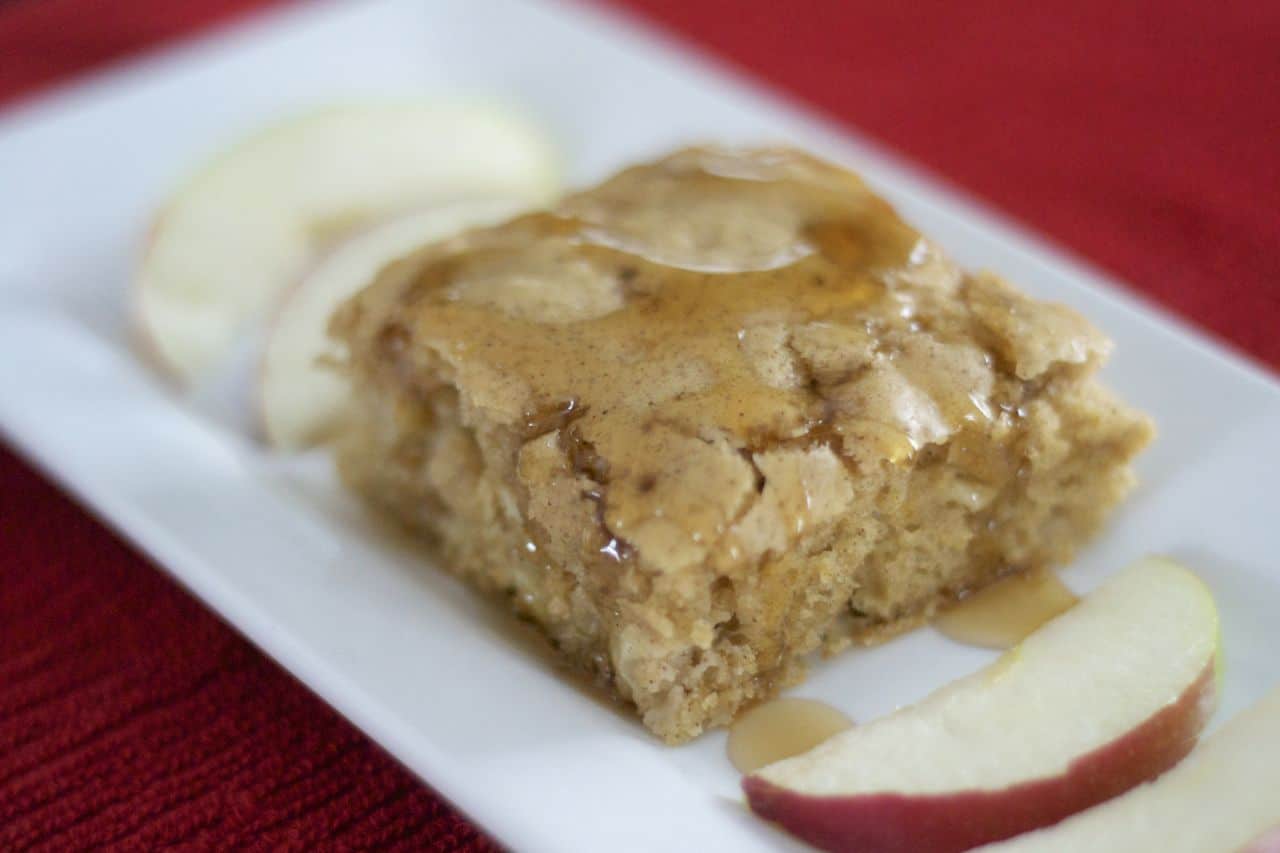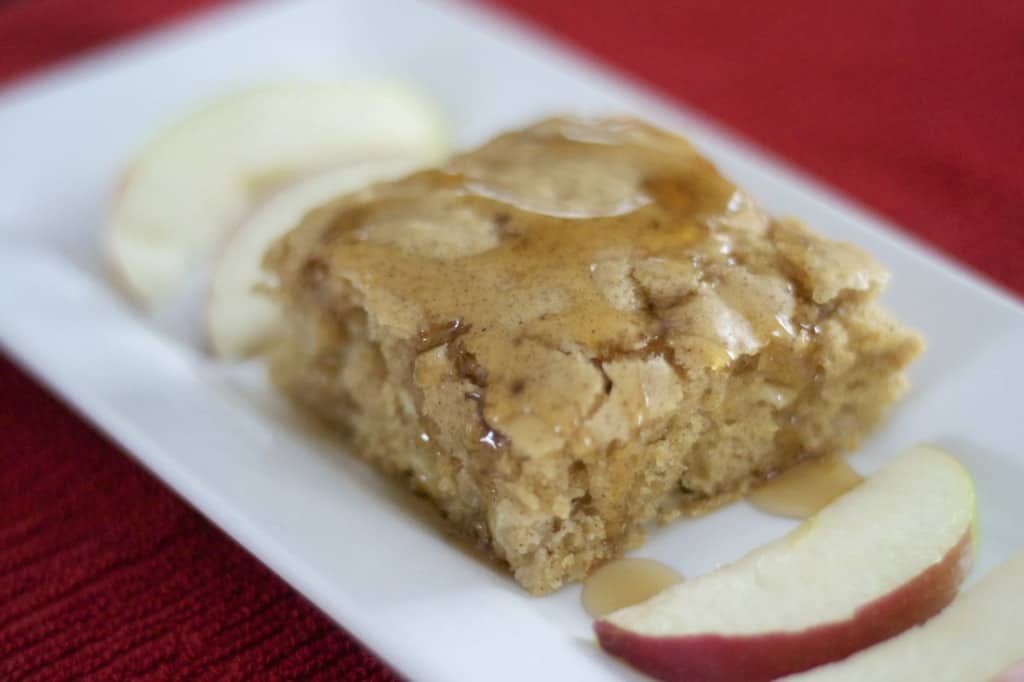 This post was originally published 3/20/14, and has been updated with pictures and in format on 1/21/22.
Reader Interactions