Baked Apple Cinnamon Pancake brings the great taste of apples and cinnamon into one pancake. Made by baking the batter in the oven, this is a delicious breakfast or breakfast for dinner and it saves you the trouble of flipping pancakes.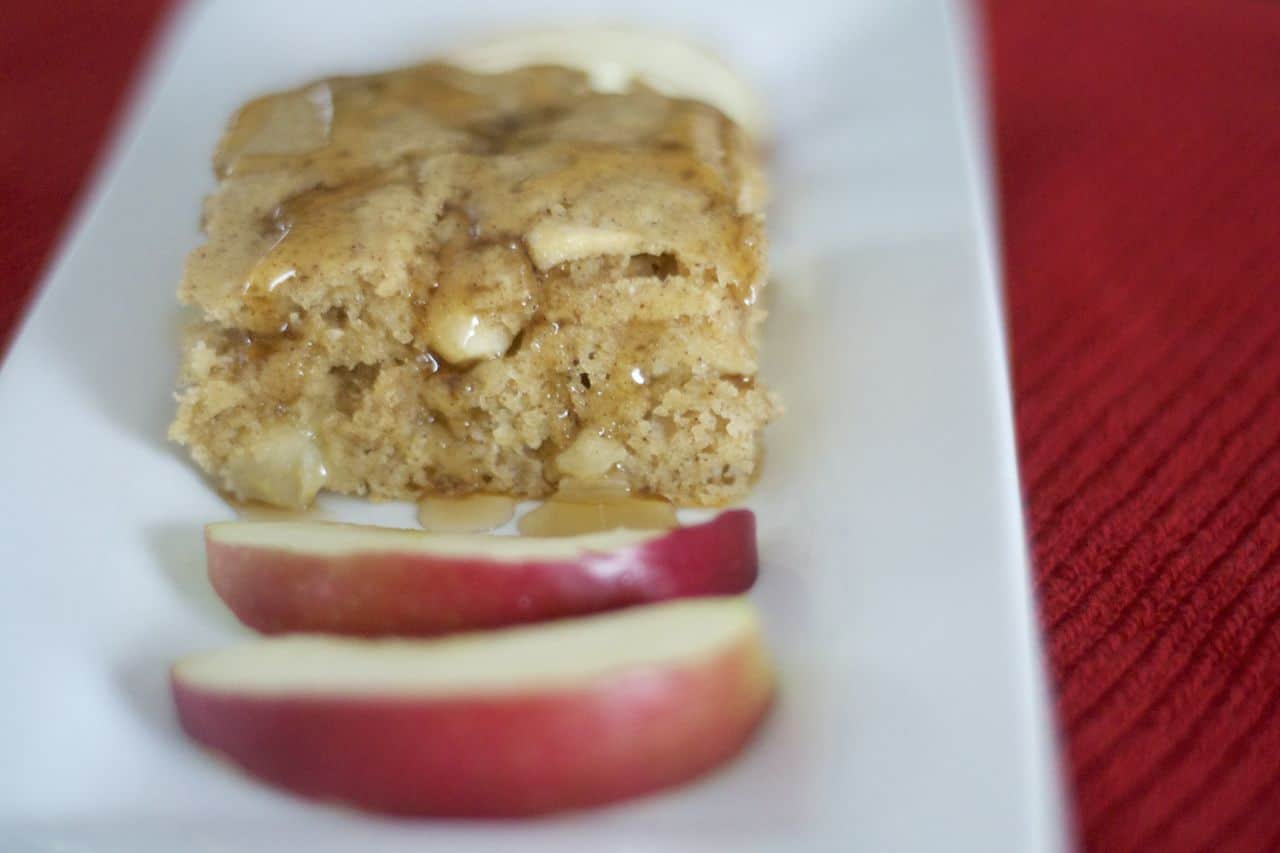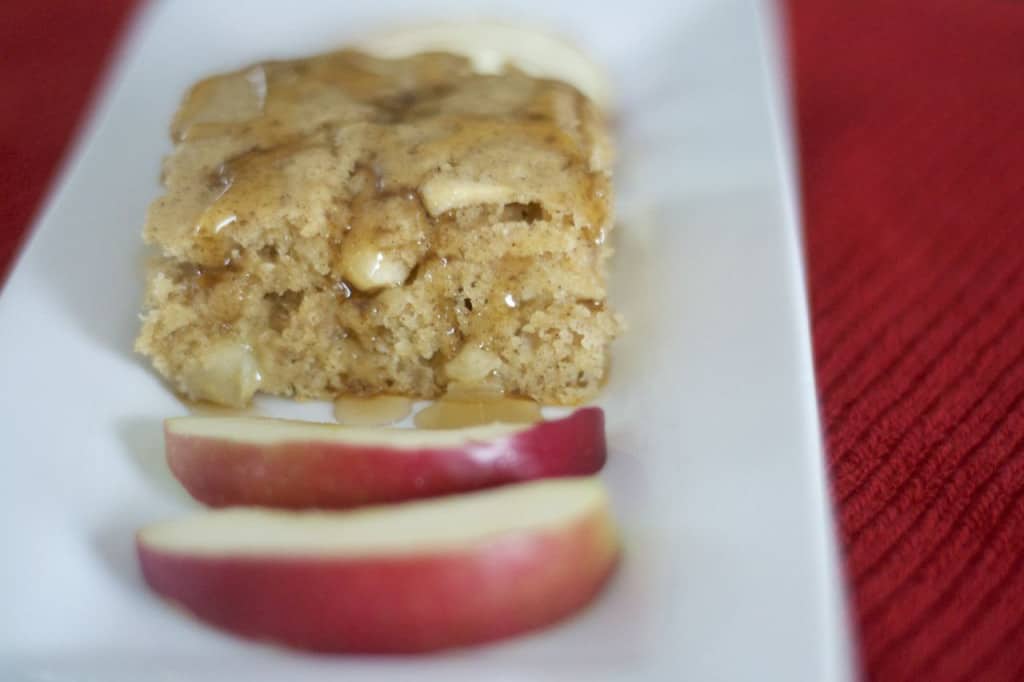 We can really never eat enough pancakes here at the 365 homestead.
Seriously.
I mean, I make them for breakfast, lunch, and dinner.
Not all in one day, of course, because that would just be overload, but at least every other week we have pancakes for dinner.
I can't get enough of pancakes in all their forms. Banana Peanut Butter Chip Pancakes and Cranberry Pancakes and Buttermilk Pancakes , oh my!
For me, I think it all started back when I was a kid and we'd go to IHOP (International House of Pancakes). Oh, how I LOVED that place…the silver dollar pancakes and all the different syrups. I could never pick just one and had to try them all.
One of the best things about being a grown-up is that I can now make pancakes whenever I want, however I want.
These days, I often find myself trying to decide between a pancake topped with fruit or a pancake topped with syrup. Lucky for me, I can have BOTH! These apple pancakes are the best of both worlds.
These baked cinnamon apple pancakes make me so very happy! I hope you like them just as much.
SAVE THIS PANCAKE RECIPE TO YOUR FAVORITE PINTEREST BOARD!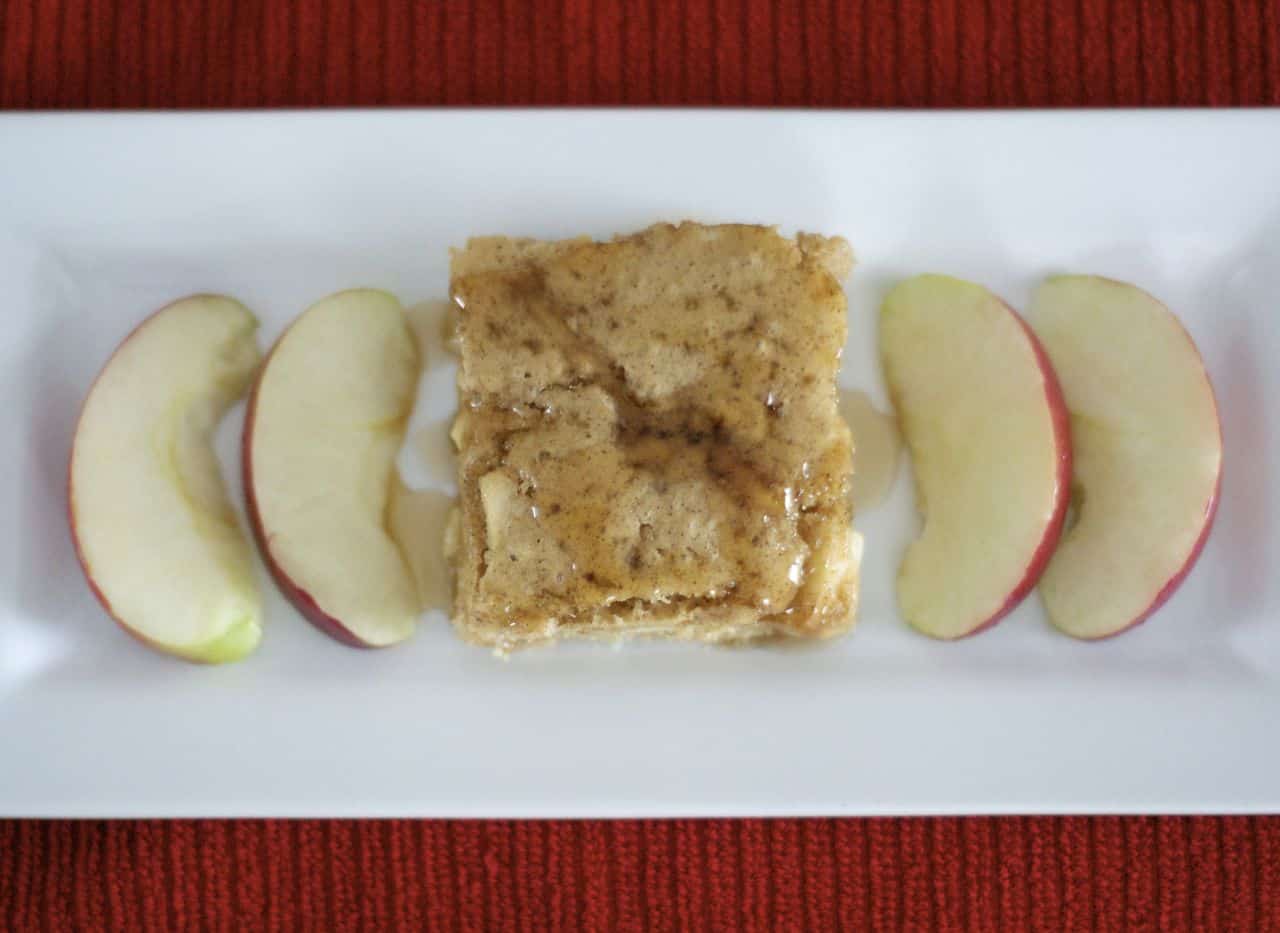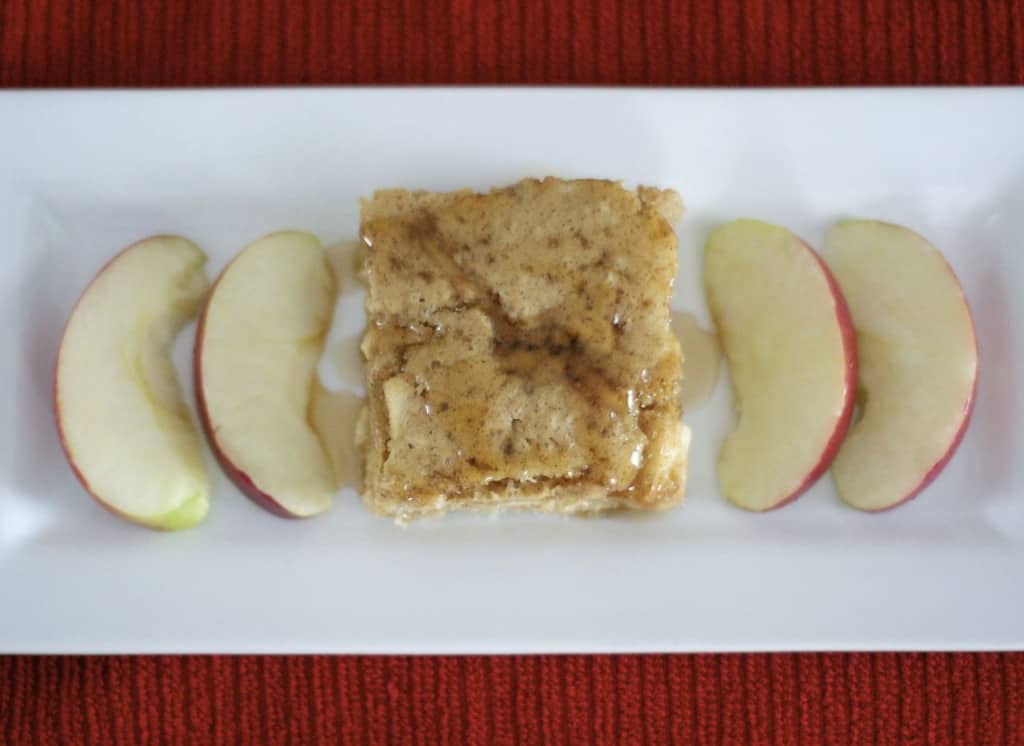 Pancakes are just awesome and if I could, I'd probably do a 365 Days of Pancakes.
Could you imagine? Oh, the fun we could have!
After you try this Baked Apple Cinnamon Pancake recipe, check out some of my other favorite pancakes. . .
Baked Pancake
My love for pancakes does not extend to a love of flipping pancakes. Don't get me wrong, I'm a pretty darn good pancake flipper by now. I've got my technique down pat.
Still, sometimes I don't want to stand over the stove flipping pancake after pancake. While I could use those days to make Waffles or Baked Cinnamon French Toast, sometimes only a pancake will do. On those occasions, you need a good baked pancake recipe!
Baking one BIG cinnamon apple pancake in the oven, means I can pour the batter into a pan then walk away while it cooks perfectly every time.
SIGN UP FOR THE WEEKLY
365 DAYS OF BAKING & MORE
NEWSLETTER BELOW!
Baked Apple Pancake Recipe
This baked apple cinnamon pancake is so easy to make–and quick. The most labor intensive step is peeling and coring the apples, but it's well worth it for this tasty baked pancake!
Combine the dry ingredients (flour, sugar, baking powder, baking soda, cinnamon and salt) in a large mixing bowl.
In another bowl, beat together buttermilk, eggs and melted butter. Add to the dry ingredients and mix until just combined.
Peel, core and dice two apples, then toss them with a little more flour.
Fold the apples into the batter.
Pour the batter into a 9 x 13 baking dish and bake for 25 – 30 minutes.
Serve slices of the baked pancake topped with maple syrup! It would also be delicious with Vanilla Bean Whipped Cream!
Recipe note: Make your own homemade buttermilk by whisking regular milk with 1 tsp of white vinegar. Let the mixture sit to curdle for about 15 minutes then proceed with the recipe as directed. I do this almost every time a recipe calls for buttermilk and it works exactly like the stuff that comes in a carton at the store!
I adapted this from Six Sisters Stuff
Baked Apple Cinnamon Pancake
The classic combination of apples and cinnamon makes this baked pancake an easy and impressive breakfast!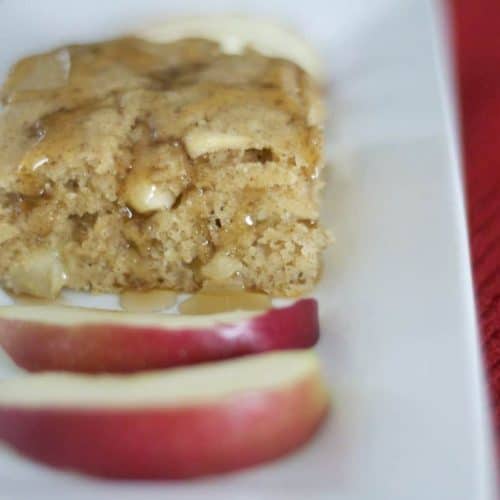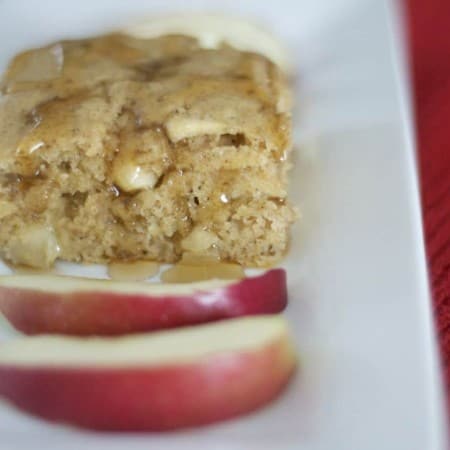 Baked Apple Cinnamon Pancake
The great taste of apples and cinnamon combined in a pancake batter baked in the oven. It's a delicious breakfast or breakfast for dinner and it saves you the trouble of flipping pancakes.
Print
Pin
Rate
Servings:
9
X 13-inch baking dish
Ingredients
2

cups

flour

with two tablespoons set aside

2

tablespoons

sugar

2

teaspoons

cinnamon

1 ½

teaspoons

baking powder

¾

teaspoon

baking soda

½

teaspoon

salt

1 ½

cups

buttermilk

2

eggs

¼

cup

4 tablespoons unsalted butter, melted

2

apples + 2 tablespoons flour or the reserved flour
Instructions
Preheat oven to 350 degrees F.

Prepare a 9 X 13-inch baking dish by spraying it with cooking spray.

In a large bowl, whisk together the flour, sugar, cinnamon, baking powder, baking soda and salt.

In a medium bowl, combine buttermilk, eggs and melted butter.

Peel, core and dice the apples. (I used MacIntosh)

in a small bowl, toss the apples with the two tablespoons of flour. This will prevent the apple pieces from sinking to the bottom of the pancake.

Pour the buttermilk mixture into the dry ingredients and mix until just combined.

Fold in the diced apple.

Pour the batter into the prepared baking dish.

Bake for 25-30 minutes or until lightly golden around the edges.

Serve with maple syrup.
Nutrition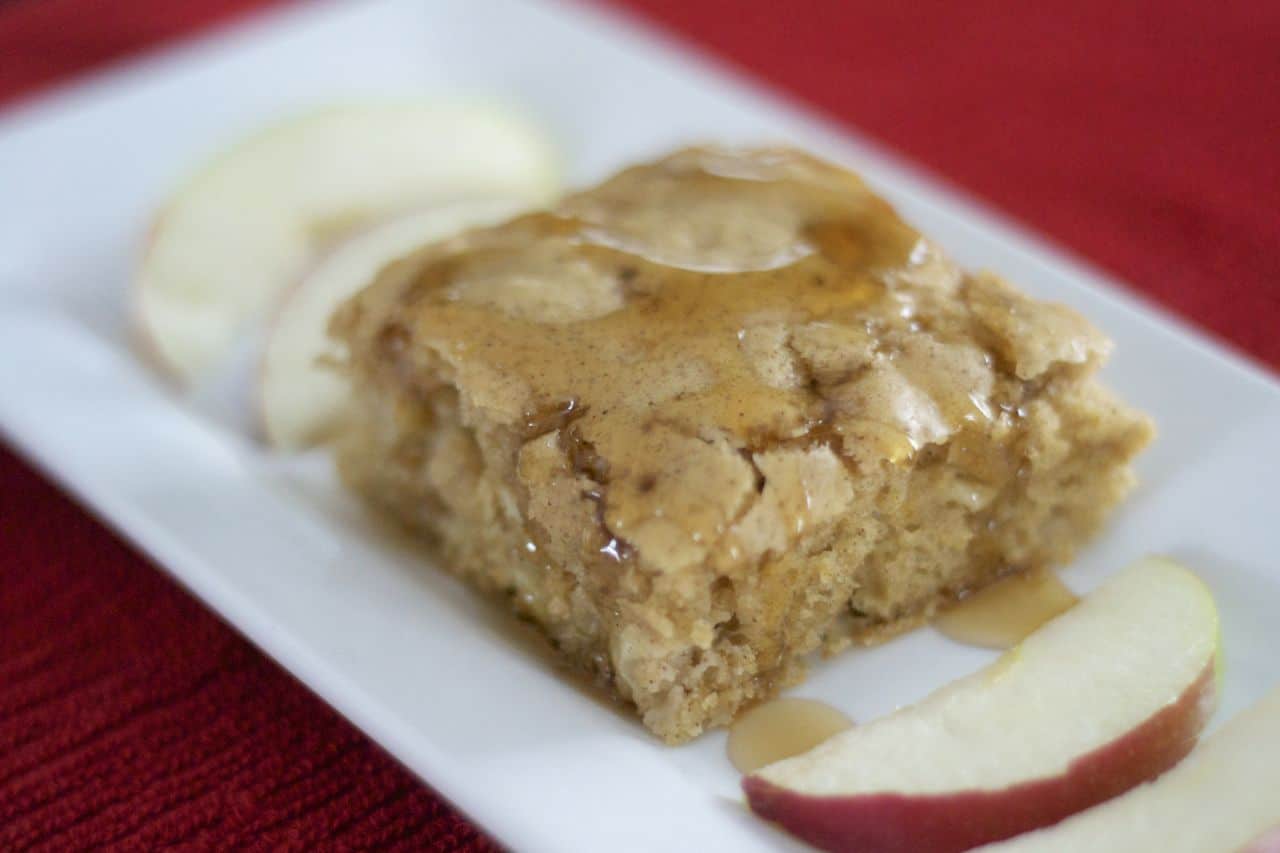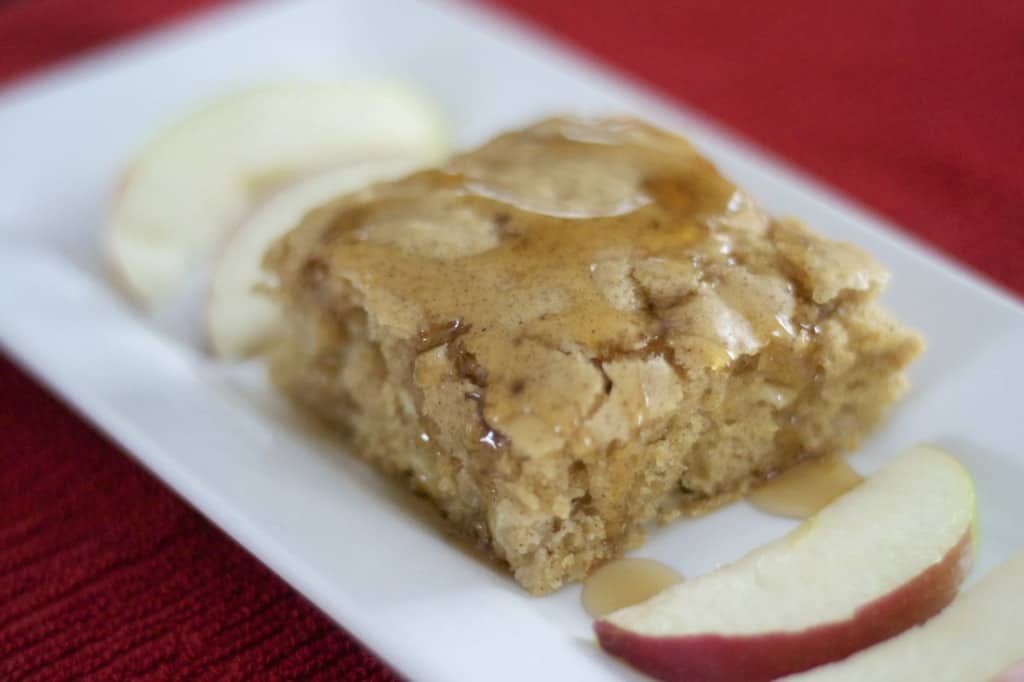 This Baked Apple Pancake tasted amazing! The chunks of tart and sweet apple baked into the cinnamon flavored pancake were just what I wanted.
I rate everything I bake on a scale of 1-4 with 4 being the best and this Baked Apple Cinnamon Pancake earned 3 1/2 rolling pins.
It was good when I tasted it before I took the pictures, but it was even better after I added maple syrup. This is something I will definitely be making again!
I really, really, REALLY liked the fact that it was baked and I could do other things while this was in the oven instead of pouring and flipping like I usually do.
The family liked it, too. This would be great to serve for a brunch or when you have company staying with you. It will save you time in the kitchen so that you can spend more time with your guests!
It's a win-win!
If you like this recipe, then you'll LOVE…