Chocolate Cherry Pancakes – buttermilk pancakes with mini chocolate chips and chopped Maraschino cherries. Top them with chocolate sauce, cherry pie filling and whipped cream for a spectacular breakfast treat!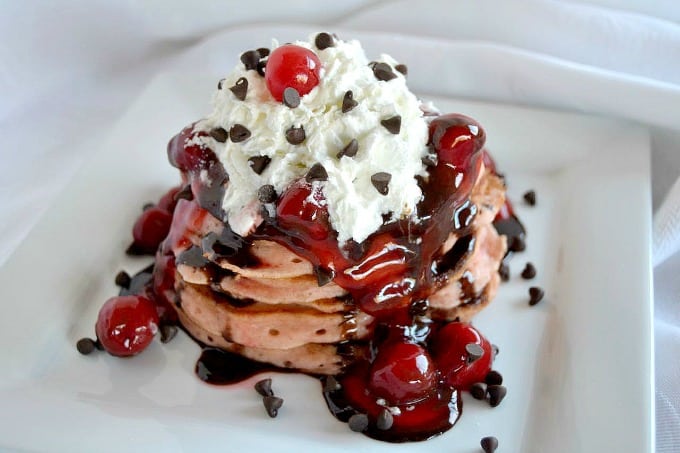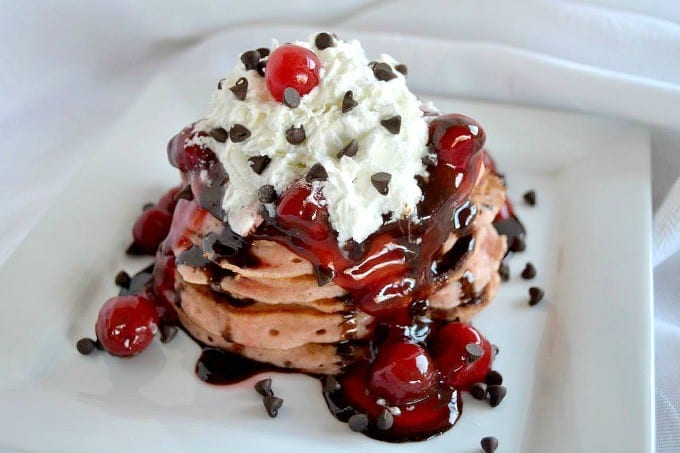 Breakfast.
Although I know this looks more like a dessert, but sometimes it's ok to really treat yourself – even at breakfast. You've got the rest of the day to work it off, right? 😉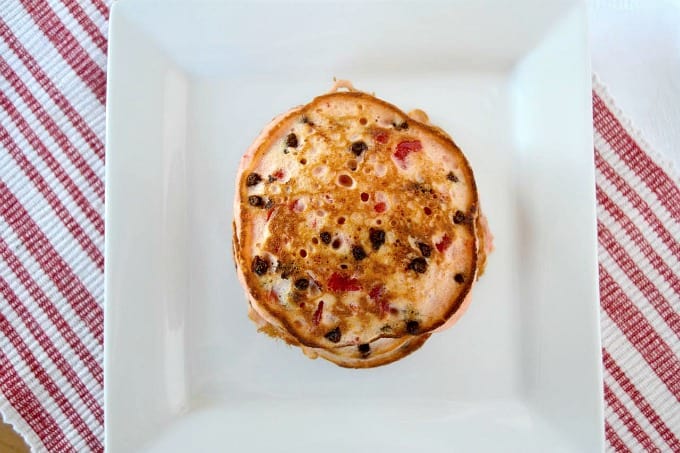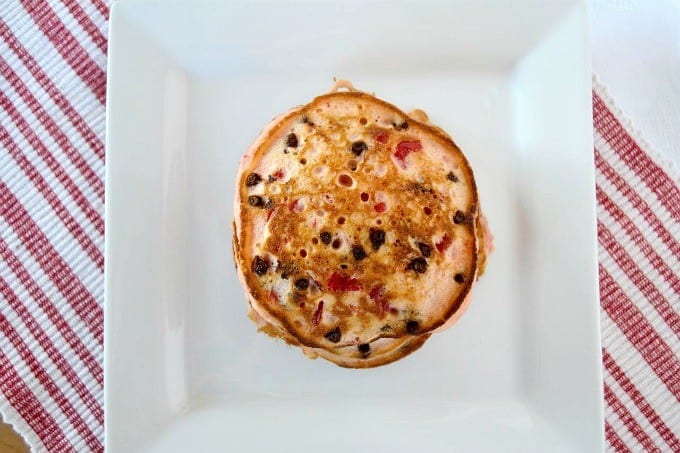 Besides, with that holiday known as Valentine's Day coming up Saturday, imagine the look on their face when you serve your loved one breakfast in bed with THIS?!?!
It's sure to score you some points!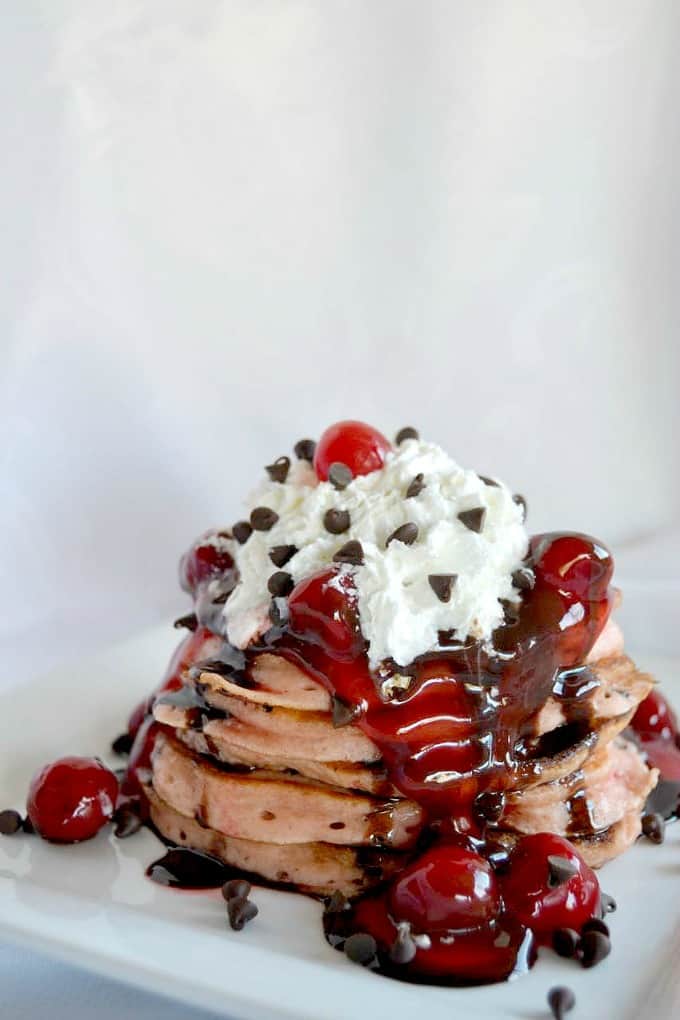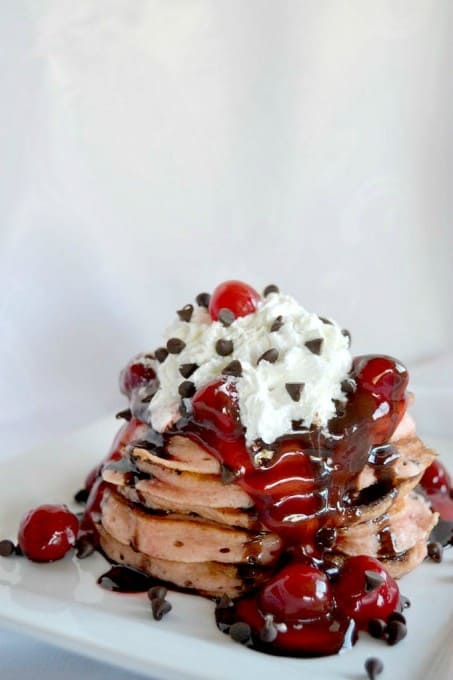 Mr. 365 and I don't typically celebrate Valentine's Day. We like to keep the romance alive throughout the year by going on dates and having fun instead of focusing on one night when restaurants are overcrowded and everyone has the same idea.
Yeah, the day is romantic and all, but I want to know that we're both in it for the long haul and not be extra nice and fake it just for society's sake. I mean, heck, we've been married for 25 years (oh my goodness) in August, so we must be doing something right!
SAVE THIS PANCAKE RECIPE TO YOUR FAVORITE PINTEREST BOARD!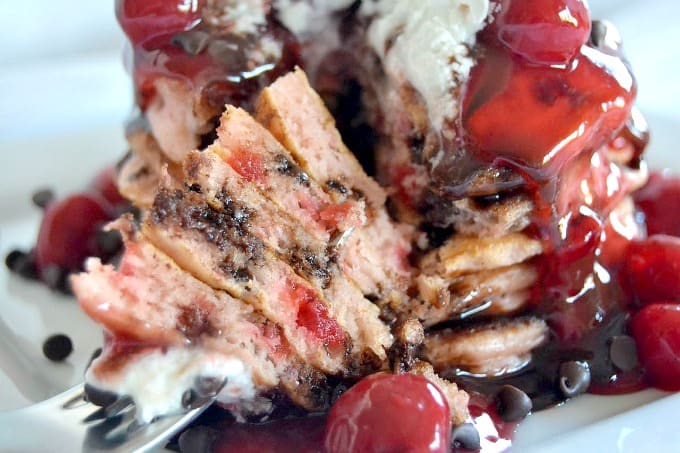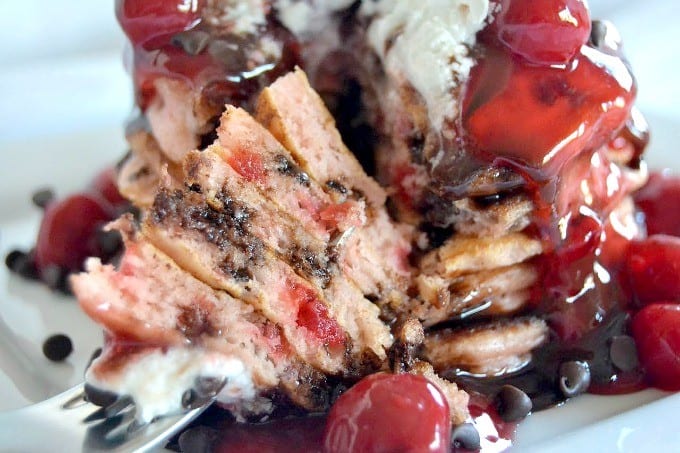 So, you don't even need the excuse to make these for Valentine's. I give you permission to make them ANY day that you want. Special day or no special day – the choice is yours.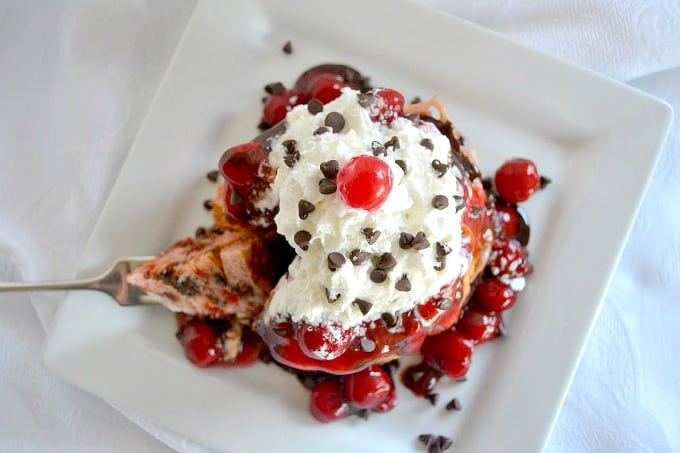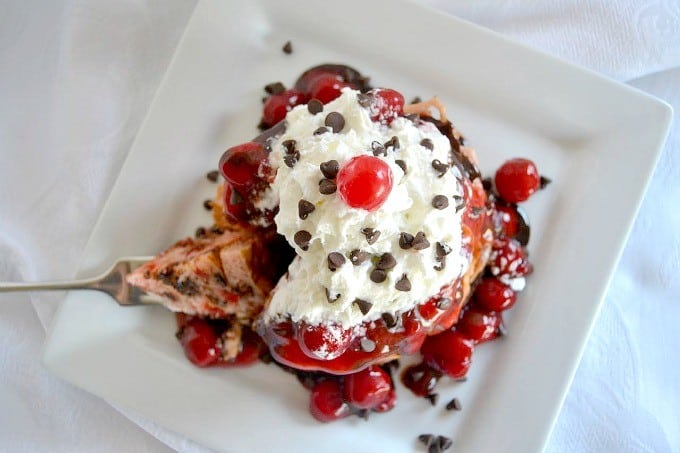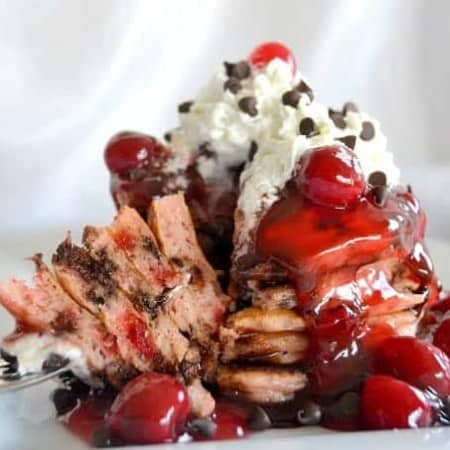 Chocolate Cherry Pancakes
Ingredients
2 cups flour
1 tablespoon sugar
1 teaspoon salt
1 teaspoon baking soda
¾ teaspoon baking powder
2 eggs
2 cups buttermilk*
1 tablespoon melted butter plus additional butter for the grill or skillet
1 10- ounce jar Maraschino cherries drained and chopped (set some aside for topping, if desired
¾ cup mini semi-sweet chocolate chips
Canned cherry pie filling chocolate syrup and whipped cream for topping
Instructions
Preheat griddle to medium. You can also use a skillet over medium heat.

In a medium bowl, whisk together flour, sugar, salt, baking soda, and baking powder.

Add chocolate chips and mix thoroughly.

In a large bowl, beat eggs. Add buttermilk and melted butter. Mix to combine.

Mix in cherries.

Add wet ingredients all all once to dry mixture and mix until just combined.

Place just enough butter on the surface of the griddle to coat it throughout.

Using a 1/4 cup measuring cup, pour batter onto griddle.

Cook until bubbles appear on the tops of the pancakes and then pop, about 5-7 minutes. The edges should also be somewhat dry/cooked.

With a metal spatula, carefully flip the pancake over to cook for and additional 5-7 minutes.

Top with cherry pie filling, chocolate syrup, whipped cream and that extra cherry!
Notes
*I had no buttermilk on hand, so I placed 2 cups of whole milk into a measuring cup and mixed it with 2 tablespoons of white vinegar, letting it sit on the counter for 15 minutes.
Did you make this recipe?
Share it with me on Instagram and make sure to follow me on Pinterest for more recipes.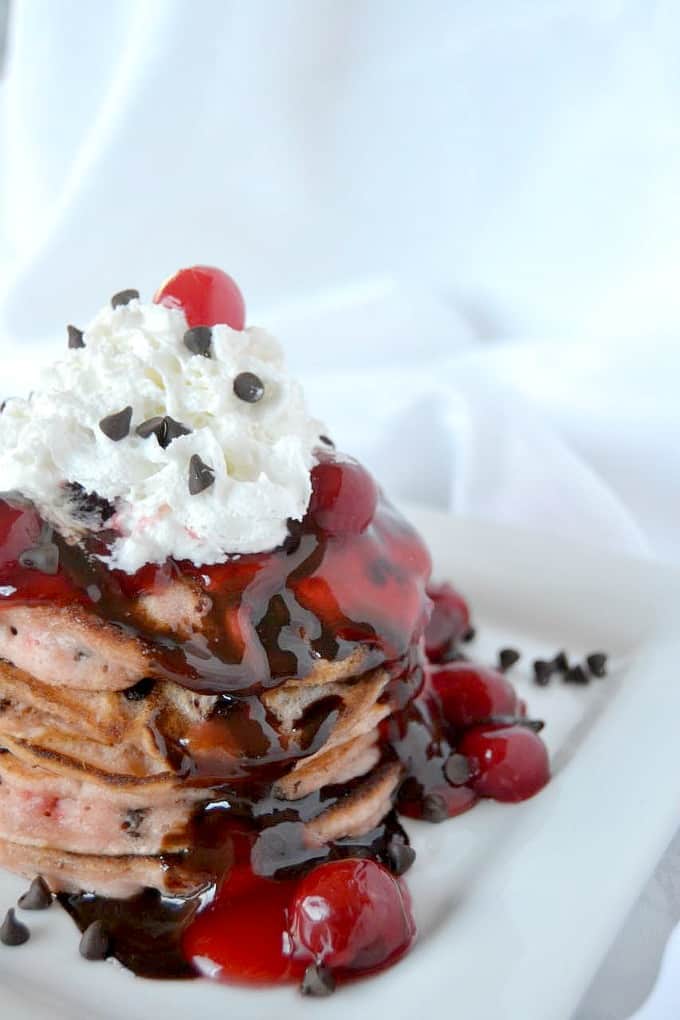 I rate everything I make on a scale of 1 -4 and these Chocolate Cherry Pancakes earned 4 rolling pins. OMG!!!!
They were out-of-this-world delicious, especially with the extras on top.
I didn't eat that whole stack – I only had a couple. Oh, and now I want some more…
I shared these pancakes over at Tidy Mom's I'm Lovin' It Link party this week! Be sore to check out all of the other fantastic submissions – there are LOTS to see!
If you like these then you'll LOVE…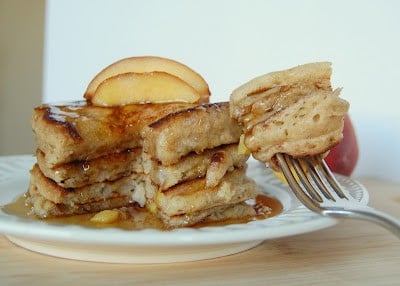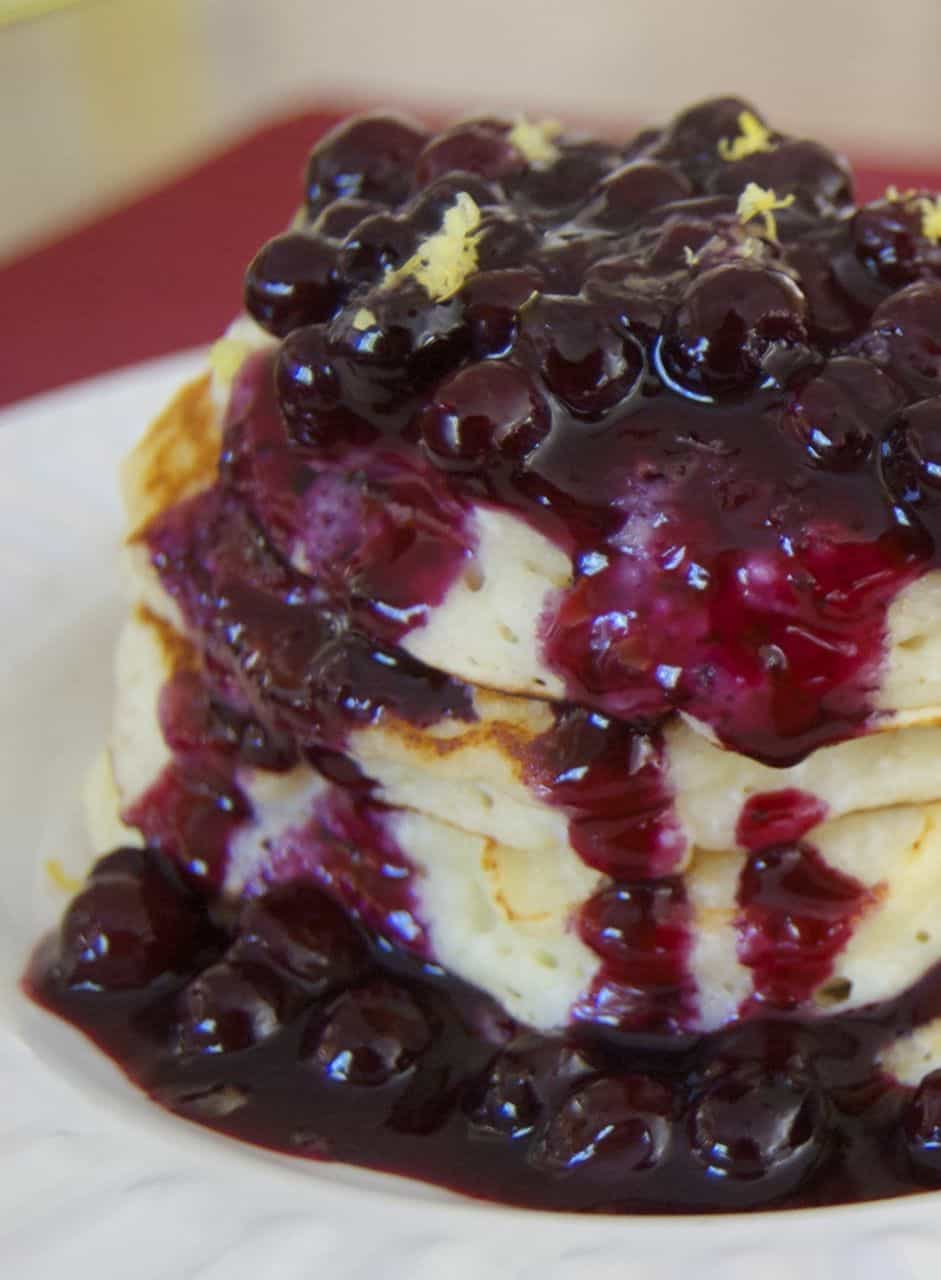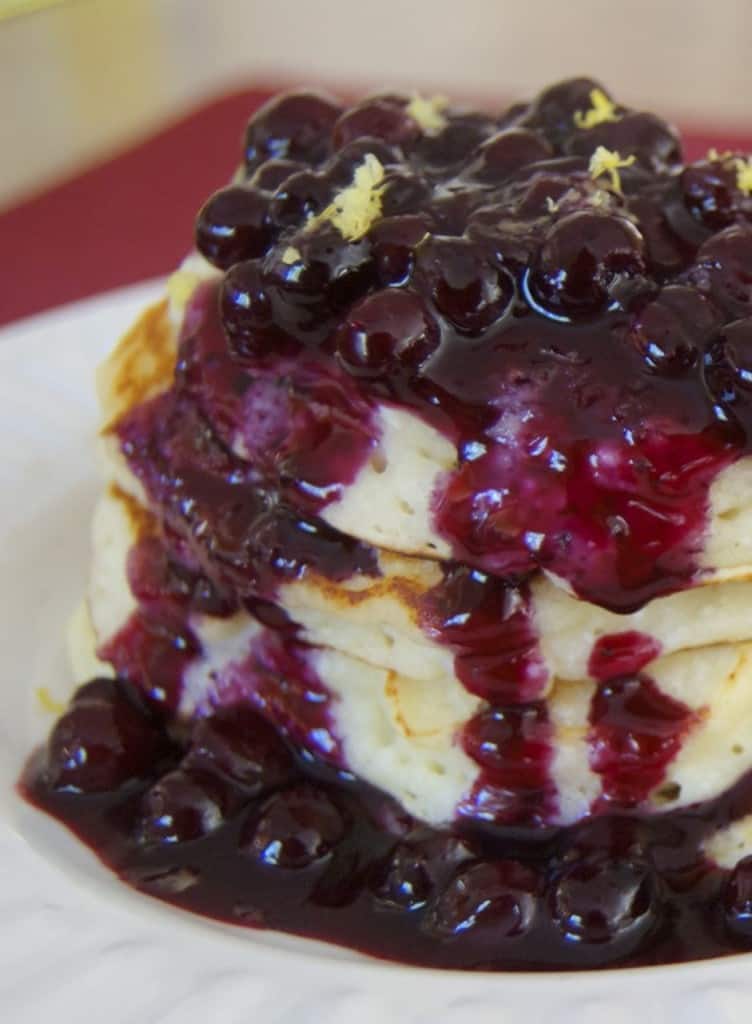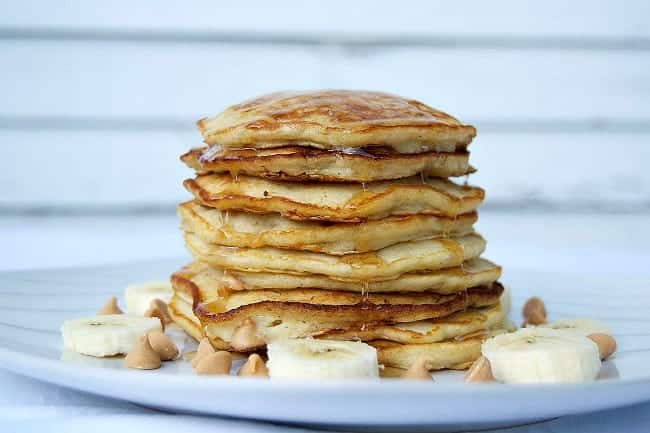 Reader Interactions