My family absolutely loves this Easy Crepe Recipe and yours will, too! Simply made with flour, eggs, milk and a little sugar, these thin French crepes or pancakes can be enjoyed a variety of ways.
My favorite way to eat these crepes is warmed with some pure maple syrup, but they're delicious with all kinds of fillings, too! Read on to find out how easy it is to make crepes at home.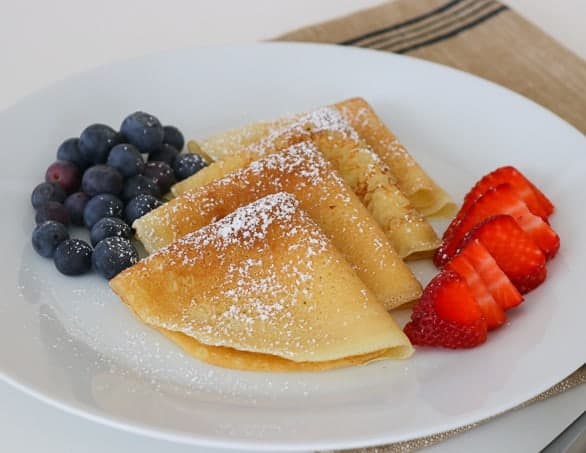 I have loved crepes ever since I was a little girl. The crepe recipe I've made for years is easy as it is delicious. Surprisingly, I hadn't added the recipe here on the blog until now.
THIS POST CONTAINS AN AFFILIATE LINK(S).**
Crepes
When I was little, we lived in Lombard, Illinois. There was a restaurant called the Magic Pan at the Oakbrook Mall, if I remember correctly. This restaurant is where my love of all kinds of crepes began.
The Magic Pan was a chain restaurant and there were a few of them all across the country. After we moved back to Rhode Island, my mother would take me to the one located in Faneuil Hall when we'd go shopping in Boston
I was absolutely heartbroken when that chain went out of business. We didn't go often, but when we did it was a super special treat and I absolutely LOVED it.
It's been years and years but I still think about some of my favorite dishes from that restaurant. I'm not sure if it's because they really were that spectacular, or if its the childhood nostalgia, or both. Either way, the food lives on in my memory.
SAVE THIS CREPE RECIPE TO YOUR FAVORITE PINTEREST BOARD!
Easy Crepe Recipe
To this day I can still remember how delicious the cheese fritters from that restaurant were! Ironically, I can't remember any of the desserts. You would think those would be at the forefront of my mind, right?
Instead, those fritters or cheese balls or whatever the heck they called them rocked my world. And that mustard dipping sauce they served with it, YUM!
Years later, I came across a recipe from Bon Appetit for Cheese Blintzes that I've been making for my family ever since. Of all the recipes I've ever made, they are our absolute favorite!
They remind me so much of the cheese fritters I loved. Those cheese blintzes will be added to the blog soon as well, so be sure to watch for them.
But my favorite thing on the menu at The Magic Pan was simple: plain crepes. Without fail, every single time we went I ordered the same exact thing: plain crepes with maple syrup. Man, were they good!
So, whenever mom made this easy crepe recipe for her manicotti (which I'll soon be adding to the blog) she'd always make a double or triple batch, saving some for me to enjoy just the way I loved them: dusted with powdered sugar and absolutely smothered in maple syrup.
How to Make Crepes
People often ask, "How do I make a French crepe?" They assume it's difficult to make these thin French pancakes.
I'm happy to learn that making homemade crepes is easy to learn. It just takes a little bit of practice, and of course, the more you do it the better you'll be!
Be careful, though. Once you learn how to make crepes, everyone will be asking you to make them all the time!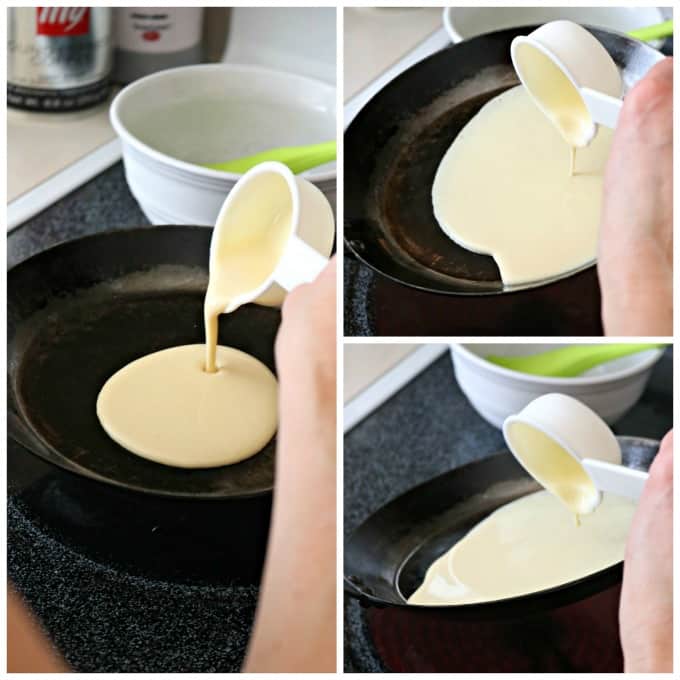 How to Make this Quick Easy Crepe Recipe
I've used both a mixing bowl and a blender to make crepes. I find it easiest to use the blender, but a mixing bowl is sufficient.
A note when using a bowl: Mix the dry ingredients together and slowly add the milk while whisking to prevent any lumps from forming in the batter.
This recipe says to let the batter rest for a half an hour before using. Again, I've done both, allowed it to rest and not. I've had better results with it resting. Fewer bubbles are created when the crepe cooks which leads to fewer holes in the final product.
I've found that the perfect amount of batter to pour into the pan is a scant 1/4 cup. If using a blender for mixing, you can pour it directly into the pan, but I tend to pour not enough or too much. So, a scant 1/4 cup full has been the perfect amount. "Scant" means to pour the batter into the measuring cup so that it is about 2-3 millimeters under the rim of the cup.
I use this crepe pan, and my son uses a small 8-inch skillet when we make them together. Both work equally well, but I prefer the crepe pan as I've used it for so many years and it's just easier for me.
Pour the batter into the center of the pan and then gently swirl the pan to coat the whole bottom evenly.
Once the batter sets for about 30 seconds, I'll go around to loosen the edges with a spatula because it has rounded edges and is less likely to put a hole into the crepe.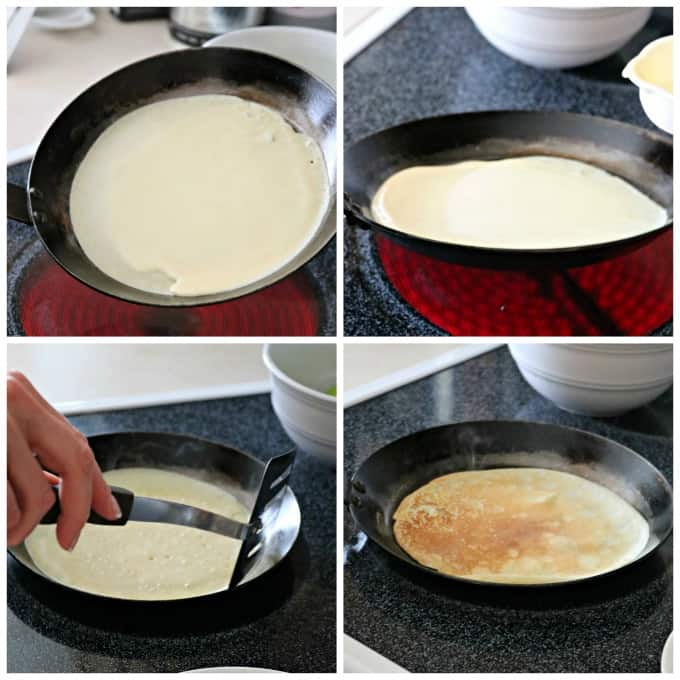 Savory Crepes
To make savory crepes, simply omit the sugar from the recipe and add your favorite fillings. This Monte Cristo Crepe Recipe is stuffed with cheese, ham, and turkey and would be perfect for a brunch.
I'm dying to make these Chickpea-Rosemary Crepes with Sweet Potatoes and Goat Cheese. I absolutely love all of those ingredients and can't wait to make them for an upcoming brunch. We also love the way crepes filled with this Spinach and Cheese Manicotti taste.
If you're looking for crepes without white flour, try these Buckwheat Crepes that are naturally gluten-free. I love that Rebecca put a fried egg in the middle. So yummy!
If you like breakfast for dinner (and who doesn't) this basic crepe recipe would be an excellent choice, stuffed with just about anything you like.
Sweet Crepes
I'll often serve the crepes with this 3-Ingredient Strawberry Sauce. It's super easy and absolutely delicious. We love it on our ice cream as well.Add a little stabilized whipped cream and top with fresh strawberries and you've got a perfect meal, in my book.
One of my favorite sweet easy crepe recipes is this one for Lemon Crepes. Tangy lemon curds plus delicious mascarpone and cottage cheese filling makes for a fun and fancy breakfast, brunch or even dessert!
Sometimes I enjoy them as simply as I can–with a bit of fresh lemon juice and powdered sugar. I love OXO's Dusting Wand because it sprinkles just the right amount of confectioners' sugar every single time. That way, we don't have to worry about inhaling and choking on powdered sugar as we nosh on our delicious crepes.
Crepes are delicious with some Nutella, fresh berries or cheese fillings. They can also be filled with Strawberry Jam, peanut butter or marshmallow fluff. The possibilities are truly endless!
Of course, at the end of the day, I'll always remember my very favorite crepes as the ones from my childhood, sweet and drizzled in maple syrup.

SIGN UP FOR THE WEEKLY 365 DAYS OF BAKING & MORE
NEWSLETTER BELOW!
Crepes are impressive and easy to make but if you've never made them before, check out these tips I've gathered over the years!
Can crepes be made ahead of time?
Yes!
Crepes can be made up to THREE days ahead. Put them in between layers of wax paper and place them flat into a gallon-sized sealed plastic bag. Store in the refrigerator, or freeze up to two months.
Can crepes be frozen?
Yes!
As when you're refrigerating them, put them in between layers of wax paper and place them flat into a gallon-sized sealed plastic bag. Store in the refrigerator or freeze up to two months.
Pancake Recipes
Are you looking for a recipe more like a classic American pancake? I've got you covered. We love all kinds of pancakes in this kitchen, not just crepes.
These Lemon Blueberry Cottage Cheese Pancakes are perfect for a summer morning. The combination of tart lemon and sweet blueberry is out-of-this-world delicious.
Cranberry and orange are at their best in these Cranberry Pancakes with Orange Cream Cheese Drizzle. They're great to serve around Christmas time but I enjoy them any time of the year.
And if you're a fan of cinnamon, you MUST make these Cinnamon Peach Pancakes. Apples usually get all the cinnamon love when it comes to pancake but peach and cinnamon together are just as good (if not better). These pancakes are sweet with just a hint of spice.
If you can make a pancake, you can make a crepe! I'm so excited to share this beloved recipe with you today–and can't wait to hear how you like it. These are truly the easiest and tastiest basic crepes you can make.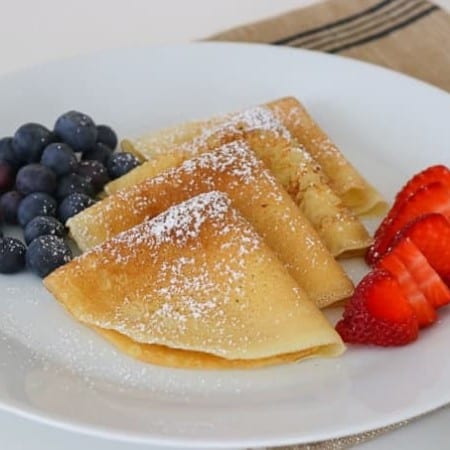 My family absolutely loves this Easy Crepe Recipe and yours will, too. Simply made with flour, eggs, milk and a little sugar, these thin French crepes or pancakes can be enjoyed a variety of ways. My favorite way to eat them is warmed with some pure maple syrup, but they're delicious with fillings, too!
Ingredients
2 large eggs
1 cup milk
1 teaspoon pure vanilla extract
1 cup flour
2 tablespoons granulated sugar
½ teaspoon salt
2 tablespoons unsalted butter melted
Instructions
Place all ingredients plus ONLY one tablespoon of melted butter in a blender and mix until well combined, scraping the sides to incorporate all flour.


Cover and let batter rest for a minimum of 30 minutes.

Heat a crepe pan or 8-inch non-stick skillet over medium heat and lightly brush with the remaining melted butter.

Using a scant 1/4 cup of batter, pour into the pan. Use a tilt and swirl method to evenly cover the entire bottom of the pan.

Cook for about 1 minute before circling the pan with a rounded-edge hard spatula to loosen the browning edges. It will be ready to flip soon after that.

Gently guide the spatula under the crepe and flip. Cook for an additional 30 seconds - 1 minute until completely cooked through and slightly golden.
Did you make this recipe?
Share it with me on Instagram and make sure to follow me on Pinterest for more recipes.
Interested in some other great recipes? Make these along with your crepes!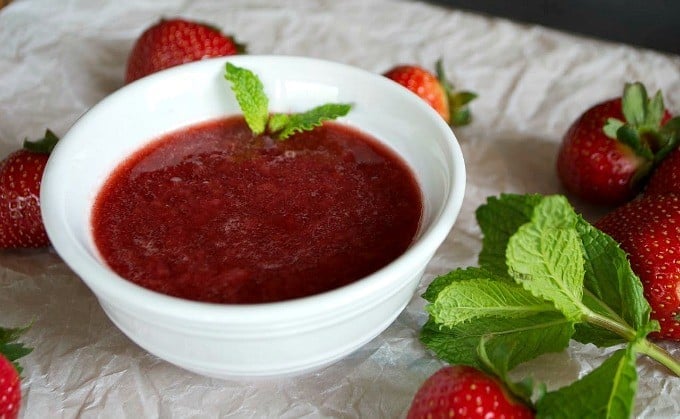 This is probably one of the crepe toppings I make most frequently. It's also incredible over pancakes, waffles and ice cream!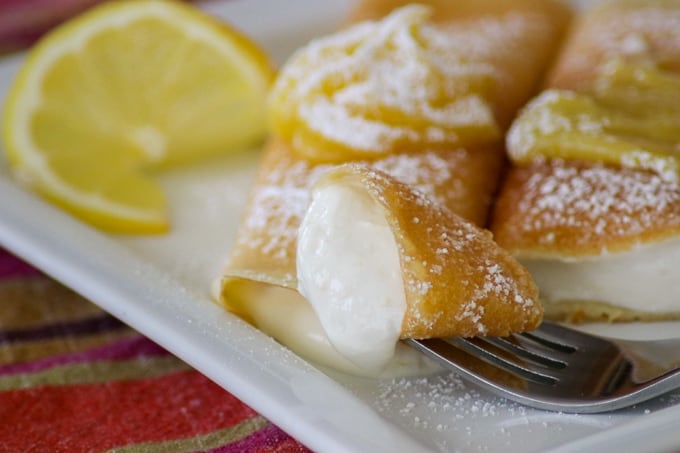 Lemon crepes are favorite spin on the simple crepe that are filled with a rich cream cheese center and topped with lemon curds.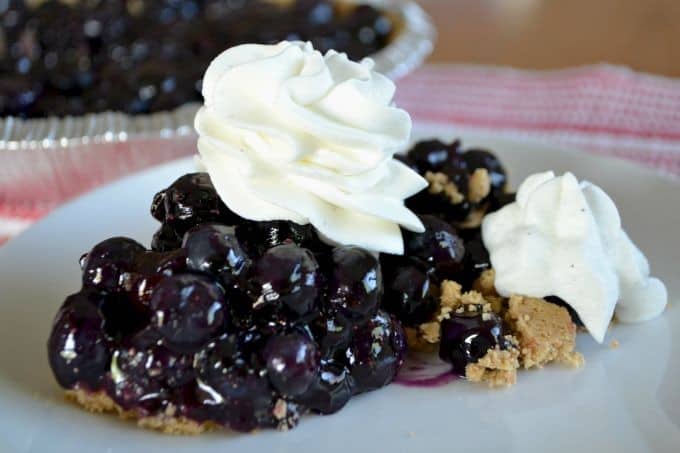 We love making one of these pies whenever I have blueberries around. It has all the classic taste of a blueberry pie but with no time in the oven at all!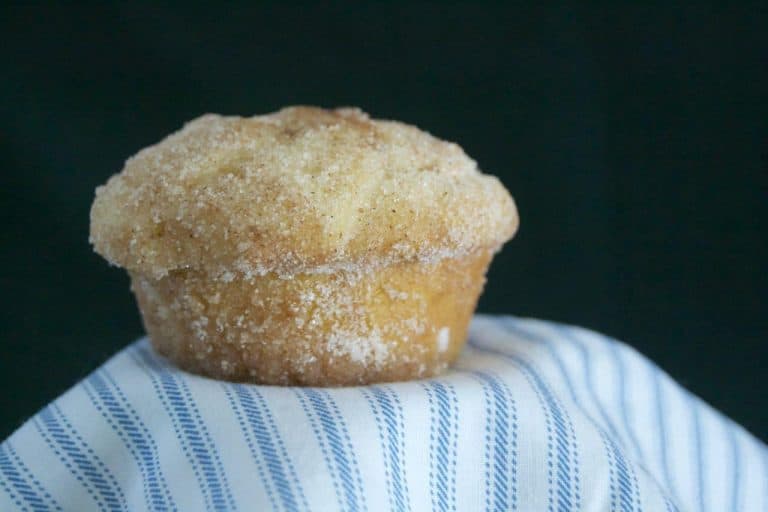 These adorable breakfast baked goods are a sweet and simple way to start the day. Great for eating on the go or munching with a cup of coffee!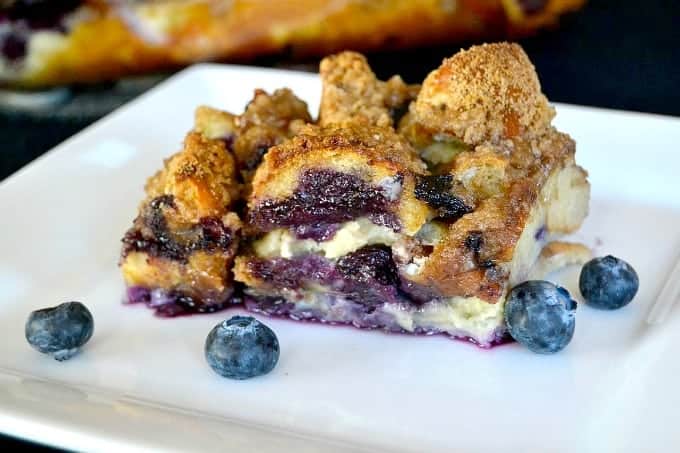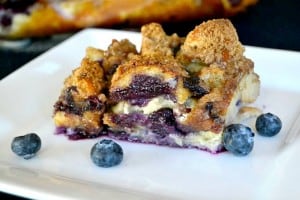 This breakfast bake is everything I love about french toast but made with bagels, blueberries and pecans, then baked. It's a unique and completely delicious treat perfect for breakfast or brunch.
Reader Interactions