This is a sponsored conversation written by me on behalf of Shamrock Farms. The opinions and text are all mine.
These Lemon Blueberry Cottage Cheese Pancakes packed with protein are the perfect breakfast to send your kids back to school. Made with Shamrock Farms Low-fat Cottage Cheese, blueberries, and fresh lemons, they're delicious and are a great way to make sure they'll be full, focused and energized as they head out the door in the morning!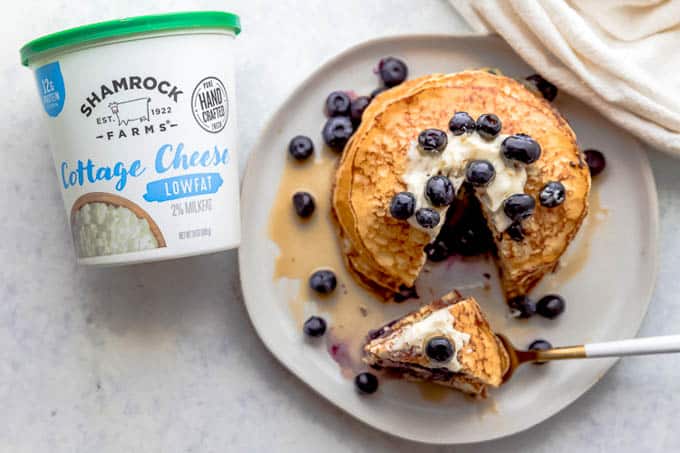 Can you believe summer's practically over?
*This post contains an affiliate link(s).
I have absolutely NO idea where this summer went.
It's absolutely flown and now everyone's heading back to school.
About three weeks ago, I was in the grocery store and saw that it was all decked out with Halloween candy and supplies.
Say what??
THEN, the other night, no word of a lie, I saw a Christmas tree in a neighbor's window.
All. Lit. Up.
It's AUGUST, people!!
Can we please just slow things down a bit here?
Let's just enjoy today, shall we?
And tomorrow we'll start the day off by having a stack of these Lemon Blueberry Cottage Cheese Pancakes.
That's something I could definitely get into.
SAVE THIS LEMON BLUEBERRY COTTAGE CHEESE PANCAKES RECIPE TO YOUR FAVORITE PINTEREST BOARD!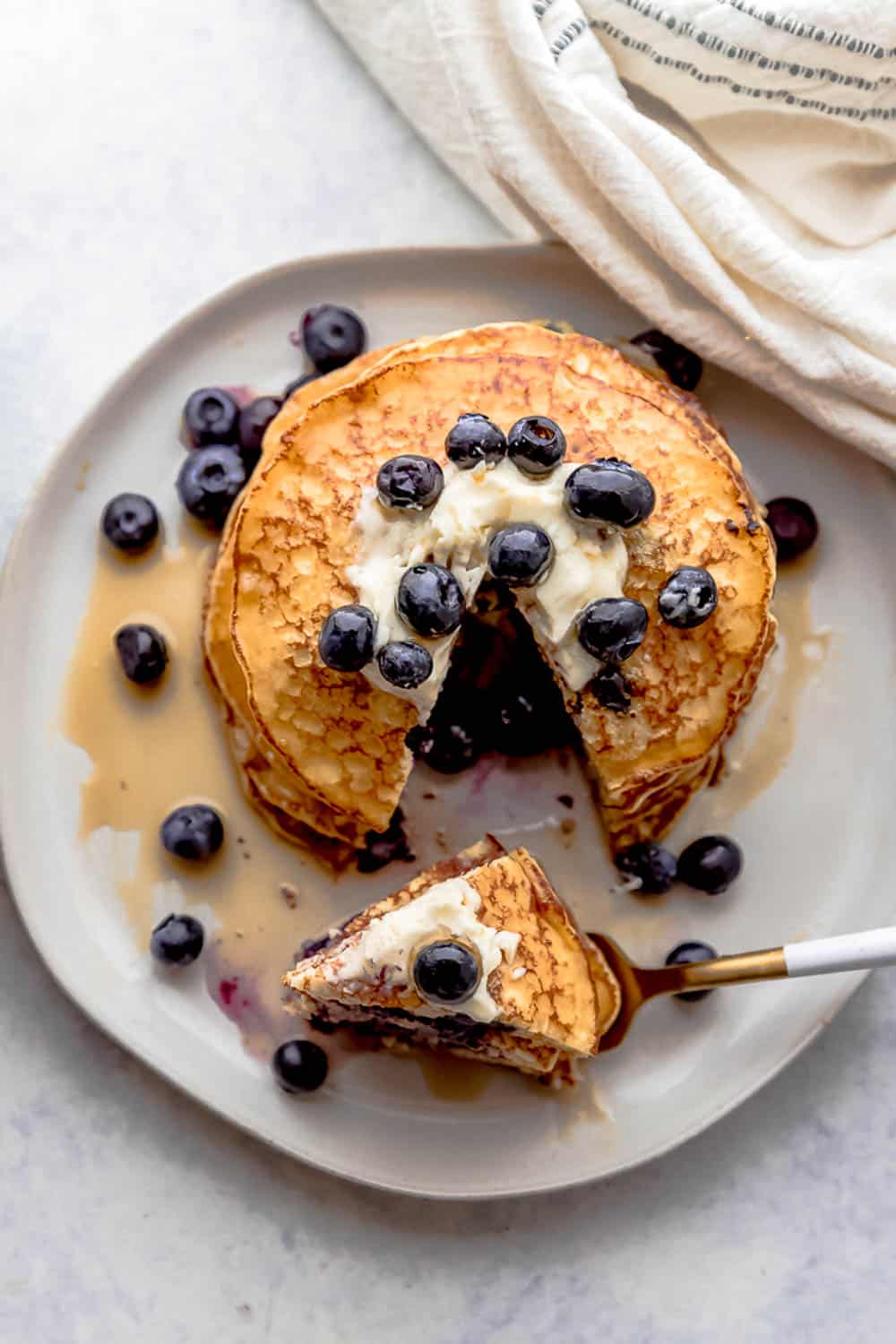 People, these homemade pancakes are seriously a game changer.
Since I discovered how to make pancakes with Shamrock Farms Low-fat Cottage Cheese, it's now the ONLY way I make my homemade pancakes.
Get in my belly!!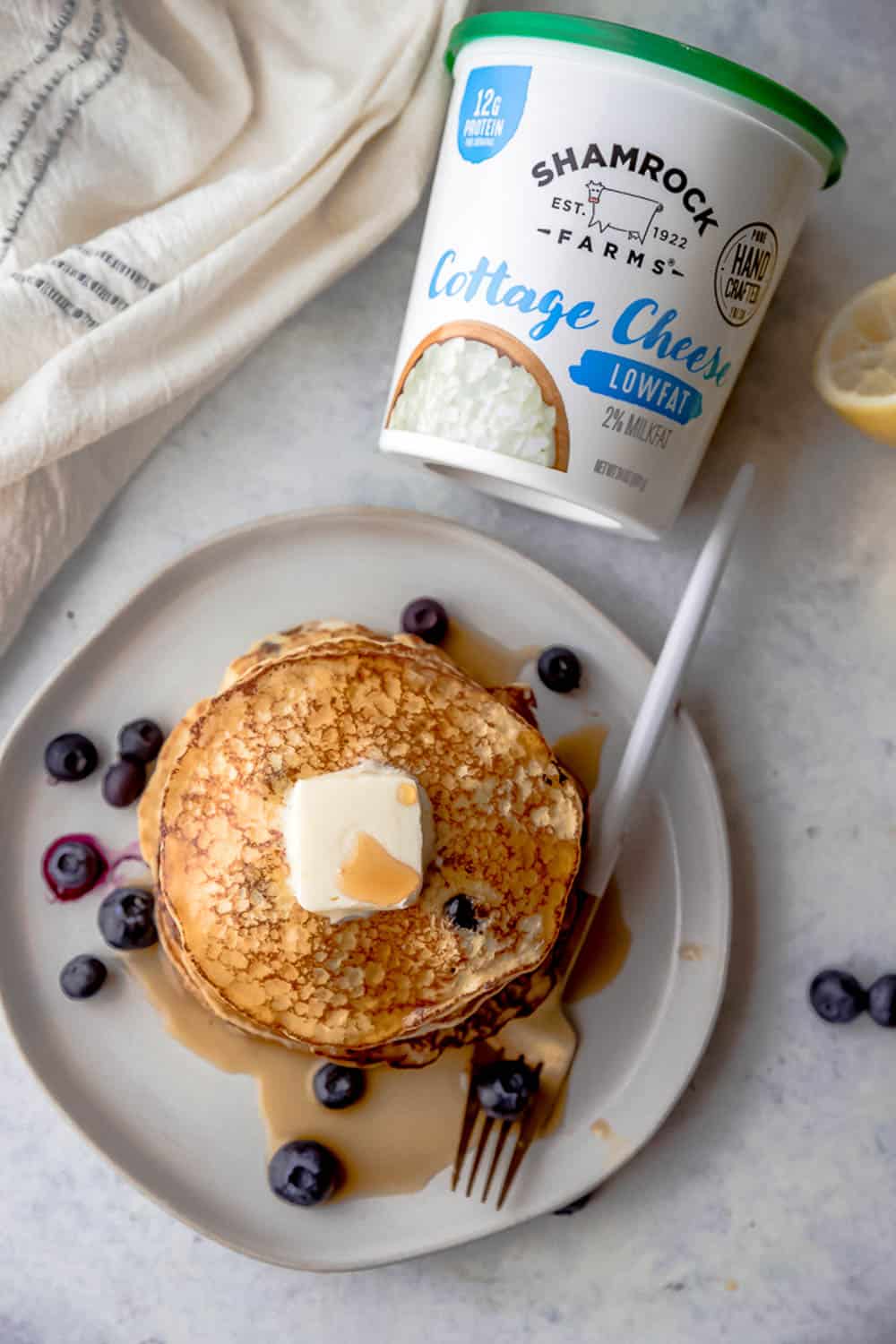 I love the taste.
I love that they have 19 grams of protein per serving!
And I love that they're the easiest pancake recipe I've ever made.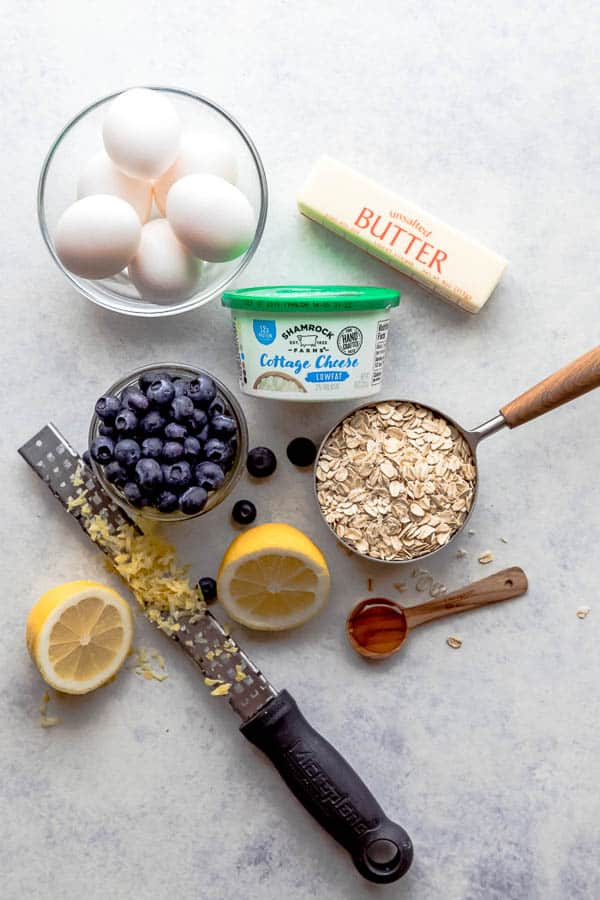 Ingredients You Need to Make Lemon Blueberry Cottage Cheese Pancakes –
Shamrock Farms Low-Fat Cottage Cheese – a great source of protein, so be sure to look for the new green lid in your dairy case!

you can also substitute Shamrock Farms Traditional Cottage Cheese if you'd like, too.

Rolled oats, but you can use quick oats as well without any problem
Large eggs. You'll need 6 of those babies – another ingredient to give you even more protein
Honey for a touch of sweetness
2 medium lemons – you'll want the zest and juice of both those babies
Fresh blueberries, about 6 -8 per pancake.

You can use frozen blueberries, just make sure they're completely thawed before you add them. Nothing like biting into a cold blueberry in the middle of a warm pancake.
I've used both the plump and wild blueberries which are smaller. I personally prefer the smaller blueberries. I think they have just a bit more flavor and because they're smaller, the pancake cooks a bit more evenly after it's flipped. You can read my note in the recipe.

Butter for cooking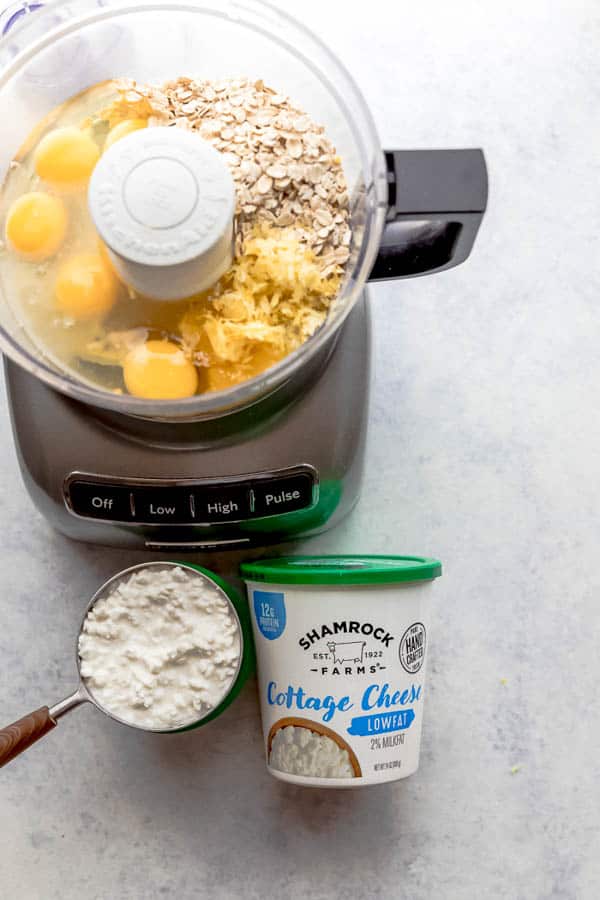 And speaking of back to school…
These Lemon Blueberry Cottage Cheese pancakes are a great breakfast to ensure your kids are full, focused, and energized before they head out the door for school.
With a full day of sitting in class, homework, after school activities and more every day, it's super important they get started on the right foot in the morning and that starts with breakfast.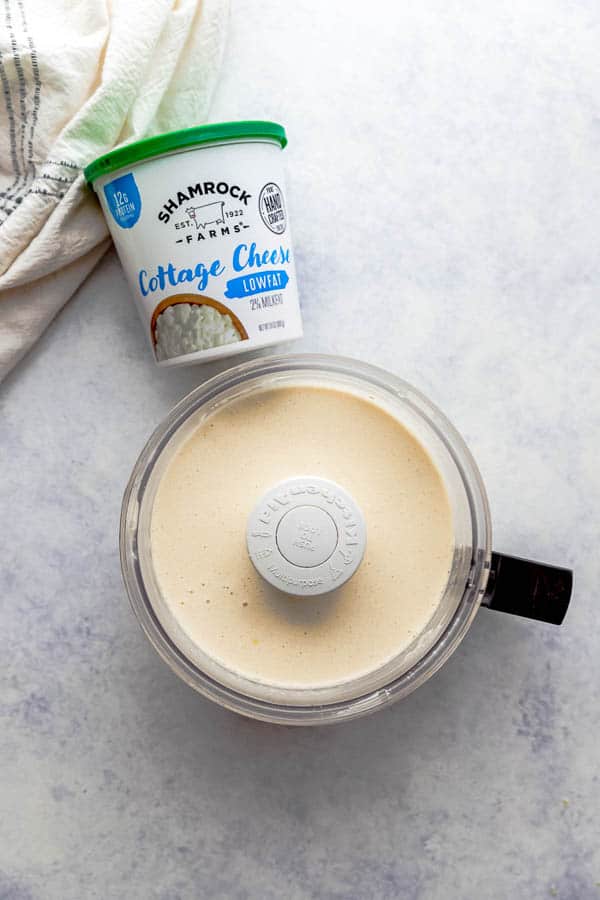 Shamrock Farms Low-Fat Cottage Cheese has 13 grams of protein and 110 mg of calcium per serving!
That means you and your kids are going to have more energy energy and focus, and you'll feel full longer. It can help to maintain your bone health and can help provide you with more lean muscle.
So, why not keep this container stocked in your fridge?
Can I tell you a secret?
Many mornings, I'll start my day with a bowl of a cup of cottage cheese, and a 1/2 cup or so of frozen blueberries drizzled with a little bit of honey.
It's a great way for me to start the day instead of having a bowl of cereal.
It's also a delicious snack in the afternoon, too!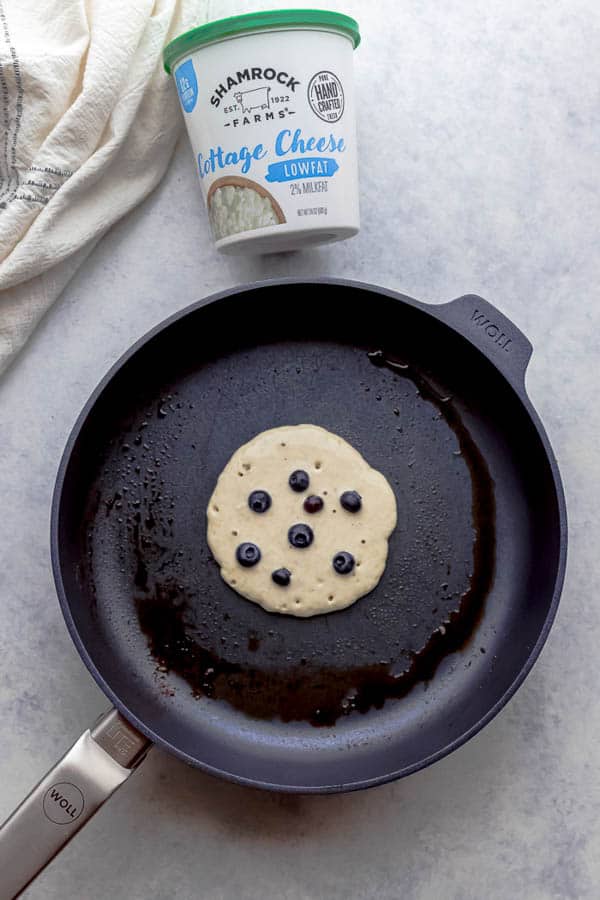 How to make Homemade Cottage Cheese Pancakes –
Into a food processor or a blender to put the Shamrock Farms Low-Fat Cottage Cheese, oats, eggs, honey, lemon juice and lemon zest.
Mix well.
Preheat a non-stick skillet or griddle to medium-high heat. Place a some butter on the skillet to melt.
Using a 1/4 cup of batter, gently pour it onto the skillet.
Add 6 – 8 blueberries to each pancake and cook for 1-2 minutes, until bubbles start to appear.
Using a rubber spatula, gently flip the pancake over to cook on the other side for about two minutes.
Serve with additional blueberries and maple syrup
I've been using Shamrock Farms products for years.
All of the milk they use in their items is locally sourced in Arizona at their family farm, which means it can go from farm to your local store in as little as two days!
Shamrock Farms also has happy cows, 10,000 of them in fact!
And we all know that happy cows make great quality milk.
They never use growth hormones like rBST, they are well taken care of, eat healthy diets, and have excellent medical care.
So you can be sure that when you choose to add a Shamrock Farm ingredient in one of your recipes as I have that you'll be passing on that goodness and high quality to those you love.
SIGN UP FOR THE WEEKLY
365 DAYS OF BAKING & MORE
WEEKLY NEWSLETTER DOWN BELOW!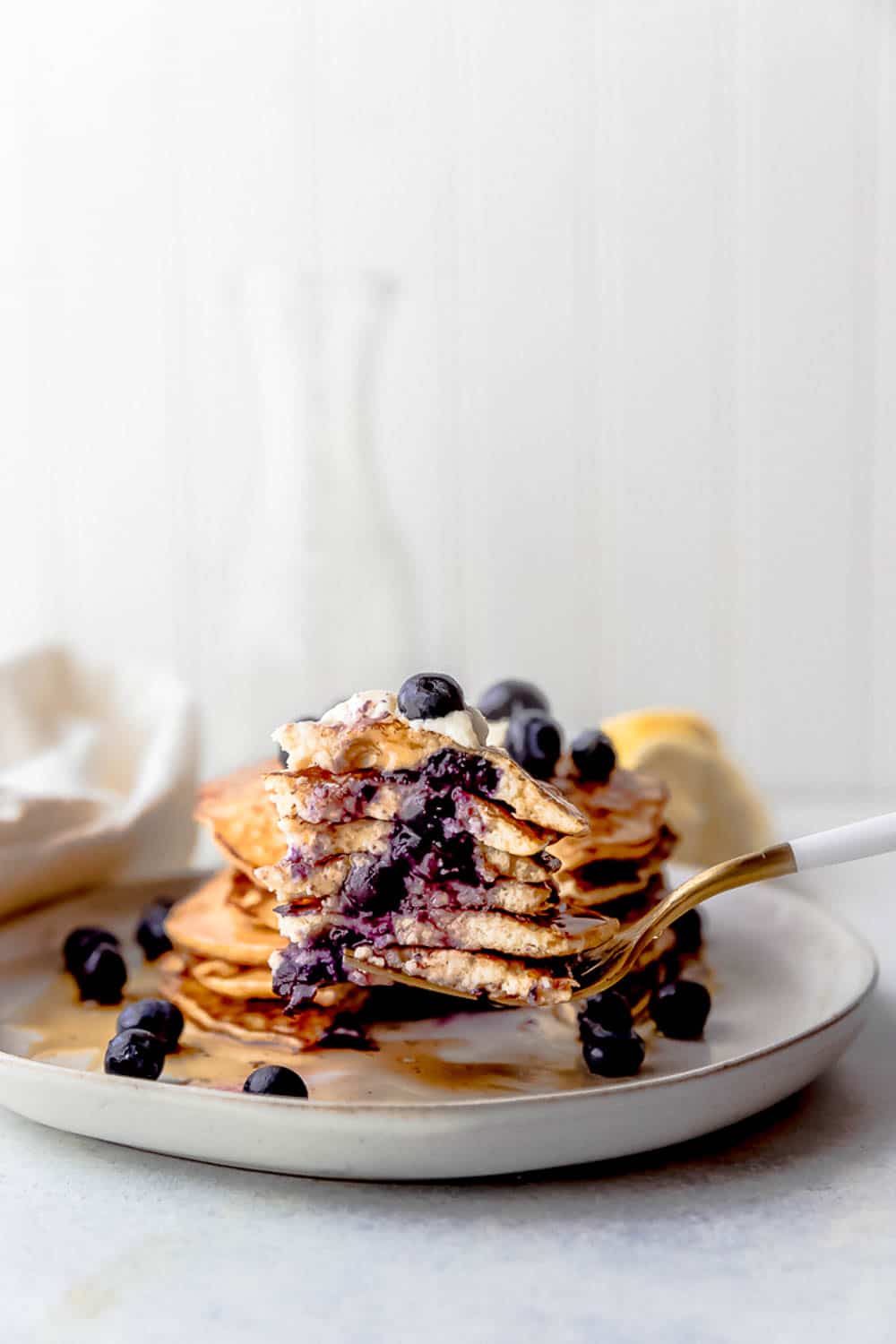 With so many delicious products, it's easy to incorporate them into your favorite family recipes and make sure your fridge is well stocked!
I've used Shamrock Farms Cottage Cheese in these Spinach and Cheese Manicotti. They're an old family recipe.
With plenty of Game Days on the horizon, you can be sure that your hungry crowds will be happy when you serve them this warm Chicken Taco Dip and this Jalapeño Ranch Dip. Just be sure to have plenty of chips and things to dip on hand – you wouldn't want to run out!
You can treat the kids to this Lime Cheesecake Dip when they come home from school. With an assortment of fruit and cookies to dip, you can be sure that it won't last long.
There are plenty of Shamrock Farms items to choose from to help out with breakfast as well.
This Apple Oatmeal is sure to warm everyone up on a chilly day before heading out the door.
Imagine the smiles when they walk into the kitchen to grab a warm Apple Streusel Muffin? The smell of them baking in the kitchen is heavenly.
I've always loved smoothies, but there are times when a smoothie bowl is just as good. This easy Banana Mocha Smoothie Bowl is a good way to jumpstart those extra sleepy mornings.
For more news and updates about Shamrock Farms, visit them here. You can also visit them on Facebook, and on Instagram @shamrockfarmsmilk.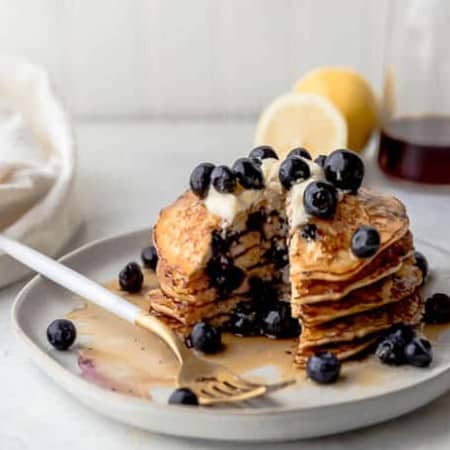 Lemon Blueberry Cottage Cheese Pancakes
Lemon Blueberry Cottage Cheese Pancakes are an easy pancake recipe, and a great breakfast to ensure your family is full, focused, and energized for the day!
Equipment
Food processor or blender

non-stick skillet or griddle
Ingredients
1 cup Shamrock Farms Lowfat Cottage Cheese
1 cup old fashioned oats
6 eggs
2 medium lemons - for zest and juice about 3 tablespoons lemon juice
2 teaspoons honey
1 cup fresh blueberries
2-3 tablespoons butter for cooking
Instructions
In a food processor or blender, combine the Shamrock Farms Lowfat Cottage Cheese, oats, eggs, lemon zest, lemon juice, and honey. Blend on high for 30 seconds until batter is completely smooth.

Preheat a non-stick skillet or griddle on medium-high and add a pat of butter (about ½ to 1 tablespoon) to the pan or griddle.

Gently pour ¼ cup of batter into the pan. Add 6-8 blueberries per pancake. Cook until bubbles begin to appear, about 1-2 minutes. With a rubber spatula, gently flip the pancake over. Some blueberries may escape for their lives, but you can just enjoy those little buggers separately.

Cook for an additional two minutes. Note: depending on the size of your blueberries, they may prevent the batter from touching the pan after you flip, and each pancake may take a little longer to cook.

Add additional butter to the skillet or griddle as necessary and serve with maple syrup
Nutrition
Serving: 1g | Calories: 309kcal | Carbohydrates: 29g | Protein: 19g | Fat: 14g | Saturated Fat: 6g | Cholesterol: 263mg | Sodium: 376mg | Potassium: 316mg | Fiber: 4g | Sugar: 10g | Vitamin A: 574IU | Vitamin C: 32mg | Calcium: 96mg | Iron: 3mg
Did you make this recipe?
Share it with me on Instagram and make sure to follow me on Pinterest for more recipes.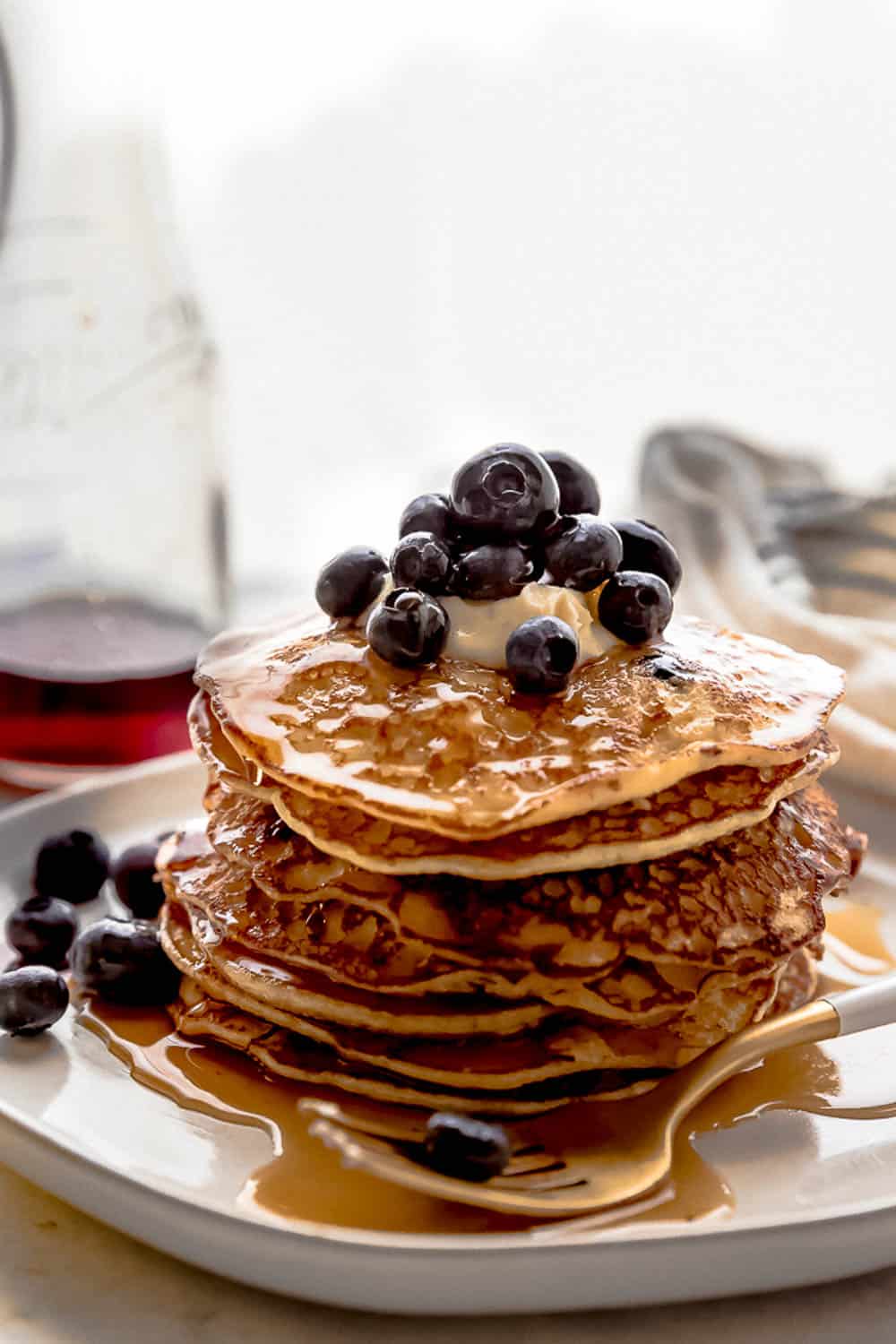 *We are a participant in the Amazon Services LLC Associates Program, an affiliate advertising program designed to provide a means for us to earn fees by linking to Amazon.com and affiliated sites.
These are links that can take you to a product (or products) that I recommend. I do receive a portion of the sales or credit for my future purchases from any items purchased through those links. Your purchases encourage my baking, cooking and butter habit, and contribute to the life of this blog. I thank you so very much for your support. Let's keep having fun in the kitchen!!
Reader Interactions