One bean of soy can do so much for our bodies and for world consumption. It is the only plant protein that is a whole protein. But what is a whole protein?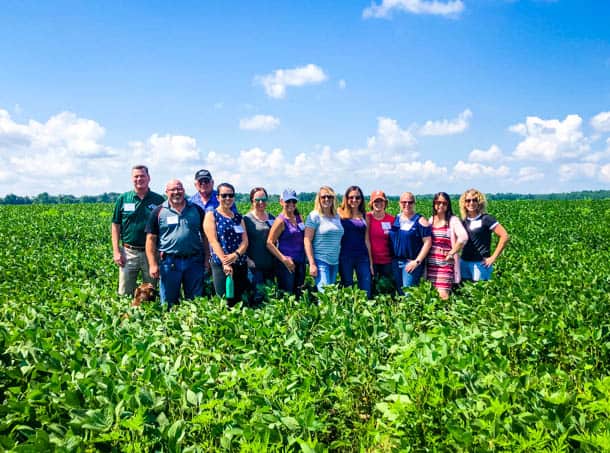 A whole protein is a protein food source that contains the adequate proportion of each of the nine essential amino acids that are necessary in the human diet and this one little bean is it!
I am proud to be partnering with Best Food Facts to bring you this post about soy. I have been compensated for my trip and this post, and as always, all opinions are 100% my own.
I cannot tell you how excited I am to bring you this post.
At the end of last month, I was able to visit a soy farm, the Perdue Oilseed crush plant and talk to a registered dietitian.
It was fascinating and so informative.
Did you know that just one little soy bean can be made into three different products? I'll tell you about that in just a little while.
Up until this point, I hadn't ever really given soy much thought.
Sure I've used soy sauce in a a few of my recipes like this Easy Chicken Marinade, Pad See Ew, and my favorite Pork Potstickers.
I've even added soy milk to my Dairy-Free Lemon Poppy Seed Waffles, and this delicious Pineapple Coconut Silk Smoothie. You can even use it in these Cranberry Pancakes with Orange Cream Cheese Drizzle,
However, it's been another food source I have taken for granted until now.
SAVE THIS SOY-ONE LITTLE BEAN CAN DO SO MUCH POST TO YOUR FAVORITE PINTEREST BOARD!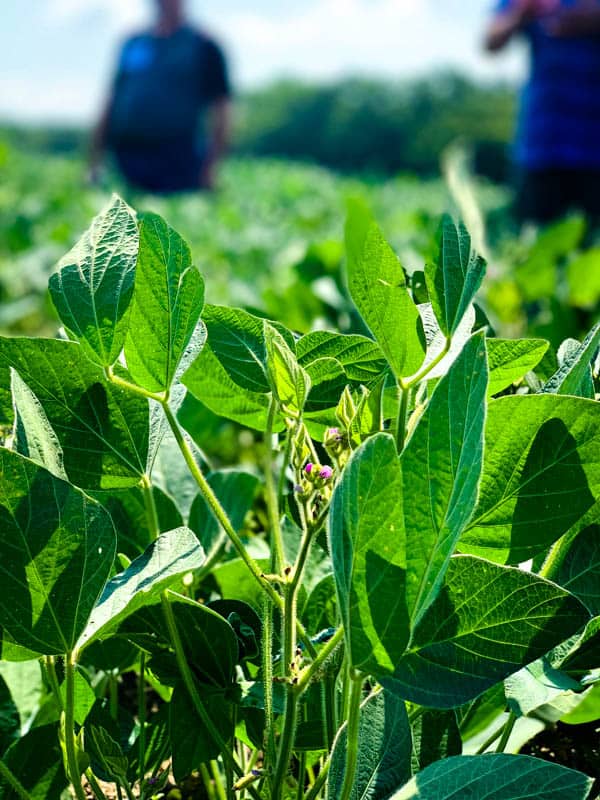 Knowing I was going on this trip, the following questions popped into my head.
How is soy grown?
What is made from soy?
What are the health benefits of soy?
Can soy foods cause cancer?
And I was given the answers to all of them and more with the help of Best Food Facts.
Last year, I partnered with them to do a video series on CRISPR technology and learned so much doing those as well.
They are a great source of information about anything food. If you have any kind of question about food or if it's food related, chances are that they'll have the answer and if not, they'll find it for you using their more than 200 food experts!
How is Soy Grown?
To answer this question, we were taken to Lazy Day Farms in Vienna, Maryland.
Owned by father Joseph Layton, Jr. and his son, William Layton, they have been working together on their generational family farm since 2003.
The can produce 35 thousand bushels of soybeans a season which is harvested every November.
3/4 of their beans grown are used for mill feed and oil production.
The remaining 1/4 of the crop is grown are non-GMO (genetically modified organism) high-protein beans for human consumption – tofu, snack beans and other food use.
Did you know…
Soybeans are legumes, so they produce their own nitrogen!
This means that soy farmers don't need to add any nitrogen to the soil when the crop is growing like they might with other crops. Nitrogen is a key component of chlorophyll which is essential for the conversion of sunlight to energy.
Lazy Day Farms is a no-till farm, meaning they never turn the soil over so as not to disturb it when preparing for crop planting which is much better for the soil overall.
It greatly reduces the soil run-off on hilly areas, allows the water to move through the soil more easily, and the earthworms are more productive.
No-till farming is less expensive and more economical because horsepower isn't needed for plows. It also decreases soil impaction.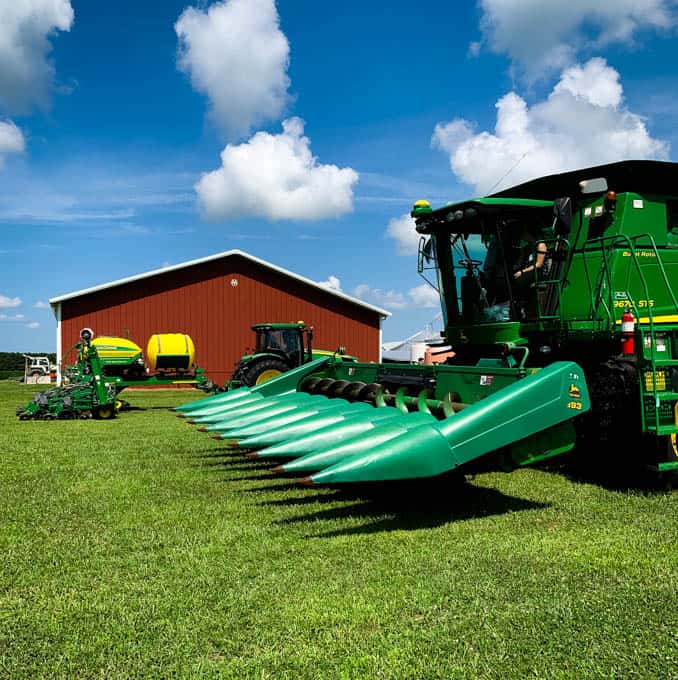 The Layton's also use cover crops to ensure that their soil remains healthy and sustainable every year.
What is a Cover Crop?
A cover crop is a crop that is not harvested, but planted to prepare the soil for the next important crop.
These plantings help provide nutrients for the next yield.
They stay as organic matter on the soil, and the physical covering is a benefit to the soil as well, especially when colder temperatures settle in.
Joe and William plant things such as peas, and radishes with a long tap root that helps aerate the soil.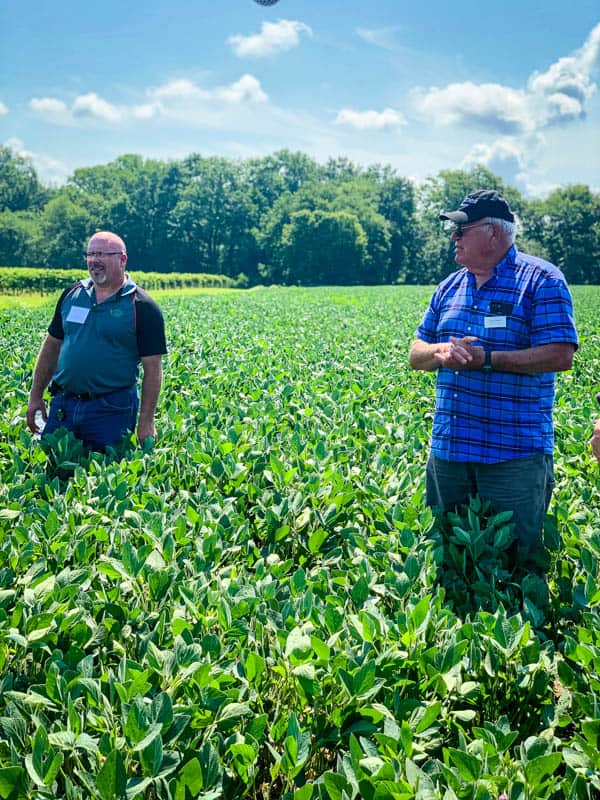 The Layton's are taking better care of the ground with the use of site specific soil sampling, leaf tissue sampling, fertigation, and soil moisture testing.
Their precision farming method tells them when they need something and where.
By using these methods and documenting what has and hasn't worked each and every year, they are ensuring that their farm is productive and sustainable for generations to come.
What is Made From Soy?
To answer this question, we visited the Perdue Oilseed Crush Plant. Here, at this largely automated soybean crush plant we discovered how they process soybeans grown for mill feed and oil production.
I was amazed to learn about the derivatives of soy.
Remember how I said in the beginning that one soy bean can become three different products?
Well, from one tiny bean comes the hulls which are the outer coats of the bean.
These soy hulls are made into mill feed which is used primarily as cattle feed.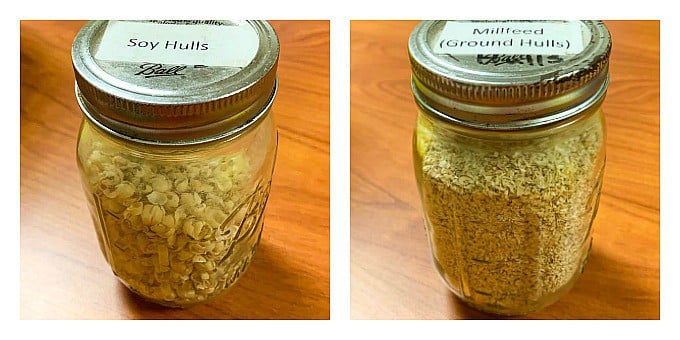 Soybean meal is made from the cracked beans.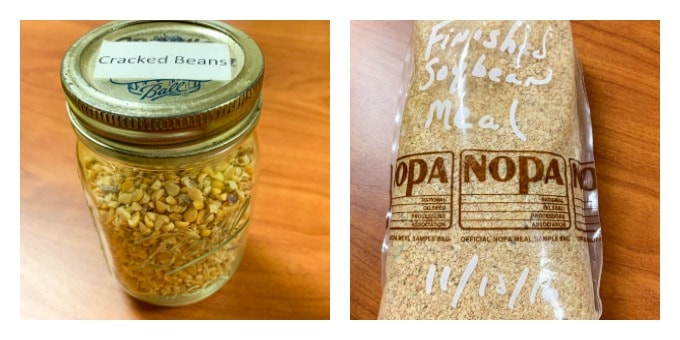 Some of the cracked beans are flattened into flakes from which soybean oil is extracted.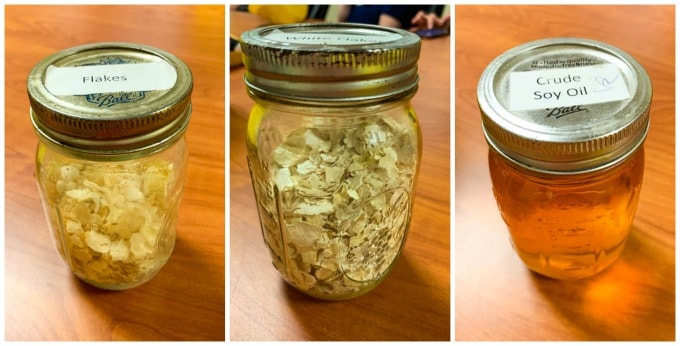 Some of this oil is made into biodiesel.
Through the oil refinery process, soy lecithin is extracted which is the gum of the oil.
Soy lecithin is an emulsifier and stabilizer, and is used in many products, such as soap, to combine water and oil so that they don't separate.
It's functional additive.
Also, did you know that the cooking oil or vegetable oil that you buy at your local grocery store is made of soy?
I didn't know that either! But sure enough, looking at the label, it says soy.
Can I use Vegetable Oil if I'm allergic to soy?
Yes, you can!
Soybean oil is highly refined which rids it of all the protein that gives the allergic response.
Therefore, it does not need to be listed as an allergen.
What are the Health Benefits of Soy?
During our trip, we also spoke with Julie Garden-Robinson, a registered dietitian about soy in regards to health.
She said that legumes, including beans are one of the healthiest things you can have in your diet.
Soybeans are higher in protein and higher in fat which is why they are used to feed animals.
So, of course it makes sense that we enjoy the health benefits are well, right?
Soy is listed in both the vegetable and protein food groups.
In order to have a healthy, well-balanced diet though don't eat one serving of soy or soy beans and be happy you "killed two birds with one stone" so to speak.
You want to make sure you have soy as a vegetable accompanied by a protein or vice versa.
Soy is heart healthy, safe and sustainable.
It is the only protein that has an FDA claim for heart health!
Isn't that remarkable??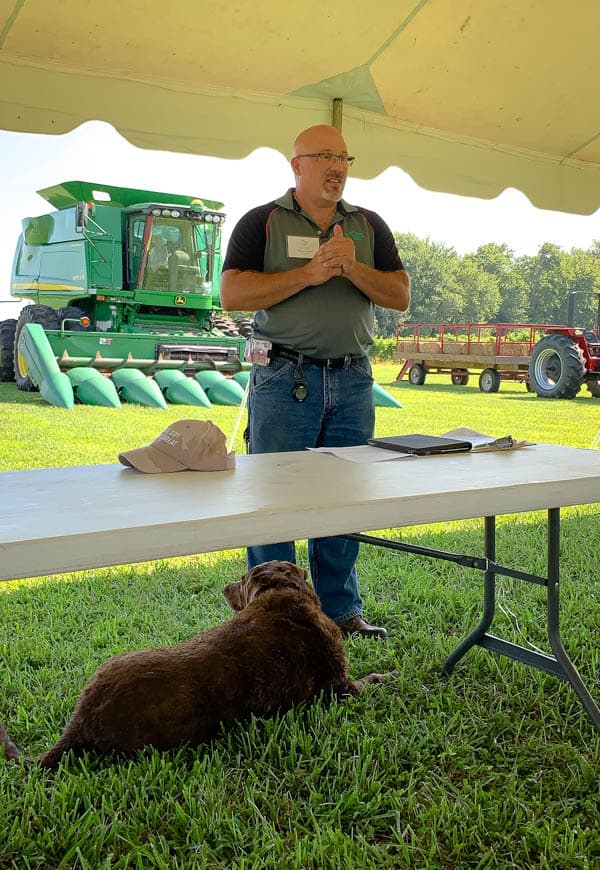 Can Soy Foods Cause Cancer?
There have been concerns in regards to the estrogen in soy and that consuming it may cause cancer.
In fact, research has shown that breast cancer survivors can safely consume soy and that they may actually improve their prognosis by doing so.
Did you know that a cup of soy milk could also possibly prevent breast cancer?
I've discovered that the health benefits of soy are significant, so you can bet I've already incorporated it into my daily diet!
While I don't know and don't claim to know all the answers, I encourage you to do your research on soy and bust those myths.
Talk to a registered dietitian in addition to speaking with your health care provider.
Read and discover documented information on websites such as the following:
Best Food Facts
United Soybean Board
Soy Connection
Centers for Disease Control and Prevention
and the USDA Food Composition Databases
Coming soon, I'll be making a recipe using soy and talking about how we can incorporate more of it into our daily diet.