Pad See Ew – a very popular Thai dish made with chicken, a sweet-salty sauce and flat rice noodles. This super easy, fast and delicious recipe is just one of many that you'll find in Abigail Sotto Raines new cookbook, Rice. Noodles. Yum.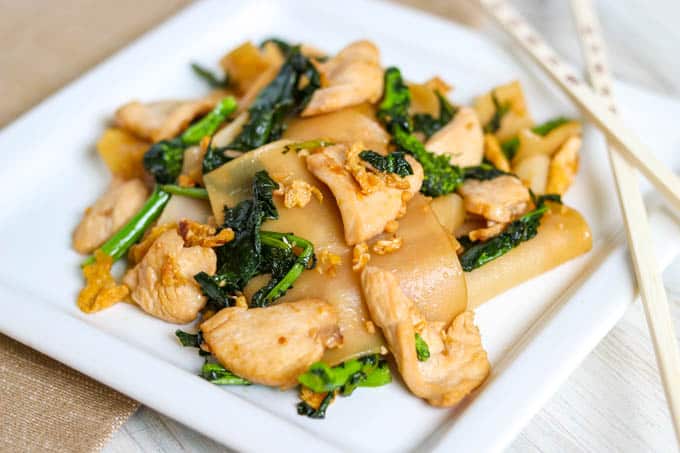 Do you love Thai food?
*This post contains an affiliate link(s).
I received a copy of Abigail Sotto Raines' cookbook, Rice. Noodles. Yum. to review for this post.
If you do, then this recipe is for you!
I absolutely love Thai food – the flavors, the noodles, the use of fresh ingredients.
It really is a wonderful cuisine.
SAVE THIS PAD SEE EW RECIPE TO YOUR FAVORITE PINTEREST BOARD!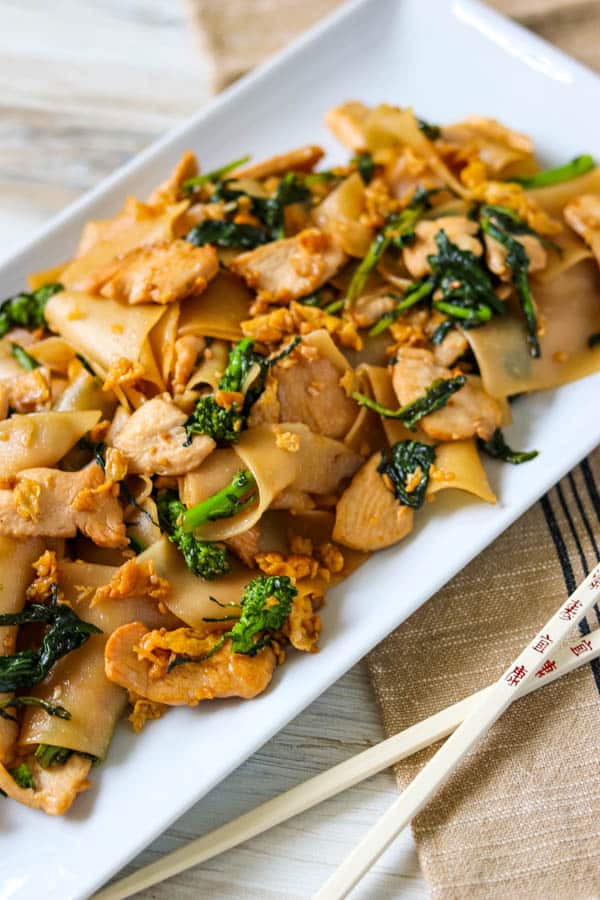 If you're a lover of Southeast Asian Dishes then this new cookbook, Rice. Noodles. Yum. by my friend, Abigail Sotto Raines is one you definitely need to add to your collection.
It will make a great gift for others, too – moms, dads, newlyweds, teachers, and friends!
Abigail (Abby) is the owner and creator of the blog, Manila Spoon, a food blog filled with authentic Philippine dishes and more.
She was born and grew up in the Philippines and learned to cook from her mother and grandmother.
She became a lawyer and practiced until she was married. It was after moving to the United States with her husband 15 years ago that she rediscovered her passion for cooking. She began her blog in 2012 and has been creating and sharing ever since.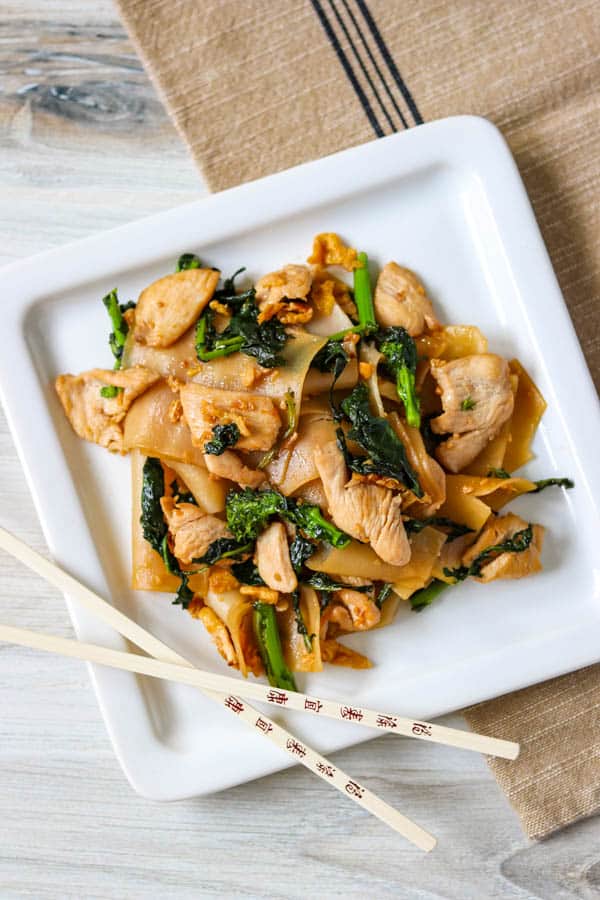 I am so very excited to be sharing her very first cookbook with you today, Rice. Noodles. Yum!
I know you'll really enjoy it!
Included in this book are rice and noodle dishes, recipes for all meals – breakfast, lunch and dinner, and of course, dessert.
Abby's also included salads and snacks and gives great tips on perfectly cooking rice.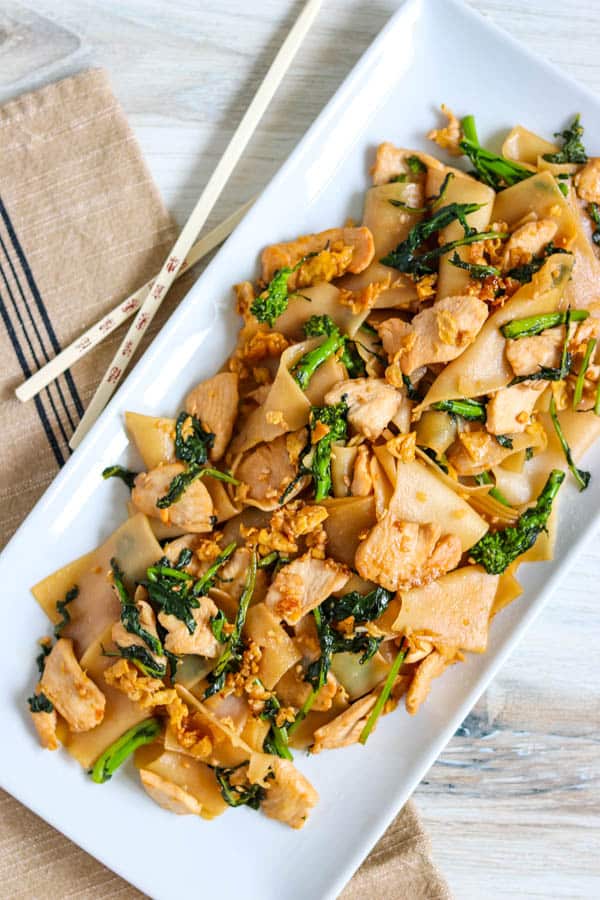 Her recipes are easy, fast and delicious, and this book will help you create your favorite Asian dishes at home.
Yes, Pad Thai is in here, but you'll also enjoy recipes that are sure to become new favorites, too!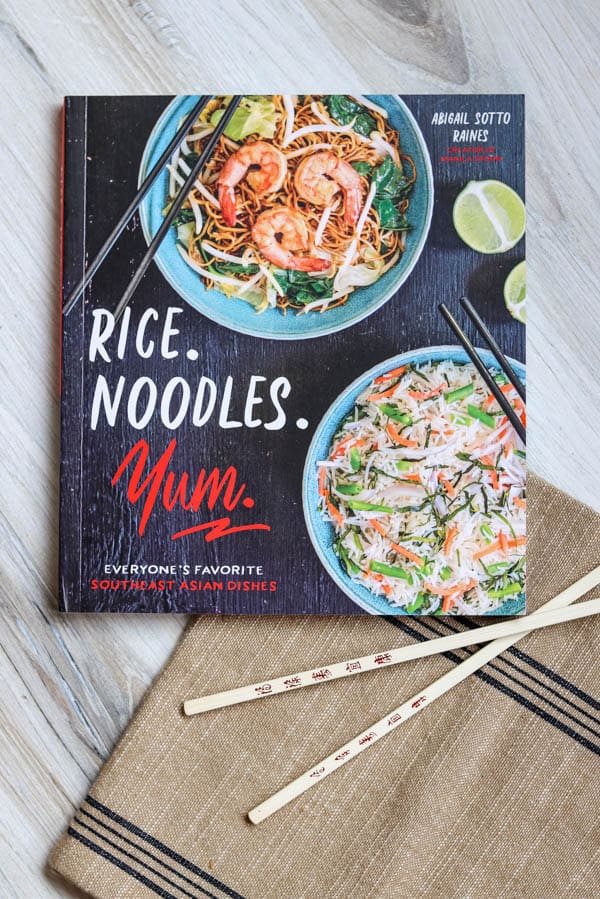 With so many incredible recipes, it was really hard to choose just one to make and share with you.
I'm eager to make the Khao Niaow Ma Muang (Sticky Rice with Mango), Bun Cha Gio (Spring Rolls with Rice Vermicelli), Bubur Sumsum (Coconut Rice Pudding), Goi Cuon (Fresh Spring Rolls), and more!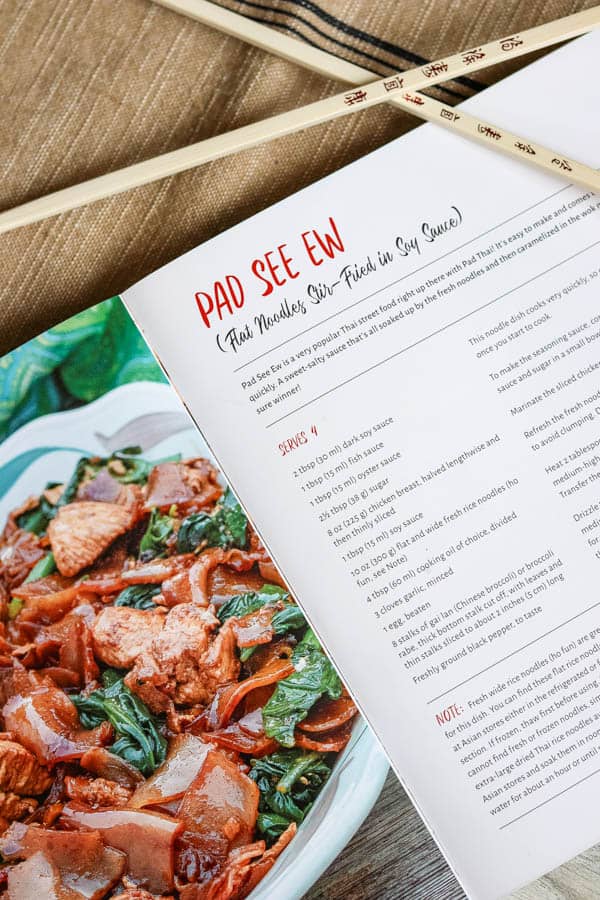 In this cookbook, you'll also see beautiful pictures accompanying each recipe as well as a guide to Asian ingredients and helpful tools.
I'm so looking forward to trying more of Abby's recipes and I know I'll be referring to this book for many of our meals.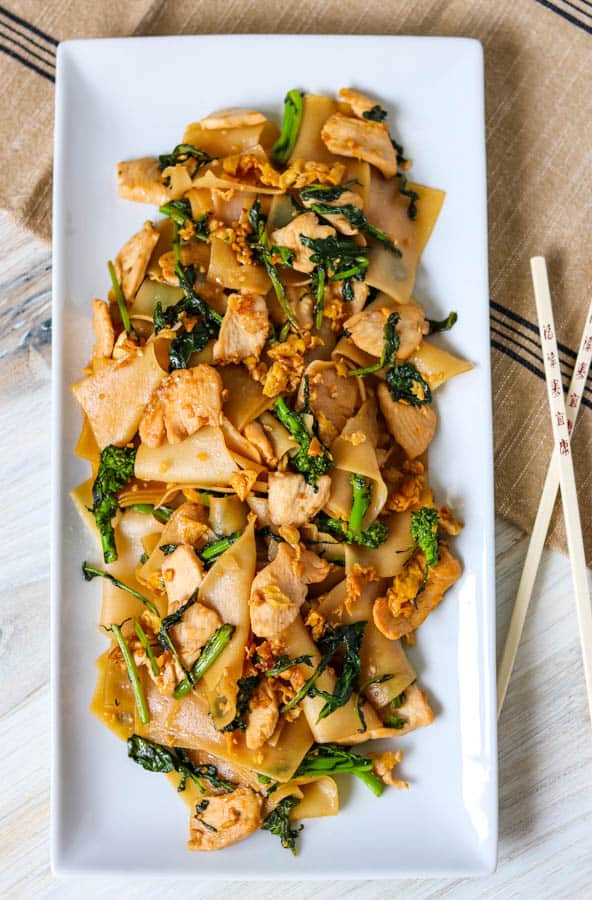 I loved that this Pad See Ew was such an easy, flavorful and quick dish to put together!
It will be absolutely for that busy weeknight when you want a healthy meal, but don't really feel like cooking, and don't want to order out.
Tips for Making this Pad See Ew Recipe –
You can find the fish sauce and oyster sauce in the Asian section at your local grocery store, Walmart or Asian store.

I used a large skillet, but a wok like this one I used to own before we moved, would be ideal for this recipe as well as others in the book.

For Pad See Ew noodles – I went to my local Asian store to purchase the ho fun, but they didn't have them, so I purchased this 8 ounce bag of exact rice flakes at the store and they worked really well. The package directions said to soak them for 5 minutes in tap water and then to boil them for 3 minutes which I did and they were perfect.

You'll should also be able to find wide rice noodles, like these, at your local grocer in the Asian section.

I also used broccoli rabe for this recipe since I had purchased that before we'd visited the Asian market.

Be sure to organize and have all of your ingredients prepped and ready BEFORE you start cooking because this recipe cooks very quickly!
I'm so happy for Abby and am already looking forward to another cookbook should she decide to write one!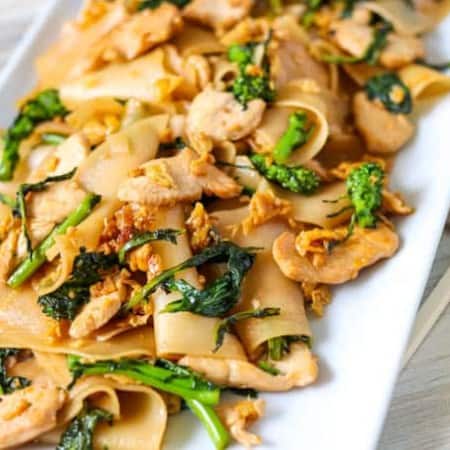 Pad See Ew is a popular Thai recipe with chicken and flat rice noodles in a sweet-salty sauce. Everyone will love this super easy, fast and delicious dish!
Equipment
Nonstick wok or large skillet
Ingredients
2 tablespoons dark soy sauce
1 tablespoon fish sauce
1 tablespoon oyster sauce
2 ½ tablespoons sugar
8 ounces chicken breast, halved lengthwise and then thinly sliced. (225 grams)
1 tablespoon soy sauce
10 ounces flat and wide fresh rice noodles (ho fun, see Note
4 tablespoons canola oil, divided
3 cloves garlic, minced
1 egg, beaten
8 stalks gai lan (Chinese broccoli) or broccoli rabe, thick bottom stalks cut off, with leaves and thin stalks sliced to about 2 inches in length.
freshly ground pepper to taste
Instructions
Seasoning Sauce
In a small bowl, combine the dark soy sauce, fish sauce, oyster sauce, and sugar. Set aside.

Marinate the sliced chicken in the 1 tablespoon soy sauce for at least 10 minutes.

Refresh the fresh noodles with cold water and separate the threads if needed to avoid clumping. Drain and set aside.

Heat 2 tablespoons of oil in a nonstick wok or large skillet over medium-high heat. Fry the chicken for about 3 minutes or until fully cooked. Transfer the cooked chicken to a bowl. Set aside.

Drizzle the remaining 2 tablespoons of oil in the wok and heat over medium-high. Add the garlic and cook until very aromatic. Add the egg, let set for several seconds, then scramble. Add the chopped gai lan (or broccoli rabe) and mix with the egg.

Add the noodles and the seasoning sauce to the pan. Stir everything quickly to ensure noodles are fully coated with the sauce. Let the noodles sit undisturbed for about 30 seconds. You want the noodles to char a little underneath to get that caramelized flavor. Flip or toss the noodles to allow the top portion to char, too. Leave undisturbed for another 30 seconds. Return the chicken to the pan and give the mixture another quick stir. Transfer to a serving plate and sprinkle with some freshly ground pepper to taste. Serve immediately.
Notes
Abby's note in her cookbook, Rice. Noodles. Yum.
"Fresh wide rice noodles (ho fun) are great for this dish. You can find these flat rice noodles at Asian stores either in the refrigerated or frozen section. If frozen, thaw first before using. If you cannot find fresh or frozen noodles, simply use extra-large dried Thai rice noodles available in Asian stores and soak them in room temperature water for about an hour or until softened."
Nutrition
Serving: 1g | Calories: 515kcal | Carbohydrates: 70g | Protein: 19g | Fat: 17g | Saturated Fat: 2g | Cholesterol: 77mg | Sodium: 1454mg | Potassium: 371mg | Fiber: 2g | Sugar: 8g | Vitamin A: 1075IU | Vitamin C: 9.1mg | Calcium: 67mg | Iron: 2mg
Did you make this recipe?
Share it with me on Instagram and make sure to follow me on Pinterest for more recipes.
If you like this Pad See Ew recipe, then you'll probably enjoy these recipes…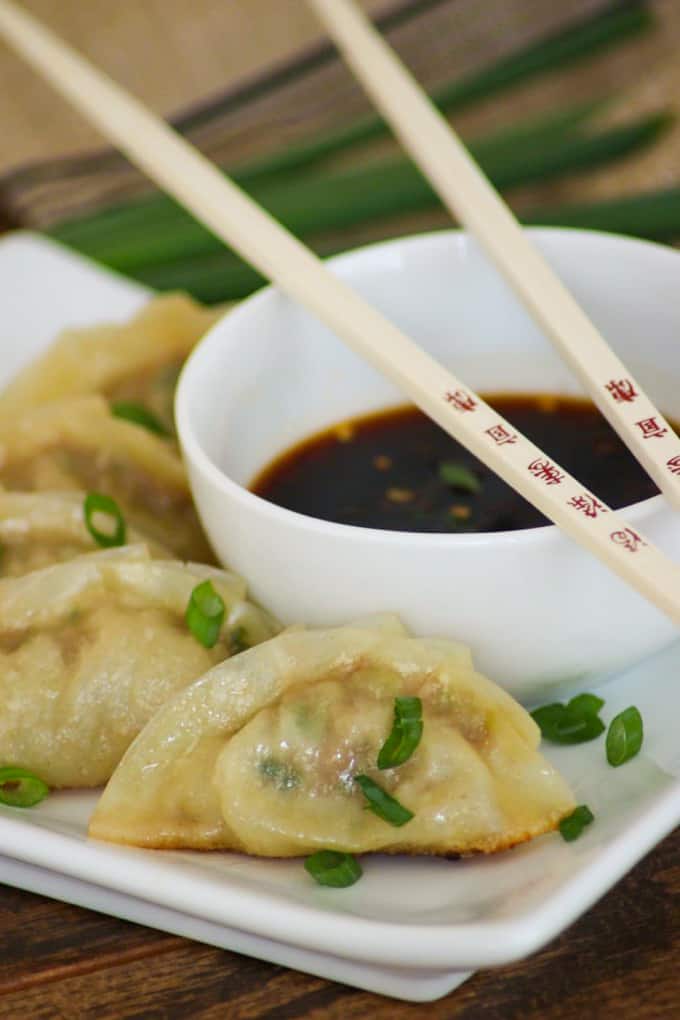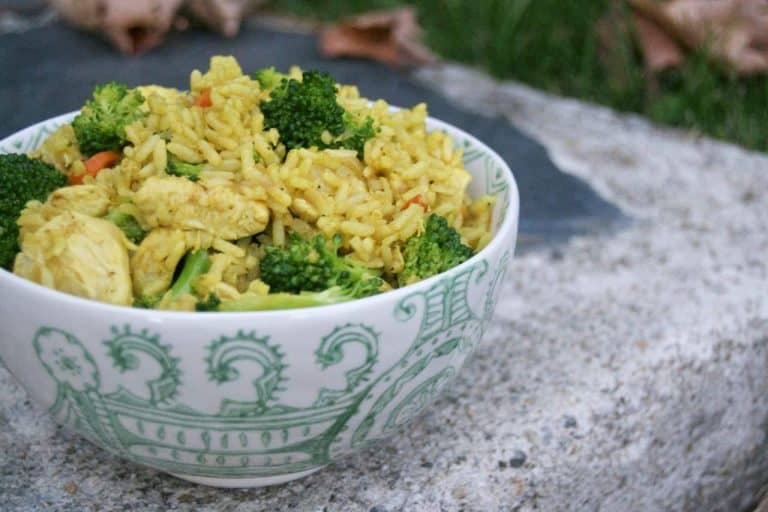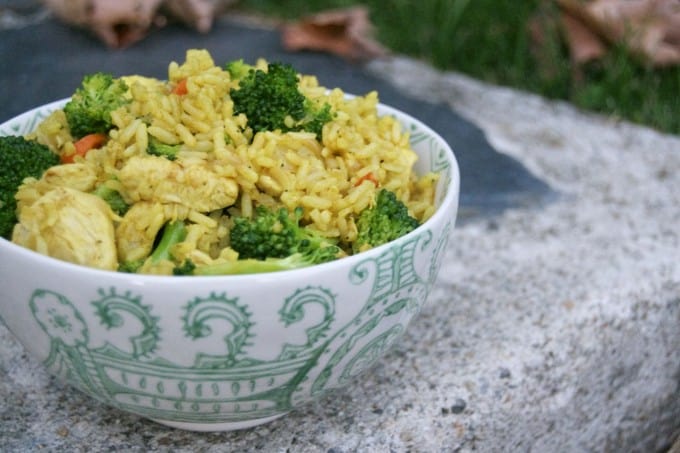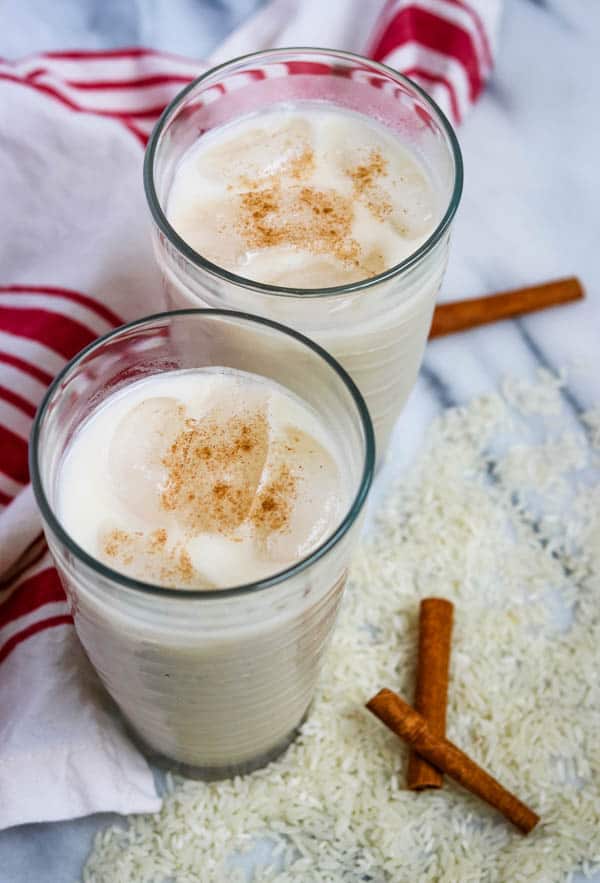 *We are a participant in the Amazon Services LLC Associates Program, an affiliate advertising program designed to provide a means for us to earn fees by linking to Amazon.com and affiliated sites.
These are links that can take you to a product (or products) that I recommend. I do receive a portion of the sales or credit for my future purchases from any items purchased through those links. Your purchases encourage my baking, cooking and butter habit, and contribute to the life of this blog. I thank you so very much for your support. Let's keep having fun in the kitchen!!
Reader Interactions