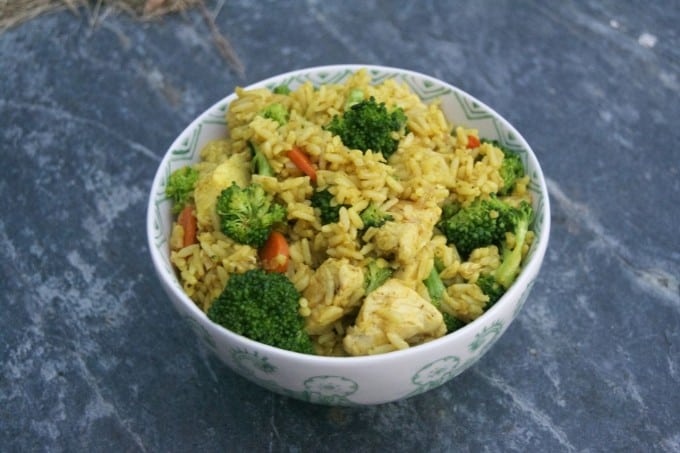 Even though it's just been the Mr. and I alone for the last month and a half, I still find that I've been super busy and don't want to take a lot of time to plan, prepare or even make dinner.
Some nights it's just easier to order out, but at the same time, I don't want to spend the money and want something homemade and healthy.
You've never had a night like that, have you?
I was compensated for this opportunity to create and write about a delicious dish that can be made in less than a half hour thanks to Success® Rice! This Curried Rice with Chicken and Vegetables will be a hearty and very tasty meal that will take the guesswork out of what to make for dinner when you're too tired to make it or have been too busy to prepare something.
Or do you find that that's something you can REALLY relate to?
Are you feeling like you're being pulled in fifty different directions between work, your spouse, the kids, extended family, friends, and various activities? And where in all of that is the time for Y-O-U??
haha
Sorry, for laughing, don't take it personally. It's just that I SO can relate!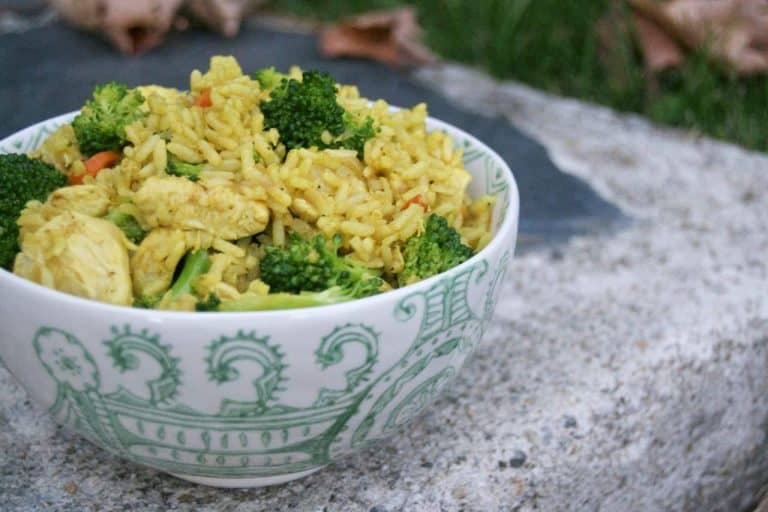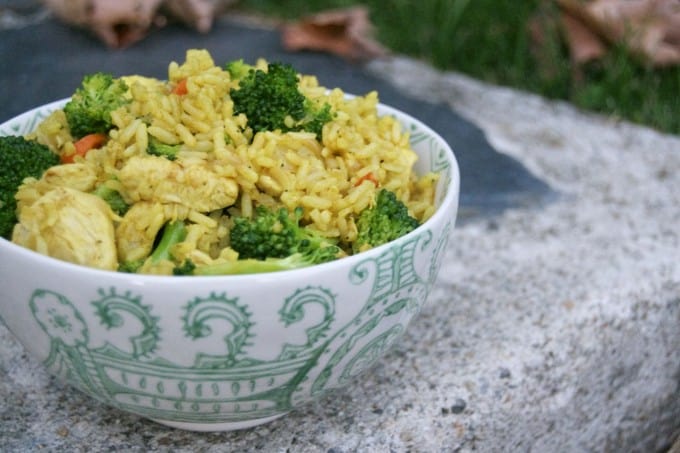 With a husband of 24 years, 3 kids, two dogs and lots and LOTS of life that has taken place along the way, I know how very busy and frazzled we can sometimes get.
Yet in the midst of that, I still realize I couldn't possibly be more blessed and am extremely grateful for all that I have and where this incredible life has taken me.
I just know that I'm not alone when I say that there have been multiple two times when I've literally wanted to yell say, "Calgon, take me away".
Lately, though, I haven't needed to take one of those relaxing bubble baths, watching all my troubles go down the drain as the water exits the tub. Things are pretty great actually, except that I miss my kids something awful.
At the beginning of August, our 22-year-old daughter and 17-year-old son drove cross country to move out to Arizona where we lived up until about a year ago when we decided as a family we wanted to experience all that life had to offer in the mountains of New Hampshire. And yes, we had that and more.
Soon after they left, our younger daughter moved to Pennsylvania to continue with college, leaving the Mr. and I…
all. a. lone. Except for the two dogs.
The absence of children has been, to say the least, interesting. It's quiet. Very quiet. No sibling squabbles. No sarcasm. Just he and I. Alright, yes, there's still sarcasm.
One thing I miss the most are nights around the dinner table, talking about our day. At the same time, I've welcomed the break and the chance for Mr. 365 and I to focus on just us.
BUT, I am SO looking forward to being with the kids again and we'll begin our journey two weeks from today when we move back to Arizona.
I know that when we return to "kid mode" there will be all sorts of things going on – sporting events, appointments, etc., and there are going to be crazy nights. For those, I'm still going to depend on Success® Rice at dinnertime. I don't have to measure it, it's ready in just 10 minutes and cooks perfectly every time.
When I use it, there's no rice sticking to the sides of my pan that I have to clean up because it comes in a bag that you just put into the water.
I like that. A LOT.
It's also gluten-free, comes in different varieties, and various sizes to feed your family however big or small they may be!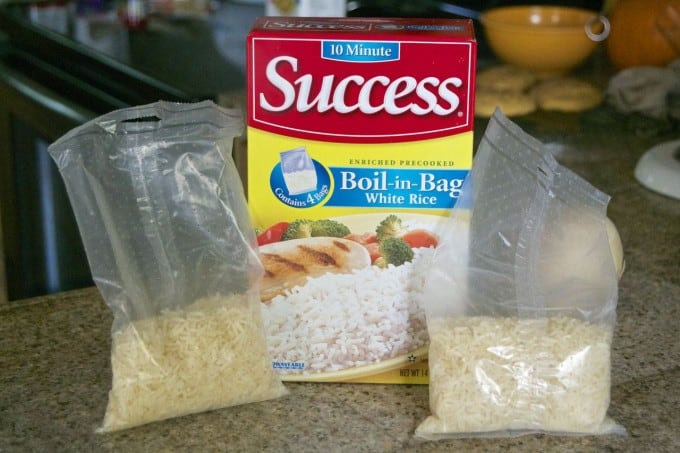 You can even use Success® Rice for more than just dinner! Check out their many recipes here. Be sure to follow them on Facebook, @SuccessRice on Twitter, and on Pinterest, too, so you see everything they have to share!
Oh, and be sure to enter the How Are You Cooking This Fall? Sweepstakes from O, The Oprah Magazine! Success® Rice is one of the participating brands, so submit your entry form and start pinning! Go here for more details! You could be the winner of some great culinary-themed prizes!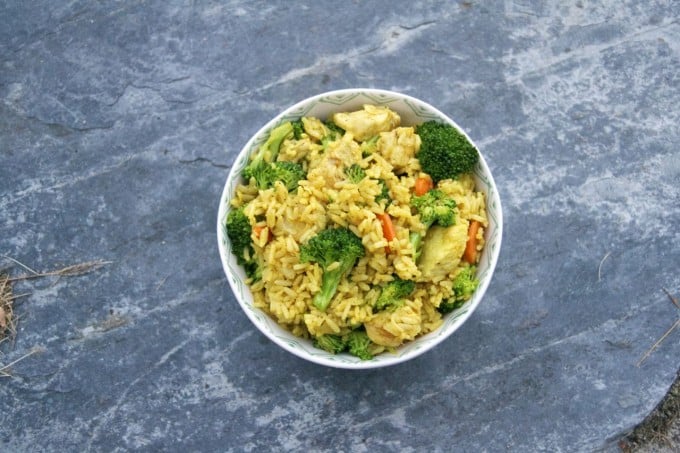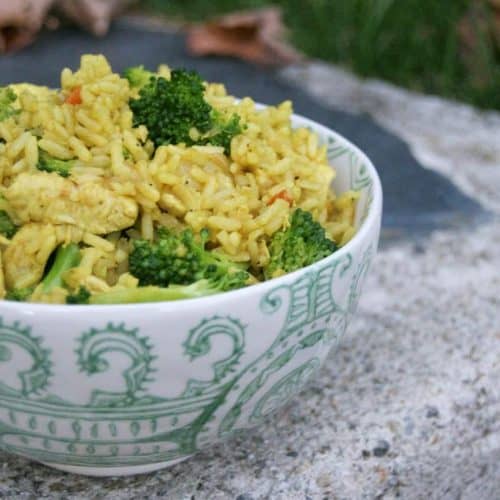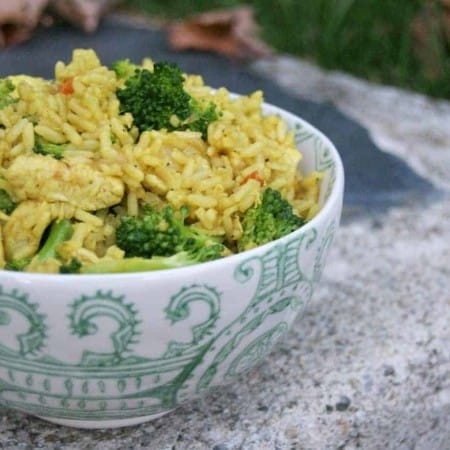 Curried Rice with Chicken and Vegetables
Ingredients
2 bags from a 14 ounce box of Success® Rice White Rice cooked according to package directions
2 boneless skinless chicken breasts, cut into bite-size pieces
2 cups chopped broccoli
2 carrots peeled and sliced
1 medium onion minced
2 cloves garlic minced
4 tablespoons sesame oil divided
¼ cup chicken broth
1 ½ teaspoons curry powder
½ teaspoon turmeric
½ teaspoon salt
¼ teaspoon freshly ground black pepper
Instructions
Cook the two bags of Success® Rice according to package directions.

In a large skillet over medium-high heat, add 3 tablespoons of the sesame oil.

Place the onion and garlic and 1/4 cup chicken broth into the skillet and cook until translucent, about 3 - 5 minutes.

Add the chicken and cook for 5 minutes.

Sprinkle with salt and pepper, stir and cook for 5 minutes or more, making sure it is thoroughly cooked.

Place contents into a bowl.

Heat the remaining tablespoon of sesame oil in the skillet. Add the broccoli and carrots. Cook and stir for 3 minutes.

Add the chicken, rice, turmeric and curry to the skillet and mix thoroughly.

Remove from heat, cover and let sit for 5 minutes before serving.
Did you make this recipe?
Share it with me on Instagram and make sure to follow me on Pinterest for more recipes.
I rate everything I make on a scale of 1-4 and this Curried Rice with Chicken and Vegetables earned 3 1/2 rolling pins. It was delicious and is sure to be an easy meal to help make life a bit less stressful! I know I'll be making it again.
Looking for another weeknight meal to help you? Here are some that'll do just that!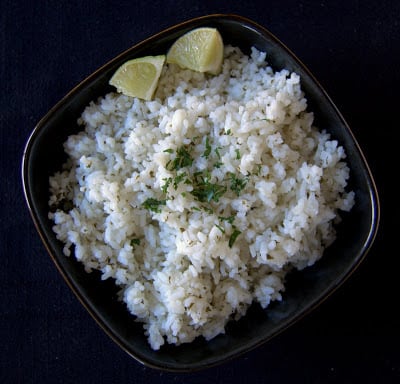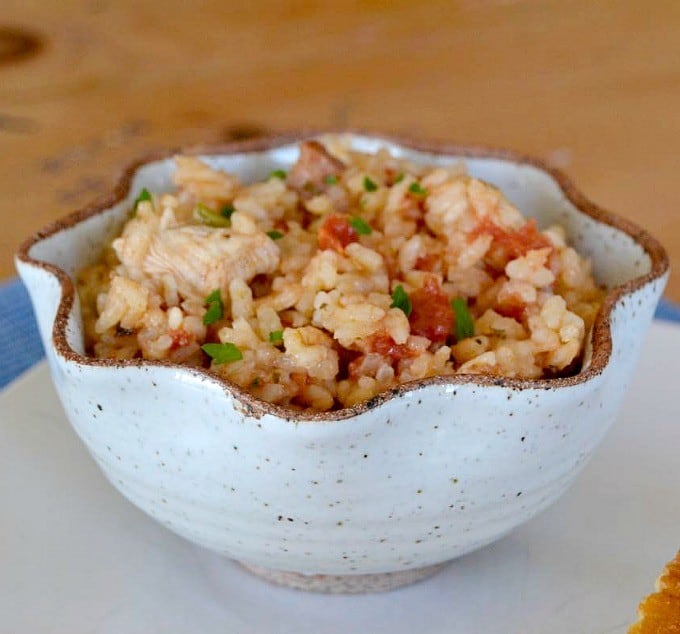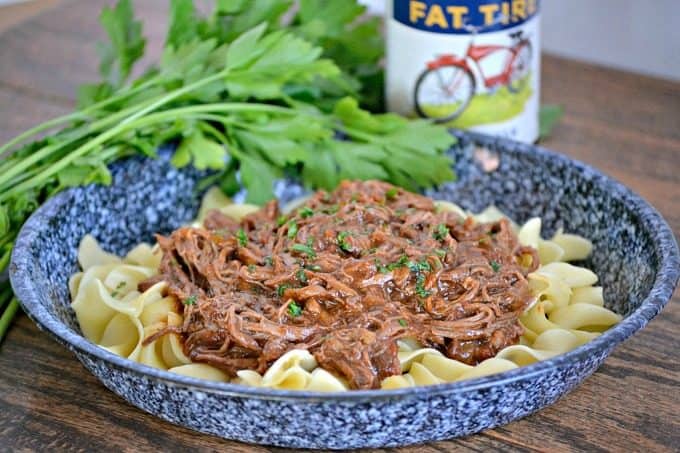 Now I want to hear what recipes you'll be using Success® Rice in your home for breakfast, lunch, dinner or dessert!
This is a sponsored post written by me on behalf of Success® Rice.
Reader Interactions