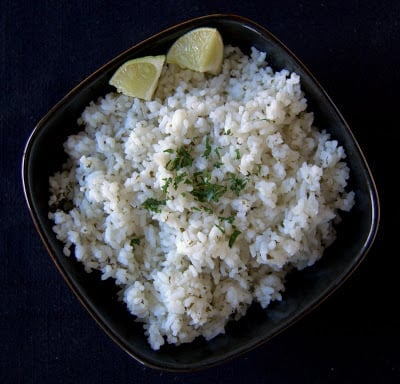 Seriously?? This layout is NOT what it looked like when I was writing it up!!
Everything's been clumped all together in one BIG blob and I'm having trouble fixing it, so please bear with me.
OH, BLOGGER!!!!!
Oh, my funny Mr.
You know that commercial Farmer's Only.com?
This is it…
We joke about it every time it's on just because we think the music's corny. Haha, get it? Farmer's – corny? haha I didn't even mean to do that. Seriously. I'm just really talented that way. 😉 And I'm not knocking that it's an online dating service because I know people who have used them with great success, but the music…and maybe it's the talking Mr. Ed-like animals that get me, too. Anyway, Mr. 365 has started singing his own lyrics to that commercial,… "You'll never be lonely at Food Bloggers.com."
And he knows it irritates the heck out of me! He thinks he's funny. Almost 22 years of marriage… What's a girl to do? Have you ever been to Chipotle? It's a fantastic Mexican restaurant that uses fresh ingredients and is absolutely delicious!! Our family is somewhat addicted to it. Me, I LOVE with a capital L-O-V-E their cilantro lime rice. I can just never get enough of the stuff when we go. I wanted to make rice with dinner the other night, but didn't want it to be the same old plain rice I typically serve…I'm a "food blogger" for crying out loud!
I can't serve PLAIN rice to my family!! Actually, they'd probably be none the wiser. I honestly don't think they'd care, either, but it goes against my grain. Grain, haha, get it…corn – farmer, grain – rice!! I'm on a ROLL!!! LOL! Ok, not funny anymore, getting to the point where it's getting to be slightly annoying and I know if I push it, I'll lose you, so I'll be a good girl, and I'll stop. (It's always at this point I can see my father giving me that "look" with the eyebrows raised and his head slightly cocked to one side which ALWAYS meant "you'd better knock that off right now…" haha) Ah, some things we just never outgrow!
Yes, me and my tangents. Random. Meaningless. And then I sometimes forget how to get back on track. And I don't even take medication! haha…maybe I should. 😉 Ah yes, the rice. It was…I can't tell you. That would be cheating. Let's just suffice it to say that I made a double batch and used it again the following night in some chicken wraps. I was going to take a picture and post the recipe because they were really good, but my roll wrapping skills leave a lot to be desired. So, once I get my skillz up ta pah, I'll post it.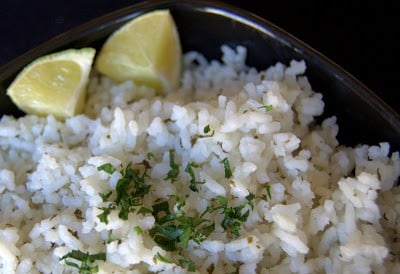 I found this at Chef In You. Copycat Recipe – Chipotle Cilantro Lime Rice
1 cup long grain rice 1 tablespoon unsalted butter juice of 2 small limes 2 cups water 3 tablespoons freshly chopped cilantro salt to taste Soak the rice in water for 10 minutes to help the grains separate and this will also help to prevent the rice from getting mushy.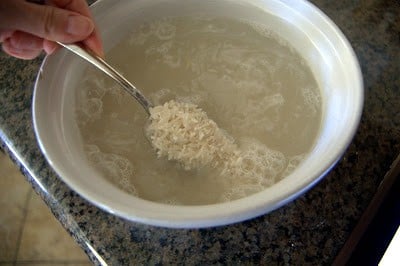 In a medium skillet (large if you're making a double batch – but you already knew that, didn't you?) over medium-low heat, melt the butter. Add the rice and cook until you can begin to smell the toasting of the rice. Add the juice of one of the limes and stir for one minute.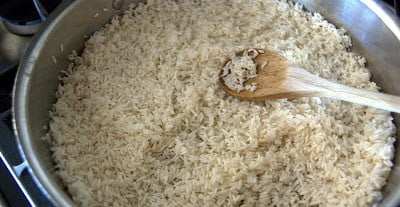 Pour in the water and stir in the salt. Bring to a boil. Cover and simmer for 10-15 minutes until the water is absorbed.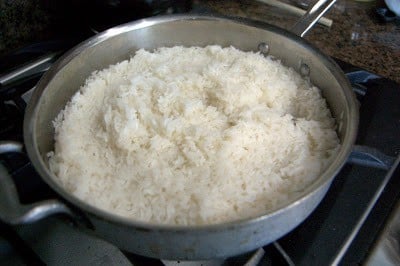 Remove from heat and stir the rice to fluff and add cilantro.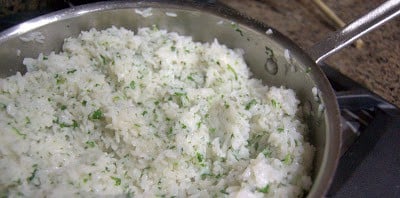 Replace the cover and allow to sit for 2 minutes before serving.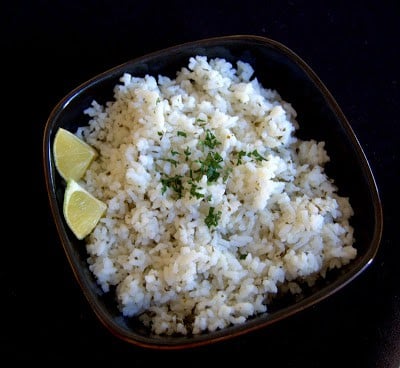 I rate everything I make on a scale of 1-4 with 4 being the best and this Copycat Recipe Chipotle Cilantro Lime Rice earned 2 1/2 rolling pins. I liked it, but to be honest, the stuff they serve at Chipotle is better. Maybe I couldn't remember what theirs tasted like because we haven't been there in a while. Oh yeah, I said we were addicted to Chipotle.
Hmmmm… Alright, well maybe not that addicted. Certainly not the type of addicted I am to something like Nutella or Cookie butter, per say.
It was the side dish that I was going for – not the plain rice, but something different with a fresh uplifting taste for a change and I got it.
The family enjoyed it and it was REALLY good combined in those broken, messy wraps I served the next night for dinner.
Not sure how much I'll be able to post this week, we have LOTS going on and then school starts Monday for the boy, but I'll see what I can do. I hate to go too long between posts anyway.
I can't believe it's been 5 days since my last one! :-/