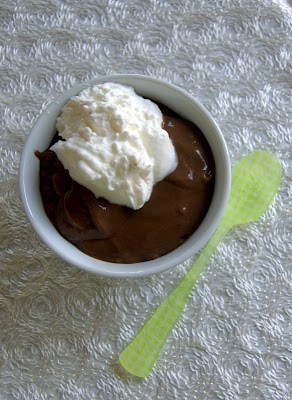 It happened again.
I had a craving for chocolate.
And pudding.
Putting both of them together of course, is going to equal me being in kitchen making some.
Yes, I could have gone the Bill Cosby route and used the boxed stuff which I grew up on, but I've never made it from scratch and I've been dying to try.
I grew up on the stuff in the box and while I think it's good, I like the Swiss Miss stuff in the plastic cartons better.
Yet since I've started making more and more stuff that I usually buy from scratch like the Homemade Taco Seasoning, Italian Salad Dressing or the French Vanilla Coffee Creamer.
I just really, really like the fact that I know what I'm putting into these foods, that they're easy to make, and I'm even saving money in the process!
YAY ME!!!
I love patting myself on the back.
You know, everyone should do it more often.
If we all just patted ourselves on the back imagine how much better off we'd be.
I don't know what I'm talking about. I'm just rambling, trying to fill up prime blogging space with my jibberish because I can do that.
I wonder if my mother were still alive if she'd be reading my blog every day.
There I go, just another random thought.
I have those quite a bit and I'm not even ADD or ADHD! (or at least I've never been labeled as such 😉 )
I think she's be reading often, but not so sure about every day.
Alright, I've bored you all enough with my dribble tonight.
Let's get on to the chocolate, shall we?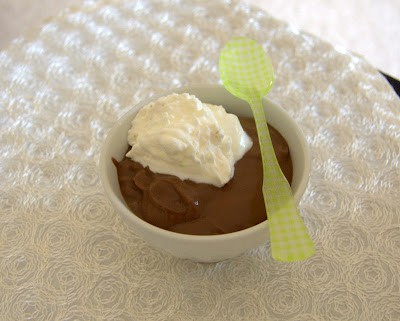 I found this recipe over at This Lovely Place.
No really, that's the name of Charlotte's blog! I LOVE that name!
You should check it out. She is the mother of 12, yes, I typed that correctly, 12 children and the grandmother of 3 and she is beautiful! I NEVER would have guessed she is a grandmother, she looks like her childrens' sister.
Chocolate Pudding – I doubled the recipe while Charlotte usually quadruples it


3/4 cup granulated sugar
1/3 cup flour
2 heaping teaspoons cocoa
2 cups milk
1/2 teaspoon vanilla
2 tablespoons unsalted butter
2 egg yolks, beaten
In a medium saucepan, whisk together the sugar, flour, and cocoa.
Heat pan on medium-high and add milk, vanilla, butter and egg yolks while whisking constantly.
Continue whisking until mixture thickens, about 14 minutes.
Refrigerate until serving.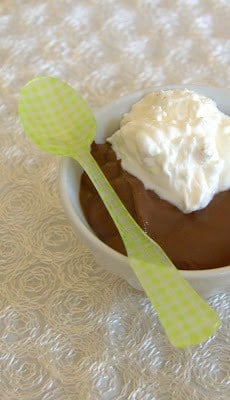 I rate everything I bake on a scale of 1-4 with 4 being the best, and this Chocolate Pudding earned 2 1/2 rolling pins and I'll tell you why.
I really like the fact that this recipe was so easy because I've seen a few where you have to use the double broiler, and some others which were just too time consuming for my liking.
The flavor was good and it was definitely very chocolaty as I wanted it to be, however, my one complaint was that it was just a little gritty and I think that was because of the cocoa. I don't know if it was because I used the cheaper less expensive Pennsylvania native cocoa or if it was just because it will taste that way no matter what cocoa I use.
I will make it again, but next time, I think I'll be using a a chocolate bar and see how that goes. I'd really like it to be smoother.
Yeah, I could go with a pricier cocoa, but my gut is telling me to try the bar.
I let you know how it goes.
This has been shared at Thursday's Treasures – go check it out!!
I give you BIG baking hugs and muffins!!