Banana Tres Leches Cake – an unbelievably moist banana cake topped with toasted coconut and sliced bananas. If this doesn't get you a marriage proposal, I don't know WHAT will!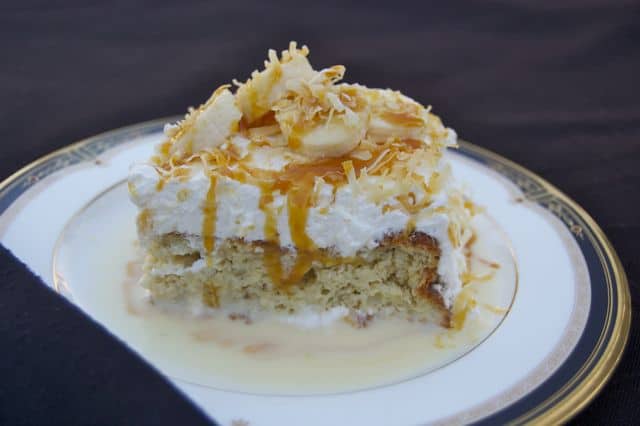 Three words…TRES LECHES CAKE!
Nothing more needs to be said. I can't describe this delicious cake in words that's how good it is. The first bite had everything a cake should have. The thing that made it the most memorable was that it was moist. I know some don't enjoy that word, but for this easy tres leches cake, it's necessary. It was bathed in milk, milk and more milk. If that doesn't interest you, then they're the toppings. OHH… those TOPPINGS! Toasted coconuts, banana slices, and a warm caramel sauce dripped over everything. Sounds like heaven, right? I can't say anything bad about this cake. It's like going on your honeymoon and staying there. Now I'm wondering what that would be like.
ANYWAYS, this cake…this TRES LECHES CAKE I might add, should be on the top of your baking list. No matter what time of year it is, you need to bake this as soon as possible. Then you'll see why I'm acting this way. The ONE thing I would do differently though is to make a homemade caramel sauce. It just tastes so much better and I can't love when I drizzle that salted caramel sauce on my slice of cake.
(SIGH)
And unfortunately, we've eaten it all. Go figure! Maybe that's a sign that I need to make it again…because I'm more than okay to do that. I say shove every lovin' spoonful into your mouth. Don't share. They can have their own piece. Be selfish.
You deserve this!!! A tres leches cake recipe with every single stinkin' crumb it has!!
SAVE THIS TRES LECHES CAKE TO YOUR FAVORITE PINTEREST BOARD!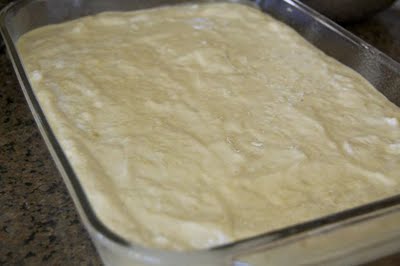 Last night was a…
DOOZIE! Who uses that word anymore? Doozie. We were watching a movie last night and I was going to finish my post after, but I fell asleep. PASSED OUT.
If bread is what you're after, then sallysbakingaddiction and her star bread is something you need to get your hands on. Another dessert recipe I love to make is this chocolate peanut butter saltine toffee from pinchofyum and her fantastic blog.
SIGN UP FOR THE WEEKLY
365 DAYS OF BAKING & MORE
NEWSLETTER BELOW!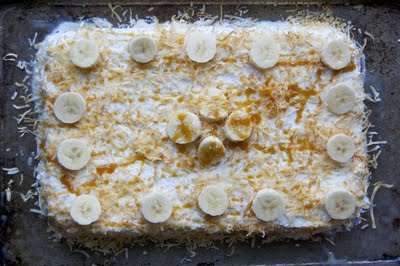 It's because I've been waking up at 4:45 a.m. and going to bed around 11 p.m. or so. Not enough sleep for the baker.
So, when Mr. 365 woke me up from my evening nap at 11:30, I was NOT awake enough to load pictures, never mind write a blog. But the cake was baked… and eaten and eaten.
I adapted this recipe from Ree at The Pioneer Woman. She has the most wonderful website – her recipes, photos, all of it is absolutely wonderful! I heart Ree. Thank you, Ree for sharing this recipe!!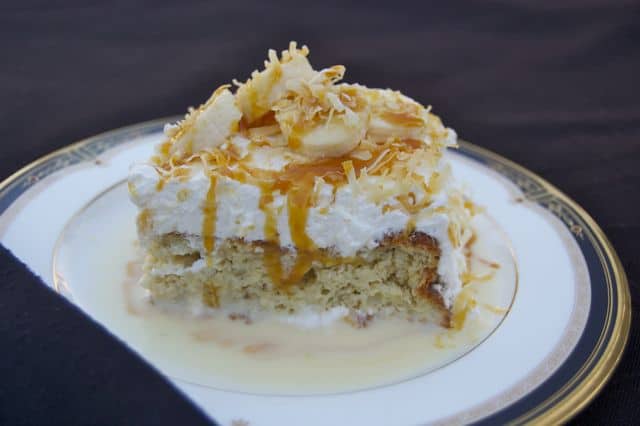 Ingredients
1 ½ cups all-purpose flour
1 ½ teaspoon baking powder
¼ teaspoon salt
5 eggs, seperated
1 cup sugar, divided
1 teaspoon vanilla
2 ripe bananas, mashed
⅓ cup milk
1 can evaporated milk
1 can sweetened, condensed milk
1 pint heavy cream, divided need 1/4 cup for the tres leche cake and remaining for frosting
Frosting
remaining heavy cream
1 cup toasted coconut
caramel sauce
banana slices
Instructions
Preheat oven to 350 degrees and generously spray a 9 x 13-inch baking pan with cooking spray.

In a large bowl, combine flour, baking powder, and salt.

In a mixing bowl, beat egg yolks with 3/4 cup sugar on high until yolks are pale yellow.

Stir in milk and vanilla, and add the bananas. Pour egg yolk mixture over the flour mixture and stir gently until combined.

Beat egg whites on high speed until soft peaks form. With the mixer on, pour in remaining 1/4 cup of sugar and beat until egg whites are stiff but not dry.

Fold egg white mixture into the batter carefully until combined.

Pour into prepared baking pan and spread evenly.

Bake for 35-45 minutes or until a toothpick comes out clean.

Turn cake out onto a rimmed platter and allow to cool.

After cooling, prick the top of the cake with a fork. In a large measuring cup, combine condensed milk, evaporated milk, and heavy cream. Mix thoroughly.

Drizzle all but 1 cup of milk mixture. Allow cake to absorb milk for at least 30 minutes.
Frosting cake
Whip remaining heavy cream with 1 tablespoon of sugar until thick and spreadable. Drizzle the remaining cup of milk mixture over the top of the cake. Spread the cream over surface and sides of the cake. 

Garnish with toasted coconut, caramel sauce, and banana slices.
Nutrition
Calories: 1227kcal | Carbohydrates: 185g | Protein: 46g | Fat: 31g | Saturated Fat: 18g | Cholesterol: 110mg | Sodium: 1001mg | Potassium: 1986mg | Fiber: 5g | Sugar: 40g | Vitamin A: 980IU | Vitamin C: 6.8mg | Calcium: 1304mg | Iron: 9.9mg
Did you make this recipe?
Share it with me on Instagram and make sure to follow me on Pinterest for more recipes.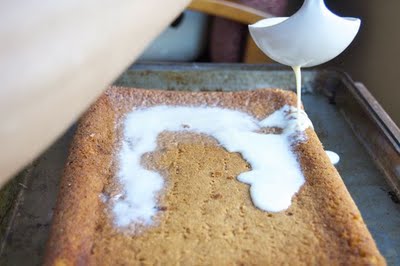 This cake is hard to top, but my caramel apple pound cake does make people go nuts over it. I'm not bragging, but when you have apples and pound cake in the same phrase, you know it's awesome.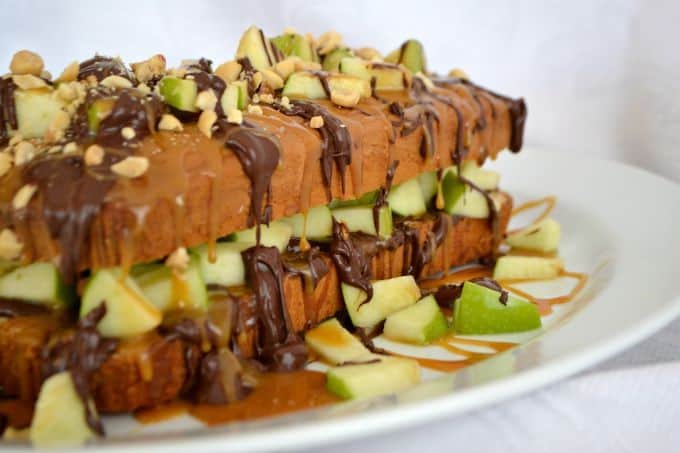 If you've never tried my citrus layer cake then you are really missing out. Having vanilla, lemon and orange flavors show it's not your average cake. You'll score points on someone's birthday if you give them this.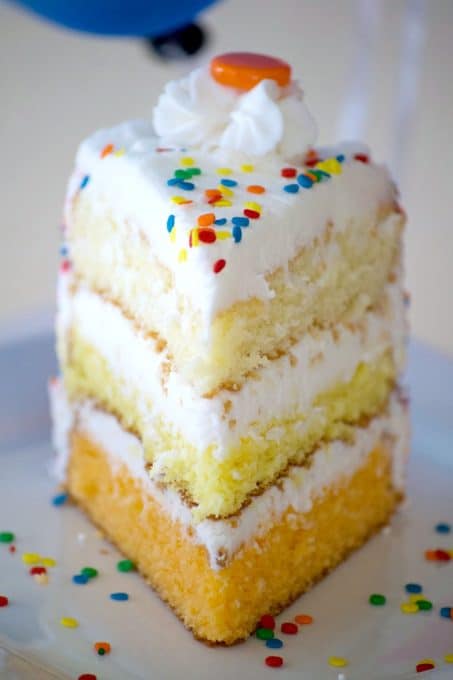 Don't forget to make your homemade stabilized whipped cream instead of going to the store like I did so many times before. This whipped cream is super easy and you can top it off on any dessert to make it ten times better.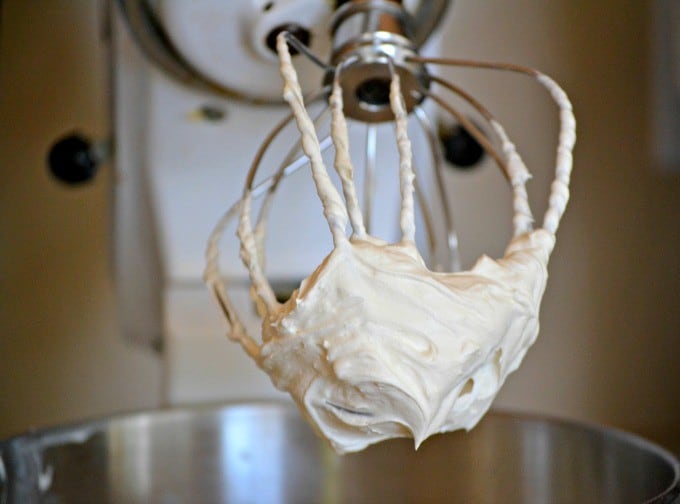 Once again, not to overdo it, but this cake is not like the rest. Thankfully it didn't take me until I was on the verge of my deathbed to know that this cake exists.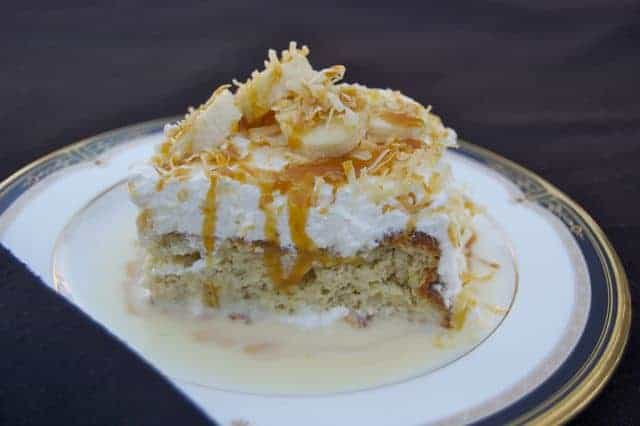 I rate every item that I bake on a scale of 1-4 with 4 being the absolute best and something that I highly recommend that you make. This is one of those somethings. It's a lot of cake. Have a party. Feed some friends. Feed your neighbors. FEED yourself!!
Happy Baking!
Reader Interactions