This Coconut Rice recipe transforms ordinary grains of rice into a fragrant, rich side dish. It's the perfect accompaniment to an Asian inspired dinner and takes hardly any extra effort at all!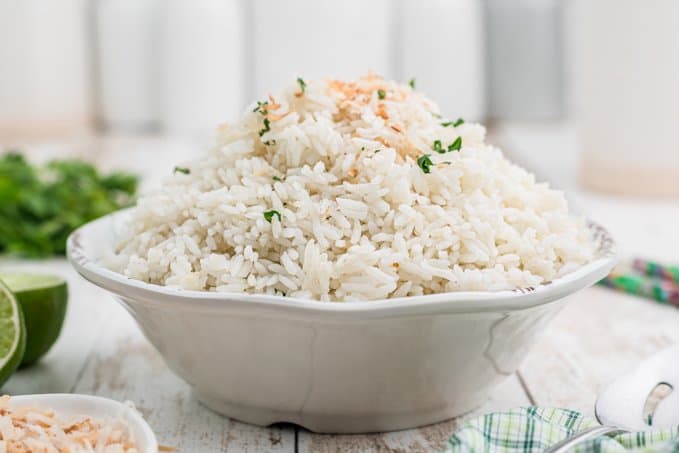 Once you know how to make coconut rice you'll want to make it every day.
This rice comes out fluffy, flavorful and perfect every single time. Just like the restaurant versions!
SAVE THIS EASY RICE RECIPE TO YOUR FAVORITE PINTEREST BOARD!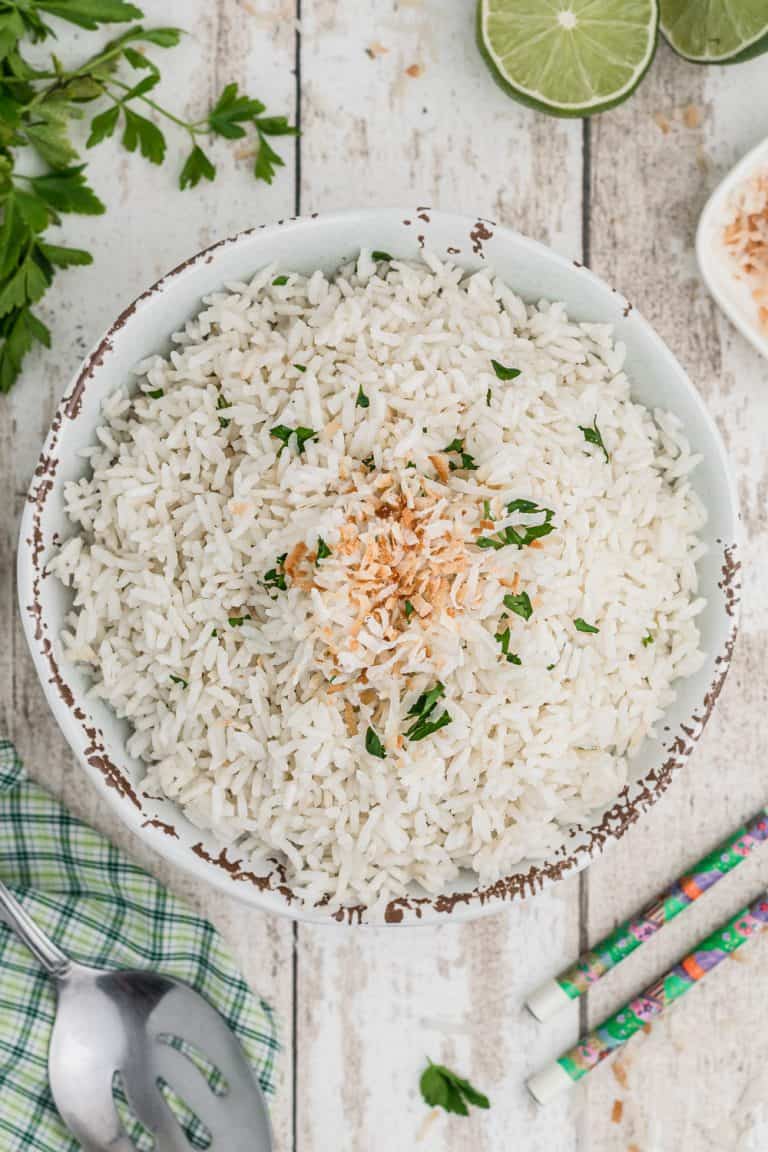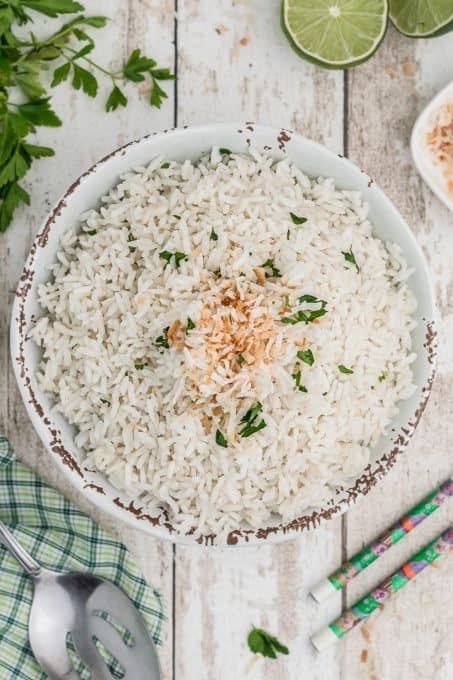 Before this recipe, I didn't have much success making coconut milk rice at home. Instead of the fluffy mounds of rice that come on the side at Thai restaurants, mine always ended up gluey or mushy.
When I tried this method for homemade coconut rice, my prayers were answered! It's so easy to make and works perfectly each and every time.
This recipes takes hardly any more effort than making a pot of white rice, but the flavor it adds to a meal is huge.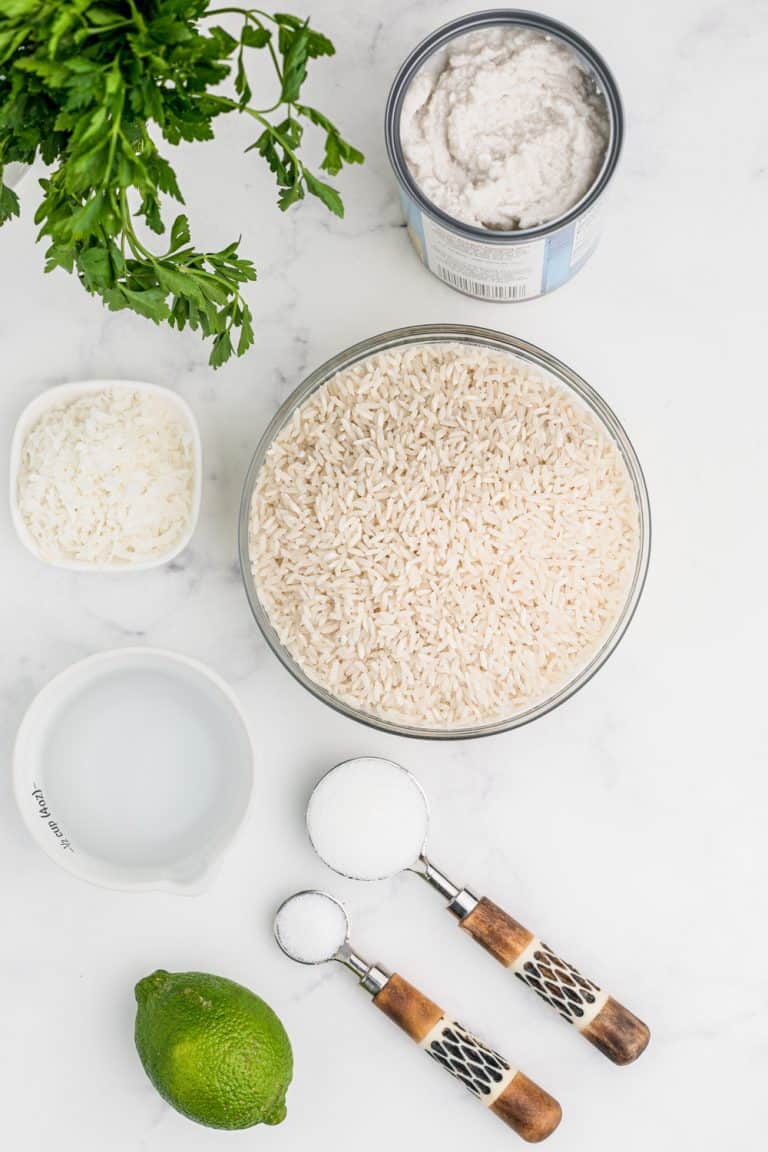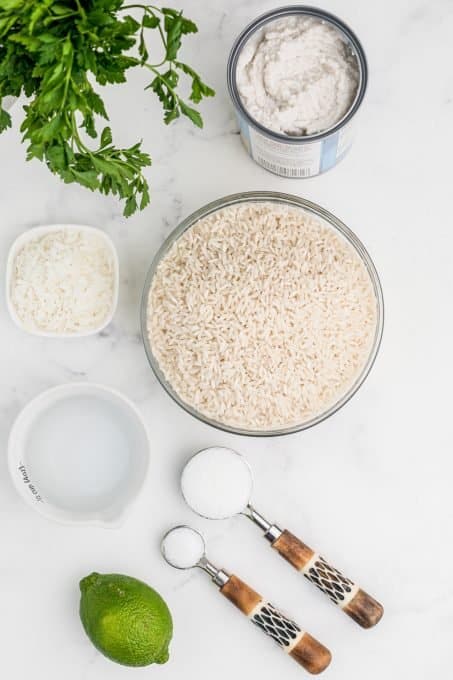 What do I need?
Here's what you need for this rice side dish:
Long grain white rice
Coconut milk
Water
Sugar
Salt
We also used these garnishes which are optional but add even more pizzazz to the finished rice.
Toasted shredded coconut
Chopped fresh parsley
Lime wedges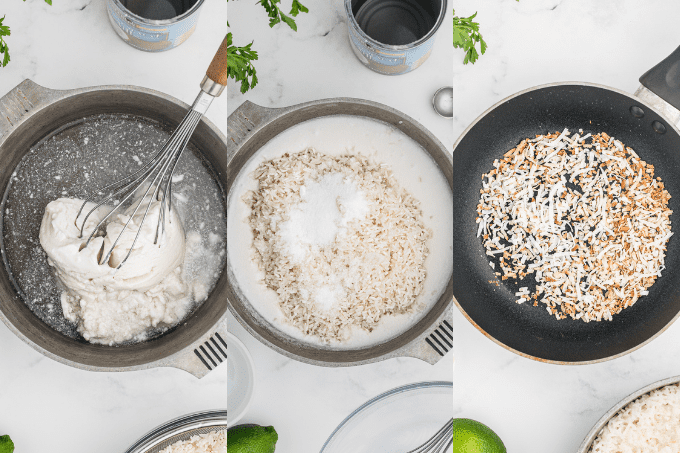 Can I use brown rice for this coconut rice recipe?
Brown rice won't work for this coconut rice recipe. It takes significantly longer to cook than its white counter part. It's higher fiber content and grain-y flavor tend to overpower the other flavors in this coconut rice recipe. Stick to a long grain white rice here!
Storage Instructions
Once coconut rice is cooked and cooled, store it in an airtight container in the refrigerator. It stays good for up to 4 days.
Can you freeze this coconut rice?
Yes, this rice is extremely freezer friendly. Kept in a freezer safe container, it stays good frozen for up to 6 months!
Is coconut rice good for you?
Coconut rice is made from natural ingredients without any preservatives and with a minimal amount of added sugars, making it a better choice nutritionally than many store bought side dishes. The addition of coconut milk to the rice may help you feel more satisfied with a smaller serving than white rice on its own.
Some claim that coconut also has immune strengthening benefits and positive effects on your hair and nails. We just know it's delicious! Always consult a registered dietitian for accurate guidance on nutritional choices.
Why is my coconut rice mushy?
There are a few common culprits when it comes to mushy coconut rice. I speak from experience!
The addition of thick coconut milk to the rice recipe makes it especially important that you wash the starch from the uncooked rice first. This step removes excess starch so the rice gets tender and fluffy rather than sticky and mushy.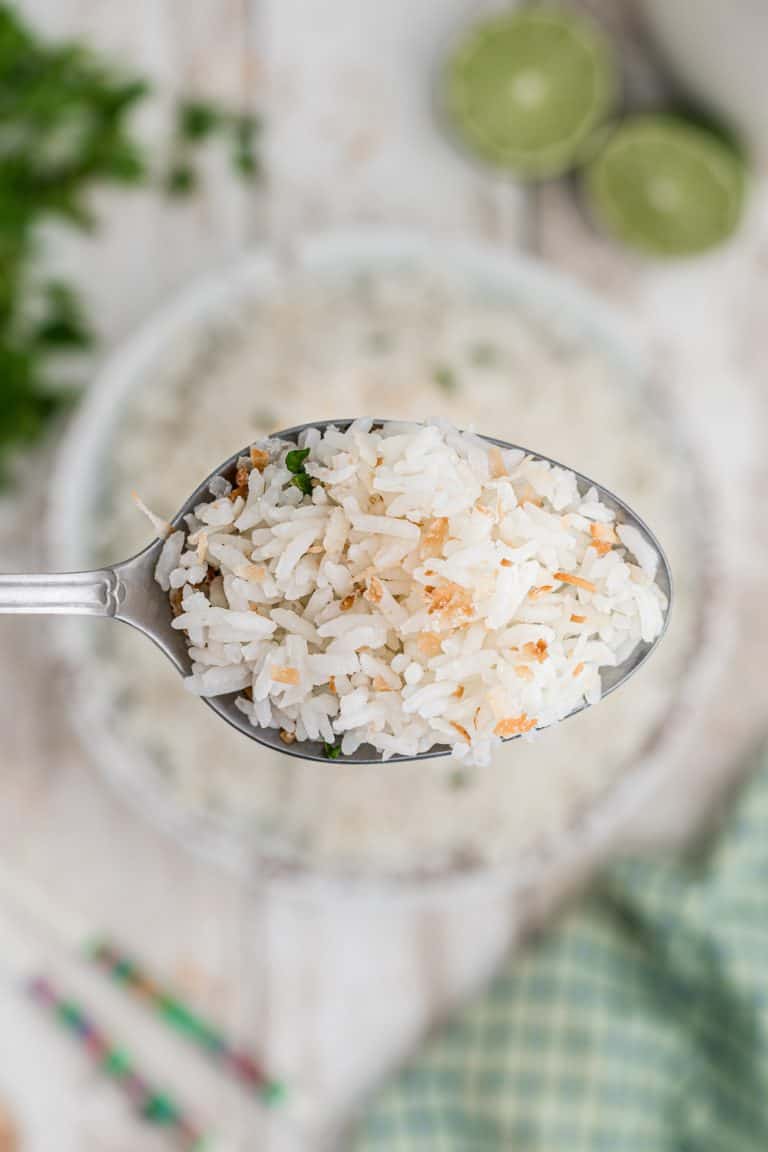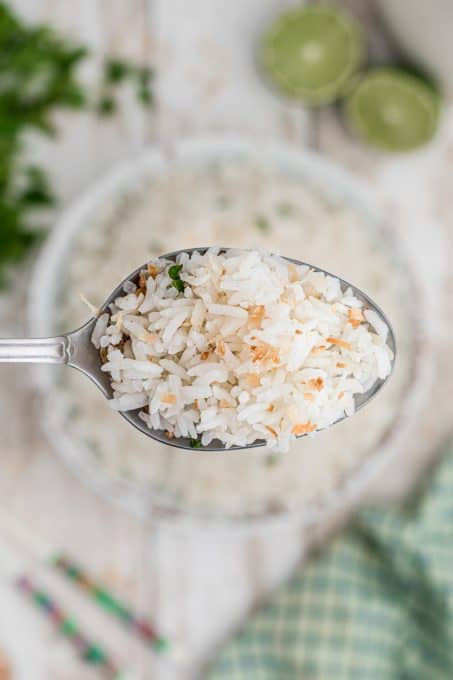 If you really want to get serious about preventing mushy rice, give your rice a little massage as you rinse it. Sounds strange but it seriously helps!
It's also possible for rice to get mushy if it's cooked in coconut milk alone. A bit of additional water is needed to thin the coconut milk for the rice to absorb it.
The final most common reason coconut milk rice gets mushy? Adding too much liquid. Excess liquid means the rice needs more time to cook and you'll end up with something more like a pudding than a delicious fluffy pot of rice.
Is coconut rice sweet?
Not in the way you'd expect. Coconut milk doesn't contain any natural sugars, but adding a tiny bit of granulated sugar helps bring out the richness of the coconut flavor even more. You'll notice a slight hint of sweetness but nothing bold or overpowering.
This rice recipe definitely qualifies as a savory side dish that pairs well with all kinds of entrees.
Can I use coconut cream instead of coconut milk?
Coconut cream has a higher percentage of oils compared to liquids than coconut milk. This makes it much thicker! You can use coconut cream if that's what you have but you need to compensate by using only 1 cup of coconut cream and increasing the water added to a full cup.
Can I use a rice cooker for this recipe?
Yes. Prepare the coconut rice the same way and follow your rice cooker instructions as you normally would for white rice.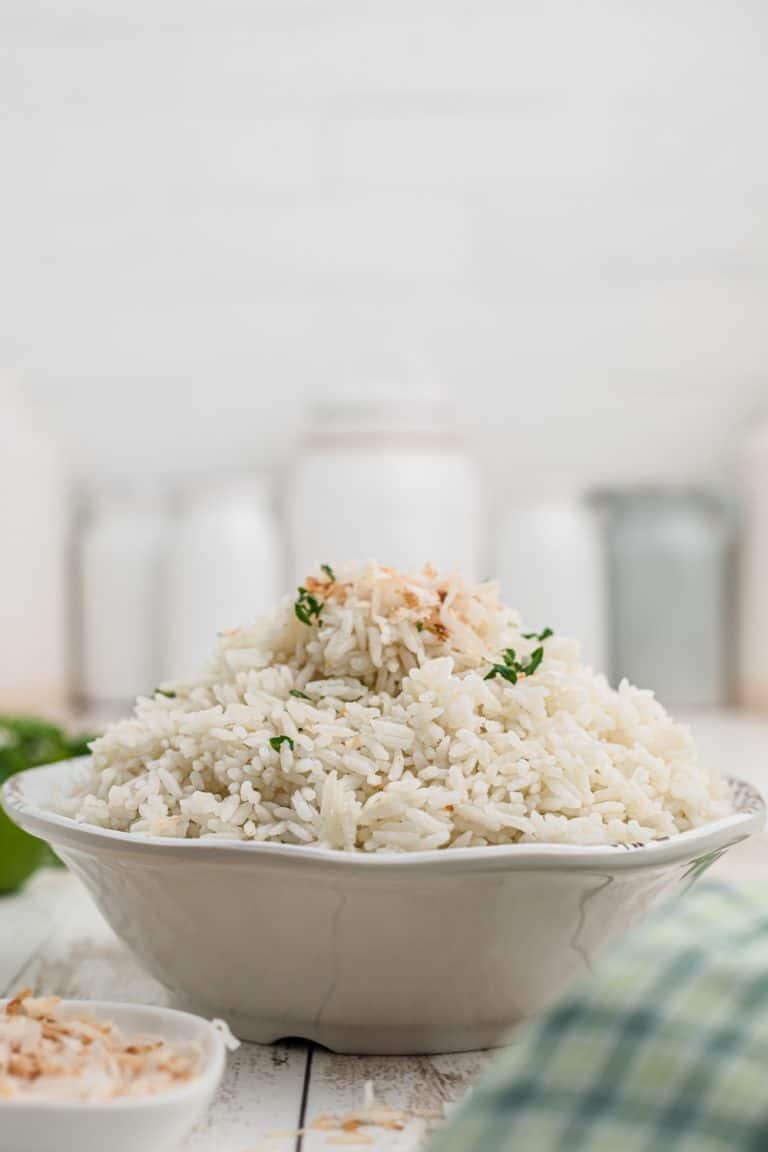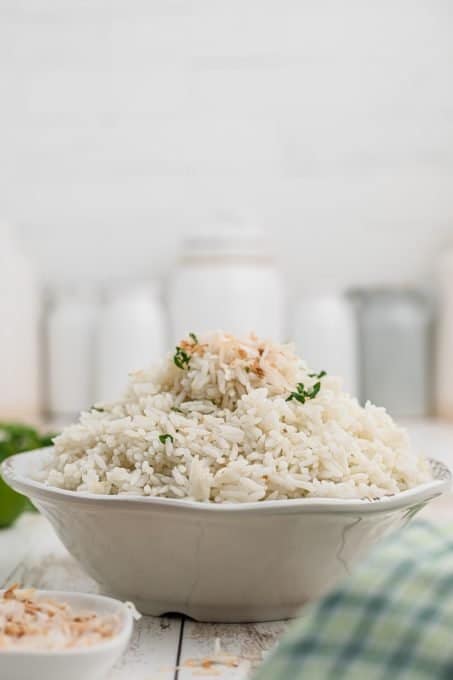 Can I make this with another kind of rice instead?
If you don't have long grain white rice, Jasmine rice works beautifully in this recipe too!
Side Dish Recipes
No meal is complete without a few awesome sides to load on your plate.
If you love east Asian cuisine, you'll love this Garlic Edamame. It works as a side dish, an appetizer or both! My family can't get enough of these Pork Potstickers either.
For a side dish with Latin American flavors, give this Skillet Mexican Street Corn a try. It's a take on corn that wows everyone who tries it.
In my house, we're all about these Maple Roasted Sweet Potatoes all year long, not just Thanksgiving. Since we're talking potatoes, I need to remind you how amazing these Scalloped Hasselback Potatoes are as a side dish for tons of different entrees.
Rice Recipes
Rice is one of the most versatile grains a cook can have in their tool box.
When I'm planning a meal based on Mexican and Latin American flavors, I almost always make a batch of Copycat Chipotle Cilantro Lime Rice to serve on the side. It's so simple yet so tasty.
On those days when we need a quick and easy meal, this Cheesy Chicken, Broccoli and Rice Casserole is perfect. Fans of Thai curry flavors always rave over my Curried Rice with Chicken and Vegetables recipe too.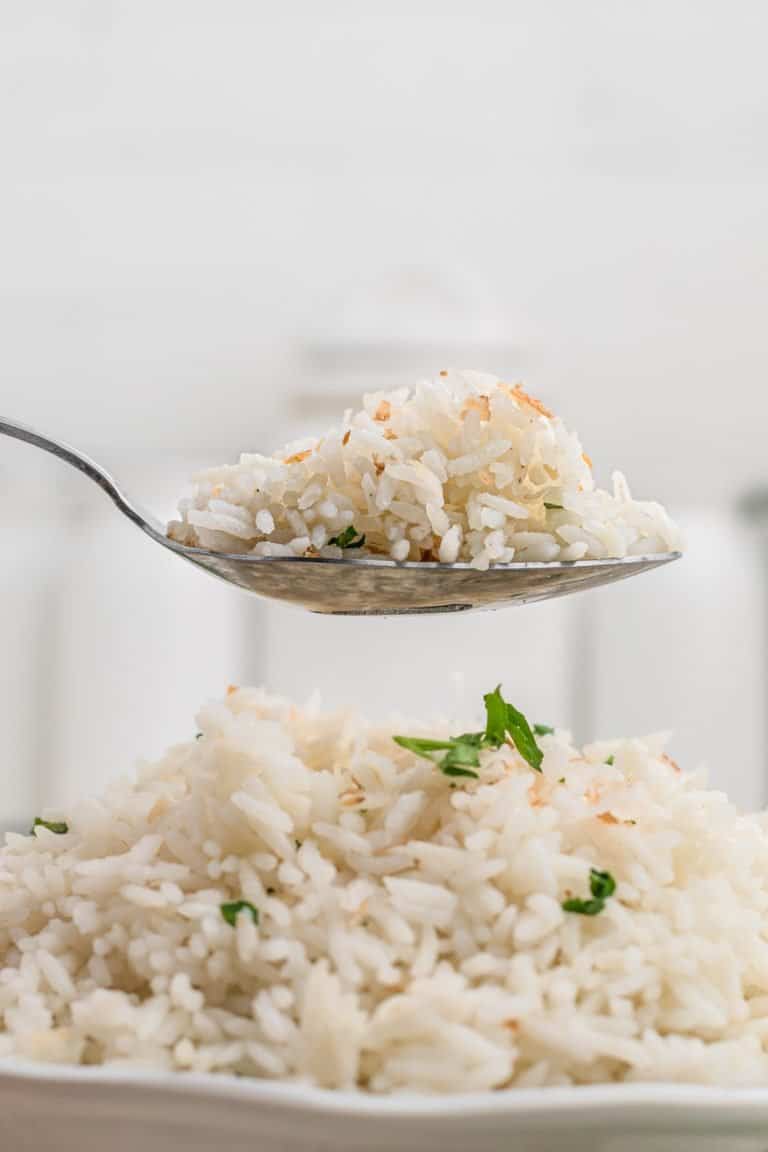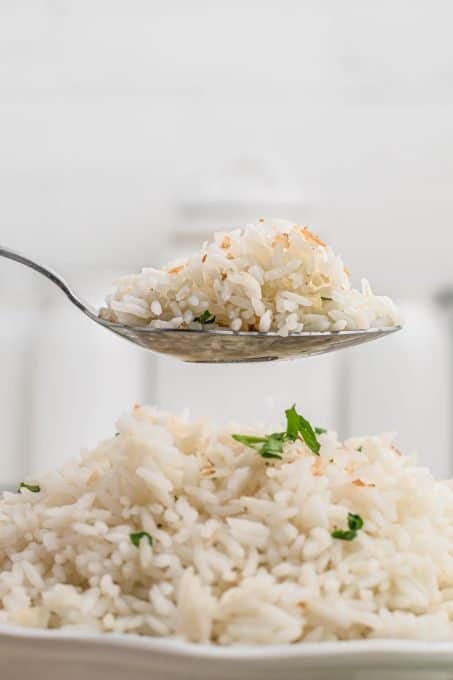 Learn how to make the best Coconut Rice at home with this easy fool-proof rice recipe!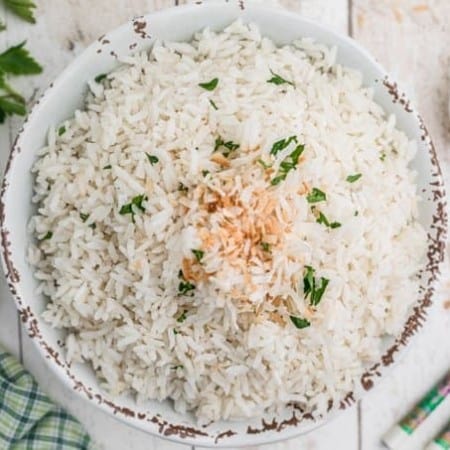 This Coconut Rice recipe transforms ordinary grains of rice into a fragrant, rich side dish. It's the perfect accompaniment to an Asian inspired dinner and takes hardly any extra effort at all!
Equipment
strainer or sieve

small saucepan

non-stick skillet if toasting coconut
Ingredients
2 cups long grain rice
14 ounces coconut milk
½ cup water
1 tablespoon granulated sugar
½ tablespoon kosher salt can substitute sea salt
½ tablespoon toasted shredded coconut for optional garnish
fresh chopped parsley for optional garnish
lime wedges for optional garnish
Instructions
Rinse the rice under cold water in a sieve, until the water is clear. Use your hands to gently massage the rice while doing this, the agitation will help remove more starch from the rice.

In a small saucepan add the coconut milk and the water and using a whisk mix well until combined.

Add the rinsed rice, sugar and salt and bring to a boil.

Once boiling, turn the heat down to low and stir well.

Cover and simmer for 15 minutes. Do not remove the lid.

After 15 minutes without removing the lid, turn off the heat and allow to sit for an additional 10 minutes.

Once the 10 minutes are up, remove the lid and give a good stir. Place into a serving dish and garnish with the toasted coconut and parsley. Serve with lime wedges.
Nutrition
Serving: 1person | Calories: 545kcal | Carbohydrates: 80g | Protein: 9g | Fat: 22g | Saturated Fat: 19g | Polyunsaturated Fat: 1g | Monounsaturated Fat: 1g | Sodium: 891mg | Potassium: 325mg | Fiber: 1g | Sugar: 3g | Vitamin C: 1mg | Calcium: 45mg | Iron: 4mg
Did you make this recipe?
Share it with me on Instagram and make sure to follow me on Pinterest for more recipes.
Reader Interactions