Chai Banana Bread is a moist and flavorful quick bread with warming chai spices. A sweet vanilla glaze on top makes this easy bread recipe complete!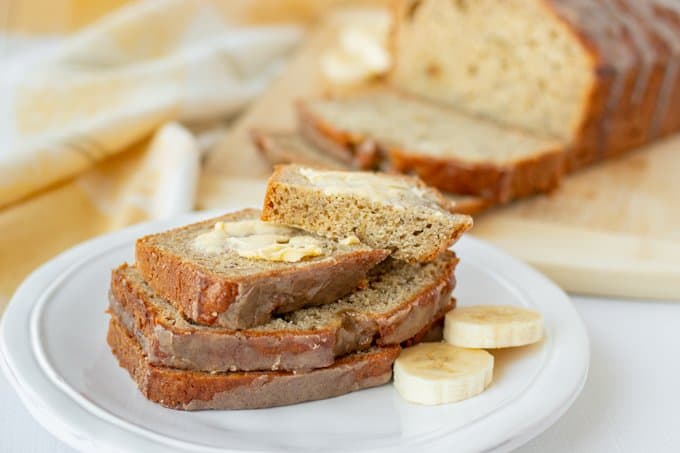 You've never tasted a banana bread quite like this one.
Chai Spiced Banana Bread has all the cozy taste of my favorite Chai Tea baked into the familiarity of a classic banana bread.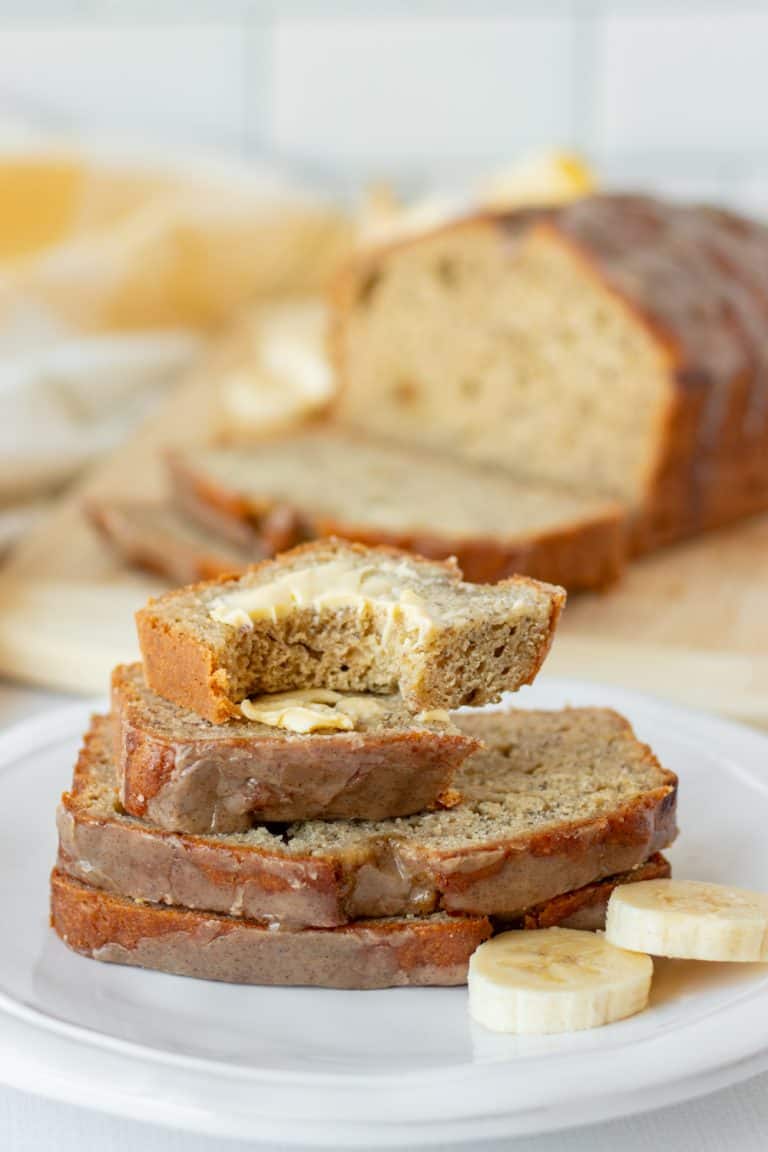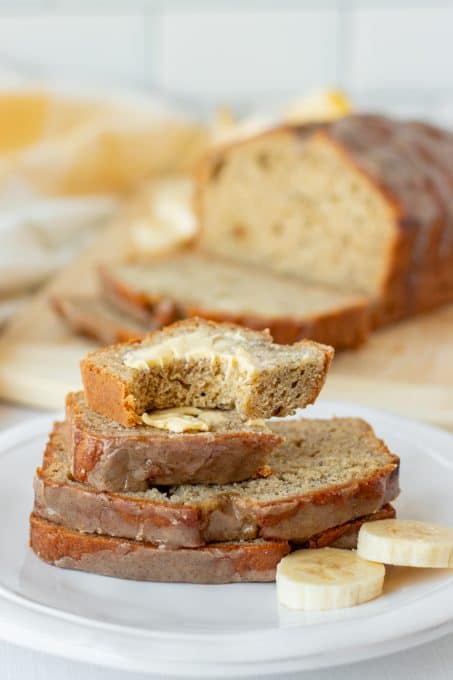 The word "chai" literally means "tea", but this banana bread doesn't actually contain any tea. It gets its chai flavor from the spices we use in the quick bread. We took the traditional spices used in masala chai tea recipes, including cardamom and ginger, and mixed them into a moist banana bread.
The result is a sweet bread bursting with banana flavor and the perfect kick of spice. A slice of Chai Banana Bread is the perfect accompaniment for a cup of hot black tea or coffee.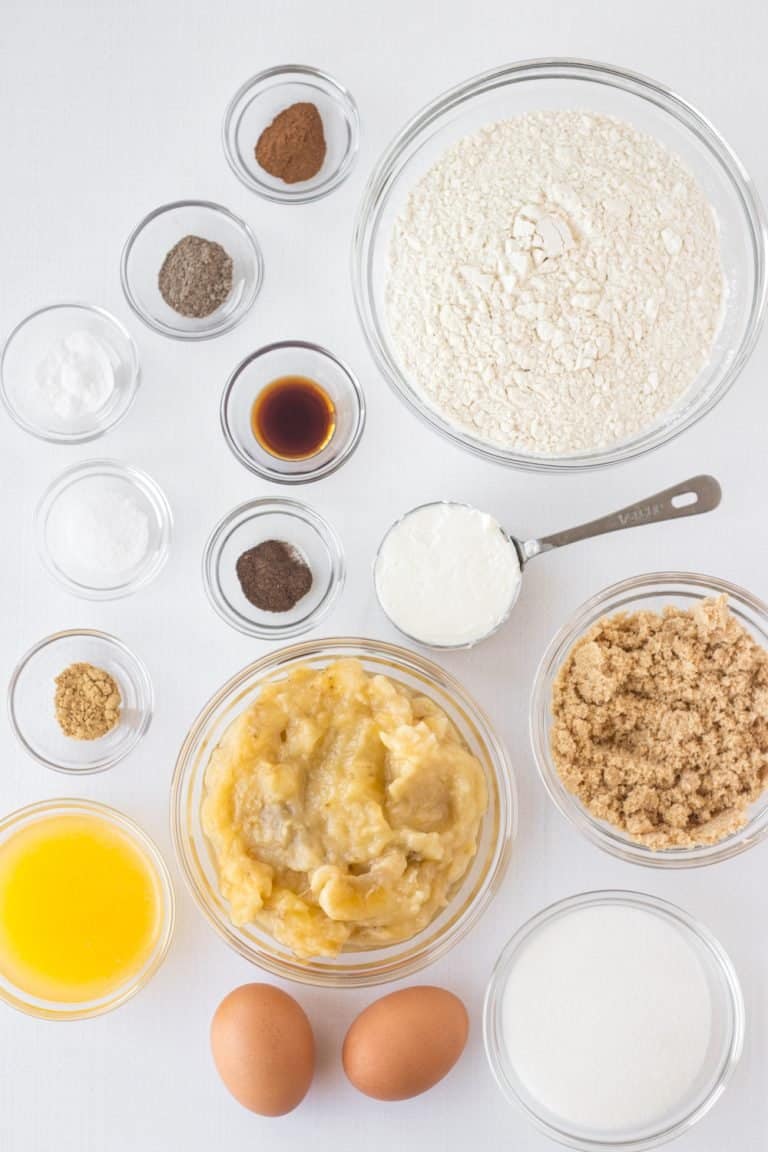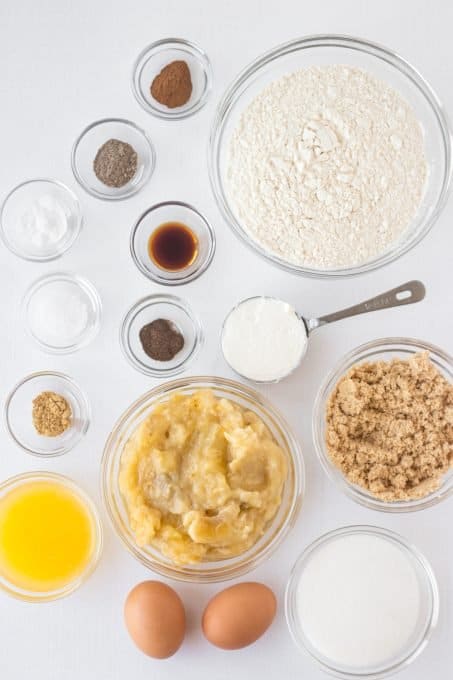 What do I need?
This banana bread recipe starts with a straightforward banana bread batter made of these ingredients:
Mashed bananas
Greek yogurt
Butter
Eggs
White sugar
Brown sugar
Flour
Baking soda
Salt
The Chai Spices are mixed into the batter along with the dry ingredients. Here's what I use to create an authentic chai flavor.
Cardamom
Cinnamon
Ginger
All spice
You might remember that I use a similar spice blend to make these amazing Chai Snickerdoodles and this Chai Spiced Pumpkin Cake. It really is such an irresistible combination!
After baking, you'll mix together these ingredients to create an easy banana bread glaze:
Confectioners sugar
Vanilla extract
Milk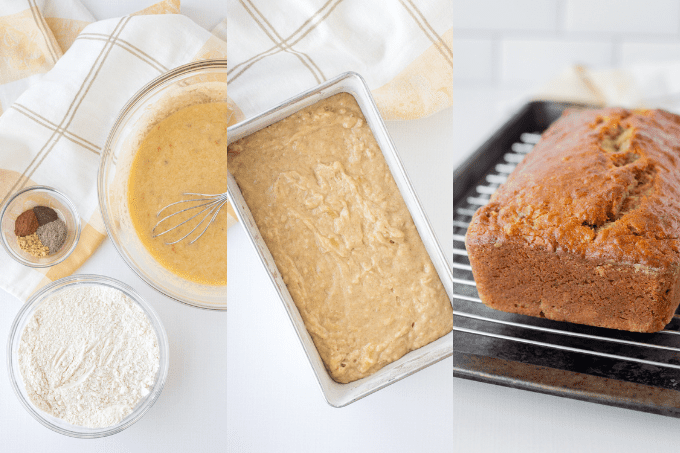 Tips & Tricks
Ripe bananas are best! As with most banana quick bread and muffin recipes, the riper the banana, the sweeter and moister the finished bread will be. Choose bananas with a few brown spots for best flavor. They're easier to mash too! Make sure they aren't completely brown and overripe as those can be too mushy.
Do not overmix. Mixing the batter too vigorously over activates the gluten proteins in the flour resulting in a dense, tough quick bread. You only need to stir in the dry ingredients until no big lumps of flour are visible. It's okay if the batter isn't perfectly smooth or completely mixed.
Storing: Store baked cooled banana bread wrapped in foil. Place the foil wrapped loaf in a zip top bag. Squeeze out excess air to preserve freshness and moisture.
Can it be frozen?
Chai Banana Bread is a freezer friendly recipe. Feel free to make two loaves at once so you have one to freeze for later! Wrap the bread in foil then place in a zip top freezer bag before freezing. It keeps well in the freezer for up to 3 months.
Let frozen chai spiced banana bread thaw on the countertop or in the fridge overnight before eating.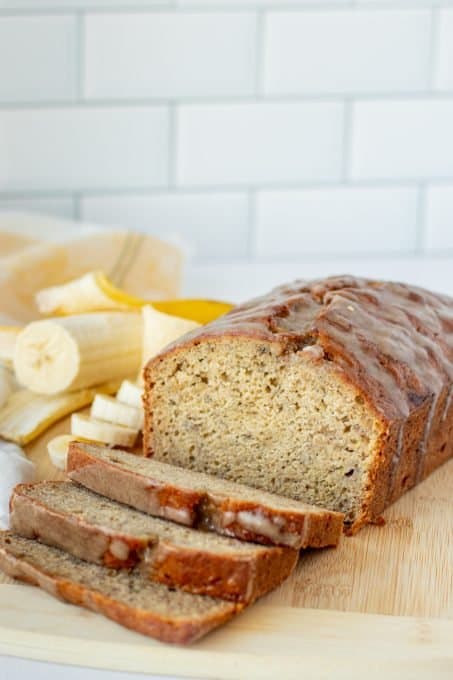 Banana Recipes
Bananas really are nature's gift to bakers. They deliver sweetness, moisture and flavor all in one naturally wrapped package.
If you love banana bread recipes, add this Brown Butter Rum Banana Bread to your list to make next. The browned butter and rum are a perfect complement to the sweet banana flavor. For an even sweeter banana loaf, you'll adore my recipe for Double Chocolate Banana Bread.
There's so much more you can do with extra bananas than just make bread. This Blueberry Banana Smoothie Bowl is an ideal power breakfast for a busy morning! Or make a batch of Almond Banana Overnight Oats for a nutritious (and delicious) start to your morning.
On the more indulgent end of the spectrum of banana recipes, there's this decadent Banana Split Ice Cream Cake and this Peanut Butter Upside-Down Banana Cake. Both are impressive banana desserts and easier to make than you might think!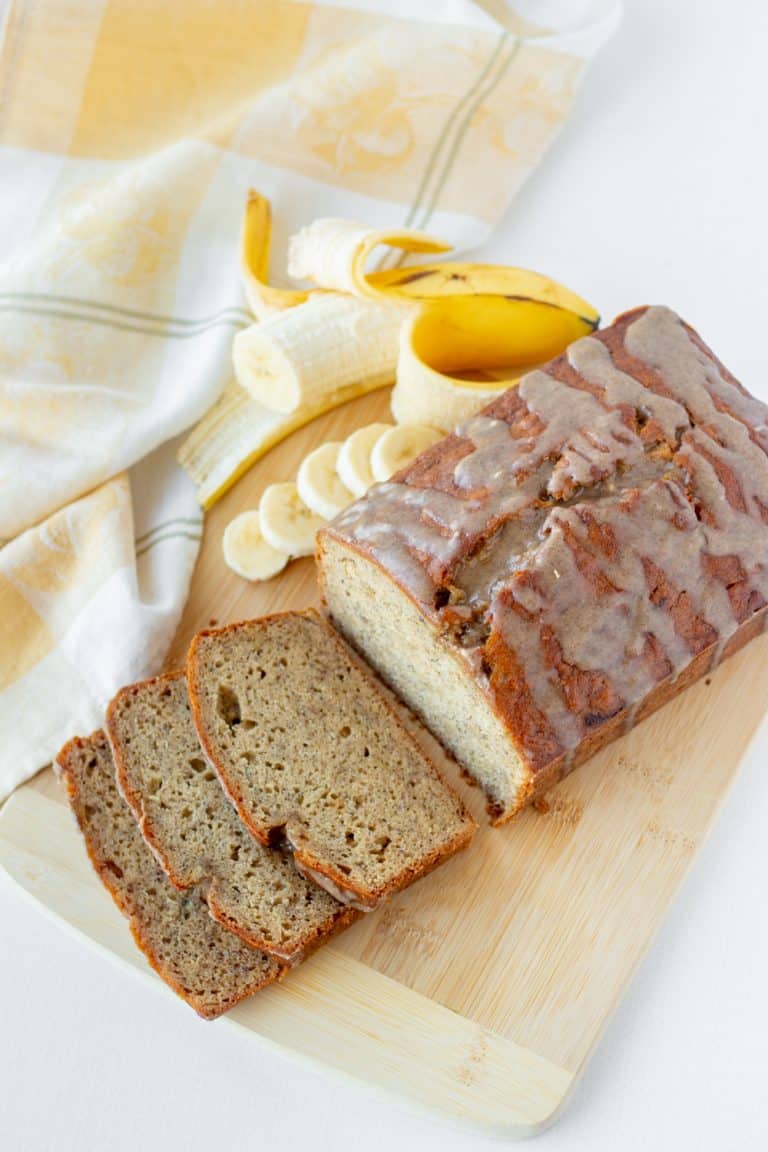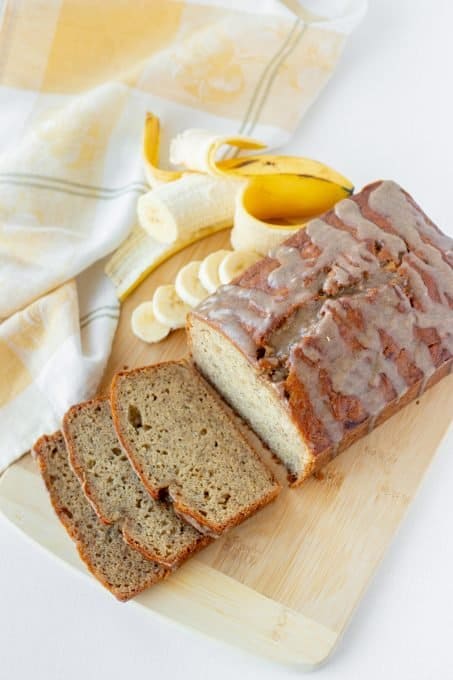 Bread Recipes
There's nothing like the smell and taste of freshly baked bread. Checkout a few more of our most popular bread recipes, from easy quick breads to impressive savory loaves.
This recipe has been lightly adapted from My Recipes.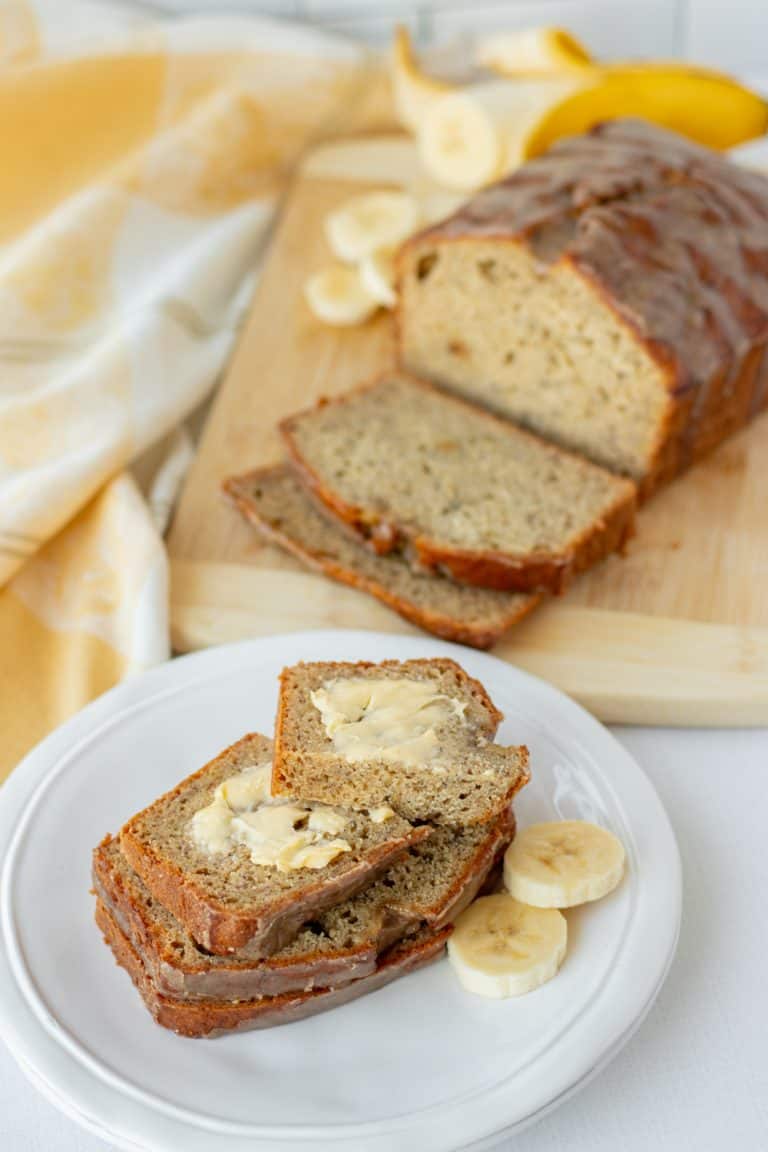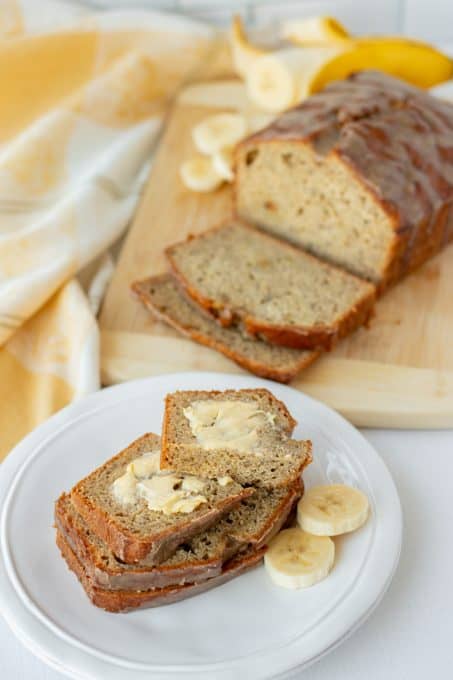 This Chai Banana Bread is all the comforts of your favorite banana bread made even better with the spices of chai.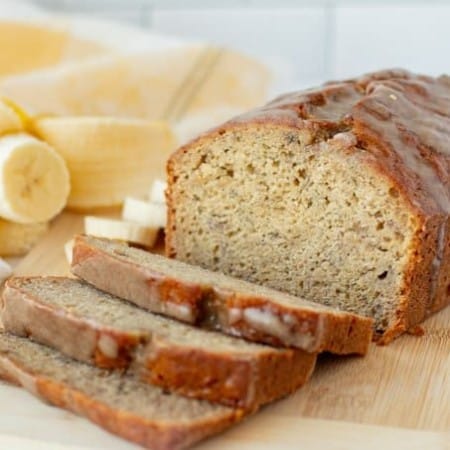 This Chai Banana Bread is one of your favorite comfort foods made even better with the delicious spices of chai. It's a flavor explosion in every bite!
Ingredients
1 ½ cups mashed banana about 3 medium
⅓ cup Greek yogurt
5 tablespoons butter melted
2 eggs
½ cup granulated sugar
½ cup light brown sugar packed
2 ¼ cups all-purpose flour
¾ teaspoon baking soda
½ teaspoon salt
¾ teaspoon ground cardamom
½ teaspoon cinnamon
¼ teaspoon ground ginger
¼ teaspoon allspice
1 ¼ teaspoons pure vanilla extract divided
⅓ cup confectioners' sugar
1 ½ teaspoons milk
Instructions
Preheat oven to 350 degrees F. Prepare a 9 X5-inch loaf pan by spraying it with cooking spray.

In a mixing bowl, combine bananas, yogurt, melted butter eggs, and 1 teaspoon of the vanilla. Mix until just blended. Add sugars and mix until combined.

In a medium bowl, whisk together flour, baking soda and salt.

In a small bowl, mix together the cardamom, cinnamon, ginger and allspice. Add 1 1/2 teaspoons of the mixture to the flour and mix until thoroughly combined.

Add dry ingredients to the banana mixture and mix until just combined. Pour batter into prepared loaf pan.

Bake for 55-65 minutes or until a toothpick inserted in the center comes out clean.

Allow pan to cool on a wire rack for 10 minutes before removing the bread to cool completely.
Glaze
In a small bowl, mix together the confectioners' sugar, remaining spice mixture, remaining 1/4 teaspoon vanilla, and milk until completely combined. Drizzle over the bread.

After glaze has set, store tightly wrapped in foil and place in a zip top bag with the air removed.
Nutrition
Serving: 1slice | Calories: 248kcal | Carbohydrates: 45g | Protein: 4g | Fat: 6g | Saturated Fat: 3g | Polyunsaturated Fat: 1g | Monounsaturated Fat: 2g | Trans Fat: 1g | Cholesterol: 40mg | Sodium: 219mg | Potassium: 162mg | Fiber: 1g | Sugar: 24g | Vitamin A: 205IU | Vitamin C: 2mg | Calcium: 27mg | Iron: 1mg
Did you make this recipe?
Share it with me on Instagram and make sure to follow me on Pinterest for more recipes.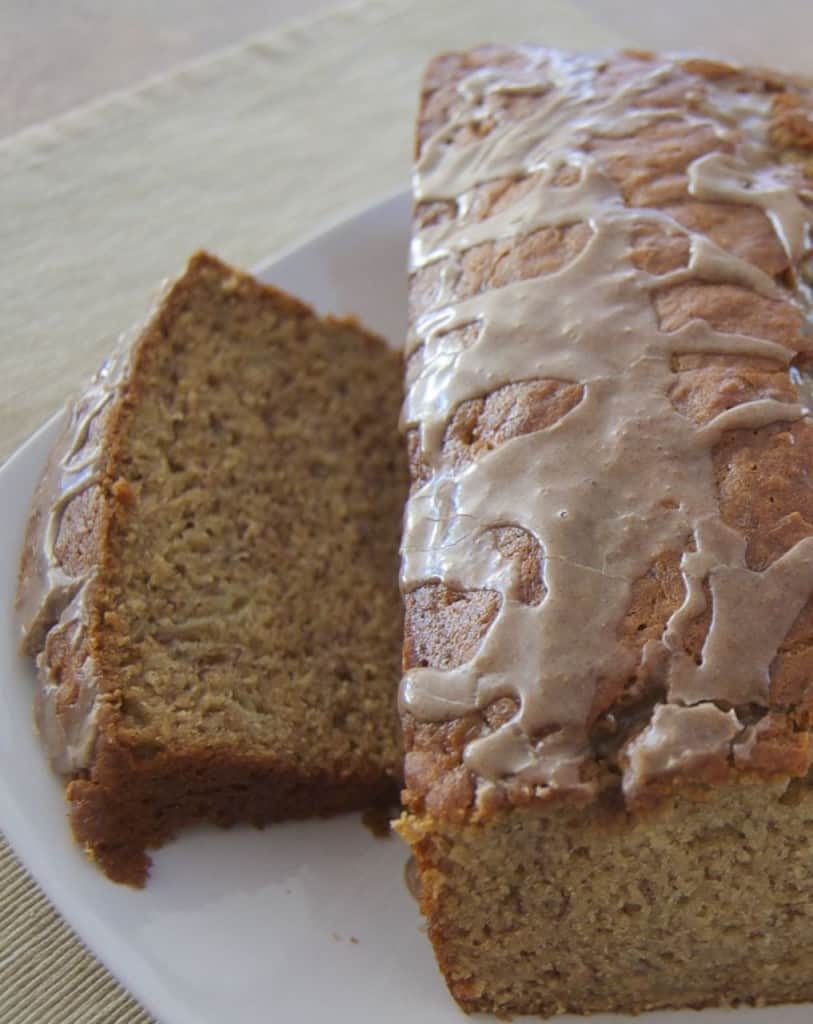 This recipe was originally published 11/19/12. It has been updated in format and with pictures on 3/24/22.
Reader Interactions