This Blueberry Banana Smoothie Bowl has quickly become a new favorite. A blend of frozen blueberries, banana, yogurt, and chia seeds is a great start to any day!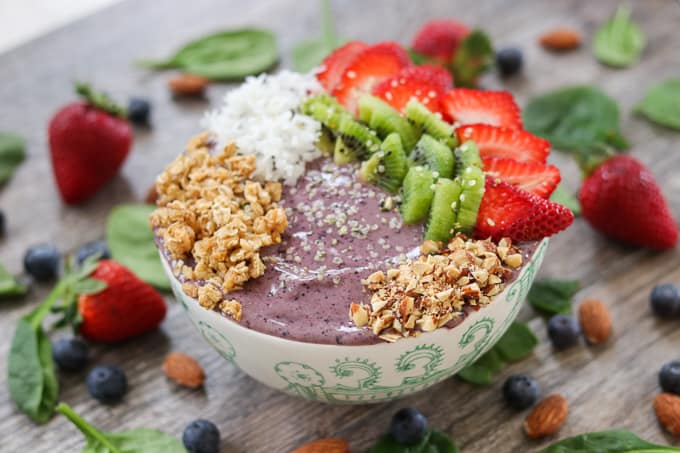 Last year was a BIG one for me.
I had a momentous birthday last July and while I certainly don't feel old enough to have turned the BIG 5-0, the calendar certainly said otherwise.
Who knew it would come so gosh darn quickly, too! I mean, I just graduated high school. C'mon now!
So, since I'm feeling like that birthday has been one of my most important ones thus far, a decision was made to get the ol' gal in shape. And I mean really consciously work at it by exercising and eating better.
Yes, I'd like to lose a few extra pounds and feel better about the way my clothes fit and the way I look, but I think I'm finally at an age that I'm comfortable with myself no matter what the scale may read.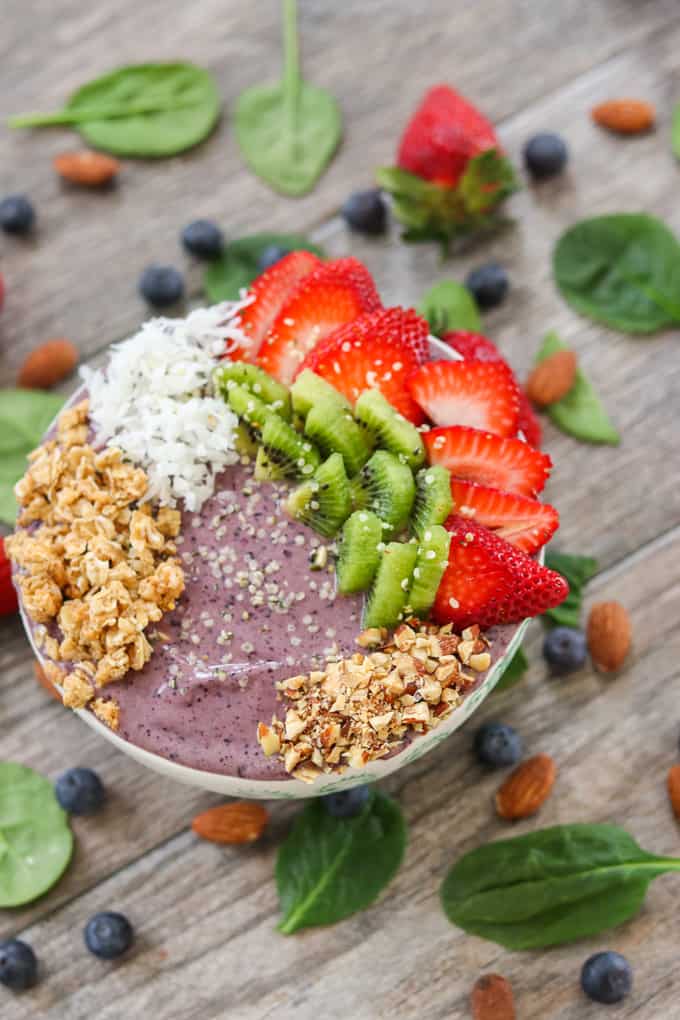 I know it's important to exercise and eat well which is why I've fallen in love with this Blueberry Banana Smoothie Bowl. It's full of delicious flavor, but the great thing is that it's so versatile. You can change the ingredients according to your taste and add a variety of toppings!
It's SUPER easy to make, too!
All you have to do is throw your ingredients into a blender and VOILA, you're done!
Blueberry Banana Smoothie Bowl Topping Ideas
A smoothie bowl is delicious all by itself, but you can add so much more flavor and texture when you add different toppings.
fresh fruit – blueberries, strawberries, kiwi, pineapple, sliced banana
nuts – pecans, almonds, peanuts, hazelnuts, walnuts
granola – plain or flavored, they both work great
seeds – chia, pumpkin, sunflower, hemp, flax
You can also drizzle your bowl with a little bit of honey or agave syrup if it's not sweet enough.

Smoothies and smoothie bowls are a great way to add some healthy food and much-needed nutrients to your diet on a daily basis. But believe me when I say they're addicting. haha
I like them because it's just so easy to throw everything in a blender and then pour it into your glass or bowl. Not to mention that the possibilities of flavors are only limited by the imagination!
Who says you can't have chocolate for breakfast? I'll be adding this Chocolate PB Smoothie Bowl to my regular menu rotation for sure!
Missing the tropics, but not able to go there? These Tropical Smoothie Bowls are just what the doctor ordered then. One bite and you'll be instantly transported to paradise.
I love apple pie as do a lot of other people, so why not enjoy it at breakfast? Ok, this Apple Pie Smoothie Bowl may not be exactly the same as a slice of pie, but it's probably better for me and certainly a way I'd like to start my day.
Or, if you're too sore from that workout the day before to lift a spoon, these smoothie recipes would be perfect! My Pineapple Coconut Silk Smoothie is a recipe that I make quite often because I love the flavor combination. Pineapple and coconut are perfect together.
I love a drink that is full of fruit and this Easy Fruit Smoothie is just that. Always using frozen fruit is the key to making it thick and creamy.
SIGN UP FOR THE WEEKLY 365 DAYS OF BAKING & MORE
WEEKLY NEWSLETTER BELOW!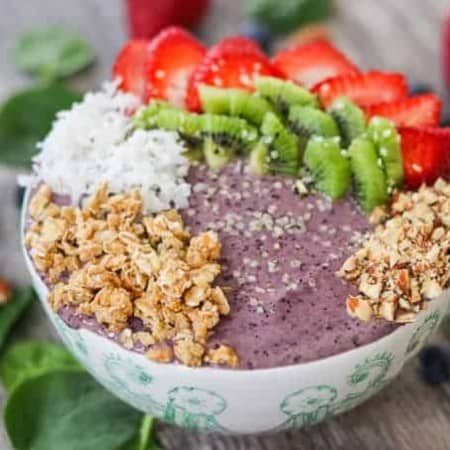 Blueberry Banana Smoothie Bowl
I love drinking smoothies for breakfast, but this Blueberry Banana Smoothie Bowl has quickly become a new favorite breakfast. This blend of frozen blueberries, banana, yogurt, and chia seeds is a great way to get you going in the morning.
Ingredients
1 ½ cups fresh blueberries frozen
1 banana peeled and frozen
½ cup fresh spinach leaves
½ cup Greek yogurt honey, vanilla or plain
½ cup almond milk
1 teaspoon chia seeds
Instructions
Combine all ingredients in a blender and blend until completely smooth.

It may be necessary to remove the blender from its' base and stir with a long spoon then blend again.


Notes
You can add more almond milk if you find it's too thick to blend or if you'd like a thinner consistency. Just add one tablespoon at a time.
Nutrition
Calories: 330kcal | Carbohydrates: 65g | Protein: 14g | Fat: 4g | Cholesterol: 5mg | Sodium: 214mg | Potassium: 818mg | Fiber: 10g | Sugar: 39g | Vitamin A: 1600IU | Vitamin C: 36mg | Calcium: 313mg | Iron: 1.6mg
Did you make this recipe?
Share it with me on Instagram and make sure to follow me on Pinterest for more recipes.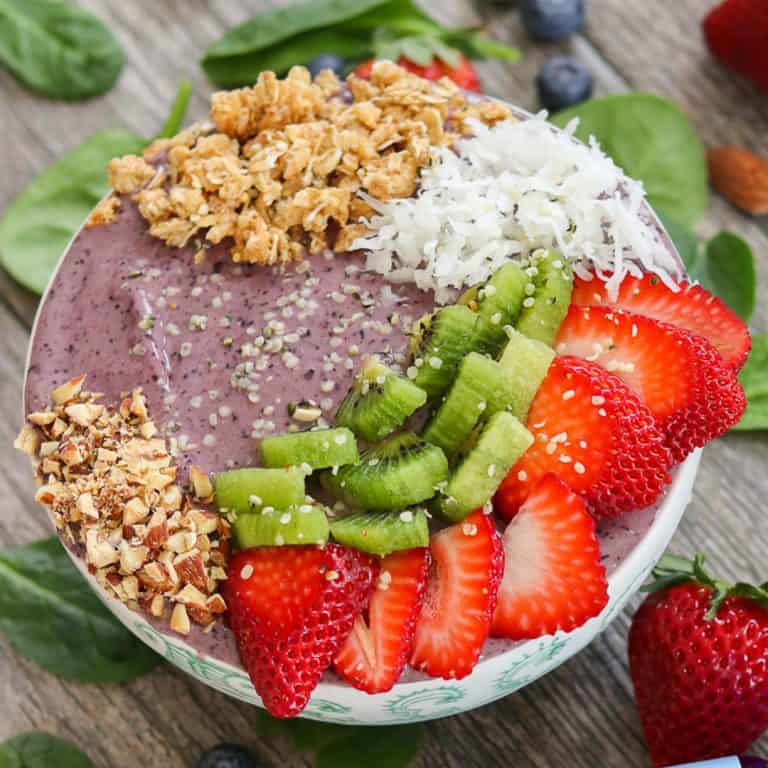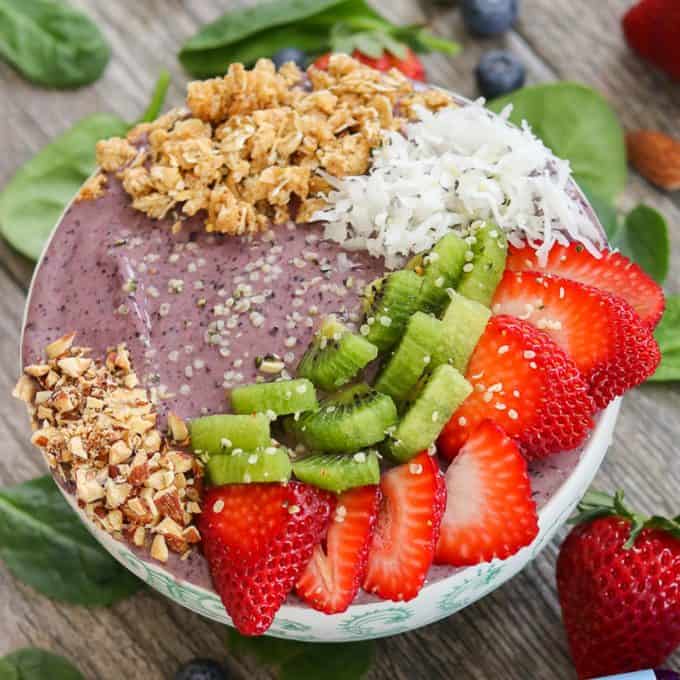 Reader Interactions