A slice of this English Muffin Bread is the perfect accompaniment to your morning coffee. Full of nooks and crannies for holding warm butter and jam, this homemade bread recipe is easy enough for beginner bakers–with professional quality results!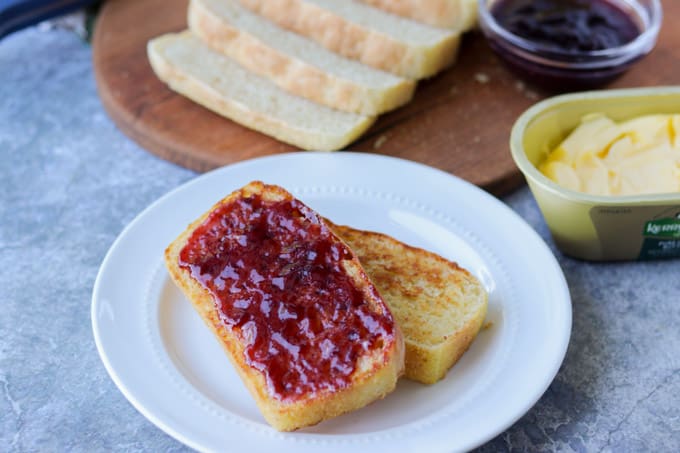 The only question is what will you spread on your English Muffin Bread?
Try adding a pat of this Easy Cinnamon Honey Butter for a heavenly treat.

I've been making English Muffin Bread since high school.
It's just different enough from your everyday yeast breads that baking up a loaf to give to a friend feels extra special.
And one of the great things about this recipe is you can do just that because it makes TWO loaves!
SAVE THIS ENGLISH MUFFIN BREAD TO YOUR FAVORITE PINTEREST BOARD!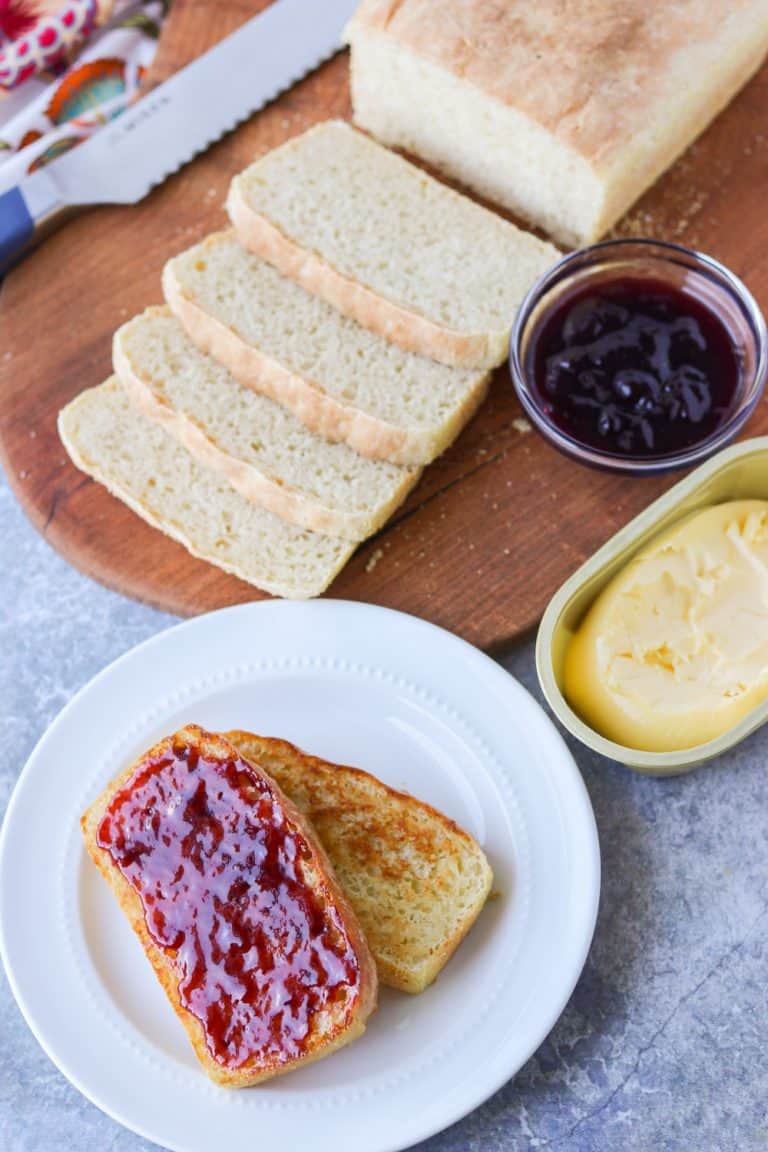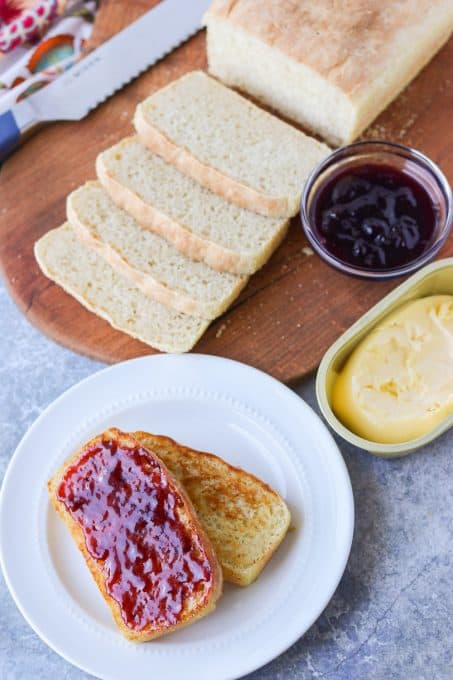 Traditional homemade English Muffins are made on the stove top.
After mixing together a dough you let it proof, rest, then cook in a griddle or skillet.
The resulting muffins have big pockets of air creating the "nooks and crannies" that make English Muffins so dang delicious.
With this English Muffin Bread recipe there's no stove top cooking required.
You just put the dough in a loaf pan, let it rise and bake.
Add a pat of butter to a slice of this bread after you've toasted or grilled it, and watch it seep into every nook and cranny.
It really does taste like English Muffins!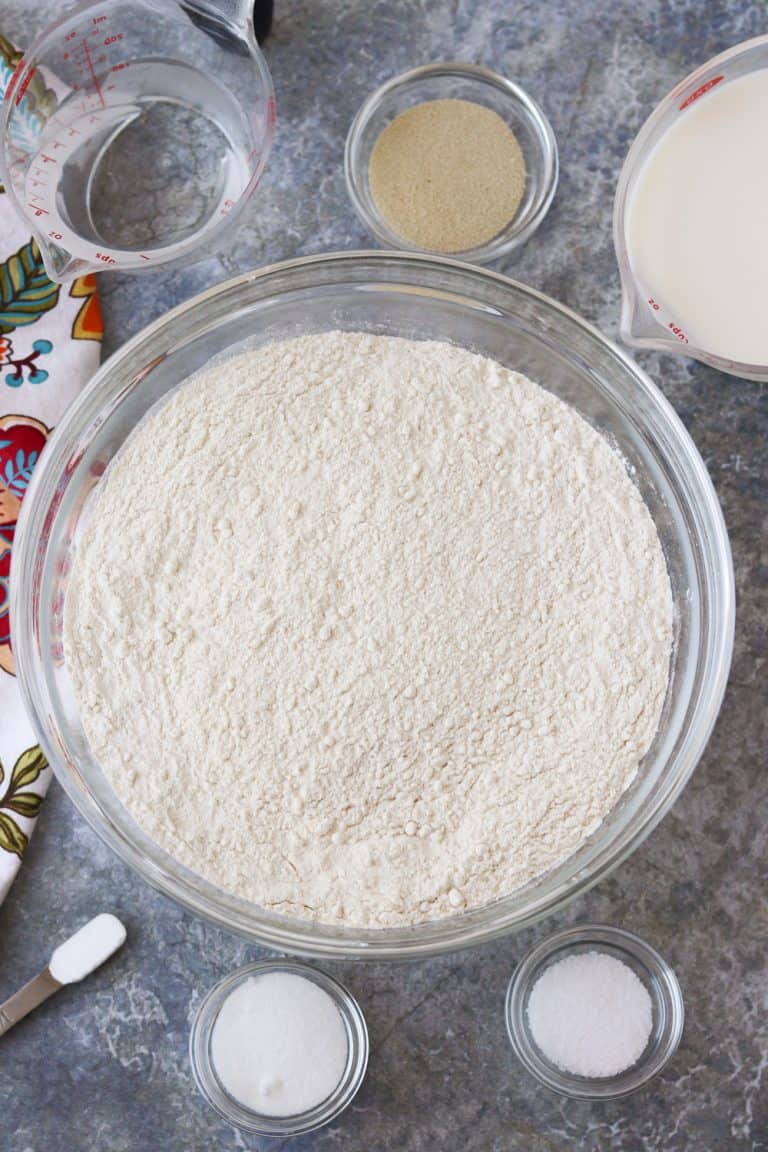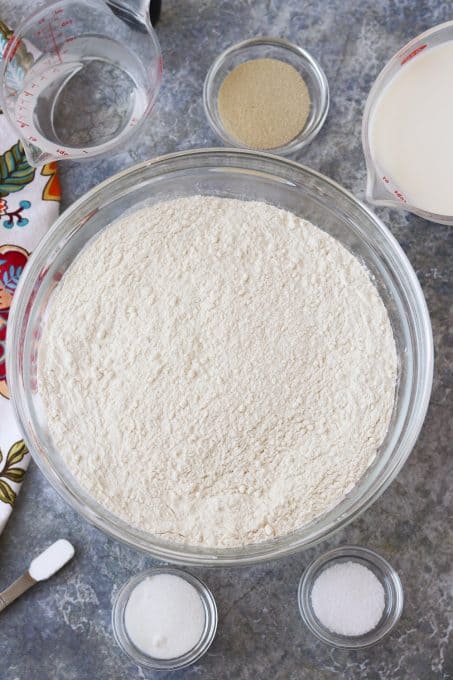 What you'll need for this bread that tastes like English Muffins
all-purpose flour
dry yeast
sugar
salt
baking soda
milk
water
butter
cornmeal
Pro Tips for English Muffin Loaf
Grease your loaf pans with butter and cornmeal before adding the dough.
This helps the crust get crispy and keeps the bread from sticking.
I let my loaves rise in the oven before baking.
Set your oven to 170 F, cover the loaves with a kitchen towel and pop them on the center rack of your oven.
Make this dough with an electric mixer, when possible.
You can start with the paddle attachment then change to the dough hook to knead the bread after adding the flour.
This bread freezes wonderfully.
Feel free to make a couple of loaves on the weekend and stash them in the freezer.
To freeze, wrap them tightly in aluminum foil and then tightly in plastic wrap.
To thaw, just place into the refrigerator the night before.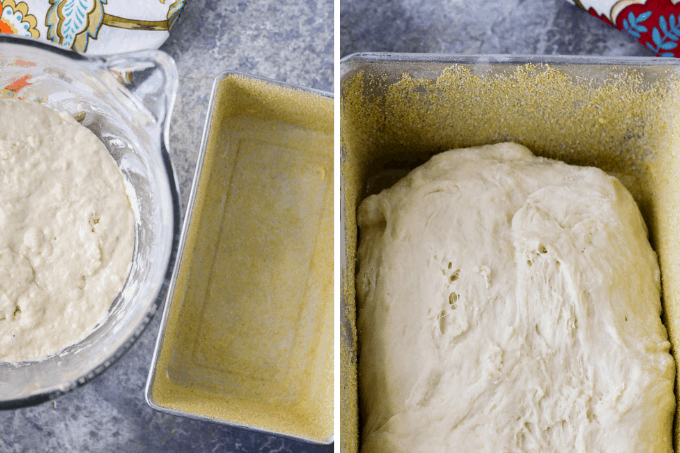 Do I toast this bread?
It's entirely up to you whether or not you toast your English Muffin Loaf.
We enjoy it both ways.
When this bread is fresh from the oven, it really doesn't need any toasting at all.
The outside is a bit crisp while the insides are soft and fluffy.
But wait until it cools to cut through it though as slicing when it's warm can ruin the texture.
The second or third day,
I tend to pop slices in the toaster oven for a minute or two.
The warmth of a toasted slice helps the butter soften and melt a bit into the crevices.
I also like the extra crispiness that toasting adds.
Breads and Muffins
Once you learn how to make English Muffin yeast bread, you'll be a bread baking fiend.
If you're looking for breakfast muffin ideas, these Blueberry Cornmeal Muffins are guaranteed to please!
Plop a basket of these on your breakfast or brunch table to make the meal complete.
Sometimes you don't always have time to wait for yeast to rise.
That's where quick breads come in!
You'll love our Double Chocolate Banana Bread and this fruity Pineapple Bread for something sweet.
Oh, and can we talk about these Cinnamon Roll Muffins? They're the best parts of yeast rolls and muffins combined!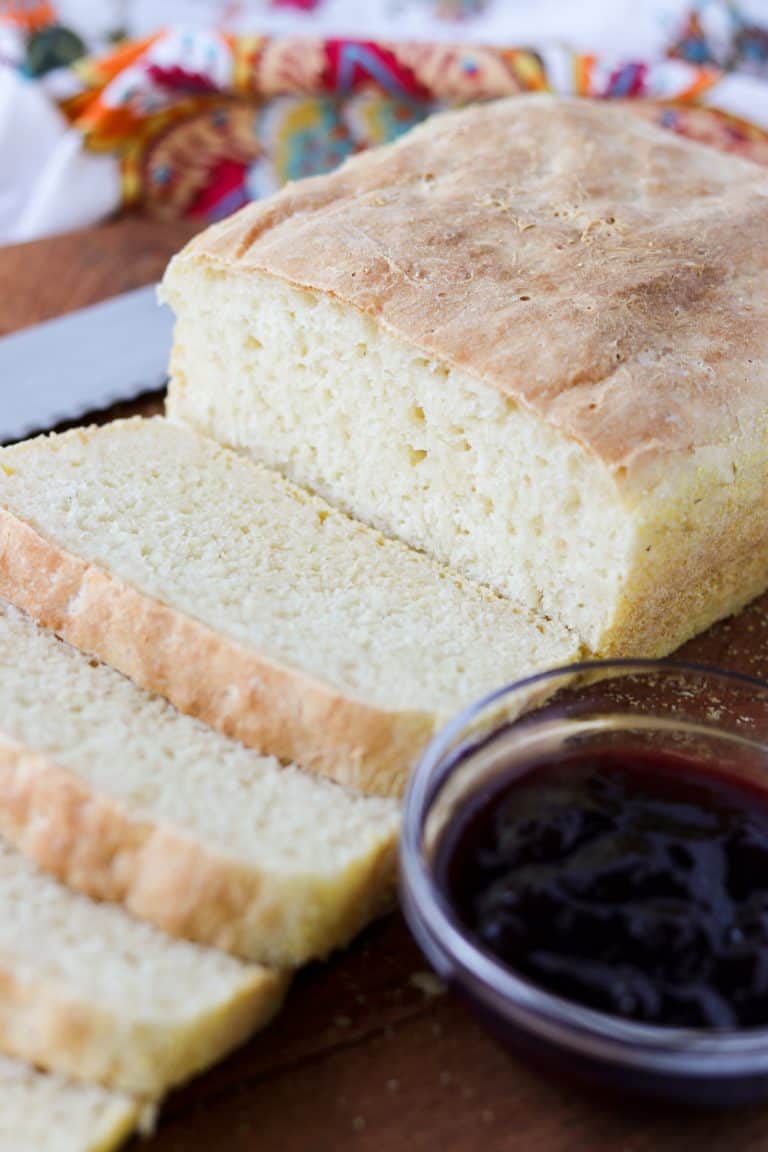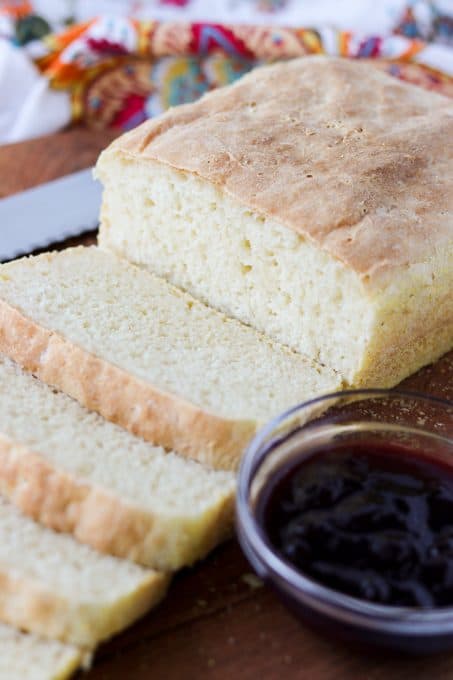 Yeast Bread Recipes
You can't beat the scent of fresh baked yeast bread!
My family (as well as so many of my followers who've made it!) swears by this Homemade Italian Bread Recipe too. It's a fuss free recipe perfect for serving with just about any meal.
You can even slice it up to use for sandwiches and it's great to serve with Lasagna and Chicken Cacciatore.
This No-Knead Bread is miraculous.
It's as easy as mixing a dough together and walking away for a couple of hours while it rises.
Then it's ready to bake, slice and enjoy.
Bookmark and pin these other bread recipes with yeast:
Did I mention this English Muffin Bread recipe makes TWO loaves?
So you'll have one to eat now and one to freeze for later!
SIGN UP FOR THE WEEKLY 365 DAYS OF BAKING & MORE
WEEKLY NEWSLETTER!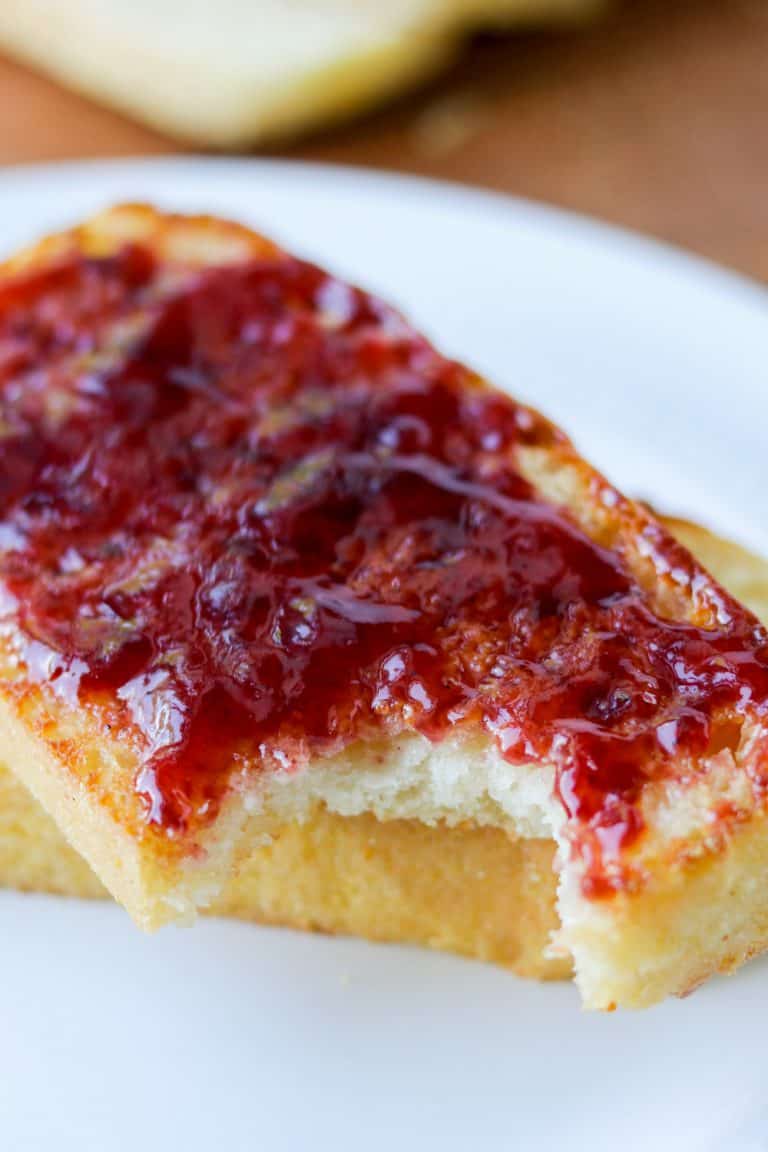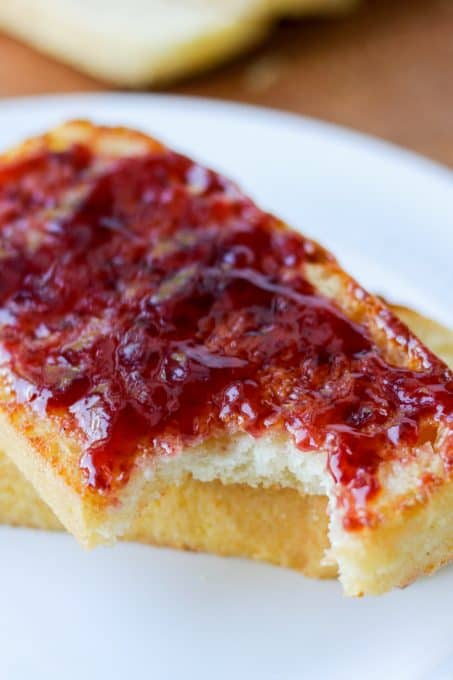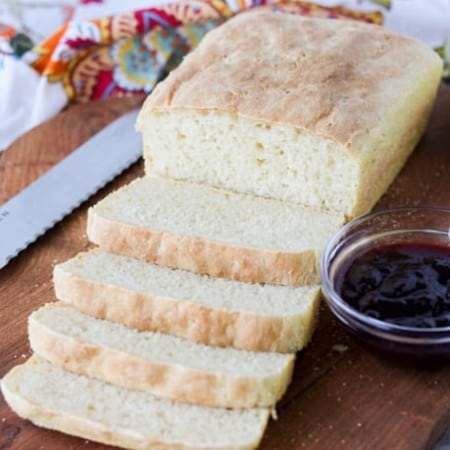 A slice of this English Muffin Bread is the perfect accompaniment to your morning coffee. Full of nooks and crannies for holding warm butter and jam, this homemade bread recipe is easy enough for beginner bakers–with professional quality results! 
Equipment
Mixer

 two 8 1/2 x 4 1/2-inch loaf pans
Ingredients
butter and cornmeal
6 cups all purpose flour divided
4 ½ teaspoons active dry yeast or 2 packages
1 tablespoon sugar
2 teaspoons salt
¼ teaspoon baking soda
2 cups milk
½ cup water
Instructions
Prepare two 8 1/2 x 4 1/2-inch loaf pans by greasing them with butter and covered with cornmeal; set aside.

In the bowl of an electric mixer fitted with a paddle attachment, mix 3 cups of flour, yeast, sugar, salt, and baking soda together. 

In a small saucepan over low to medium heat, warm up milk and water to very warm, between 120-120 degrees.

Add to flour mixture and combine well.

Change paddle attachment to dough hook and gradually add remaining 3 cups of flour to this.

Divide dough in half and place each into the prepared loaf pans. Cover with a towel and place in a warm spot to rise for 1 1/2 hours.

Preheat oven to 400 degrees, and place pans in oven for 25 minutes.

Immediately remove loaves from pan and place on wire rack to cool.
Nutrition
Serving: 1g | Calories: 135kcal | Carbohydrates: 26g | Protein: 5g | Fat: 1g | Saturated Fat: 1g | Polyunsaturated Fat: 1g | Monounsaturated Fat: 1g | Cholesterol: 2mg | Sodium: 216mg | Potassium: 82mg | Fiber: 1g | Sugar: 2g | Vitamin A: 34IU | Vitamin C: 1mg | Calcium: 29mg | Iron: 2mg
Did you make this recipe?
Share it with me on Instagram and make sure to follow me on Pinterest for more recipes.
In the early days of this blog, I used to rate everything on a scale of 1 – 4 rolling pins (4 being the best). This English Muffin Bread earns 3 1/2 rolling pins every time I make it. Even after all these years, the yeast bread till comes out just as beautifully as it did when I was in high school.
Funny how some things you can't forget, huh?
This post was originally published 1/11/2012, and has been updated in format and with pictures on 9/29/1921.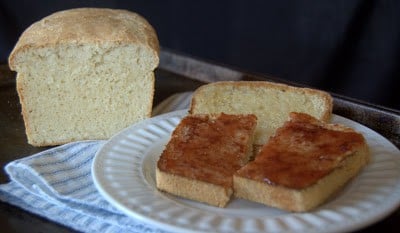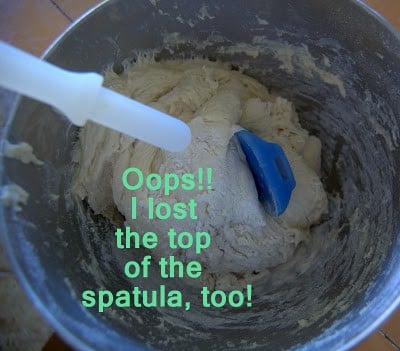 Reader Interactions