I love those early morning days where a toasted slice of bread is all I need. Let this English Muffin Bread be your go-to loaf of bread.

Forget the "how many calories are in a slice of bread?", question. If this English Muffin Bread is this good, you might as well satisfy your hunger.
I've been thinking about a particular friend lately and called to wish her a Happy Birthday today. We were best friends our senior year of high school and have some pretty incredible memories. We kept in touch through college, she in the southern part of the state and I up north, and remained close, participating in each other's wedding, too.
I know this was mean, but it still brings a smile to my face each time I think about it. I was standing in the back of the church just before the music started for our walk down the aisle, and Christine was standing on the stairs a few steps above me.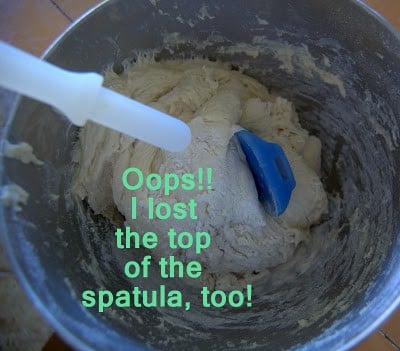 "Christine, I can't do this. I can't go through with it." The poor girl, her eyes became really wide, and she had this look of horror on her face. "What?! What do you mean you can't do it??!!"
I gave it about 30 seconds, but couldn't hold out a whole minute because I just couldn't bring myself to go that far, but after all, I had taken theater in high school and college and really wanted to milk it for whatever it was worth.
I know, I'm so mean. But Christine took it hook, line and sinker as did some of my other bridesmaids. They faced me with a look of panic. A huge smile came across my face, "I'm kidding! Start walking down that aisle!"
After the initial shock wore off the girls began smiling, grateful that a crisis had been averted and began walking down the aisle.
SAVE THIS ENGLISH MUFFIN BREAD TO YOUR FAVORITE PINTEREST BOARD!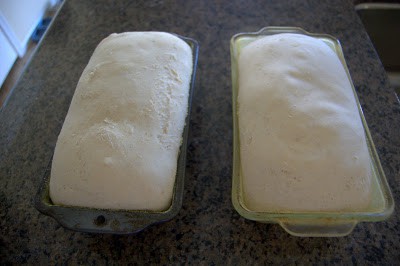 I love those ladies and was very happy to reconnect with Christine and laugh like I haven't laughed in a while.
Friendships such as this are definitely cherished!
I first made this recipe when I was in high school and absolutely fell in love with it! Then I started making extra loaves and gave them to friends as gifts. It is so yummy!!
Except for the last time I made it which was more than a year ago (obviously) it didn't turn out as I remembered it. It kind of stunk actually and I have no idea where it went wrong. I just took this one out of the oven and I am sure hoping that it turned out in a good way. It sure does smell delicious! I had found it in a magazine and think it was from Fleischmann's.
*For instruction #6, I turn my oven on to 170 degrees F., turn it off and place the pans into the oven to rise.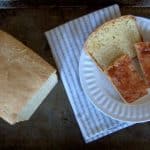 English Muffin Bread
Ingredients
6

cups

flour, divided

2

packages

dry yeast

1

tablespoon

sugar

2

teaspoons

salt

1/4

teaspoon

baking soda

2

cups

milk

1/2

cup

water

butter and cornmeal
Instructions
Prepare two 8 1/2 x 4 1/2-inch loaf pans by greasing them with butter and covered with cornmeal; set aside.

In the bowl of an electric mixer fitted with a paddle attachment, mix the flour, yeast, sugar, salt, and baking soda together.

In a small saucepan over low to medium heat, warm up milk and water to very warm, between 120-120 degrees.

Add to flour mixture and combine well.

Change paddle attachment to dough hook and gradually add remaining 3 cups of flour to this.

Divide dough in half and place each into the prepared loaf pans. Cover with a towel and place in a warm spot to rise for 1 1/2 hours.

Preheat oven to 400 degrees, and place pans in oven for 25 minutes.

Immediately remove loaves from pan and place on wire rack to cool.
Nutrition Facts
English Muffin Bread
Amount Per Serving
Calories 194
Calories from Fat 72
% Daily Value*
Fat 8g12%
Cholesterol 24mg8%
Sodium 2573mg112%
Potassium 388mg11%
Carbohydrates 20g7%
Protein 10g20%
Vitamin A 395IU8%
Calcium 276mg28%
Iron 0.1mg1%
* Percent Daily Values are based on a 2000 calorie diet.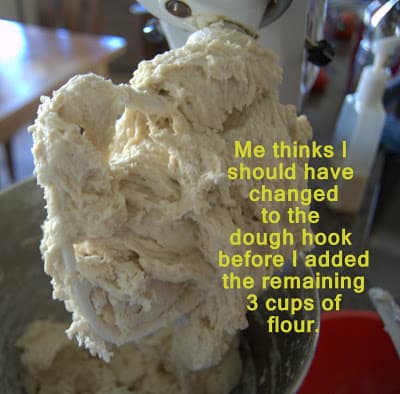 Yay!!! I have to say that it turned out just like it did when I made it in high school! Funny how some things you just can't forget, huh? I rate everything I bake on a scale of 1-4 with 4 being the best and this English Muffin Bread earned 3 1/2 rolling pins!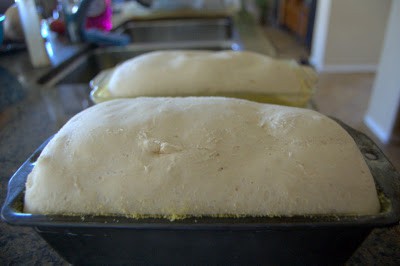 Who says you can't have appetizers for dinner? I have the perfect recipe to silence those critics. Dip this bad boy in marinara sauce or olive oil and vinegar and you're set!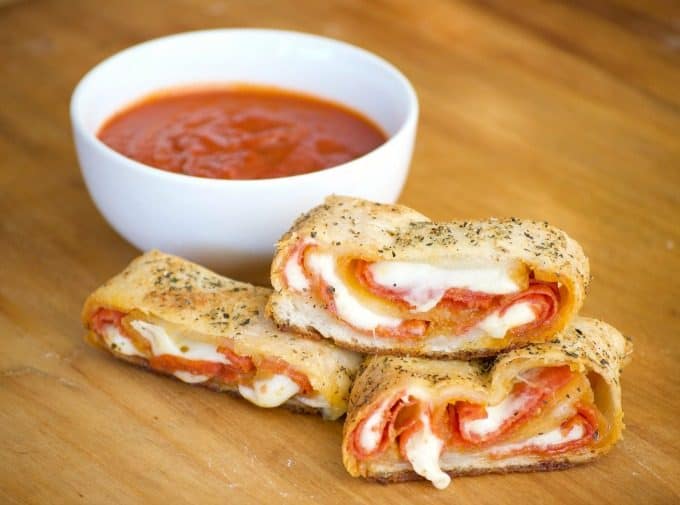 Getting your hands dirty while eating is always a fun event, and whether it's for a snack or breakfast, you can't say no.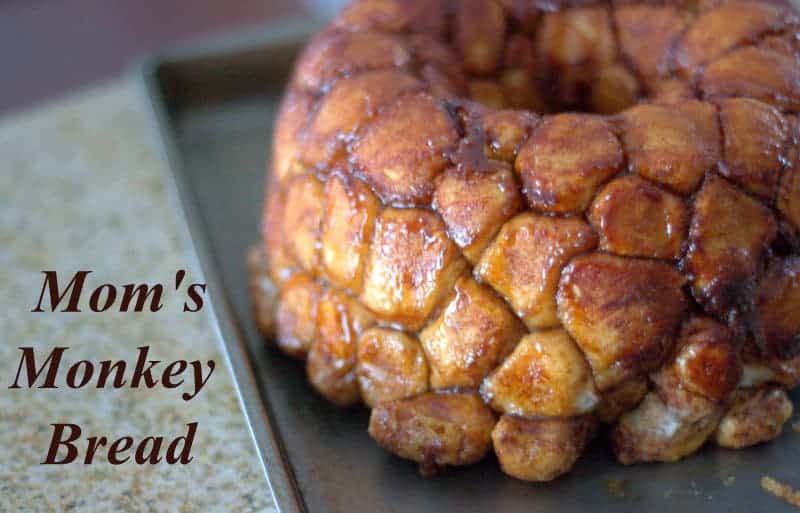 It may not have been as good as a Thomas' English Muffin with all of the nooks and crannies, but it did have a few nooks that the butter and jelly sunk into. I am SO excited to have this tomorrow morning!!
Aw heck, why wait? I'm going to toast me up a piece now!