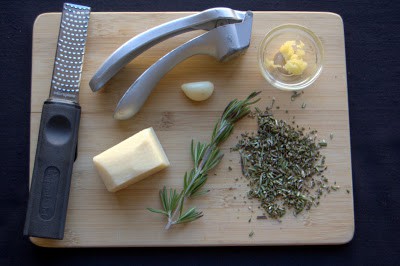 I've been dying to make focaccia bread. I saw this one on The Pioneer Woman.
But I don't like olives, so I decided to make it my own.
Mr. 365 is actually the only one in the family who likes them, but if he thinks I'm making a whole batch of focaccia for the very first time for him, he's got another thing coming!
It smelled so good and yummy as I was making it that I couldn't wait to try it and thought I might not even be sharing with anyone, nevermind Mr. 365!!
Rosemary Garlic Focaccia – 2 loaves
1 1/2 teaspoons active dry yeast
1 1/2 cups very warm water
4 cups all-purpose flour
1 teaspoon salt
2 teaspoons fresh rosemary, chopped fine
2 cloves garlic, minced
1/3 cup olive oil
Olive oil for drizzling
1/2 cup freshly grated Parmesan cheese
Coarse sea salt for sprinkling
Sprinkle yeast over the warm water and allow to stand for 10 minutes.
In a mixer fitted with the paddle attachment, combine flour and salt.
While the mixer is running on low speed, slowly pour in the olive oil until mixed in with flour.
Pour in yeast mixture and beat on low until just combined. Dough should come together in a sticky ball.
Don't play with it. I know it's football season, but refrain yourself. You're going to have one nasty mess in your house if you start tossing this baby around.
I like how Ree stated this next step:
"Warm a non-metal mixing bowl in the microwave until warm. Coat it with a light drizzle of olive oil and form the dough into a ball. Toss to coat dough in olive oil, then cover the bowl tightly with plastic wrap and set it aside for 1 1/2 hours."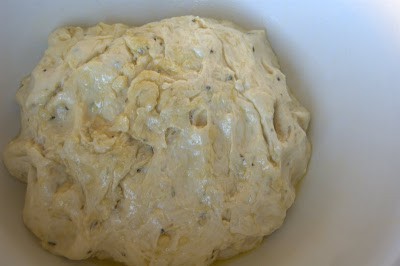 (I NEVER would have thought to put my bowl into the microwave to warm it up before placing the dough into it to rest. Ingenious!)
Prepare two rimmed baking sheets by drizzling them with olive oil and lightly wiping them with a paper towel.
Remove the dough from the bowl and place on a lightly floured surface.
Divide dough in half and roll each into a large, thin oval or rectangle.
Place each half on a prepared baking sheet.
Sprinkle more olive oil on top.
Sprinkle sea salt on top of each and cover lightly with Parmesan cheese.
Drizzle with a little more olive oil.
NOTE: – I completely messed up and somehow skipped over this next step.
Cover each baking sheet with plastic wrap and allow to rest in a warm place for an hour.
(Whoops!)
Preheat oven to 400ºF.
Remove plastic wrap from trays and press dimples all over the dough which will be puffy, by using your fingertips.
Sprinkle each with a little more olive oil and add touch more salt.
Bake for 35-40 minutes, or until golden.
Slice into pieces with a pizza wheel.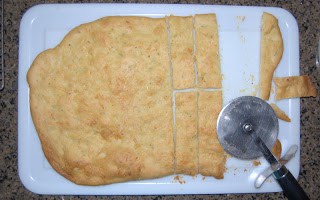 COULDA. SHOULDA. WOULDA!
This COULDA been a phenomenal baking day.
It SHOULDA been perfect because this recipe is NOT difficult!
It WOULDA been absolutely, incredibly delicious had I
FOLLOWED the directions and wouldn't have turned out like this!!!

Grrrrr….
FLAT!
Flat, flat, FLAT!!
YOU have the power to do this correctly! LEARN from my mistakes!
I'm serious, people, do this right.
Cover the dough and allow it to rest for another hour after you place it on the baking sheets.
It should be puffy. Ree says it will.
Please, I beg of you, (I'm begging, hear me? I'm even on my knees at this point, pleading) follow her directions, but add the rosemary, garlic, Parmesan and sea salt and you're going to have one absolutely fantastic tasty piece of bread melting in your mouth.
Darn it!
I am really upset it didn't work out.
Can you tell?
I thought I was being subtle, didn't want to express my disappointment too much.
Here goes…I rate everything I bake on a scale of 1-4 with 4 being the best and this Rosemary Garlic Focaccia coulda shoulda woulda been a 4, BUT it earned 1 1/2 rolling pins.
I'm also thinking that my yeast wasn't up to par because that wasn't puffing up in the water like it should have either.
Ah well, there's always tomorrow.
Thank you all for reading my rant!
I have a lot of new fans on the 365 FB page, so welcome.
I am really glad you've joined me for this adventure. And today, it turned out to be just that, didn't it?!
BIG baking hugs and muffins!
Oh, and I WILL be making this AGAIN!!