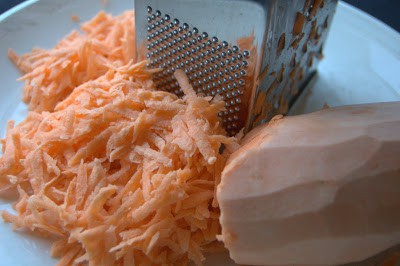 I'm having a serious case of Baker's Block.
I know there are plenty of recipes out there to make, but I need something for dinner and it has to be baked.
Chicken is not an option.
The chicken boat has set sail, gone until our palates here at 365 welcome it home again.
I've made far too many chicken recipes as of late.
So now, I'm stuck.
I think part of it may be that I really have no desire to go out to the store to pick any necessary ingredients up.
I don't even know what those necessary ingredients may be since I really have no idea what to make.
I'd love to order out, but we did that last night and that doesn't constitute baking anything anyway.
So here I sit.
Watching the Patriots play the Chargers.
Searching the internet, and various blogs.
Help!
Ok, so I figured something out.
I had ground beef, a sweet potato and some leaf spinach.
I saw a recipe for a beef and sweet potato empanadas, but didn't have time to have the dough sit in the fridge to rest for an hour.
I made some improvisations.
Beef and Sweet Potato Casserole – serves 4
1 tablespoon olive oil
1 medium onion, chopped
1 clove garlic, minced
1 lb. ground beef
1 teaspoon salt
1/4 teaspoon pepper
1 large sweet potato, peeled and grated
2 1/2 cups leaf spinach
Biscuit Topping – these are the ingredients I used, but DON'T do it. Find a better biscuit topping!!!!!!
4 cups flour
1 teaspoon rosemary
1/2 teaspoon salt
1/4 teaspoon freshly ground pepper
3 tablespoons shortening
2 1/2 cups milk
Preheat oven to 450ºF.
Prepare an 8 X 8-inch baking dish by spraying it with cooking spray
In a large skillet over medium high heat, add olive oil.
Add onion and garlic and sautee until soft, about 5 minutes.
Add ground beef and cook until brown.
Mix in grated sweet potato and cook on medium heat for about 10 minutes, stirring often.
Add spinach and cook until wilted.
Place mixture into prepared baking dish.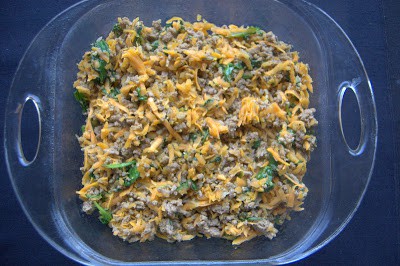 You'll REALLY want to skip this next part with the biscuit topping and find another recipe that will WORK! I thought about leaving it out, but I'm going to share EVERYTHING I do to make a recipe.
In a medium bowl, combine flour, salt, pepper, and rosemary.
With a pastry cutter, cut shortening into flour until it becomes mealy.
Mix in milk.
Place biscuit mixture onto the beef mixture in the baking dish.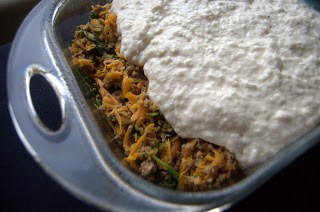 Bake for 15 minutes until biscuit topping is browned.


I don't even have a picture of the finished product because the biscuit mixture was not biscuity, it was GOOPY and GROSS!
The outside was kind of cooked, but the inside was raw. It didn't even taste like a biscuit when I sampled it. I couldn't find the specific recipe I was looking for in my cookbooks, so decided to go with something off the internet.
Nope. Not good.
I ended up throwing the whole topping in the garbage and it took a good portion of the beef and sweet potato with it.
I actually took a picture of that, but it's so unappetizing that I really didn't want to share it.
I rate everything I bake on a scale of 1-4 and this Beef and Sweet Potato Casserole earned 1 1/2 rolling pins.
Even if I find a good tasting, really turns into a biscuit like it's supposed to recipe, I am NOT making this again.
I really didn't like the way it tasted. The sweet potato and the spinach tasted alright, but I really wasn't nuts about the plain beef. Maybe if it had a gravy of some sort.
Needless to say, we were all a little hungry after dinner so were scrounging in the pantry and fridge for sustenance.
Big baking hugs and muffins!