OH MY GOSH!!! Can I just tell you that I was in heaven this morning?! I walked in and the smell just completely overtook me, as it usually does. But this morning,…man! Over the years I've come to learn that some people are auditory, some are visual, but I am DEFINTIELY olfactory which is why pizza crust sniffing is a big thing for me. When I visit this establishment, some days the smell is much stronger than others (or maybe I'm just more sensitive to it) and today just happened to be one of those days I guess. So naturally, it energized me and all of my other senses were immediately awakened as well; colors became clearer and more vivid, and the velvety voice of Michael Bublé weaved it's way through my ears and made me want to start moving to the music. I became extremely happy and couldn't help but to smile. I had arrived! I'm sure you can picture it happening in your head and I'm sure you have all, at one time or another, experienced it yourself when you walk into certain places. I have had a love affair with this place from the first moment I ever stepped across its' threshold many years ago. I feel completely at home and could spend hours here if given the chance. Barnes & Noble. Those three little words that mean so very much. Maybe it's the love of books I've had ever since I was little or the fact that I love to write and can imagine myself sitting there at one of their brown tables signing a book for the one person who has come to get my autograph (haha). My hair is standing up on the back of my neck. What a vision! Hey, if you don't have your dreams or your sense of humor, what's the point? So, the next time you step foot in a Barnes & Noble, take a deep breath and lose yourself to your senses, and just experience the being there and everything it brings you. Then, take it to other places in your life and enjoy!
I completely lost myself in the cookbook section and surprisingly walked out without buying even one book. I know if I picked up one that I'd pick up another and another and probably would have come home with at least four. They were all so very beautiful. And the recipes in them were absolutely divine. I'll wait until that gift card comes that I ordered.
Today it's Whole-Wheat Oatmeal Bread from the Fannie Farmer Cookbook Thirteenth Edition, pg. 516; author, Marion Cunningham; publisher, Alfred A. Knopf, Inc.; ISBN 0-394-56788-9.

Whole-Wheat Bread
½ cup water
1 cup milk
¼ cup sugar
2 teaspoons salt
½ cup warm water
1 package dry yeast
2 cups whole-wheat flour
4 cups white flour approximately
Bring ½ cup water to a boil, mix it with the milk, sugar and salt in a large bowl, and let cool to lukewarm. In a separate container, measure ½ cup warm water, stir in the yeast, and let stand for 5 minutes to dissolve. Add the dissolved yeast, the whole-wheat flour, and 2 cups of the white flour to the mixture. Beat thoroughly, then turn out on a lightly floured board, adding enough flour so that the dough handles easily. Knead for a few minutes and let rest for 10 minutes.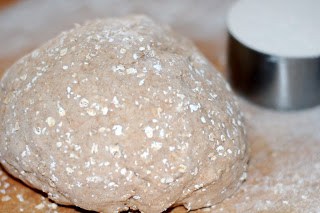 Add as much of the remaining flour as necessary to keep the dough from being sticky. Resume kneading for 10 minutes or until the dough is smooth and elastic. Place in a greased bowl, cover, and let rise in a warm spot until double in bulk. Punch down and shape into two loaves.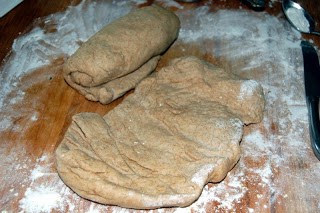 Definitely NOT the way a loaf is supposed to look. Grrrrrr……
Place in greased loaf pans, cover, and let rise again until almost double. Preheat oven to 375ºF.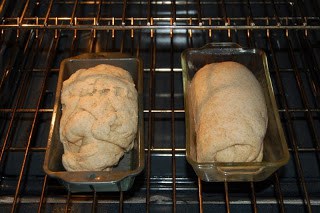 Bake bread for about 45 minutes. Remove from pans and cool on racks.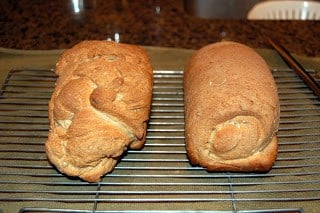 Whole-Wheat Oatmeal Bread. Knead in 1 cup of uncooked rolled oats with the whole-wheat flour. You will need ½-1 cup less of the the white flour if you add the oats.
The kneading part really got to me! I literally hurt my left wrist and forearm haha. I woke up this morning and my wrist was aching, so maybe that had something to do with it. I think it's growing pains – at least it's my wrist and not my muffin-top. The second kneading was the one where I overexerted myself. I was getting a workout! I was sweating, and I'm sure my arms'll be a little achy tomorrow. It says in the book to get your whole body into it, and that's certainly what I did! There's a section in the book before breads that talks about kneading, so when I thought I was finished kneading it and was concerned about over-kneading, I consulted the book. "Knead the dough for 10 minutes, until the dough holds together, becomes smooth and satiny, and is not longer sticky but elastic to the touch. Depress the dough with your fingers: if it springs back, it has been kneaded enough. SHUCKS!!! Don't worry about kneading too much-it can never hurt. If dough is not well kneaded, the resulting loaf may be heavy." So, back to kneading I went. At times, I was becoming frustrated because as I kneaded the oats and then more flour into the dough, it wasn't sticking together and was flaking. Then, after kneading, and kneading, and kneading…SUCCESS! I poked it, and it sprung! I was so excited.
Then I wasn't so excited when I took it out to shape it into loaves and put it into the pans as you can see from the picture. One of the balls of dough seemed to take the shape ok, the other really pissed me off. Sorry, I became very frustrated with that second one. I kept trying to shape it, but it kept ending up like a pita than a loaf of bread. It had so many cracks in it. When I rolled it together to put it in the pan I wasn't sure if when I baked it that it would be filled with air. I remember making wheat bread about 10 years ago, but don't remember it turning out like this. It tasted ok, actually really good when it was fresh out of the oven with melted butter and wasn't filled with air. I will definitely be making more breads that require kneading throughout the year to make sure I increase my skills. I "knead" more practice. Haha Ok, I know, that was bad.
I have to say that I've made this bread in the past and it turned out wonderfully. This time, maybe it's from lack of practice. It was delicious when I made it before.
Happy baking!