Here's a special promotion from CVS pharmacy. Register on before end of day on 2/11.
Check out this deal from CVS/pharmacy.
http://www.facebook.com/
You could get up to a 25% off shopping pass! Hurry! You need to register by the end of the day on 2/11.
My husband and I went to this wonderful Italian Bakery/Store/Eaterie called Romanelli's for lunch today. I can't really call it a restaurant because it only has about 5 tables and you order your meal at the deli counter in the back of the store, but the food is unbelievable and very true to the Italian cuisine. When pay for your meal (at the front checkout counter), there is a refrigerated case filled with baklava, eclairs, cannolis, tiramisu, and other goodies, and another case completely filled with fresh baked Italian breads and cookies. And you can bring them home in a little pink box! Those things elicit memories of going to the bakeries back in Rhode Island or a grandparent coming over with a pink box. If you see one of those, you know that there's something really yummy inside! Romanelli's has different kinds of pasta in shapes I never even knew existed, an incredible selection of olives and peppahs (as we New Englandahs say), and sauces. Oh, the sauces! With all those incredible flavors and sights, I was extremely motivated to make a pasta dish to bake in the oven for tonight's dinner. I just haven't come up with a name because I threw so many different things into it, so I'll just keep the title:
Impromptu Pasta Bake
1 lb. pasta ( I used radiatorre because it was a fun shape we hadn't had before.)
1 generous teaspoon salt
2 tablespoons olive oil
2 large cloves garlic, minced
3 small zucchini sliced thin
½ head escarole, rinsed well and chopped in large pieces
1 cup fresh basil, chopped
1 26 oz. jar spaghetti sauce
1 28 oz. jar diced tomatoes
1 cup shredded mozzarella cheese
1 15 oz. container ricotta cheese
1 cup grated parmesan cheese
Preheat oven to 375ºF. Boil water for pasta, add salt. Cook pasta to two minutes less than recommended cooking time – you want the pasta just at al dente. Drain and set aside. Spray a 9×13″ baking dish with cooking spray. Heat olive oil in large skillet on medium high heat. Add minced garlic to skillet and stir. Sauteé zucchini and mushrooms in oil and garlic for 5 minutes. Add escarole and cover for 5 minutes stirring occasionally. Once escarole is wilted, add basil and stir to combine. Remove from heat and pour in large bowl. Add spaghetti sauce, tomatoes, mozzarella and ricotta cheese to bowl. Stir until well mixed. Fold in pasta. Transfer to prepared baking dish and sprinkle parmesan cheese on top. Bake for 25 minutes.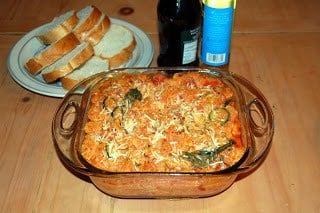 I have to say that this turned out better than I expected! It was really yummy and the whole family really liked it, too. Instead of using a 9×13″ dish as I recommend which will probably feed 6-8, I divided the recipe into two 8×8″ pans because there are four of us (and we don't eat much) and I froze the other to have weeks from now after one of my son's baseball games. I think I would only use 2 zucchini the next time I make it and I did not chop the escarole, but I will definitely do that, also. The great thing about this dish is you can add whatever ingredients you want to make it your own. You could even do an alfredo sauce and/or add some meat to it. I've made baked ziti so many times in the past it has become BORING. Now I'm glad I've found a new way to make it! So, be creative and see what you can come up with. Channel your inner pasta maker. Remember, if it doesn't work you can always order out for pizza.
Happy baking!