Layers of lasagna noodles, mozzarella cheese, meat sauce, and ricotta cheese make this family favorite THE ultimate comfort food with plenty for everyone!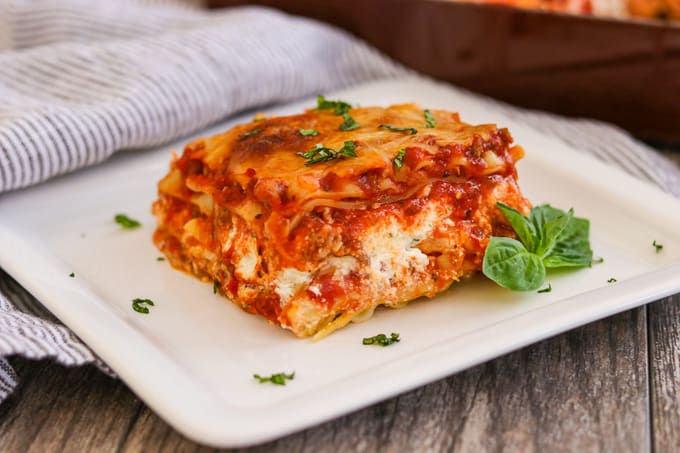 This is one recipe no kitchen should be without!
This recipe has been updated in format and photos. It was originally published on 2/23/11 and was Day 27 of my original 365. I've left most of the original text.
*This post contains an affiliate link(s).
Lasagna.
Just the hearing or saying the word makes me feel all warm and fuzzy inside.
Especially when it comes to this particular recipe.
See, it was my mother's and one of THE recipes she absolutely knocked out of the park.
The recipe makes a VERY full and heavy 9X13-inch pan and tastes even better the next day.
No lie.
SAVE THIS LASAGNA TO YOUR FAVORITE PINTEREST BOARD!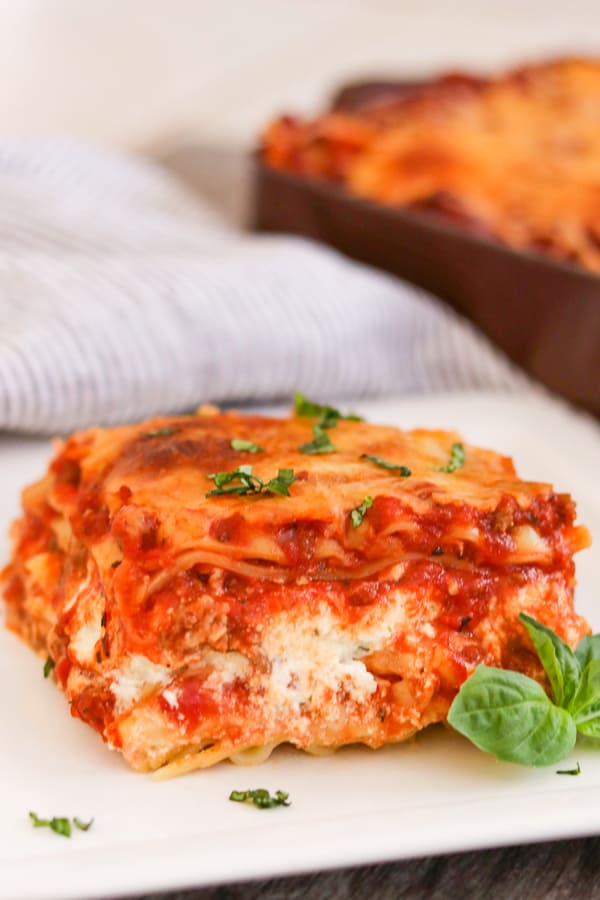 See, my mother wasn't the greatest of cooks and there were many nights we'd have that blue box macaroni and cheese with hot dogs slices mixed in. Her pork chops were dry and overcooked, and her meatloaf was a dinner I never looked forward to either.
Though to her credit, she did have a few dishes she excelled at that I still make for my family. I hope they'll make them for theirs in the future, too. These Spinach and Cheese Manicotti are ones she made often. I learned to love the slow cooker because of Gram's Crockpot Spareribs, and her O'Henry Bars were something I looked forward to every Christmas.
Mom passed away over 26 years ago, but I still have the brown pan she made her lasagna in. The orange dutch oven she used to make her sauce I parted with a few years ago, but that pan will stay with me until my dying day.
And honestly, I don't use it for anything else, just mom's lasagna.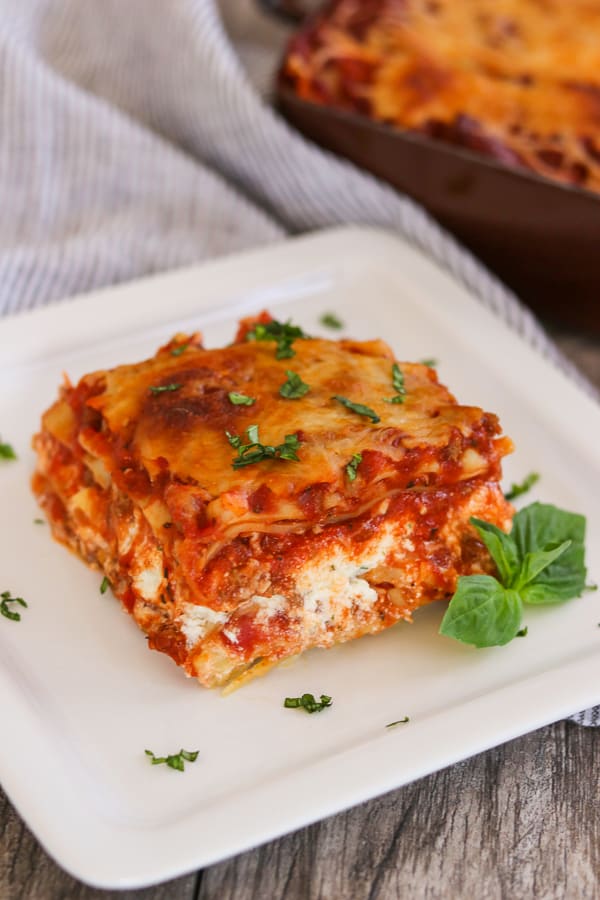 Here's the content from my original post. Kind of neat to look back on what we were doing so many years ago.
Today was an exhausting day and I admit, the last thing I want to do right now is to post on the blog. I did go out for a walk, but it's more of a mental and emotional exhaustion than physical.
It was one of those days where I felt like I failed as a parent and then second-guessed my decision. Instead of being forceful and giving some tough love, I chose the more sympathetic approach having been in the same situation myself. I was able to see it from the child's point of view.
It may not have been the right way to handle things at the time, but in the end, it all worked out (as things always do anyway). They never said this parenting thing was going to be easy!
(Looking back on this, I sure do wish I'd made more of a note as to what the situation was I referred to. My curiosity is killing me!)
I made my mother's Lasagna recipe for dinner. I have never had a problem with this turning out really well and love to serve it when we have company. It's so filling and there's plenty of it.
I still make it in the same pan my mom used and the sauce still simmers in the same orange pot- a wedding present from the late 60's. Some kitchen utensils I just won't part with because they hold such tremendous sentimental value.
(Never say never, right? That orange pot was an eyesore from the 60's and I got me a more economical Dutch oven. Sorry, mom.)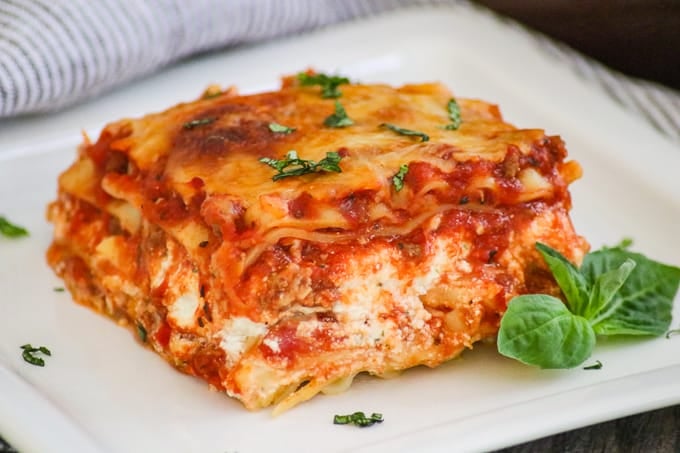 Lasagna
Layers of lasagna noodles, mozzarella cheese, meat sauce, and ricotta cheese make this family favorite THE ultimate comfort food with plenty for everyone!
Print
Pin
Rate
Ingredients
Meat Sauce
2

tablespoons

olive oil

1

lb

ground beef

1

large

yellow onion

or enough for one cup

3

cloves

garlic, minced

28

ounces

tomato puree

15

ounces

tomato sauce

14.5

ounces

diced tomatoes

6

ounces

tomato paste

1

tablespoon

sugar

2

teaspoons

basil

1 ½

teaspoons

salt

1

teaspoon

oregano

¼

teaspoon

black pepper

2

bay leaves

1

box

lasagna noodles
Ricotta Mixture
1

large

egg

30

ounces

ricotta cheese

1

cup

grated Parmesan cheese

divided

1

tablespoon

dried parsley

4-5

cups

shredded mozzarella
Instructions
Meat Sauce
Heat a large Dutch oven or pot heat ton medium heat. Add the olive oil.

Add the onion and garlic and saute until soft, about 3 minutes.

Add the ground beef and cook until brown.

Add the puree, sauce, diced tomatoes, paste, sugar, basil, salt, oregano, pepper, and bay leaves. Stir until well combined.

Reduce heat. Cover and simmer for at least 45 minutes, stirring occasionally.

Place a few long sheets of wax paper onto a clean work surface, and spray with cooking spray. In a large pot, cook lasagna noodles according to manufacturer's directions.
Drain and place noodles flat onto the wax paper while the sauce continues to cook.


Ricotta Mixture
In a large bowl, beat the egg.

Add the ricotta, 3/4 cup of the Parmesan cheese, and parsley. Mix until well combined.
Lasagna Assembly
Generously coat a deep 9 X 13-inch baking dish with cooking spray, and layer a rimmed baking pan with tin foil.
Remove the bay leaves from the meat sauce.

Place a thin layer of sauce on the bottom of the pan.

Put 4 lasagna noodles on top of the meat sauce.

Spread 1/3 of the ricotta mixture over the noodles.

Completely cover with about 2 cups of sauce, making sure to spread the sauce into the corners and along the edges.

Sprinkle 1/2 cup of the mozzarella over the sauce.

Place 4 lasagna noodles over the mozzarella and repeat the order of layering.



Place lasagna noodles over the final ricotta/mozzarella layer and cover with sauce.

Sprinkle remaining mozzarella and parmesan cheeses over the sauce.

Place the pan of lasagna onto the foil-lined baking sheet. This allows for easier clean-up should it bubble over in the oven or spill over when cutting into at the table.

Bake for 50 minutes or until bubbly. If you should notice cheese beginning to brown, cover lightly with a sheet of aluminum foil.
Nutrition
Calories:
892
kcal
|
Carbohydrates:
68
g
|
Protein:
51
g
|
Fat:
46
g
|
Saturated Fat:
23
g
|
Cholesterol:
172
mg
|
Sodium:
1599
mg
|
Potassium:
1419
mg
|
Fiber:
6
g
|
Sugar:
15
g
|
Vitamin A:
2115
IU
|
Vitamin C:
25.7
mg
|
Calcium:
729
mg
|
Iron:
6.3
mg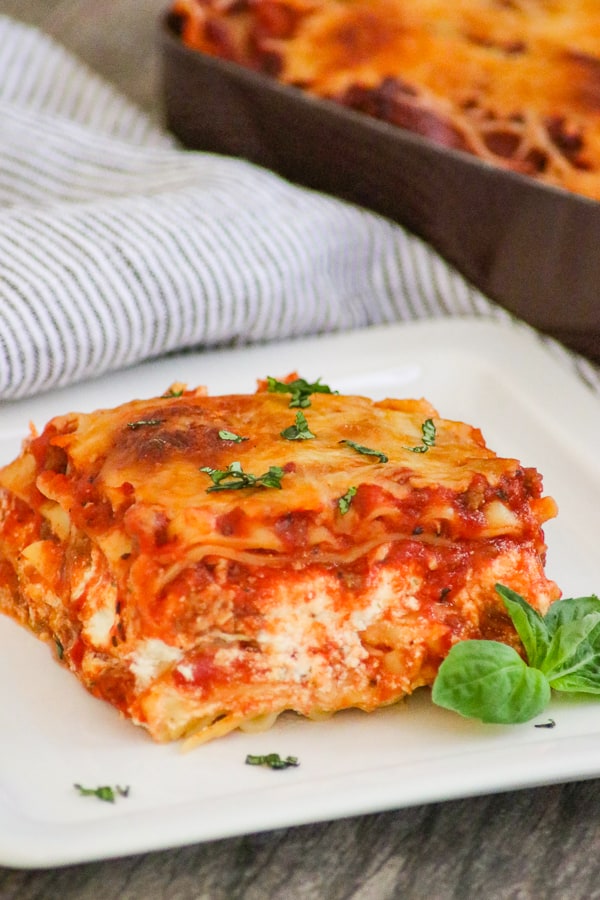 Below are the original pictures. YIKES!!
Interesting to see how far I've come in my self-taught photography lessons!
See, you CAN do anything you set your mind to with patience and determination.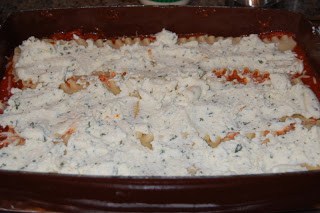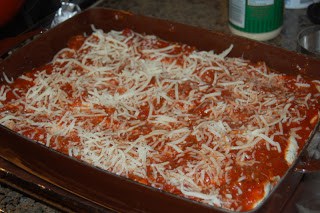 There should be a total of 3-4 layers before the top layer. Cover final ricotta layer with lasagna noodles and cover with remaining sauce.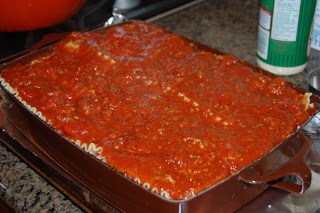 Sprinkle remaining mozzarella and parmesan cheeses over sauce.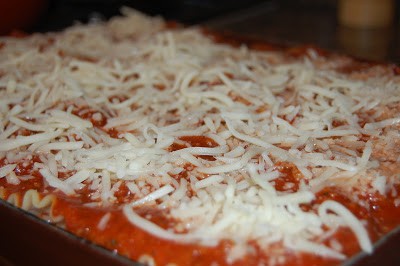 (I find that it's easiest to place pan on a foil-lined cookie sheet. That way it will catch any spill-overs both when it's baking and when it is cut at the table. I'm all for an easier cleanup) Bake in the oven for 50 minutes or until bubbly.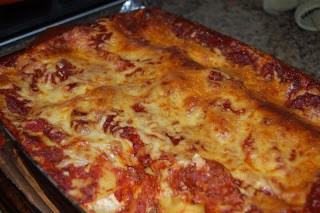 Tonight's lasagna (remember, this was back in Feb. 2011) was a little darker than I would have liked it to be. I place it in the oven on "cook time" for 50 minutes so that it would automatically turn off when baking was finished.
We went to my son's baseball game right after I'd placed it in the oven and there it sat until we returned.
The baseball game was longer than 50 minutes and the oven does tend to stay hot after it turns off. haha
It still tasted delicious, was just a little darker around the edges and on the top for sitting in the oven for so long.
For that reason, instead of a rating of four rolling pins as it usually gets, I need to give tonight's a 3½.
Happy baking!
*We are a participant in the Amazon Services LLC Associates Program, an affiliate advertising program designed to provide a means for us to earn fees by linking to Amazon.com and affiliated sites.
These are links that can take you to a product (or products) that I recommend. I do receive a portion of the sales or credit for my future purchases from any items purchased through those links. Your purchases encourage my baking, cooking and butter habit, and contribute to the life of this blog. I thank you so very much for your support. Let's keep having fun in the kitchen!!