Lemon Poppy Seed Scones – soft, moist scones filled with poppy seeds and freshly grated lemon zest, drizzled with a delicious lemon glaze.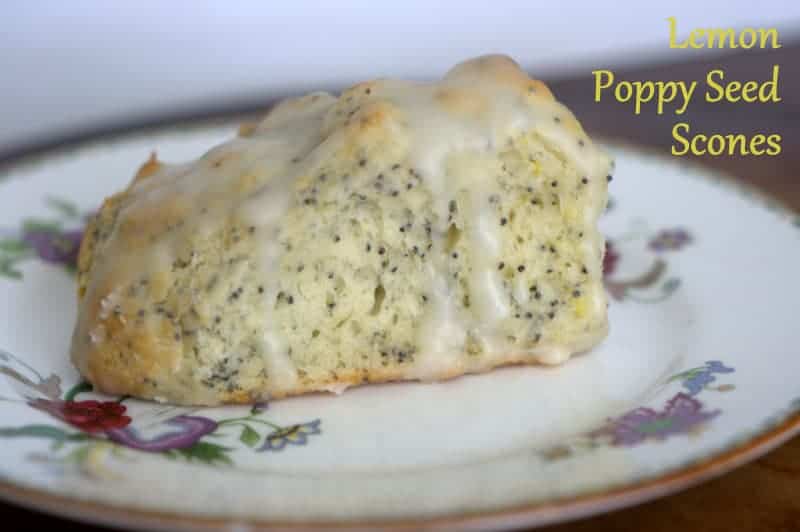 I've never been a big fan of scones.
They've always been too dry. And whenever I have a bread product that is too dry… I always get the hiccups.
No joke.
It's weird, I know. If it's too dry, it gets stuck going down and gives me the hiccups.
SAVE THIS SCONE RECIPE TO YOUR FAVORITE PINTEREST BOARD!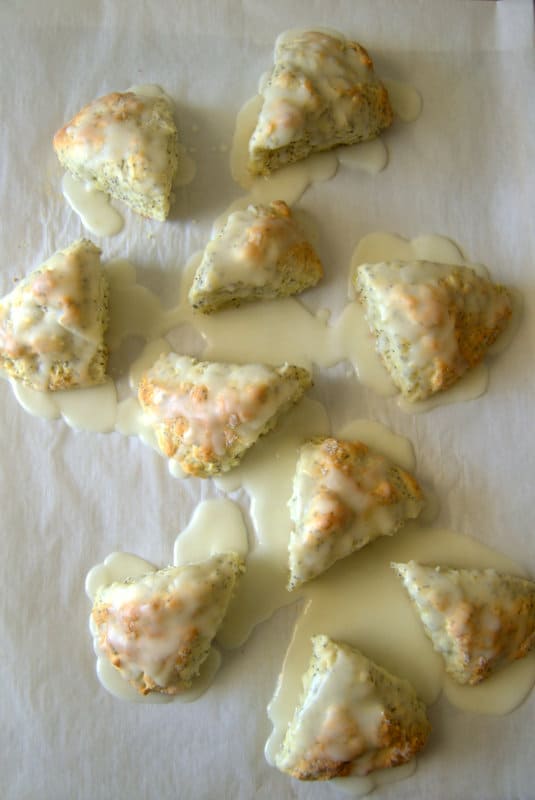 Everything you ever needed to know about me right there in a nutshell. Right?
hee hee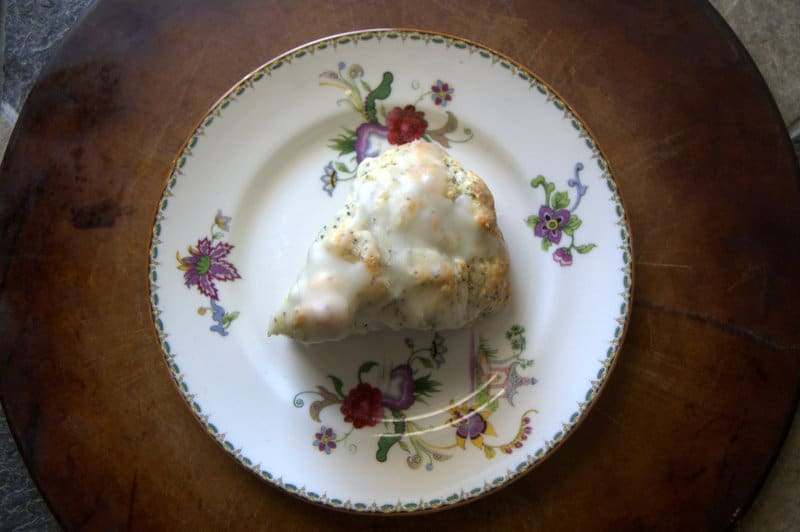 Onto the scones…
I adapted the recipe found in this awesome cookbook, Baking from My Home to Yours by Dorie Greenspan.
The lemon glaze recipe I found here at Kitchen Magpie.
Lemon Poppy Seed Scones
Ingredients
2

cups

flour

2 1/2

tablespoons

sugar

2

tablespoons

poppy seeds

1

tablespoon

baking powder

1/4

teaspoon

salt

freshly grated zest from one lemon

5

tablespoons

butter

1

egg

2/3

cup

soured milk

directions in notes
Lemon Glaze
1 3/4

cups

of confectioners sugar

1/4

cup

of lemon juice

1

tsp

of salted butter
Instructions
Place a rack into the center of the oven and preheat to 400 degrees F.

Prepare a baking sheet by lining it with parchment.

In a large mixing bowl, whisk together the flour, sugar, poppy seeds, baking powder, salt, and lemon zest.

Cut butter into smaller pieces and with a pastry cutter, cut butter into the flour mixture until it resembles coarse meal.

In a small mixing bowl, whisk together the egg and soured milk.

Pour the mixture into the dry ingredients and stir until it just comes together. Then using a rubber spatula, knead and fold it together about 8 to 10 times.

Prepare a flat surface by dusting it with flour, and turn the dough out onto it.

Divide the dough in half and pat each into a circle approximately 5 inches in diameter. Cut the dough into 6 wedges and transfer the entire disk of dough to the prepared baking sheet. Cutting it before baking allows for easy separation, but keeping the wedges together during baking allowed for the scones to be bit more moist than is typical.

Bake for 20 to 25 minutes or until tops are lightly golden and firm. Transfer to a wire rack and allow to cool for 10 minutes while you prepare the glaze.
Glaze
In a medium microwavable bowl, whisk together the confectioners' sugar, lemon juice and butter.

Place bowl into the microwave and set on high for 45 seconds.

Whisk again to mix well, removing any lumps and allow to sit for a few minutes to cool.

Drizzle over scones and serve.
Recipe Notes
Measure 2/3 cup milk into a measuring cup. Pour 2 teaspoons white vinegar into the milk. Mix and allow to sit for 15 minutes.
Use as directed.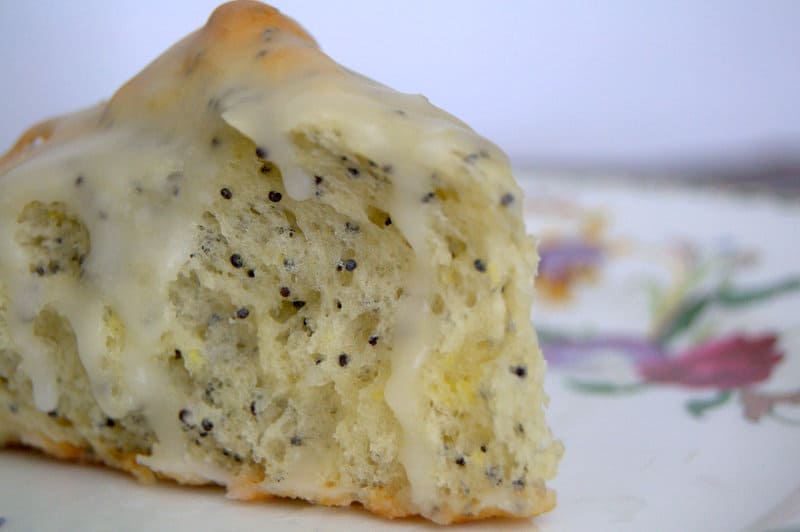 These scones…um, yeah. I ate like 5 of them by myself before anyone else had a chance to try any.
hee hee, they were just. that. good. I love anything lemon and the poppy seed flavoring was great, too. And that lemon glaze?
Oh yeah, it completely made them absolutely fantastic. No joke.
I rate everything I make on a scale of 1 – 4 with 4 being the best and these Lemon Poppy Seed Scones earned 4 rolling pins. Mom is going to LOVE these for Mother's Day!!
So, make them for her. Serve her breakfast in bed. She deserves it.
Or if you're the mom, then you totally deserve them, too and you should SO leave the recipe laying out on the kitchen counter and in red Sharpie write, "MAKE THESE FOR MOTHER'S DAY!" They may just get the hint.
If you like these Lemon Poppy Seed Scones, then you'll love…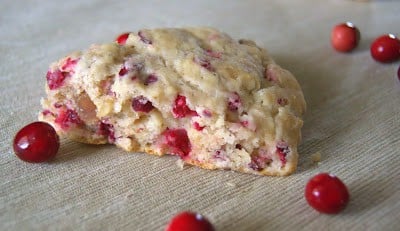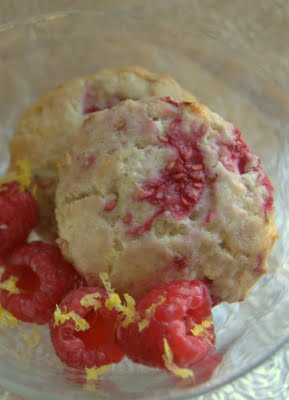 *Disclosure – This post contains an affiliate link which means that if you click the link it will take you to where you can purchase the book and from your purchase, I will receive an affiliate commission. Please know that I only recommend cookbooks, products, and services that I personally use and believe will benefit my readers. I am disclosing this in accordance with the Federal Trade Commission Guidelines.