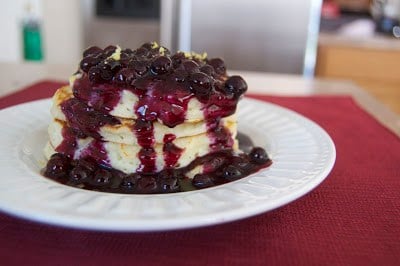 I love pancakes.
I love breakfast.
And I LOVE pancakes for breakfast. You knew that was coming, didn't you?
I love to eat breakfast any time of the day, but these pancakes we had for a legitimate breakfast yesterday before our daughter went back to college.
We had (or rather I had made the drive) to pick her up on Friday so that she could see her younger brother run with his high school cross country team at State. It was a great race and the guys all did really well earning 5th place, up from 10th last year. The weather was perfect and it was a wonderful day.
AND THEN!
Well, not immediately then, kind of like 5 1/2 hours-after-we-got-home-then, I was able to meet up with some Arizona bloggers I met through Online BlogCon a few weeks ago.
Mr. 365's never been keen on me meeting in person people I've met online, but I figured we were going to be in a public place, and they're women who LOVE to blog ~ how much of a threat could they be?!
Seriously.
Heaven help him if I ever do a book tour.
Anyway, it was AMAZING and I had a wonderful time! I can't speak for all the ladies, but I think they enjoyed it as well seeing as how we plan on getting together every three months or so.
Let me introduce them to you!!
This is Julie. I'm thinking she didn't want to have her picture taken at this point. She just wasn't "ready".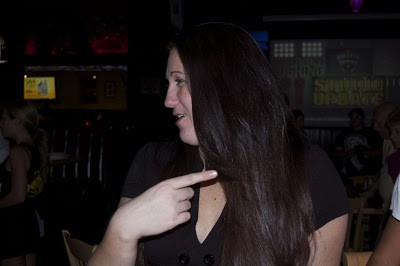 Here's the whole crew or at least those who were able to make it that night. There were some ladies who were not in attendance, so we're hoping and putting lots of pressure on them so that they'll be coming next time.
From left to right, Julie of White Lights on Wednesday, Stacey and Aubrey from Real Housemoms, Valerie from Occasionally Crafty, yours truly, and Rachel from I Love My Disorganized Life.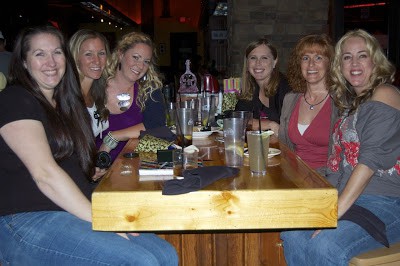 The other side of the table – Julie, Stacey, and Aubrey.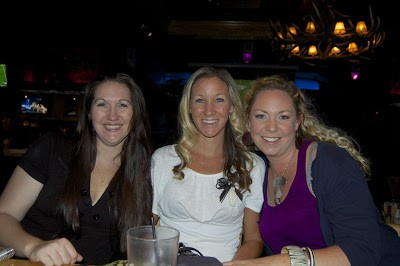 Our side of the table – Valerie, me, and Rachel. Fortunately, you can't tell that my shoes have fallen off. We were sitting on barstools and I had shoes on that didn't have backs on them, so they fell off. Since I was meeting these ladies for the very first time, I thought it proper to keep my shoes on even if they couldn't tell, so I told them my shoes had fallen off and hopped down to retrieve them. Then they fell off again.
Finally, I said the heck with it and apologized if they happened to smell anything funky. 😉
I think I spent a good part of the night under the table retrieving my shoes, camera and then other stuff I needed to get to in my purse. I can't believe I never bumped my head either! Yay, me!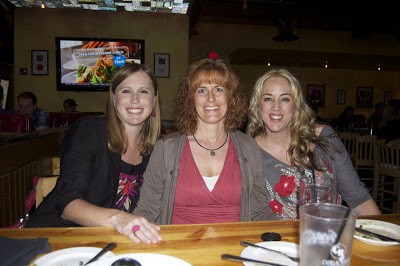 I so look forward to following these ladies on their wonderful blogs, on their FB pages and getting together with them again! Hopefully their craftiness will run off on me and I'll be able to learn a thing or two! Go visit and let them know how you found them, they won't bite!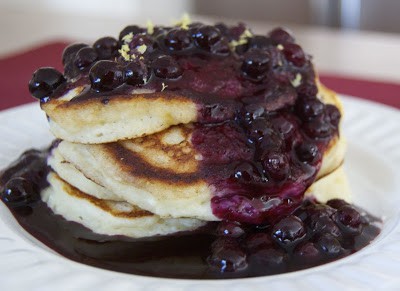 Pancakes, pancakes, PANCAKES!!!
I've been craving the lemon ricotta ones with the blueberry sauce they serve at Wildflower Bread Company. They are SO doggone delicious!!!
Never had them?
NO problemo, you can now make them at HOME!!!
And I'm so very glad I didn't have to make this recipe up because on a Sunday morning when everyone's hungry and impatiently waiting to eat, making something up and having it not turn out is never a good thing.
Believe me when I tell you this.
Yeah.
Needless to say, I was extremely excited when I saw this recipe over at Two Peas & Their Pod!! SCORE!! Yay, me AGAIN!!!! Ah, yes, breakfast is served and well, not gonna tell you until after the recipe!
Why break tradition? Great, now I've got Tevye stuck in my head and memories of high school choir.
I pass the song on to you – haha. Enjoy!
Now I want to watch the movie again, too!
Recipe from Two Peas & Pod.


Lemon Ricotta Pancakes with Blueberry Compote – serves four
Blueberry Compote
Ingredients
1 1/2 tablespoons fresh lemon juice
1 1/2 teaspoons cornstarch
2 cups frozen blueberries
2 tablespoons sugar
2 tablespoons water
Directions
In a small bowl, mix together lemon juice and cornstarch; set aside.
In a small saucepan, mix together blueberries, sugar and water.
Bring to a boil over high heat and reduce to simmer.
Add lemon juice and cornstarch mixture and stir until sauce is thickened.
It will not become real thick, just thicken slightly.
Cover and remove from heat.
Pancakes
Ingredients
1 1/4 cups flour
3 tablespoons sugar
2 teaspoons baking powder
1/2 teaspoon baking soda
1/4 teaspoon salt
1 cup ricotta cheese
1 egg
2 egg whites*
1/2 cup fresh lemon juice
2 teaspoons freshly grated lemon zest
1 tablespoon canola oil
*note: Maria and Josh's recipe called for two large egg whites. Nothing like beginning to make pancakes only to discover you have only 2 of the 3 eggs needed to make the recipe. So, I improvised, using 1 egg white and 2 tablespoons buttermilk. and it was…nope, not gonna tell you!

Directions
In a large bowl, combine flour, sugar, baking powder, baking soda, and salt.
Whisk until well combined.
In a medium bowl, combine, ricotta cheese, egg, egg whites*, lemon juice, lemon zest, and canola oil.
Mix until well combined.
With a rubber spatula, gently fold the mixture into the dry ingredients, until just combined, but do not over mix. Batter will be thick.
Heat a griddle or skillet over medium heat.
Melt a small amount of butter over the surface.
Using a large spoon, place batter gently onto prepared cooking surface.
Cook until pancakes are lightly browned on the bottom and beginning to set around the edges.
With a metal spatula, gently flip pancakes over to cook on opposite side, about two more minutes.
Repeat with remaining batter.
Serve with warm compote and garnish with additional lemon zest, if desired.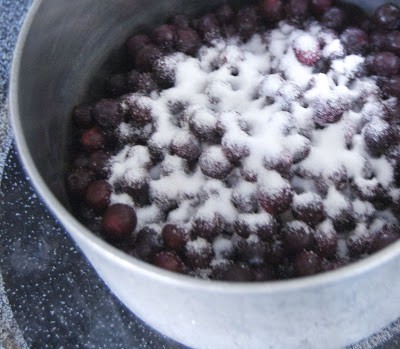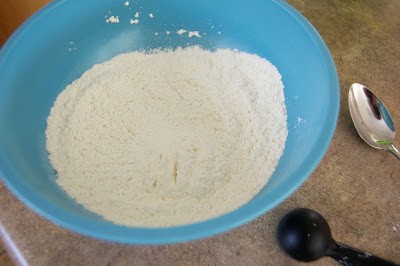 Mix until well combined.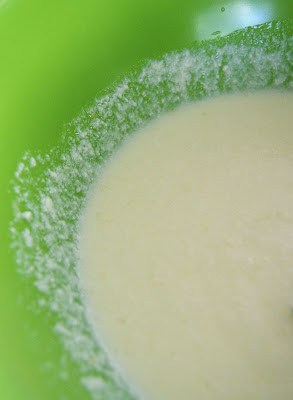 Your batter will be on the thicker side, but that's ok, it's supposed to be. So don't be freaking out.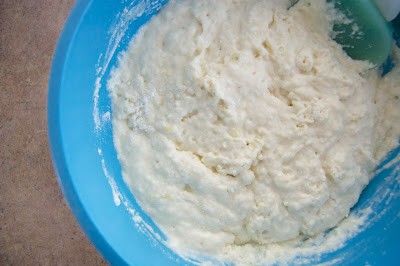 Gently place batter onto prepared griddle. Do not plop it too fast the butter will splatter, burning you and making oil stains on your clothes.
*sigh*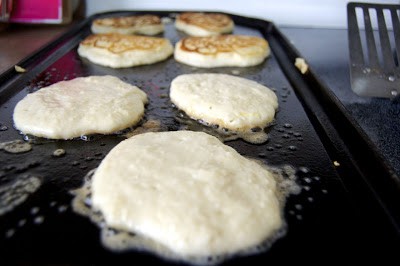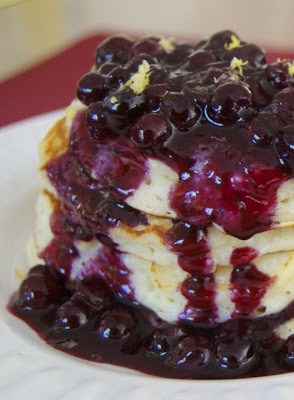 I rate everything I make on a scale of 1-4 with 4 being the best and these Lemon Ricotta Pancakes with Blueberry Compote earned…
Wait for it…a whopping 4 rolling pins!! WOO HOO!!!! I am definitely making these puppies AGAIN!! And AGAIN, even!! (and I may just eat them all by myself, hee hee) They were SO very delicious ~ soft and moist with just the right amount of lemon and INCREDIBLE with the blueberry compote over them!
My daughter thought they were too lemony, but nobody else complained. And besides, I LOVE all things lemon, so it was just right for Momma Bear.
If you're interested in other pancake recipes, take a look at these:
Cinnamon Peach Pancakes
Whole Wheat Pumpkin Pancakes
I've shared this at the following parties this week: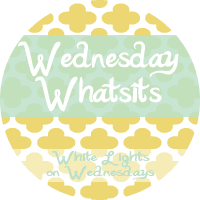 at Lady Behind the Curtain's Cast Party Wednesday and at
Trick or Treat Tuesday at Inside BruCrew Life

Check them out to see what other great things my friends are sharing!!
I give you BIG baking hugs and muffins!!