Breakfast, brunch and even teatime will be that much better when you serve these Mixed Berry Scones. Made with Wholesome Organic Cane Sugar and Fair Trade Certified blueberries and strawberries, these Mixed Berry Scones are not only delicious, they're beautiful to look at as well. They'll be a pretty addition to your breakfast table.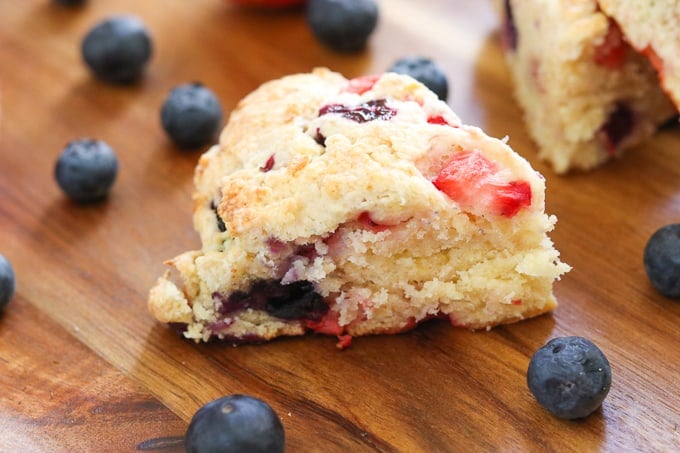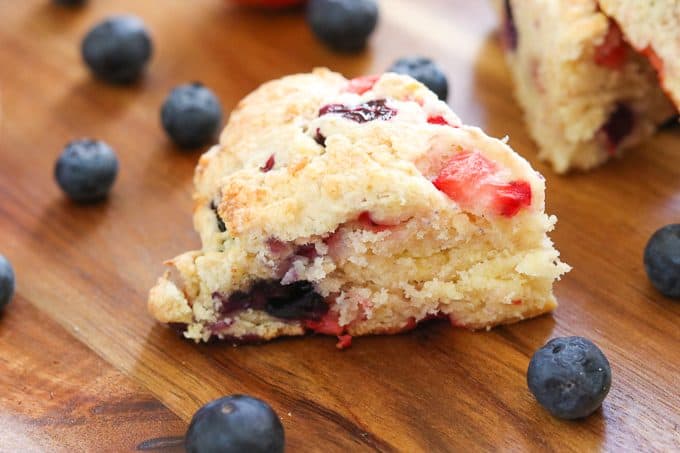 Can I just tell you how much I love fresh berries?
I am excited to be partnering with Fair Trade to bring you this recipe. As always, all opinions are 100% my own.
Well, even if you said no, I'm gonna tell you anyway! Ha!
I love frozen strawberries and have great memories of going to my aunts, sitting in front of her big tv nibbling on them with a bowl of powdered sugar. And coughing every time I'd accidentally inhale it. I hate when that happens.
SAVE THIS TO YOUR FAVORITE PINTEREST BOARD!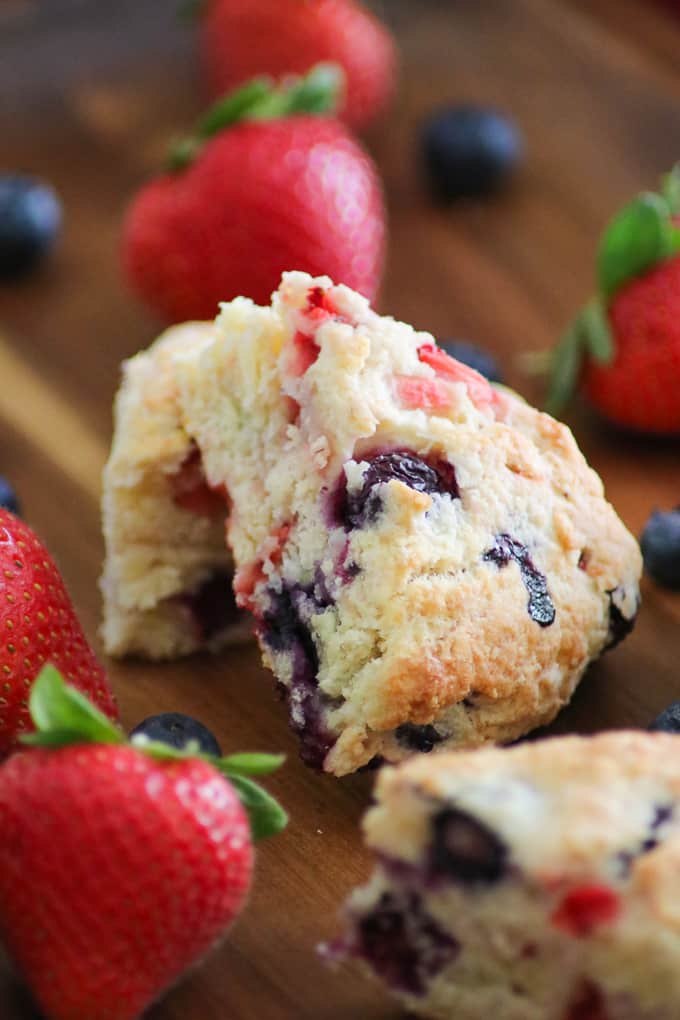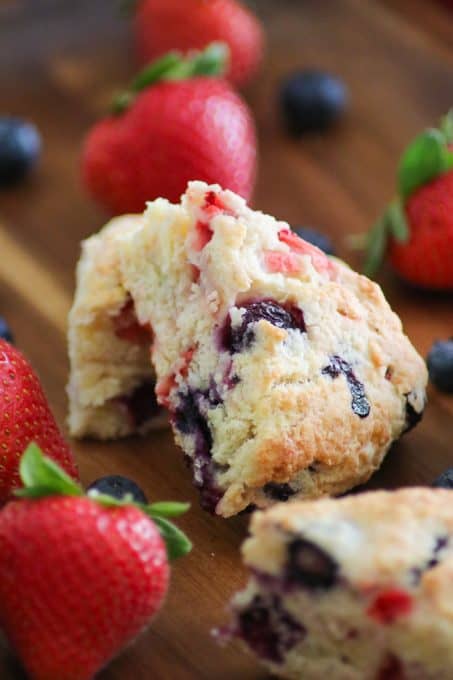 But there's just something about fresh strawberries and blueberries that makes me swoon.
Seriously.
I think it may be because the taste is just so incredible and they can be used for SO many recipes, both sweet and savory. Not to mention you can make delicious drinks with them, too.
BOO-YAH!
If you've been a frequent visitor to 365 Days of Baking and More then you know that I enjoy promoting Fair Trade products and the farmers associated with them. Buying any product with a Fair Trade label on it will not only benefit your family but will also give back to the people and the families responsible for providing us with such great items.
When you purchase fresh berries at your local market with the Fair Trade symbol on them, such as the ones pictured below, you are helping to pay it forward.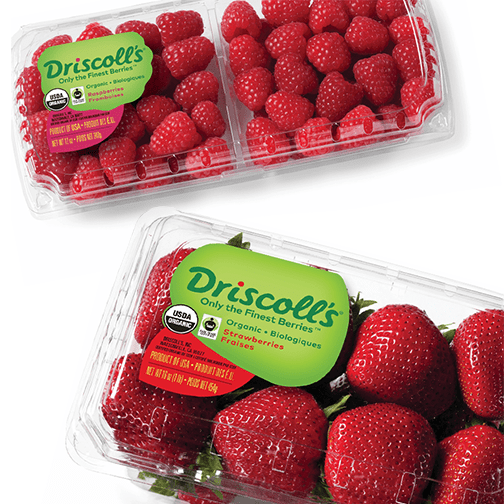 That Fair Trade Certified symbol means that with every purchase you are helping to build communities. YOU are sending children to school, helping farmers improve their farms You're also helping to protect our environment.
And the symbol's not just on berries, either. You can find it on all kinds of products, too – food, housewares, linens, clothes and even furniture!
I encourage you to learn more about Fair Trade by visiting them HERE and how you can do your part. Please follow them on social media, too!
Not only did I use Fair Trade Certified berries to make these Mixed Berry Scones, I also used Wholesome Organic Cane Sugar which also has the symbol displayed on all of its' products. See the person in the lower left on the package? Look for that symbol whenever you do your shopping!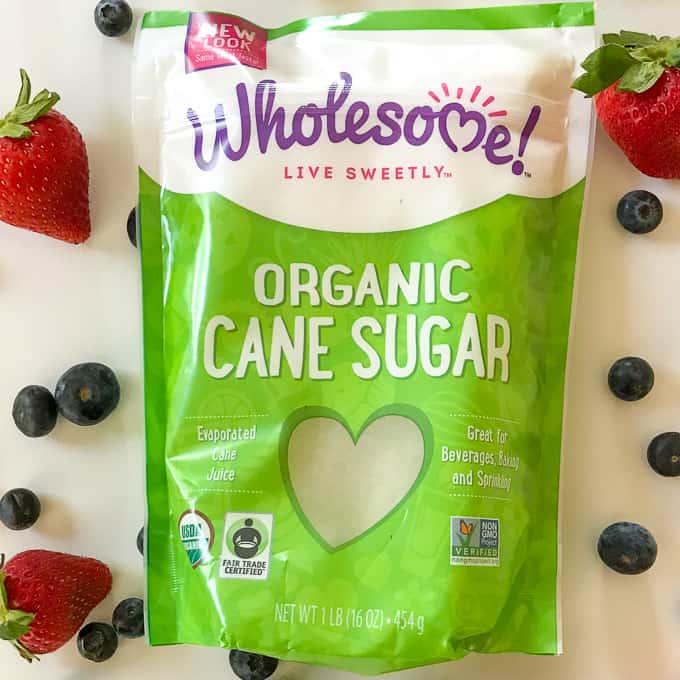 How to Make These Mixed Berry Scones
Use Fair Trade Certified fresh blueberries and strawberries, and Wholesome Organic Cane Sugar. When you see a Fair Trade Symbol on these products, you'll feel great that you're paying it forward. You'll not only be helping people live better lives, you'll also be helping our environment.
Leave the blueberries whole, but dice the strawberries. Don't worry if a few of the blueberries should bread while mixing. Just use a gentle hand and all of the dough will come together quite nicely. If you find the flour isn't incorporating, mix the dough with your hands a few times before turning onto the floured surface to flatten.
Preslice the dough disc into 6 scones. This makes it easier to separate them once they're ready to eat and it will also help to keep them moister.
Store any leftovers in an air-tight container for about 4-5 days (IF they even last that long! haha)
I was never a big fan of scones actually until I made these, and they literally changed my life. And I based this Mixed Berry Scone recipe off of them, too!
As I said earlier, I've worked with Fair Trade quite a bit in the past creating recipes using awesome ingredients so that I can do my part in helping others. I look forward to continuing our partnership in the future, too!
Needless to say, the recipes have been delicious. This Easy Tiramisu Poke Cake was definitely my favorite. It was SO easy to make, had just the right amount of coffee flavor and was super moist. Everyone loved it!
My Double Chocolate Coconut Cream Filled Bundt Cake is a VERY close second though. If you or anyone you know loves chocolate and coconut together this cake will blow their minds. It's So good and will surely satisfy any craving you might have. Man, I could go for a piece right now!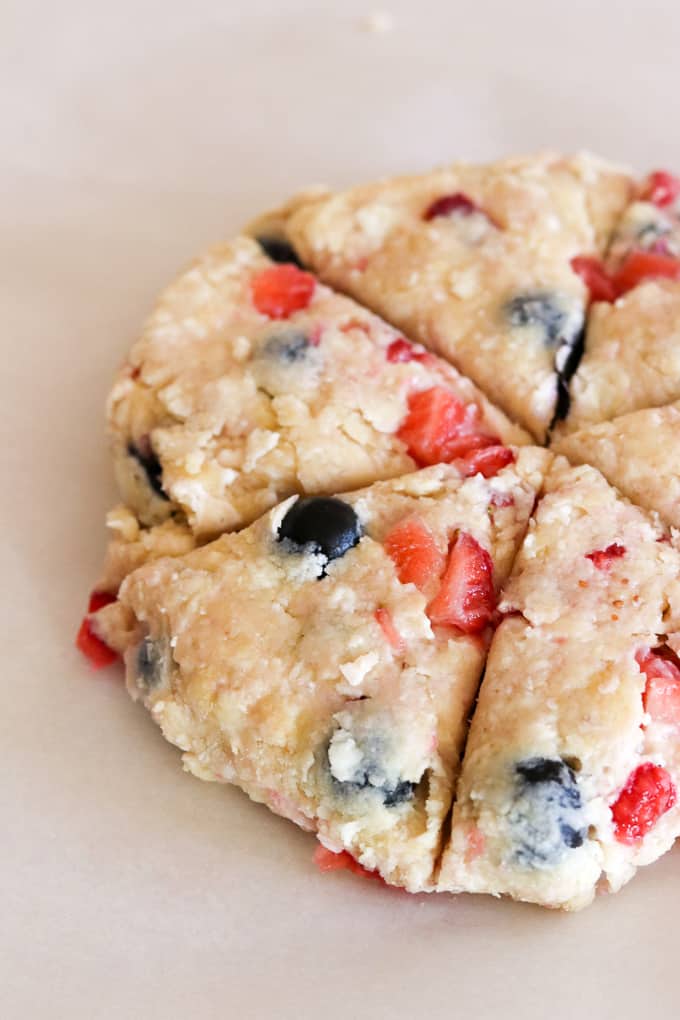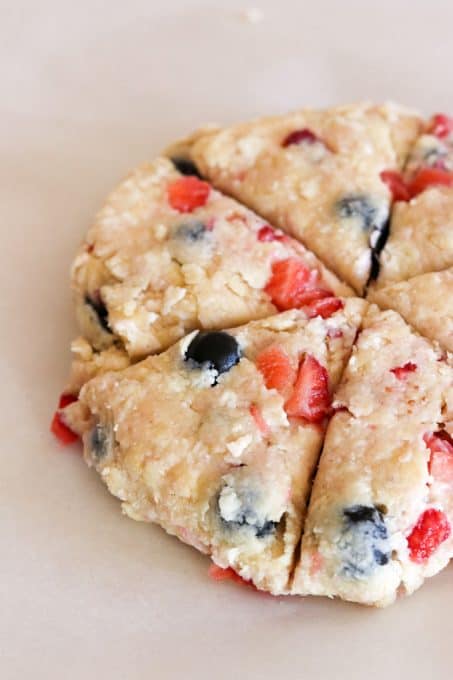 Now that I really enjoy eating scones, I'm always on the lookout for more great recipes.
The flavor combination in this Lemon Blueberry Scones recipe is simply magical. Give me lemons and blueberries any day!
These Fried Scones are definitely not the kind I'm used to seeing at the breakfast table or when we occasionally go to tea. They sure are intriguing and look similar to the doughboys my Grandma used to make when I was growing up, so I'm ALL over them.
You can even enjoy scones with dinner or as an afternoon snack. Who says they can only be eaten at breakfast, brunch or tea? Not me! (Like that rhyme there? haha) I'd love to make these Cheddar Chive Scones and serve them with a chicken dinner or with a meal where they can soak up some gravy. YUM!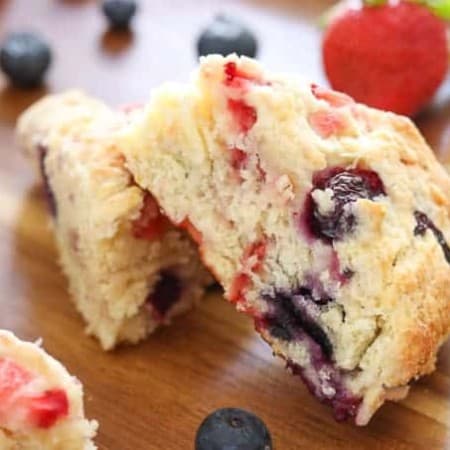 Breakfast, brunch and even teatime will be that much better when you serve these Mixed Berry Scones. Made with Wholesome Organic Cane Sugar and Fair Trade Certified blueberries and strawberries, these Mixed Berry Scones are not only delicious, they're beautiful to look at as well and will be made again and again.
Ingredients
2 cups sifted all-purpose flour
¼ cup Wholesome Organic Cane Sugar
1 ½ teaspoons baking powder
¼ teaspoon kosher salt
¼ cup unsalted butter chilled
2 ounces cream cheese
1 large egg lightly beaten
2 tablespoons milk
½ cup Fair Trade Certified Fresh Strawberries hulled and diced small
½ cup Fair Trade Certified Fresh Blueberries
Instructions
Place a rack in the center of the oven and preheat to 400° F.
Line a baking sheet with a piece of parchment.

Sift flour, sugar, salt, and baking powder into a large bowl.

Using a pastry blender, cut in butter and cream cheese until the mixture resembles coarse meal.

Add egg, milk, diced strawberries and blueberries and mix with a rubber spatula until the dough forms a soft ball.

Prepare a clean, flat surface by dusting it with flour and turn the dough out onto it.

Divide the dough in half and pat each into a circle approximately 5 inches in diameter. Cut the dough into 6 wedges and transfer the entire disk of dough to the prepared baking sheet. Preslicing the scones allows for easy separation but keeping the wedges together during baking ensures the scones will be a bit more moist.

Bake for 20 to 25 minutes or until tops are lightly golden and firm. Transfer to a wire rack and cool for 10 minutes before serving.
Nutrition
Calories: 153kcal | Carbohydrates: 21g | Protein: 3g | Fat: 6g | Saturated Fat: 3g | Cholesterol: 31mg | Sodium: 72mg | Potassium: 102mg | Sugar: 5g | Vitamin A: 205IU | Vitamin C: 4.1mg | Calcium: 37mg | Iron: 1.1mg
Did you make this recipe?
Share it with me on Instagram and make sure to follow me on Pinterest for more recipes.
Enjoy your Mixed Berry Scones and when you make them, I'd love to see them on social media, so tag @365daysofbaking and use #365daysofbaking, too!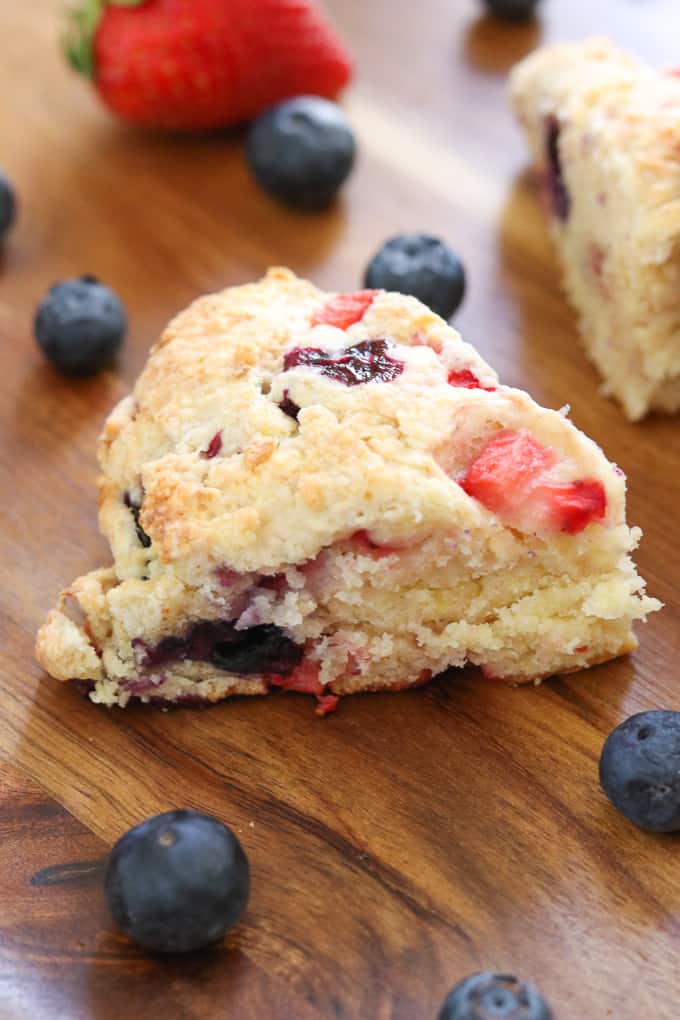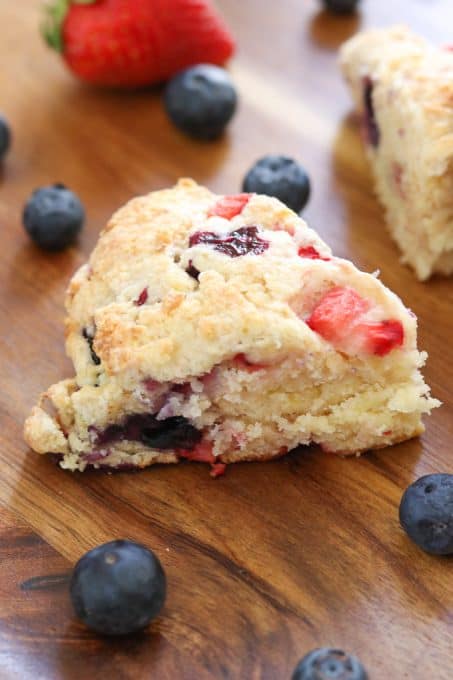 Thanks so much for reading!
Reader Interactions