Combine your love of chocolate, cookies and cream, and cheesecake into these delicious single serve desserts. These Chocolate Cookies and Cream Cheesecakes are an easy treat from Jocelyn Brubaker's cookbook, Cheesecake Love. This is one book that needs to be in every cheesecake lover's kitchen!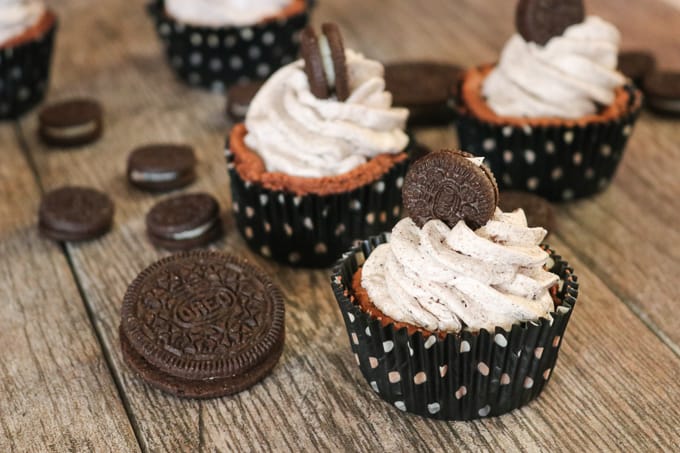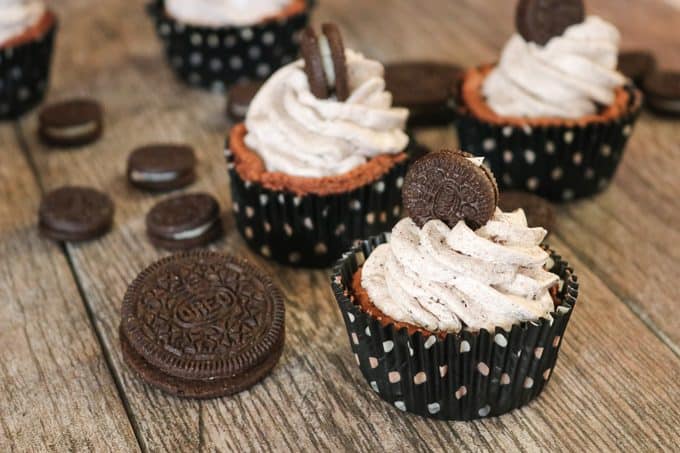 Welcome to May!
*This post contains an affiliate link(s). Please see below.
I was given a copy of Jocelyn Brubaker's cookbook in exchange for a review. As always, all opinions are 100% my own.
I know we're already 10 days into the month, but I seriously cannot believe how fast this year is already going! Before you know it, we'll be sharing recipes for the holidays! haha
Ok, I'll stop.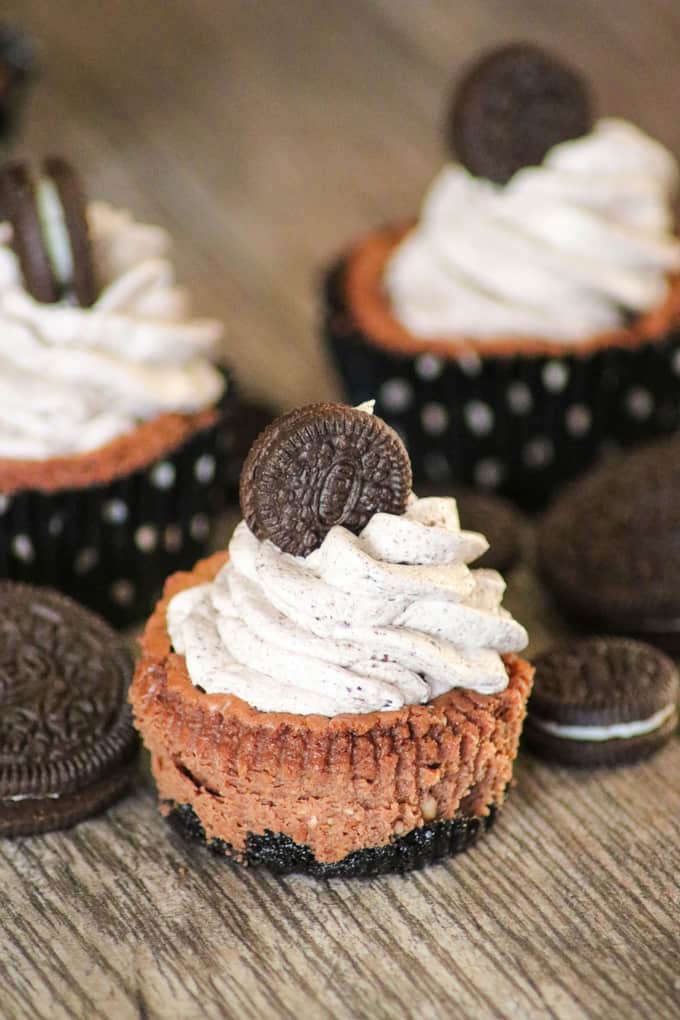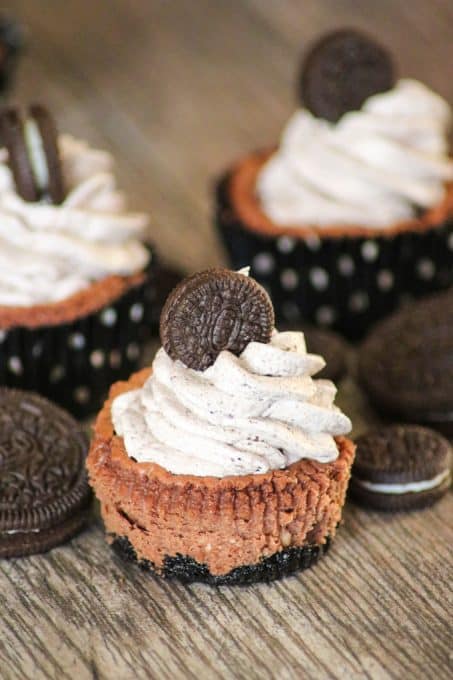 No, but seriously though.
Sunday is Mother's Day and that's a special day for a lot of people. It's also a hard day for many, so we need to be aware of that. Some may be missing their moms, and others their children. If you are one of those people, please know that you are surrounded by many people who love you. If there's a woman in your life who might be hurting this weekend, please give them an extra squeeze.
For the very first Mother's Day in 26 years, I'll be without any of our kids. That is SO weird to say. I suppose that really makes my husband and I empty-nesters then now, hunh?
As you may know, our oldest, Alex is over in Germany working as an au pair. Emma, our middle lives in Philadelphia where she is a full-time nanny. And Cameron, the youngest is on a 5 1/2 month hike along the Pacific Crest Trail. It's not like I won't talk to them that day because we all almost talk daily anyway, but it will just be a bit bizarre to not have them physically here.
Maybe I can get Kurt to serve me breakfast in bed? HA! Fat chance. He always says, "you're not my mother".
He's got a point, but I DID birth your three children.
Whatever.
I hope you and your mom and/or children have the chance to make some wonderful memories this weekend and that the day is spent with the ones you love.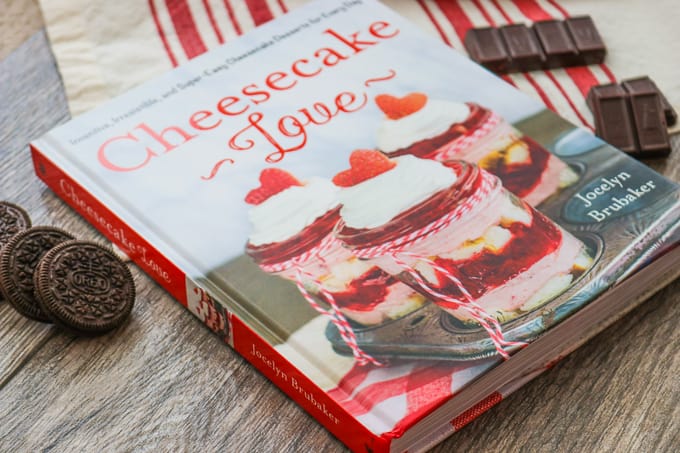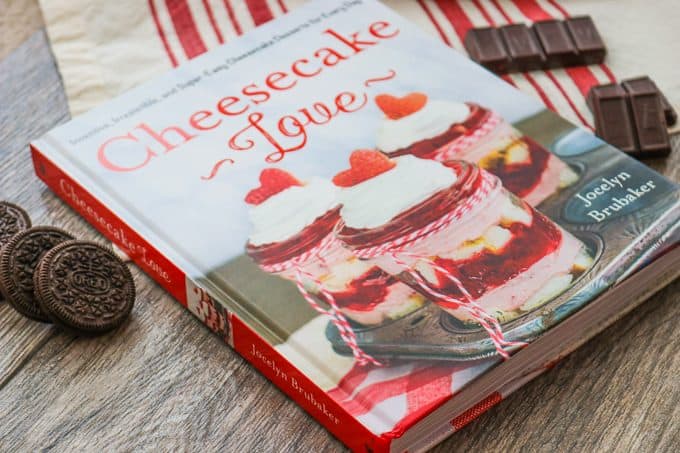 If mom (or your daughter) is a cheesecake lover then a great last minute Mother's Day gift would be a copy of Jocelyn Brubaker's new cookbook, Cheesecake Love. Jocelyn is the owner and creator of the food blog, Inside BruCrew Life.
If you aren't already familiar with her blog and recipes, I HIGHLY suggest you head on over and take a visit. You WILL NOT be sorry! Every single one of her recipes makes me want to lick my monitor.
Seriously. Every one.
Buy Jocelyn's book, Cheesecake Love HERE on Amazon!
In her book, Jocelyn talks about all things cheesecake, of course. But this isn't a cookbook filled with just recipes, it's got so much more!
She recommends the best kitchen tools you'll need to make every recipe. Her basic baking tips are great because who couldn't use a wee bit of help making THE perfect cheesecake, hunh? And don't tell me you've had one come out of the oven perfectly every single time. Nah, I ain't falling for that! LOL
Nice try.
Seriously, this book has it all. There are Full-Size Cheesecakes, Cheesecake Cupcakes, and Cheesecake Bars & Bites. For those of you who want that great cheesecake flavor but might not want to turn the oven on, she's got that covered, too in the No-Bake Cheesecakes chapter, of course! There are Cheesecake Brownies, Cheesecake Pies and even cheesecake for breakfast! Yup, Jocelyn's got your cheesecake desires covered.
I had such a difficult time deciding because every single recipe just sounded so delicious and those pictures, I was seriously drooling over them! I've got my eyes on those Triple Berry Cheesecake Crepes and I know if Cameron were here he'd make them for me for my Mother's Day breakfast because he loves to make crepes. Actually, they look so good I think I'm going to make them for myself!
Ultimately, after going very slowly through the entire book I decided on the Chocolate Cookies and Cream Cheesecakes, and I'm so glad I did. I loved the serving size and the combination of chocolate and cookies and cream was really just screaming my name. Oh, and of course they were delicious!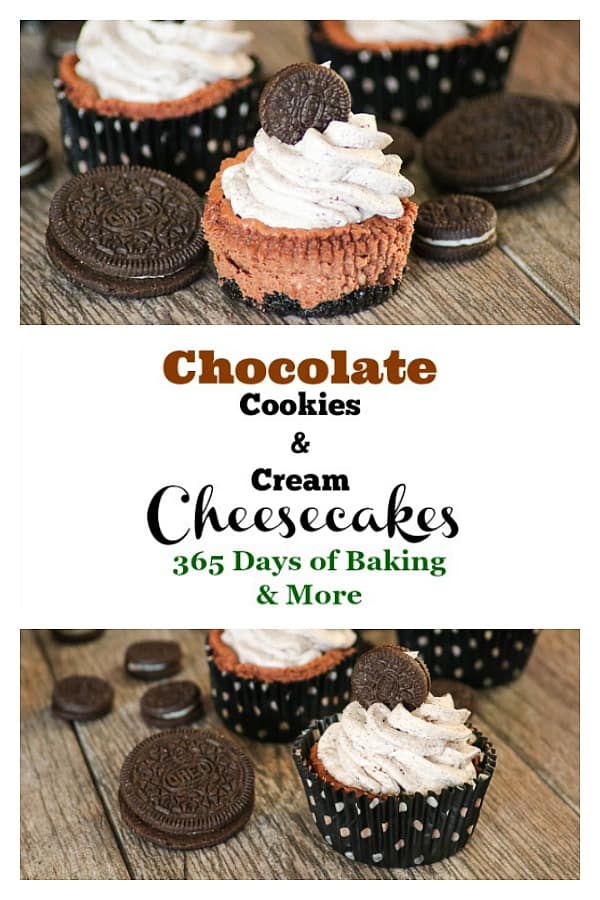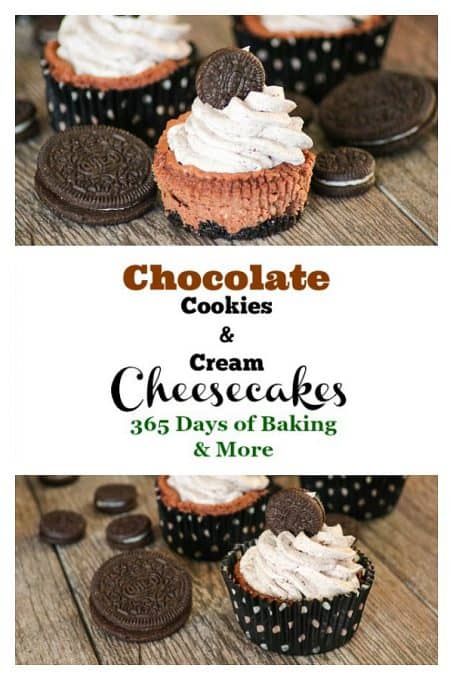 How to Make these Chocolate Cookies and Cream Cheesecakes
Place a large rimmed baking sheet on the bottom rack of the oven. Fill halfway with water. The water bath will add moisture to the oven which allows for even baking and can prevent the cheesecakes from cracking.
You'll get a smoother consistency in any cheesecake if your ingredients are all at room temperature. That means your cream cheese, sour cream, and eggs. It is best to leave them out overnight, but things can be left on your kitchen counter for a minimum of two hours.
Cool the cheesecakes on a wire rack for about an hour before chilling them completely in the refrigerator. You definitely don't want the Chocolate Cookies and Cream Cheesecakes warm when you add that delicious mousse on top. It won't be pretty.
I'm absolutely loving all of the recipes in Jocelyn's cookbook and I'm not even a cheesecake lover. I'll eat it, but Kurt is the real cheesecake lover in the family. I'll definitely be making him one for Father's Day (even though he's not my father. HA!).
Jocelyn's packed this cookbook with a whole lot of delicious recipes besides the Chocolate Cookies and Cream Cheesecakes.
I know it's probably WAAAAYYYY too early to start thinking about Thanksgiving, but this Apple Cheesecake Pie is going to be so wonderful on our dessert table this year. It looks so good that I could go for a slice right now.
If you're a chocolate lover or know one, then this Triple Chocolate Mousse Cheesecake recipe has your name all over it. This will satisfy any chocolate craving for sure!
Besides your standard cheesecakes, she's got other desserts that include cheesecake as well.
If you prefer bar desserts, Aimee from Shugary Sweets made Jocelyn's Monster Cookie Cheesecake Bars. These will be great with a big glass of cold milk.
These Turtle Cheesecake Cookie Bars seriously have me drooling. I'm absolutely in love with the caramel, chocolate and cheesecake combination. Top it off with those pecans and I'm good to go!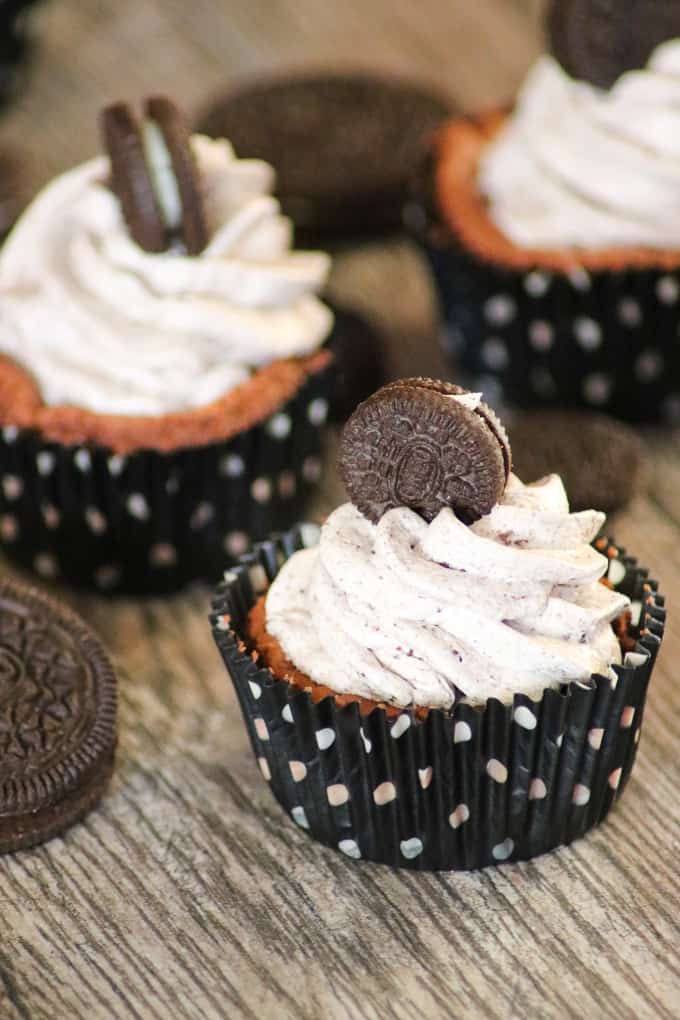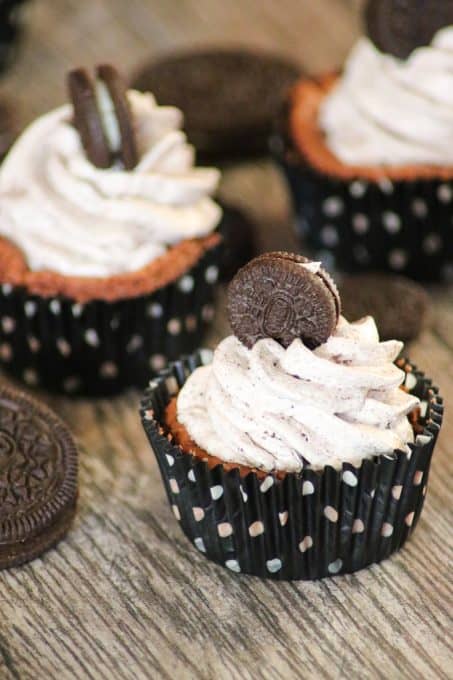 Here on the 365 Days of Baking and More blog, these Cookies and Cream Cheesecake Bars have been quite popular. They're easy to make, too. Oh, and drizzling them with the white AND semi-sweet chocolate is a MUST!
Ok, not really, but it certainly does kick them up a notch.
If you like lime and sweet dips for dessert then you'll love this Lime Cheesecake Dip. It was fun to serve for the Superbowl last year, but you can make it any time of year and make the sugar cookies into any shapes you'd like. It will be perfect for next year's Cinco de Mayo, too! Be sure to pin it so you'll have it!
One of THE most popular desserts here on the blog that you shouldn't miss is my Strawberry Cheesecake Dream Bars recipe. It's a great no-bake dessert and everyone who's made it love it. Also, if you have trouble finding
Strawberry Creme Instant Pudding you can always use a plain vanilla or even the white chocolate would be delicious.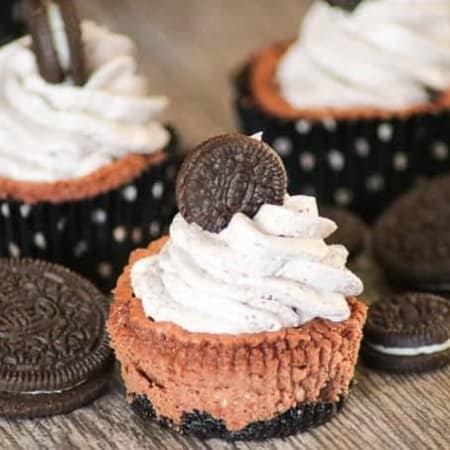 Chocolate Cookies and Cream Cheesecakes
Combine your love of chocolate, cookies and cream, and cheesecake into these delicious single serve desserts. Chocolate Cookies and Cream Cheesecakes are an easy treat from Jocelyn Brubaker's, creator of the blog, Inside BruCrew Life, new cookbook. This is one book that needs to be in every cheesecake lover's kitchen!
Ingredients
Crust
8 Oreo cookies with filling
2 tablespoons unsalted butter melted
Cheesecake
2 8-ounce packages cream cheese room temperature
½ cup sugar
¼ cup sour cream
1 teaspoon pure vanilla extract
4 ounces bittersweet baking chocolate melted
2 large eggs
Mousse
1 8-ounce package cream cheese room temperature
¼ cup sugar
1 teaspoon pure vanilla extract
1 8-ounce container Cool Whip thawed
7 Oreo cookies with filling
20 mini Oreo cookies with filling
Instructions
Place a large rimmed baking sheet onto the bottom rack of the oven. Fill halfway with water
Preheat the oven to 350° F. and line a cupcake pan with paper liners. Line 8 wells of a second cupcake pan with paper liners as well.
Crust
Place the Oreo cookies into a food processor and pulse until they become fine crumbs.

In a medium bowl, mix together the butter and the cookie crumbs. Evenly distribute the crumb mixture into the cupcake liners. Press the crumbs down firmly.
Cheesecake
In a mixer, beat the cream cheese until creamy. Scrape down the sides and add the sugar. Beat again until smooth.

Add the sour cream and vanilla and beat again until well incorporated.

Pour in the melted chocolate and mix thoroughly.

Add the eggs, one at a time, and beat well after each addition. Fully incorporate the eggs and be sure to not overbeat the batter.

Evenly distribute the batter over the cookie crusts. Place the cupcake pans on the oven right directly above the tray full of water.
Bake for 20 to 22 minutes.

Remove the pan from the oven and place it on a wire rack. Cool the cheesecakes in the pan for 10 minutes.

Gently remove the cheesecakes from the pan and place them on the wire rack. Cool for 1 hour and refrigerate for 2-3 hours or until completely chilled.
Mousse
Beat the cream cheese until creamy. Scrape down the sides and add the sugar and vanilla. Beat until smooth.

In a food processor, pulse the 7 regular size Oreos until they are crumbs.

With a rubber spatula, gently fold the Cool Whip into the cream cheese mixture. Then gently stir in the cookie crumbs.

Using a piping bag and a 1M icing tip, swirl the mousse onto the top of the cheesecakes. Top each one with a mini Oreo cookie.
Nutrition
Calories: 184kcal | Carbohydrates: 25g | Protein: 2g | Fat: 8g | Saturated Fat: 3g | Cholesterol: 23mg | Sodium: 107mg | Potassium: 88mg | Fiber: 1g | Sugar: 18g | Vitamin A: 85IU | Calcium: 14mg | Iron: 2.3mg
Did you make this recipe?
Share it with me on Instagram and make sure to follow me on Pinterest for more recipes.
*We are a participant in the Amazon Services LLC Associates Program, an affiliate advertising program designed to provide a means for us to earn fees by linking to Amazon.com and affiliated sites.
These are links that can take you to a product (or products) that I recommend. I do receive a portion of the sales or credit for my future purchases from any items purchased through those links. Your purchases encourage my baking, cooking and butter habit, and contribute to the life of this blog. I thank you so very much for your support. Let's keep having fun in the kitchen!!
Reader Interactions