On Monday, March 19th, our 20-year-old son set out on the adventure of a lifetime. He began hiking the PCT – the Pacific Crest Trail. Beginning in Campo, California at the border of Mexico and ending in Canada, this 2,650 mile trail challenges anyone who hikes it, especially thru-hikers. This is the first in a series of posts about Cameron hiking the PCT from a mother's perspective.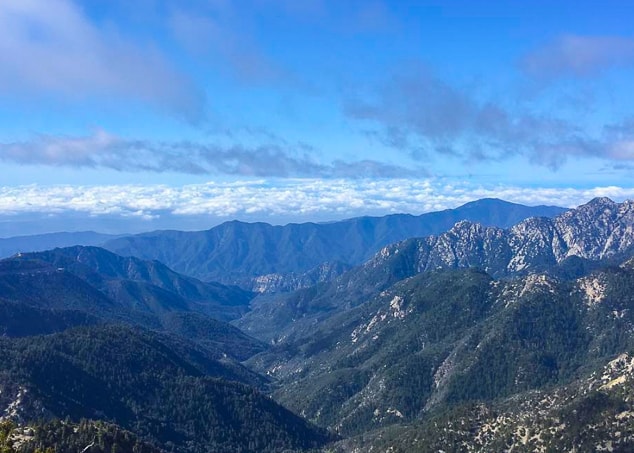 Admittedly, this is not your typical 365 Days of Baking and More post.
I am pleased to be partnering with Toyota to bring you this sponsored post. As always, all opinions are 100% my own.
*This post also contains an affiliate link(s). Please see below.
Usually, you'll find me posting recipes, recipes and more recipes with a sprinkling of my own travel here and there. However, today's post is different. It's more of an experience/lifestyle/travel blog post and something I've been talking about on my Facebook lives so wanted to share with you more in depth here.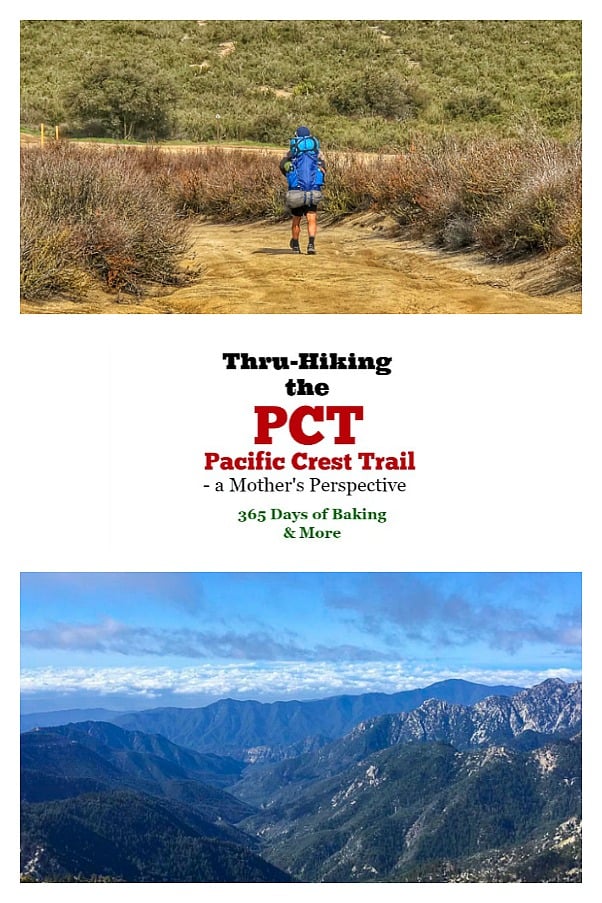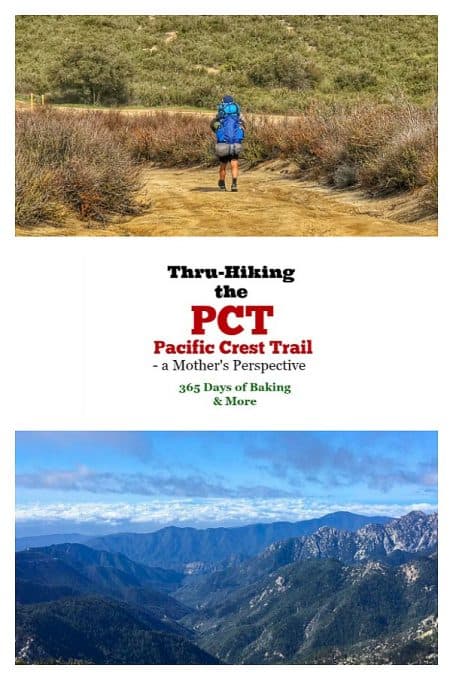 Cameron, our only son and the youngest of three children has always been very active and athletic. Growing up, he played baseball, volleyball, and even a season of junior high basketball. In high school, he ran for both the track and cross country teams.
In hindsight, I seriously think he's been preparing for this undertaking his whole life.
One day when he was 5 years old, I picked him up from kindergarten. He handed me his backpack and said, "Mom, I'm going to run home!" Needless to say, I was a bit dumbfounded. At the time, we lived over a mile from the school in a developing community with little traffic, so I told him I'd drive slowly along behind him. He was to stay on the sidewalk and I'd let him know when it was ok to cross the street to our house.
Heck, I figured the kid would tire himself out halfway through and jump in the car. Didn't happen.
That kid ran all the way home and did so for months afterward. I couldn't believe it and the other kindergarten moms got a kick out of it too.
Fast forward to April 2017, and he and his father hike the Grand Canyon. Actually, they had done one the year before but stopped short of the north rim by 4 miles because was too physically challenging for Cameron. So, with a bit more preparedness and training, they decided to conquer it again and did so successfully completing it in only 22 hours.
Yes, you read that right. With no sleep, Kurt and Cameron hiked from the south rim of the Grand Canyon to the north rim in less than 24 hours. Personally, I thought they were nuts and didn't get much sleep that night they were gone, but knew it was something they both really wanted to do and do together.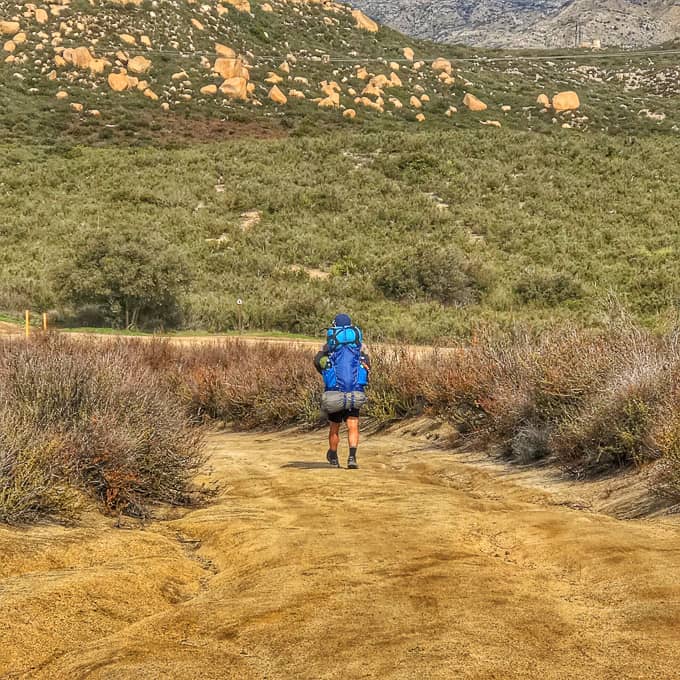 After graduating high school, Cameron had little direction and was working various jobs trying to find one he could be happy with. He was also taking a few community college courses because he was unsure of what he wanted for a career. It didn't bother us that he didn't apply to a four-year college; not knowing what to major in, he didn't want to waste the money.
Yet, in his spare time, he became very interested in screenwriting and film, giving serious thought to pursuing that as a possible career.
I think college can be a great thing for a great many people, but it isn't for everybody. There are some pretty darn successful and happy people without degrees. But who am I to define success? Mine may not be yours.
Now, in just the five weeks he's been gone it's already proven to be FAR more beneficial than any college degree.
THIS is life experience and honestly, you can't put a price tag on that.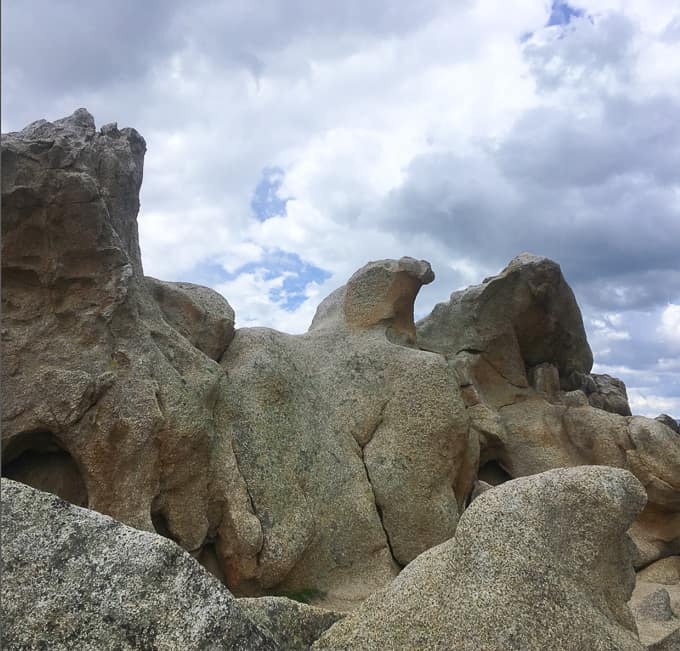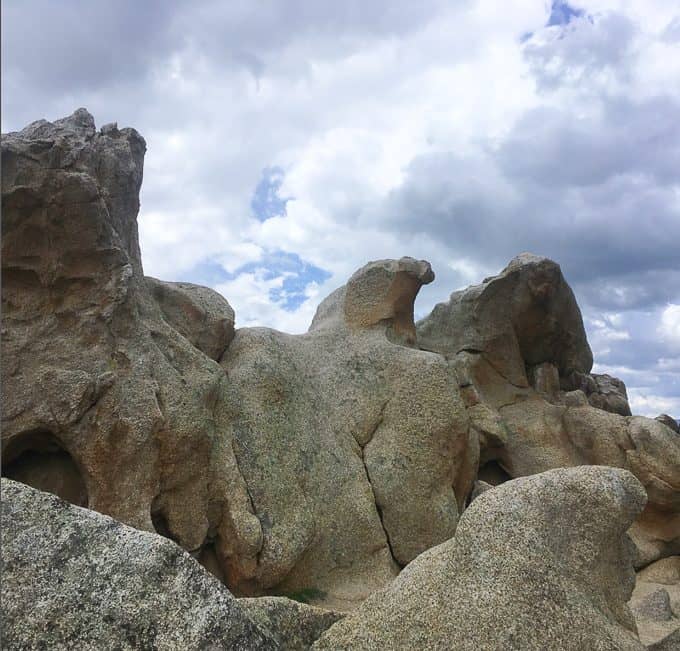 One day he told us he was going to do a solo hike of the Pacific Crest Trail and had been wanting to for a few years. I didn't even know it existed, having never watched Wild with Reese Witherspoon or read the book. Originally he had a plan to backpack through Europe, but that never came to fruition. However, his planning for the PCT over the past 8 months really took shape – permits applied for; camping gear, food, and supplies bought; and research, research, and more research.
I'm not gonna lie, Kurt and I had our doubts about him going 100 miles nevermind completing the whole 2,650. I mean, this is SO much more than a rim to rim to rim hike and this kid had never even been camping (ok, so blame that one on his mother. haha)! We also thought that the "newness" would wear off – that after a while he'd get tired of it and want to move on to something else as he's done in the past.
BUT, with every single step he's taken, he's grown into a man. A man who is confident, self-assured, relaxed, happy, focused and determined. He's relying completely on himself. The boy his father and I dropped off in Campo is gone. It's been quite an amazing transformation. I guess my advice is that if you want your kids to grow up, send them hiking on the PCT.
Of course, I jest, but I am amazed.
Hiking the PCT – meetup #1 in Wrightwood, CA
Before Cameron began, the three of us discussed meeting up in about four places along the way so he could have some downtime, a bed to sleep in, a home-cooked meal or two, and hear all his stories. Basically, this momma wasn't going to let her child go off into the unknown wilderness for 5-6 months without seeing him.
For our first reunion, we joined Cameron in Wrightwood, CA. Thanks to Toyota, Kurt and I were provided with a beautiful Ruby Flare Pearl RAV4 Adventure for our road trip which made the ride that much more enjoyable. Isn't she purty?? She was comfortable and fun to drive, too!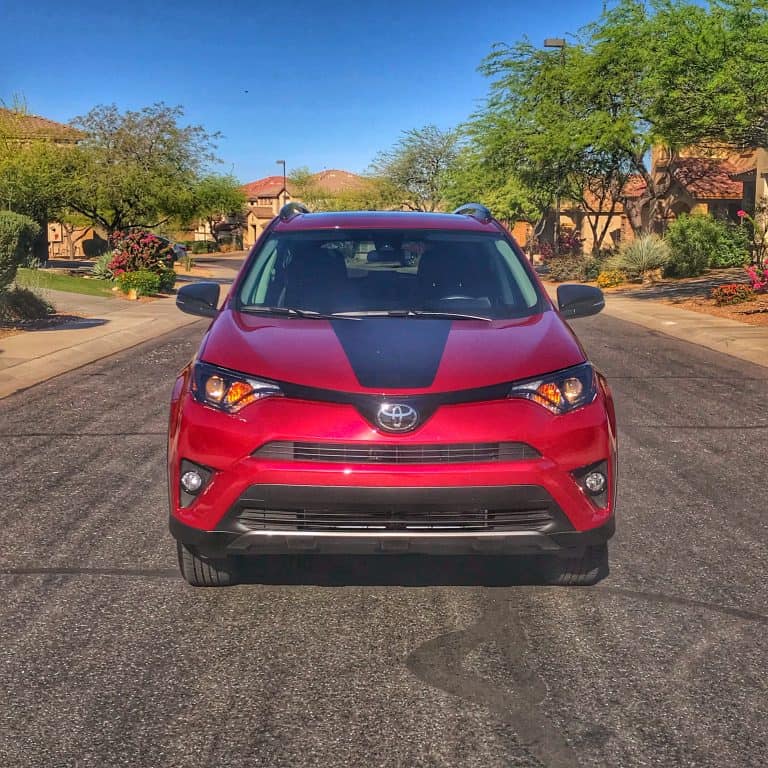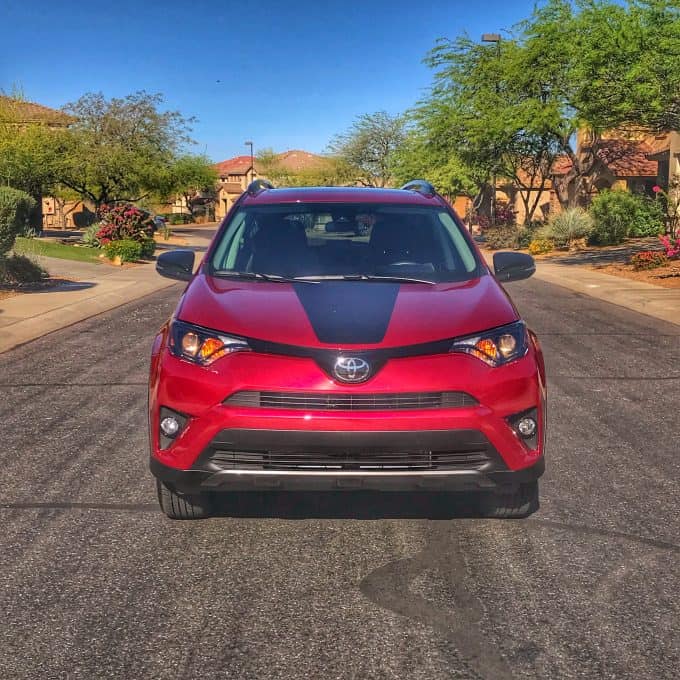 Wrightwood is a little mountain town at about mile 369 on the Pacific Crest Trail and about an hour and a quarter northwest of Los Angeles. I absolutely LOVED this town with its' charm and tall pines!
It has a small but very adequately supplied grocery store, a few quaint antique shops, and a fun restaurant called The Yodeler where we watched the Red Sox play. There are a few more restaurants that we weren't able to eat at, but we did make it to the Grizzly Cafe where Roxie was our waitress. Not only was she a wonderful server, but our breakfasts were truly outstanding! The portions were large and every bite was delicious. Cameron ordered the French Toast and the serving was massive! I was almost doubtful he'd finish, but knew he was a famished hiker. haha
We celebrated his 21st birthday at a Dodgers-Diamondbacks game, and all really enjoyed the 2 1/2 days we were able to spend together. I know it was good for all three of us.
Since then, Cameron's done really well. He's had great weather and has made it to about mile 560 in Tehachapi, CA. He'll hike a bit more into the desert before tackling the Sierra Nevada mountains.
Hiking the PCT – a Mother's Perspective
To say I was nervous about my baby boy doing this is an understatement. We drove by him after we dropped him off at Campo and the tears began to flow. Needless to say, they continued quite sometime after we'd left, too. He was going to be outdoors, fending for himself, battling the elements, and depending on strangers to help him through this. And it freaked me the hell out. Not gonna lie.
I had no control over what was going to happen to him. It was completely up to him to make choices about his well-being, live with the consequences and learn from any mistakes. I. Felt. Helpless. And it took me a good week before I could let that go.
One thing that I did was to purchase him SPOT 3 Satellite GPS Messenger. This device is a wonderful thing and I highly encourage anyone interested in hiking the PCT to purchase one. With the push of a button, this device can send loved ones coordinates of the hiker's location should there not be any cell service or dead phone battery. Also, for an additional fee, you can purchase rescue insurance. The device has a rescue button that the user can push should there be a medical emergency and their coordinates will be sent directly to rescue personnel.
As to cost, there is the original purchase price, the cost to activate the service plus the optional rescue insurance, but for a parent's peace of mind, I think it's priceless. Knowing that all my son has to do is to push a button to be rescued and airlifted wherever he is is more than worth it!
Overall, I think hiking the PCT was the best decision Cameron ever could have made. He's become self-reliant, is opening himself up to new experiences, meeting new people and really, really enjoying the whole trip. He's also faced some physical and mental challenges but is now more grateful for all that he has and all he has been given. He relishes the beauty of nature and is able to see first-hand how generous people can be. And it all makes my heart swell with pride!
In my next post about his hiking the PCT, I'll tell you about the trail angels, trail magic and give you an update as to how he's doing!
*These are links that can take you to a product (or products) that I recommend. I do receive a portion of the sales or credit for my future purchases from any items purchased through those links. Your purchases encourage my baking, cooking and butter habit, and contribute to the life of this blog. I thank you so very much for your support. Let's keep having fun in the kitchen!!