Make this decadent Tiramisu Poke Cake recipe—a simple, moist cake drizzled with sweetened coffee syrup and topped with a whipped mascarpone vanilla frosting. This recipe is made without liqueur so that the entire family can enjoy this perfect dessert. This delicious poke cake recipe will be one you turn to again and again!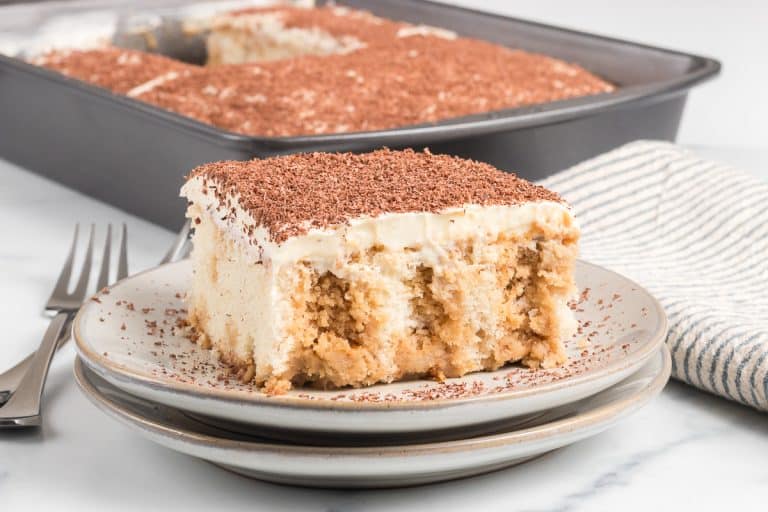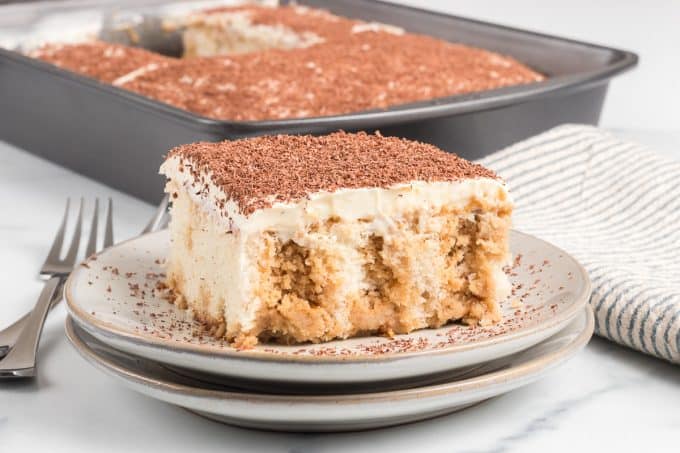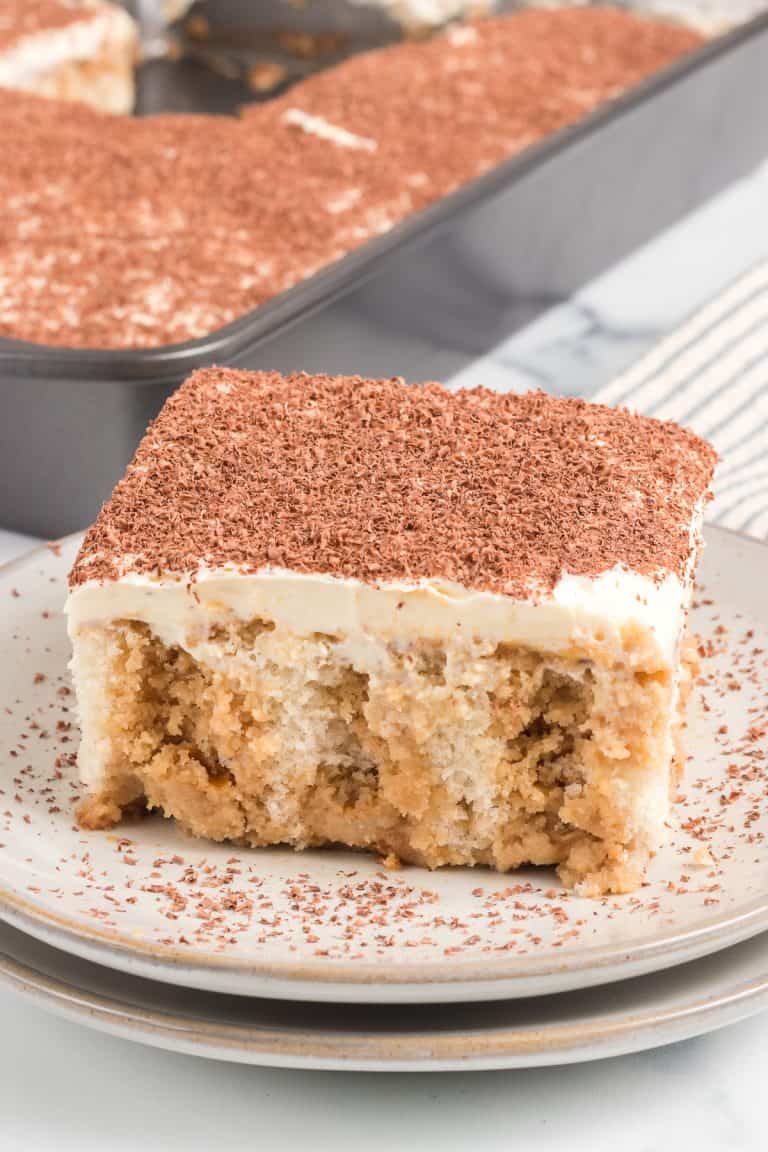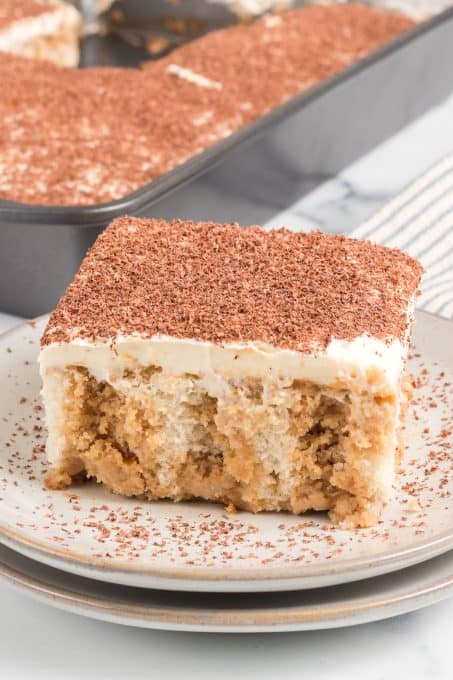 How to make a Poke Cake
Poke cake recipes are so fun and easy to make! Usually, you use your one-box cake mix, bake it, let it cool, and then poke holes all over the cake base with the round handle of a wooden spoon. Then you add some cream or sauce to the top of the cake, letting it drizzle down into the holes before topping it with frosting or whipped topping for added sweetness.
There are so many variations of poke cakes. I love this Lemon Marshmallow Poke Cake for its fresh, tangy flavor. Key Lime Crème Poke Cake is another favorite for all you citrus fans!
This Patriotic Poke Cake is fun to make for holiday celebrations, and Strawberry Poke Cake is a classic that's perfect for any occasion.
What is Tiramisu?
Traditional tiramisu is a coffee-flavored classic dessert that originated in Italy. A classic tiramisu recipe is made with ladyfingers and uses a boozy coffee sauce, a whipped mascarpone topping, and is flavored with cocoa. The name actually means "pick me up," and this dessert is one of my favorite ways to cheer you up!
We will use the flavors from tiramisu in this poke cake by combining most of the traditional flavors and ingredients differently!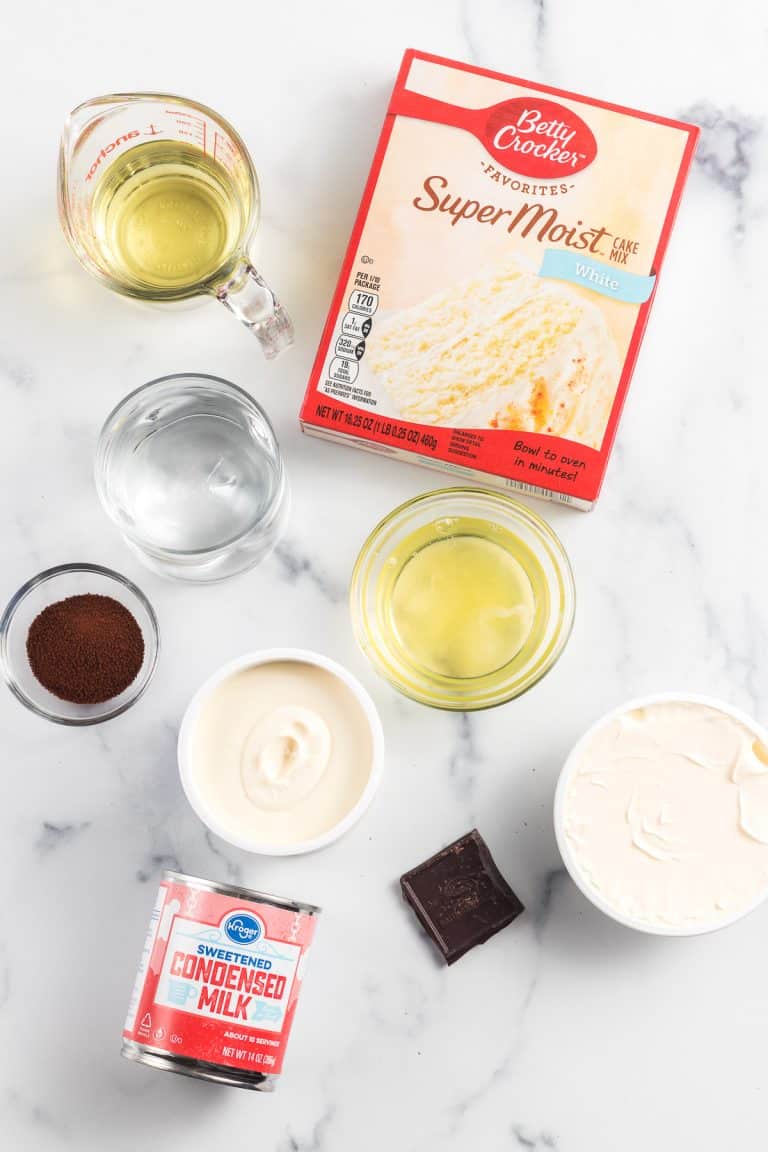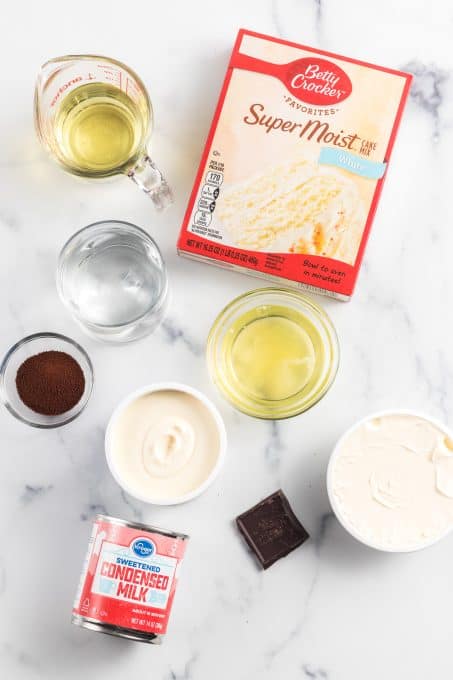 Tiramisu Poke Cake Ingredients
This cake comes together with just six easy ingredients!
One box white cake mix
One 8-ounce can of cold-brewed coffee (I used High Brew Cold-Brew Coffee: Double Espresso)
If you cannot find it, you can use 1 tablespoon instant espresso powder mixed with 6 ounces hot water.
14-ounce can of sweetened condensed milk
12.5-ounce container of canned vanilla frosting
8-ounce container of mascarpone cheese
One 4-ounce unsweetened chocolate baking bar
Make and bake the cake
Prepare a 9×13 baking dish by spraying it with nonstick cooking spray and preheat the oven as directed on the box of cake mix. Following the box instructions, mix the cake batter in the bowl of a stand mixer (or use a mixing bowl and an electric mixer), then pour batter into the prepared pan. Bake as directed in the package instructions.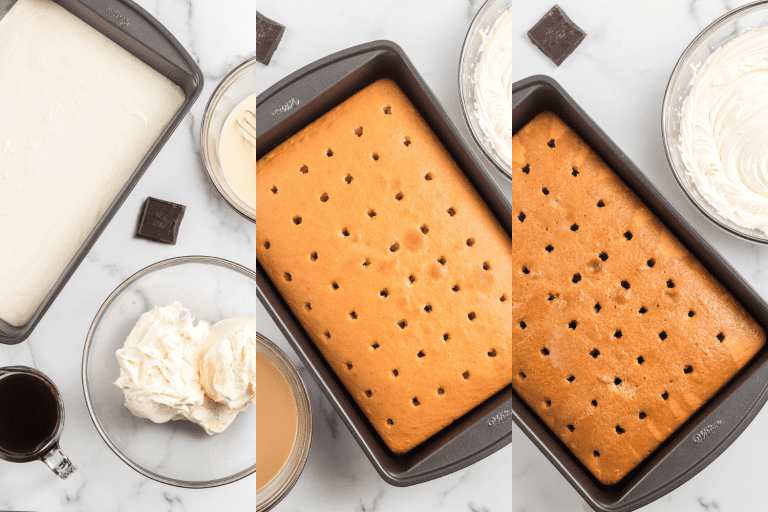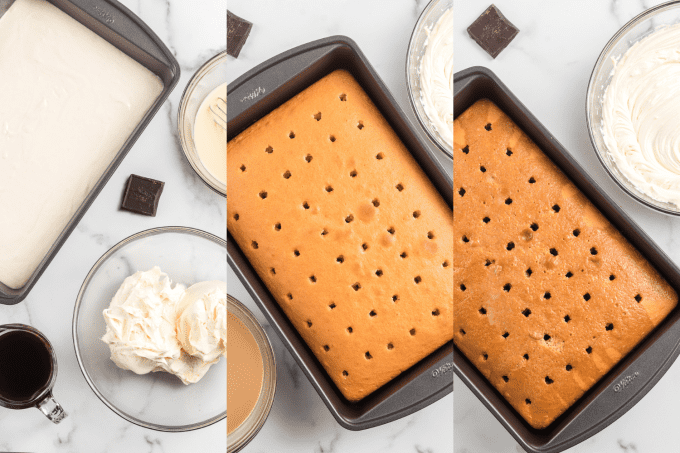 Make the Coffee Cream
While the cake is baking, use a hand whisk to combine the coffee and sweetened condensed milk in a medium bowl. Whisk until smooth.
When the cake has finished baking, remove the cake pan from the oven and immediately poke holes into the surface of the cake with the handle of a wooden spoon. You could also use a wooden dowel. The holes should be about 1 ½ inches apart. Carefully pour the coffee mixture evenly over the top of the cake, making sure the holes are filled. I use a ladle to do this.
Make the Mascarpone Topping
Let the cake cool completely. You can place it in the fridge to speed up the process.
Meanwhile, whip the mascarpone cheese in a large bowl until smooth and lightly fluffy, about three minutes. Add the frosting and beat together on medium speed until well combined.
For extra flavor, you can add a pinch of salt or a teaspoon vanilla extract to the topping mixture.
Remove the cake from the refrigerator and spread the cream mixture over the top of the cake. Use a zester to grate the chocolate bar and sprinkle the bits evenly over the topping before serving the cake. You could also dust the cake with cocoa powder or even a little espresso powder!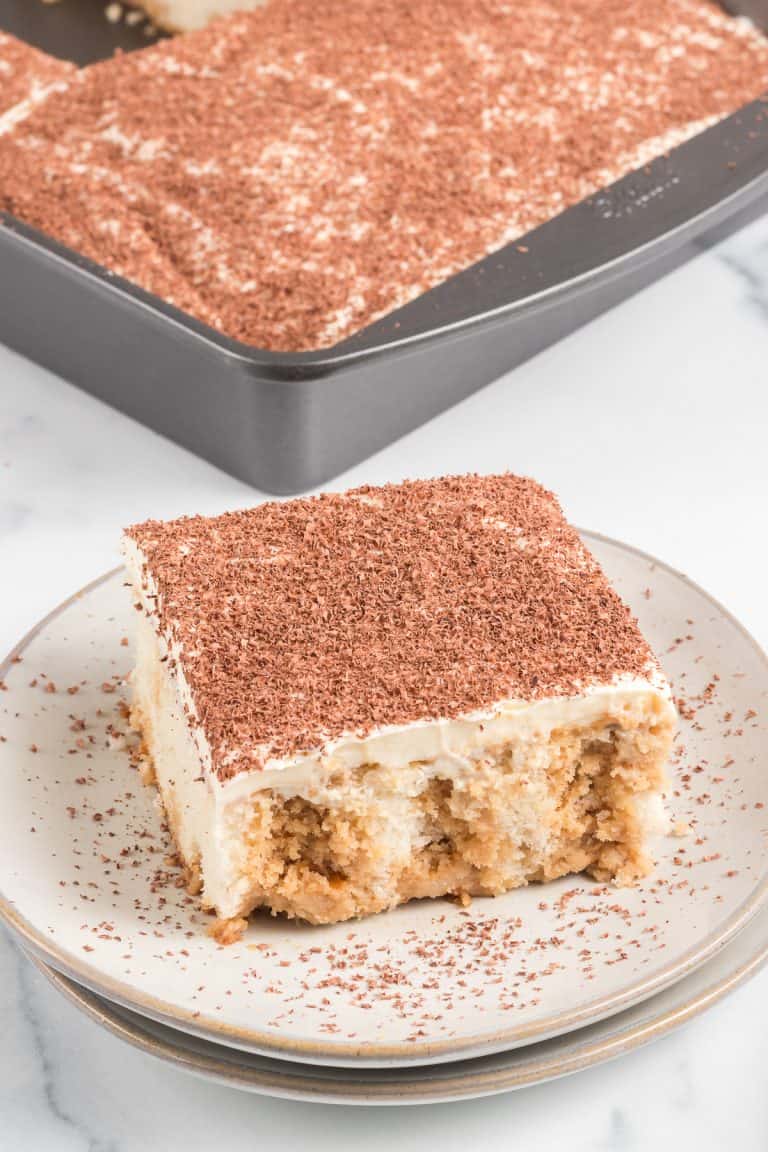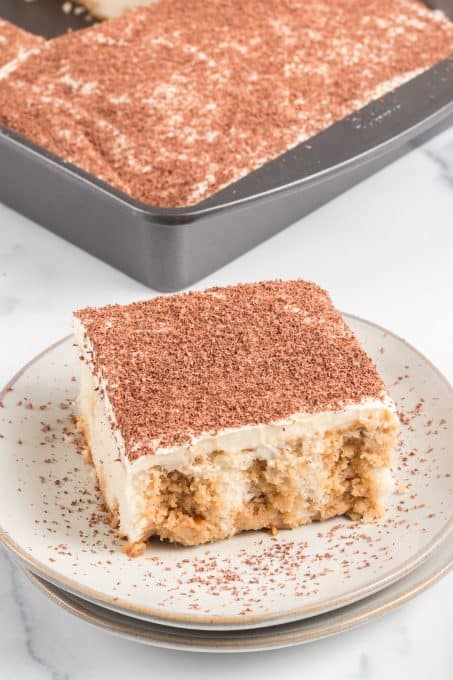 Can I use cream cheese instead of mascarpone?
Mascarpone has a richer, creamier taste and is traditional for tiramisu desserts. However, cream cheese will give you a similar result. You will probably need to add some heavy cream to it before combining it with the frosting.
How to store Tiramisu Poke Cake
This cake stores well in the refrigerator. Cover it tightly and store it in the fridge for up to 4 days. Much more than that, and you'll find the cake might get a bit soggy.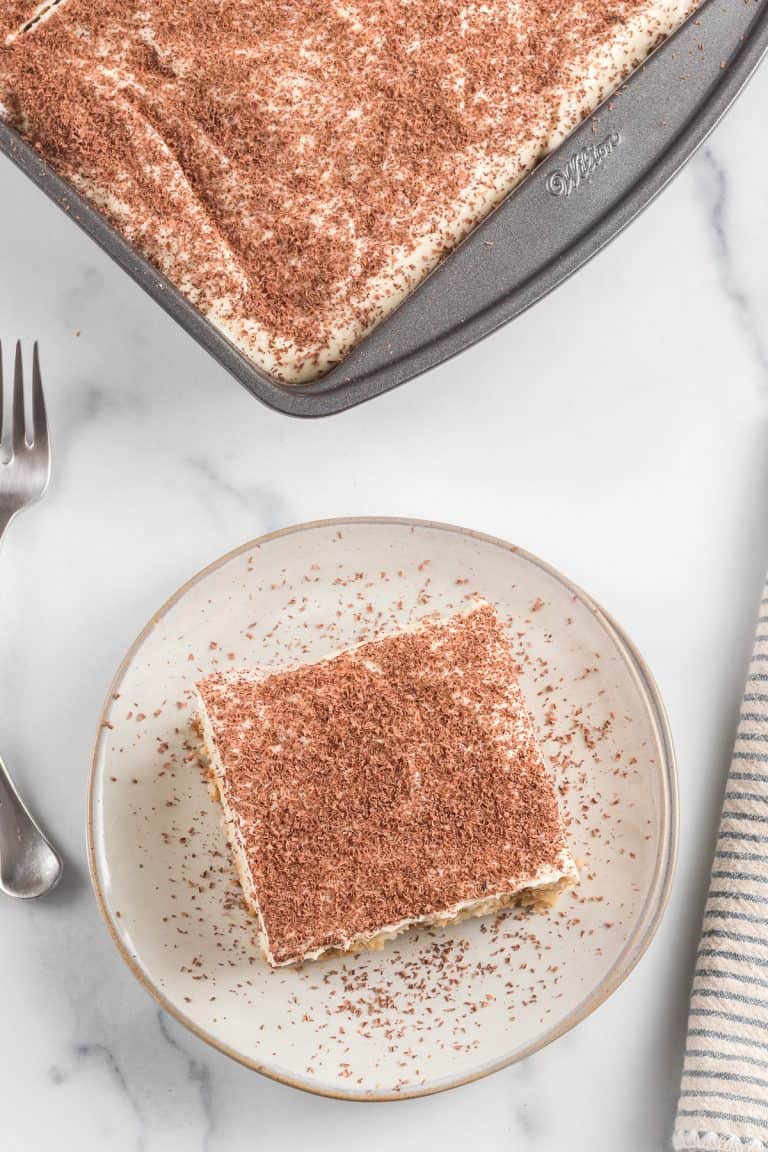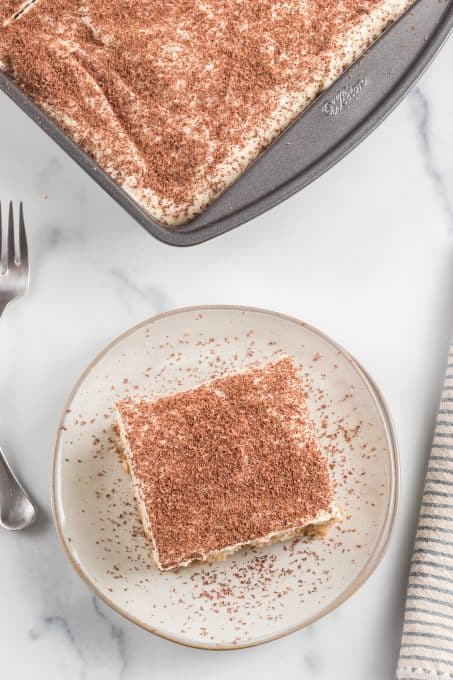 Can you freeze this cake?
You can freeze this tiramisu cake recipe! Place any leftover pieces in an airtight container and freeze for up to 2 months. When you want to serve it, place it in the refrigerator overnight to thaw.
Love Coffee? Try one of these delicious recipes!
I love to whip up flavored coffee drinks to make the day extra special. Here are some of my favorites: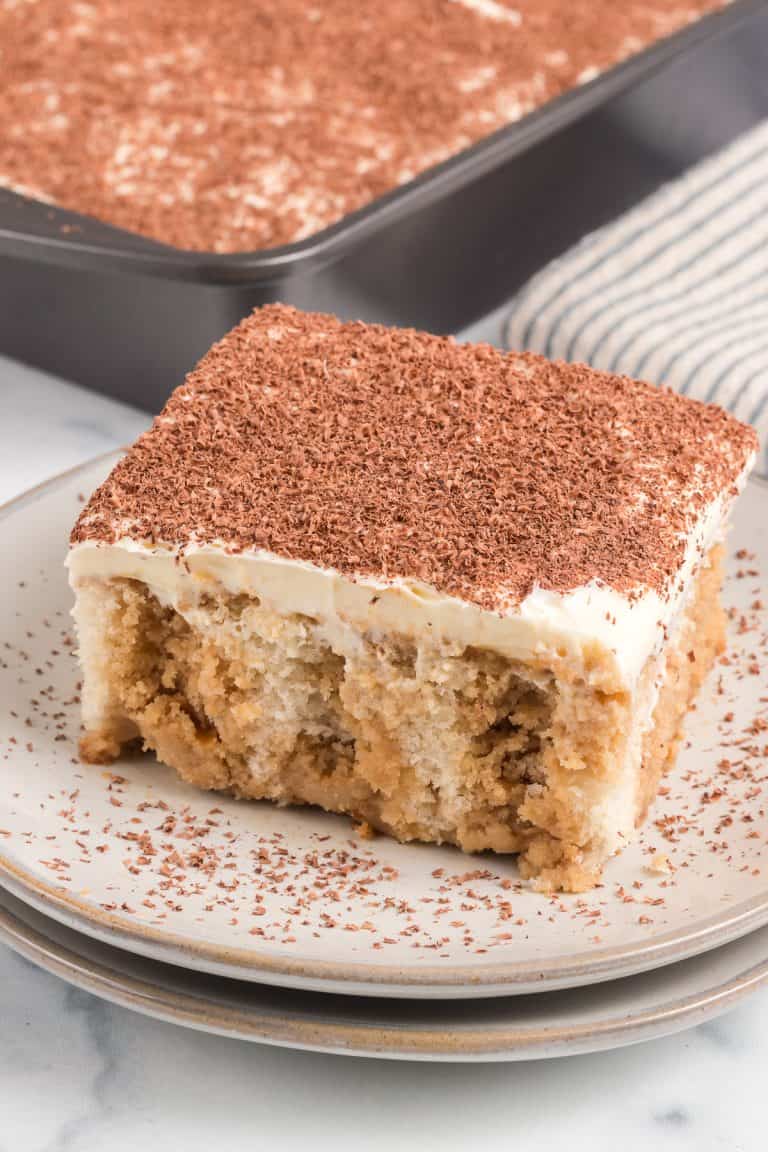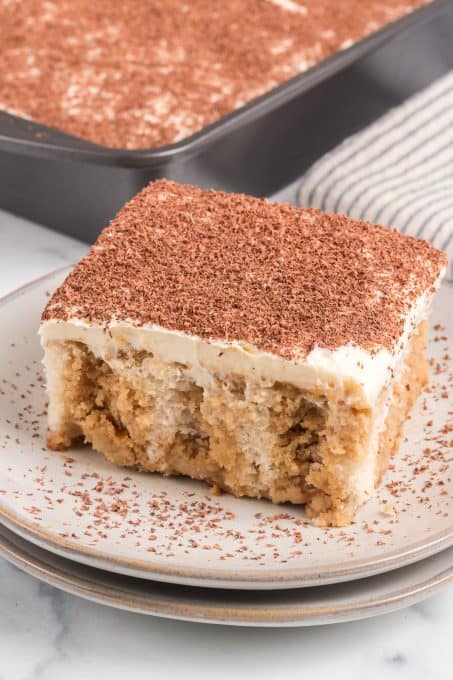 Pair your coffee with one of these tasty recipes:
I also have some breakfast recipes to eat with your coffee, and some of them give you a little dash of that coffee flavor in them!
These delicious recipes don't contain coffee, but they pair perfectly with it!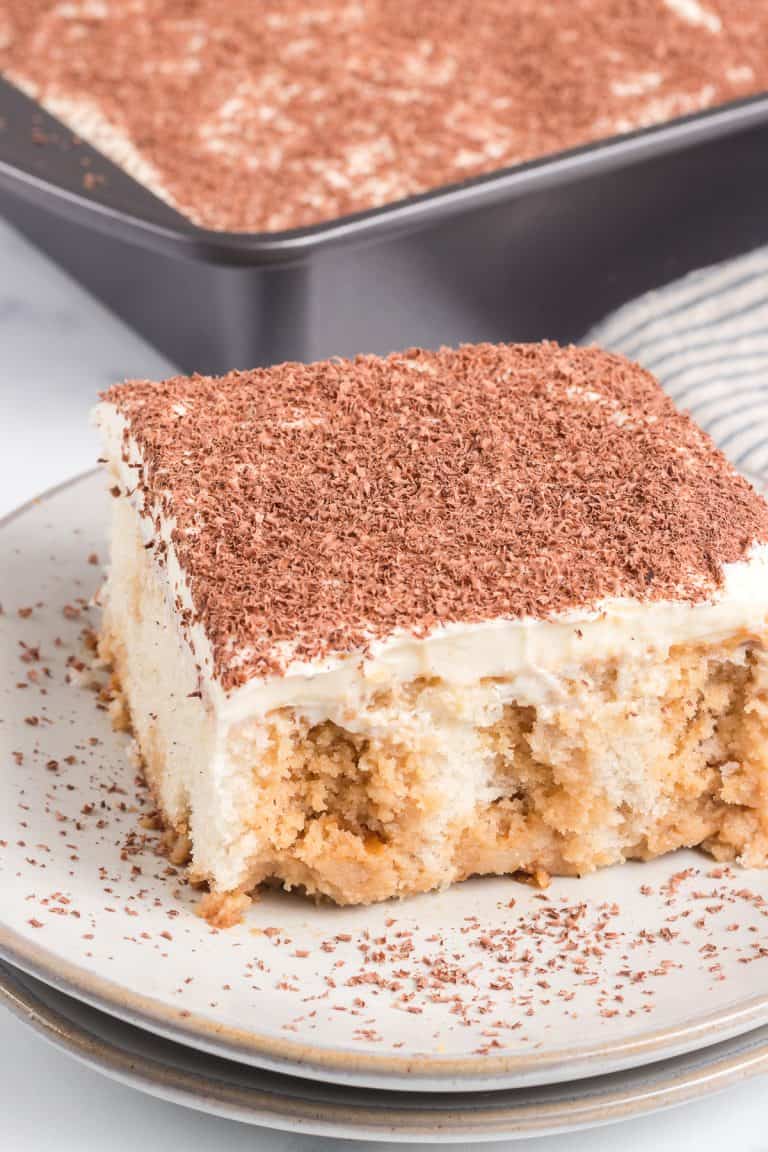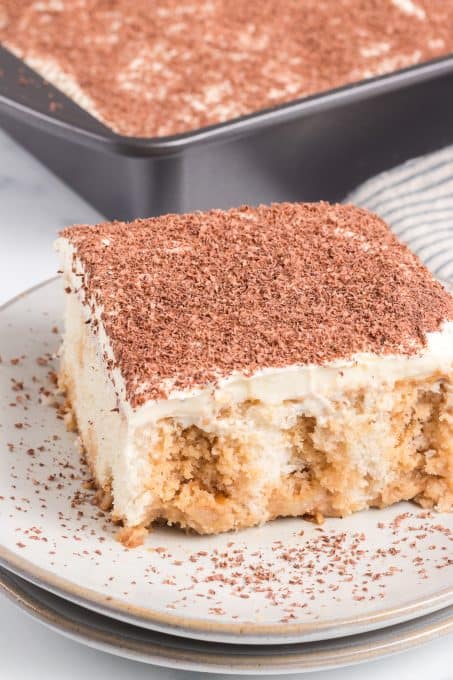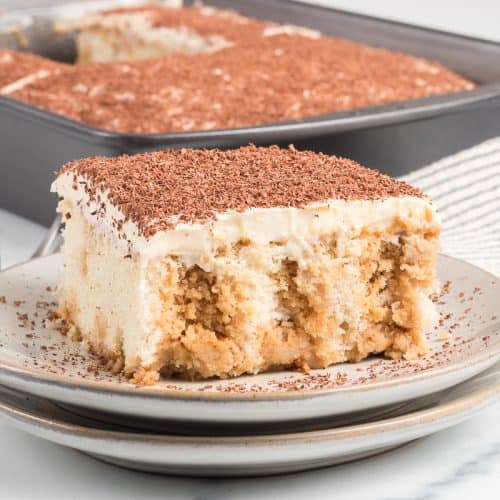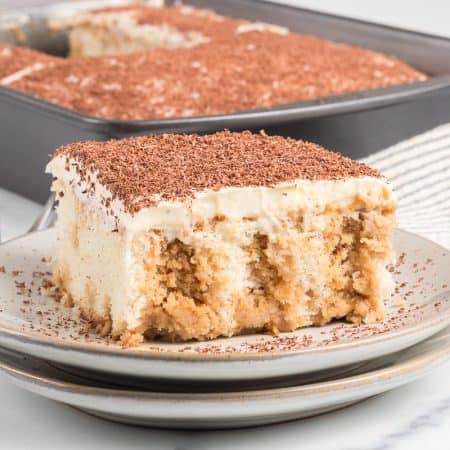 This Easy Tiramisu Poke Cake is a simple white cake drizzled with a sweetened coffee syrup, and topped with a whipped mascarpone vanilla frosting. It's a simple recipe to put together and it uses simple ingredients without any alcohol.
Ingredients
16.25 ounces white cake mix
1 cup water
½ cup vegetable oil
3 large egg whites
8 ounces High Brew Cold Coffee – Double Espresso * See Note
14 ounces sweetened condensed milk
12.5 ounces vanilla frosting room temperature
8 ounces mascarpone cheese room temperature
4 ounces unsweetened chocolate for shavings
Instructions
Preheat oven to 350°F. and prepare a 9 X 13 baking dish by spraying it with cooking spray.

Make the cake by mixing the cake mix, water, oil, and egg whites in a large bowl with a mixer on medium speed for 2 minutes.

Place batter into prepared baking pan and bake for 29-34 minutes or until a toothpick inserted into the middle comes out clean.

While the cake is baking, whisk together the High Brew Cold Coffee and sweetened condensed milk in a medium bowl.

Immediately after removing the cake from the oven, use the end of a wooden spoon to poke holes into the top of it, about 1 ½ inches apart.

Whisk the coffee mixture again before using and then gently pour it evenly over the top of the cake. I found it easiest to do this with a ladle.

Refrigerate the cake until it completely cools, about 30 minutes to an hour.

In a mixing bowl, whip the mascarpone cheese until smooth and slightly fluffy, about three minutes.

Add the vanilla frosting and beat together until well combined.

Spread the frosting over the entire cake.

Using a zester, grate the unsweetened chocolate and sprinkle evenly over the top of the cake before serving.
Notes
If you cannot find the Double Espresso High Brew Cold Coffee at your local grocery store or choose not to order it on Amazon, you can use 1 tablespoon instant espresso powder mixed with 6 ounces hot water. 
Nutrition
Serving: 1serving | Calories: 383kcal | Carbohydrates: 55g | Protein: 6g | Fat: 17g | Saturated Fat: 9g | Polyunsaturated Fat: 2g | Monounsaturated Fat: 3g | Trans Fat: 0.1g | Cholesterol: 23mg | Sodium: 294mg | Potassium: 203mg | Fiber: 1g | Sugar: 40g | Vitamin A: 265IU | Vitamin C: 1mg | Calcium: 162mg | Iron: 2mg
Did you make this recipe?
Share it with me on Instagram and make sure to follow me on Pinterest for more recipes.
This post was originally published 10/13/16. It has been updated in format and with photos on 3/10/23.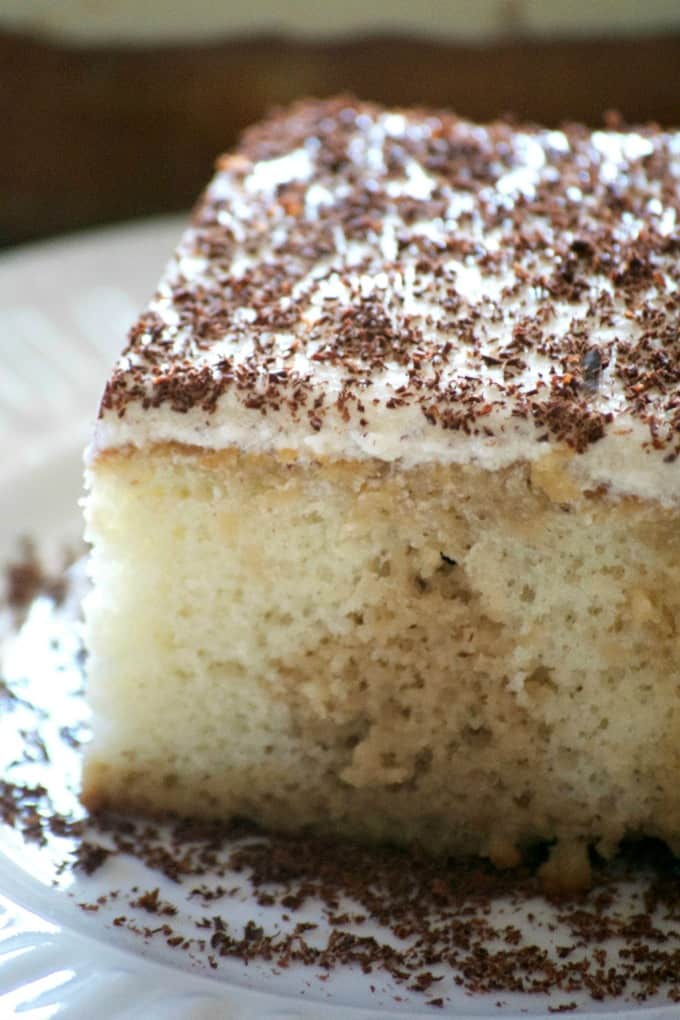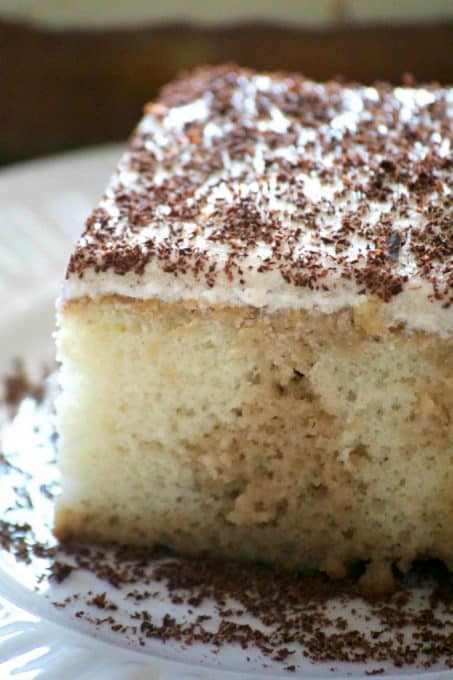 Reader Interactions