Ok, so today the blog should be called 365 Days of Baking and Lynne's Mishaps in the Kitchen. Today was one of those days. I awoke with a pounding headache, so I'm blaming the brain fart I had on the dose of caffeine in the Excedrin I took. Good grief! The recipe says to mix the milk, sugar, butter, and salt in a large bowl and cool to lukewarm. Doesn't sound that difficult, right? Well, it isn't until you have a huge mess all over your kitchen. I want to know how 1 cup of milk, 1/3 cup sugar, 5 tablespoons butter and 1 teaspoon of salt can spread so far and wide over a kitchen? So few ingredients. I really don't know what I was thinking. I heated the milk up on the stove and had put the other ingredients into the Kitchen Aid mixer, granted the butter was not melted and was a chunk which probably should've been my first clue. So, I poured the milk into the bowl and turned the mixer on. Not a pretty site. Milk started flying, butter chunks were darting all over the kitchen, landing on the cat who ran for cover, droplets of milk, sugar, salt and somewhat melted butter all over the floor, kitchen table, mixer, counter, and of course, me. In my attempt to shut the mixer off (ok this can be labeled as the second brain fart), I of course, pushed it in the wrong direction and turned it up to a higher speed. OH! MY! GOSH! I know it's good to make mistakes and there are times that I do appreciate them, but not when I have a physical mess to clean up. Ok, so now it's comical. I started from scratch again and this time decided to melt the butter in with the milk while it was heating and then mixed everything together with a spoon. Much better, until I went to add the flour and dropped that bowl into the liquid mixture. It dropped with a thud and there was another, but smaller, mess to clean up. It seems as if the baking gods are against me this morning. The batter's rising in the oven now. We'll see what happens next. I'm sure I'm going to be finding greasy spots all over my kitchen for the next few days.
UGH!!! My husband who was out for a run when all of this happened was just messing with my head. I'm using his laptop to type this and he took his remote mouse over to the counter. While pretending to dry his hands on a towel, he's using the mouse to move the cursor and scrolling the page up and down. It really freaked me out because I put my hands in my lap and things were still moving all over the place. MEANIE!! It's a good thing after 20+ years I still find him humorous. I wouldn't trade him for anything.
I found the Cincinnati Coffee Bread in my Fannie Farmer Cookbook Thirteenth Edition, p. 523; author, Marion Cunningham; publisher, Alfred A. Knopf, Inc., a division of Random House; ISBN 0-394-56788-9.
Cincinnati Coffee Bread
1 cup hot milk
1/3 cup sugar
5 tablespoons butter
1 teaspoon salt
1 package dry yeast
¼ cup warm water
2 eggs, well beaten
4 cups white flour
Filling
1 cup bread crumbs
3 tablespoons sugar
1 tablespoon cinnamon
4 tablespoons butter, melted
Mix the milk, sugar, butter, and salt in a large bowl and let cool to lukewarm. Stir the yeast into the warm water and let stand for 5 minutes to dissolve. Add the dissolved yeast, eggs, and flour to the first mixture and beat very well.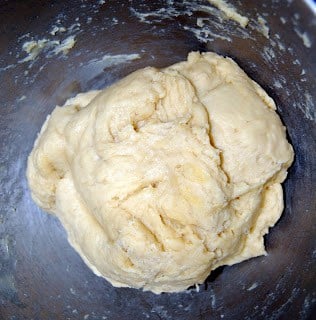 Cover and let rise until double in bulk.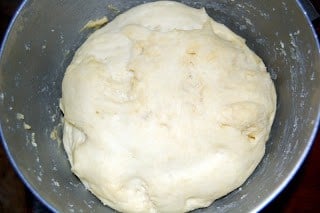 Stir down with a spoon and beat thoroughly. Spoon into a buttered loaf pan. Mix the filling ingredients together and stir them into the batter, just barely swirling the filling through.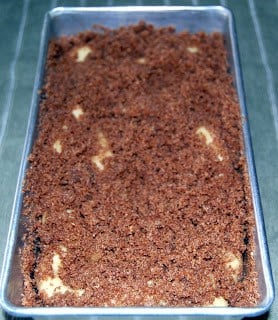 Cover the pan, and let rise again until double in bulk.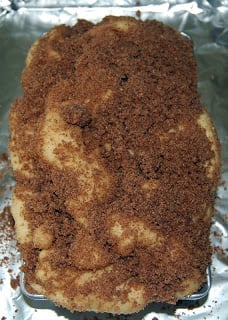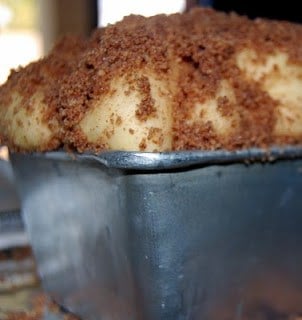 Preheat oven to 350ºF. Bake loaf for about 40-50 minutes. Remove from pan and cool on rack.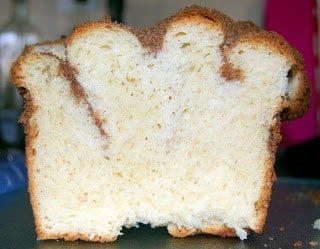 Hm…the batter was not really "spoonable" after the first rising. I imagined just swirling the filling into the batter, but that certainly wasn't the case. It was definitely more the consistency of dough, so I attempted to "swirl" the filling, but it was more like poking it into the dough with the spoon. It is in the oven for the second rising and I'm interested to see what it looks like when it comes out. I think the filling is going to be spilling all over the cookie sheet I put underneath it because most of it is just sitting on the top.
The bread tasted good, was slightly sweet, but not too sweet and the filling…yeah, it was more like topping than filling. The stuff I "poked" into the batter really didn't spread as I had hoped it would, so it all just kind of sat on the top and left the bread plain. It's tough to cut, too because the cinnamon, sugar, bread crumbs combo. all fall off everywhere and onto the counter. As far as breads go, it's ok, but I don't think we'll be eating all of it. Maybe I'll try it toasted tomorrow morning with a cup of coffee. My rating of 1-4 with 4 being the best: the Cincinnati Coffee Bread earns 2½ rolling pins.
Happy baking!