I've always wanted to make Lace cookies, but have been a little intimidated to. They're just so delicate. This recipe is from my cook book, Fannie Farmer Cookbook, Thirteenth Edition, p. 619; author, Marion Cunningham; publisher, Alfred A. Knopf, Inc., division of Random House; ISBN 0-394-56788-9.
Lace Cookies
1½ cups uncooked oatmeal
1½ cups light brown sugar
2 tablespoons flour
½ teaspoon salt
2/3 cup melted butter
1 egg, lightly beaten
½ teaspoon vanilla
Preheat the oven to 350ºF. Mix the oatmeal, brown sugar, flour and salt in a bowl. Stir in the melted butter, then add the egg and vanilla and combine well. Arrange the batter by half-teaspoonfuls, about 2 inches apart, on ungreased cookie sheets. Bake until lightly browned, about 5 minutes. Cool slightly, removing cookies from the cookie sheet with a spatula as soon as they are firm. If they become too hard, return to the oven for a few minutes to soften.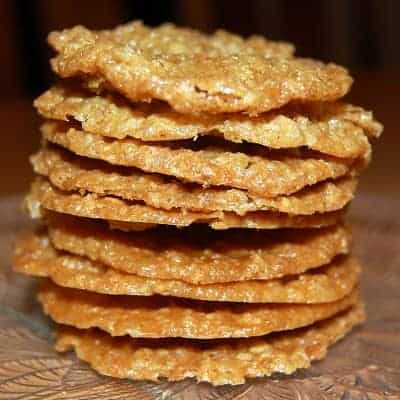 Now I know why I was intimidated. These suckers are not easy cookies to make. They're quite tasty, but they have to be made "just so" or they're not going to come out right and you'll end up eating the 10 cookies that stick to the spatula (well, how else was I going to get them off?).
It says to leave the cookies in the oven for 5 minutes. I did that with the first batch and when I went to remove them from the cookie sheet after allowing them to cool there for a minute or two, completely smushed (I love that word, but not when I'm making cookies) them together. It wasn't pretty. The second batch I knew I needed to leave in longer to harden, so I did that, and left them a little longer on the cookie sheet to cool, also. I managed to extract a few off the cookie sheet without a major problem while some were still being smushed. And then the last ones to be removed were stuck to the sheet like glue. Once the cookies cooled completely on the sheet, they were not going to budge, and the couple I managed to scrape off had me thinking they might be good to use as spackle. Making these brought me back to when I was first learning how to make crepes and the amount of time it took to learn the right temperature in the pan, the right consistency of the batter and knowing when the crepe was cooked sufficiently on one side so that it could be flipped. These cookies took this baker some time to master in order to achieve a perfect finished product. By the fifth and final batch, I had it down, but I don't think I'll be making these again.
I really like how light and airy they are, but they are extremely sweet. So sweet in fact that my kids don't want to eat anymore than the two that they had. And there were enough of them for me to bring and share with my hairdresser and her salon (everyone there really liked them). My rating scale is from 1 to 4 with 4 being the best. So for these Lace Cookies, the rating is: 2½ rolling pins.
Happy baking!