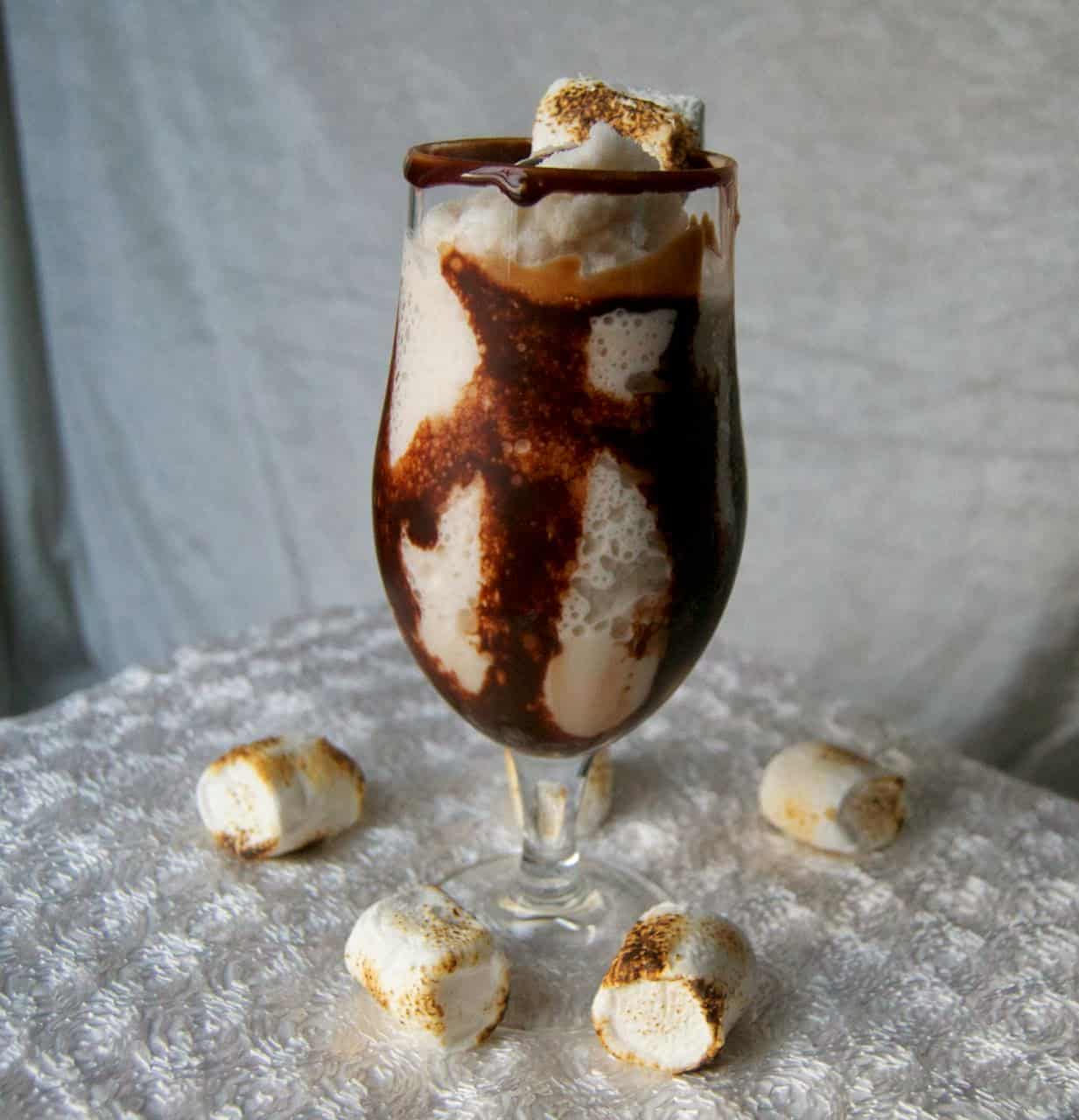 ***Disclaimer: This giveaway is being provided by our sponsors, no bloggers have received product or been compensated as a part of this giveaway.***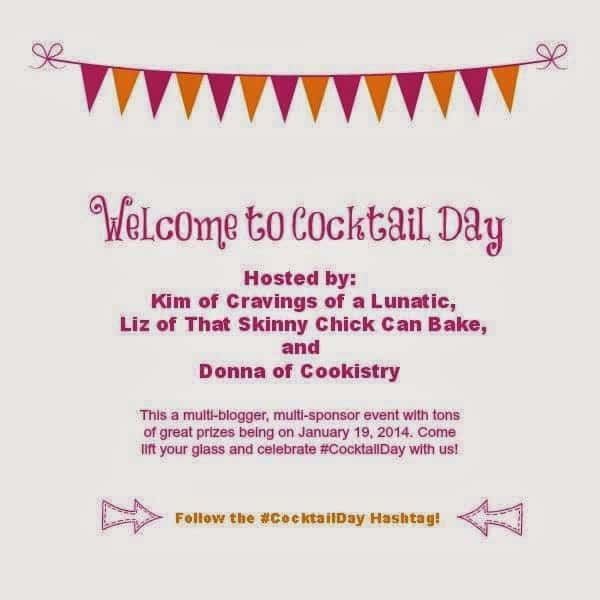 Welcome to Cocktail Day, a multi-blogger event co-hosted by Kim of Cravings of a Lunatic, Liz of That Skinny Chick Can Bake, and Donna of Cookistry. We are raising our glasses to toast you all with some unique and delicious cocktails and mocktails in anticipation of the Big Game and Valentine's Day. Be sure to bookmark or pin these creative beverages for your next gathering. We hope you enjoy this marvelous event and the incredible giveaways from our generous sponsors. Cheers!
I am SO excited to be a part of this wonderful event because this is our VERY FIRST cocktail here at 365 Days of Baking & More!! While I'm not one to regularly imbibe and one glass of wine will usually put me to sleep, I thought it would be great fun to participate and come up with an original (at least to me, anyway!) alcoholic beverage.
When the Mr. and I go out for a date, he goes for the beer and I always go for the fruity drinks.
I don't like beer and have never had more than a few sips of one, so I joke that I just like to go for the hard liquor. And mudslides have always been one of my favorites. So, onto the recipe!!!!
SAVE THIS MUDSLIDE TO YOUR FAVORITE PINTEREST BOARD!
SIGN UP FOR THE WEEKLY 365 DAYS OF BAKING & MORE
NEWSLETTER BELOW!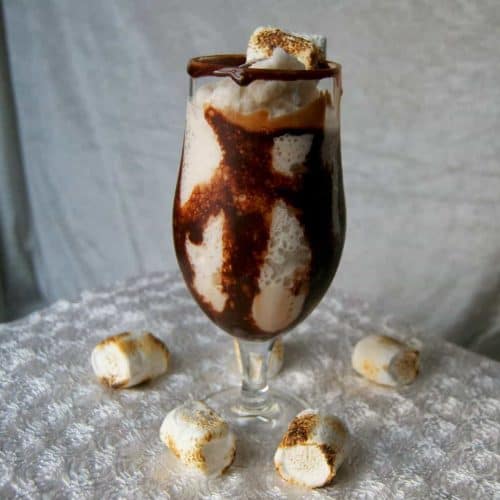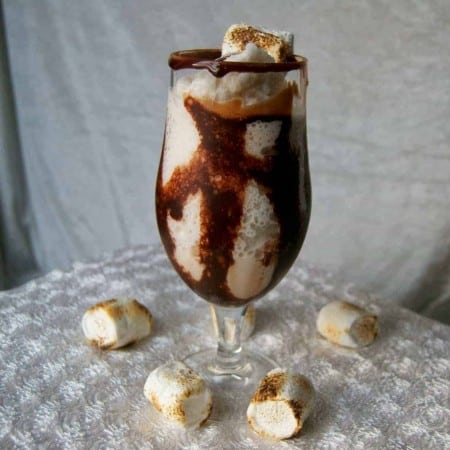 Frozen Marshmallow Mudslide
Ingredients
1 oz. marshmallow vodka
½ oz. coffee liquor
½ ounce Irish cream liquor
3 tablespoons french vanilla coffee creamer
1 cup milk
1 cup ice cubes
chocolate syrup and toasted marshmallows for garnish
Instructions
Into a blender, pour the vodka. Add the coffee liquor, Irish cream liquor, coffee creamer, and the milk. Pour the ice into the blender.

Put the lid onto the blender and pulse to crush the ice or use your blender's ice setting.

Pour some chocolate sauce onto a plate and dip the top of the glass into it. Slice a toasted marshmallow and place on the glass rim.

Serve.
Nutrition
Calories: 148kcal | Carbohydrates: 11g | Protein: 7g | Fat: 7g | Saturated Fat: 4g | Cholesterol: 24mg | Sodium: 105mg | Potassium: 322mg | Sugar: 12g | Vitamin A: 395IU | Calcium: 276mg
Did you make this recipe?
Share it with me on Instagram and make sure to follow me on Pinterest for more recipes.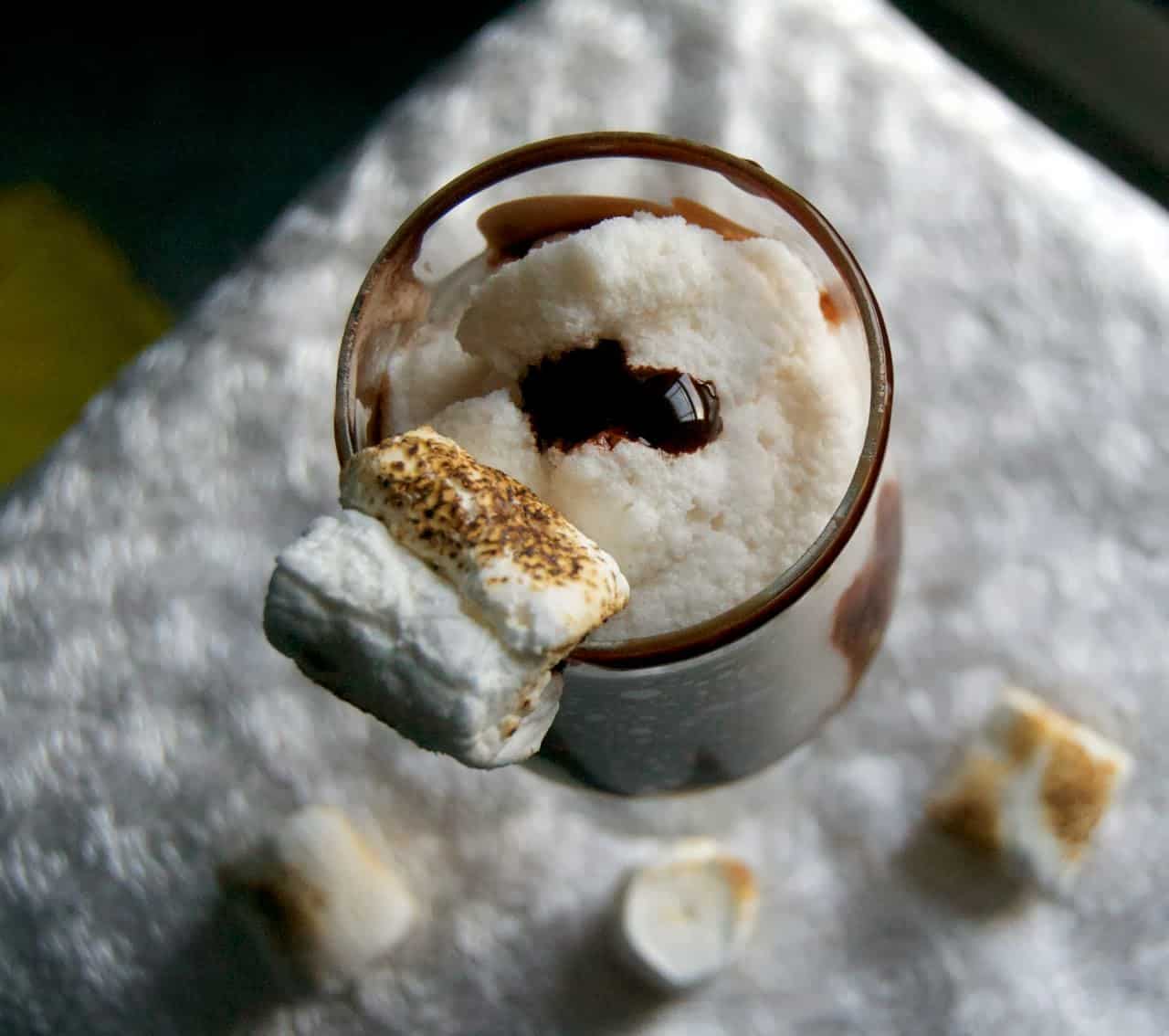 I always rate everything I make on a scale of 1-4 and this Frozen Marshmallow Mudslide earned 3 1/2 rolling pins. It was SO yummy!!!! There was a little bit of the marshmallow taste, but I was wishing it would have been stronger.
With all those incredible flavors of vodka out there, there is no limit as to what kind of mudslide you can make!! I saw chocolate whipped vodka and thought that would have been an awesome one to try, too.
Other Fabulous Bloggers Mixing It Up with Us for Cocktail Day:
Our sponsors for Cocktail Day are Molecule-R, Page St. Publishing, Race Point Publishing, Fair Winds Press, Microplane, and Not So Simple Syrup.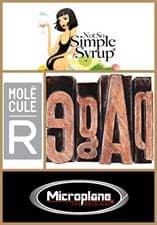 Molecule-R can be found on facebook, and YouTube. Molecular gastronomy can be defined as the fusion of food science and culinary arts.
Molecular gastronomy by Molecule-R is a cookbook with stunning recipes explained and illustrated with the intelligence and aesthetic beauty that defines the MOLECULE-R brand.
Mojito R-Evolution teaches you how to deconstruct your mojito into floating mint caviar and spectacular foams or encapsulate your favorite cocktail into a sphere that will explode in your mouth.
Margarita R-Evolution teaches you how to create a margarita slush topped with a fresh lemon mousse, add a splash of colour by creating blue azure suspended pearls or encapsulate your margarita into an edible cocktail!
Cosmo R-Evolution teaches you how to add a molecular twist to your traditional cosmo sure to awe your guests! Serve a cosmopolitan bubble on a spoon that will pop in your mouth, top off your cocktail with a light fluffy cranberry foam or suspend citrus caviar in your drink.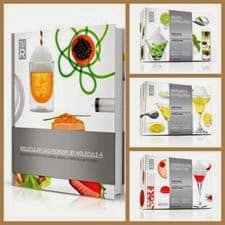 Microplane can be found on Facebook, Twitter and YouTube. Microplane is a division of family-owned Grace Manufacturing Inc., a long-standing company specializing in the crafting of precision thin metal parts for home and industrial use.
The versatile Ultimate Citrus Tool features Microplane's surgical grade stainless steel Fine blade. In addition, the Ultimate Citrus Tool features two decorative garnishing blades in a large (.300-inch diameter) and small (.180-inch diameter) size. The blades are made in the USA and are dishwasher safe.
Microplane's sleekly designed and multi-functional Bartender's Garnishing Tool easily opens bottles, effortlessly zests oranges, lemons, limes, and other types of citrus fruits, and is dishwasher safe.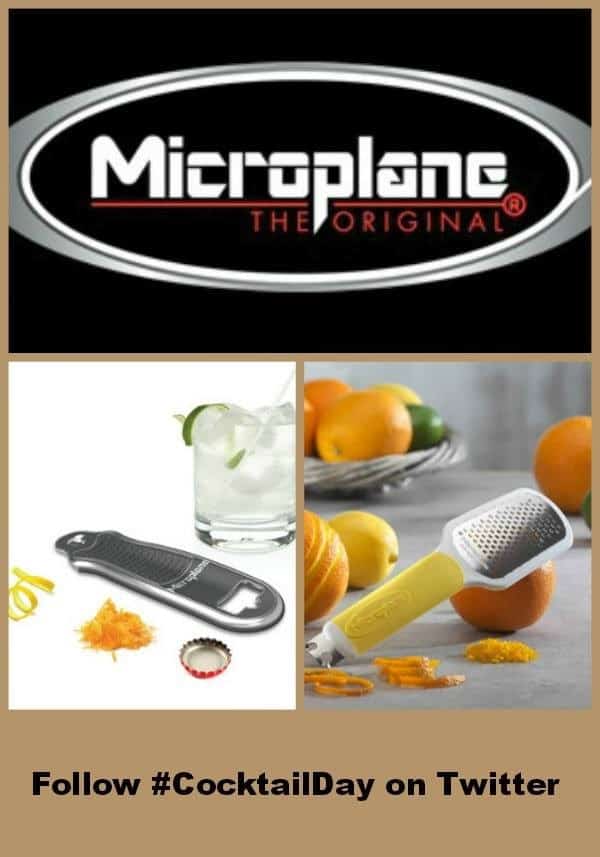 Not So Simple Syrup can be found on Facebook, and Twitter. Not So Simple Syrup is a small, local maker of simple syrups. Heidi and Barbie's passion is to create all natural syrups that inspire and stimulate your pension for amazing mixed drinks as well as iced teas and non-alcoholic beverages too.
They pride themselves on individual service. When you purchase a NSSS product, you can be sure that it received their personal stamp of approval. The Not So Simple Syrup Survival Gift Basket has two flavors of delicious all natural Not So Simple Syrup, a muddler for the perfect Mojito you might want to create, two glasses and a bar towel.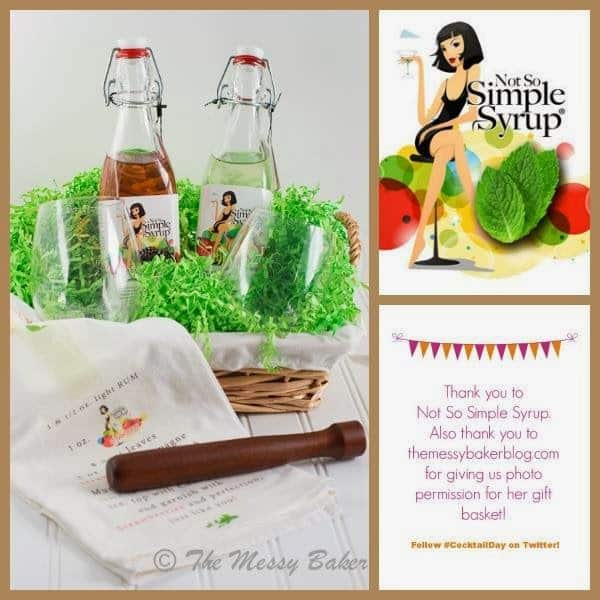 Page St. Publishing, Race Point Publishing, Fair Winds Press are 3 amazing publishing companies. Check them out and spend some time poking about. They publish the most amazing cookbooks on the planet. We're lucky to have 3 wonderful cookbooks up for grabs thanks to these companies today.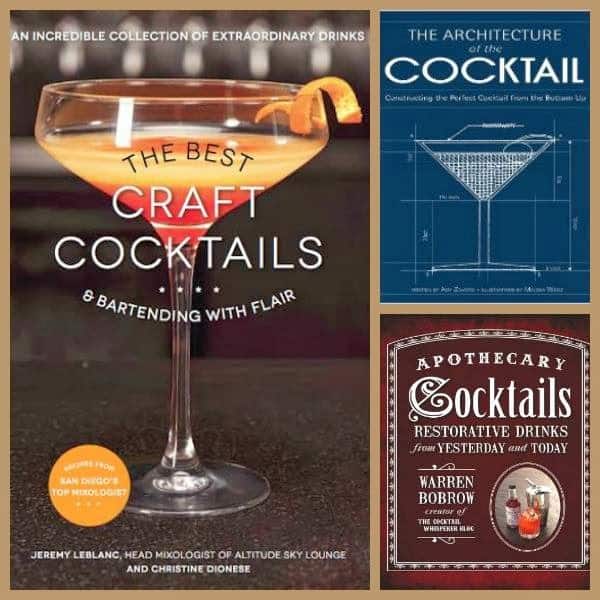 The list of prizes for Cocktail Day:
1 Copy of The Best Craft Cocktails and Bartending with Flair sponsored by Page St. Publishing
***This giveaway is intended for each prize to have a separate winner! No person can win multiple prizes. This giveaway is open to U.S. residents only. Winners will be chosen by random draw. The winners will be notified via e-mail, and have 3 days to respond or another winner will be chosen.***
Reader Interactions