Coconut Cooler tastes like vacation in a glass! One sip of this coconut drink and you'll feel like you're lounging beachside in the sun. Creamy, refreshing and delicious!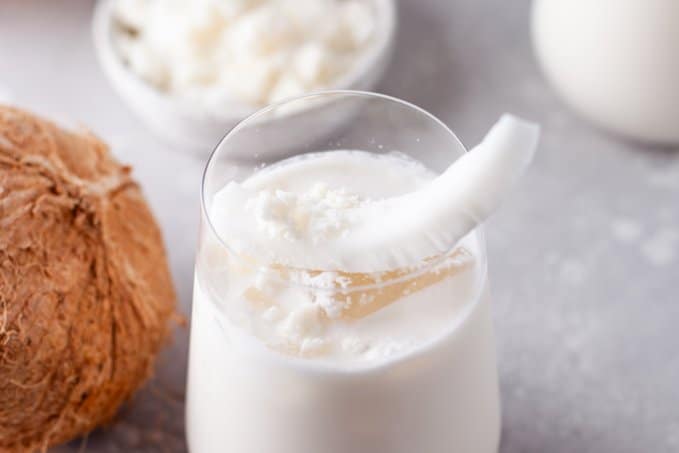 Ever feel like you need a little tropical escape?
A pitcher of Coconut Horchatas isn't exactly the same as an island vacation, but it might just be the next best thing.
SAVE THIS COCONUT COOLER RECIPE TO YOUR FAVORITE PINTEREST BOARD!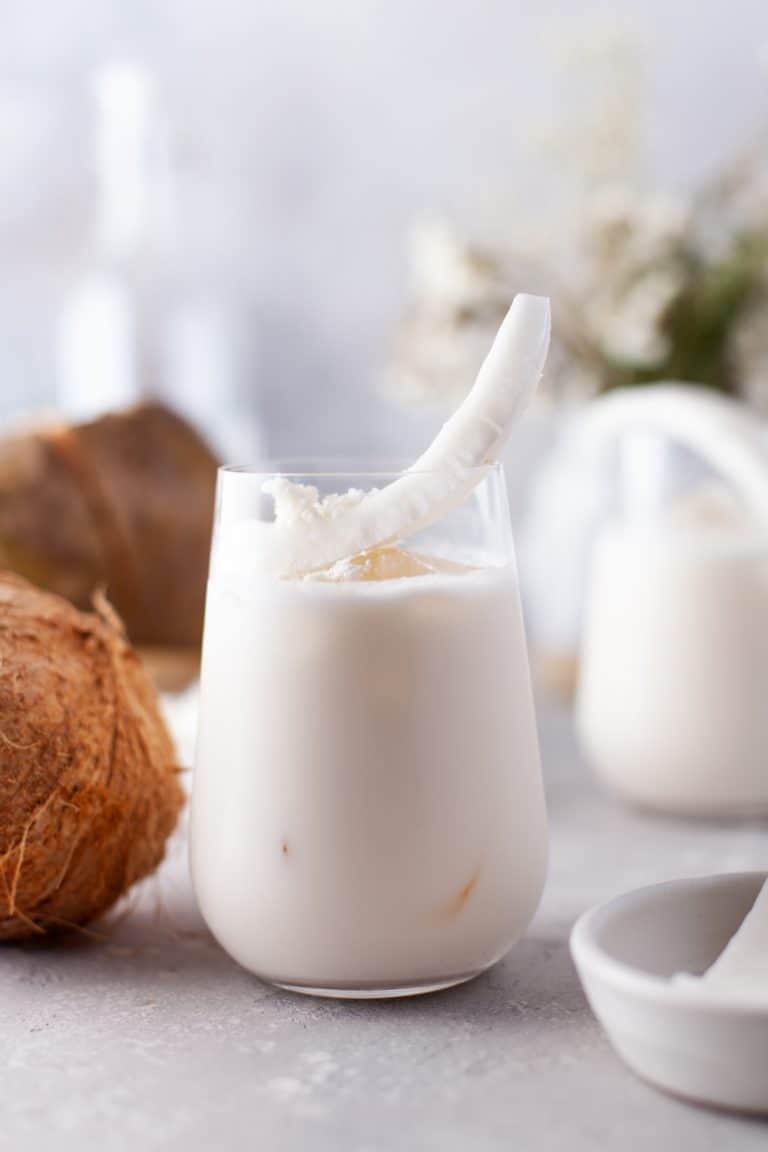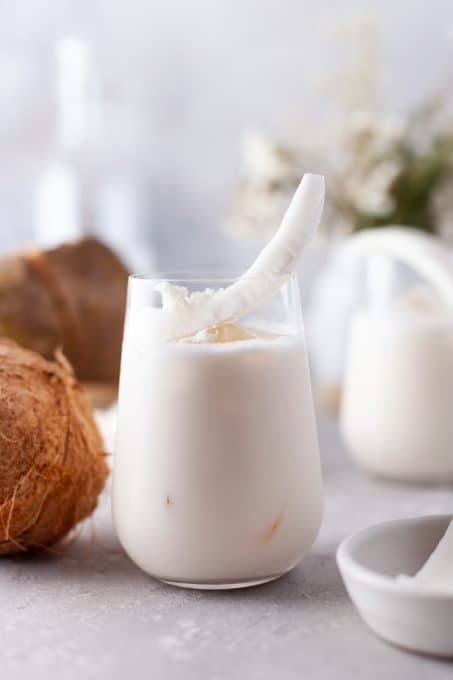 Coconut Horchatas are a spin on the traditional Mexican rice drink. This recipe is made with condensed milk and coconut water for a refreshing cold drink that's easy to make. If you're looking for a more traditional version with rice, I have a Mexican Horchata recipe too!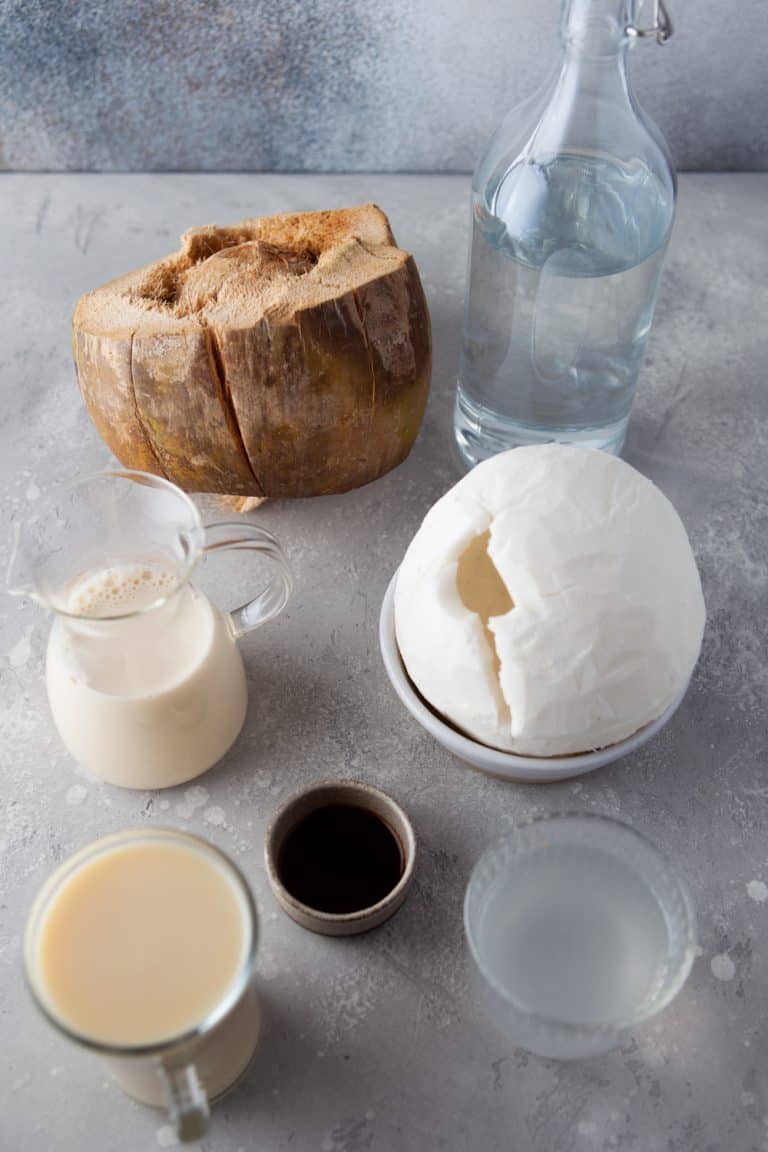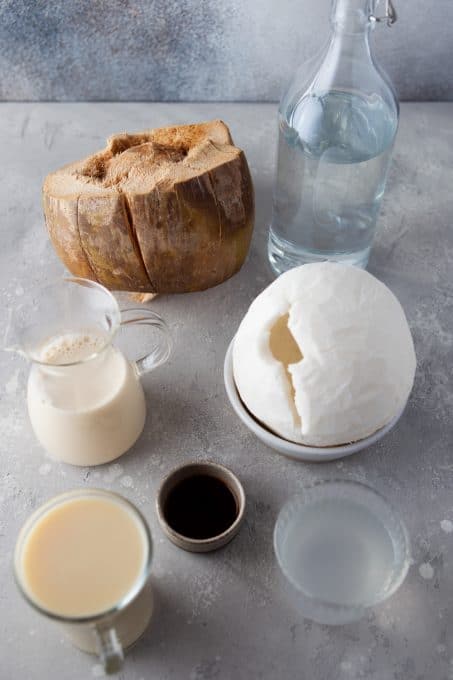 What do I need?
This Coconut Cream Cooler comes together in no time just a handful of ingredients.
coconut – We use a fresh, medium sized coconut, cut into small pieces.
coconut water – You can use bottled coconut water or get it fresh from the coconut.
evaporated milk
sweetened condensed milk
vanilla – Use vanilla extract or vanilla bean seeds for incredible flavor.
You will also need water and ice for serving the coconut coolers.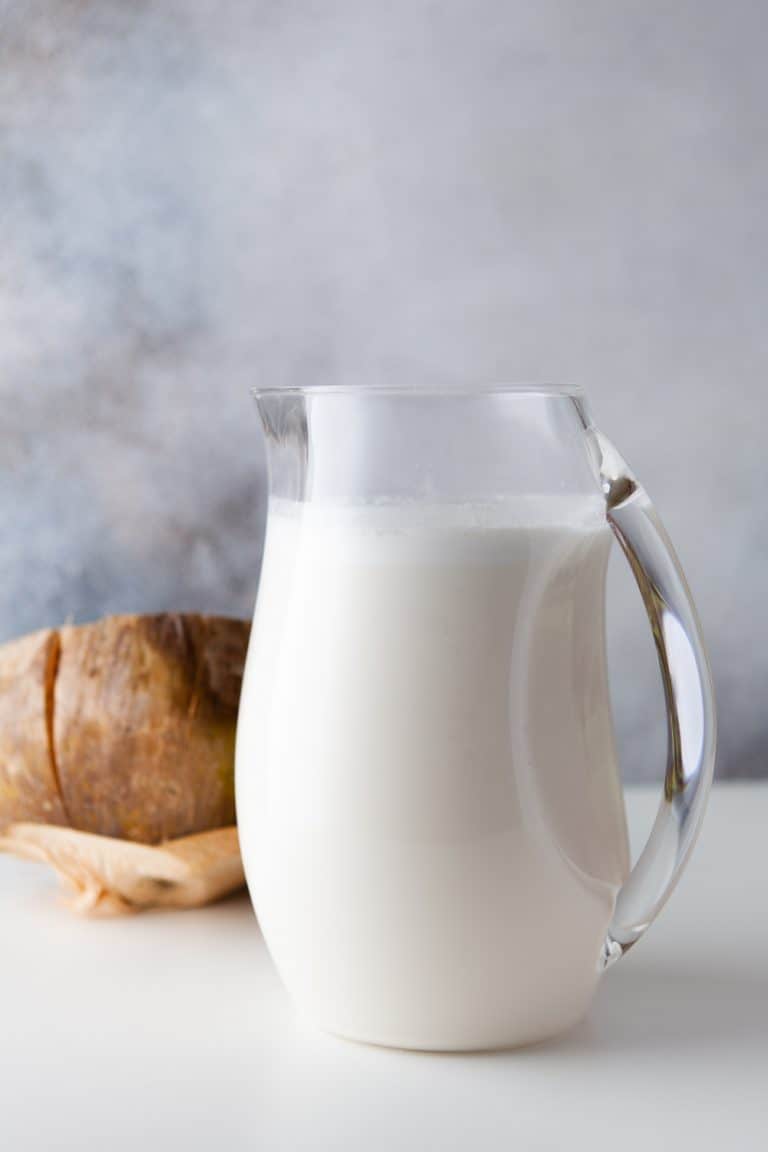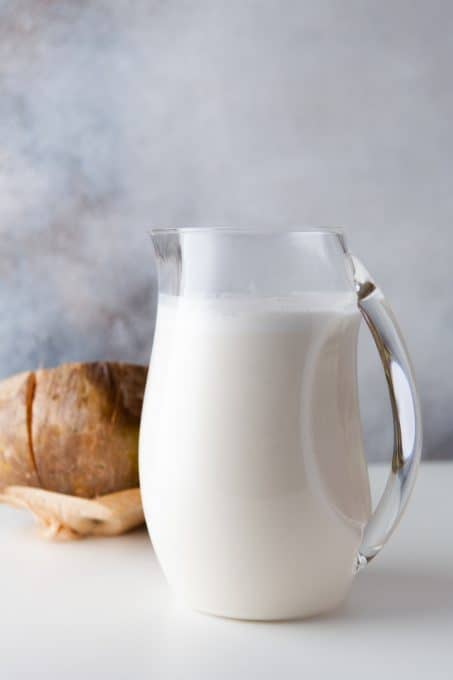 Can I use coconut milk instead of coconut?
You can use coconut milk in place of the coconut meat and coconut water, but the results won't be the same.
For best flavor, I recommend buying a whole coconut and extracting the water first before chopping the meat. If you're short on time, you can also use pre-chopped coconut and a bottle of packaged coconut water to make this coconut cooler recipe.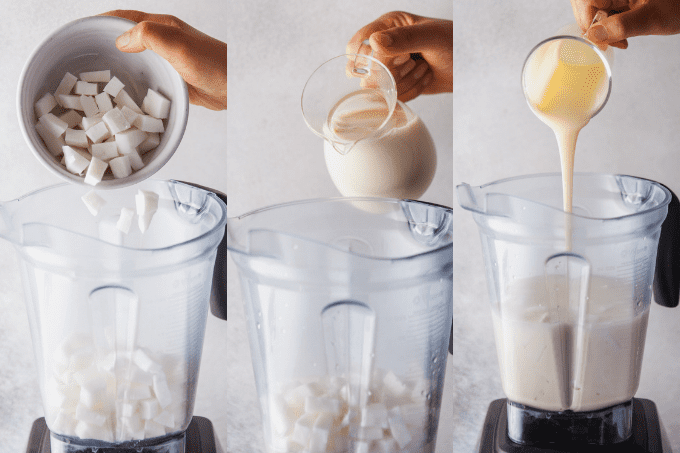 How do I get water out of a coconut?
You don't need a special tool to get the water out of a fresh coconut. I use a corkscrew wine bottle opener!
Find the "eyes" of the coconut–the dark spots located the top. Insert the tip of your corkscrew into one eye and twist, just as if you were opening a bottle of wine. Once you've fully punctured the coconut, remove the corkscrew.
If you don't have a corkscrew, you can use a sharp paring knife to carve out a whole instead.
Once you've made a hole, hold the coconut upside down over a bowl to drain the water. Once all the water is extracted, slice the coconut in half and chop up the flesh inside.
To make the Coconut Horchata, you'll blend the coconut and coconut water with the milks and vanilla. Serve over ice!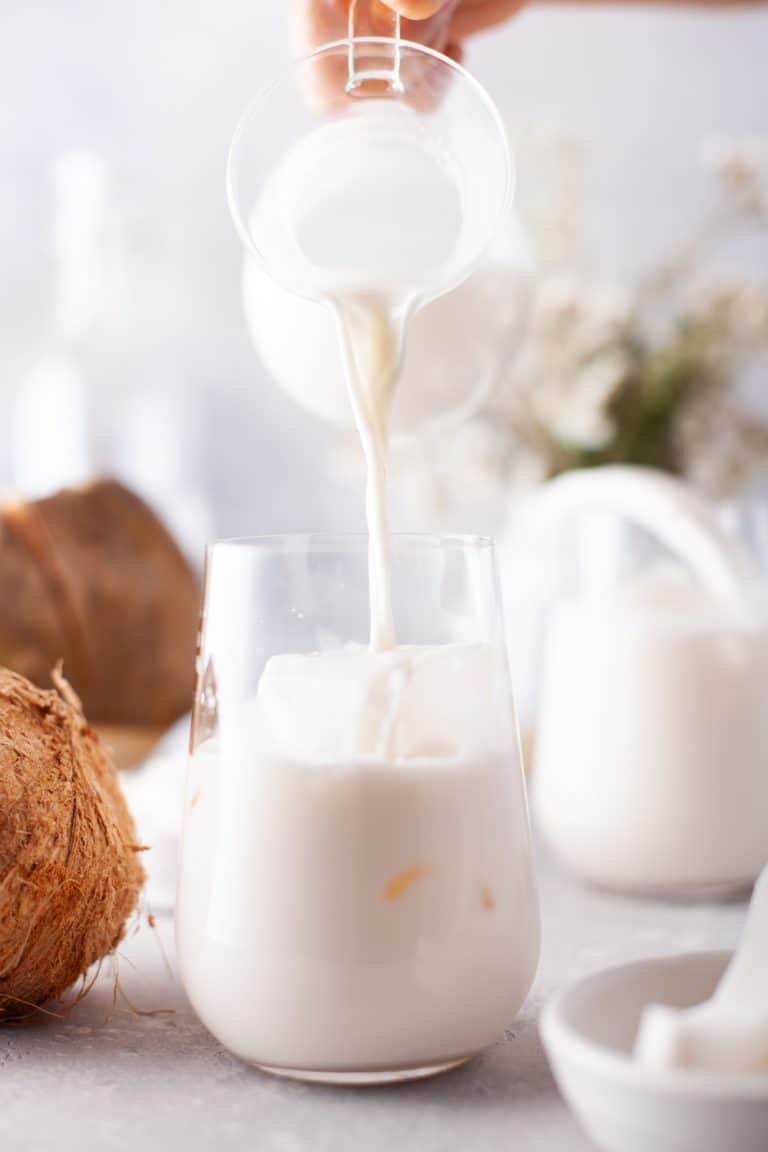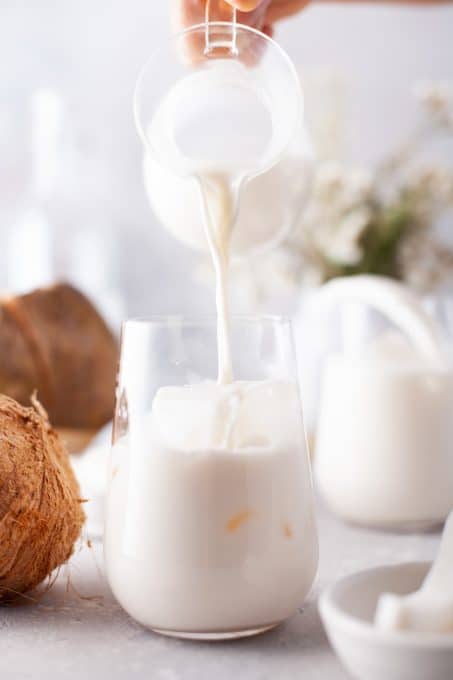 Tips
Coconut Horchata can be topped with all kinds of fun garnishes. Try serving it with a sprig of mint, a sprinkle of cinnamon, shredded coconut flakes, even some fresh pineapple slices!
These refreshers can be served strained or unstrained. I like the added texture the coconut chunks add to the creamy drink. If you like a smoother coconut cooler, strain the liquid into a pitcher to remove the extra coconut.
This recipe makes about 4 generously portioned Coconut Refreshers. Feel free to double the recipe if you're serving a larger crowd.
Drink Recipes
Whether it's summer time or I just WISH it were summer, I'm all about the refreshing beverages with tropical flavors! These Pina Colada Milkshakes are another easy coconut drink I make year round. You'll love them with or without the rum. For lemonade fans it doesn't get any better than Fresh Strawberry Lemonade, especially on a sunny day.
When cocktail hour arrives, everyone goes crazy for these Frozen Bahama Mamas. They're the perfect way to get a party started or for just sipping on the porch on a warm night. For a boozy drink that doubles as dessert, try this Marshmallow Mudslide recipe.
Need a sweet drink the whole family can enjoy? This Reese's Peanut Butter Creme Pie Shake is a delight for the kid crowd, but the adults deserve a few sips too!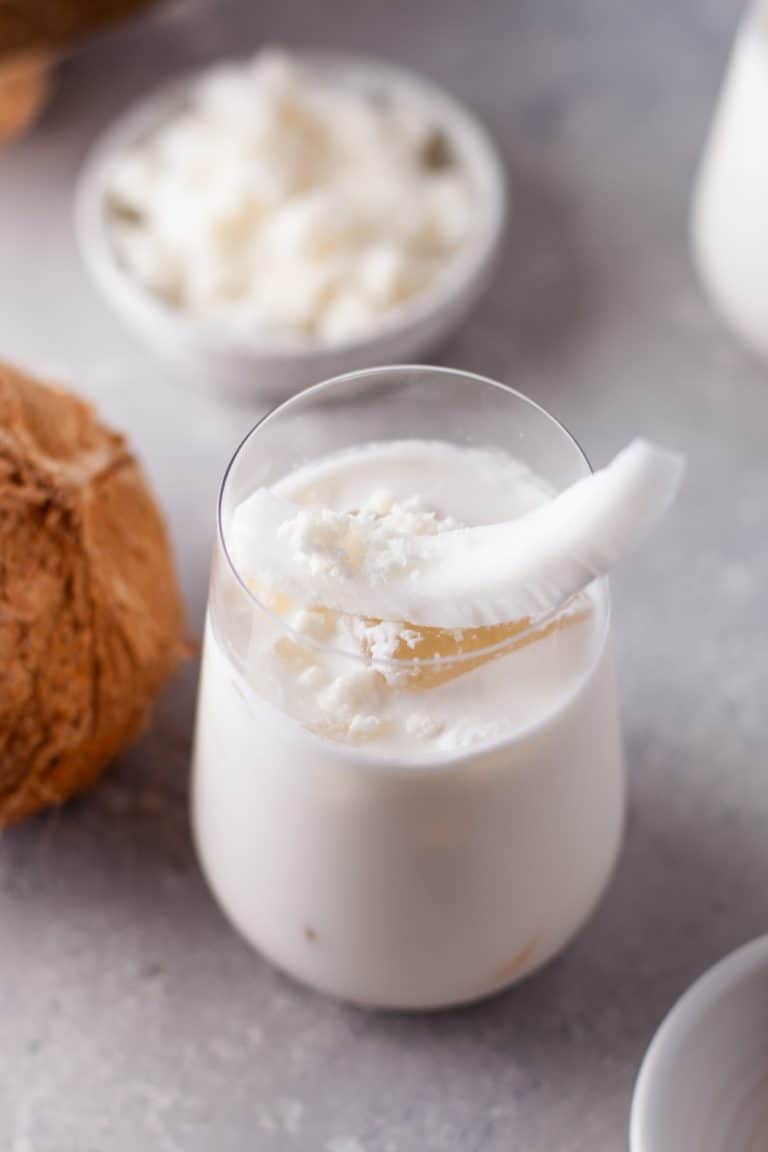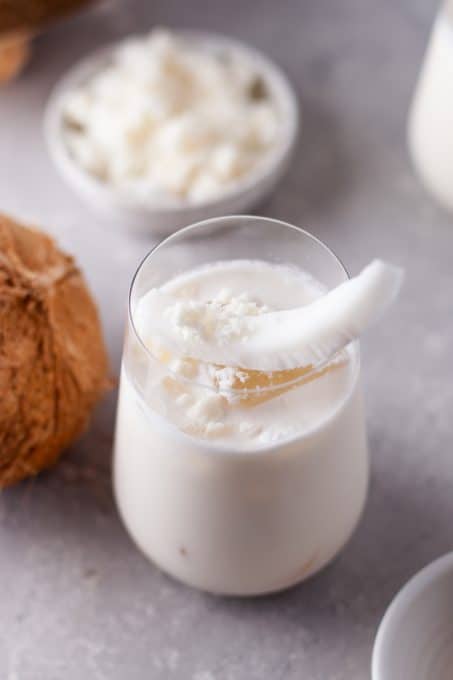 Even more drink recipes to sip and savor. . .
Coconut Recipes
After you make the coconut refreshers, give these other glorious coconut recipes a try.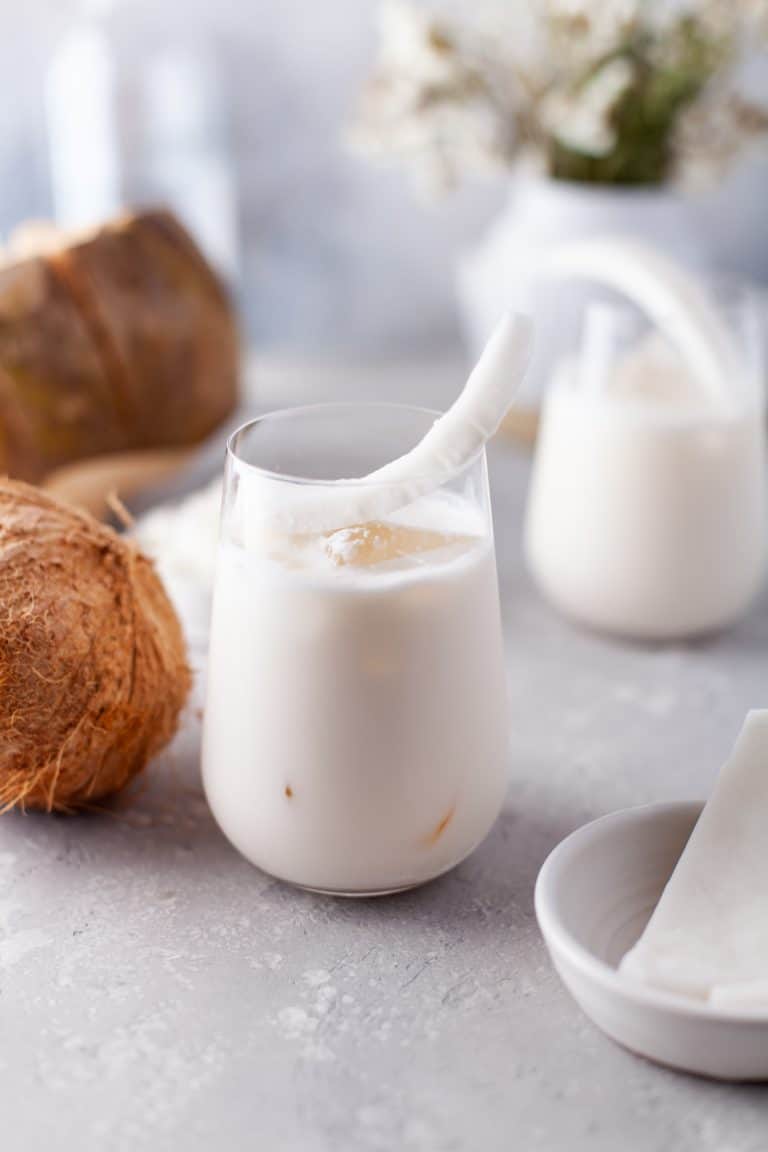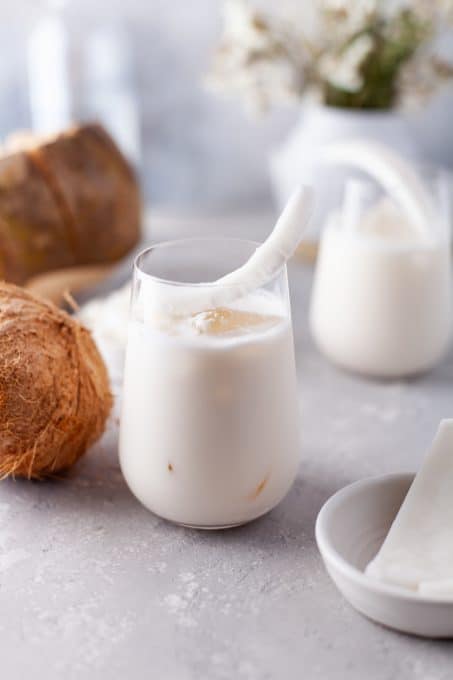 A cool refreshing drink, this Coconut Cooler will take you right to the tropics with one sip of that creamy coconut flavor!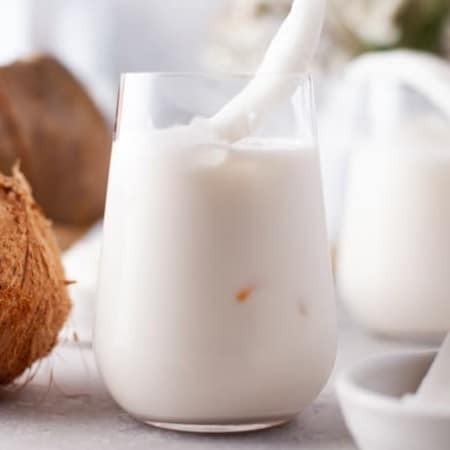 Equipment
chef's knife

cutting board

Blender

fine sieve

pitcher
Ingredients
1 medium coconut cut into small pieces
1 cup coconut water from the coconut
8 cups water divided
14 ounces sweetened condensed milk
12 ounces evaporated milk
1 teaspoon pure vanilla extract
ice
Instructions
If you are using a natural coconut, begin by making a small hole in the coconut to remove the water. Open it in half and chop the coconut meat into small pieces.

Put the coconut flesh, the fresh coconut water, 4 cups of the water, condensed milk, evaporated milk, and vanilla into a blender. Blend until smooth and the coconut is very soft.

Strain half of the mixture into a pitcher and add the remainder of it without straining, so you have some pieces of fresh coconut. If you prefer not to have any pieces of coconut, strain all of it. You may add a tablespoon or two of the contents in the strainer for extra flavor.

Add the remaining 4 cups of water to the pitcher. Stir and refrigerate or serve immediately over glasses filled with ice.

Garnish with slices of coconut, mint, cinnamon or sliced fresh pineapple.
Nutrition
Serving: 1g | Calories: 487kcal | Carbohydrates: 67g | Protein: 14g | Fat: 19g | Saturated Fat: 13g | Polyunsaturated Fat: 1g | Monounsaturated Fat: 5g | Cholesterol: 58mg | Sodium: 305mg | Potassium: 817mg | Fiber: 2g | Sugar: 65g | Vitamin A: 468IU | Vitamin C: 6mg | Calcium: 534mg | Iron: 1mg
Did you make this recipe?
Share it with me on Instagram and make sure to follow me on Pinterest for more recipes.
Reader Interactions