EDWARDS® REESE'S PEANUT BUTTER CUP® Crème Pie Shake – ice cream, milk, chocolate syrup, homemade peanut butter sauce, and a slice of EDWARDS® REESE'S PEANUT BUTTER CUP® Crème Pie makes this the perfect summer treat!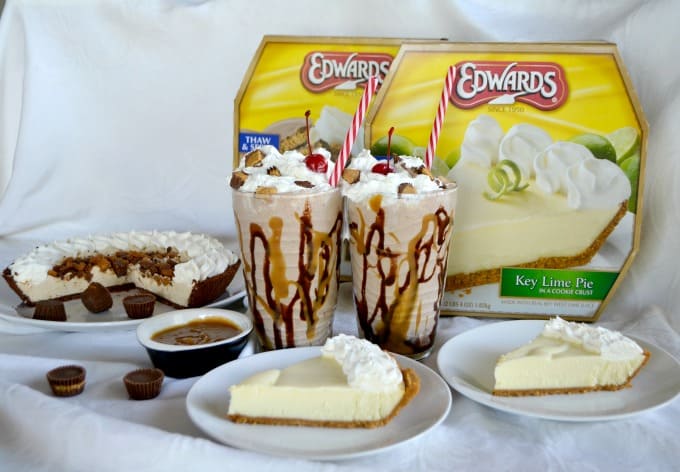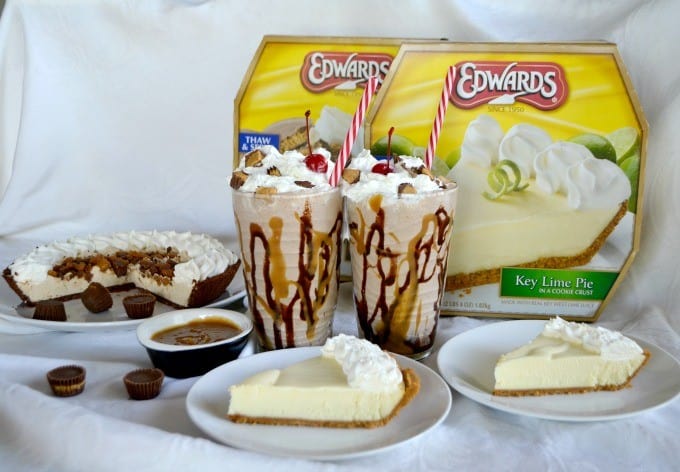 I love pie.
"This post is part of a social shopper marketing insight campaign with Pollinate Media Group® and EDWARDS®, but all my opinions are my own. #pmedia #EdwardsPies"
Sometimes I think I like it better than cake. I mean, there are SO many varieties. Not that there aren't a lot of different cakes, it's just pie tastes better to me. Besides, there's fruit in quite a few of them, so there's that.
Cakes are BIG and pies are just the perfect size. Kinda like Goldilocks and the Three Bears.
SAVE THIS REESE'S PEANUT BUTTER CUP SHAKE RECIPE TO YOUR FAVORITE PINTEREST BOARD!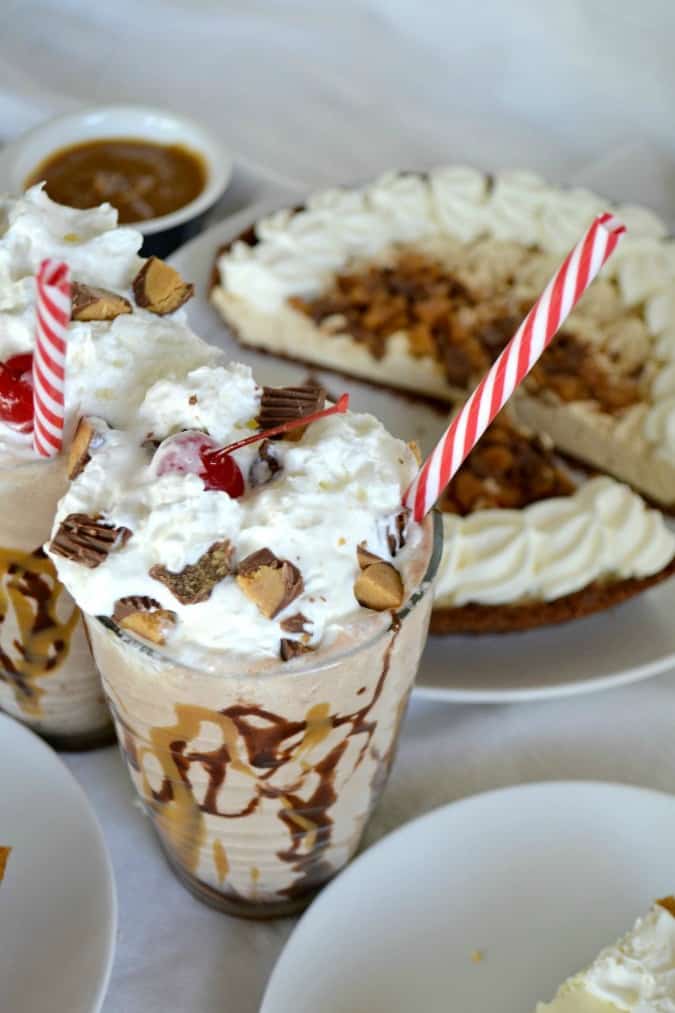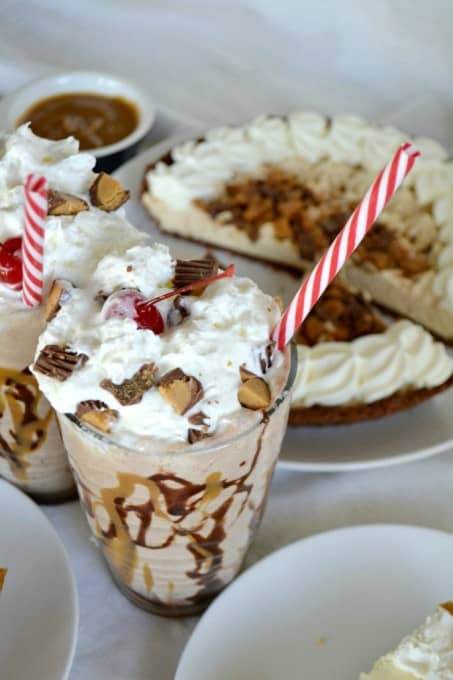 On one of my daily jaunts to Walmart last week, I saw EDWARDS® Whole Pies in the freezer section and after having a slice of cake in a milkshake a few month ago, I've been dying to try it with a slice of pie to see if it would actually work.
Oh, man. It was a very good decision and one I look forward to making more often! I also picked us up an Edwards Key Lime Pie because believe it or not, I've never tasted one. Yes, it was pretty darn good and I look forward to having it again.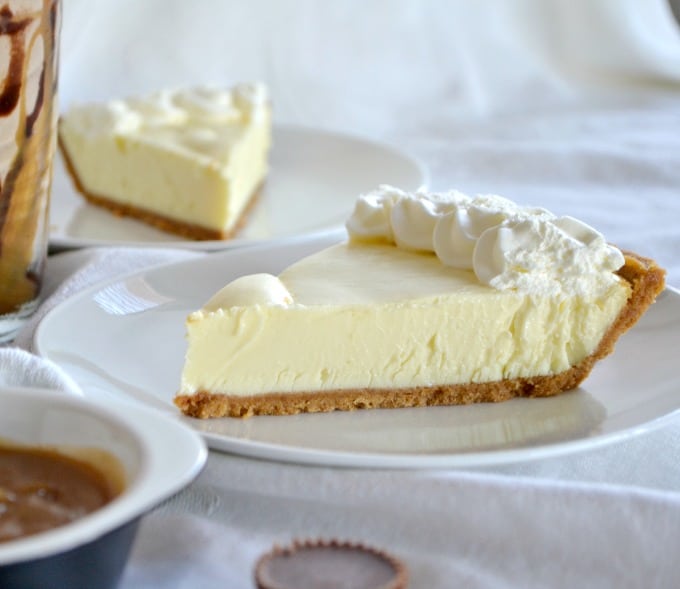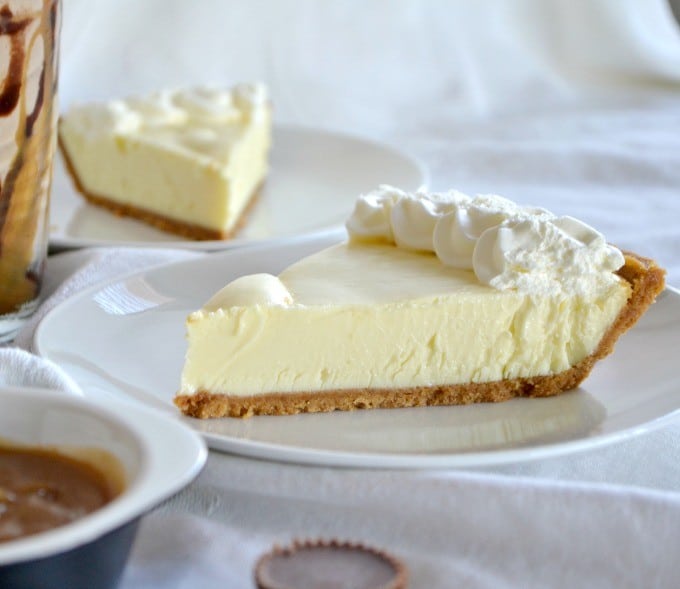 Both of the pies were hits with the family. It's wonderful when I can relax from working so much in the kitchen and enjoy a dessert with everyone that I didn't have to make.
The night I served them, some of us opted for a slice of pie while others choose to go with the pie shakes. Of course, I was on the shaken team.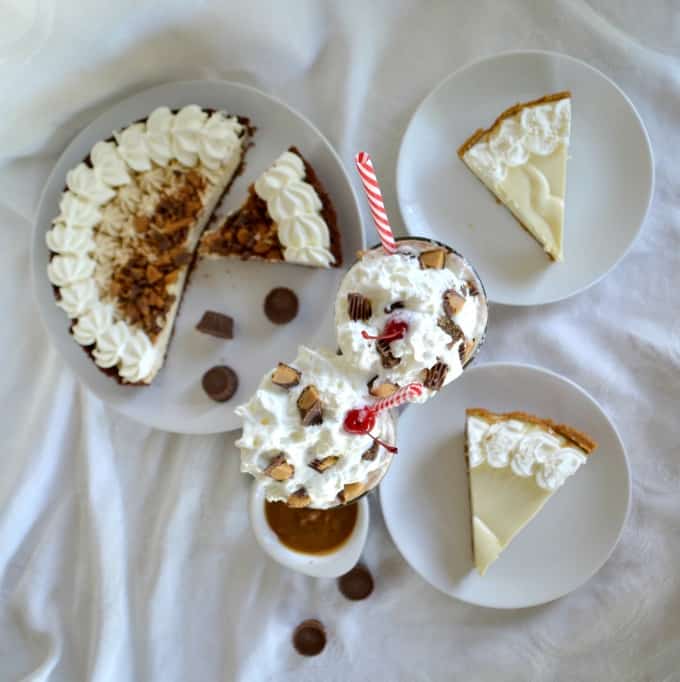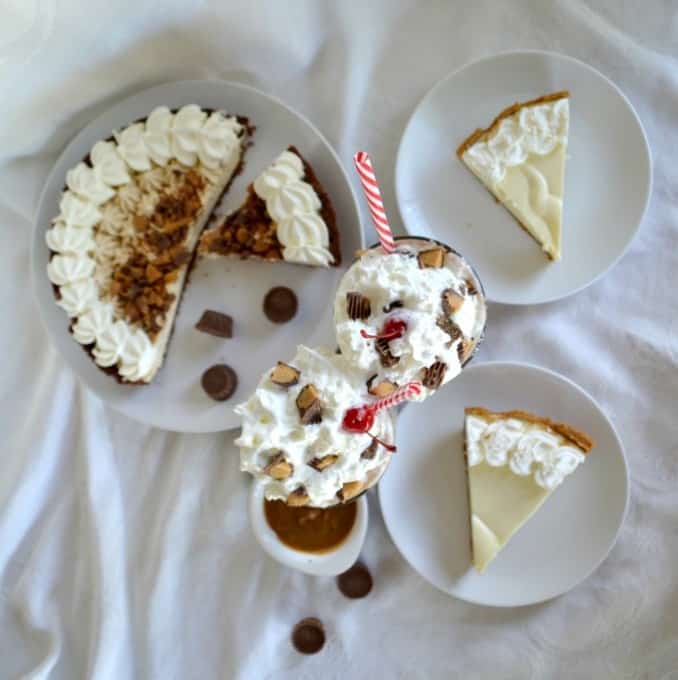 The best thing is, you don't need a reason to buy a whole pie. You can serve one to celebrate your family, a good deed done for the neighbors, a really good catch in the baseball game, a big accomplishment, finishing that summer reading list, swimming underwater for the first time, or "just because".
Bringing the family together and celebrating one another while enjoying some pie is what it's all about!
SIGN UP FOR THE WEEKLY
365 DAYS OF BAKING & MORE
WEEKLY NEWSLETTER BELOW!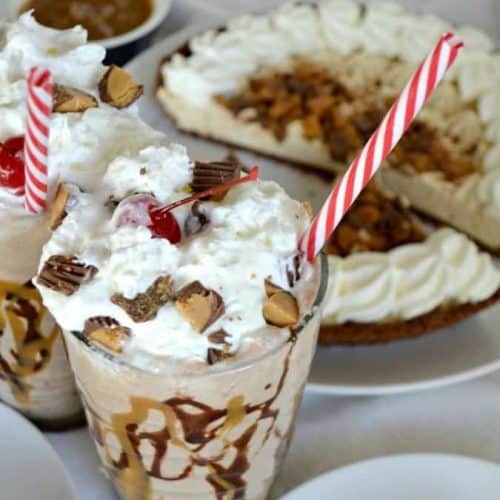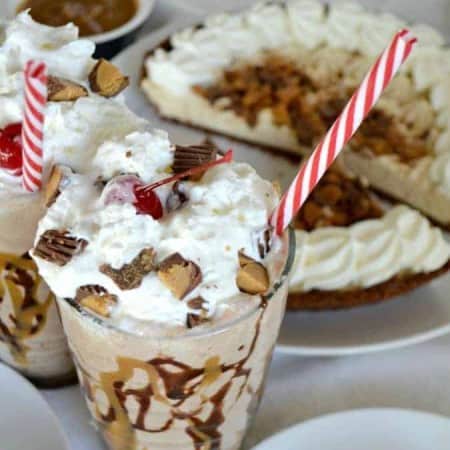 Reese's Peanut Butter Creme Pie Shake
Ingredients
Peanut Butter Sauce
¼ cup creamy peanut butter
2 tablespoons heavy whipping cream
2 tablespoons light Karo syrup
1 tablespoon unsalted butter
Pie Shake
2 slices EDWARDS® REESE'S PEANUT BUTTER CUP® Crème Pie
3 cups vanilla ice cream
¼ cup milk plus more if needed
2 tablespoons Peanut Butter Sauce plus additional for garnishing the glass
2 tablespoons chocolate syrup plus additional for garnishing the glass
Whipped Cream
Maraschino Cherries
Chopped Reese's Peanut Butter Cups I used about 4 of the minis
Instructions
Peanut Butter Sauce
In a medium microwavable bowl, combine all of the ingredients for the peanut butter sauce.

Heat for 30 seconds and stir until smooth.

Will yield 1/2 cup sauce. Refrigerate any unused portion in a tightly sealed container and heat for 10 seconds in the microwave to soften. Will be fresh for 5 days.
Pie Shake
Remove the EDWARDS® REESE'S PEANUT BUTTER CUP® Crème Pie from its' carton and slice into six even slices.

In a blender, place two of the pie slices, ice cream, milk, peanut butter sauce and chocolate syrup.

Blend until smooth.

Decorate serving glasses with peanut butter sauce and chocolate syrup.

Pour shake into glasses, top with whipped cream, chopped Reese's Peanut Butter Cups, a maraschino cherry and serve.

*If shake is too thick, add more milk by the tablespoon.
Did you make this recipe?
Share it with me on Instagram and make sure to follow me on Pinterest for more recipes.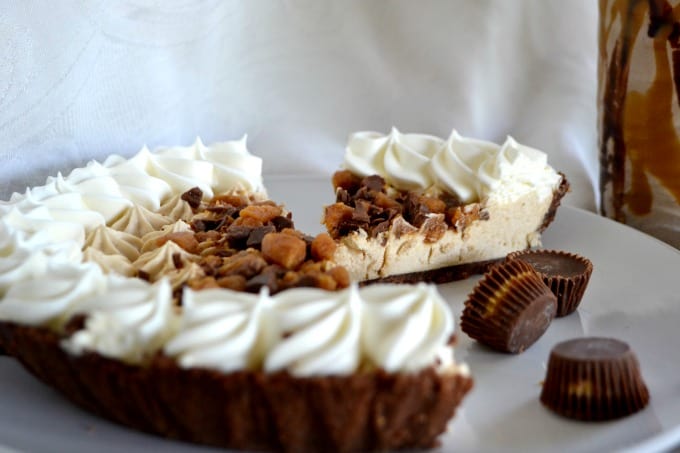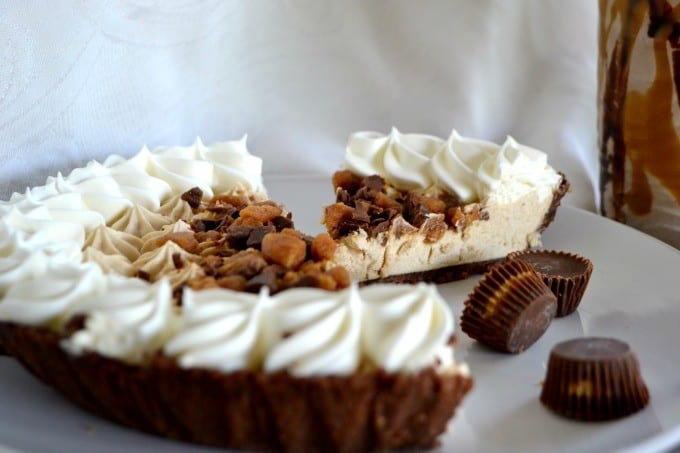 I rate everything I make on a scale of 1 – 4 with 4 being the best and this EDWARDS® REESE'S PEANUT BUTTER CUP® Crème Pie Shake earned 4 rolling pins!!!
Oh. My. Gosh was it good!
The addition of the peanut butter sauce and chocolate really brought out those flavors and I could taste the little bits of crust with every sip.
We all know summer calls for cold drinks! So why not give these ones a go…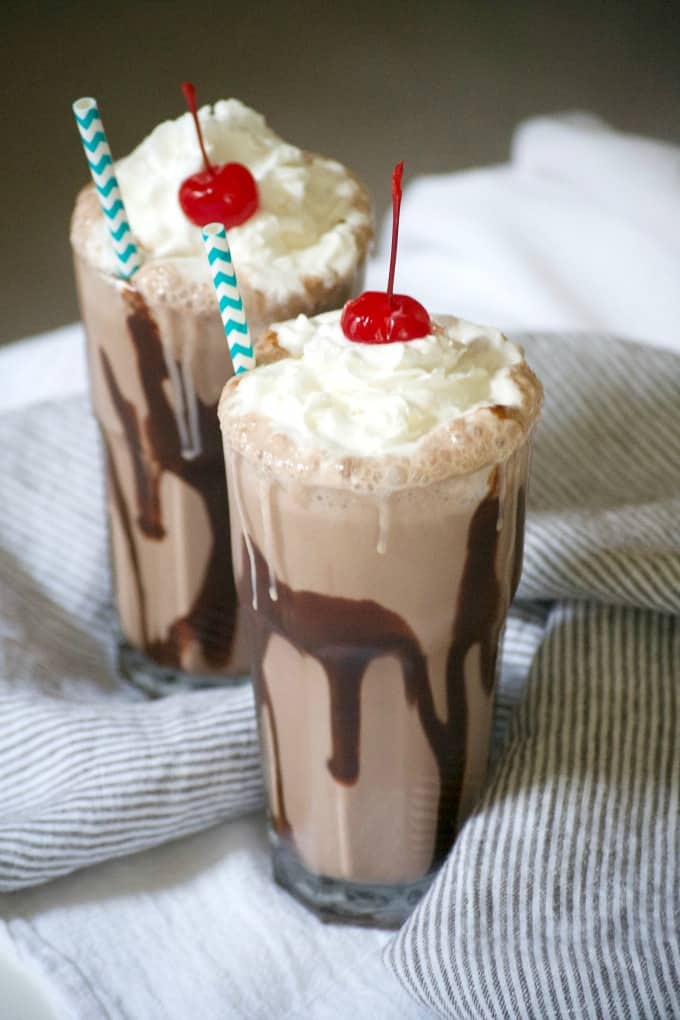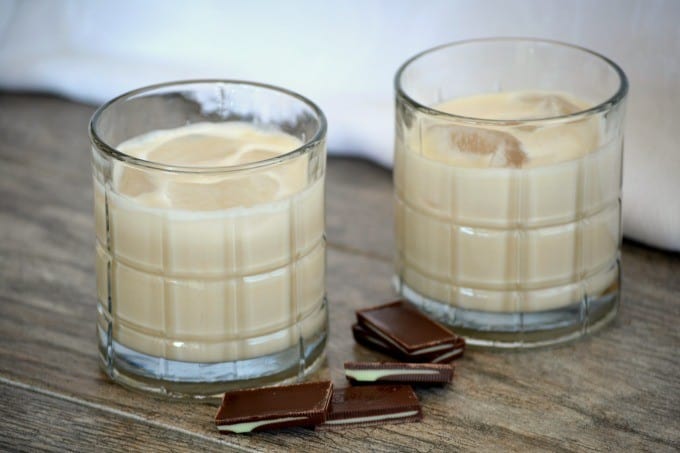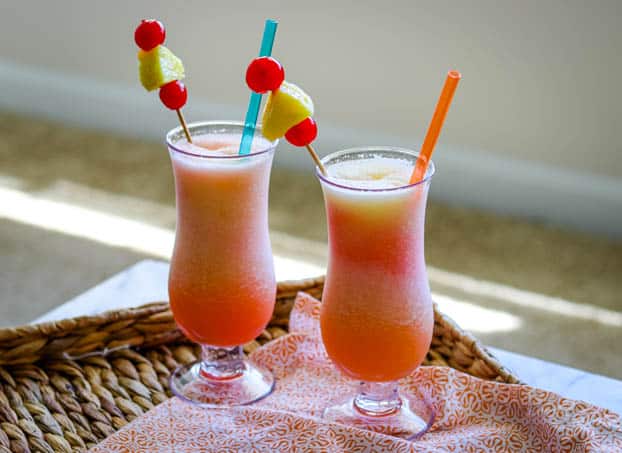 It is definitely our new treat for summer! I think a Key Lime Pie shake would be just as tasty, but don't add the peanut butter sauce or chocolate syrup to it. 😉 Be sure to top yours with whipped cream and cherries as well to give them that little extra oomph and make it extra special.
Enjoy them!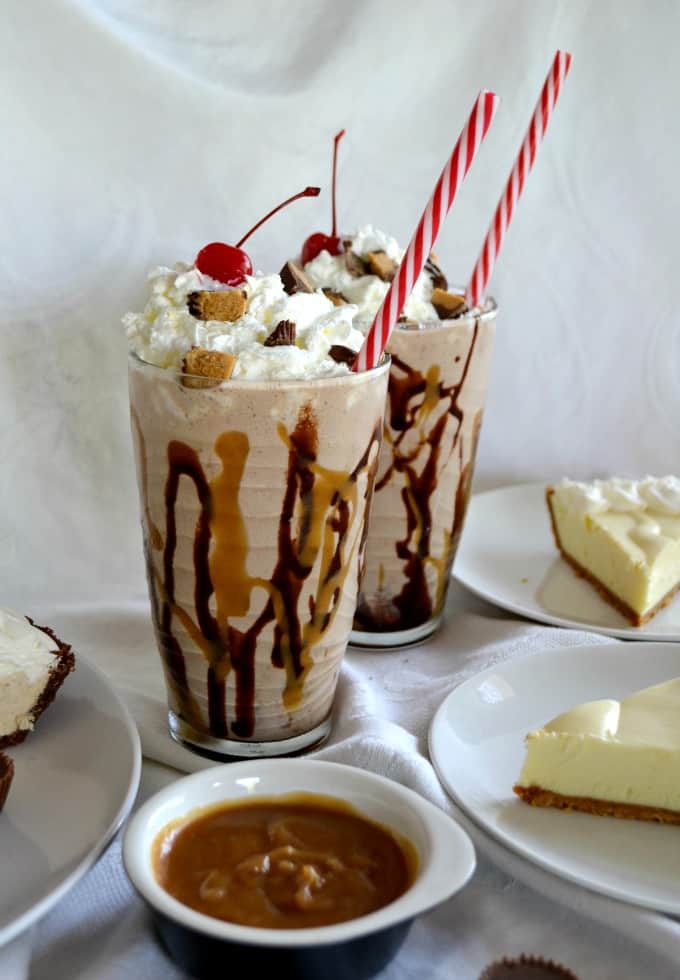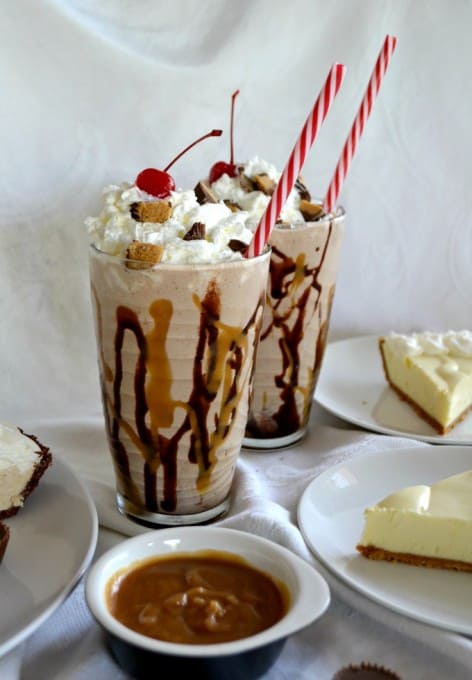 Reader Interactions