Yellow Cake with Chocolate Buttercream – a made from scratch, yellow cake with a homemade chocolate buttercream frosting is all you need to enjoy something simple, yet delicious. It's the perfect cake for any celebration or just because.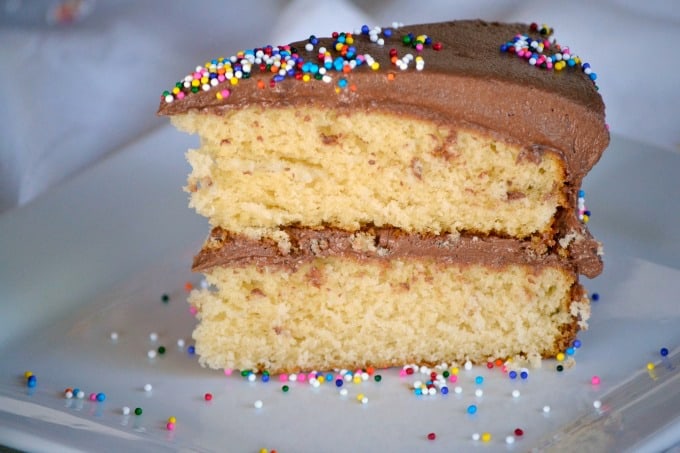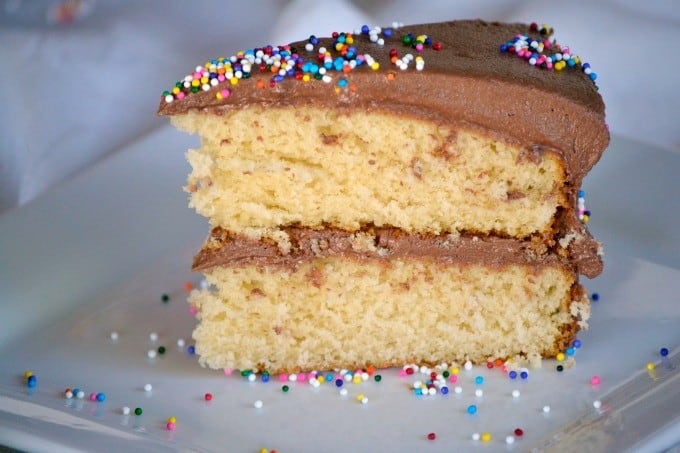 Everything has negative calories on your birthday, right?
Or at least it darn well should!
I mean wouldn't it be nice to be able to celebrate guilt-free? But then again, just think how much we'd probably eat on our birthdays. I know for me, I might just lack a bit of restraint and overeat.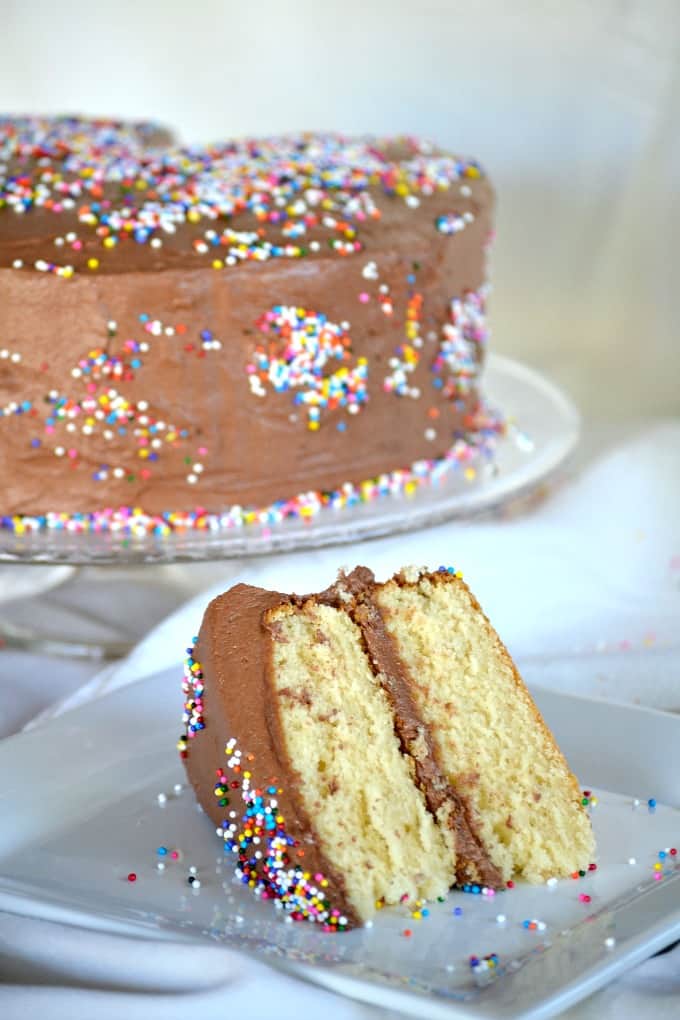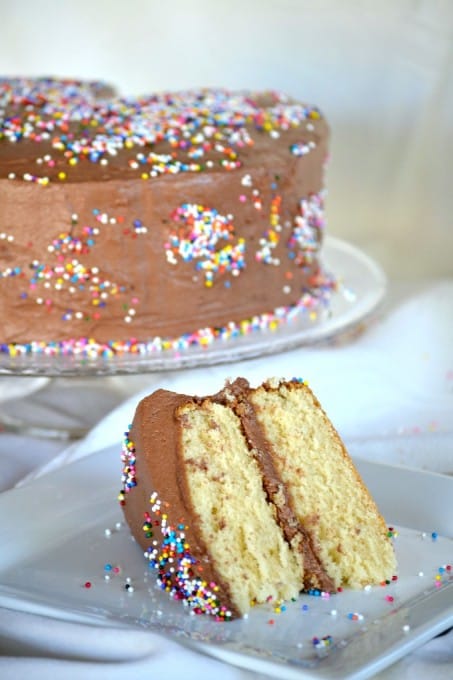 So, yesterday was my birthday. July 3rd. It was fun. I received lots of messages and wishes from both followers and personal friends on Facebook, spent time with the family. And, made myself a cake because I wanted to post about it, and also cleaned up sprinkles all. over. the. floor.
You can view it here on my Instagram.
Growing up I always had a Carvel ice cream cake and while I still like those very, very much, I was really in the mood for a yellow cake with chocolate buttercream, so I made one!
If you like this cake then you'll LOVE…
I really wanted to put all of those pretty sprinkles all over the cake, but when I watched the video on how to do the sides, I was already too far into the decorating. I seriously didn't want to take it off the cake stand and roll it in the sprinkles, so I improvised and think it turned out just fine.
This is one of only a handful of cakes here on 365. I don't do many, but am thinking I need to change that, so be on the lookout for some more.
SAVE THIS BIRTHDAY CAKE RECIPE TO YOUR FAVORITE PINTEREST BOARD!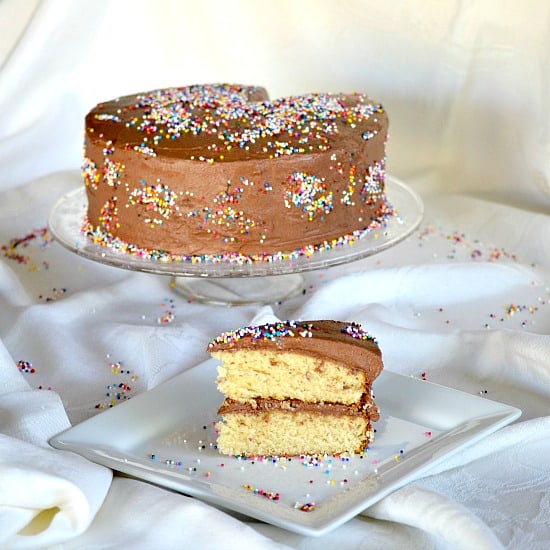 I went to Miss Amanda's site, I Am Baker, and used her recipe. If you aren't familiar with her site, please visit her and give her a virtual hug for me.
She has fantastic recipes, makes incredible desserts and has great tutorial videos. I know you'll fall in love.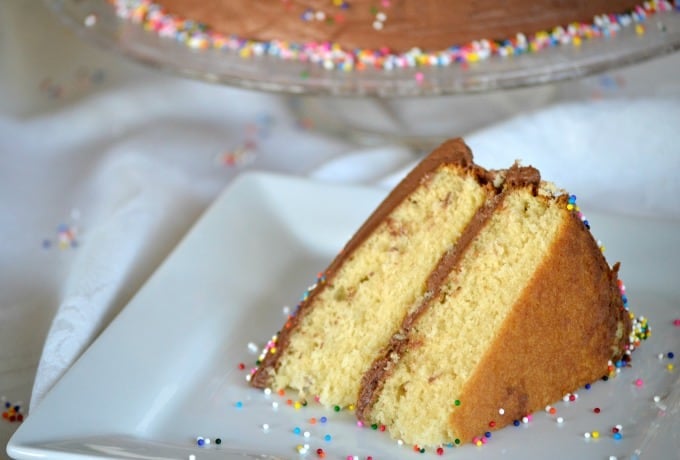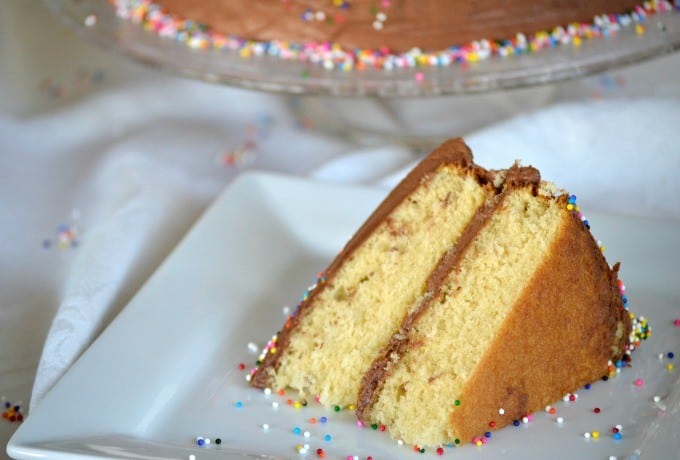 I doubled this recipe for the chocolate buttercream. Please make sure to double it, using four cups of confectioners' sugar, 1/2 cup shortening, etc. or you will find mid-way through decorating that you won't have enough and I certainly wouldn't want that to happen!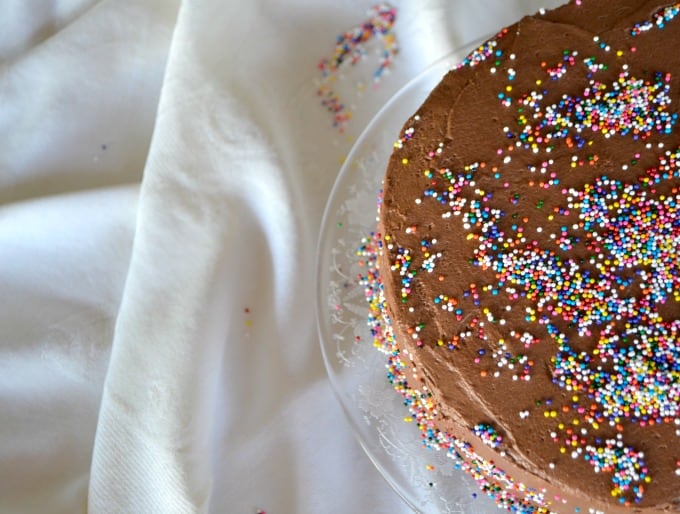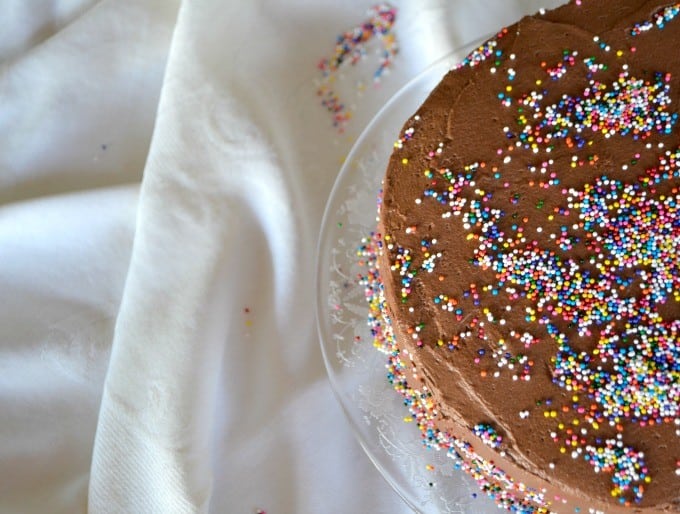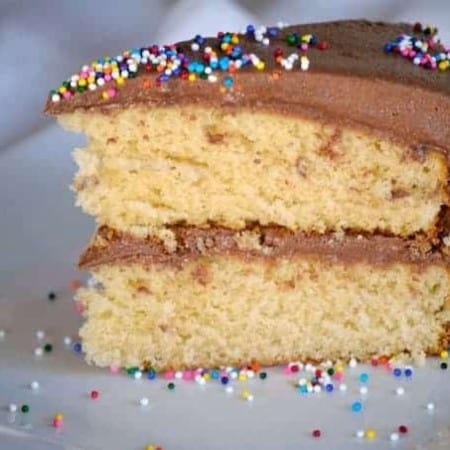 Yellow Cake with Chocolate Buttercream
Ingredients
Yellow Cake
2 ¼ cups all-purpose flour
1 ½ cups granulated sugar
3 ½ tsp baking powder
1 tsp salt
½ cup 1 stick unsalted butter, room temperature
1 ¼ cups milk
2 tablespoons canola oil
1 tbsp pure vanilla extract
3 large eggs
Chocolate Buttercream recipe doubled
Instructions
Yellow Cake
Preheat oven to 350 degrees F.

Prepare two 9-inch round baking pans by greasing them with butter and lightly flouring.

In a medium bowl, whisk together the flour, sugar, baking powder, and salt.

In a mixing bowl, cream the butter for 1 - 2 minutes, until light and fluffy.

In two batches, add the dry ingredients and mix until combined.

Pour in the milk, canola oil, vanilla and add the eggs.

Mix on medium-high for one minute until well combined.

Pour into prepared baking pans and bake for 20 - 25 minutes or until a toothpick inserted into the middle comes out clean.

Allow cakes to cool completely before frosting.
Did you make this recipe?
Share it with me on Instagram and make sure to follow me on Pinterest for more recipes.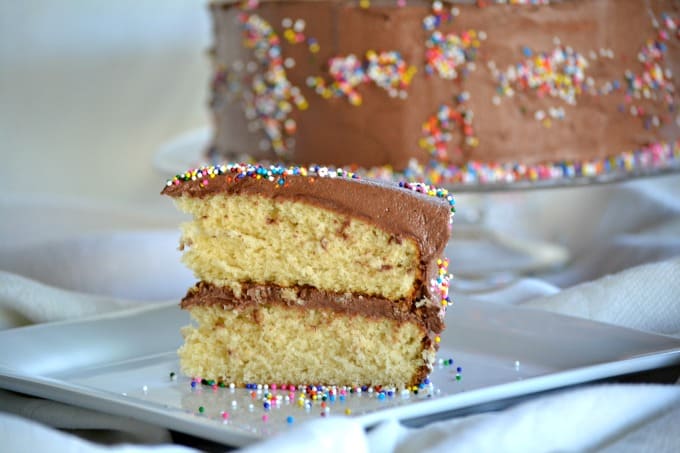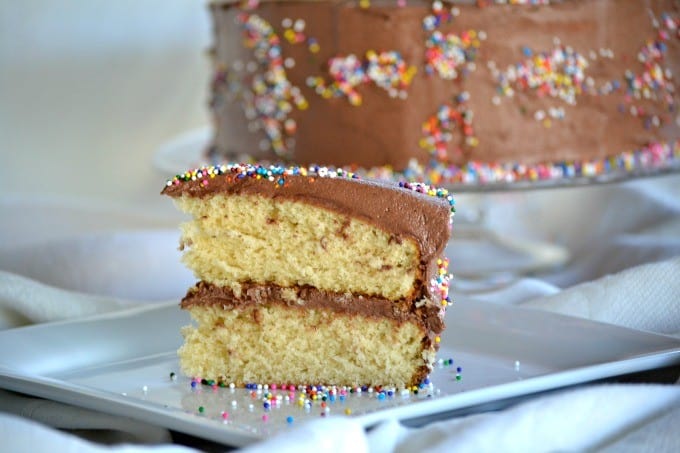 I rate everything I make on a scale of 1 – 4 with 4 being the best and this Yellow Cake with Chocolate Buttercream earned 4 rolling pins. It was delicious. It wasn't too sweet, was wonderfully moist and was perfect for my birthday celebration!
Here are some other tasty cake recipes for your next big event!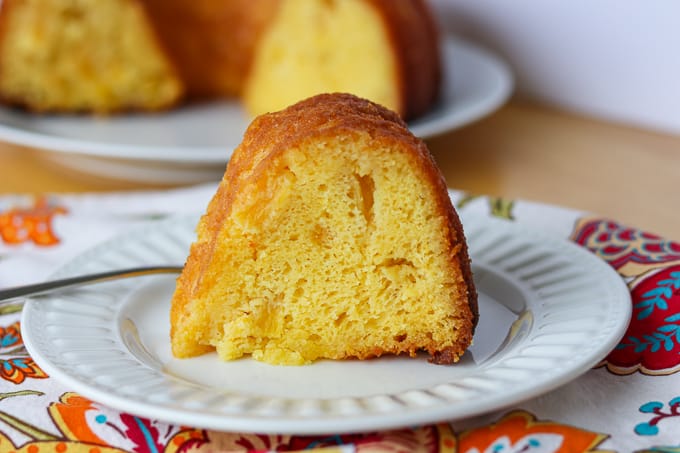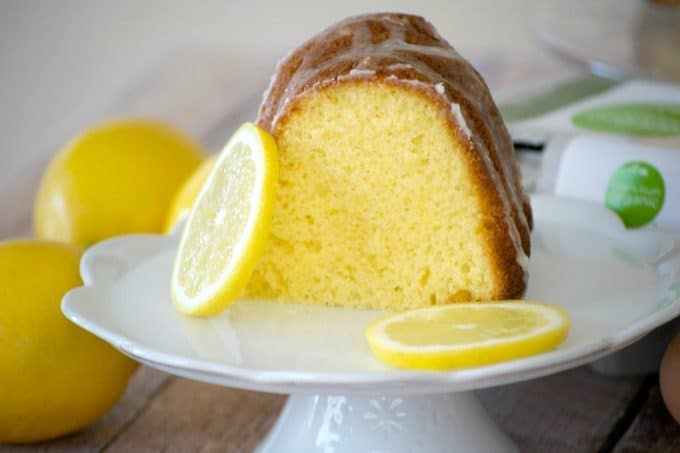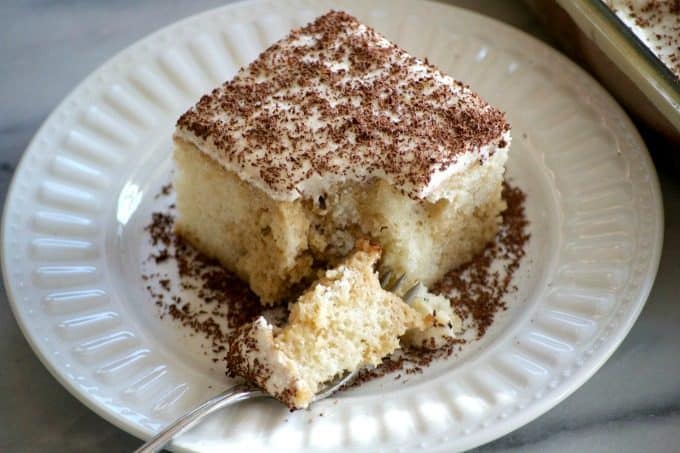 Many thanks to Miss Amanda for creating such a fantastic cake. Oh, yeah and besides the mess of sprinkles I had in the dining room…this happened.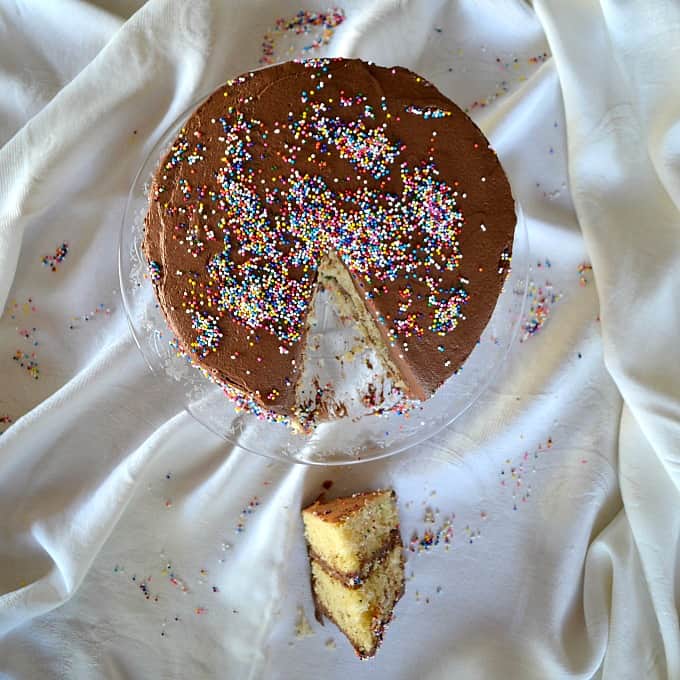 I was attempting to put the piece of cake back into the cake when it decided to do a back flip and land on the tablecloth. It looked so lonely and dejected sitting there, so I just had to take a picture.
Reader Interactions