The 4th of July is almost here! Eek! I'm so excited for the 4th this year, because lots of my family members are coming to visit. It's going to be a big party, all weekend.
So, of course I've already started planning out the menu. Because that's what I do. 🙂  Remember me? Leia, from Eat It & Say Yum. I shared my Pineapple Soak Cake recipe with you guys a couple weeks ago. Today I'm sharing my Patriotic Jello Dessert recipe.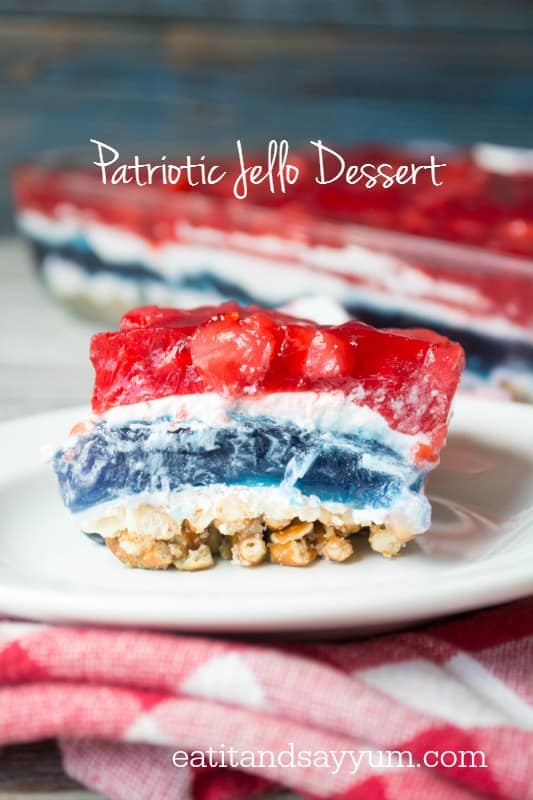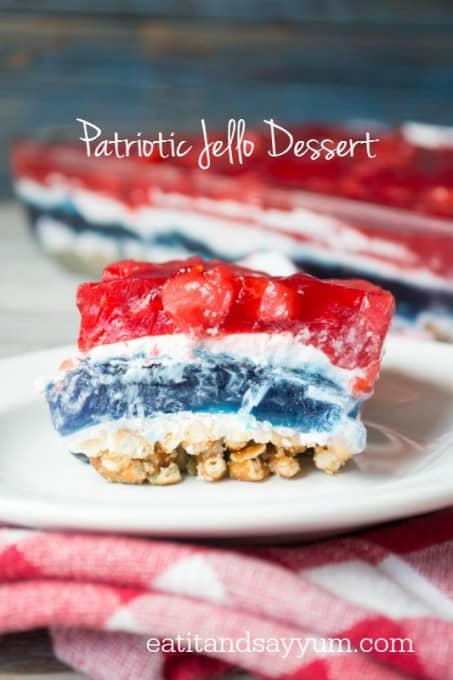 And this Patriotic Jello Dessert would be perfect! Not only is it fun, with the red, white and blue layers. It's great to make the day ahead and have ready to go when needed. So you're not wasting time in the kitchen when you could be playing with family and friends.
This dessert starts with  a layer of pretzel crust on the bottom. I top that with a thin layer of the cream cheese filling, just so the blueberry jello doesn't seep through the pretzels. Then I use the rest of the cream cheese filling, and top that with the strawberry layer.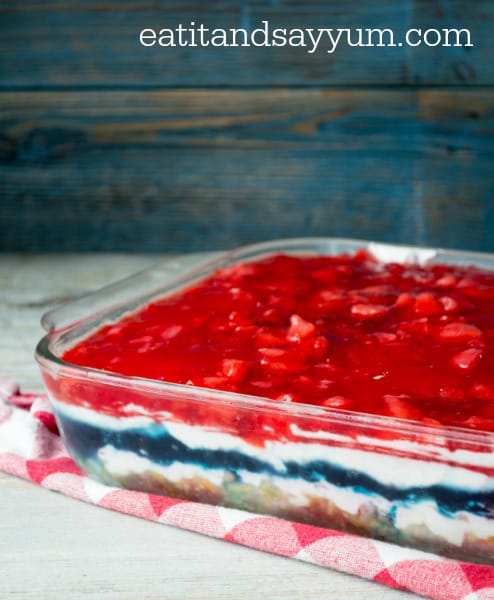 It makes for a super fun, and festive, Patriotic dessert.
Allow yourself plenty of time to chill each layer, to prevent them from mixing together. The whole point of this dessert is to see those separate colors.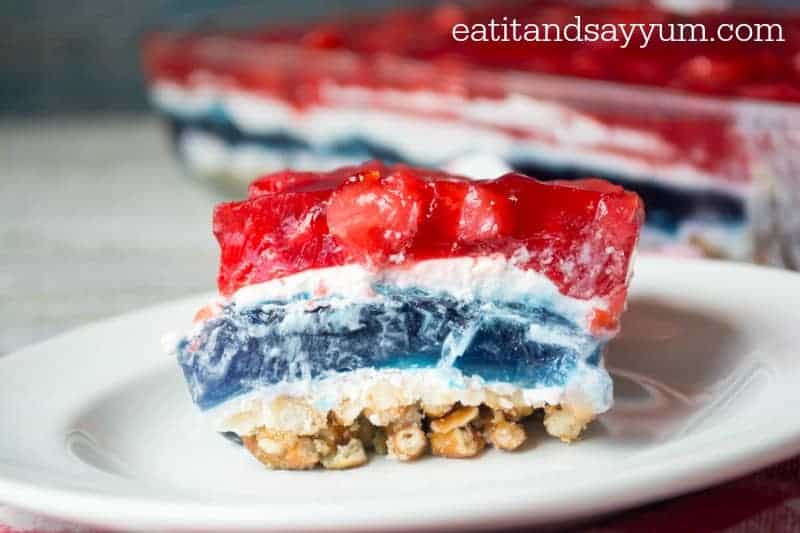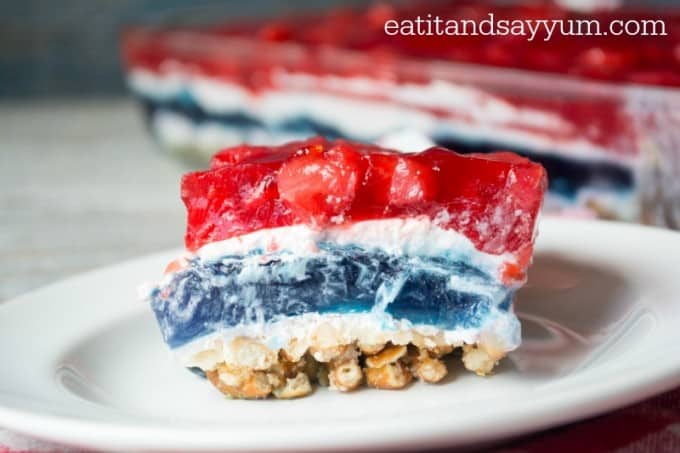 What's your favorite food to eat on the 4th of July? You might also like my Patriotic Ice Cream Sandwiches, or a fantastic French Apple Pie!
Happy July 4th, everyone! 🙂
~FOLLOW LEIA~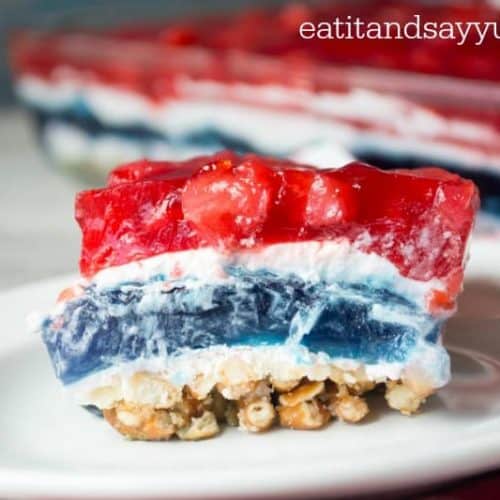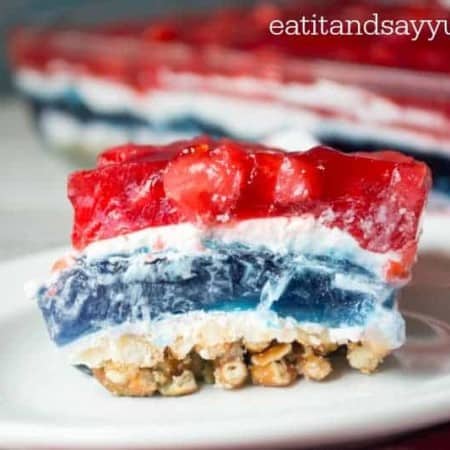 Ingredients
2 cups crushed pretzels
6 Tbs butter- melted
½ cup sugar- divided
12 oz cream cheese- at room temperature
2-3 Tbs milk
3 cups cool whip- thawed
2 cups boiling water- divided
1 ½ cups cold water- divided
2 cups sliced strawberries
1 cup blueberries- frozen works great
1 box of blue jello- the 4 serving size
1 box strawberry jello- the 4 serving size
Instructions
Crush the pretzels, then mix with the butter and 1/4 cup of the sugar. Press into a greased 9x13 pan. Bake at 350 for 10 minutes, then let cool completely.

Mix the blue jello with one cup of the boiling water, stir. Add 3/4 cup of the cold water and stir. Add the blueberries and set in fridge until ready to use.

Repeat step 2, but with the strawberry jello, and sliced strawberries. Leave on counter until ready to use.

Beat the cream cheese with the remaining 1/4 cup sugar. Slowly add the milk and fold in the cool whip. Spread about 1/3 of the cream cheese mixture over the pretzel crust, gently so you don't break up the crust too much. Pour the blue jello mixture over the cream cheese layer. Let sit in fridge until set. Then spread the remaining cream cheese over the blue jello. Carefully pour the red jello over top. Set in fridge until firmed up, and ready to serve.
Did you make this recipe?
Share it with me on Instagram and make sure to follow me on Pinterest for more recipes.
Thanks so much, Leia for this weeks recipe! It's always wonderful to celebrate the 4th of July with family and friends and eating patriotic desserts make it that much more fun!
Be sure to check back in a few weeks to see what Leia has made for us!
I give you BIG baking hugs and muffins!!
More recipes from Eat It & Say Yum: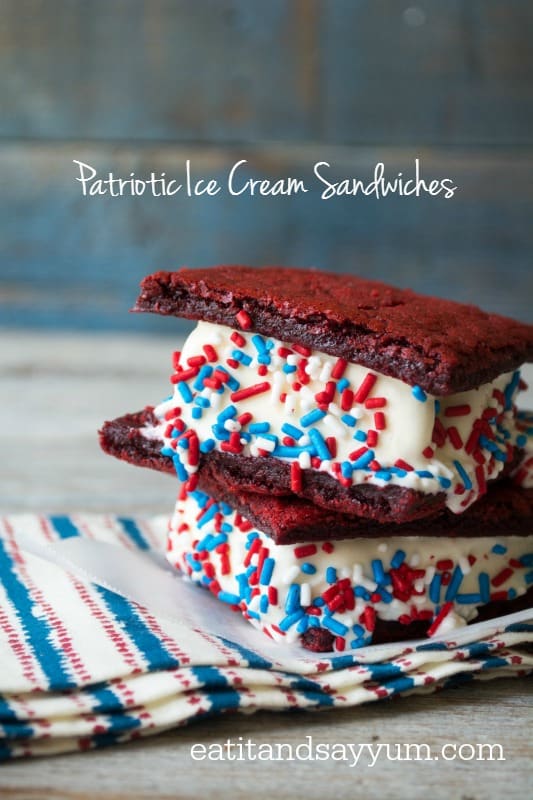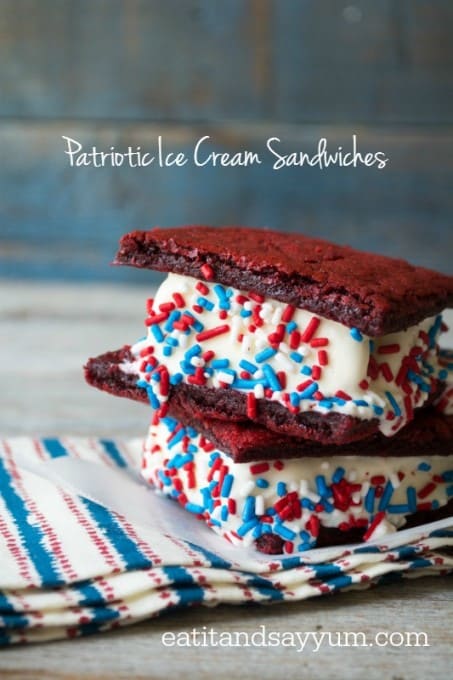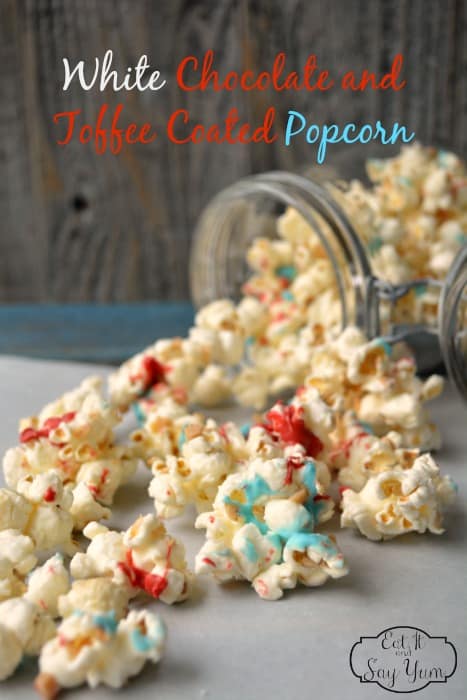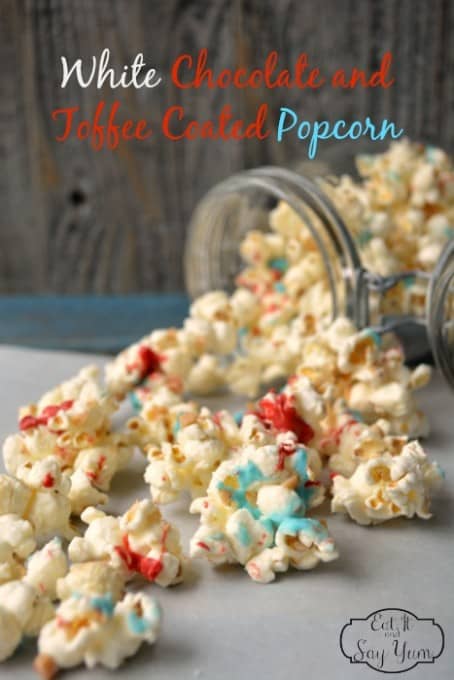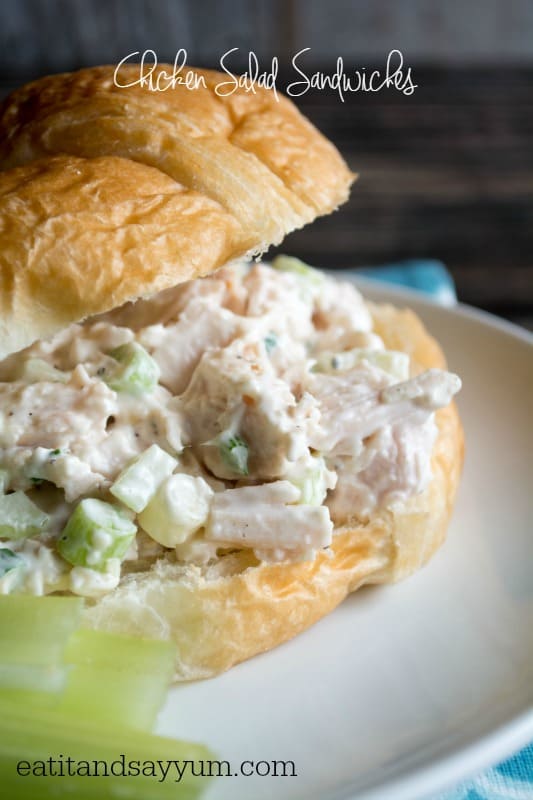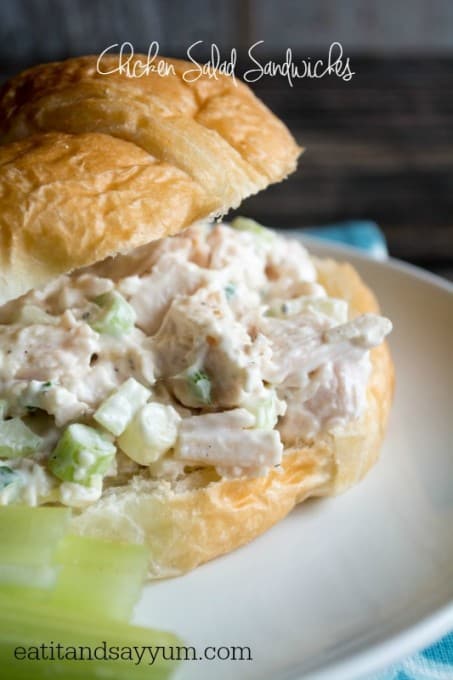 Reader Interactions