20-Minute Chili Casserole – with canned tomatoes and canned chili from your well-stocked "Cantry" plus two other ingredients, you can have a tasty dinner on the table in less than a half an hour!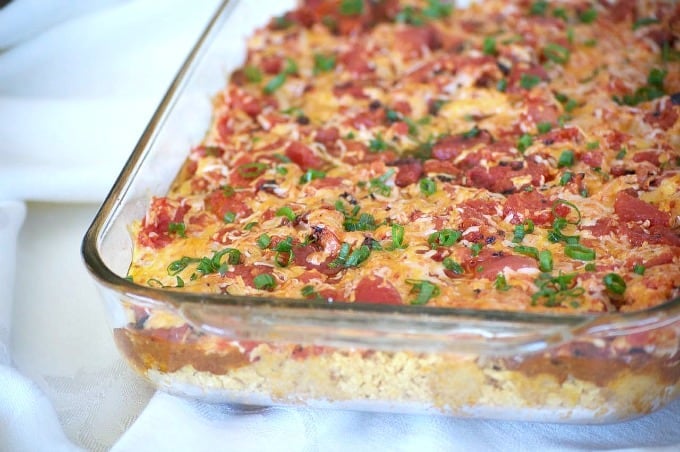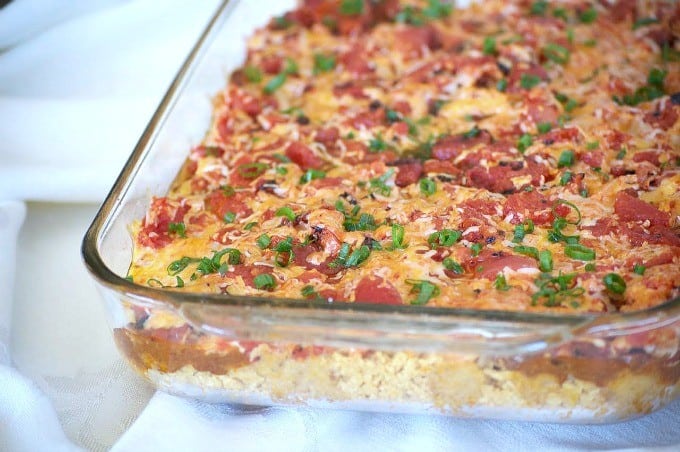 There are nights I just don't want to make dinner.
I know I'm not the only one who feels that way, right?
There are days we're busy working, shuttling the kids around to their activities, appointments, play dates, shopping and everything else in between.

Now summer's here and school's out, so you'd think that our schedules would settle down a bit, right? Well, that's certainly not the case at our house and we seem to be just as busy as ever!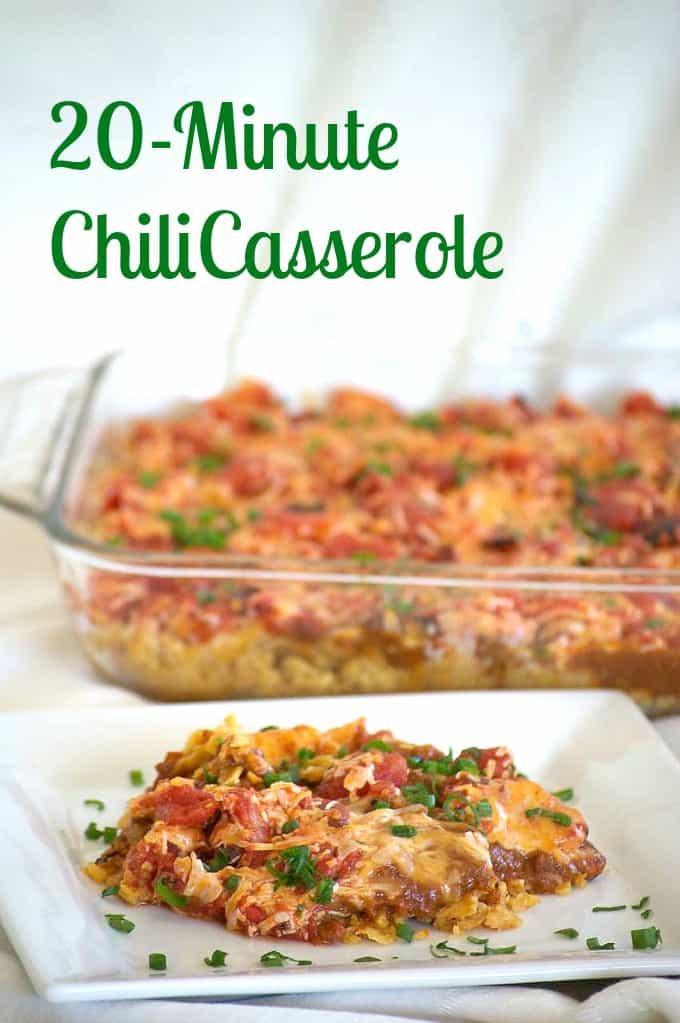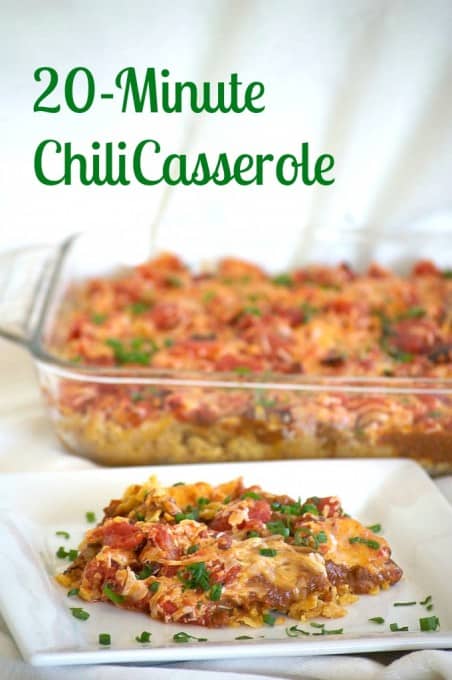 I don't know about you, but I often find myself staring blankly into the fridge, wondering what ingredients will jump out at me so that I can put dinner together. The same goes for the pantry.
SAVE THIS CHILI CASSEROLE TO YOUR FAVORITE PINTEREST BOARD!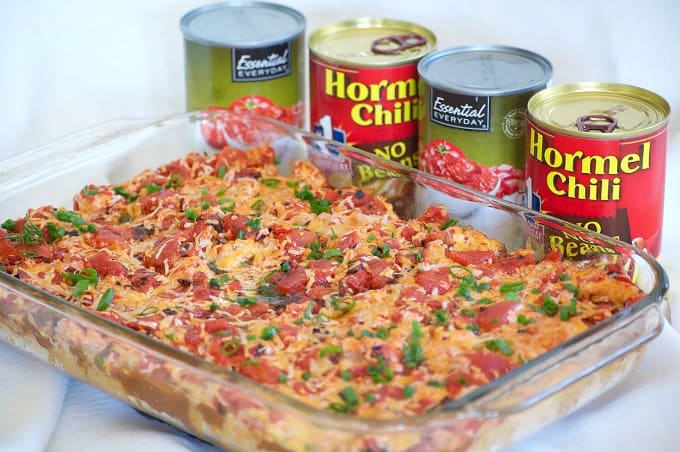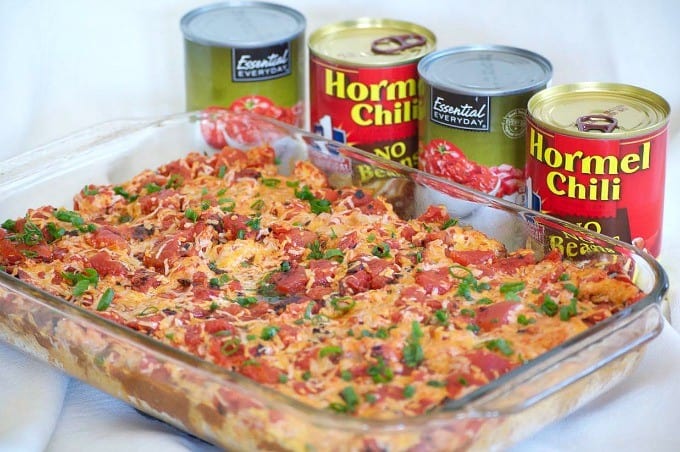 Wouldn't it be nice though if ingredients actually did jump out at us while saying, "pick me, pick me"? Ok, maybe not, but it sure would be helpful!

I think part of my problem is that because I'm too tired to make dinner I just can't decide what to make for dinner.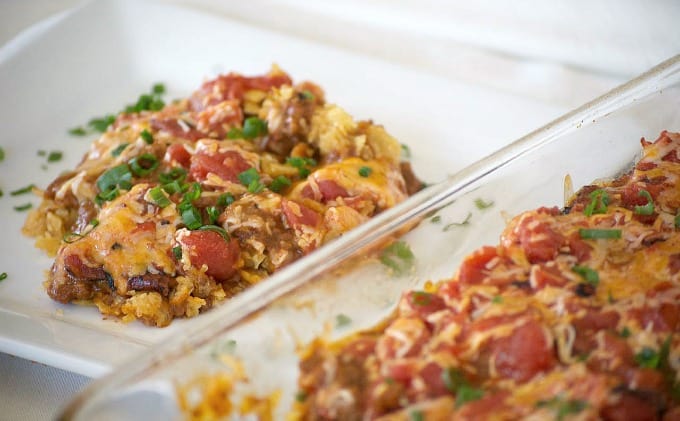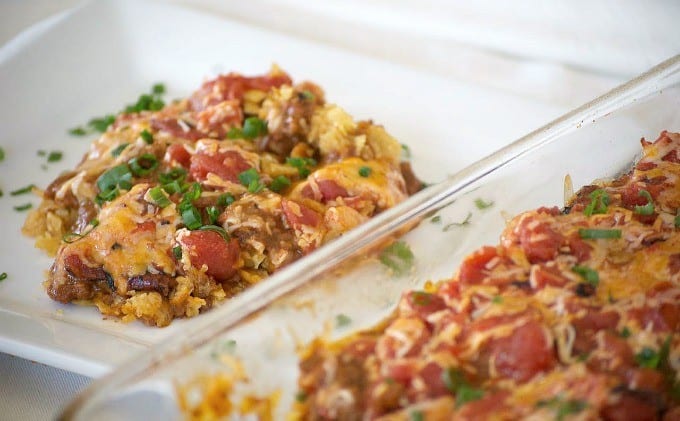 This is where a well-stocked pantry or cantry comes in handy. Having canned goods ready and waiting will not only help you make delicious and nutritious meals, but they'll also save you T-I-M-E.
Let's face it, who couldn't use a little more of that?

You'll also feel confident serving these meals to your family because you'll be providing them with vitamins and minerals using ingredients that have been picked at the farm then canned to lock in their freshness, AND you'll be saving money!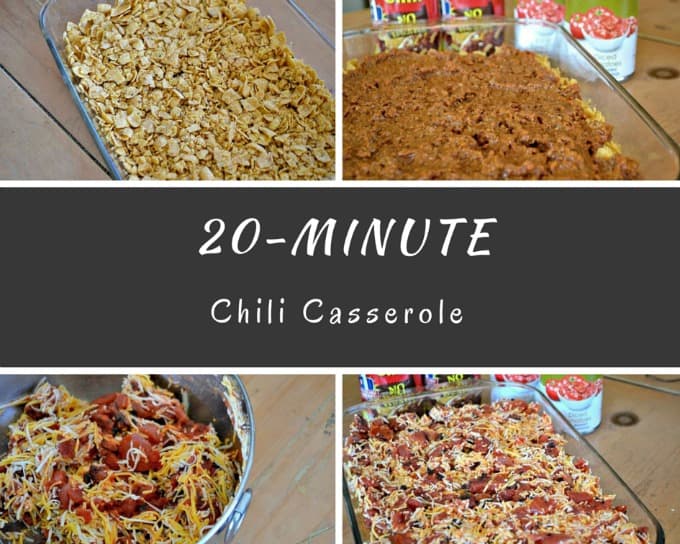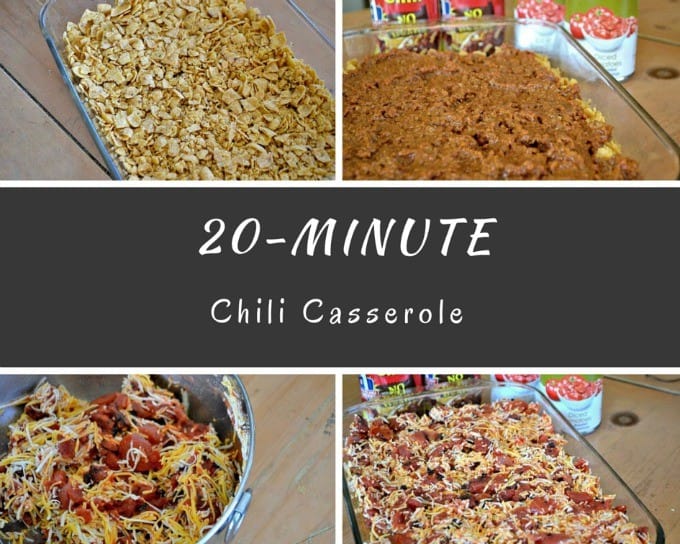 Many times I have just wanted to order out and be done with it, but at the same time, I certainly don't want to spend that extra money and really do want to serve my family a home-cooked meal. So, when I go to my local Albertsons, I know I'm going to be able to find a great selection of canned goods that will help me on those nights I'm faced with the dinner dilemma.
I used the Hormel No Bean Chili for this dish since our middle daughter doesn't like beans, but you feel free to use what you think your family will most enjoy.
SIGN UP FOR THE WEEKLY 365 DAYS OF BAKING & MORE
NEWSLETTER BELOW!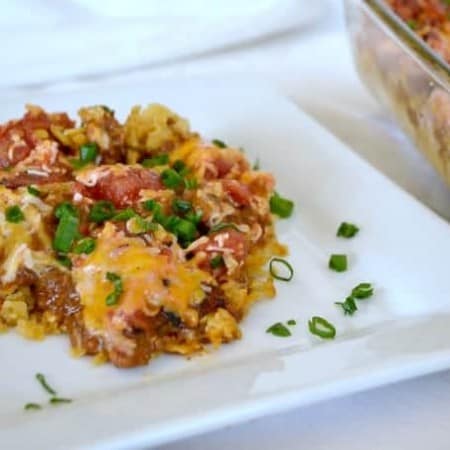 20 Minute Chili Casserole
Ingredients
1 10- ounce bag Fritos corn chips
2 15- ounce cans Hormel Chili
2 14.5- ounce cans fire roasted diced tomatoes drained
2 cups Mexican Style Four Cheese Blend
Green Onions diced for garnish, if desired
Instructions
Preheat oven to 350 degrees F.

Prepare a 9 X 13-inch baking dish by spraying it with cooking spray.

Crush the corn chips in the bag. They do not need to be fine crumbs. Pour into the bottom of the prepared baking dish.

Empty the cans of chili into a medium bowl and stir. Drop by large spoonfuls onto the corn chips and spread gently to cover.

In another medium bowl, mix together the drained tomatoes and cheese. Gently spread over the chili.

Bake for 15 minutes.

Serve with diced green onion, if desired.
Nutrition
Serving: 1serving
Did you make this recipe?
Share it with me on Instagram and make sure to follow me on Pinterest for more recipes.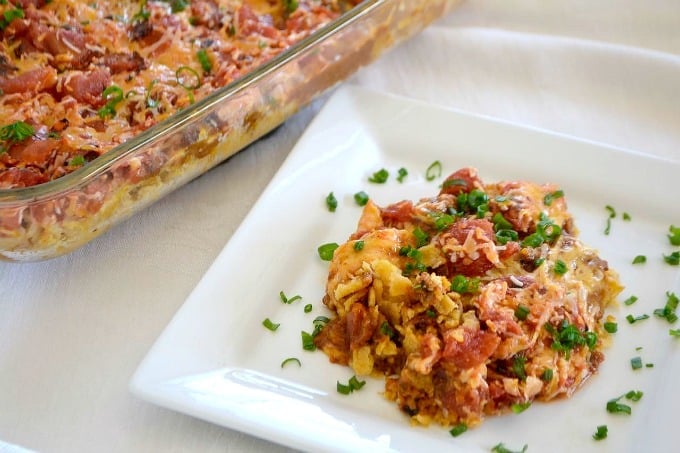 Be sure to visit Cans Get You Cooking where you'll be able to find recipes for those nights you're facing the dinner dilemma.
Tell me, what cans do you keep stocked in your cantry to make sure you don't run out!
In search of other recipes to make for dinner? Look no further than these…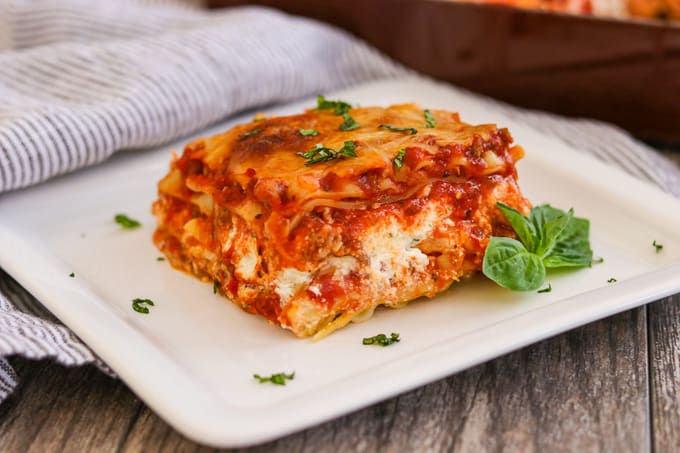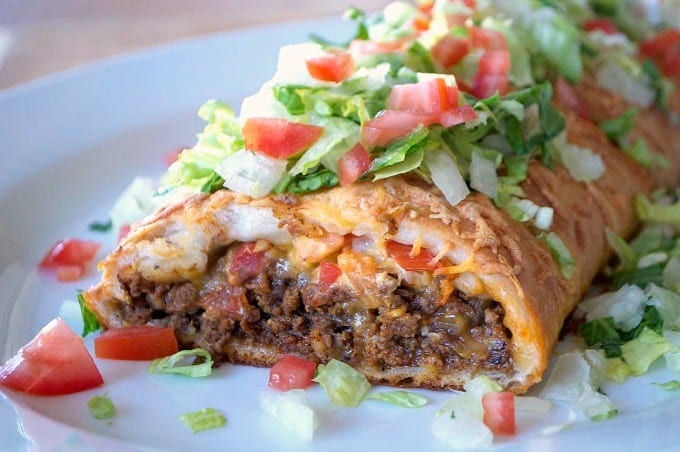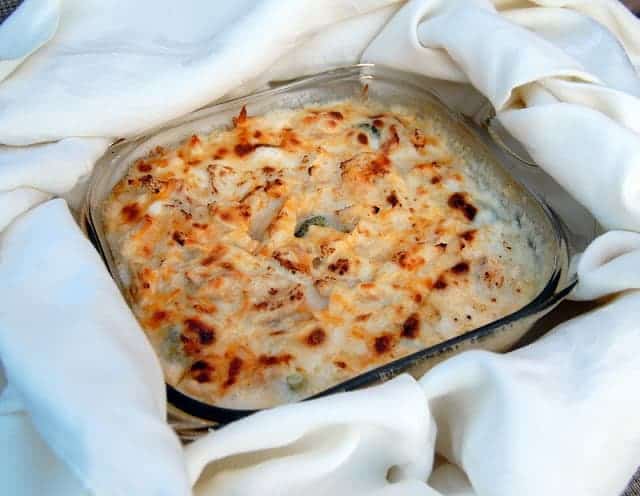 This is a sponsored conversation written by me on behalf of Albertsons & Safeway. The opinions and text are all mine.