Blood Orange Marmalade Scones – made from scratch scones with Golden Door Blood Orange Marmalade and fresh orange zest. These will be perfect with your morning coffee or your afternoon tea.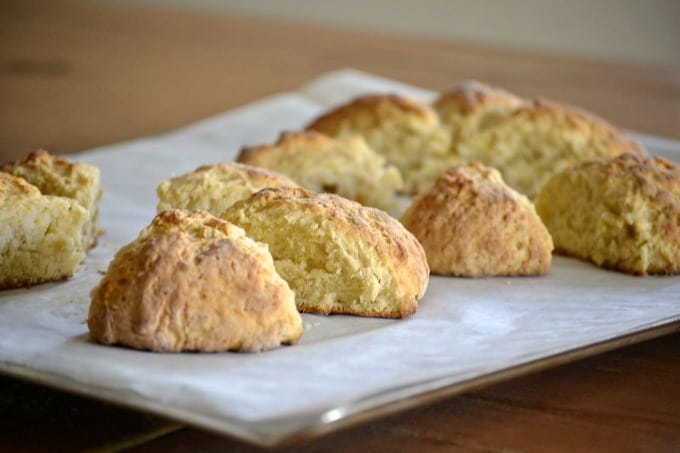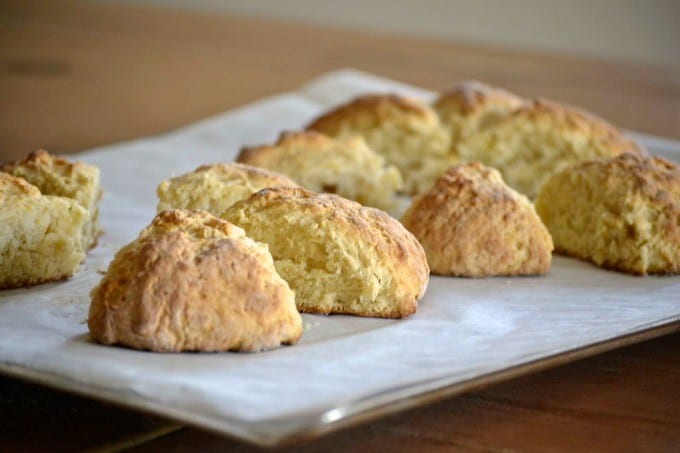 Two more weeks.
In two more weeks, I will be returning to one of my most favorite cities…Chicago.
I'll be returning home in a way. I went to elementary school in Lombard for a few years and then returned to live on the same college campus years later when my boyfriend (now husband) decided to become a chiropractor.
It was a little bizarre being there at two separate times in my life, but I have many fond memories from each.
SAVE THIS SCONE RECIPE TO YOUR FAVORITE PINTEREST BOARD!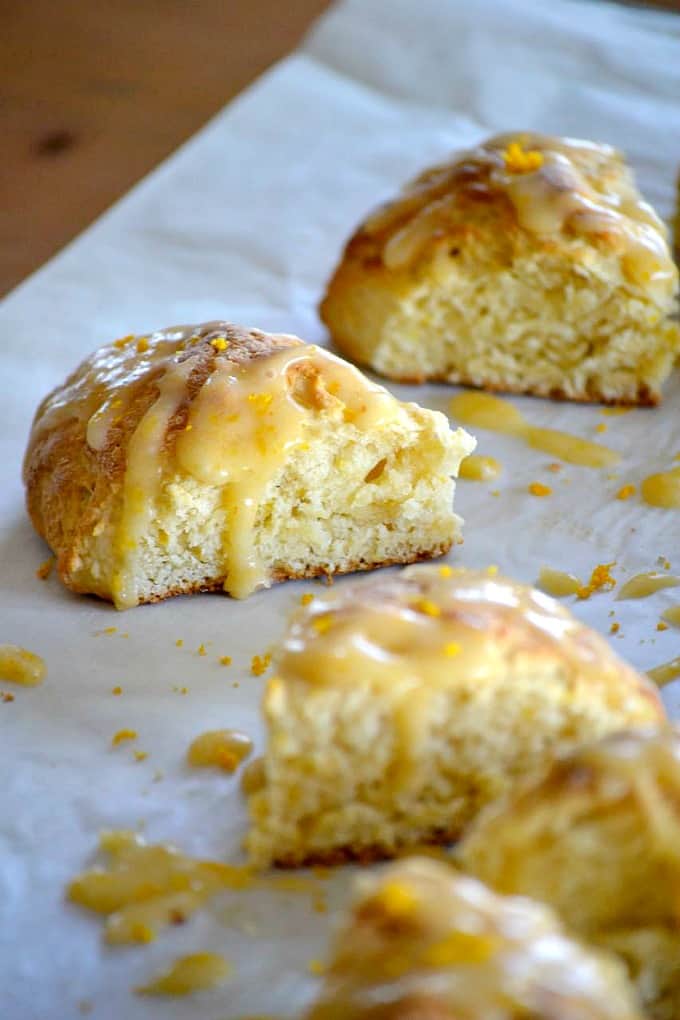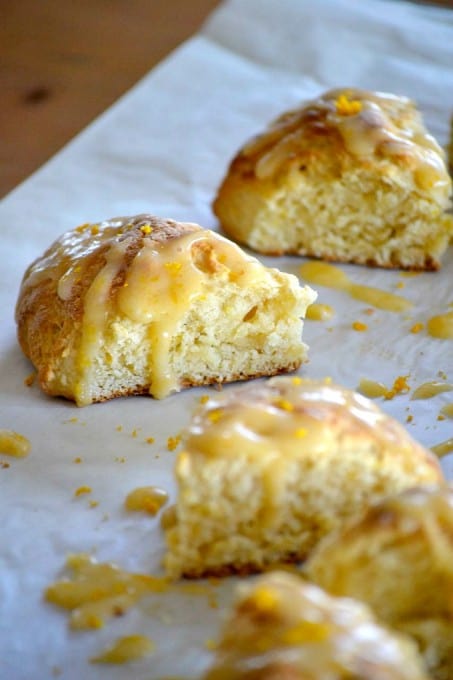 This time, I return to Chicago for pleasure business because I'll be attending Eat, Write, Retreat! It will be a weekend filled with connecting, learning, photographing and writing.
Going to a blogging conference is business, and while there is a fair amount of work to do, there is also a lot of fun involved. I'm excited to learn from others, pick their brains and build some really great relationships.
I'm most excited to meet up with some wonderful blogger friends, make new ones and finally meet ones I've spoken with so often virtually that it feels like we've been friends forever.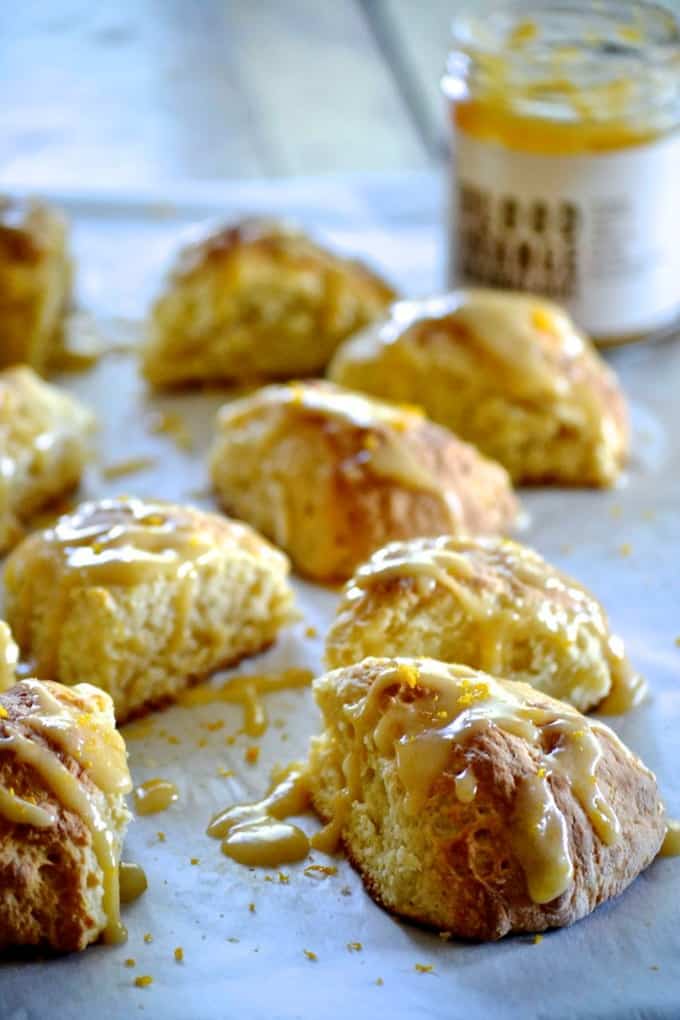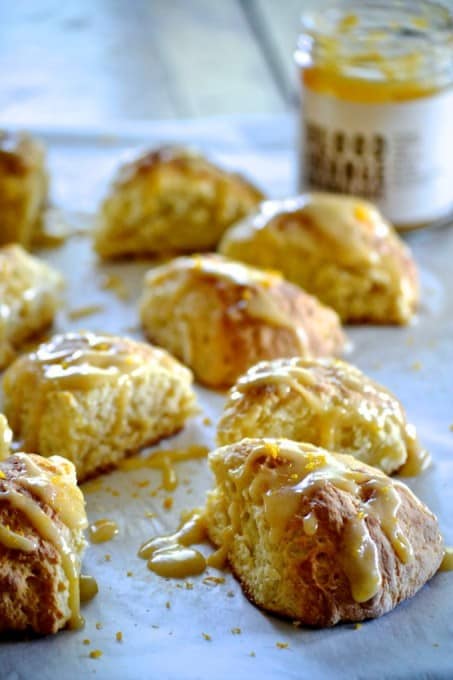 There's also another reason… to EAT. I'm a food blogger. I love to eat and I love food. Plain and simple.
I honestly can't WAIT to get my hands on some deep dish pizza. Just one slice with those tomatoes and cheese…and that crust. *sigh*
I have no idea where I'll be getting it yet, so if you have any places that you highly recommend, I'd love for you to leave me a comment!
One of the meals I'm really excited about is a lunch we'll be having hosted by Golden Door Executive Chef Greg Frey, Jr.
I'm excited to sample his spa cuisine and the dishes he creates with the Golden Door Artisan Food because I was able to sample a few of their products. It was a wonderful surprise to receive a box full of various soup mixes, marmalade, and preserves.
I immediately took to the Blood Orange Marmalade and knew it'd be a perfect ingredient in these scones.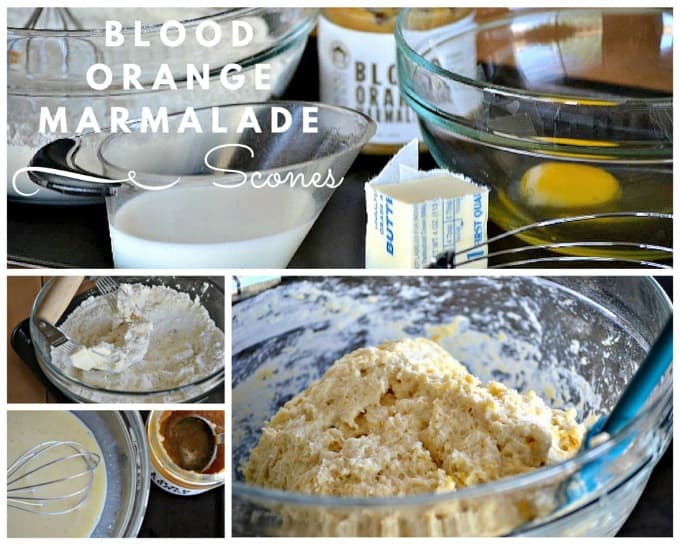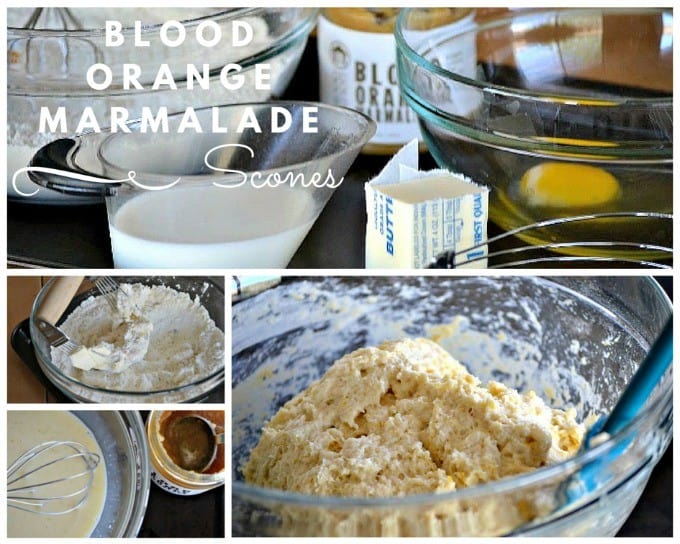 Not too sweet and with just the right amount of added orange zest, these scones will be a welcomed treat to any breakfast or brunch.
I used navel orange zest because after searching high and low around Phoenix for blood oranges, I came up empty. The growing season is December to May, but with the marmalade from Golden Door, you can make these any time of year.
You can bet I'll be making them over the holidays with some actual blood orange zest, but I'll have to buy me some more marmalade because I know that won't last until then!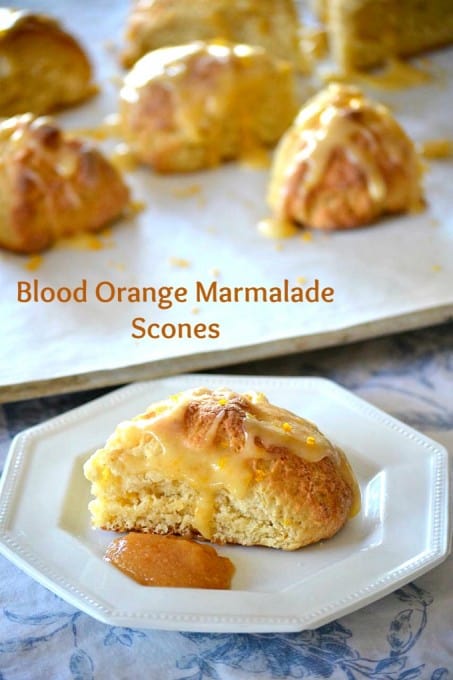 One day, I hope to vacation at the Golden Door. It looks so peaceful and might just be the perfect place for some "me" time and much-needed relaxation.
Hmmm… we do have a 25th wedding anniversary coming up in August… 😉

Blood Orange Marmalade Scones
Ingredients
2

cups

flour

2 1/2

tablespoons

sugar

3

tablespoons

Golden Door Blood Orange Marmalade

1

tablespoon

baking powder

1/4

teaspoon

salt

1

teaspoon

freshly grated Blood Orange Zest

or Navel Orange zest when Blood's are not in season

5

tablespoons

butter

1

egg

1/2

cup

milk
Blood Orange Glaze
2

teaspoons

salted butter

2

tablespoons

Golden Door Blood Orange Marmalade

1

teaspoon

freshly grated orange zest

as above

1

cup

confectioners' sugar
Instructions
Place a rack into the center of the oven and preheat to 400 degrees F.

Prepare a baking sheet by lining it with parchment.

In a large mixing bowl, whisk together the flour, sugar, orange zest, baking powder, and salt.

Cut butter into smaller pieces and with a pastry cutter, cut butter into the flour mixture until it resembles coarse meal.

In a small mixing bowl, whisk together the egg, milk and Blood Orange Marmalade.

Pour the mixture into the dry ingredients and stir until it just comes together. Then using a rubber spatula, knead and fold it together about 8 to 10 times.

Prepare a flat surface by dusting it with flour, and turn the dough out onto it.

Divide the dough in half and pat each into a circle approximately 5 inches in diameter. Transfer the disk of dough to the prepared baking sheet and cut it into 6 wedges. Cutting it before baking allows for easy separation, but keeping the wedges together during baking allows for the scones to be bit more moist than is typical.

Bake for 20 or until tops are lightly golden and firm. Transfer to a wire rack and allow to cool for 10 minutes while you prepare the glaze.

Glaze

In a medium microwavable bowl, place the Blood Orange Marmalade and butter.

Place bowl into the microwave and set on high for 30 seconds.

Whisk to incorporate.

Add the confectioner's sugar and whisk again to mix well, removing any lumps.

Drizzle over scones and serve.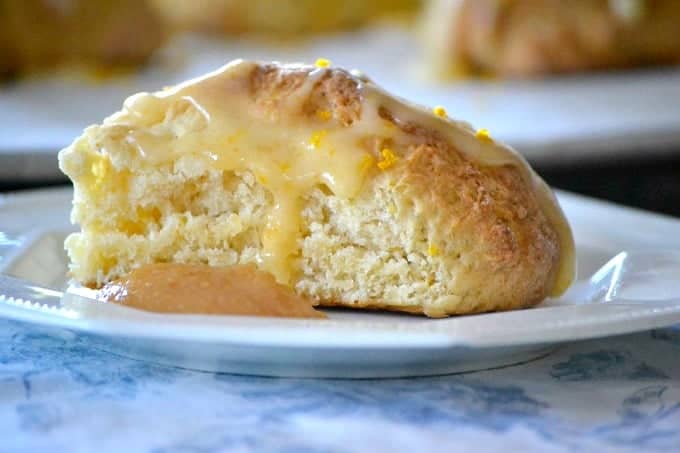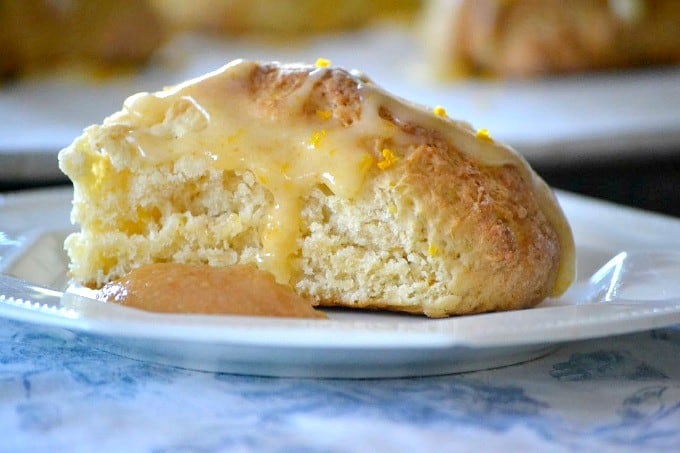 Serve them with additional Blood Orange Marmalade on the side and enjoy with family and friends on a relaxing weekend morning.
If you like this, then you'll LOVE…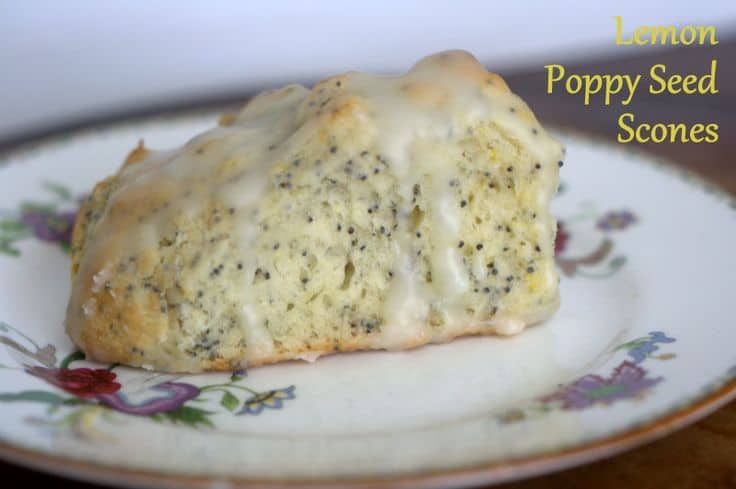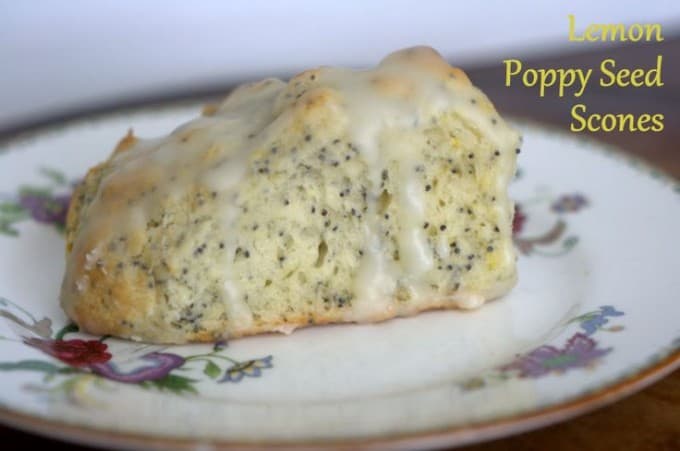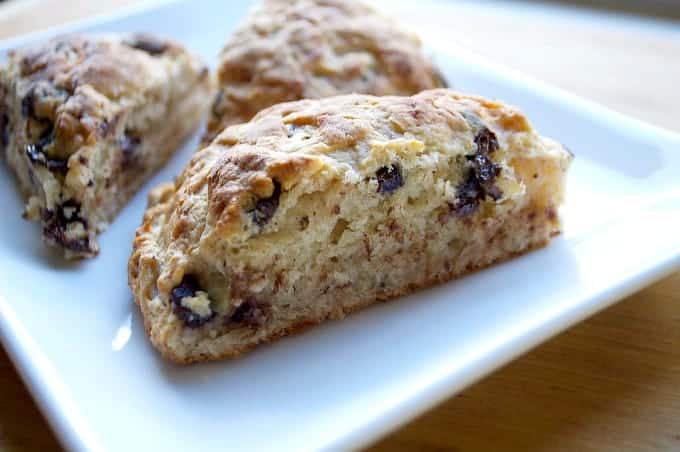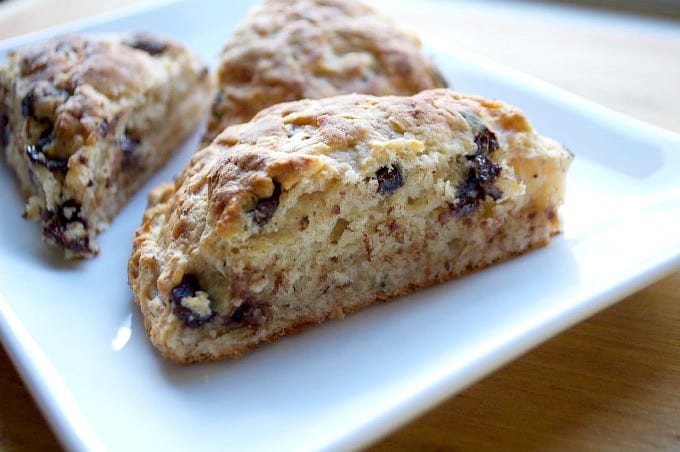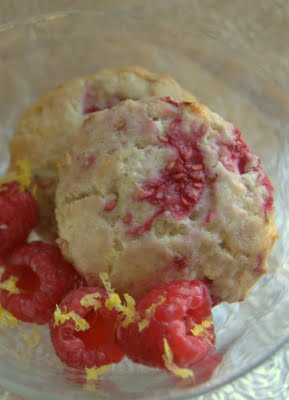 I was supplied with complimentary products from the Golden Door in exchange for creating and posting a recipe, however, all text and opinions are my own.