Banana Chocolate Scones – made with banana and Fair Trade Certified organic cinnamon, organic Blue Agave and drinking chocolate make a delightful breakfast or brunch treats.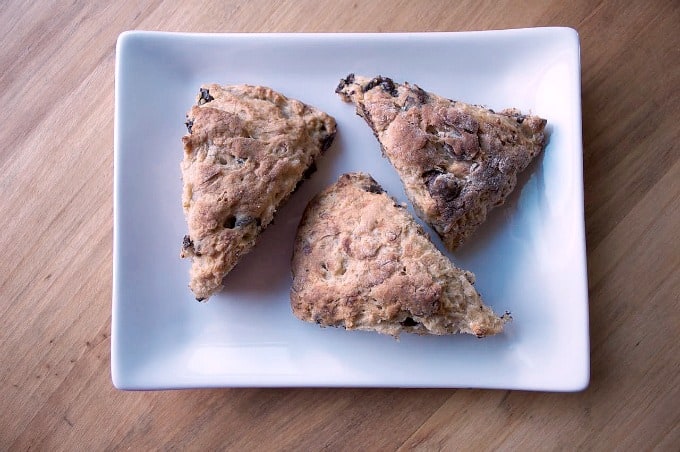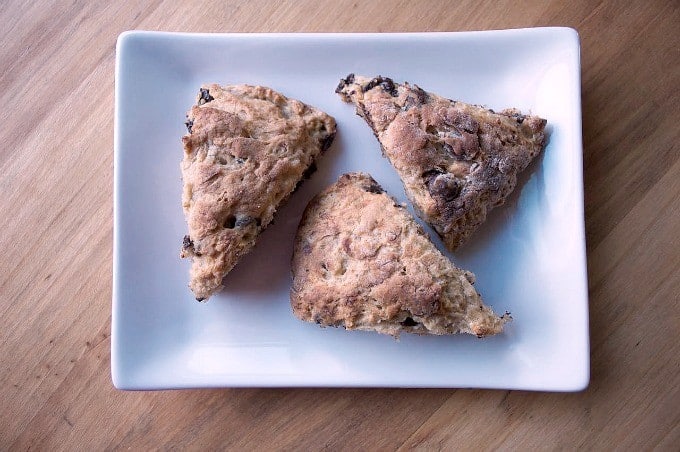 Today has been a day to celebrate Mom…
Moms are special, we all know that and they do and have done a lot for us. They may or may not have shaped who you are today. My mother definitely did, as did both of my aunts and grandmothers. I am tremendously blessed to have had these women in my life as my mentors.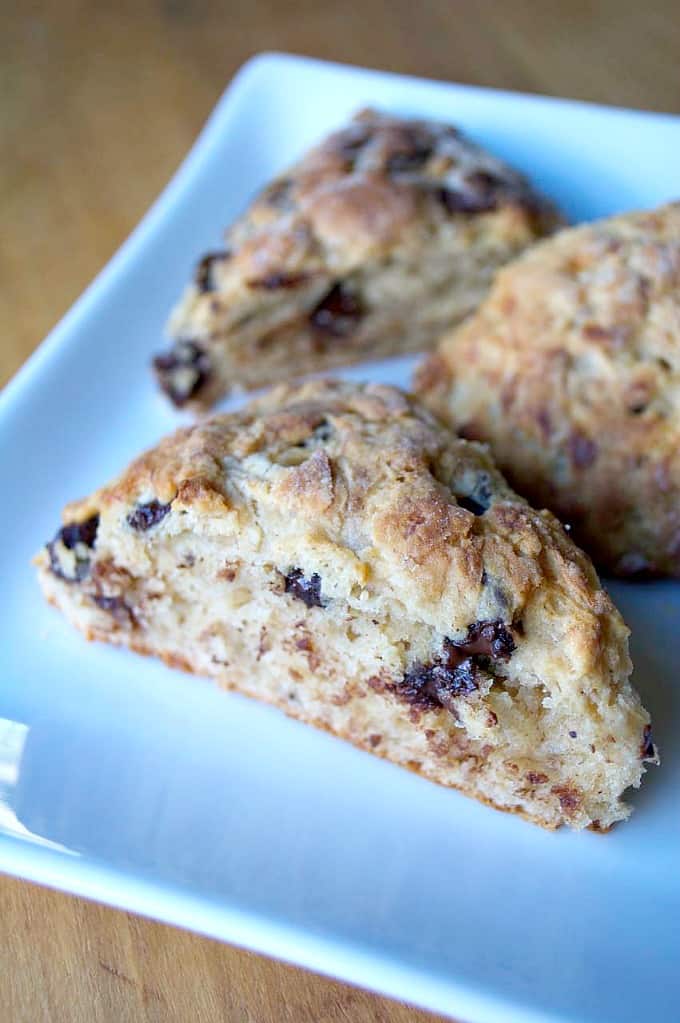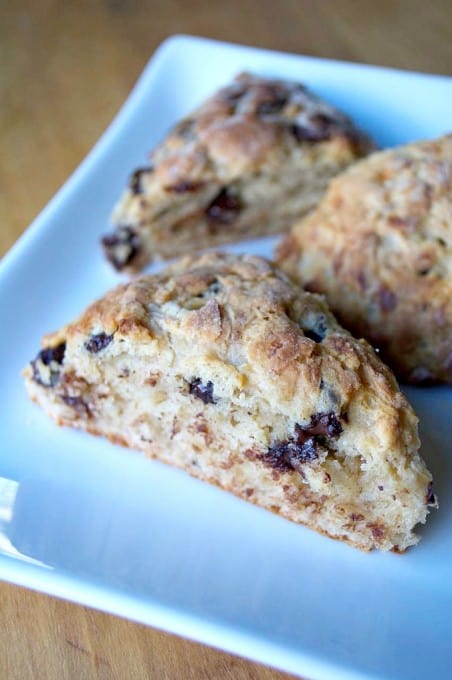 They largely influenced who I am both as a person and as a mother.
SAVE THIS SCONE RECIPE TO YOUR FAVORITE PINTEREST BOARD!
As part of this celebration of mothers here in the United States, I also want to celebrate the mothers who take part in Fair Trade bringing us an amazing assortment of delicious and incredible products because we all know that Moms Make a World of Difference!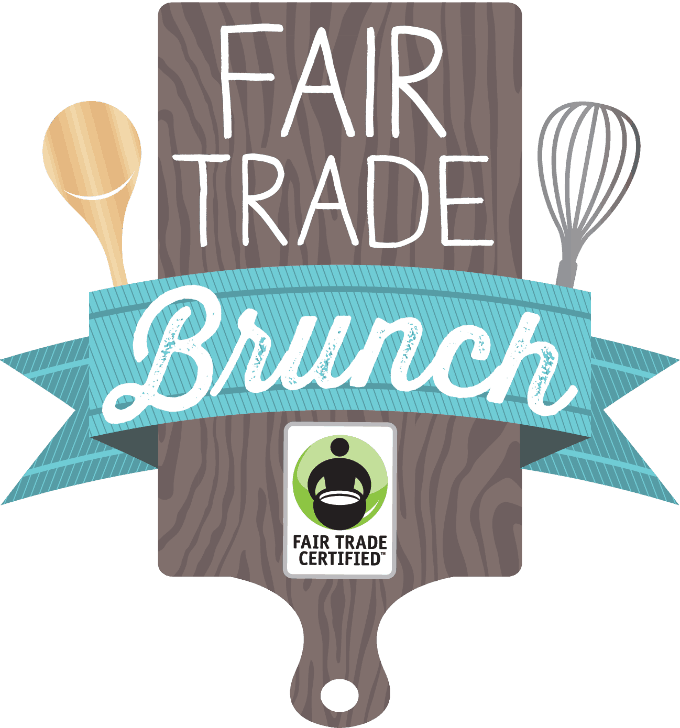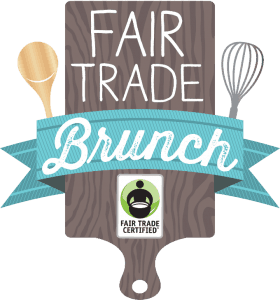 I'd like to introduce one in particular to you, Clara Alberca, she is a sugar and cocoa farmer at CEPICAFE in Peru and she is nothing short of amazing!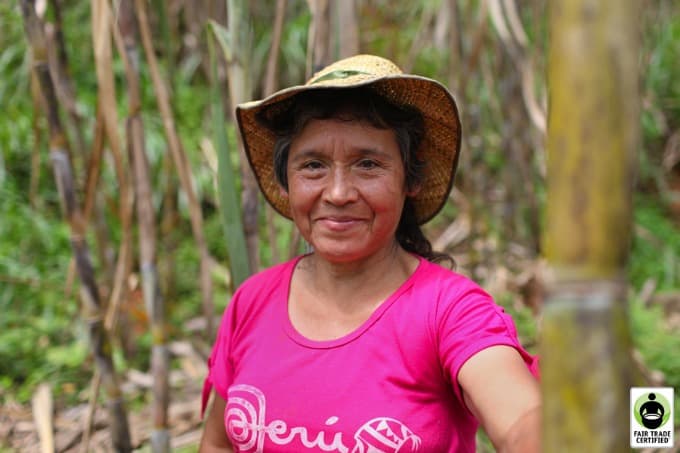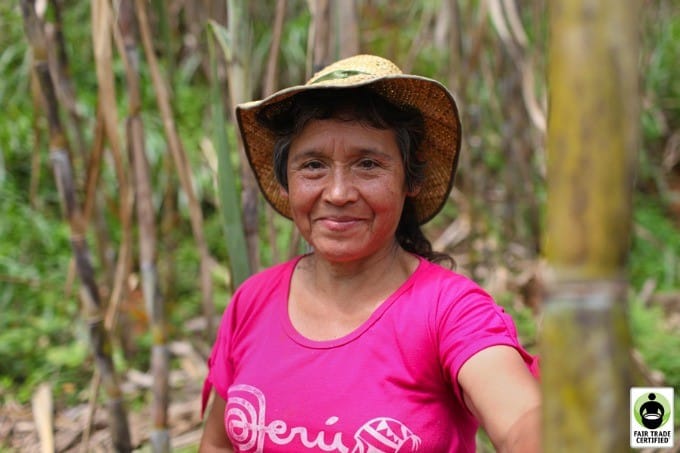 This incredible woman is 69 years young. She has a wonderful heart, smiling every day as she harvests the sugar cane.
Her husband Miguel Villaciencia is 69 years as well and has a serious liver disease which prevents him from working in the fields as he once used to. Therefore, Clara has become the primary caretaker for the family.
She has been a member of CEPICAFE since 2001 and says, "My husband cannot work anymore, but I try to do my best. At least we have stable prices and credit benefits from the organization [CEPICAFE] that allows us to be more at peace."
What a true inspiration! Way to go, Clara and thank you for your work and dedication!!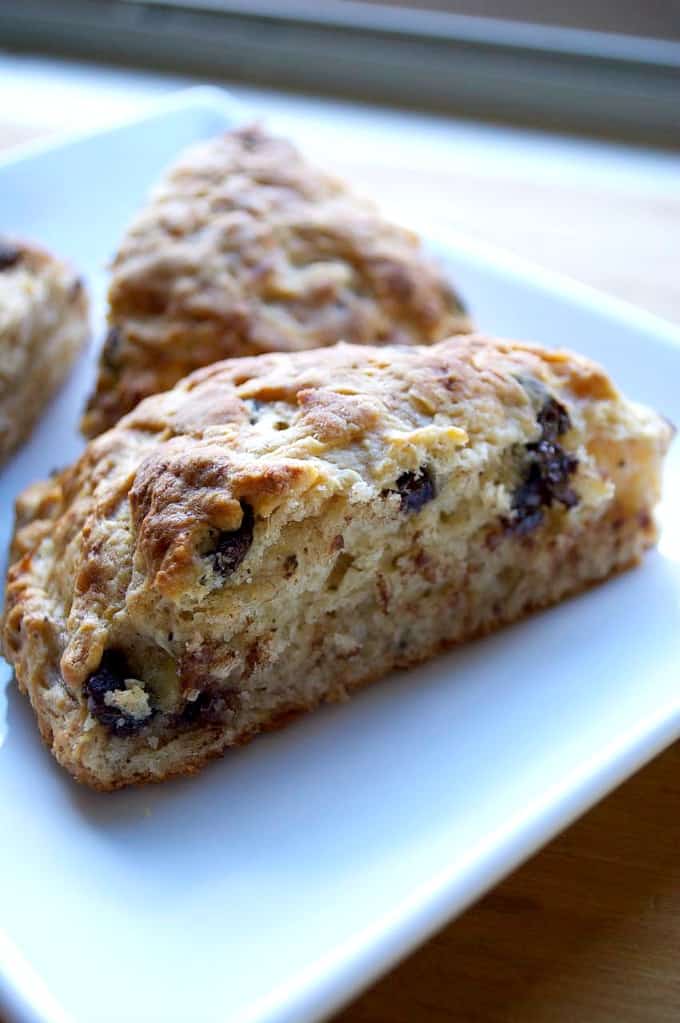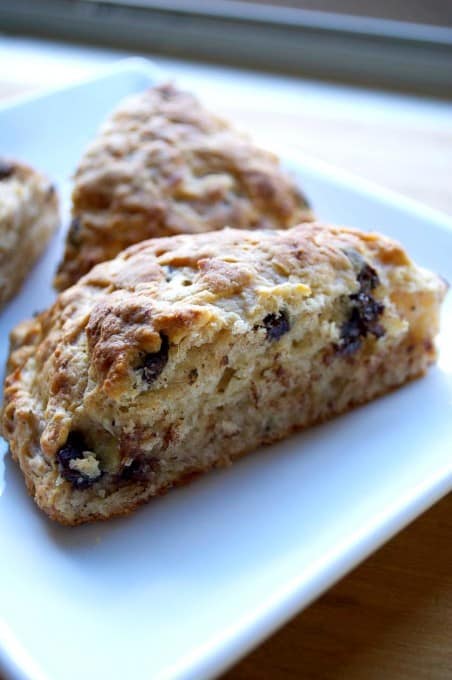 I received this incredible assortment of Fair Trade Certified products, which you can find in many grocery stores. When you purchase these along with other certified products, you're helping families around the world improve their lives.
What's better than that, eating and using great products and knowing that you're essentially paying it forward?
I was more than happy to use a few of these items in the creation of my Banana Chocolate Scones and I look forward to using them again.
Banana Chocolate Scones
Ingredients
2

cups

all-purpose flour

1

tablespoon

baking powder

1

teaspoon

Whole Foods Organic Fair Trade Ceylon Cinnamon

1/4

teaspoon

Kosher salt

1/4

teaspoon

nutmeg

5

tablespoons

cold unsalted butter

2

ripe bananas mashed

1

egg

1

tablespoon

Wholesome Organic Blue Agave Low Glycemic Sweetener

1/3

cup

soured milk

directions in notes

3/4

cup

Lake Champlain Chocolate Old World Drinking Chocolate
Instructions
Place a rack into the center of the oven and preheat to 400 degrees F.

Prepare a baking sheet by lining it with parchment.

In a large mixing bowl, whisk together the flour, baking powder, Whole Foods Organic Fair Trade Ceylon Cinnamon, salt, and nutmeg.

Cut butter into smaller pieces and with a pastry cutter, cut butter into the flour mixture until it resembles coarse meal.

In a small mixing bowl, whisk the egg.

Add the Wholesome Organic Blue Agave Low Glycemic Sweetener, soured milk and bananas and mix.

Pour the mixture into the dry ingredients and stir until it just comes together.

Add the Lake Champlain Chocolate Old World Drinking Chocolate, and using a rubber spatula, knead and fold it together about 8 to 10 times.

Prepare a flat surface by dusting it with flour, and turn the dough out onto it.

Divide the dough in half and pat each into a circle approximately 5 inches in diameter. Cut the dough into 6 wedges and transfer the entire disk of dough to the prepared baking sheet. Cutting it before baking allows for easy separation, but keeping the wedges together during baking allowed for the scones to be bit more moist than is typical.

Bake for 20 to 25 minutes or until tops are lightly golden and firm. Transfer to a wire rack to cool completely.
Recipe Notes
Measure 1/3 cup milk into a measuring cup. Pour 1 teaspoon white vinegar into the milk. Mix and allow to sit for 15 minutes. Use as directed.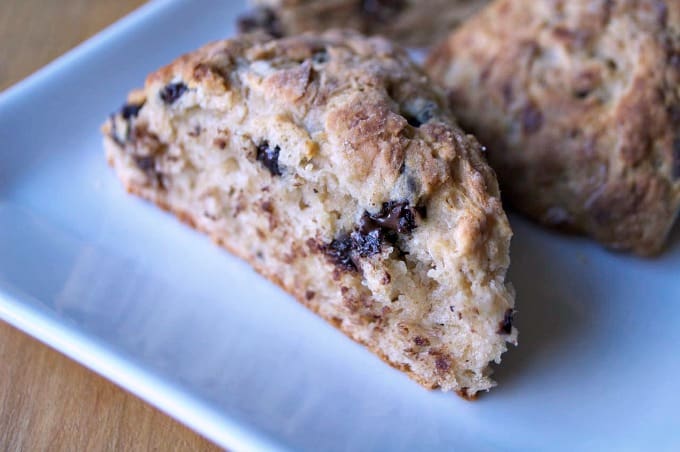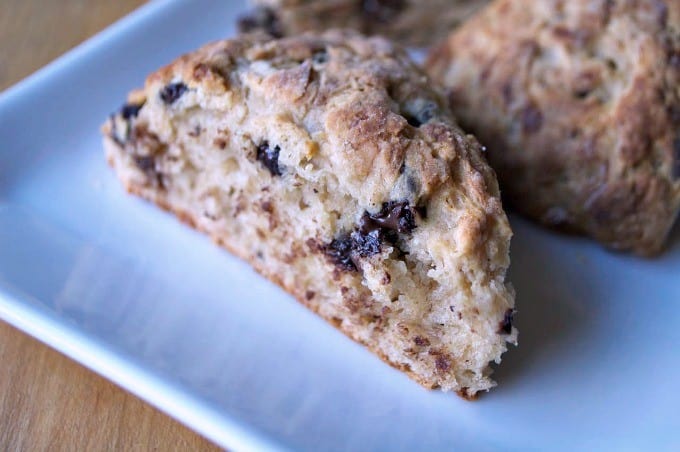 These are the great products I received in my package and you could receive them as well! Fair Trade USA wants to share these items with you, so enter today! Giveaway is open to U.S. residents.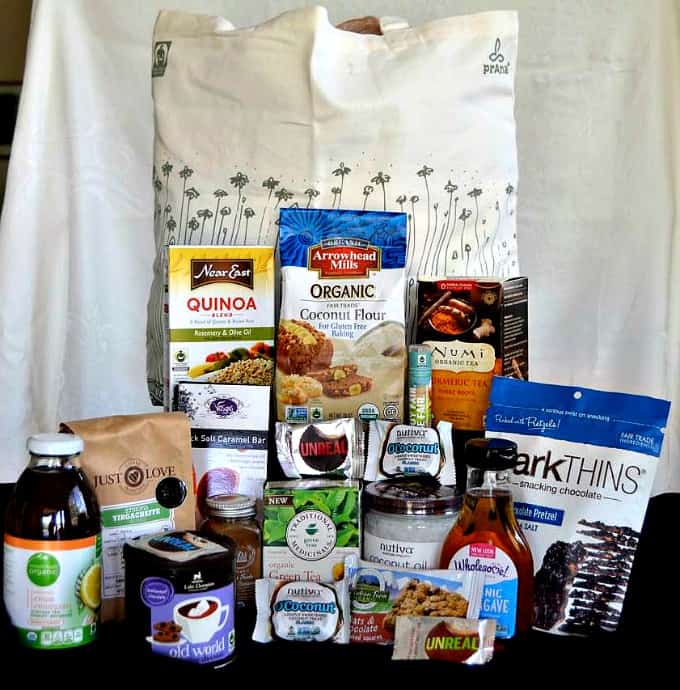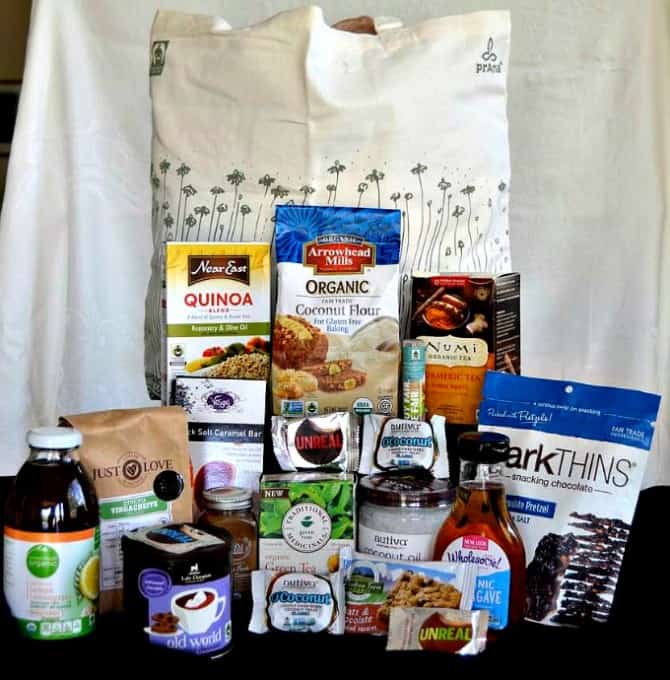 Thanks to Just Love Coffee Roasters, Whole Foods Market, barkTHINS, Lake Champlain Chocolates, Wholesome!, Traditional Medicinals, Nutiva, Numi Organic Tea, UNREAL, Eco Lips, Arrowhead Mills, prAna Tote Bag, Near East, Cascadian Farm Organic, Vosges Haut-Chocolat, and Simple Truth for providing these items and helping me make my Banana Chocolate Scones!
[promosimple id="73dd"]
Thanks for entering and be sure to look for the above products in your favorite stores and order them online!
Try out these other scone recipes I'm sure you'll love!