Banana Chocolate Scones are soft, moist, and full of chocolate chips! Sweetened with honey and lightly spiced, these banana scones pair perfectly with your morning coffee.
Bananas and chocolate make such a delicious duo. If you like this Double Chocolate Banana Bread, you're going to adore today's banana chocolate chip scone recipe!
You'll love how easy these scones are to make — and how incredible they make your kitchen smell.
Today's banana chocolate scones combine the best parts of some of my favorite baked goods. I love banana bread, and scones are so light and delicious! This recipe takes the sweet flavor and aroma of good banana bread and bakes it into scones. Add a handful of chocolate and you have pure breakfast perfection!
Any day that starts with a freshly baked scone has got to be good, right?
This scone recipe addresses a common complaint I have about scones. Too many homemade scones get dry and crumbly within a few hours of baking. I know some people like that more biscuit-like crumb.
I prefer my scones more on the soft side, somewhere between a biscuit and a muffin. The banana in these scones, along with a little homemade buttermilk, means they stay moist and tender longer. Even a day or two after baking, the banana chocolate scones tasted soft, flavorful, and delicious.
What do I need?
This recipe includes familiar baking ingredients plus a few less common ones:
Flour
Baking powder
Cinnamon
Kosher salt – Or use any coarse salt.
Nutmeg
Ripe Bananas – Peel and mash them in a separate bowl first.
Butter – Cold butter is best to give the scones a flaky, biscuity texture.
Egg
Honey
Buttermilk – Like all of my favorite scone recipes, these Banana Chocolate Scones are made with buttermilk — or homemade soured milk. The curdled milk helps the scones rise just right and also ensures a softer, moister scone.
Mini semi-sweet chocolate chips (or use dark chocolate for an extra-rich flavor)
See the recipe card below for exact amounts. 
How to Make Banana Chocolate Chip Scones
STEP 1. Make homemade buttermilk.
Whisk a teaspoon of vinegar into ⅓ cup of milk. Let sit for 15 minutes or so until it looks curdled and a little bubbly. You can use any kind of milk to make buttermilk. I usually use 2% because that's what I have on hand.
STEP 2. Make the dough
Combine flour, baking powder, cinnamon, salt, and nutmeg in a large mixing bowl. Use a pastry blender to "cut" the butter into the flour mixture until it become coarse. Add the egg, buttermilk, honey, mashed banana, and mini chocolate chips to the dry ingredients with a rubber spatula or wooden spoon. Mix until everything comes together in a thick dough.
STEP 3. Cut the scones.
Now, it's time to cut the scones into the classic wedge shape!
Lay out the dough on a clean, floured surface. Divide the dough in half and pat each into a circle approximately 5 inches in diameter.
Using a sharp knife, cut the dough into 6 wedges and transfer the entire round disk of dough to a large baking sheet lined with parchment paper. Cutting it before baking allows for easy separation, but keeping the wedges together during baking allowed for the scones to be a bit more moist than is typical of many scones.
Bake for 20 – 25 minutes in an oven preheated to 400 F. They are done baking when the tops of the scones are lightly golden brown and firm. Transfer to a wire rack and let cool completely before serving.
Recipe Tips and Tricks for Perfect Scones
These taste sweet and delicious all on their own. But they're also AMAZING with a pat of warm butter spread on top.
If you happen to have buttermilk on hand, go ahead and skip the step of making soured milk and use buttermilk instead.
For ideal sweetness, moisture, and rich banana flavor, make sure your bananas are very ripe. Overripe bananas work great here too!
Keep the scones close together (touching or almost touching) while baking. This helps the scones turn out extra moist!
Banana Chocolate Scones will keep well for a couple of days stored in a covered container, but I think they're best served fresh the same day. 
Can you freeze scones?
All scones freeze well, and these banana scones freeze beautifully. Store in airtight containers or freezer bags to prevent unwanted freezer burn. Thaw to room temperature (or defrost in the microwave) before serving. 
Bake up a batch of banana chocolate scones on the weekend and pop them in the freezer for easy on-the-go breakfasts or snacks throughout the week. No one will be sad to have a supply of homemade scones in the freezer!
Scone Recipes
If you like fruit in your scones, make sure you also add Apple Cinnamon Scones with Maple Glaze and Peach Scones to your list. 
My Blood Orange Marmalade Scones taste incredible with a cup of strong black tea. You'll love these Lemon Poppy Seed Scones too. Lately, I've been into the tangy flavor that cream cheese adds to baked goods like muffins and scones alike. These Raspberry Cream Cheese Scones and Blueberry Cream Cheese Scones are two tasty examples!
More Banana Chocolate Recipes
If you've been reading here for a while you may have noticed I have kind of a thing for chocolate and banana. Separately, they're wonderful. No one will turn down an Easy Chocolate Bear Claw or a Banana Oat Bran Peanut Butter Chip Muffin.
But when you put bananas and chocolate together? They're simply magical. 
From a loaf of Double Chocolate Banana Bread to a slice of Banana Chocolate Chip Bundt Cake, I love it all. After you make these scones, you also need to try these Chocolate Banana Muffins.
Maybe the only thing that can improve the banana + chocolate combo is the addition of peanut butter! This Peanut Butter Chocolate Chip Banana Bread is to die for.
But for today, I'll be saving all of my love for the batch of warm banana chocolate scones that just came out of my oven. I can't wait for you to try these!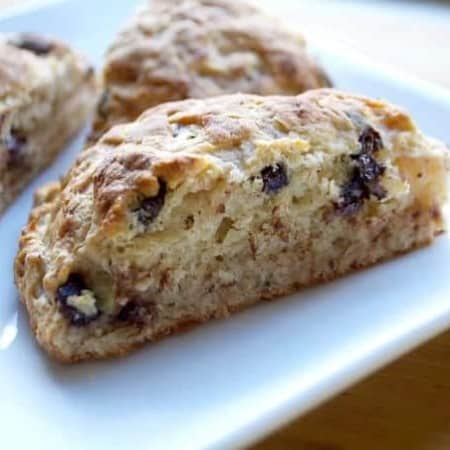 Ingredients
2 cups all-purpose flour
1 tablespoon baking powder
1 teaspoon cinnamon
¼ teaspoon kosher salt
¼ teaspoon nutmeg
5 tablespoons cold unsalted butter
2 ripe bananas mashed
1 egg
1 tablespoon honey
⅓ cup buttermilk directions in notes
¾ cup mini semi-sweet chocolate chips
Instructions
Place a rack into the center of the oven and preheat to 400 degrees F.

Prepare a baking sheet by lining it with parchment.

In a large mixing bowl, whisk together the flour, baking powder, cinnamon, salt, and nutmeg.

Cut butter into smaller pieces and with a pastry cutter, cut butter into the flour mixture until it resembles coarse meal.

In a small mixing bowl, whisk the egg.

Add the honey, buttermilk and bananas and mix.

Pour the mixture into the dry ingredients along with the mini chocolate chips, and stir until it just comes together.

Add the Lake Champlain Chocolate Old World Drinking Chocolate, and using a rubber spatula, knead and fold it together about 8 to 10 times.

Divide the dough in half and pat each into a circle approximately 5 inches in diameter. Cut the dough into 6 wedges and transfer the entire disk of dough to the prepared baking sheet. Cutting it before baking allows for easy separation, but keeping the wedges together during baking allowed for the scones to be bit more moist than is typical.

Bake for 20 to 25 minutes or until tops are lightly golden and firm. Transfer to a wire rack to cool completely.
Notes
Measure 1/3 cup milk into a measuring cup. Pour 1 teaspoon white vinegar into the milk. Mix and allow to sit for 15 minutes. Use as directed.
Nutrition
Serving: 1serving | Calories: 237kcal | Carbohydrates: 31g | Protein: 4g | Fat: 11g | Saturated Fat: 7g | Polyunsaturated Fat: 1g | Monounsaturated Fat: 3g | Trans Fat: 0.2g | Cholesterol: 28mg | Sodium: 64mg | Potassium: 295mg | Fiber: 2g | Sugar: 10g | Vitamin A: 197IU | Vitamin C: 2mg | Calcium: 70mg | Iron: 2mg
Did you make this recipe?
Share it with me on Instagram and make sure to follow me on Pinterest for more recipes.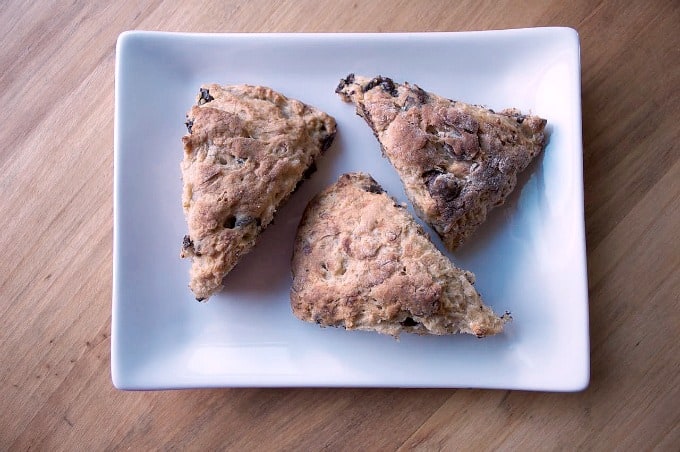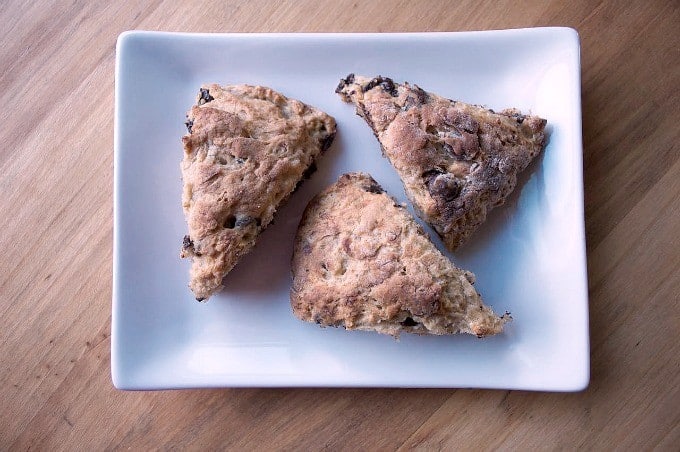 Today has been a day to celebrate Mom . . .
Moms are special, we all know that and they do and have done a lot for us. They may or may not have shaped who you are today. My mother definitely did, as did both of my aunts and grandmothers. I am tremendously blessed to have had these women in my life as my mentors.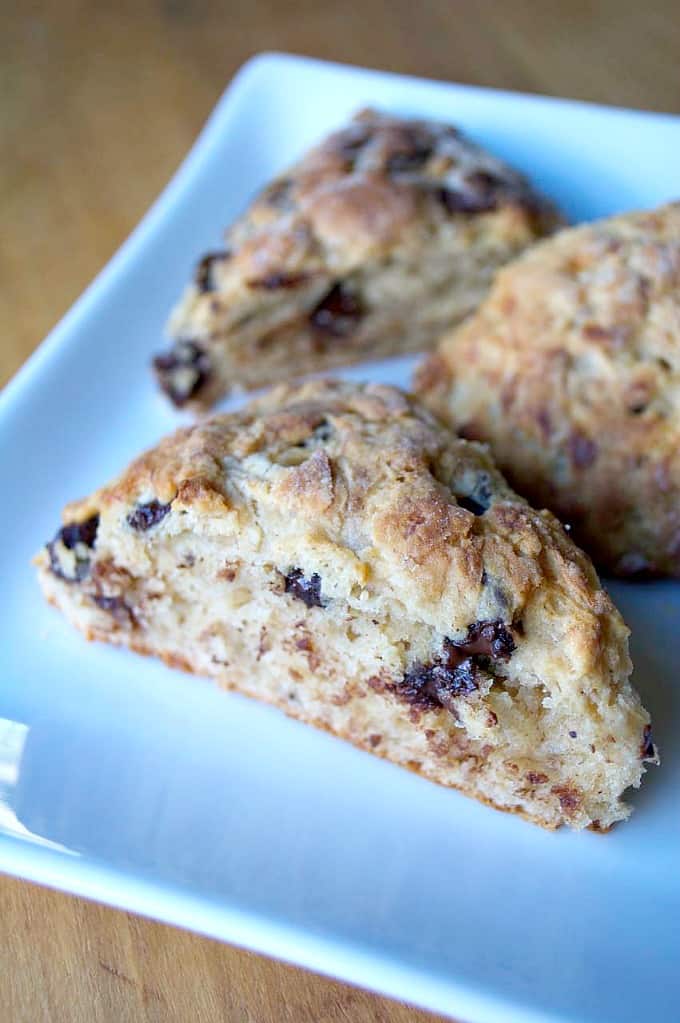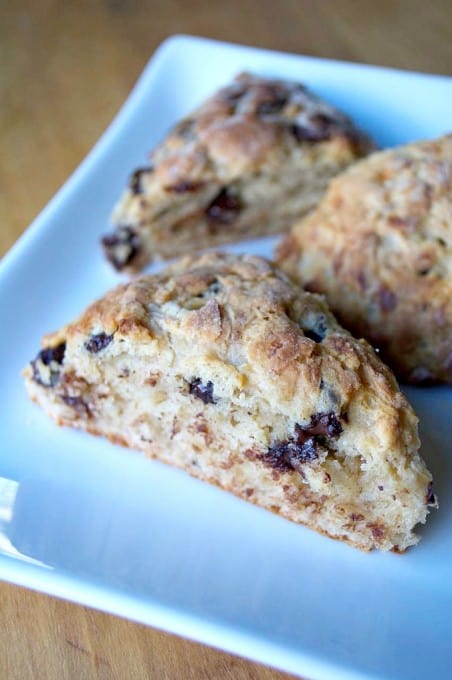 They largely influenced who I am both as a person and as a mother.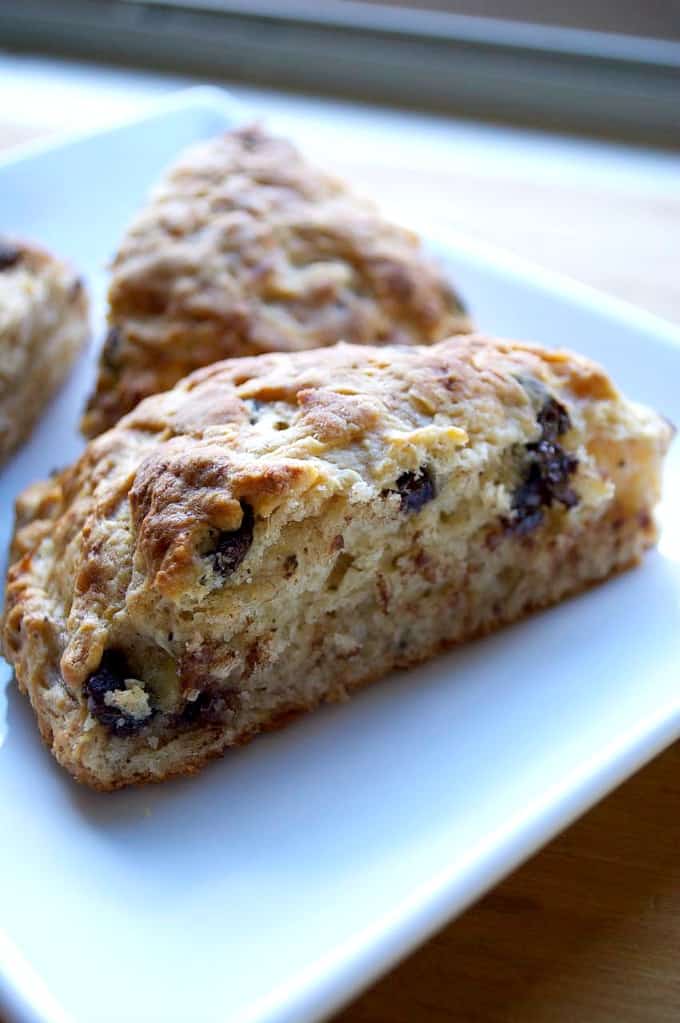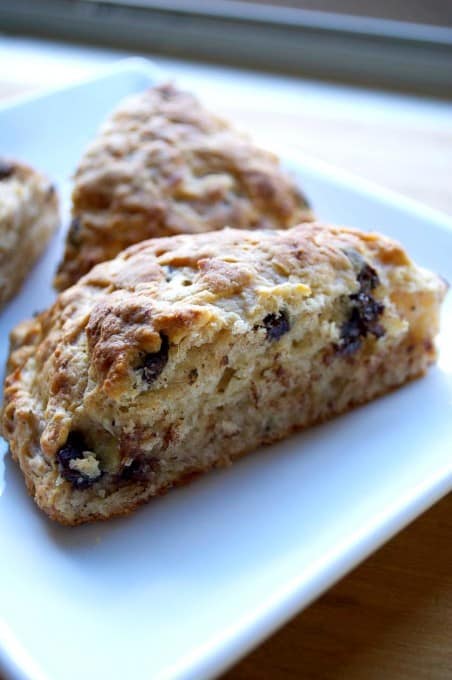 Banana Scones
Fair Trade Recipes
Since learning about how big of an impact Fair Trade Certified products can have on both individuals and communities, I've made it a point to use fairly traded ingredients as much as possible in my baking. Check out these other recipes that use Fair Trade ingredients, too!
Banana Chocolate Scones
Full of banana flavor and flecked with rich fair trade chocolate, these scones bring together some of my favorite flavors. You'll love these delicious scones even more knowing that so many of the ingredients are Fair Trade Certified!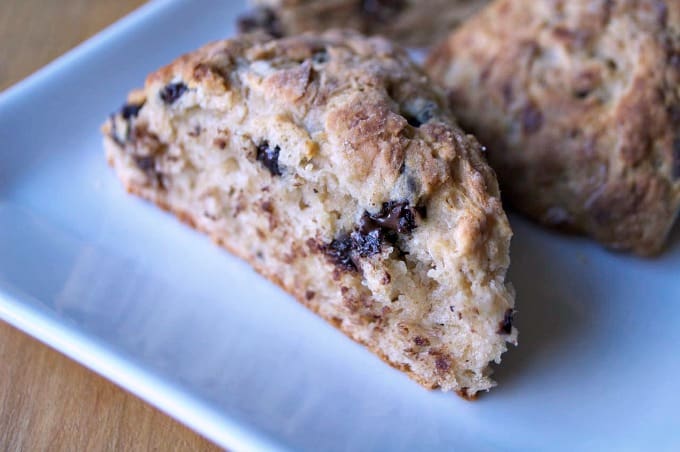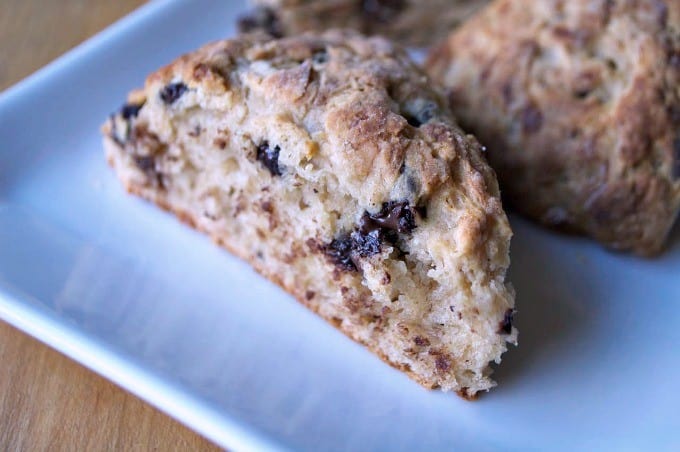 Reader Interactions