My name is Lynne. I am extremely fortunate and grateful to have been married to my high school sweetheart for 20+ years and to be a stay-at-home mom to our three beautiful children: two girls, ages 18, and 17, and a boy, 13. Since I returned to being a full-time mom in May of 2010 after working 40+ hours a week, I have immersed myself in cooking shows, cookbooks, magazines, recipes and cooking websites on the internet along with bedtime reading of some fiction and non-fiction along the way. My family has been very supportive. They reap the benefits of a new recipe that is delicious, and are polite and thankful for the effort even when meals I've made haven't turned out so great. I enjoy it immensely!
     So, this is something I've always wanted to do. Write, that is. So, I thought doing a blog would be a good way to begin. I don't even know if anyone will ever end up reading this other than  immediate family and maybe close personal friends. I do have a tendency to become very "wordy" when I write, but I'll do my best to stick to the point and not go overboard unless it's about something I really need to explain in depth. Who knows what that would be though; maybe insight to teenage angst. 😉
     There were two final events leading up to my beginning this blog today. Yesterday I discovered in my pantry that I have 3, yes (3) 5lb. bags of flour that will expire on February19. I've read both that flour does and does not expire, but an expiration date on anything is certainly motivation to make sure I use it. They are leftovers from making Gingerbread Houses for Christmas. Sometimes I have a tendency to think big and go overboard, and while the houses were beautiful and somewhat large, I still had plenty of ingredients left over. Then this morning, I was faced with two overly ripe bananas sitting on the counter and began looking through my cookbook for the Banana Bread recipe. It was then I decided that I'd do a blog about baking something every day for one year. Yes, 365 days of straight baking. I know it's a big undertaking and my immediate thought was that the whole family would gain some weight, especially my husband and myself because the metabolism just isn't what it used to be. The immediate idea of things to be "baked" that came to mind were of course, cookies, pies, cakes, and breads. Without a doubt I will tackle those, but there are so many other things I am discovering I could do as well! I am very excited to see what this year brings and happy that you will be joining me! I'd also like to be able to post some other recipes that I have that are passed down through the family and ones that my children just couldn't live without.
     I want to have fun with this and for you to enjoy and learn something as well. I've also recently started "couponing". I have used coupons in the past, but not to the extent where it really saves us some money. I'm about three weeks into it and am quickly learning ways to get the most for your dollar (or for FREE!) at the grocery store or drugstore. So, I will be posting different things about the coupons, and specials or freebies I may hear about on the web. If I help one person then I'll be happy. I would love to hear any comments or questions you may have and will do my best to respond as quickly as possible.
     Remember, I've never done anything like this before, so it's a go-as-I-learn (haha, see what'd I tell you!), LEARN-AS-I-GO, so there are bound to be mistakes along the way. Mistake on day one, I neglected to take pictures of the Banana Bread baking process, so the only proof that I have is the picture of the end product, and I cannot add that tonight. It will have to be tomorrow. Everyone makes mistakes, but hopefully we'll all have a good laugh because of them. And I have so many questions about how to write this, what to write and what I can and cannot add to my blog. Hopefully, I won't be finding these things out the hard way. Any input would be gladly accepted, especially from those of you who have "been there, done that".
     So, here we go…
     Banana Bread
    Since I don't know if I can post the recipe verbatim, I will just tell you that the recipe came from a tried and true cookbook I received as a wedding present over 20 years ago, the Better Homes and Gardens Cookbook. This particular version of the recipe however is from a newer edition. I will be contacting different authors, websites and publishers to verify if I can publish the recipes and what restrictions there may be. Also, as I said before, I unfortunately cannot post the picture from this computer, so I will put it up tomorrow. However, I can tell you that the banana bread was yummy! It was a little dryer than usual because I left it in a few minutes longer (probably 5 minutes) than I should have fearing it wouldn't be completely done. The bottom third of the bread was darker and the sides were brown, but the top of the bread was moist and delicious which I always think is the best part anyway!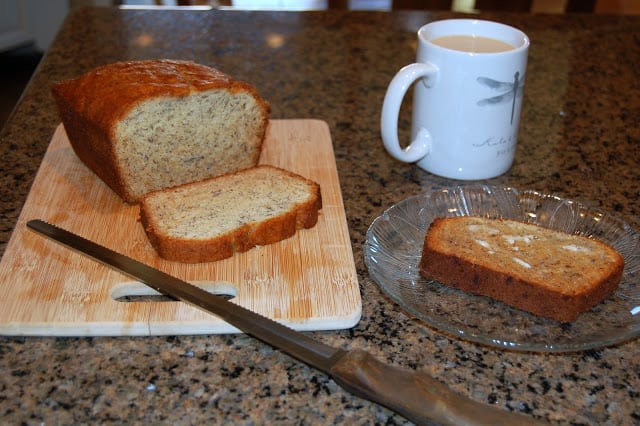 Ingredients
2 cups all-purpose flour
1 ½ teaspoons baking powder
½ teaspoon baking soda
¼ teaspoon kosher salt
¼ teaspoon cinnamon
¼ teaspoon nutmeg
¼ cup chopped pecans
2 large eggs
1 ½ cups mashed banana about 4-5 bananas ripe bananas
1 cup granulated sugar
½ cup melted butter
Instructions
Preheat oven to 350°F, and prepare a 9 x 5-inch loaf pan, by greasing the bottom and halfway up the sides. If you grease all the way up the sides, your loaf will have a flat top as opposed a domed shape.

In a large mixing bowl, whisk together the flour, baking powder, baking soda, salt, cinnamon, numeg, and pecan pieces.

In a medium bowl, beat the eggs. Add the bananas, sugar, melted butter, and mix until completely combined.

Add wet ingredients to the flour mixture and stir until just combined. There may be lumps and that's ok. You do not want to over mix or the bread will be too dense.

Pour batter into the pan and bake for 55-60 minutes or until a cake tester placed into the middle of the bread comes out clean. It may be necessary to cover with a sheet of aluminum foil to prevent it from becoming too dark in the last 20 minutes or so of baking.

Cool in the pan for 10 minutes before removing and cooling on a wire rack completely. Bread slices best after it has been wrapped and stored overnight.
Nutrition
Serving: 1serving | Calories: 196kcal | Carbohydrates: 30g | Protein: 3g | Fat: 8g | Saturated Fat: 4g | Polyunsaturated Fat: 1g | Monounsaturated Fat: 2g | Trans Fat: 0.2g | Cholesterol: 39mg | Sodium: 126mg | Potassium: 148mg | Fiber: 1g | Sugar: 15g | Vitamin A: 226IU | Vitamin C: 2mg | Calcium: 27mg | Iron: 1mg
Did you make this recipe?
Share it with me on Instagram and make sure to follow me on Pinterest for more recipes.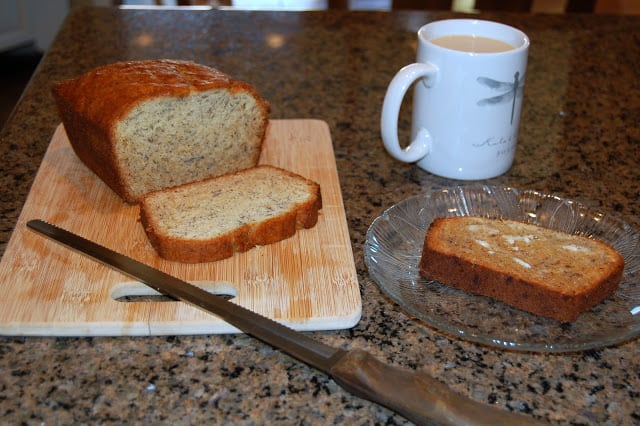 Reader Interactions