Blueberry Banana Bread – that great taste of banana bread with some buttermilk and a good dose of blueberries mixed in. Banana bread at its' best!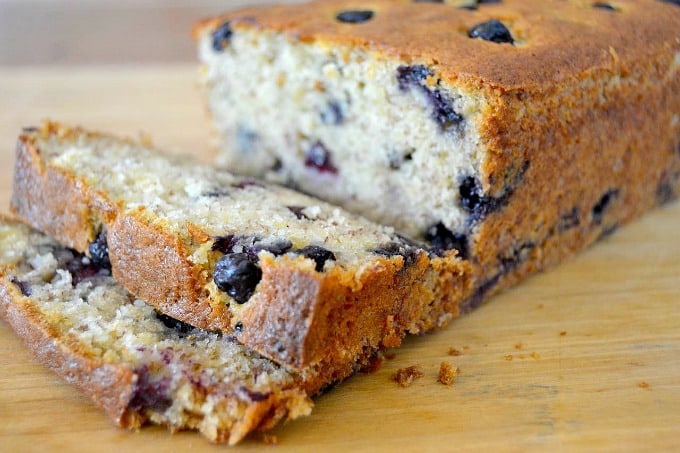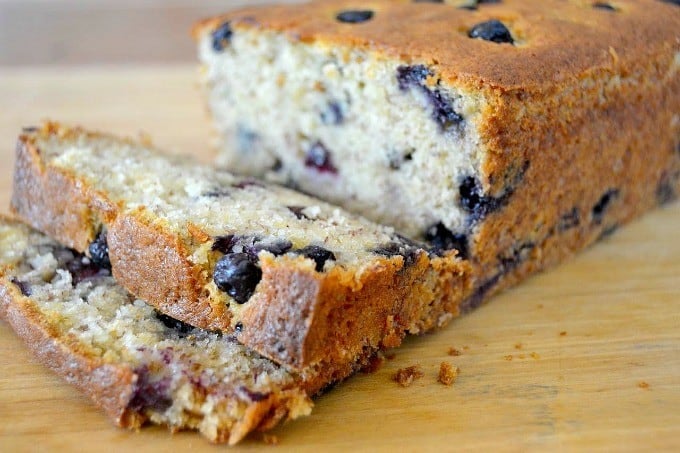 I can never get enough of banana bread.
It was one thing mom made that I absolutely loved growing up, along with her meatloaf. She really did make great banana bread.
One of my favorite ways to eat it is grilled! Have you tried it that way yet? Spread some butter on both sides and then grill it up in a skillet. Oh, my goodness. It is SO good that way!! I love to do that with blueberry muffins, too.
SAVE THIS BLUEBERRY BANANA BREAD TO YOUR FAVORITE PINTEREST BOARD!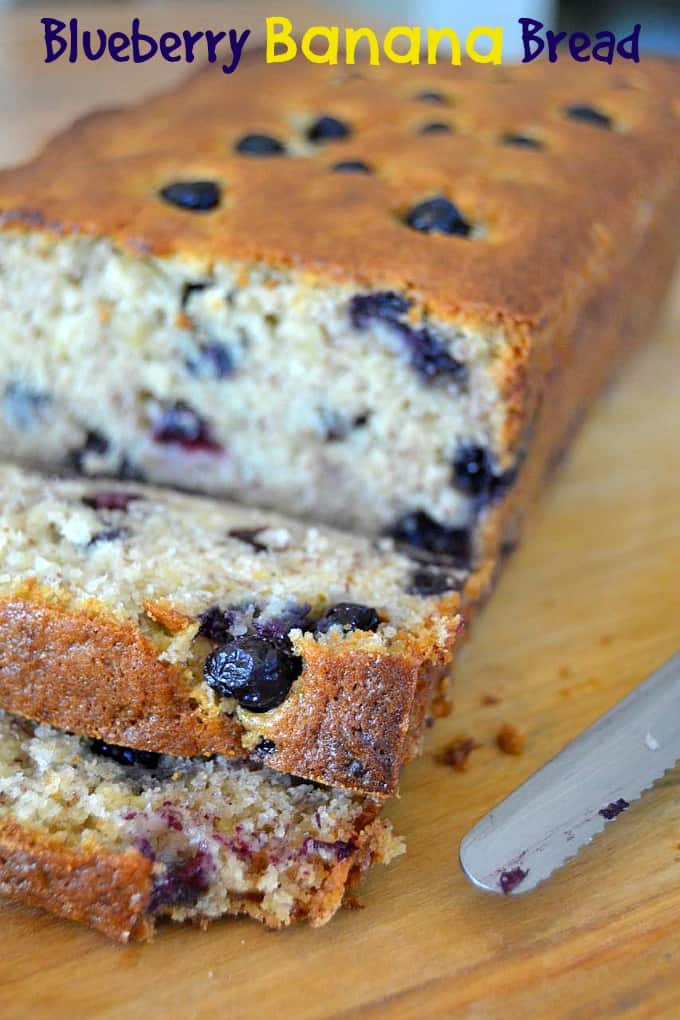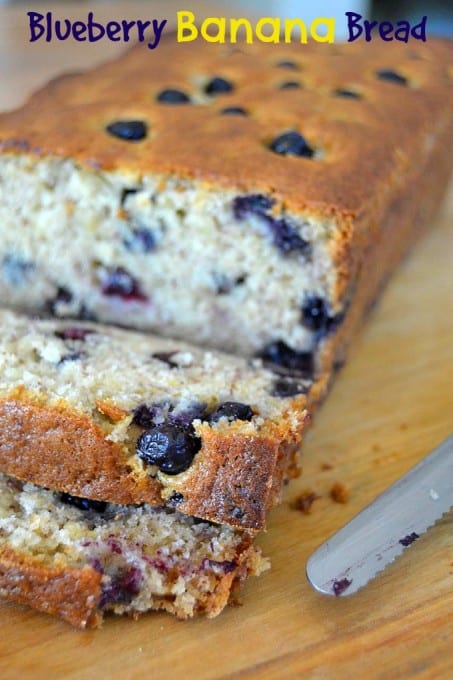 So, I'm thinking that this is where the inspiration for this recipe came from. I was wanting some banana bread, got to thinking about it being all buttered and everything, cooking in the skillet which led me to think about the blueberry muffins, too.
When I looked in the fridge, I also saw that I had some leftover buttermilk and figured, why not, it can only make it better, right?
Yup, it did.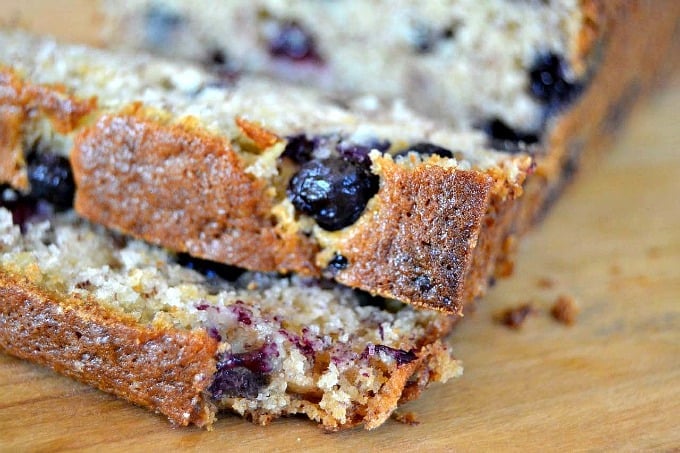 Blueberry Banana Bread
Ingredients
6

ounces

fresh blueberries

2

cups

all-purpose flour

divided

1

cup

granulated sugar

1 1/2

teaspoons

baking powder

1/2

teaspoon

baking soda

1/2

teaspoon

nutmeg

1/4

teaspoon

Kosher salt

4

medium very ripe bananas

mashed

2

eggs

1/2

cup

8 tablespoons unsalted butter, melted

1/4

cup

buttermilk
Instructions
Preheat oven to 350 degrees F. Prepare a 9 X 5-inch bread pan by greasing it with butter and lightly flouring it.

In a small bowl, toss 3/4 of the blueberries with the 1 teaspoon flour. This help to prevent them from sinking in the batter.

In a large bowl, whisk together the flour, sugar, baking powder, baking soda, nutmeg, and salt.

In a medium bowl, mix together the bananas, eggs, melted butter and buttermilk.

Add wet ingredients to dry and mix until just incorporated.

Gently fold in the floured blueberries.

Pour into prepared loaf pan and spread to even out.

place remaining blueberries on top of batter.

Bake for 55 - 60 minutes or until a toothpick inserted into the middle comes out clean.

Allow to cool in pan for 10 minutes before turning out onto a wire rack to cool completely.

Bread is best and easiest to cut when stored in tin foil overnight and eaten the next day.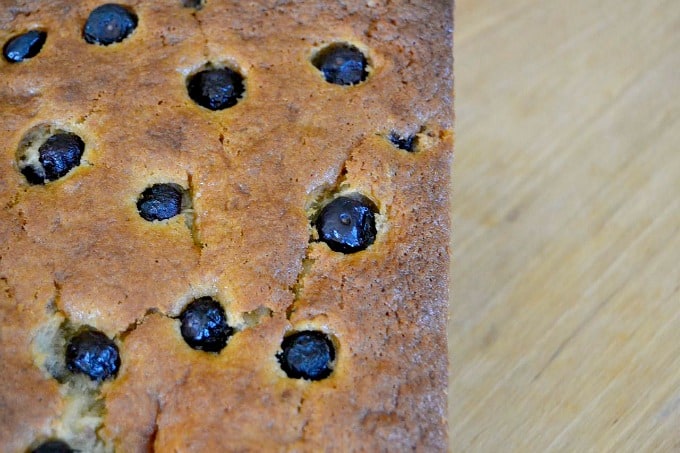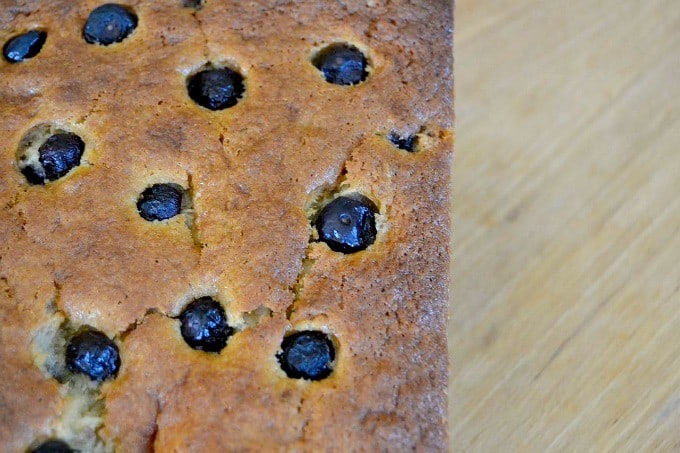 I rate everything I make on a scale of 1 – 4 with 4 being the best and this Blueberry Banana Bread earned 4 rolling pans! No, wait, that should be pins, not pans, silly.
There's just something to be said about what you can create with brown, rotting bananas sitting on a kitchen counter. Am I right?
Why I never thought about adding blueberries to my banana bread before is BEYOND me! Better late than never, I suppose.
I think you'll enjoy it, too.
If you like this Blueberry Banana Bread, then you're sure to love…