Fall is in the air with this Pumpkin Bread made even better with chunks of chocolate and a cinnamon sugar topping. Served with coffee, it's irresistible!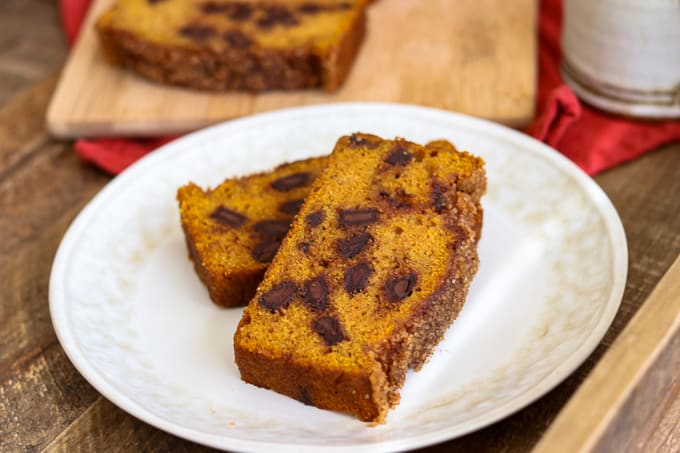 It's that time of year for pumpkin!!!
*This post contains an affiliate link(s).
Are you sick of it yet??
I first published this recipe back in October 2011, so seeing as how it's been seven years since I published this Chocolate Chunk Pumpkin Bread recipe and pictures have been updated I figured it was about time.
haha
SAVE THIS CHOCOLATE CHUNK PUMPKIN BREAD TO YOUR FAVORITE PINTEREST BOARD!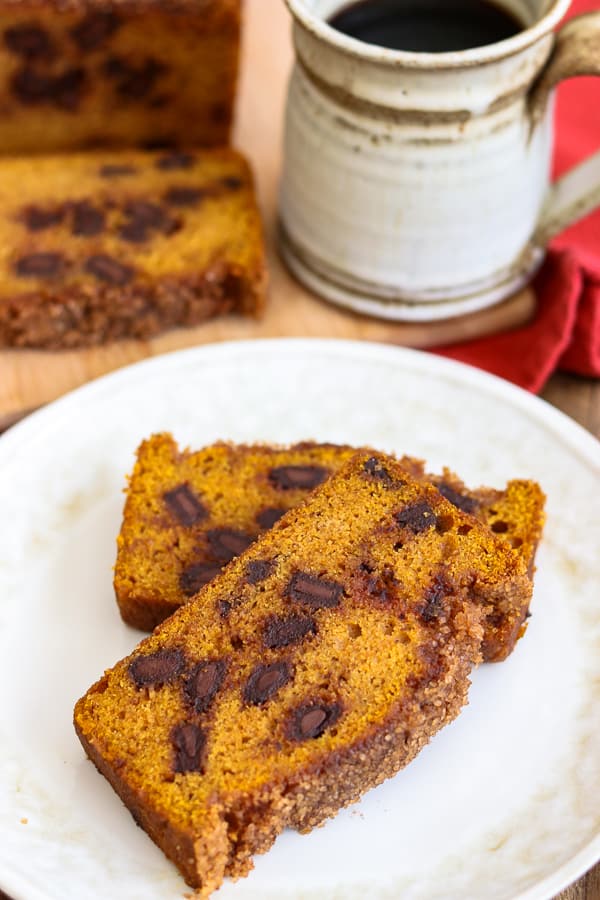 I adapted this from The Fannie Farmer Cookbook, Thirteenth Edition, similar to this one.
Tips for making this Chocolate Chunk Pumpkin Bread –
Generously butter your loaf pan or use a floured baking spray like this one. Using a floured spray just makes taking the loaf out of the pan so much easier.
Be sure to coat the chocolate chunks in flour. This will definitely help to suspend the chocolate in the batter instead of the chunks sinking to the bottom of the pan while it cooks.
I mean, it's still delicious if they sink to the bottom, but I like the taste of chocolate in almost every bite as I'm eating it.
Use pure pumpkin. You DO NOT want pumpkin pie filling. They are different. It will affect the outcome of the bread.
Take note: when I tipped the pan to remove the bread, a good amount of the cinnamon sugar topping ended up on my countertop. I suggest holding your pan over the sink or something as you dislodge it. It will save you some trouble in the cleanup department. You're welcome.
We enjoyed it in the mornings with our coffee or as an afternoon snack. It's really perfect any time of day.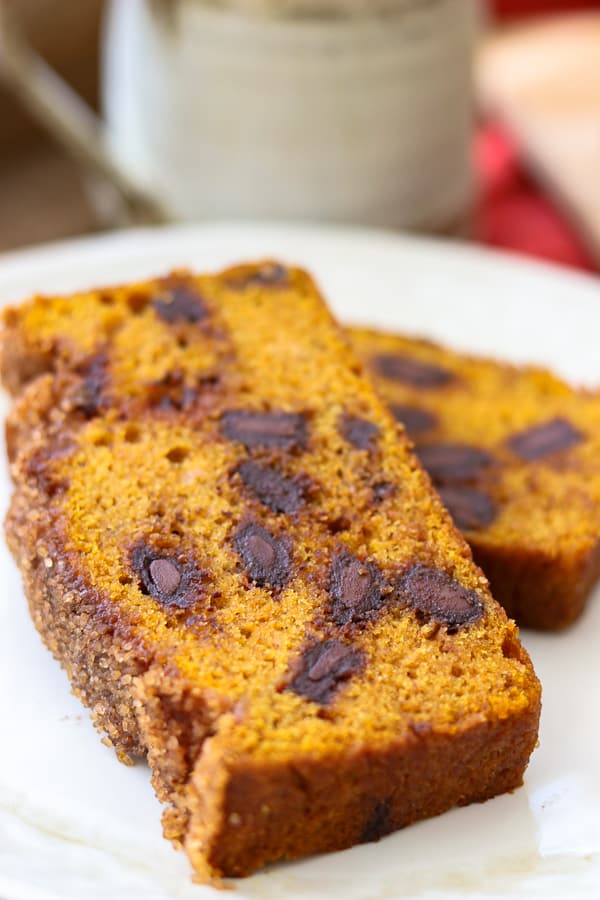 Since it's Fall, and there are so many delicious flavors this time of year, I found some really great quick breads you might want to add to your table.
This Maple Cinnamon Quick Bread from Karen at The Food Charlatan would be absolutely delicious with a cup of morning coffee! I love the idea of combining the maple with cinnamon. YUM!
I love to go apple picking in the Fall. Unfortunately here in Phoenix, our choices for doing that are extremely limited. But with a good supply of apples from the store and this Harvest Apple Bread recipe from Melissa's Southern Style Kitchen I don't think I'll be missing out at all!
This Lemon Poppy Seed Bread with Cranberries from Heidi at Foodiecrush is high on my must-make list this Fall. I LOVE that she combined all of these great flavors!! GENIUS!!
While I was taking pictures of the bread. This guy was sniffing around. It's the first time I've done a photo shoot while leaving him out of his crate. He actually did ok.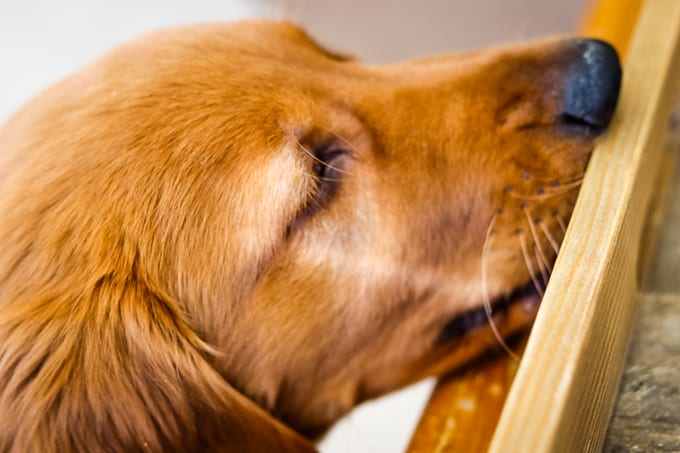 My set up wasn't that extensive, and I had it on the table where he couldn't reach.
I typically do them on the floor as I can get a better angle, so I'm sure that would just be asking for trouble unless I put up a fence around me. haha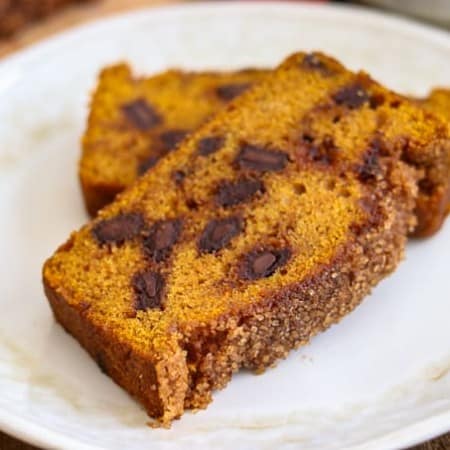 Chocolate Chunk Pumpkin Bread
Fall is in the air with this Pumpkin Bread made even better with chunks of chocolate and a cinnamon sugar topping. Served with coffee, it's irresistible!

Ingredients
1 ½ cups all-purpose flour with 2 teaspoons set aside
1 cup sugar
1 teaspoon baking soda
½ teaspoon kosher salt
1 teaspoon cinnamon divided
¼ teaspoon ground nutmeg
¼ teaspoon allspice
2 large eggs
1 cup pure pumpkin
½ cup butter melted
¼ cup milk
1 cup semi-sweet chocolate chunks
¼ cup raw sugar
Instructions
Preheat oven to 350° F. and generously butter a 9X5-inch loaf pan with butter or spray with a floured baking spray.

In a small bowl, toss the chocolate chunks with the two teaspoons of flour that have been set aside. This will help suspend the chocolate in the batter as the bread bakes.

In another small bowl, mix well the raw sugar and 1/2 teaspoon of the cinnamon.

In a medium bowl, whisk together the remaining flour, sugar, baking soda, salt, remaining 1/2 teaspoon of the cinnamon, nutmeg, and allspice.

In a large bowl, beat the eggs with a fork. Add the pumpkin, butter, and milk and mix until thoroughly combined.

Add the flour mixture to the wet ingredients and mix before just combined.

Fold in the chocolate chunks.

Pour batter into prepared loaf pan, smooth the top, and sprinkle with cinnamon sugar mixture.

Bake for 50-60 minutes or until a toothpick inserted in the middle comes out clean.


Allow pan to cool on a wire rack for 10 minutes before removing from pan.
I suggest holding the pan over the sink or large plate as some of the topping will come off as it's removed.
Nutrition
Calories: 414kcal | Carbohydrates: 56g | Protein: 5g | Fat: 19g | Saturated Fat: 11g | Cholesterol: 70mg | Sodium: 363mg | Potassium: 209mg | Fiber: 2g | Sugar: 35g | Vitamin A: 4630IU | Vitamin C: 1.2mg | Calcium: 41mg | Iron: 2.8mg
Did you make this recipe?
Share it with me on Instagram and make sure to follow me on Pinterest for more recipes.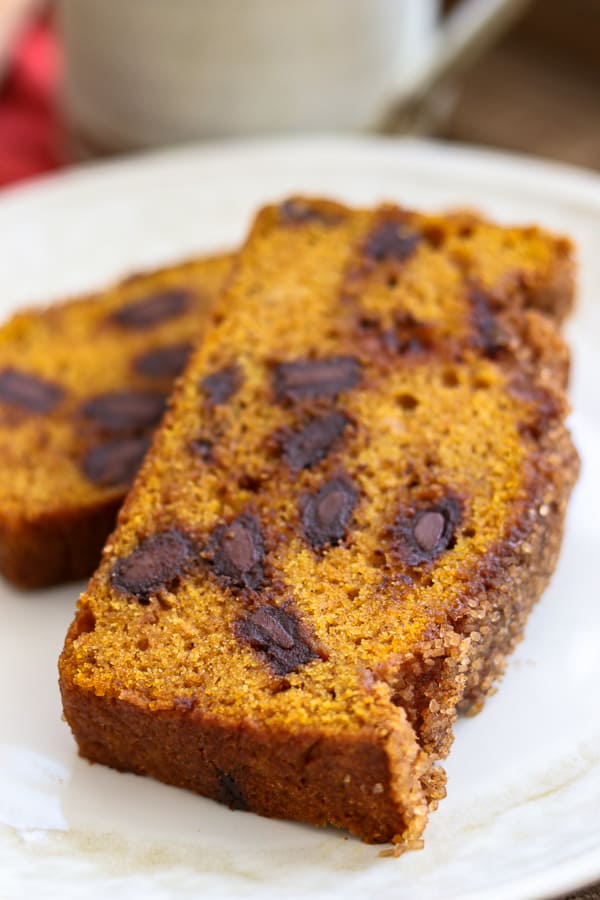 I think I'll be keeping the pictures below just for posterity.
It's interesting to see how the photography has improved over the years, hunh? I now actually look like I know what I'm doing!!
Love this Chocolate Chunk Pumpkin Bread and want more delicious pumpkin recipes? I know you do!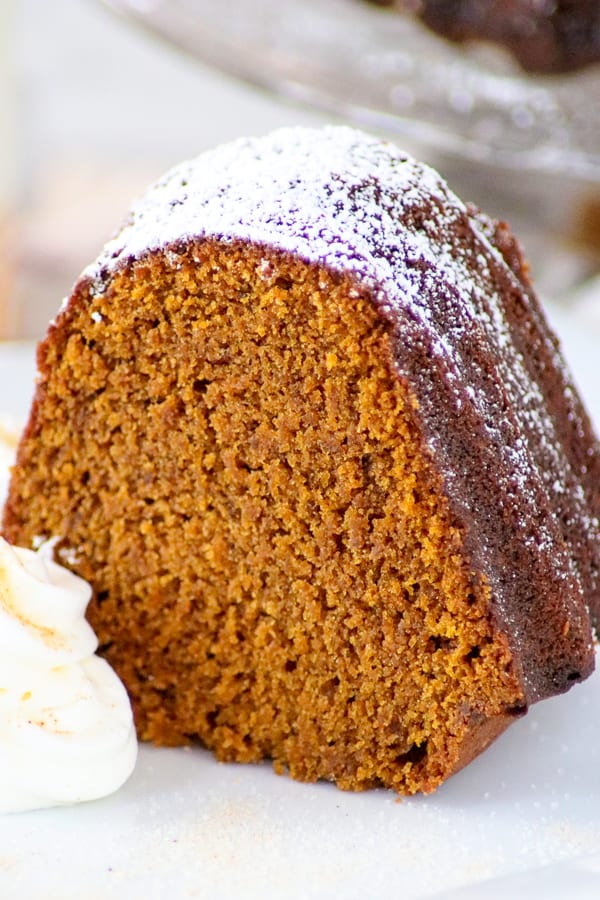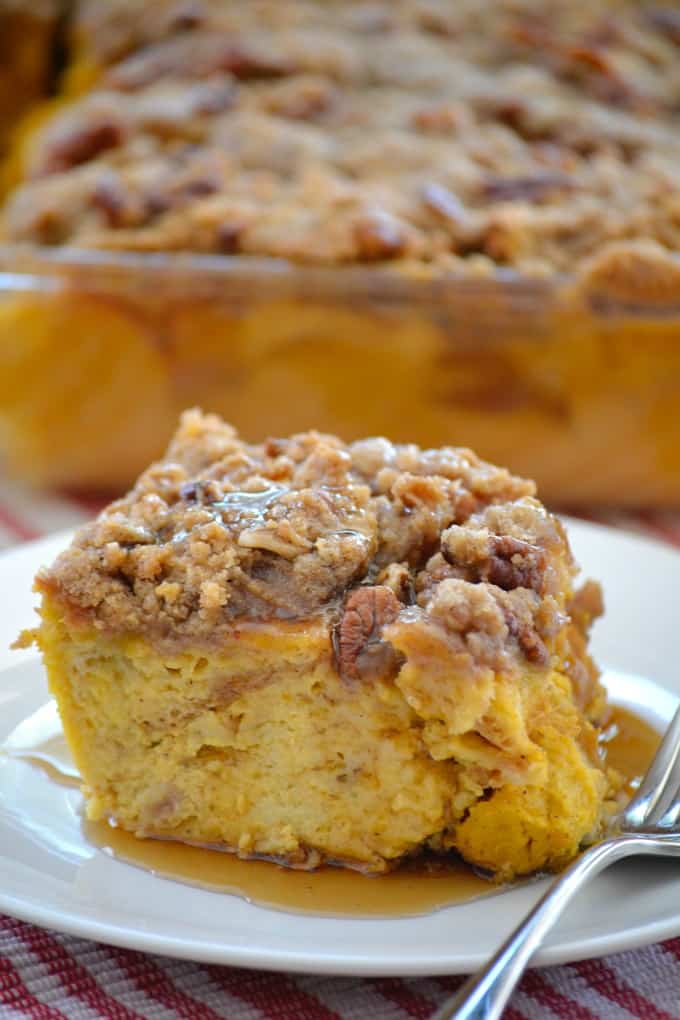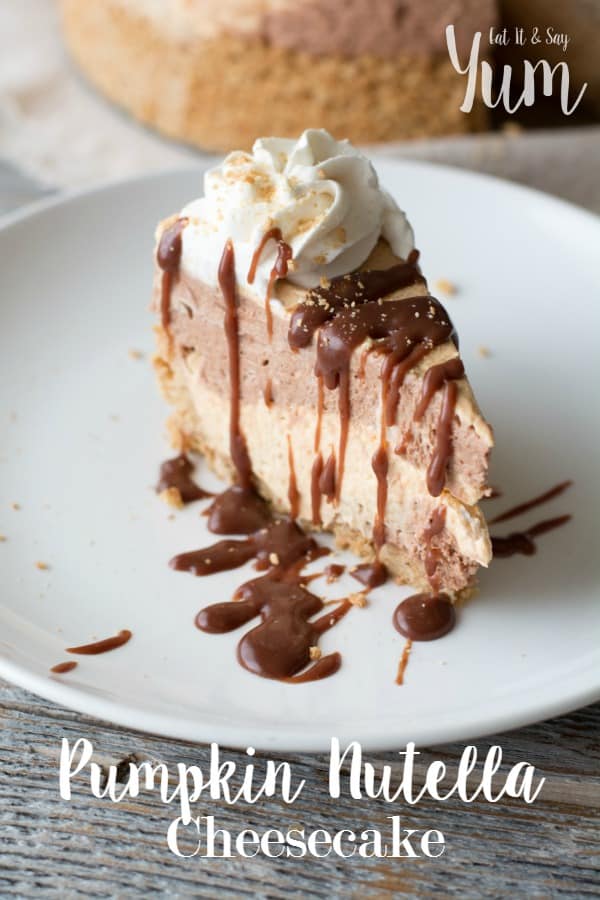 *We are a participant in the Amazon Services LLC Associates Program, an affiliate advertising program designed to provide a means for us to earn fees by linking to Amazon.com and affiliated sites.
These are links that can take you to a product (or products) that I recommend. I do receive a portion of the sales or credit for my future purchases from any items purchased through those links. Your purchases encourage my baking, cooking and butter habit, and contribute to the life of this blog. I thank you so very much for your support. Let's keep having fun in the kitchen!!
Reader Interactions