Welcome to Furry Friend Friday! Each Friday I share pictures and updates on Logan, our Golden Retriever puppy. If you love Golden Retrievers, puppies or dogs in general then you're going to enjoy following his antics each week.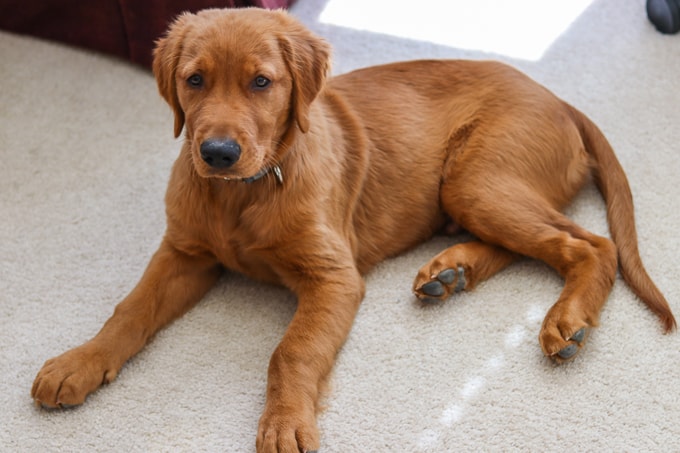 He just keeps getting bigger and bigger!
I know that's to be expected because he IS a puppy and he IS growing, but man!
Seems like every morning he walks out of his crate and he's another inch taller and longer.
You can follow Logan the Golden Dog account on Instagram where you'll see almost daily pictures and adventures of our furry friend!
I brought the big guy to the vet this past Saturday, got his vaccines as well as a microchip and a toenail trim. I'd much prefer that the vet techs trim his nails so I don't cut him.
That just makes me nervous because the quick of his nail is just too tough for me to see.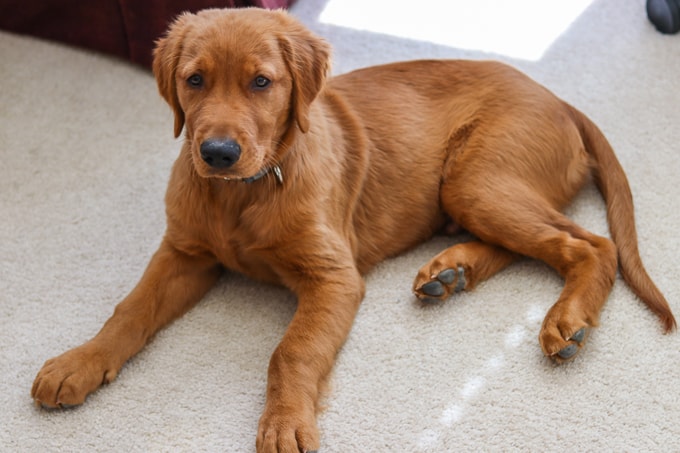 He is getting SO big SO quickly!! He weighed in at 26.3 lbs. and every morning when he walks outside, Kurt and I say, "man, he looks bigger this morning".
Every. Single. Morning.
LOL
SAVE THIS FURRY FRIEND FRIDAY TO YOUR FAVORITE PINTEREST BOARD!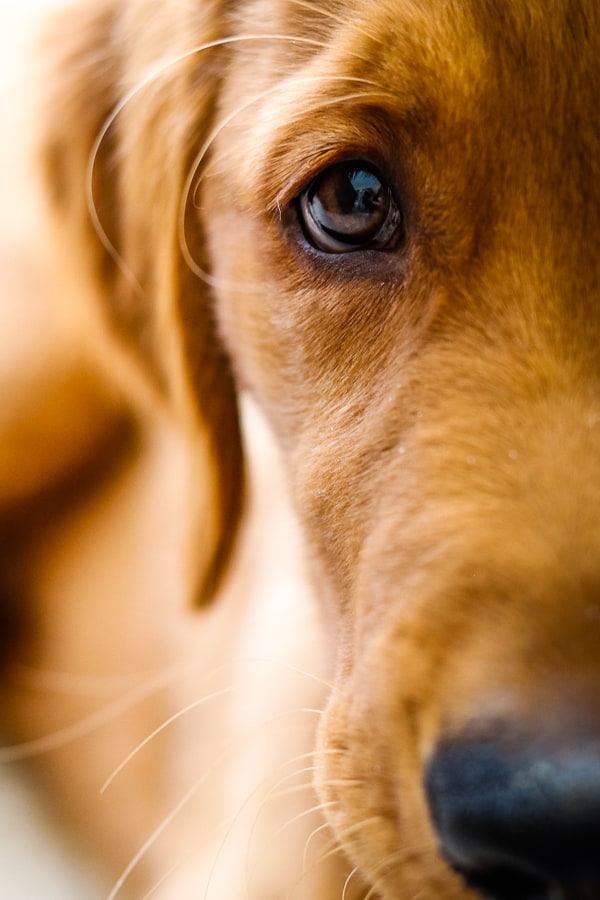 This week he fell in love with chasing the empty plastic vinegar jug all over the yard and carrying that around. He really likes the noise it makes when we kick it all over the rocks.
He still likes to sit on my lap in the morning even though he may not be completely on it.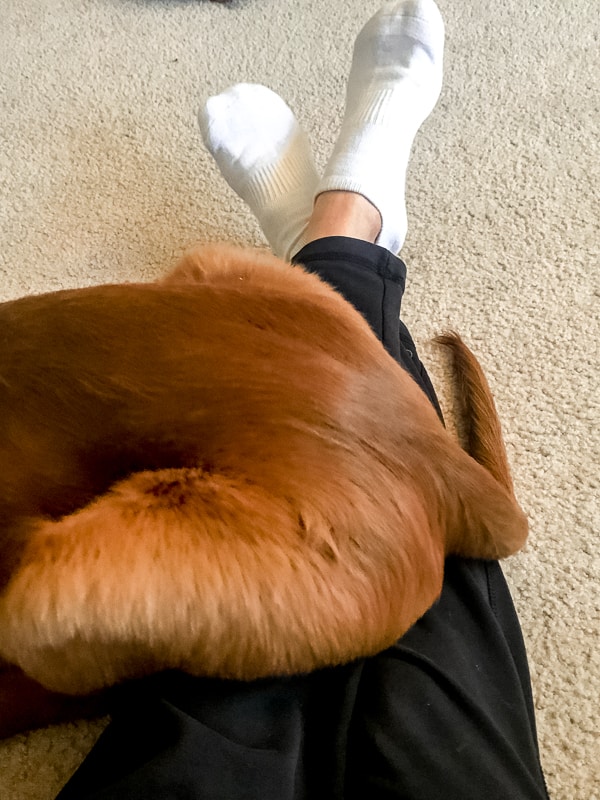 He's REALLY been enjoying the futon on our back porch. It's been cool enough out there and he loves napping on it. Although I think he might think that it will give him permission to get on the couches INSIDE the house which will NOT be allowed.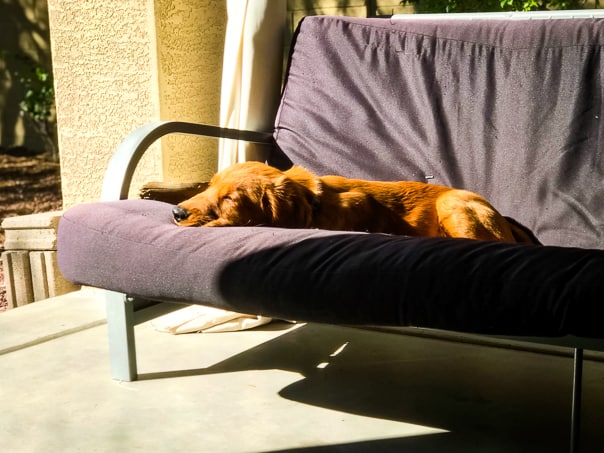 He loves taking baths. So much so that he felt left out when I was taking one the other day.
No way, Jose.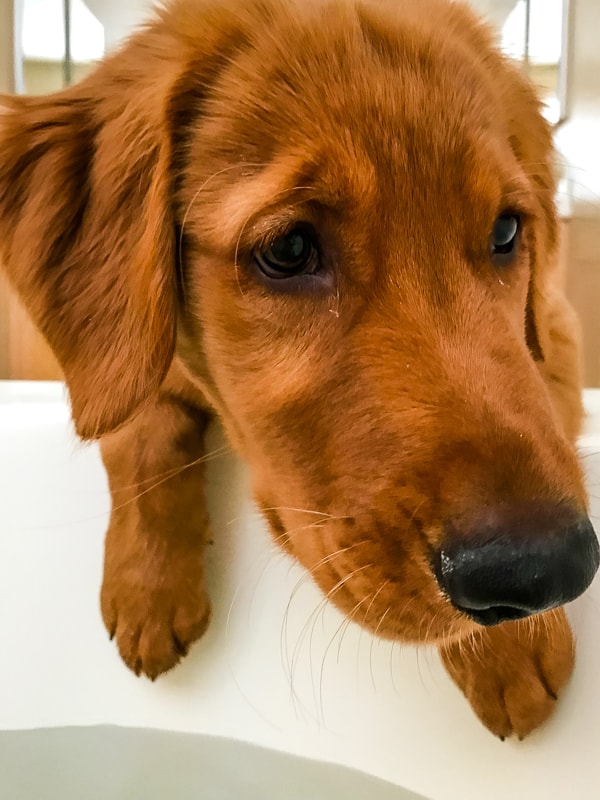 On Sunday, the three of us took a walk to a new coffee shop here in town and needless to say, the little guy received quite a few ooh's and aah's, and easily made friends. The ladies at the shop spoiled him bringing him water, lots of love, and a cup that was filled generously with whipped cream.
Unfortunately, my phone was dead so I didn't get a picture, but he thoroughly enjoyed it! We didn't give him the whole thing as we weren't sure how his tummy would be, but he scoffed it down when dad put it on his finger to lick!
Kurt and I have decided to make that our Sunday ritual. It's a good length for a walk, we can enjoy our Sunday coffee by supporting a local business, and he'll get to pick up the chicks. haha
Speaking of picking up chicks, one guy at the shop asked if he could borrow him every weekend.
Yeah, not.
I'll be sure to get some pics this Sunday so you can see his nose covered in whipped cream.
You can follow all of Logan's antics here on my Instagram stories, too! You'll see what our Furry Friend Friday pup is up to each day.
He decided that for Halloween he's going to be a cereal killer.
Haha
Get it. Cereal – Serial. Yeah.
I mean, just look at that mean snarl! EEKS!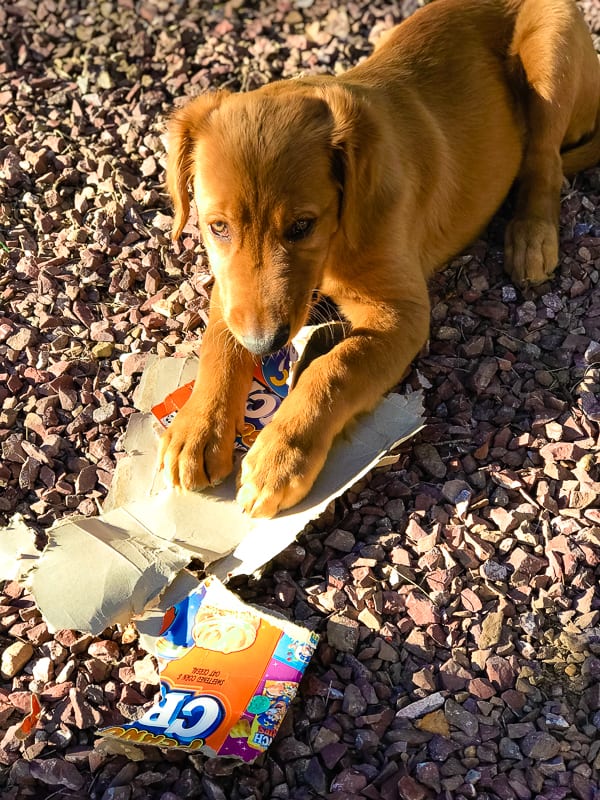 This week I did a photo shoot for a Chocolate Chunk Pumpkin Bread that I wanted new pictures for and he finally saw what I do for a living. Couldn't stop sniffing around.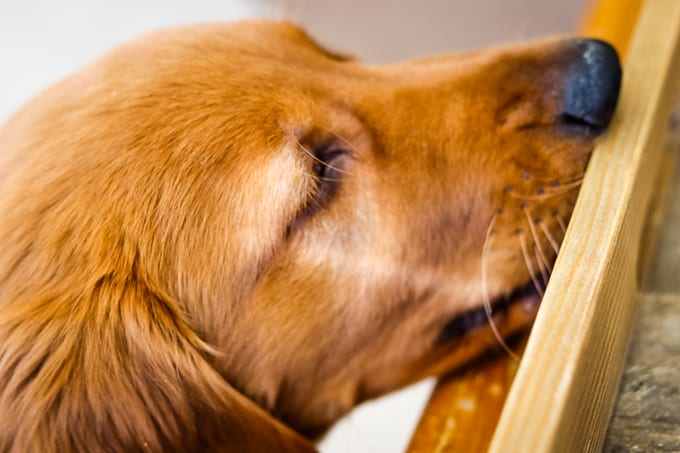 Yesterday, I went to Freddie's to get some lunch and the guy at the window asked me if I wanted a "Pup Cup". I thought it would just be a cup of whipped cream, but they put a scoop of their vanilla custard AND some whipped cream in it!
He was all over that, too!
I gave him a little, and of course wasn't happy that I took it away – kept searching the house for it.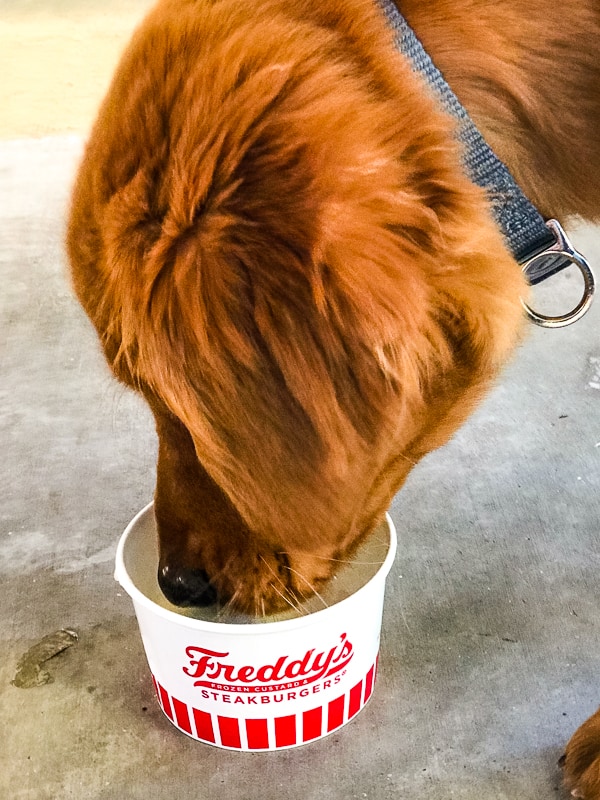 Thanks so much for reading!
Tune in next week for another episode of Furry Friend Friday!