Welcome to Furry Friend Friday! Each Friday I share pictures and updates on Logan, our Golden Retriever puppy. If you love Golden Retrievers, puppies or dogs in general then you're going to enjoy following his antics each week.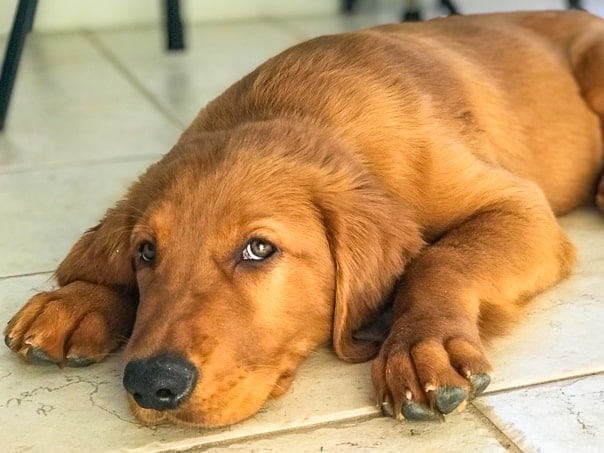 This puppy…
He'd worn me down over the weekend and at the beginning of the week, but I seriously think we're coming out on the other side.
Or maybe I've just had a change of heart. LOL
You can follow Logan the Golden Dog account on Instagram where you'll see almost daily pictures and adventures of our furry friend!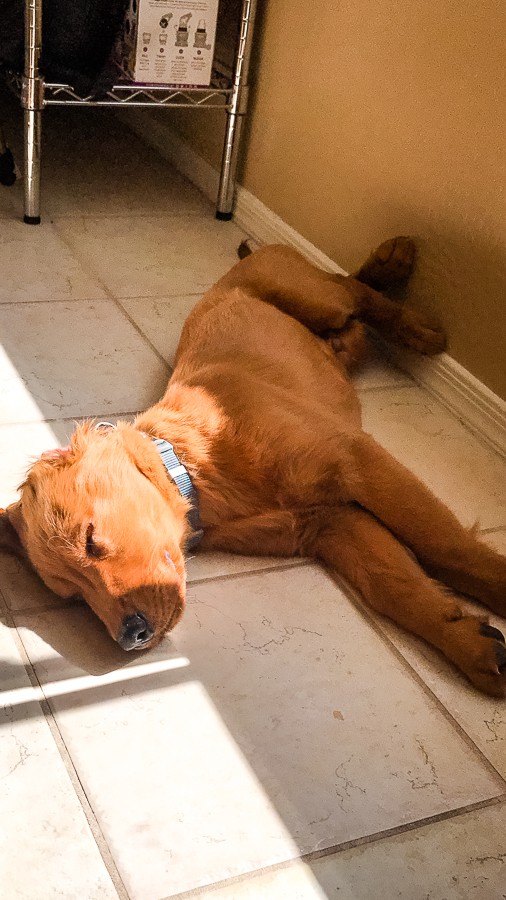 Having a puppy is just way more demanding than I remember. But then again as I told you in our first Furry Friend Friday when we brought our first dog, Brady home there were three energetic kids to play with him.
SAVE THIS FURRY FRIEND FRIDAY TO YOUR FAVORITE PINTEREST BOARD!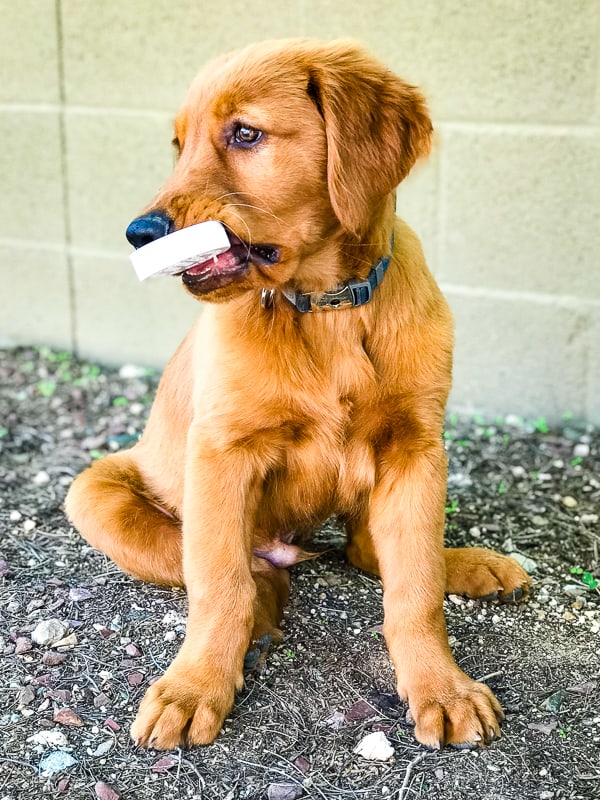 Then when our daughter bought Keiser he had Brady to occupy his time.
Now it's just me and Kurt and spring chickens we ain't! LOL
But you know what, Logan is really a sweetheart and I wouldn't change a thing.
I mean, who can seriously resist those puppy dog eyes.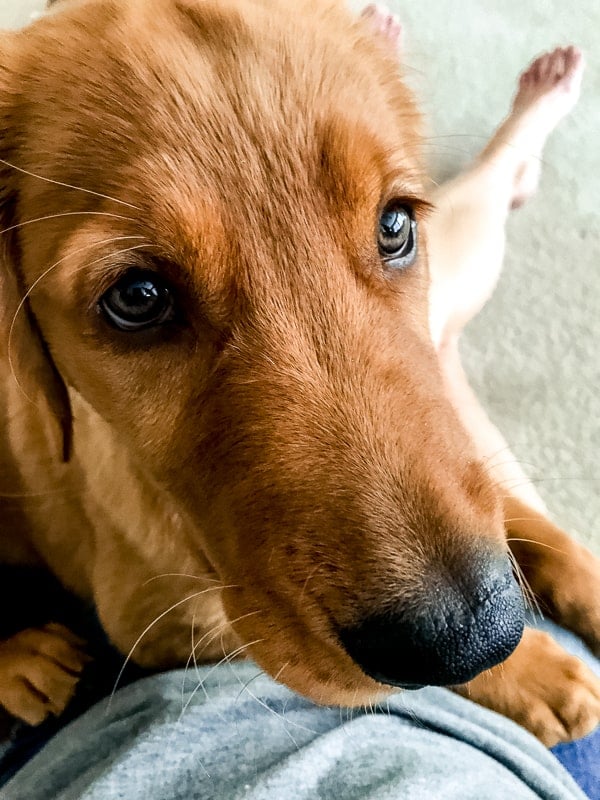 This past week, Logan's REALLY been quite affectionate which has completely melted my heart.
We've enjoyed LOTS of snuggles…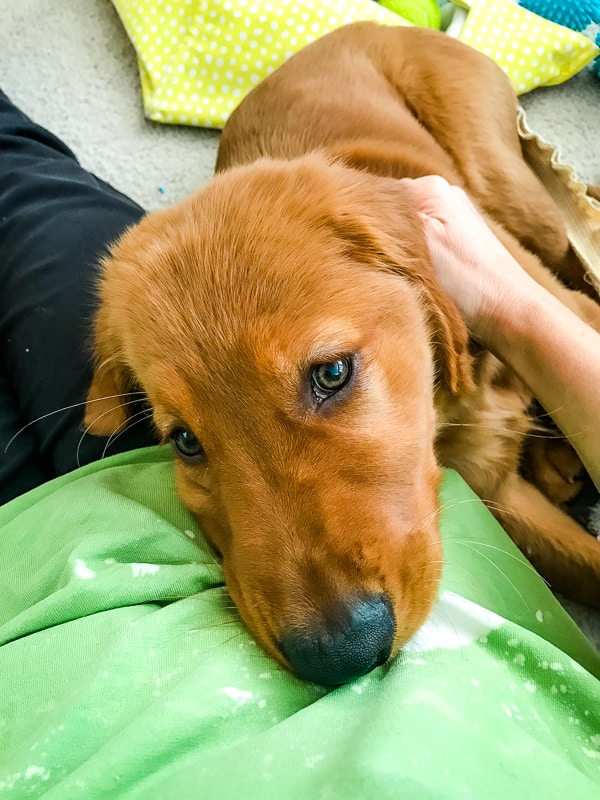 And he's even tried to be a lap dog on more than one occasion.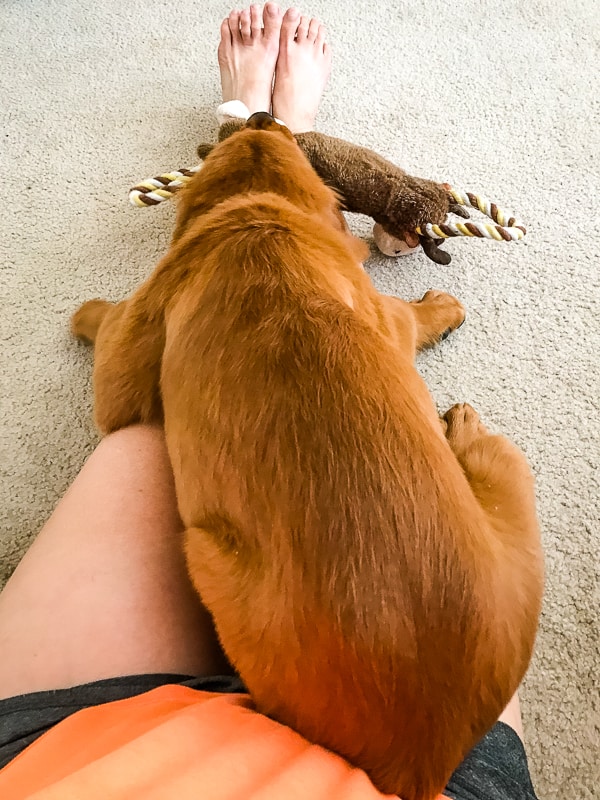 Relations with Winnie, the cat are improving…slowly. He likes to just sit now and bark at her which we're quick to curtail.
We've been walking him three, yes THREE times a day.
The first is on the local path near our house. That is after we pick him up to get past the mailboxes. For some reason, he stops when get out in front of our house and won't budge. There are quite a few noises – cars, barking dogs, etc. so we think it might be that. Once he gets to the path he's fine, it's just a matter of getting him there.
For his second walk, we'll drive to a park near a local elementary school where he'll run after us and is doing really well with following directions.
Then finally, we've been taking him to the local park to walk and run around the baseball and soccer fields. The other night most of the lights were off because much of the grass had been reseeded and there was no one around. We were on the soccer field and I looked back to see a group of 6 javelinas with two babies running across the field. I yelled to Kurt and we quickly ran in the other direction!
That was scary! Those things are pretty big and they can be MEAN, especially when they have babies in tow.
When we don't have to worry about wild animals running about in the park, our nights and evenings look much like this…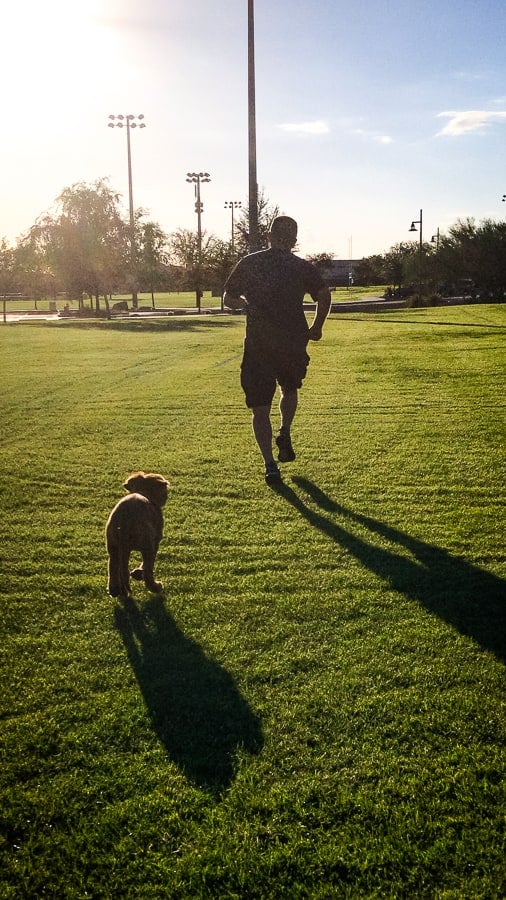 During the week, you can follow all of Logan's antics here on my Instagram stories!
Tomorrow he's off to his next vet appointment. At his last one, on September 22, he weighed 17.5 lbs. and he's gained quite a bit more weight since then. I almost have trouble picking him up and he's now a couple inches taller than Winnie. I'm really interested to see what he weighs!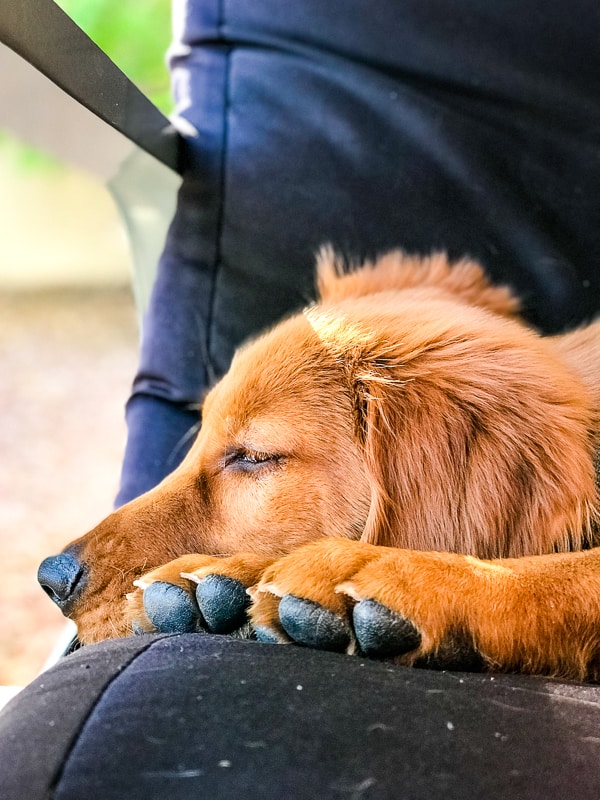 I hope you all enjoy your weekend! We'll be watching the Red Sox and Astros battle for the ALCS and then the Patriots / Chiefs game Sunday night. I don't know what I'd do without sports! haha
I'm also hoping that I'll be able to resume my FB LIVE Monday's Recipes this coming Monday even if it is just for one recipe. I actually think he'll be okay Monday night for me and I won't be harried as I have these past few weeks. So, watch for that on the 365 Days of Baking FB page at about 8 pm EST!
Tune in next week for another episode of Furry Friend Friday!