This Lemon Blueberry Bread recipe is an easy quick bread with a delicious lemon flavor. It can be made with either fresh or frozen blueberries, and it's perfect with coffee or tea!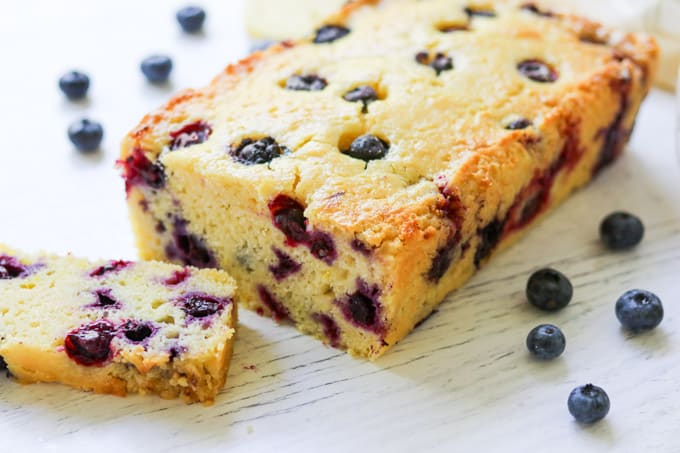 There's just something about baking with fresh fruit that I love so much.
There's just something about that fresh flavor and it's so easy, too.
That's why I've incorporated all kinds of delicious fresh fruit into many of my recipes.
When summer arrives and you have the opportunity to go berry picking, there's nothing better than using them to make delicious desserts, salads, and breakfasts.
Ok, well maybe eating them plain topped with some stabilized whipped cream wouldn't be such a bad thing either. 😉
SAVE THIS BLUEBERRY LEMON QUICK BREAD RECIPE TO YOUR FAVORITE PINTEREST BOARD!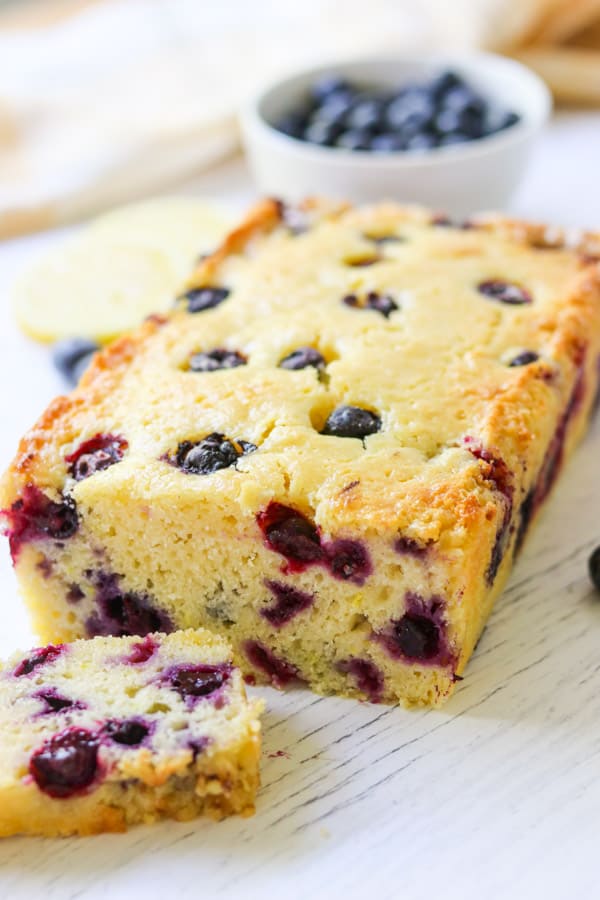 If you've picked fresh blueberries, this lemon bread isn't the only thing you can make with them.
This skillet blueberry crisp is one of my favorite recipes. It's so easy to put together and it's even better when topped with a scoop of vanilla ice cream.
If it's pies you're after, then a blueberry pie with an easy lattice crust should fit the bill.
Don't want to bake? I've got a pie recipe for that, too! I couldn't believe it either when Kurt's aunt shared it with me.
And with cherries in season, these blueberry cherry mini crumb pies are hard to resist.
Breakfast is even better when fresh fruit is involved!
Got a busy day coming up and don't want to be at the stove all morning?
Make this baked blueberry cream cheese French toast the night before so all you have to do is put it into the oven the next morning to bake!
If you have more blueberries on hand than you'll use in the upcoming days, then you can easily freeze them.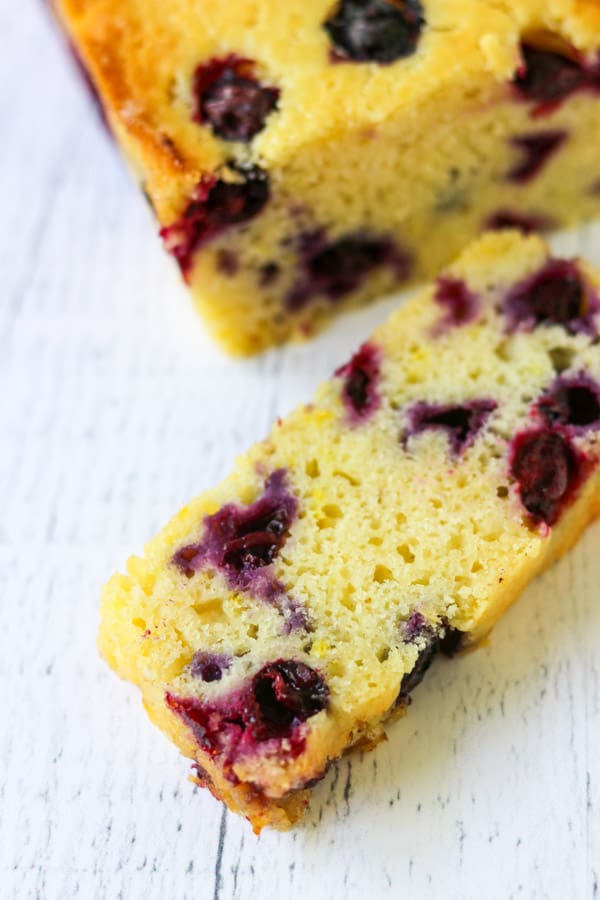 And lemon, who can resist a recipe made with anything lemon?
Not me, that's for sure!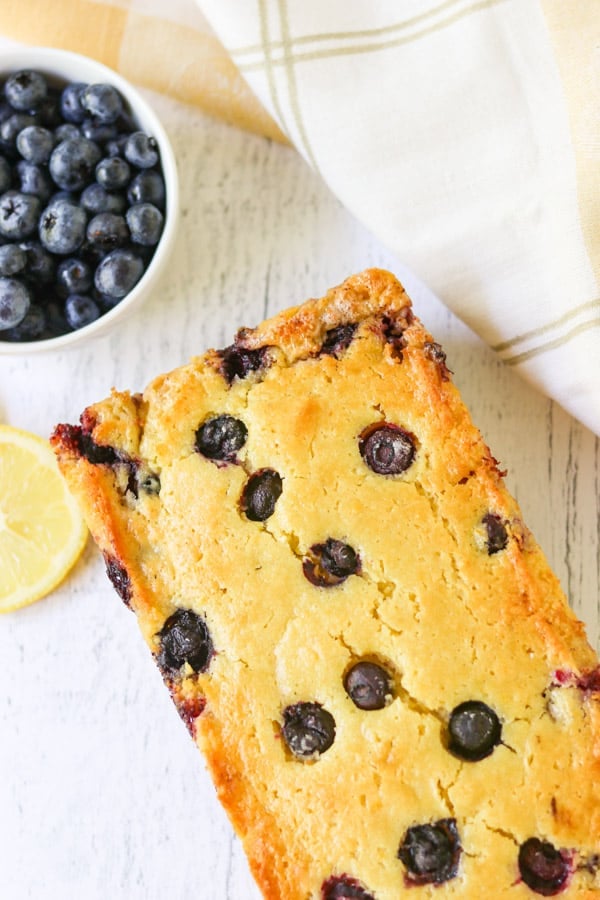 What ingredients do you need to make a blueberry lemon loaf?
all-purpose flour –
you'll want to remove one teaspoon from the total amount to toss the blueberries with. This is the secret to prevent them from sinking in the batter while baking.
baking powder
granulated sugar
kosher salt
fresh lemon zest
fresh lemon juice
unsalted butter, melted
eggs
milk
pure vanilla extract – you can use vanilla extract, but PLEASE do not use anything that says imitation vanilla extract.
Oh, and blueberries, of course!
SIGN UP FOR THE WEEKLY
365 DAYS OF BAKING & MORE
NEWSLETTER BELOW!
Tips for making Lemon Blueberry Quick Bread –
You can either use fresh or frozen blueberries to make this easy lemon blueberry bread.
You don't need to thaw them when using frozen. Just bake the bread for about 5 minutes longer, or until a toothpick inserted into the middle comes out clean.
Whether using fresh or frozen blueberries, toss them with one teaspoon of the flour. This will help to suspend them in the batter as opposed to sinking to the bottom as they did when I first made this bread. See picture below. Who knew?
To store, wrap tin foil and bread will keep on the counter for up to 4 days.
To freeze, wrap tightly in plastic wrap and then in tin foil after it has completely cooled.
It can be frozen for up to 3 months. Thaw by placing into refrigerator overnight and enjoy with coffee the next morning!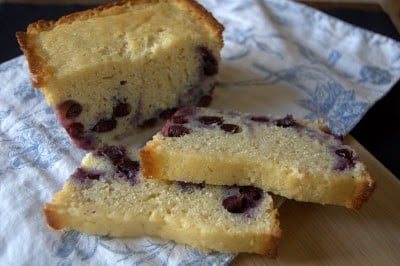 This recipe has been slightly adapted from Crazy for Crust.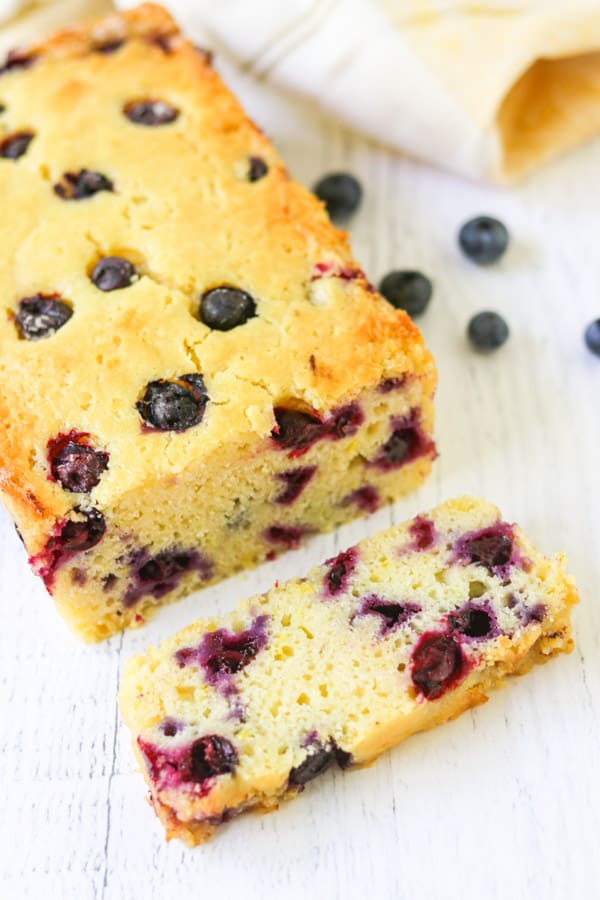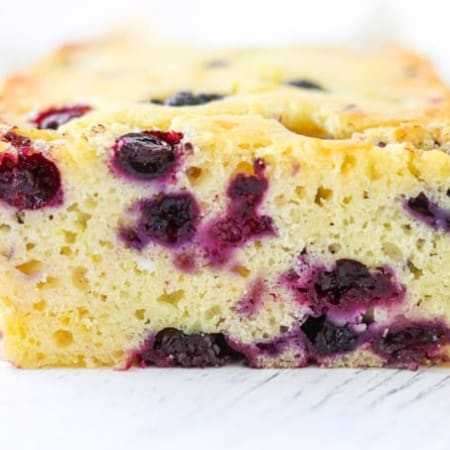 Ingredients
1 ½ cups all-purpose flour separated
2 teaspoons baking powder
¾ cups granulated sugar
1 teaspoon kosher salt
1 tablespoon lemon zest
¼ cup butter, melted and cooled
2 large eggs
½ cup whole milk
1 teaspoon vanilla
2 tablespoons fresh lemon juice
1 cup fresh blueberries
Instructions
Preheat oven to 350 degrees.

Remove one teaspoon from the 1 ½ cups flour and place into a small bowl. Add the blueberries and toss to completely coat.

Prepare a 9 X 5-inch loaf pan by spraying it with cooking spray.

In a large bowl, whisk together the flour, baking powder, sugar, salt and lemon zest. 

In a medium bowl, beat eggs. Add milk, vanilla, lemon juice, and melted butter. Mix well.

Add to dry ingredients and mix until just combined. 

Gently fold the blueberries in, but do not overmix.

Bake for about 50 minutes or until a toothpick inserted comes out clean. 

Place the loaf pan on a wire rack and let cool completely. 
Nutrition
Serving: 1g | Calories: 248kcal | Carbohydrates: 41g | Protein: 5g | Fat: 8g | Saturated Fat: 2g | Cholesterol: 42mg | Sodium: 382mg | Potassium: 176mg | Fiber: 1g | Sugar: 22g | Vitamin A: 348IU | Vitamin C: 4mg | Calcium: 72mg | Iron: 1mg
Did you make this recipe?
Share it with me on Instagram and make sure to follow me on Pinterest for more recipes.
Way back in the day, I used to rate everything I baked on a scale of 1-4 with 4 being the best.
This Blueberry Lemon Bread recipe earned 3 1/2 rolling pins.
It was quite delicious and the family unanimously agreed on the rating too!
Reader Interactions