Cool off with Cake Batter Ice Cream! A scoop or two of this delicious ice cream with a creamy vanilla base, real cake mix and sprinkles, is the perfect refresher any time of year, but especially as a summertime treat. If cake batter is your favorite, then check out these Cake Batter Rice Krispies Treats, too!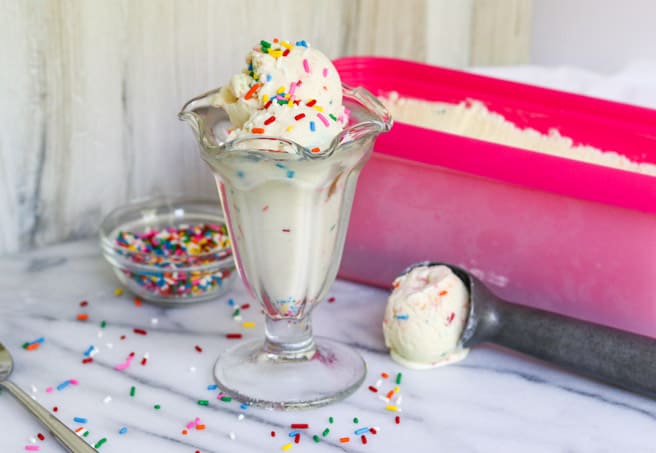 When summer hits, one of the only things I can think of is ice cream.
Seriously.
Who can relate?
The heat, humidity (now that we're living back in Rhode Island as opposed to the dry oven heat of Phoenix), and laid back summer days, just tire me out and make me want something cold.
Ice cream speaks to me.
Like literally, speaks to me.
Ok, maybe not. I was going to go off on an ice cream talking tangent, but I know you don't want to read through all this "dribble".
JUST GET ME TO THE RECIPE!!
SAVE THIS HOMEMADE CAKE BATTER ICE CREAM TO YOUR FAVORITE PINTEREST BOARD!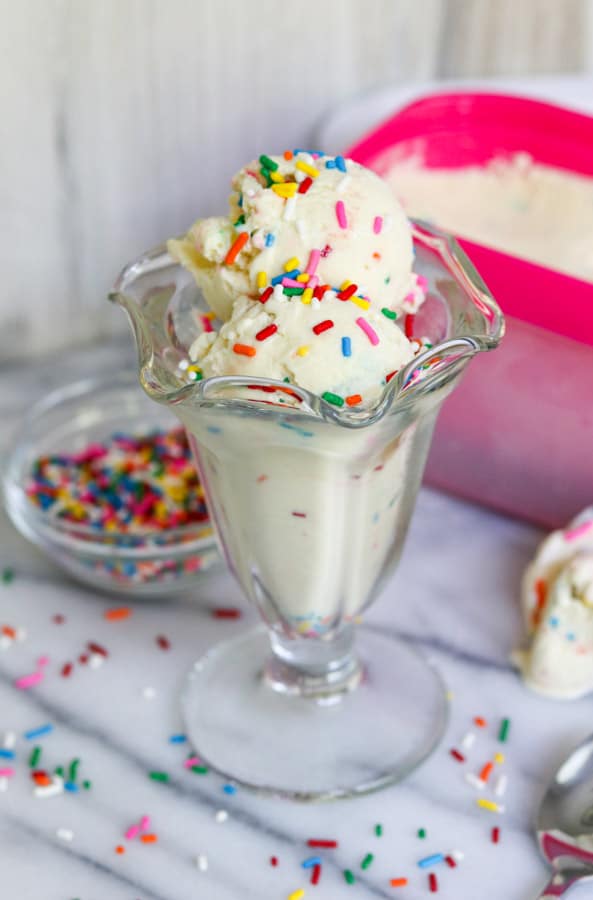 Hold on, hold on.
Good things come to those who wait.
Besides, I've got other delicious COLD recipes to tempt you with beforehand.
BUT, if you MUST go immediately, there is a 'Jump to Recipe' button at the top of the post.
So go for it.
Cool and refreshing is where it's at!
I've got quite a few recipes to help you lower your temperature when the heat rises.
And we all know that 2020's already been a SUPER crazy year with plenty more in store.
So let's lose ourselves in some yumminess, shall we?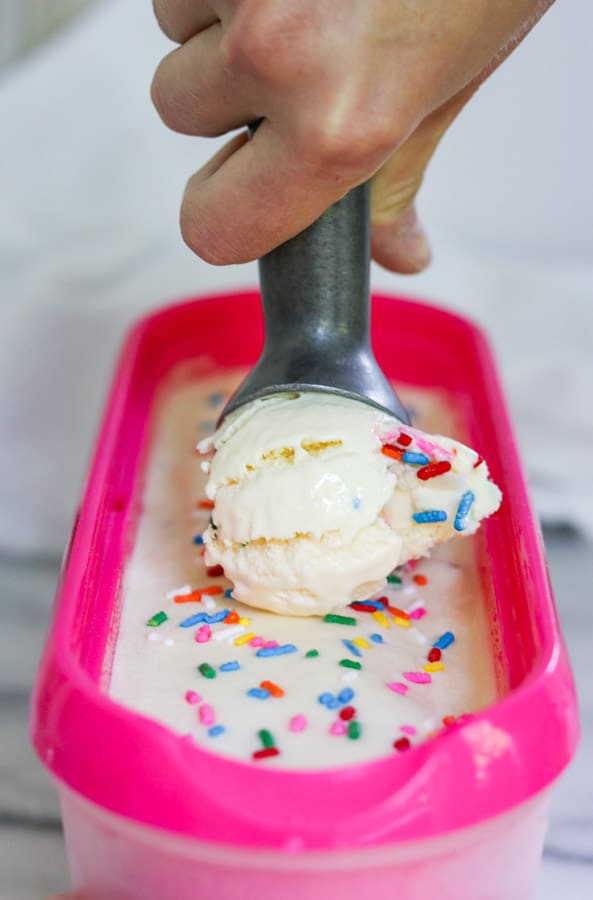 I made a couple different ice cream recipes after my initial 365 Days of Baking ended back in 2012.
I mean, who can resist making ice cream?
There was this Banana Cookie Butter Ice Cream which won me an honorable mention from Rodelle Vanilla years ago.
Since this family loves strawberries so gosh darn much, I made this Roasted Strawberry Ice Cream and need to definitely make that again soon because it was WONDERFUL!
Also, no bake desserts like my Dream Bar recipes, are definitely the way to go this time of year, too!
My Chocolate Peanut Butter Dream Bars were the first ones that started it all and remain one of my most popular posts to date.
Want to relive the days of running after the ice cream truck? Make these Orange Creamsicle Dream Bars. They taste just like the real thing!
Love strawberries as much as we do? Then these you'll definitely enjoy these Strawberry Cheesecake Dream Bars.
And one of the best things about ALL of the dream bar recipes? Every one of them is NO BAKE, so there's no need to turn the oven on!
These Circus Animal Cookie Dream Bars are colorful and fun just like today's ice cream post! Both of these recipes are sure to bring out the kid in all of us.
I mean, I won't pass up a Frozen Bahama Mama, or a refreshing Blue Ocean cocktail, either.
I love cooling off with a drink.
The whole family loves these Frosted Lemonades.
They're beyond easy and kind of addicting, so be careful! 😉
What do I need to make the best cake batter ice cream?
Half and half
This is a pre-made mixture of equal parts milk and cream that can be purchased at your local grocery store.
In other countries, it may be called half cream or single cream.
Boxed yellow cake mix
No need to mix it with any other ingredients called for on the box. You'll be using 1 cup of the dry mix in this recipe.
Granulated or white sugar
A touch of salt
Egg yolks
Pure vanilla extract
You can use vanilla extract, but leave the imitation vanilla extract on the grocery store shelf.
Colored Sprinkles/Jimmies or whatever you call them.
You can use the chocolate ones, but it's definitely more fun if you add some color.
Use different colored sprinkles according to the upcoming holidays to make your ice cream more festive!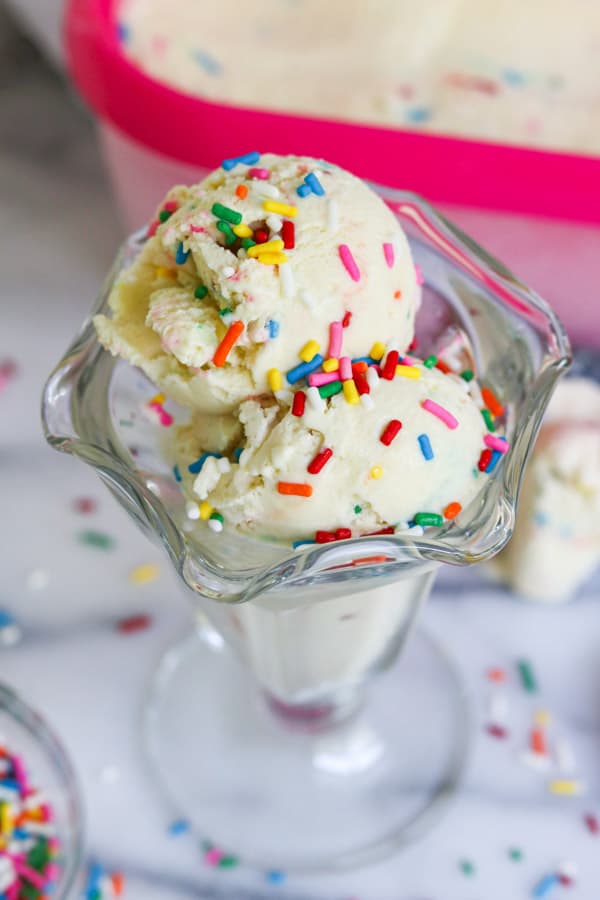 How to make Cake Batter Ice Cream?
It's easy!
Whisk the half and half, sugar, cake mix, and salt into a medium saucepan and heat to warm over medium heat.
In a small bowl, combine the egg yolks and vanilla.
Using a ladle, pour a small amount (about ½ – 1 cup) of the heated mixture into the yolks while continuously stirring.
You don't want your eggs to cook, but you do want to raise their temperature. Nobody likes the taste of cooked eggs in their ice cream. Hmmm…well, maybe there's someone, but certainly not me!
Then add the egg yolk mixture to the saucepan.
Cook until the temperature reaches between 170-175° F, and is thick and creamy. This will take about 5-7 minutes.
Pour mixture into a large bowl, cover surface with a sheet of plastic wrap and place into the refrigerator to chill for a minimum of 2-4 hours, though 4 hours is best.
If there are clumps of dry cake batter, pour the mixture though a fine mesh sieve before pouring into the bowl to chill.
Pour batter into ice cream maker and follow manufacturer's directions.
Add the sprinkles according to manufacturer or mix in before serving or preparing to freeze.
Serve immediately for soft serve ice cream or pour into an airtight container and freeze until ready to enjoy.
Any homemade ice cream will be freshest within two weeks of making it, so don't wait any longer than that to eat it!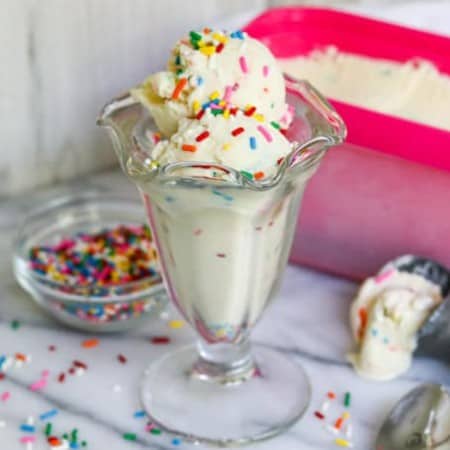 Equipment
medium saucepan

ice cream maker
Ingredients
3 ½ cups half and half
1 cup dry yellow cake mix
½ cup granulated sugar
pinch salt
3 large egg yolks
1 teaspoon pure vanilla extract
2 tablespoons colored sprinkles
Instructions
In medium saucepan over medium heat, whisk together half and half, cake mix, sugar and salt until warm.

In a medium bowl, mix together egg yolks and vanilla.

Using a ladle, slowly drizzle about a 1/2 – 1 cup of the warm mixture into the egg yolks, whisking constantly.

Add the yolk mixture to the warm half and half mixture while again whisking constantly.

Continue heating while continually stirring and scraping the bottom of the pan until the mixture thickens and the temperature reaches between 170 – 175° F on a thermometer.

If you find that the mixture has clumps after heating, pour through a fine mesh sieve into a bowl. Otherwise, pour mixture into a medium bowl, place a piece of plastic wrap over the surface and refrigerate for a minimum of 2 hours (though 4 hours is best) to completely cool.

Place in ice cream maker and follow manufacturer's directions.

Before placing ice cream in a container to freeze, mix in sprinkles or do so when directed by ice cream manufacturer.

Serve immediately for soft serve ice cream or pour into an airtight container to store in the freezer to enjoy later.
Nutrition
Serving: 1g | Calories: 110kcal | Carbohydrates: 15g | Protein: 2g | Fat: 5g | Saturated Fat: 3g | Cholesterol: 37mg | Sodium: 87mg | Potassium: 53mg | Fiber: 1g | Sugar: 9g | Vitamin A: 157IU | Vitamin C: 1mg | Calcium: 61mg | Iron: 1mg
Did you make this recipe?
Share it with me on Instagram and make sure to follow me on Pinterest for more recipes.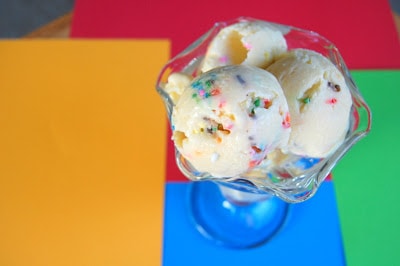 I originally posted this Cake Batter Ice Cream on 5/21/12 for The Secret Recipe Club, and this recipe comes from The Pink Apron blog.
I used to rate everything I made on a scale of 1-4 with 4 being the best and this Cake Batter Ice Cream earned 3 rolling pins.
Reader Interactions