Refresh yourself in the summer heat by dreaming of Alaska or escape to the tropics in winter with this Blue Ocean drink recipe – a Piña Colada with Blue Curaçao. It was my favorite drink during our Alaska cruise with Princess Cruises this past May. I think it will quickly become a favorite of yours, too!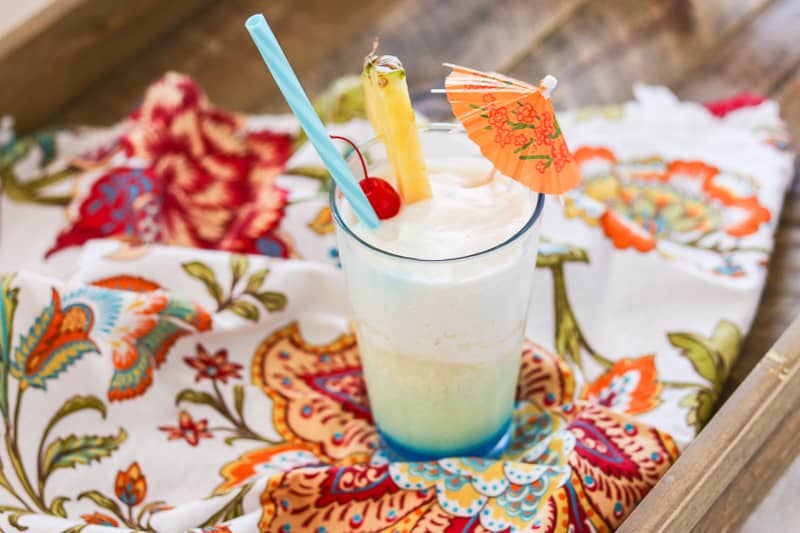 There's nothing like having a refreshing drink while you're on vacation. Am I right?
I have been sponsored by Princess Cruises to bring you this post, Blue Ocean Drink recipe, the sixth in a series sharing our Alaska cruise. As always, all opinions are 100% my own.
My husband, Kurt and I had the incredible opportunity to take a cruise to Alaska with Princess Cruises this past May. When I say it was incredible, I actually mean it was nothing short of spectacular.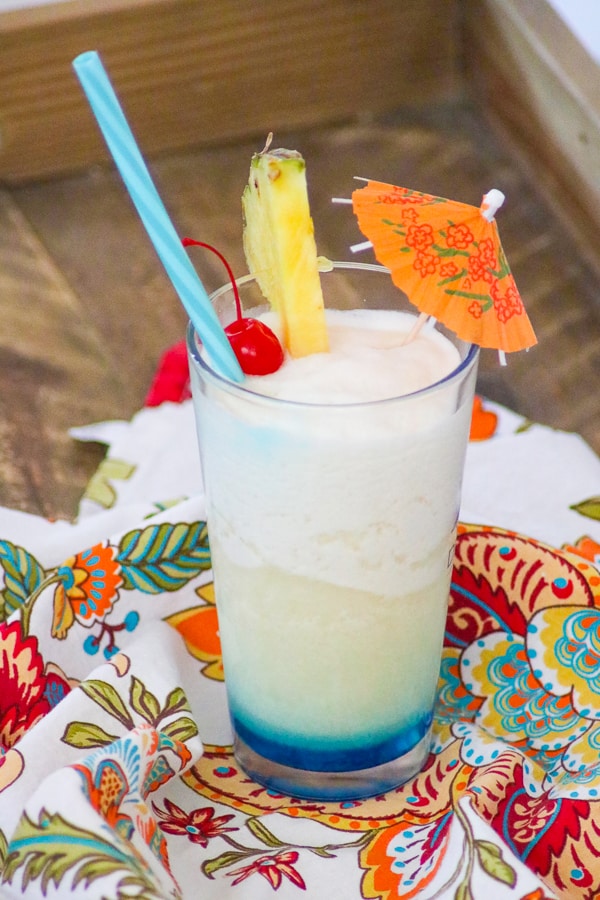 We enjoyed delicious food like these Easy Chocolate Bear Claws while on the ship and these Cranberry Pecan Goat Cheese Bites during our White Pass Scenic Railway excursion. When we returned, I made this Chimichurri Salmon to remind us of our trip.
We saw the Mendenhall glacier during our excursion in Juneau and were well prepared for the weather during our whole trip. The sunny days, rainy days and cold temperatures all made for a very memorable experience for these two desert dwellers.
We loved every minute!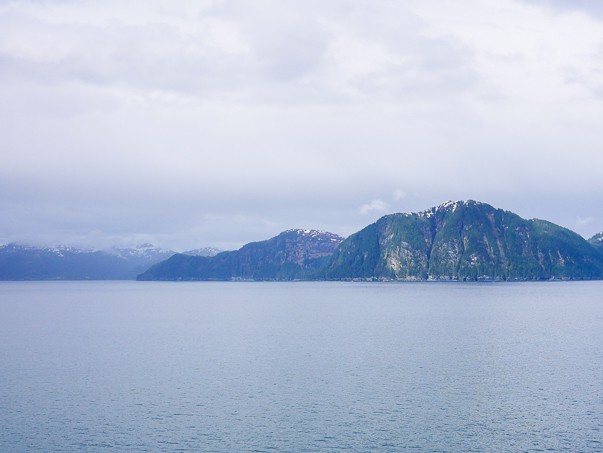 SAVE THIS BLUE OCEAN RECIPE TO YOUR FAVORITE PINTEREST BOARD!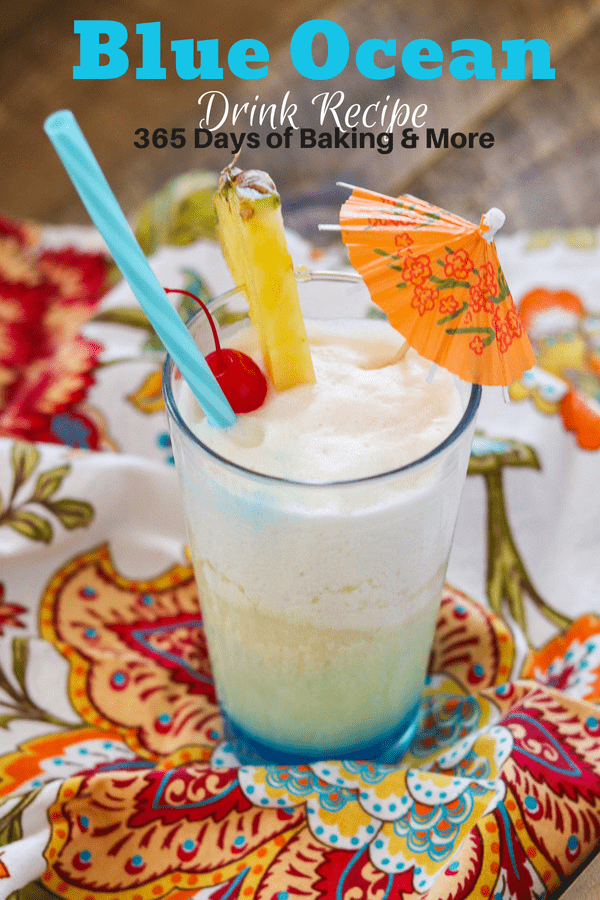 I cannot tell you how incredibly beautiful Alaska was. I'd seen it on TV and I took some pretty nice pictures, but neither does it justice. You seriously have to see it in person.
That's why now and any summer is THE perfect time for you to book your Alaska cruise. If you've even had the slightest thought about going, I say, go for it!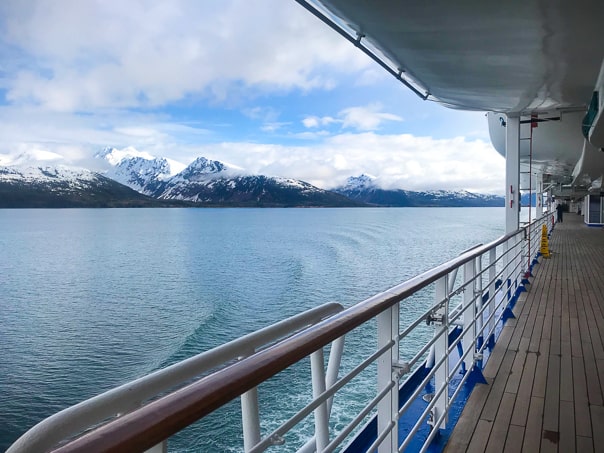 You're going to have the trip of a lifetime. Truly. Princess Cruises takes great care of their guests.
When you're onboard the Island Princess or any of their other ships, you'll have plenty to do as there are activities planned throughout the day.
You'll sleep SO well in your cabin. The beds are my favorite! I'm not gonna lie – when I knew we were going on this trip, one of the things I most looked forward to was SLEEPING! I kid you not. My daughter and I fell in love with the beds when we went on our 10-Day Panama Canal Cruise last year with Princess Cruises. That was an unbelievable trip, too!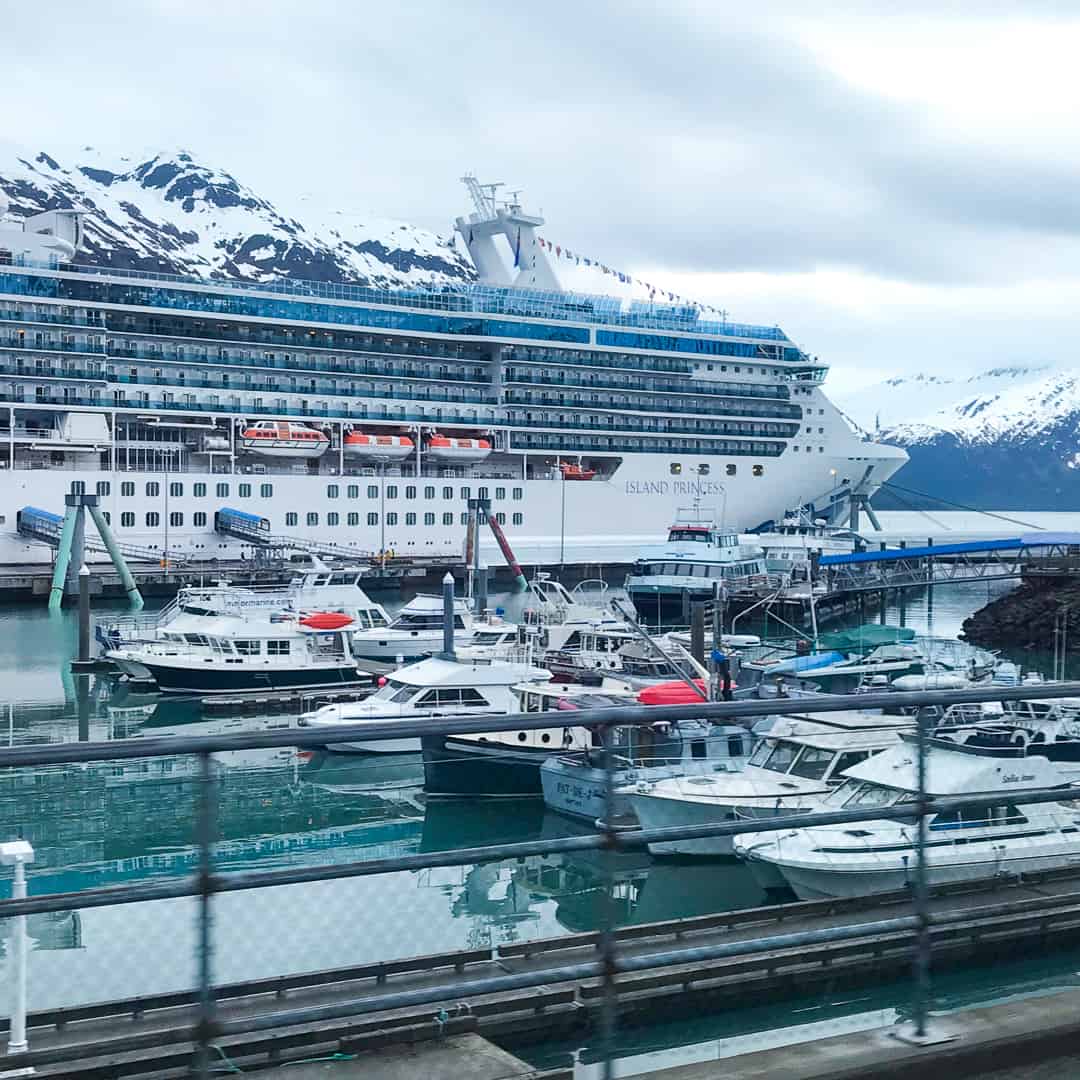 It's so cool being on a cruise ship because it's literally like a floating city. There are shops, entertainment, bars and top-notch restaurants. Below is a short video I took of Island Princess' Atrium. It's the "lobby" of the ship and is where they hold the Captain's Welcome Reception, along with other events.
While you're on the ship for an extended period of time, you'll get to know your servers and the bartenders and even become friends with them. Then, if you're lucky enough, they'll treat you to some entertainment to make your trip even more special as these wonderful gentlemen did. They were so much fun and serenaded us every night we were in the Wheelhouse Bar.
One of the drinks I enjoyed immensely during our cruise (besides my all-time favorite Mojito) was this Blue Ocean drink. It's a frozen Pina Colada with Blue Curaçao. It's tremendous! I had to recreate it when I returned home because I 1) don't have many drink recipes on the blog and 2), wanted to always remember the fun we had during our trip.
Another drink we enjoyed on the cruise was this Long Island Ice Tea. Kurt introduced Erin to them and she had to recreate the recipe she enjoyed them so much.
I adapted it from Amanda's Pina Colada recipe and after many attempts (oh, yes, there was QUITE a bit of taste-testing involved! haha), I finally perfected it!
You can see that Blue Curaçao makes the ocean water on the bottom, and the Pina Colada makes the ocean foam.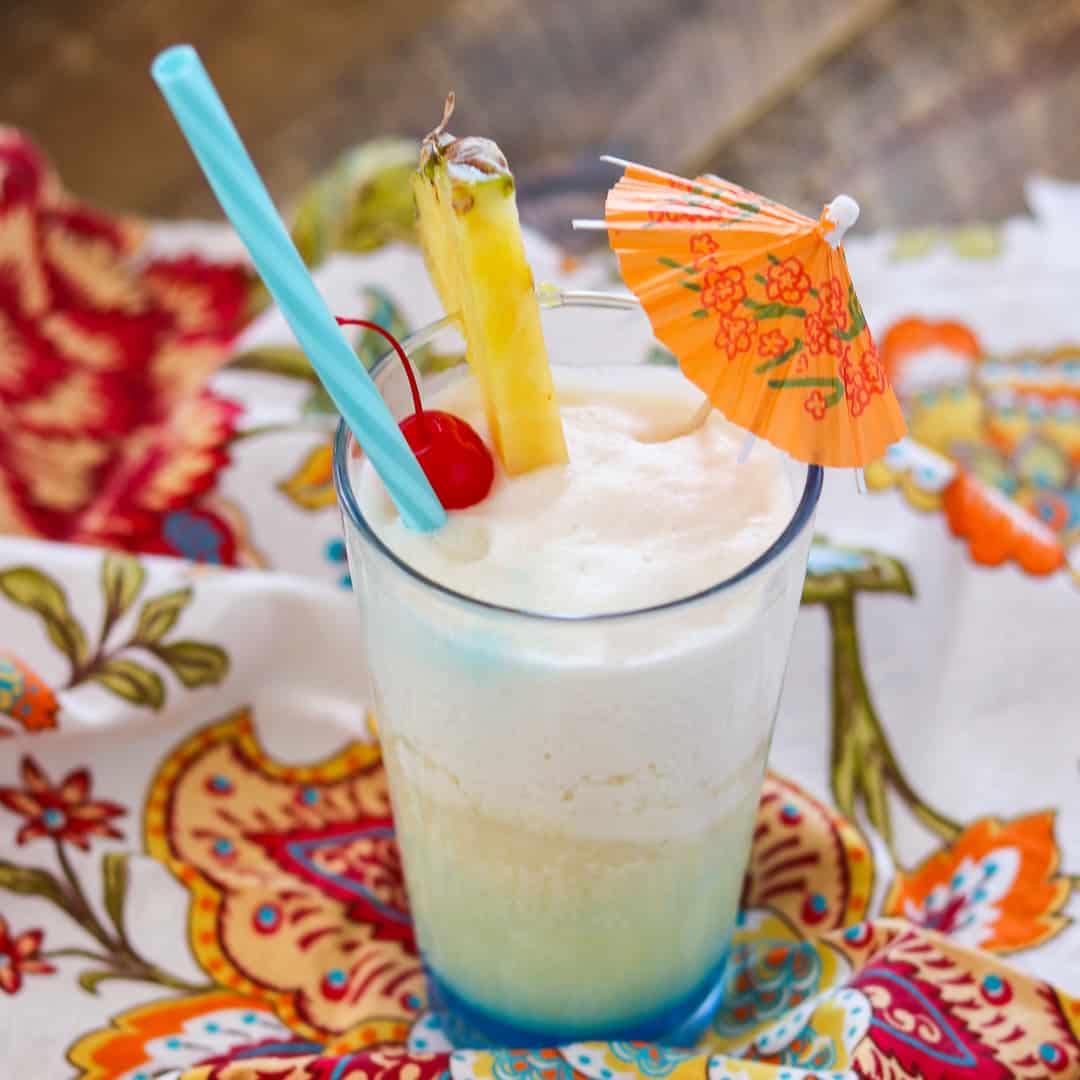 It's a fun drink to make, but the reason I had to make it so many times was that the curaçao kept mixing with the Pina Colada when I poured it in making it a Blue Hawaii, but I didn't want it completely mixed because that wasn't what I was served. SO…
It was a process, but I finally learned that in order to separate them, I needed to gently pour the Pina Colada over the back of a spoon held against the glass. VOILA!! I love the different colors and this Blue Ocean is quite tasty as well.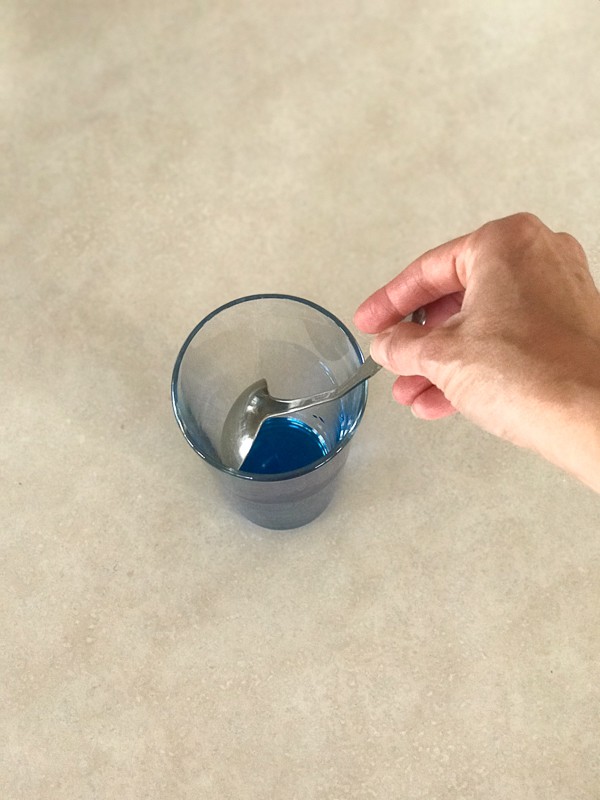 Tips for Making this Blue Ocean Drink Recipe –
This drink can be made using either white or dark rum.
It can also be made with or without ice, but I prefer it frozen.
Use a large spoon when assembling, but not one that is so large that it won't fit into the glass. the larger the spoon the better it will displace the Pina Colada mixture over the Blue Curaçao.
Make this drink even more fun and festive and garnish it with a fresh pineapple wedge, cherries and one of those pretty drink umbrellas.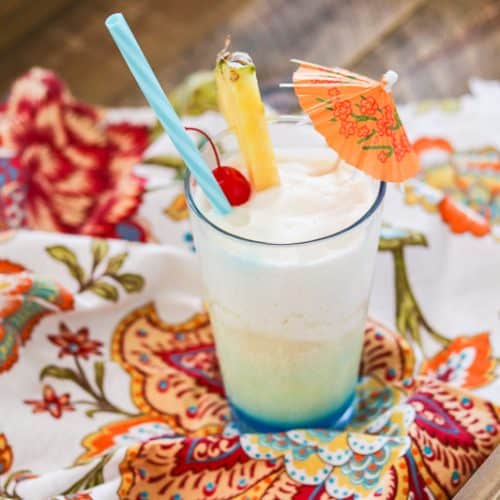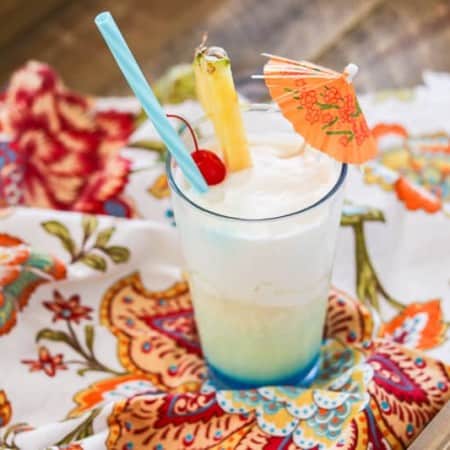 Refresh yourself in summer heat dreaming of Alaska or escape to the tropics in winter with this Blue Ocean drink recipe - a Pina Colada with Blue Curacao.
Ingredients
1 ounce Blue Curaçao
⅓ cup coconut cream
3 ounces white or dark rum
¾ cup pineapple juice
1 1/2-2 cups ice
garnish with pineapple wedges, cherries and drink umbrellas
Instructions
Divide Blue Curaçao evenly between two glasses.

In a blender, combine the coconut cream, rum, pineapple juice and ice and blend until smooth.

Place a large spoon into the glass to that the tip is just over the Blue Curaçao and the back is up against the glass.

Gently pour half of the Pina Colada mixture over the spoon until the glass is about 3/4 full.

Repeat with second glass and garnish both with fresh pineapple wedges, cherries, and drink umbrellas, if desired.
Nutrition
Calories: 313kcal | Carbohydrates: 17g | Protein: 1g | Fat: 13g | Saturated Fat: 12g | Sodium: 4mg | Potassium: 245mg | Fiber: 1g | Sugar: 11g | Vitamin C: 10mg | Calcium: 11mg | Iron: 1.2mg
Did you make this recipe?
Share it with me on Instagram and make sure to follow me on Pinterest for more recipes.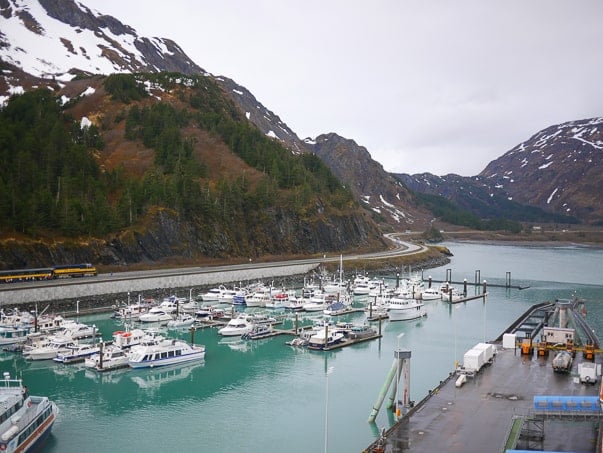 Reader Interactions