This Pineapple Coconut Rum Slush is the perfect hot summer day cocktail! Made it minutes with just three ingredients, these easy fruity cocktails will be a big hit at pool parties or any gathering with a tropical vibe.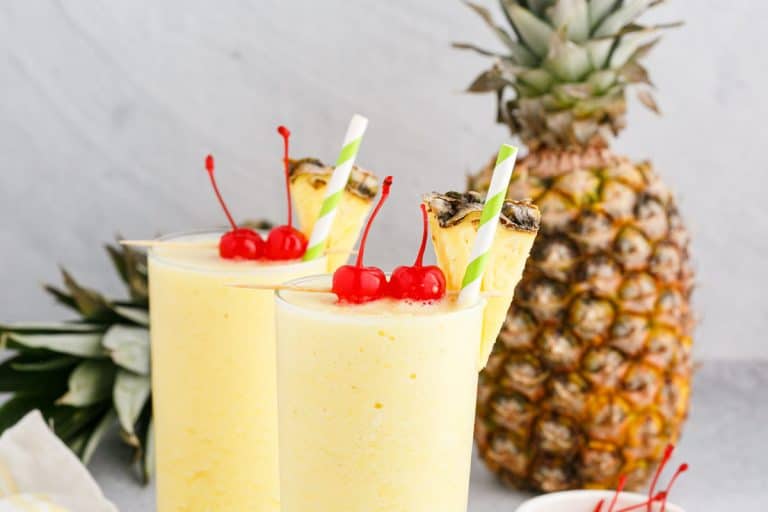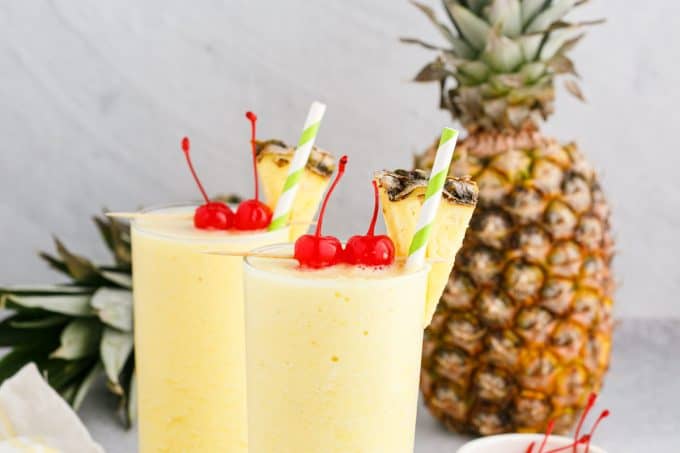 Have you ever made a rum slush with pineapple?
One sip of this coconut pineapple rum slush and you'll understand why this new recipe has become my favorite summer cocktail!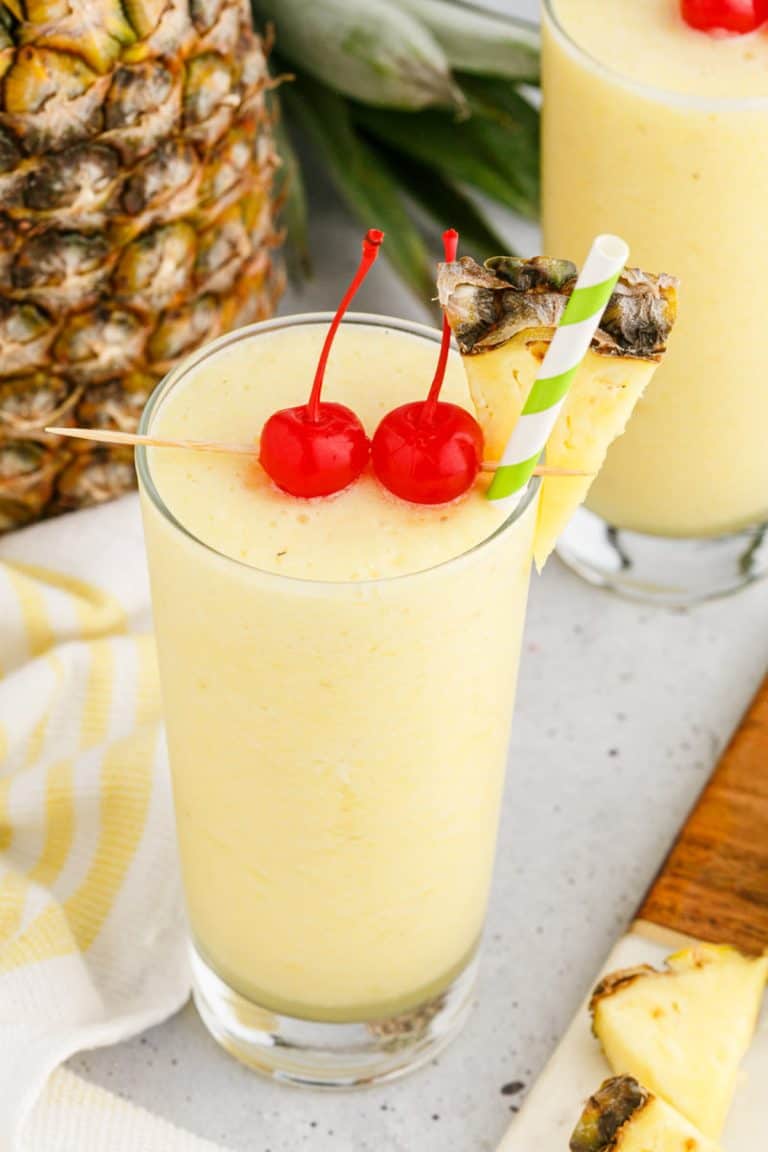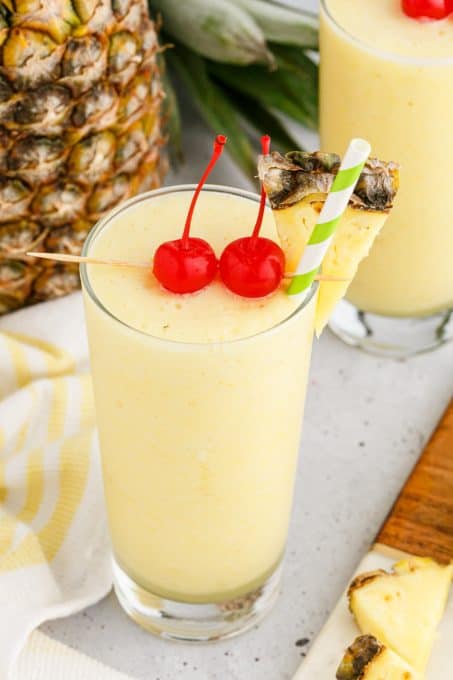 There's a reason pineapple and coconut are paired together so often. The juicy, tangy flavors in pineapple pair beautifully with that mellow, slightly nutty coconut flavor. Pina Coladas are the most popular boozy iteration of this flavor pairing, but this pineapple slush recipe with rum is about to give them a rum run for their money.
Made with whole fresh pineapple and coconut-infused rum, this slush tastes like summer in a glass! All you're missing is the beach and a day free of responsibilities.
Looking for a non-alcoholic drink recipe featuring this classic tropical combo? My Pina Colada Milkshakes are irresistibly delicious and just as easy to make.
Did you know that the Piña Colada is Puerto Rico's official drink? I love that!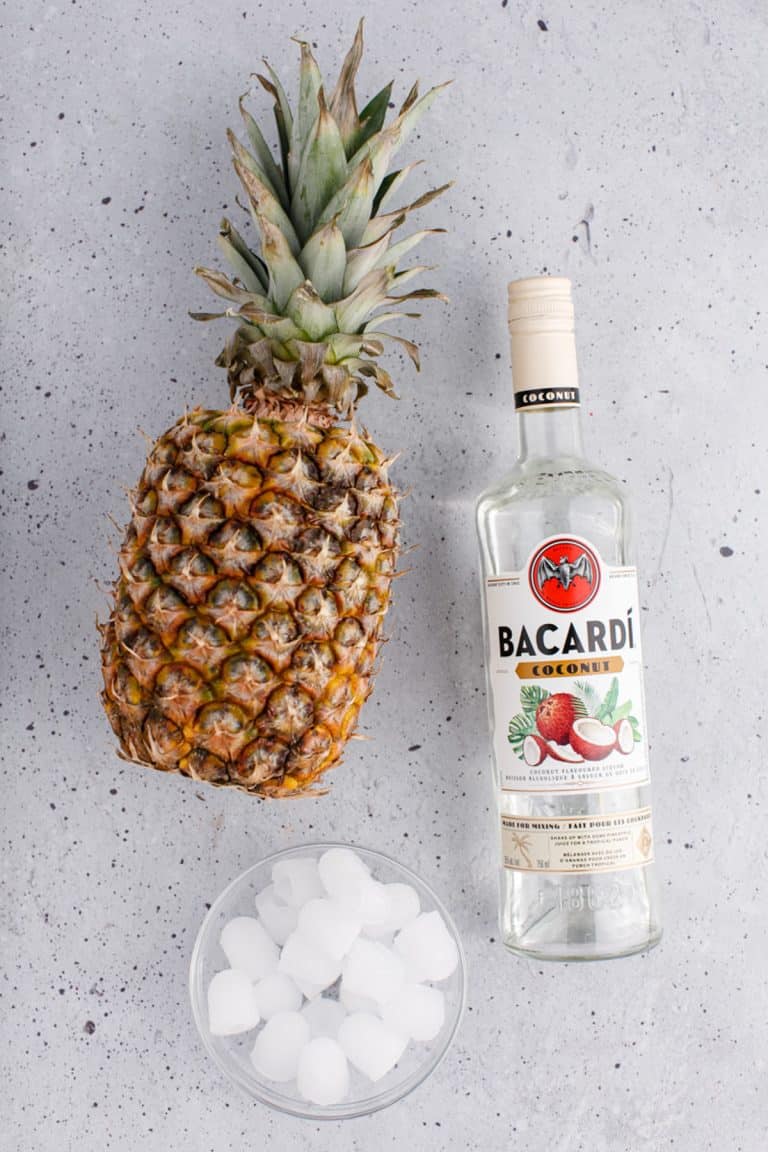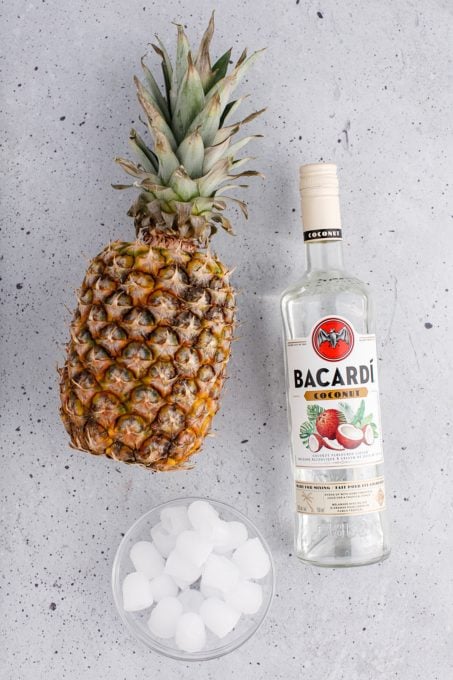 What do I need?
You only need 3 ingredients for this alcoholic slush recipe with rum.
ice cubes
fresh pineapple – cut it into cubes for easy blending
coconut rum
The best way to garnish the finished cocktail with extra pineapple slices and cherries, similar to the way I serve Frozen Bahama Mamas. Those extra finishing touches are much appreciated when I need a little taste of vacation at home. You can even use different fruit if you'd like.
How to Make a Rum Slush
Add all the ingredients to your blender and mix until you reach the perfect frozen cocktail consistency!
If you can't fit all the ingredients into your blender at once, add ice, rum and as much of the pineapple as you can. Blend to pulverize the ice, creating more space in the blender, then add the remainder of the pineapple and blend to combine.
In a high speed blender, 30 seconds was plenty of time to reach the ideal slush consistency. Lower powered blenders may need up to 2 minutes to fully blend the ingredients.
Pour the rum slush into tall hurricane glasses or tall glasses. Garnish with extra pineapple wedges and maraschino cherries!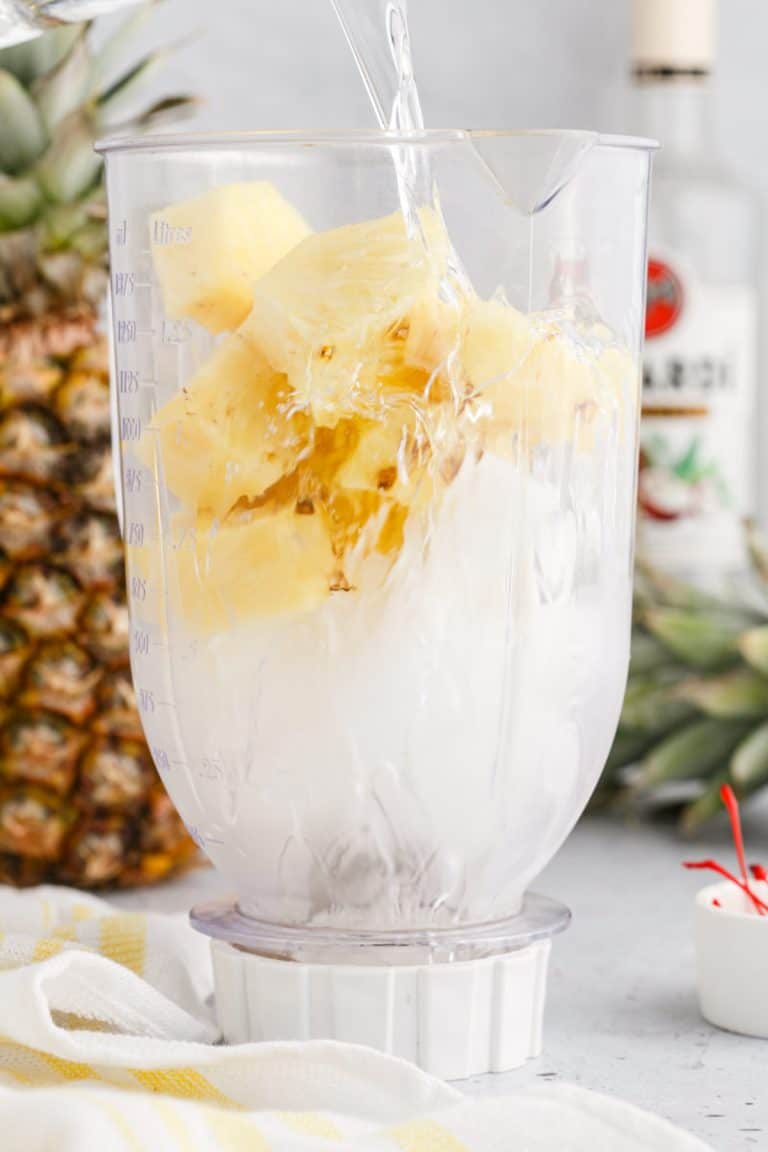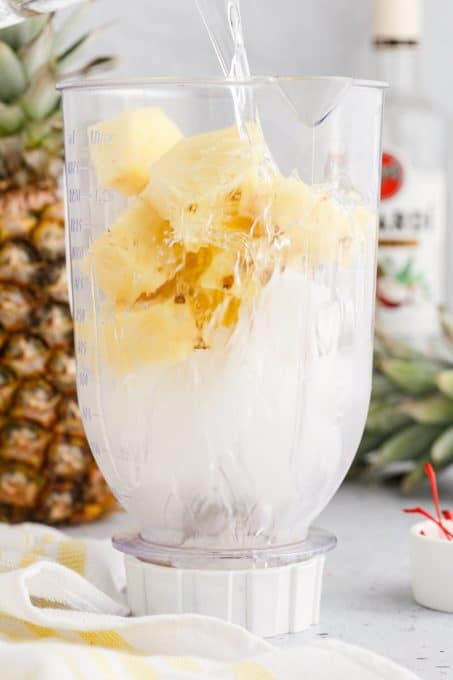 Do I have to use a whole fresh pineapple?
You don't have to peel, core and cut a whole pineapple for this recipe. A great option is to buy the peeled and cut rings or cubes of fresh pineapple to use in this rum slush recipe instead. It tastes just as delicious and saves lots of time and effort.
Can I make this slush recipe with frozen pineapple?
Yes, frozen pineapple works wonderfully as a substitute for fresh pineapple. Make sure to leave out the ice if you use frozen pineapple. You will also need to add more pineapple than the recipe calls for to get the perfect slushy texture.
Note: Omitting the ice and replacing it with all frozen pineapple results in a pineapple rum slush with extra sweetness!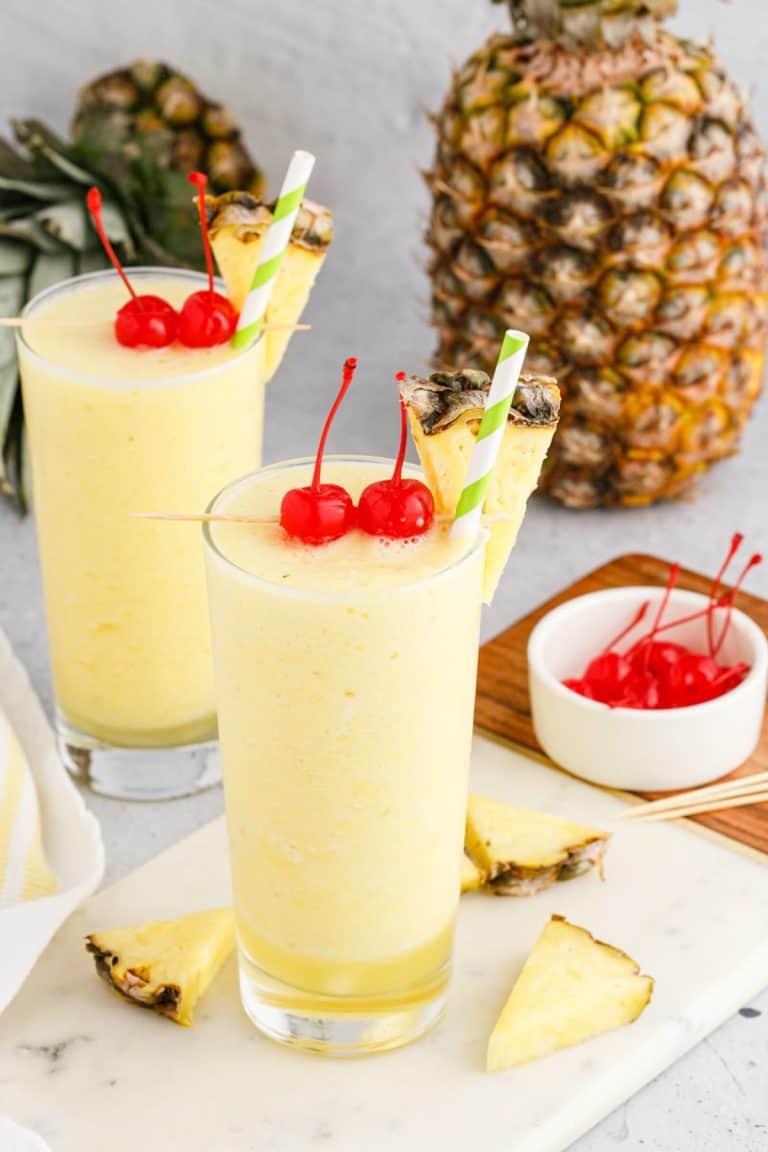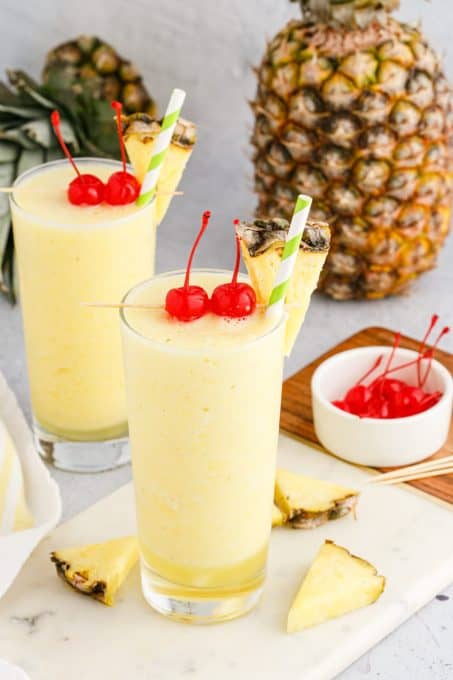 Do I have to use coconut rum?
No. You can use any rum you like in this rum slush. You won't get the coconut flavor, but any white rum would taste great blended with the ice and pineapple. You can add some coconut water, coconut milk, or cream of coconut to taste for a bit of tropical flavor.
Not a fan of rum? Make this boozy pineapple slushie with tequila or vodka instead!
Pineapple Recipes
While we're on the subject of a pineapple cocktail, I need to remind you how amazing this Pineapple Coconut Silk Smoothie tastes on a hot day. Bonus: it's dairy free and better for you than any milkshake! Plus, you can use almond milk or regular milk in it if you prefer.
If you have leftover pineapple after making your pineapple slush, save it and make some Grilled Pineapple for dessert! Add it to a bowl of ice cream for a refreshing, sweet summery dessert, or enjoy it all on its own.
I love cooking with fresh pineapple, but you can't beat the convenience of canned pineapple, especially for baking. My recipe for Piña Colada Cupcakes and Pineapple Bread are both super easy to make with the sweetest juicy pineapple flavor.
You can't beat a classic Pineapple Upside-Down Cake either. I like mine with extra cherries! Pineapple Pie is another fun way to incorporate pineapple into your dessert menu.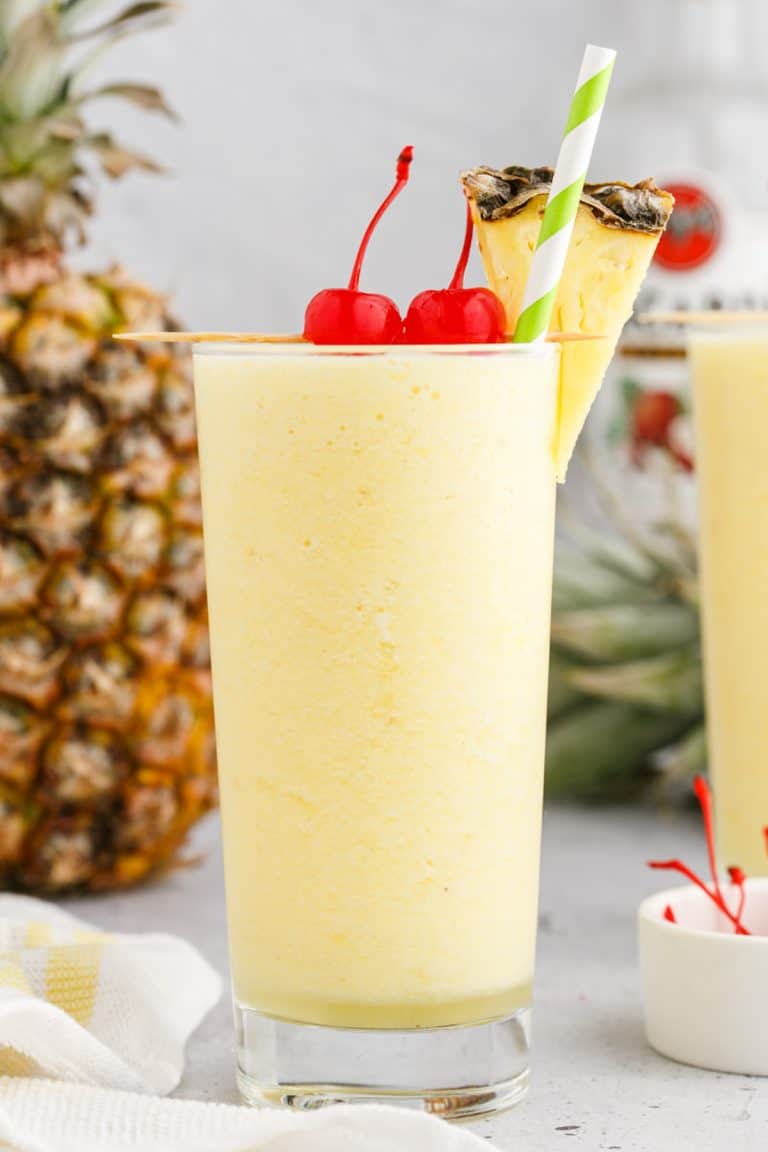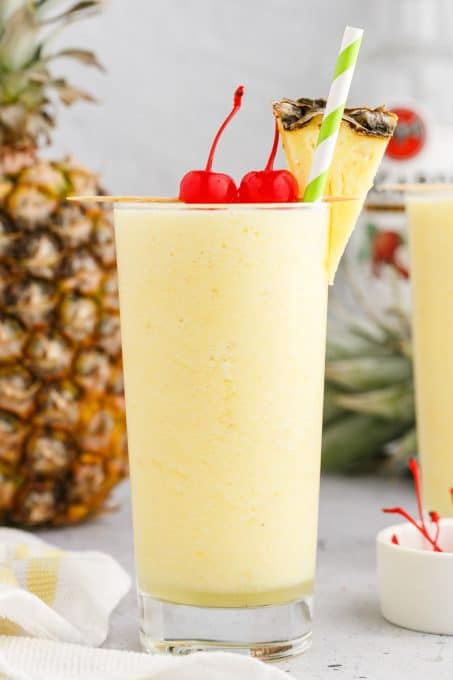 Rum Recipes
Making a slush with pineapple and rum makes me think of the glorious Pineapple Rum Cake I made after a Caribbean cruise a while back. The rum It's a great way to incorporate flavors of the beach into your meal without making frozen cocktails!
Since that bottle of rum is open you might as well make a loaf of Brown Butter Rum Banana Bread too! That recipe combined the decadence of browned butter with rum for an aromatic, flavorful addition to a simple loaf of banana bread.
Coconut Recipes
The coconut element in these slushies comes from the rum. The flavor if perfect for a Pineapple Rum Slush and it eliminates the need for extra ingredients.
When I'm in the mood for extra coconut goodness in a drink, only a pitcher of Coconut Coolers will do. There's no alcohol involved, so I can have them any time of day for a taste of vacation!
Most of the time I eat coconut, I'm eating it in desserts like Toffee Coconut Oatmeal Bars or Chocolate Coconut Cookies. These Coconut Macadamia Sugar Cookies are frequently requested especially around the holidays! And my friends who love coconut and chocolate together raved over my Double Chocolate Coconut Cream Filled Bundt Cake when I served it at the end of a dinner party recently.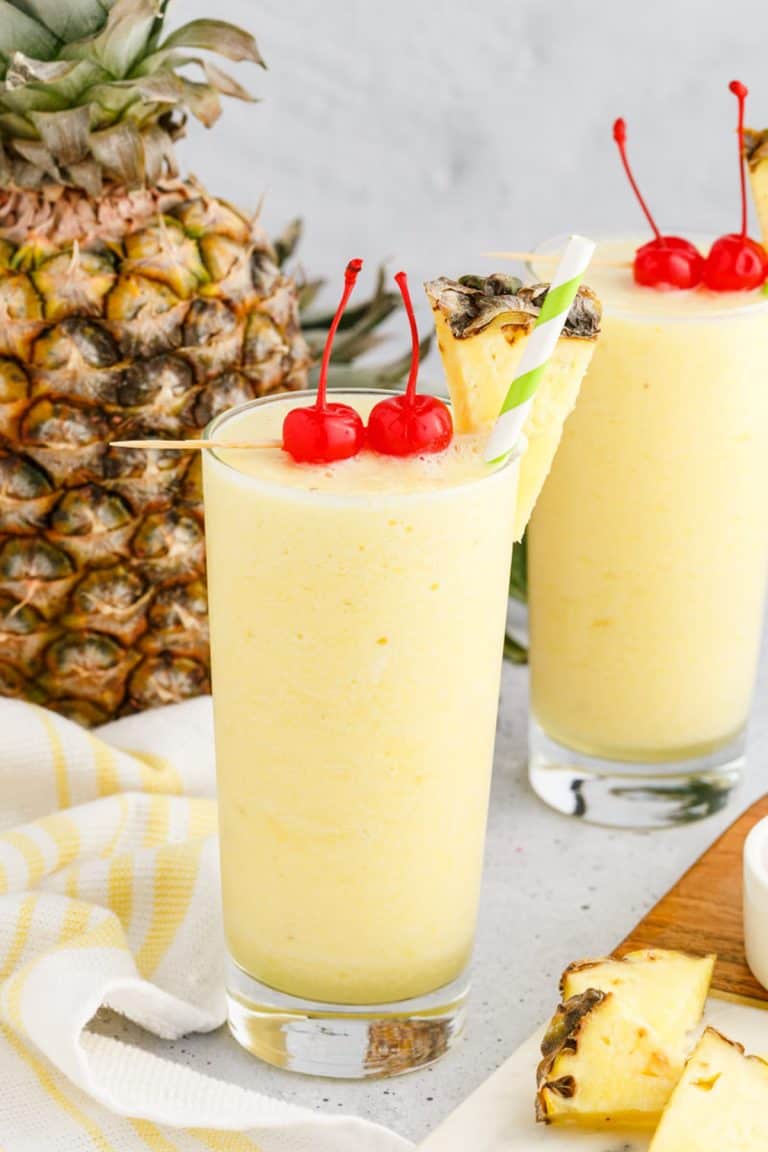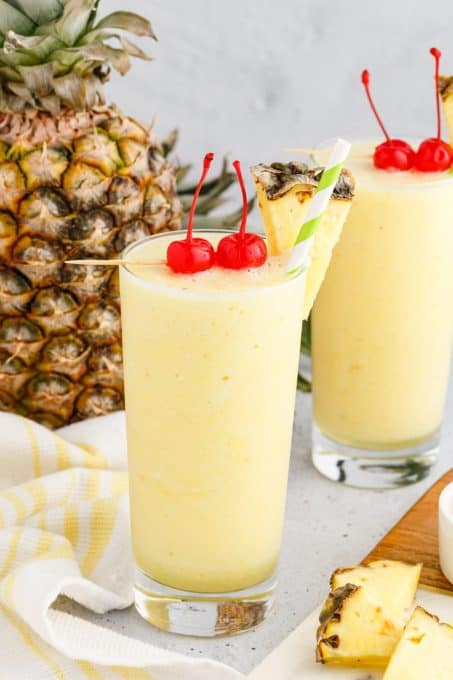 Grab some fresh pineapple chunks and a bottle of coconut infused rum to make the perfect tropical cocktail for those hot summer afternoons —or anytime you need a refreshing rum drink!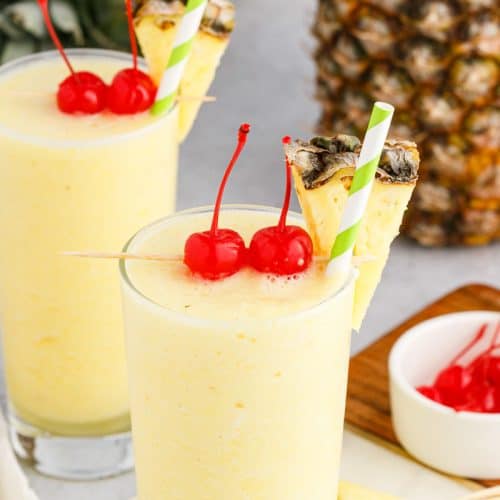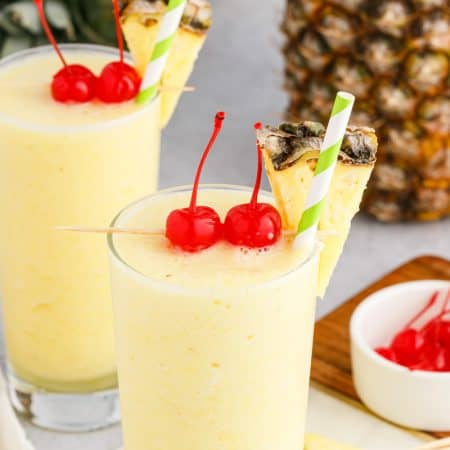 This Pineapple Coconut Rum Slush is the perfect hot summer day cocktail! Made it minutes with just three ingredients, these easy fruity cocktails will be a big hit at pool parties or any gathering with a tropical vibe.
Equipment
cutting board

large knife

Blender
Ingredients
2 cups ice cubes
1 whole fresh pineapple ripe, peeled, and cored
6 ounces coconut rum
pineapple slices or chunks optional garnish
maraschino cherries optional garnish
Instructions
Add all of the ingredients into a blender starting with the ice and mix to desired consistency (usually 30 seconds with a high powered blender will do). Note: if you get near the fill line before all of the pineapple is added, add the rum and blend. As it starts to pulverize, you'll be able to add more ingredients until they are all in the blender.

Pour blender contents immediately into 3 – 8oz. glasses, and garnish with a pineapple slice, and / or maraschino cherries, if desired.
Nutrition
Serving: 8ounces | Calories: 282kcal | Carbohydrates: 40g | Protein: 2g | Fat: 0.4g | Saturated Fat: 0.03g | Polyunsaturated Fat: 0.1g | Monounsaturated Fat: 0.04g | Sodium: 11mg | Potassium: 330mg | Fiber: 4g | Sugar: 30g | Vitamin A: 175IU | Vitamin C: 144mg | Calcium: 44mg | Iron: 1mg
Did you make this recipe?
Share it with me on Instagram and make sure to follow me on Pinterest for more recipes.
Reader Interactions