These Turtle Parfaits are an easy, layered dessert. In each bite you'll get a taste of a dark chocolate pudding made with silken tofu, whipped topping, caramel sauce, and pecans.
Turtle Parfaits that are simple, yet decadent and delicious making them perfect for company or just as a weeknight dessert.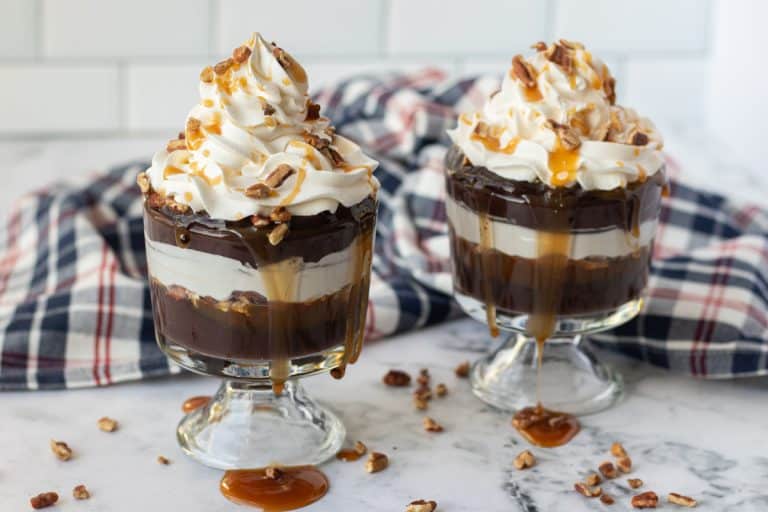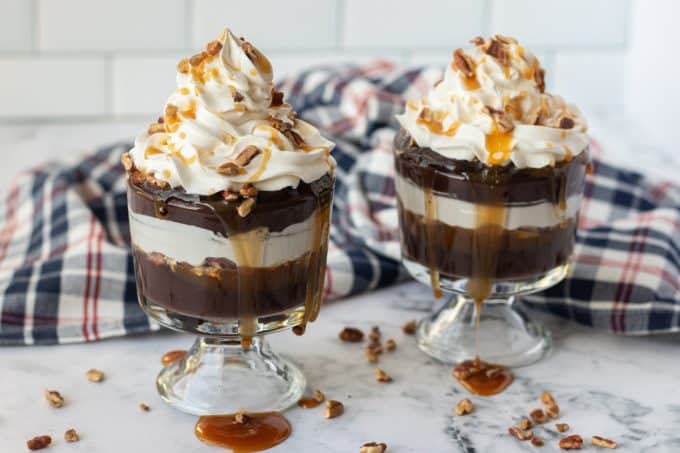 I am proud to be partnering with Best Food Facts and the United Soybean Board to bring you this post. As always, all opinions are 100% my own.
You wouldn't have believed that there's tofu in this incredible recipe unless I'd told you.
Did you just make a face??
Seriously, I STRONGLY encourage you, or even insist, that you try it yourself.
It's got to be THE richest and creamiest pudding I've ever tasted.
SO, so good!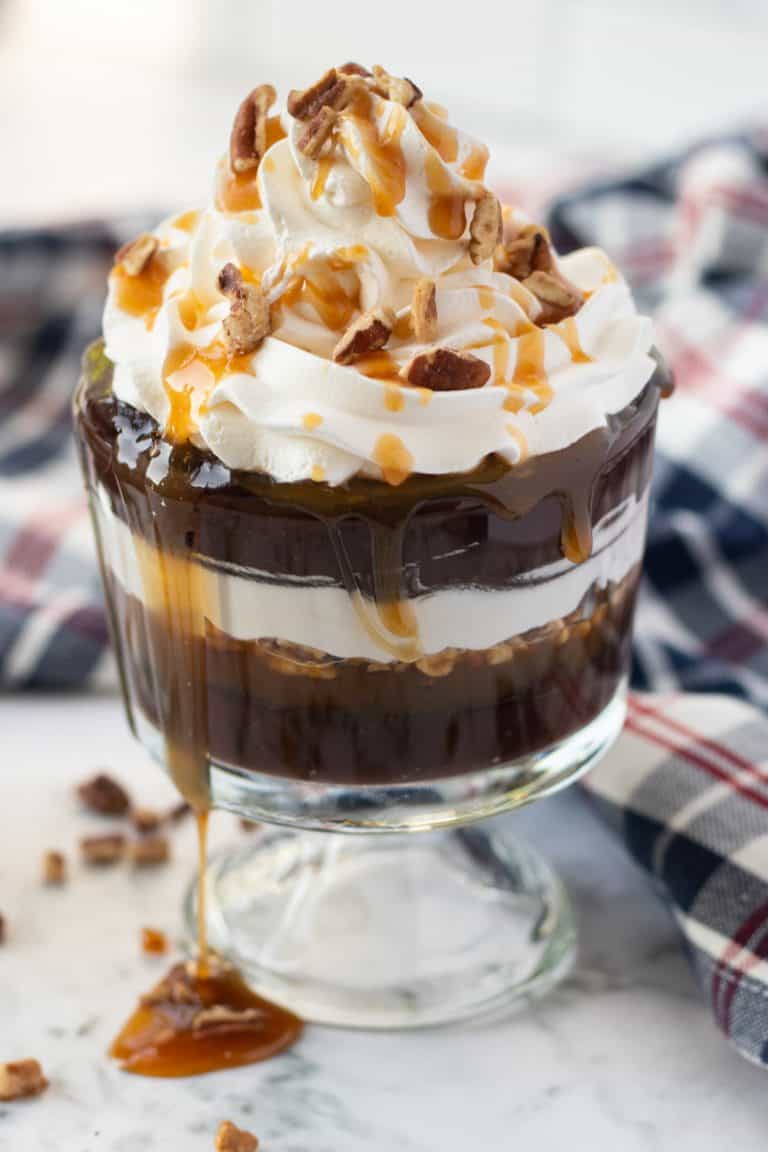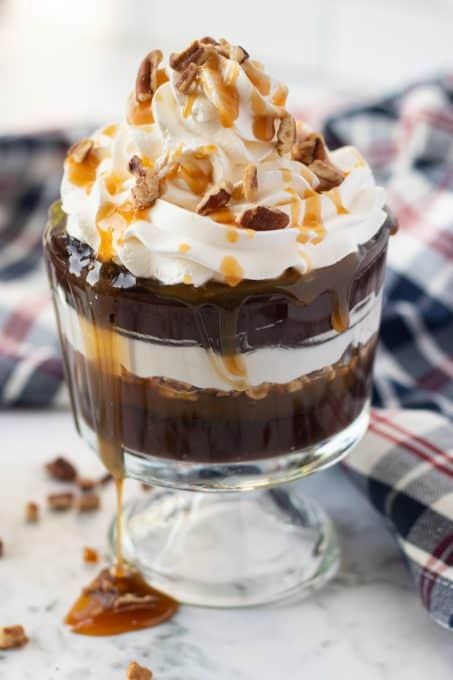 I was inspired to make this easy Turtle Parfaits dessert from a recent soy farm tour I went on this past June.
Some fellow bloggers and I went to Iowa to tour a soy farm, talk to farmers about their farming practices and sustainability, and we even cooked some recipes using different forms of soy.
One of the recipes we tried was this Soy-Silken Dark Chocolate Pudding. OMG, was it good!
One bite, and I knew it would be the perfect ingredient for Turtle Parfaits, similar to my Turtle Dream Bars.
I'll get to the recipe in just a moment, but first let's talk a bit about…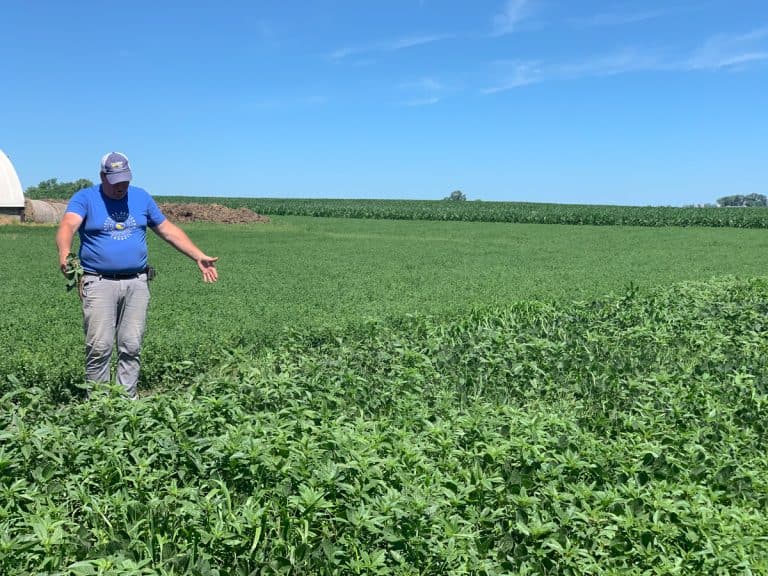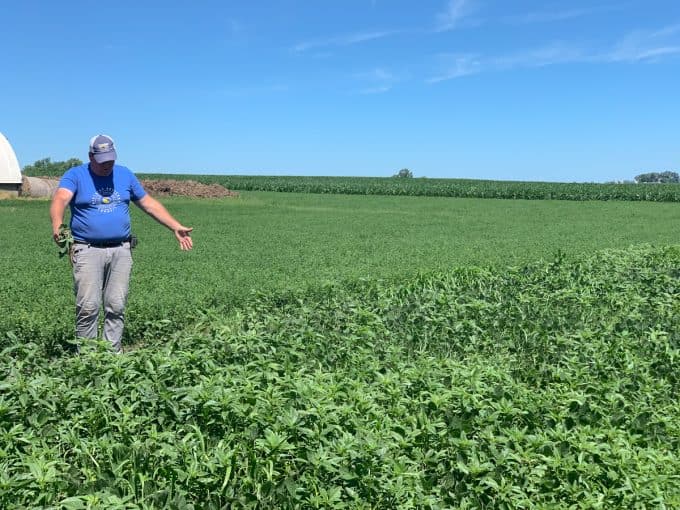 Sustainable Farming
"Family Farmers have been focused on passing their farm including their land and an ability to raise animals on to the next generation long before the term "sustainable" was a thought in the consumer's mind."
Rommereim Farms (est. 1874)
Heard of it?
It's super important because the farming practices that farmers implement on their farms means they'll be able to pass down both the farm and the land for generations to come.
Farmers strive to use the best means available while being profitable and growing or raising the best possible product for the consumer.
Farmers like Dave Struthers of Struthers Farms, and many others, sometimes choose to implement a no-till practice for their crops. They will turn the soil over as little as possible in order to prevent erosion while preserving the billions of microorganisms in the soil, and not disturbing them.
One of the many things that I've always found fascinating on the many farms I've visited is the effort to reuse the manure from their livestock.
That manure isn't just something farmers are eager to remove from their farm because of the smell, it's super important!
It's used to fertilize the crops, such as soybeans, which save the farmers money, so they don't have to buy it. Plus, it contains great nutrients which is awesome for the soil.
See the cycle here?
The farmers use the manure to place on top of the soy and other plants they grow. Often, what they grow, along with other important ingredients is combined into a feed mixture which is then given to the livestock they raise. And so on.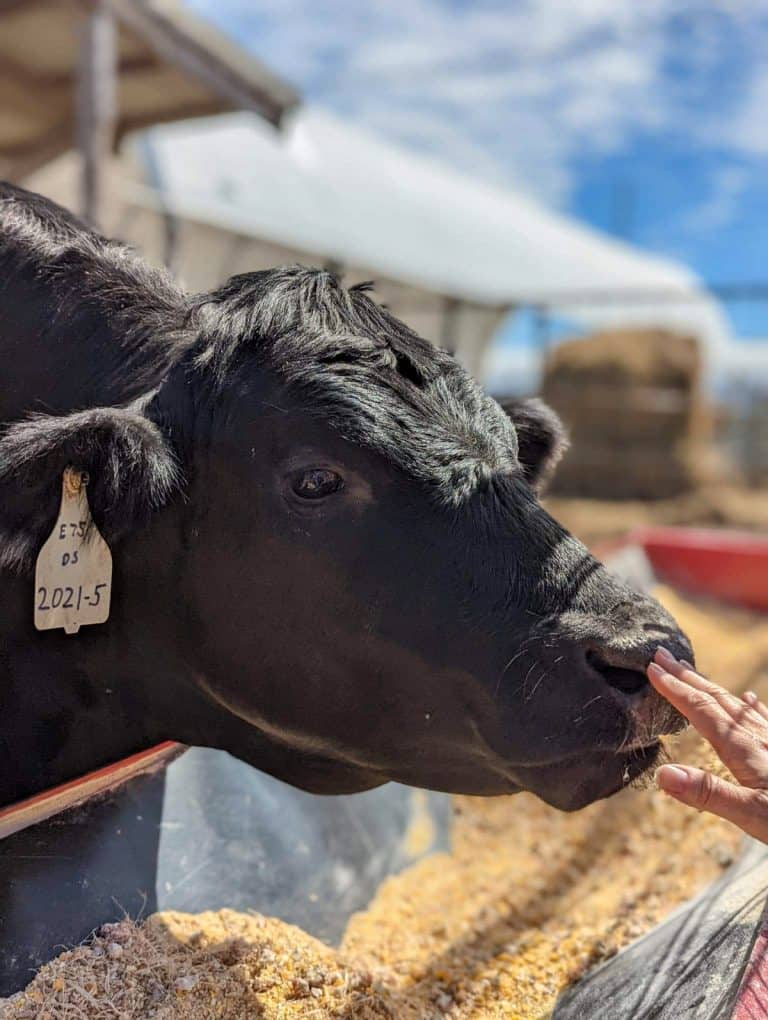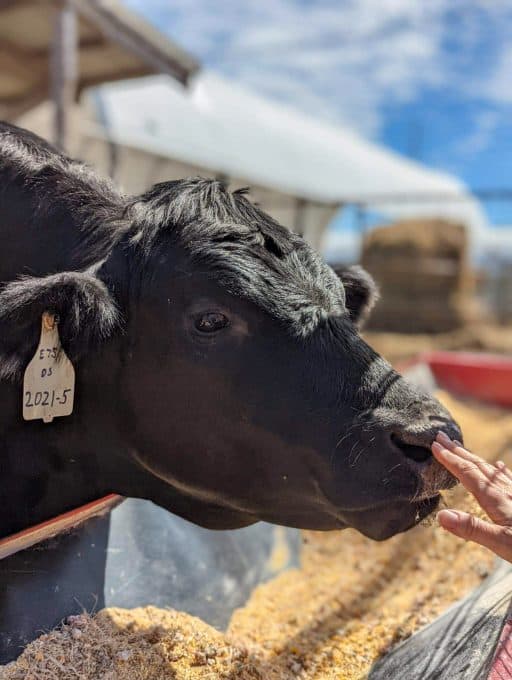 What does sustainable farming mean for food production?
Sustainable farming for food production means that you can be sure the farmers are working their hardest to bring you THE best item they possibly can.
There are many concerns over GMO's (genetically modified organisms), and many people believe they are unsafe to consume when in fact, according to the World Health Organization,
"no effects on human health have been shown as a result of the consumption of [genetically modified foods] by the general population in the countries where they have been approved."
You have to know that while farmers are growing food and raising animals for consumers they also feed it to their families. In addition to that, farming is their life and for many, their sole source of income. Your concern is their concern.
Yes, there are foods with GMO's, but that doesn't mean that they're detrimental or have an adverse effect on our health.
When I worked with Best Food Facts a few years ago, I talked to Dr. Jessica Lyons about the work she'd been doing with the yucca plant at the University of California Berkeley.
She had been removing compounds in the plant through CRISPR technology which might cause poisoning in far away countries where people do not ingest enough protein.
By doing so, this food source can feed so many more people when they might otherwise be without it.
As always, I encourage you to stop by a farm, join a CSA (community supported agriculture), talk to a farmer and ask them their story.
And listen.
What they tell you will surely impress you, I promise.
I've talked to dozens of farmers over the years and I've not met one who wasn't super proud of what they were doing and how they were doing it.
Farmers are it, man!
I absolutely love them and have the utmost respect for what they do, how they do it, how they want to improve on all aspects of their farm and farming, and for the incredible food they provide us with because…
Without farmers, there would be no food.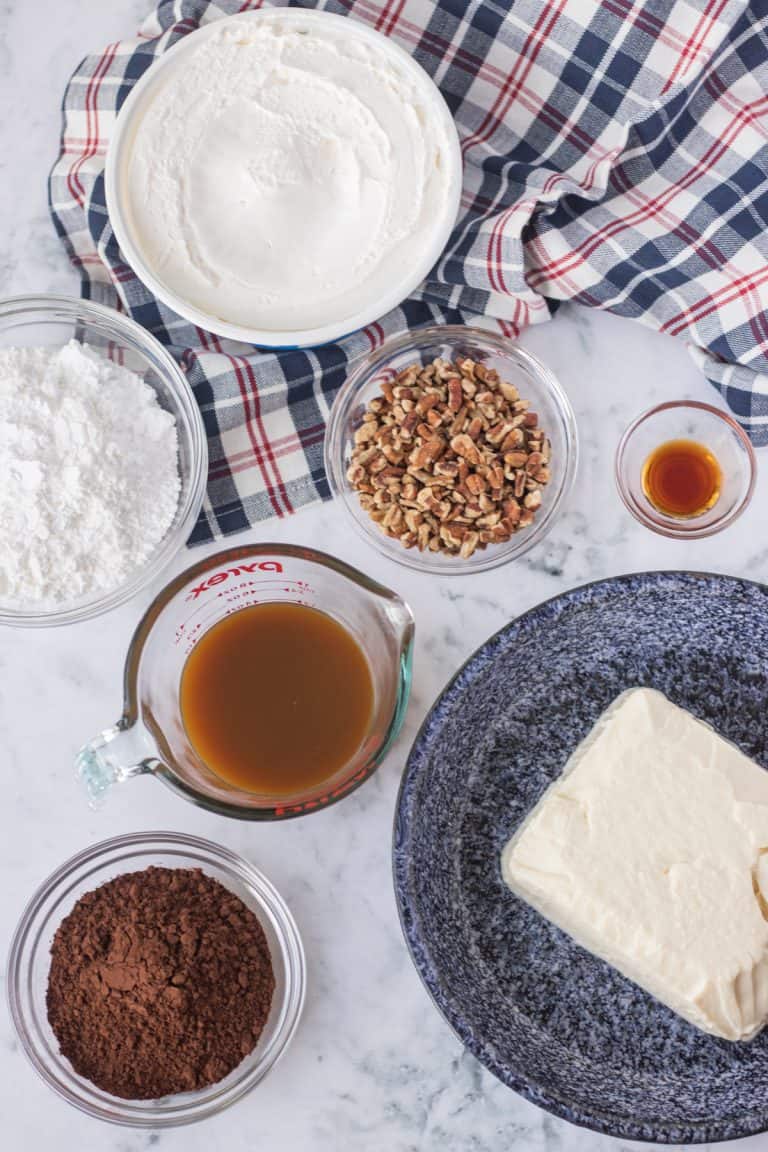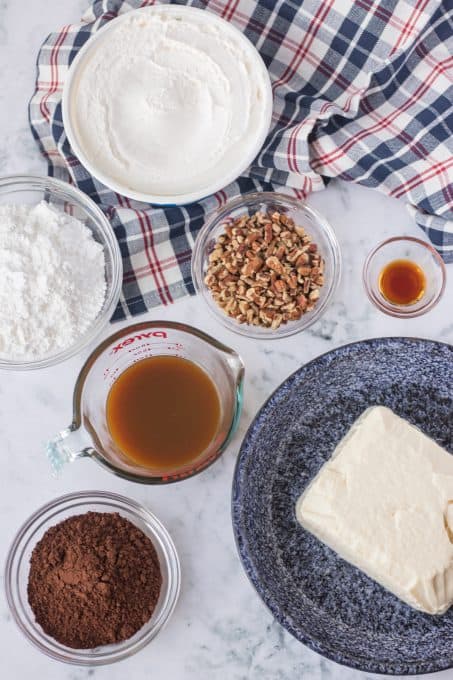 What Ingredients do I need to make Turtle Parfaits?
Silken tofu
Dark unsweetened cocoa powder
Powdered sugar
Vanilla Extract
Whipped Topping or my Stabilized Whipped Cream
Caramel sauce
Chopped pecans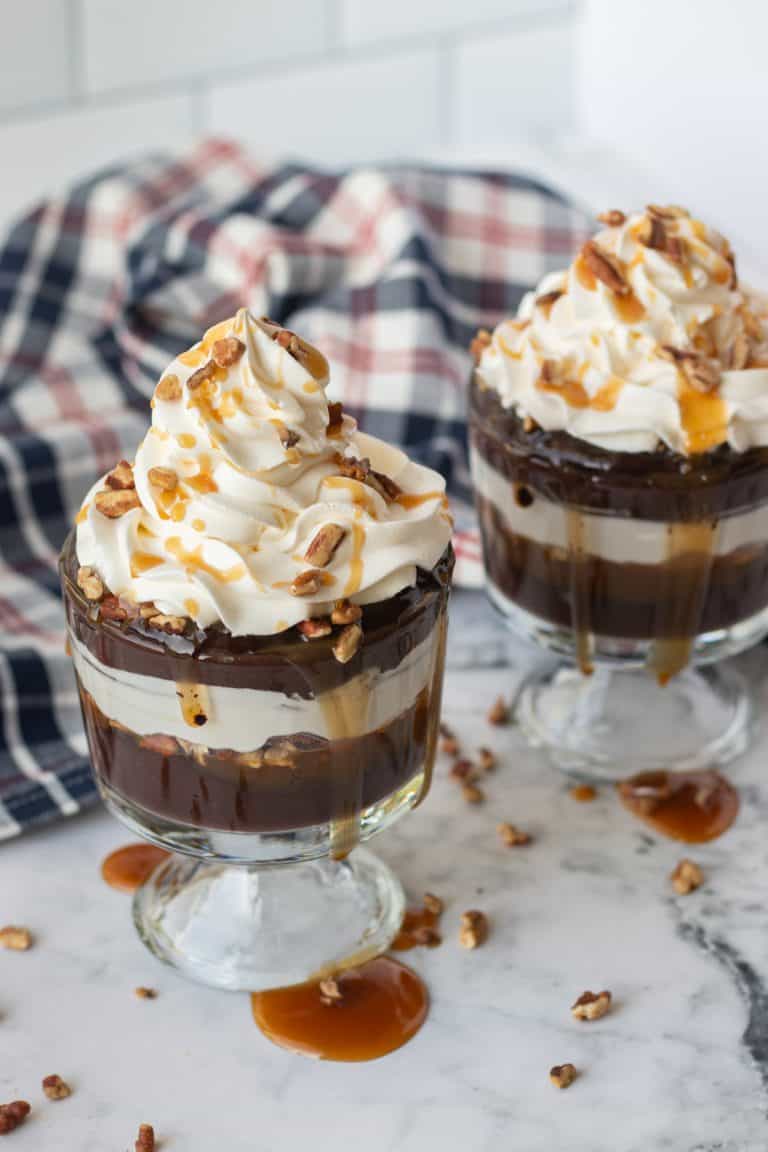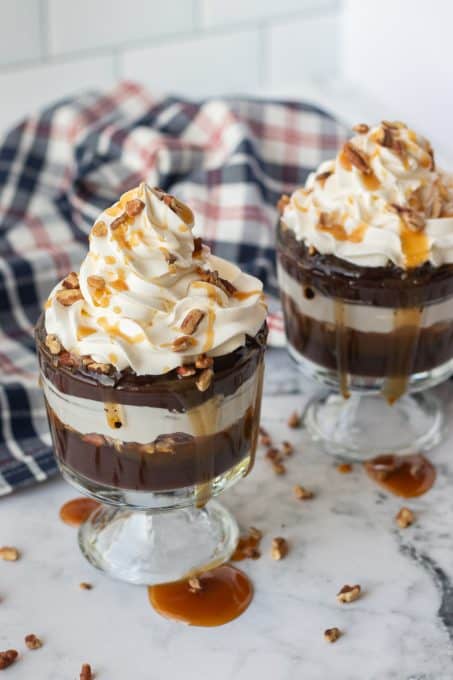 What is silken tofu?
Silken tofu, is one of the two commonly known kinds of tofu.
It is also referred to as soft tofu, silk tofu or Japanese-style tofu.
This form comes in a soft, medium, firm, and extra-firm consistency as does the other.
For this pudding recipe, I used the soft form, but for the most part silken tofu is interchangeable, so don't worry if you can only find a firm silken tofu.
Be gentle when handling because it does tend to fall apart, but we are going to break it apart, so it's not that big a deal if it does.
Because of its' thick and creamy texture, it's commonly used as a dairy replacement in dessert recipes, can be used to make salad dressings, sauces and more.
People use it when they're baking, too!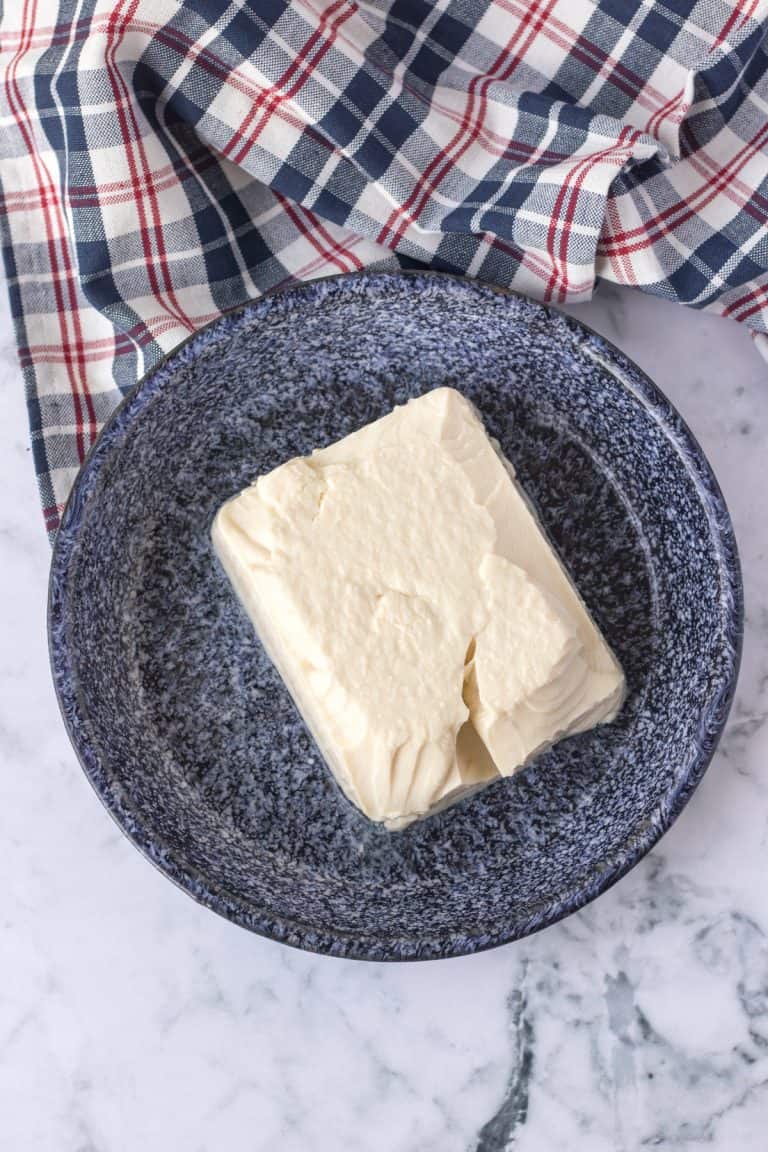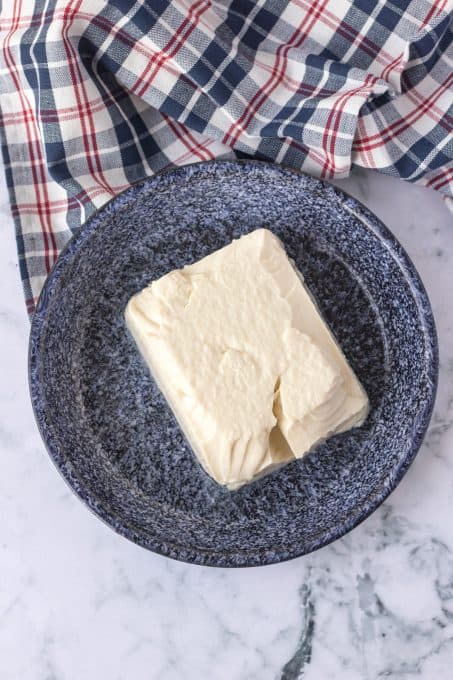 How do you drain soft tofu?
Remove the wrapper from the tofu package, and place a plate upside down on top.
Gently but quickly flip the plate holding the package tightly against it.
Carefully remove the tofu by jiggling the container.
Let it sit on the plate for about 5-10 minutes as you assemble the ingredients needed for the recipe.
As it rests it will "weep" and there will be liquid on the plate.
Just hold onto the top tofu with your hand as you tip the plate into the sink to remove it, or you can soak it up with a paper towel before you are ready to use.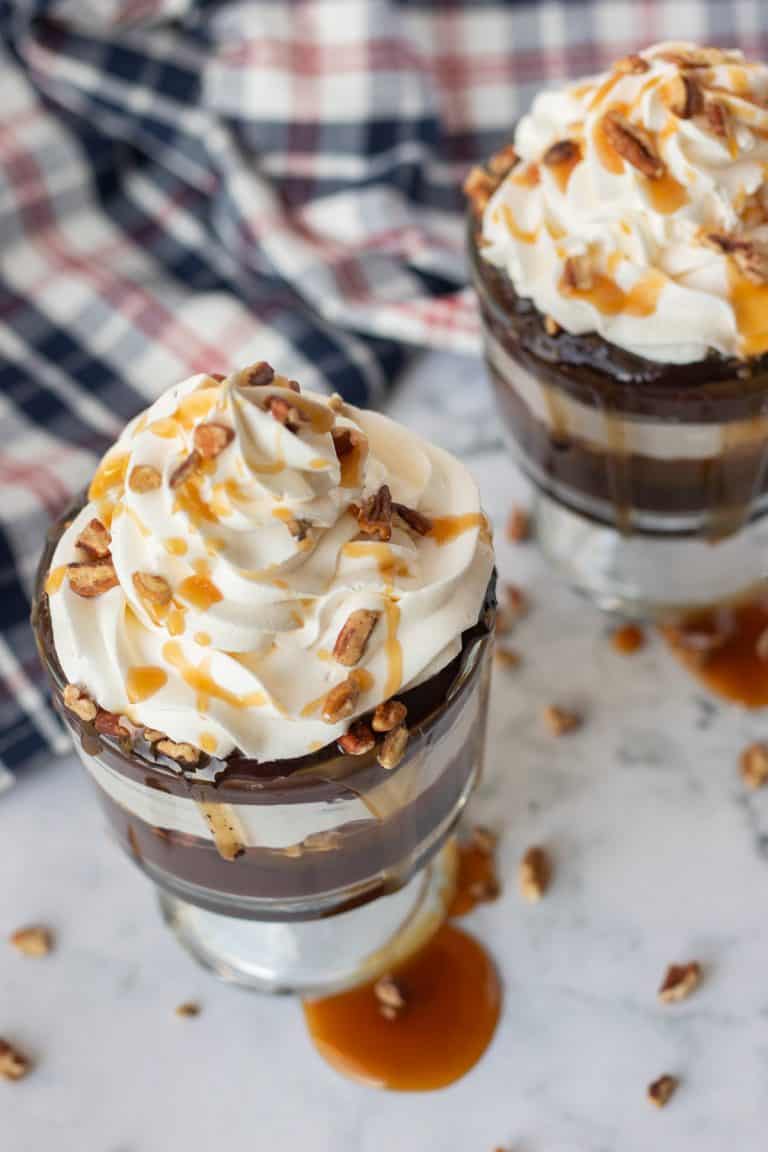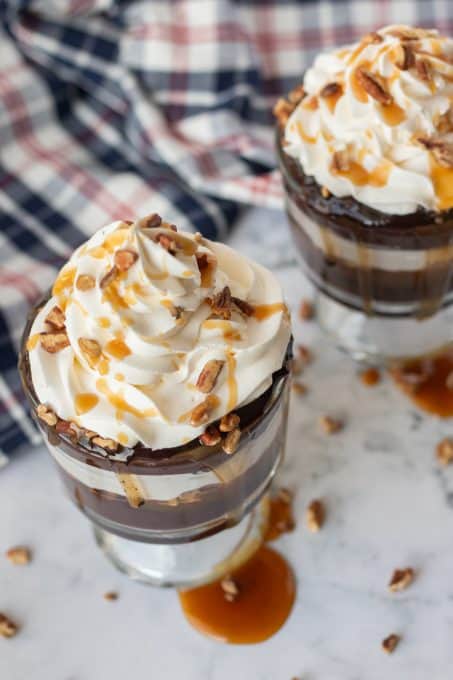 Soy recipes
I've made a variety of recipes using soy.
Looking for a delicious breakfast recipe? These Dairy-Free Pumpkin Muffins, are so soft and full of pumpkin flavor, and all the spices that remind you of a crisp Fall day.
I'm sure you love guacamole as much as I do, but have you tried adding some edamame to it? It's a great twist on a favorite appetizer that's sure to have everyone talking at your next gathering.
Then there's my favorite Garlic Edamame. It's just as good as your favorite Asian restaurant, but even more delicious because you save money making it at home! Yes, that is really a thing.
Be sure to check out the following websites to find out more about soy, soy farming, sustainability, farming practices, plus lots of delicious recipes:
There are myths about soy that can be disputed with facts. I encourage you to do your research, and learn more about this plant-based protein plus the nutritional benefits when you use it in your recipes.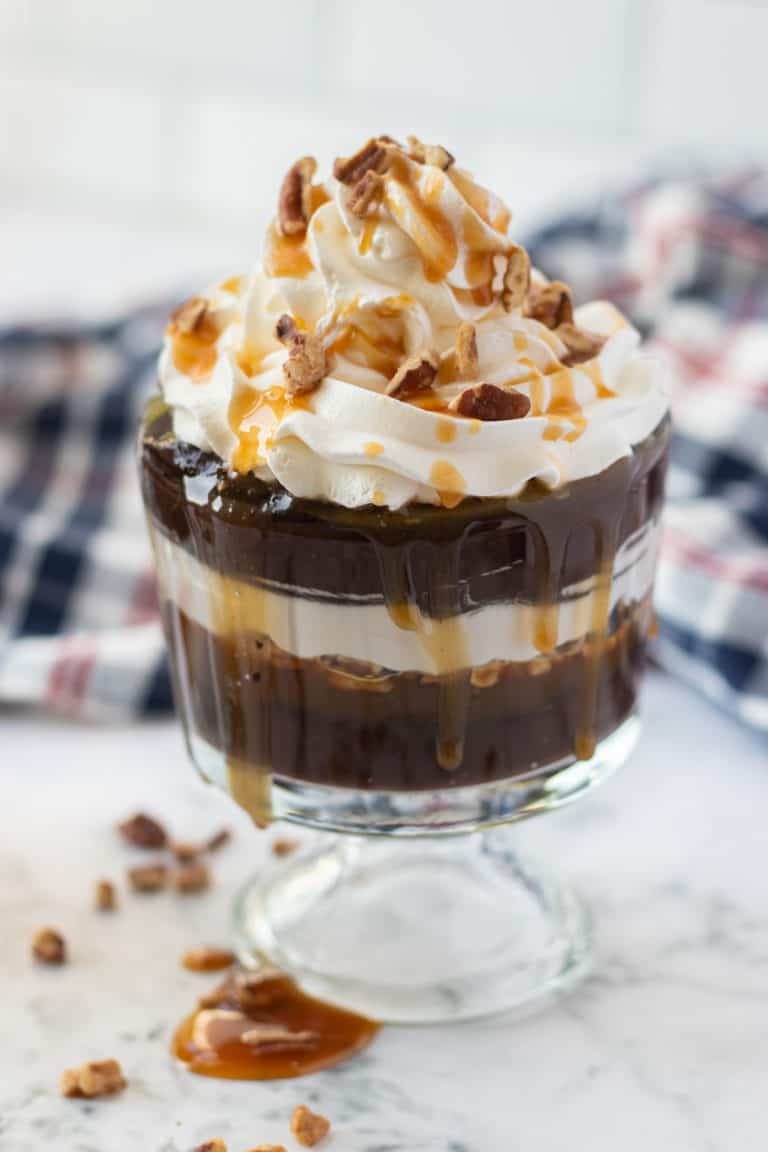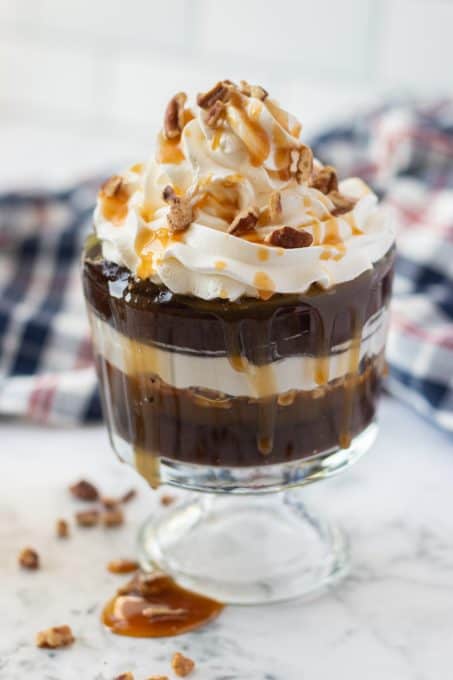 Layers of dark chocolate pudding, whipped topping, drizzled with caramel throughout and sprinkled with pecans make these super easy Turtle Parfaits a dessert that will become a regular menu addition.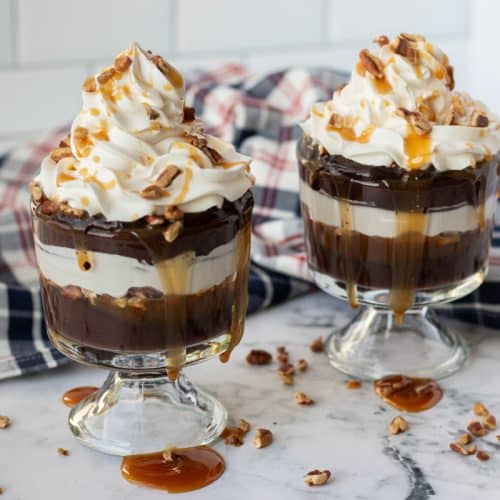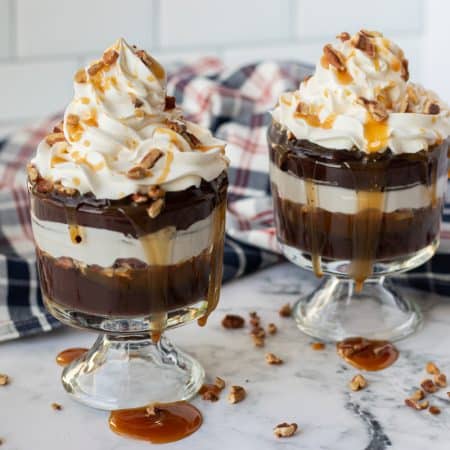 These Turtle Parfaits are an easy, layered dessert. With layers of a dark chocolate pudding made with silken tofu, whipped topping or
Stabilized Whipped Cream
, caramel sauce, and pecans, they're simple, yet decadent and delicious making them perfect for company or just as a weeknight dessert.
Equipment
plate

food processor, blender, or hand blender

2 8 ounce serving dishes
Ingredients
12.3 ounces silken tofu
⅔ cup dark unsweetened cocoa powder
1 cup powdered sugar
1 teaspoon pure vanilla extract
1 ⅓ cup whipped topping or my Stabilized Whipped Cream
¼ cup caramel sauce
¼ cup chopped pecan pieces
Instructions
Drain the silken tofu by placing it on a plate to sit while you prepare the other ingredients for the recipe. Place the plate over the sink and gently placing your hand on top of the tofu to hold it from slipping, pour the water into the sink. Or you can also use a paper towel to soak it up. Slice it into cubes.

Place the tofu, dark cocoa powder, powdered sugar, and vanilla into a food processor, and puree for 1 minute. Scrape down the sides, and mix for another 30 seconds.

Place ⅓ cup chocolate pudding into the bottom of each serving dish. Cover with a tablespoon each of caramel sauce and chopped pecans. Put ⅓ cup of whipped topping over that, and then add another layer of pudding followed by more caramel, and pecans. Pipe or scoop additional whipped topping over the pudding. drizzle with a little more caramel sauce and sprinkle with pecans.

Refrigerate for 30 minutes before serving. You can skip this step, but I found it tastes even better when the whole dessert has been chilled together.
Notes
NOTE: Nutritional information is based on a recipe for two people, but depending on what you're serving the dessert in, you can divide evenly to serve four. As you can tell from the pictures, I did go a little overboard on filling the two cups. If you do only serve two people, there will most likely be a small amount of pudding and whipped topping left over for you to enjoy again later!
Nutrition
Serving: 1person | Calories: 630kcal | Carbohydrates: 112g | Protein: 17g | Fat: 21g | Saturated Fat: 5g | Polyunsaturated Fat: 6g | Monounsaturated Fat: 8g | Cholesterol: 8mg | Sodium: 148mg | Potassium: 882mg | Fiber: 12g | Sugar: 86g | Vitamin A: 121IU | Vitamin C: 0.3mg | Calcium: 169mg | Iron: 6mg
Did you make this recipe?
Share it with me on Instagram and make sure to follow me on Pinterest for more recipes.
Reader Interactions