These Dairy-Free Pumpkin Muffins are a perfect addition to your Fall breakfast menu. Made with soy milk, and vegetable oil, they're a great way to incorporate soy into your daily diet and are SO moist and full of flavor that you won't be able to eat just one!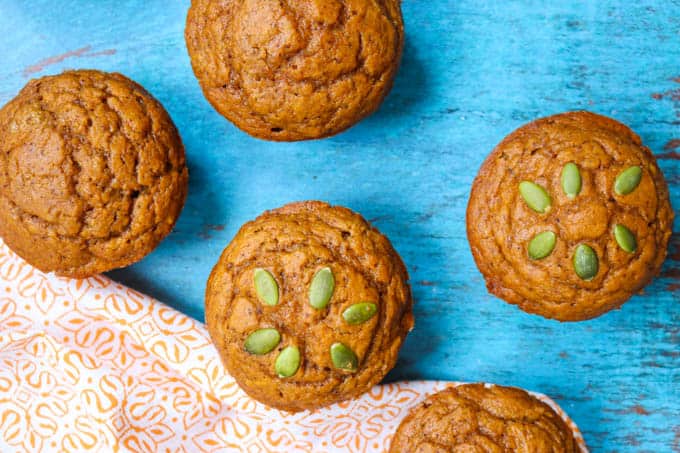 So, it's almost Fall and everyone's posting all things Pumpkin.
I am proud to be partnering with Best Food Facts to bring you these Pumpkin Muffins. I have been compensated, but as always, all opinions are 100% my own.
*This post contains an affiliate link(s).
I certainly hope you aren't sick of pumpkin recipes yet because I have literally fallen in LOVE with these Pumpkin Muffins.
You definitely NEED to make them.
THEY'RE DELICIOUS!!
And this coming from a girl who can't stand pumpkin pie at Thanksgiving.
I know, they aren't the same.
And by now you've said, "Lynne how can you even compare muffins to pie?"
You can't.
But for a girl who will forgo a slice of pumpkin pie, a pumpkin spice latte, and almost anything else pumpkin, I could seriously eat these for the rest of my life and be ok with it.
SAVE THIS EASY PUMPKIN MUFFIN RECIPE TO YOUR FAVORITE PINTEREST BOARD!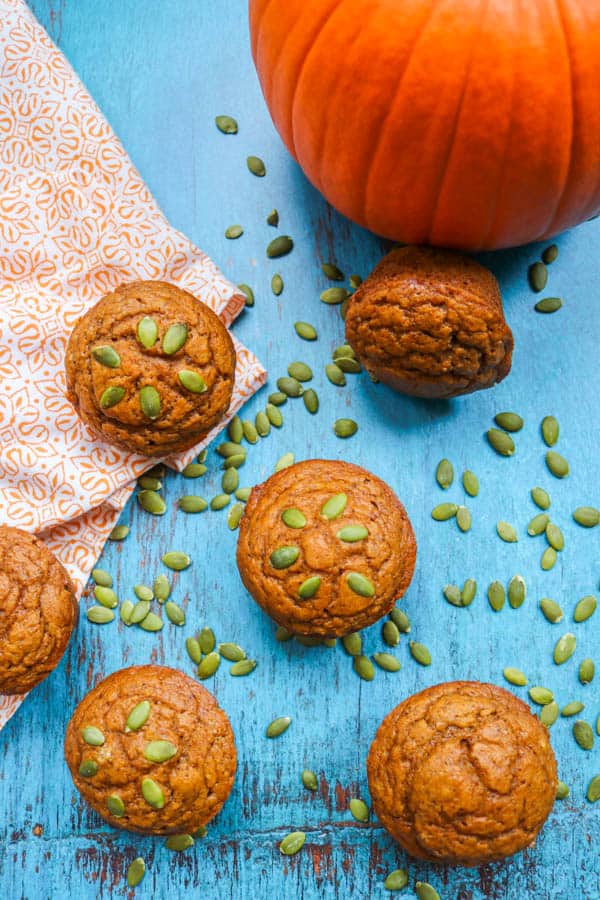 These muffins are good, but there's something special about them besides the fact that they're absolutely delicious.
(Did I already say that?)
I mean, criminy, they'd absolutely better be.
I made this muffin recipe a total of 5 times, tweaking and adjusting ingredient amounts until I was completely pleased with the end result. But, besides the fact that they're tasty, these easy Pumpkin Muffins are DAIRY-FREE!
What are Dairy-Free Pumpkin Muffins, you ask?
Well, instead of using milk as called for in the original recipe that I found in my New Double Day Cookbook, I substituted vanilla soy milk for regular milk!
Ta Da!
I did this because I went on a soy farm tour with Best Food Facts at the end of July.
Since then, I've been incorporating more soy into our menu here at home.
It never ceases to amaze me, when I work with Best Food Facts I always learn so much and I love it!
Facts about soy –
Soy is the ONLY plant protein that is a whole protein – meaning that it contains the adequate proportion of each of the nine essential amino acids necessary in the human diet.

It is also the ONLY plant protein that has an FDA claim for heart health.

Vegetable oil is actually soybean oil. It has no trans fats, has a better shelf life and is cleaner for fryers.

Soybean oil can be ingested if a person has a soy allergy. The oil is highly refined which removes the protein responsible for causing the allergic response.

Just one cup of soy milk a day can possibly prevent breast cancer.
Pretty cool, hunh?
You can find more soy information when you visit:
Best Food Facts – they are a great source of information for anything food. If you've got any kind of question concerning food, you'll be able to find an answer. Or if you can't, they'll be able to find it for you through one of the many experts.

Soy Connection – lots of facts, recipes and info. from the United Soybean Board.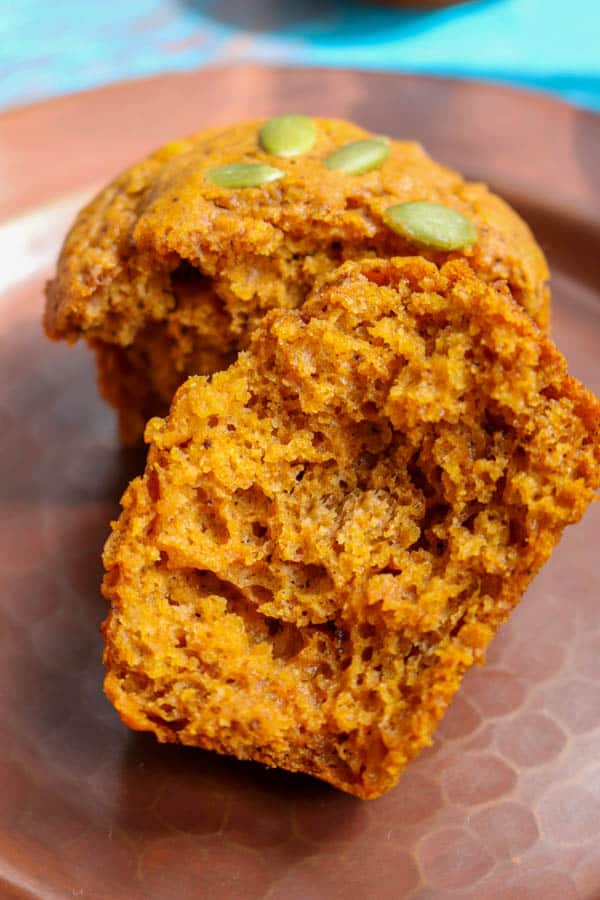 We've been enjoying soy in many different recipes.
Our absolute favorite is these Pork Potstickers with the sauce to dip them in. YUM!!
This Pad See Ew is not only delicious, but it's a super easy dinner to put together on a busy weeknight.
This Easy Chicken Marinade is a family favorite. It's one my mom always used to make.
The marinade on this Jack Daniel's Pork Tenderloin seriously takes it over the top. I haven't made it in a while, so we're definitely due!
In the mornings, I usually start my day with this Pineapple Coconut Silk Smoothie. That pineapple and coconut combination reminds me of the tropics.
I've also made these Dairy-Free Lemon Poppy Seed Waffles. They'll be great for breakfast this weekend.
The nights before Kurt goes to work, I gather all the ingredients for this Breakfast Parfait Bar. That way he can easily add them to his soy yogurt in the morning.
Now I'll be able to add these Dairy-Free Pumpkin Muffins to our weekly Fall breakfast menu!
These are going to be SO good with your morning cup of coffee!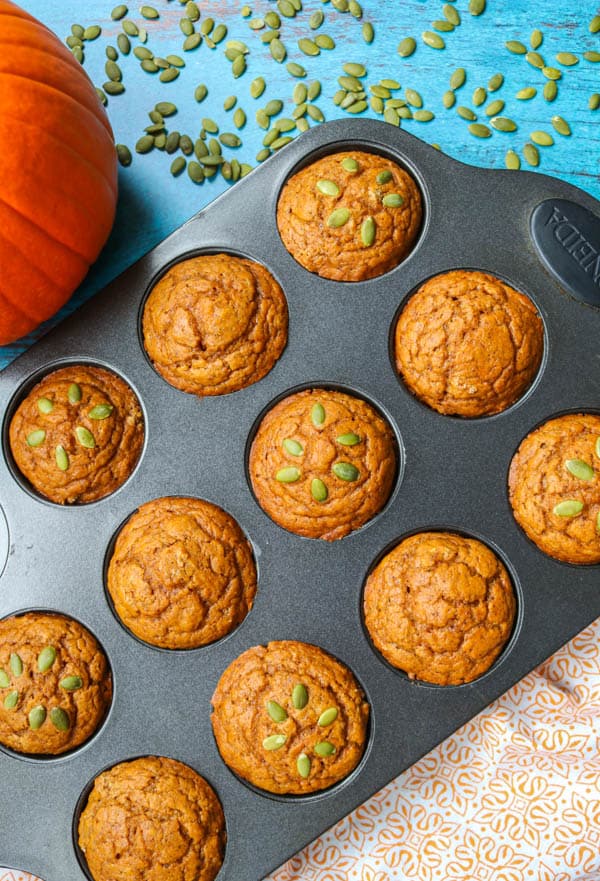 I've even enjoyed soy for snacking, too!
I'll have one of these Dry Roasted Edamame packs during the day while I'm working. They're also great for traveling, too.
I also love snacking on hummus and veggies during the day.
Lisa from Wine & Glue made this Edamame Hummus inspired by our Best Food Facts trip. I never thought about making hummus from edamame!
Erin from Dinners, Dishes & Desserts also went on the trip, and made this Parmesan Garlic Roasted Edamame. I love munching on it when we go to Japanese restaurants so I'm super psyched to make some here at home.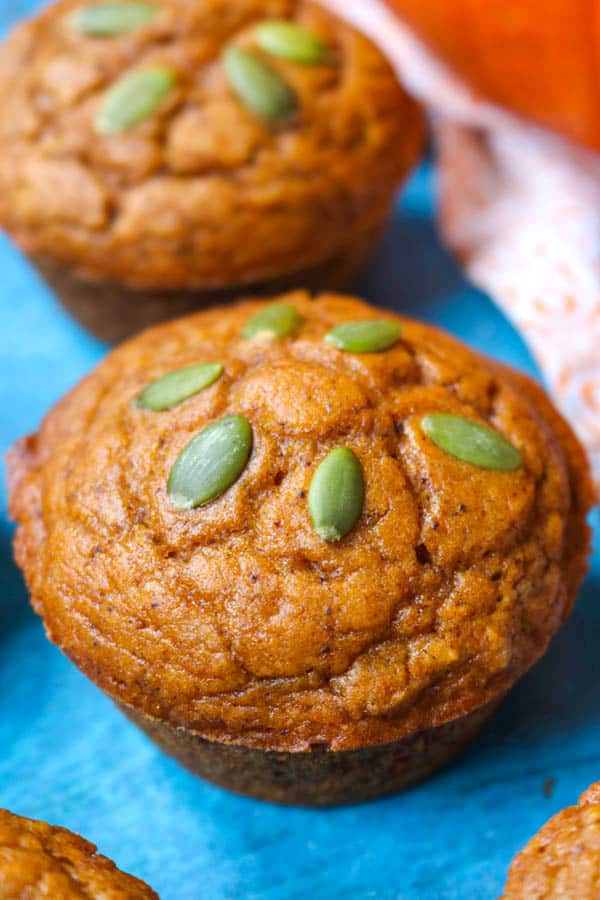 When we go out for Thai food, I always order Pad Thai, but this one from Cathy at Lemon Tree Dwelling looks better than any I've ever had.
Craving some salmon for dinner? Rachael from Eazy Peazy Mealz has this delicious Miso Salmon recipe. I am loving that sauce!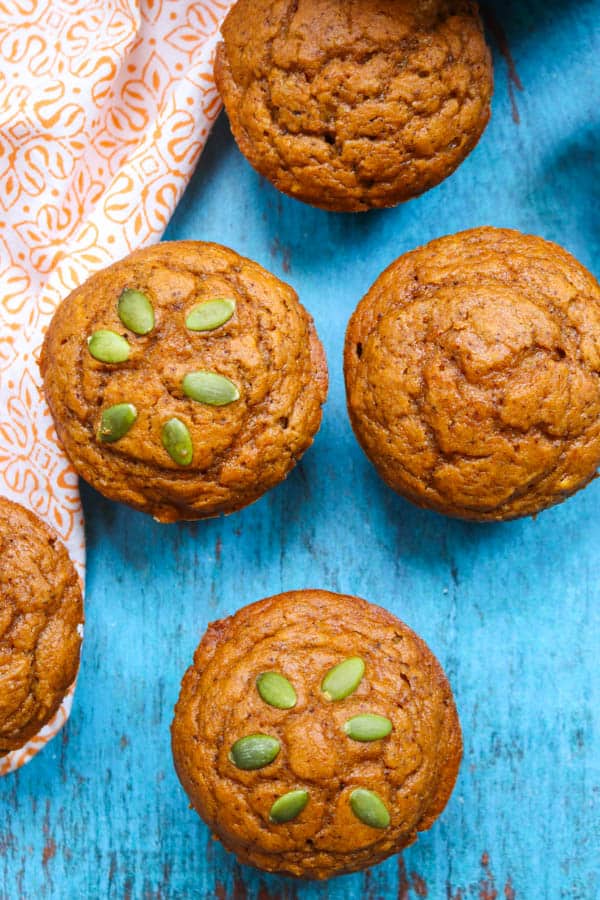 What equipment do I need to make these Dairy-Free Pumpkin Muffins?
12-cup muffin tin
Baker's Joy or a similar floured baking spray
a large and medium mixing bowl
a couple of my favorite rubber spatulas
wire cooling rack
What ingredients do I need to make these Pumpkin Muffins from scratch?
all-purpose flour
dark brown sugar
baking powder
ground cinnamon
baking soda
ground cloves
ground nutmeg
kosher salt
one large egg
vanilla soy milk – you can use plain soy milk, but I like the little extra the vanilla soy added.
vegetable oil
pure canned pumpkin – you DO NOT want to use the canned pumpkin pie filling in this recipe. It is already seasoned with different spices and is sweetened. Use the pure stuff.
pepitas – pumpkin seeds, if desired
SIGN UP FOR THE WEEKLY
365 DAYS OF BAKING & MORE
WEEKLY NEWSLETTER DOWN BELOW!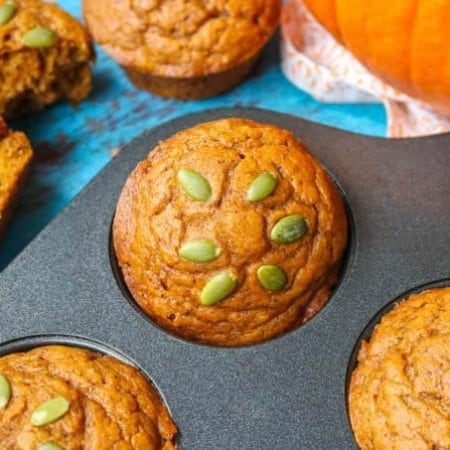 Dairy-Free Pumpkin Muffins
These dairy-free Pumpkin Muffins are a perfect addition to your Fall breakfast menu! SO moist, tasty and full of flavor, you won't be able to eat just one! Made with soy milk, and vegetable oil, they're a great way to incorporate soy into your daily diet.
Ingredients
1⅔ cup all-purpose flour
⅔ cup dark brown sugar
2 teaspoons baking powder
1½ teaspoons cinnamon
1 teaspoon baking soda
½ teaspoon ground cloves
½ teaspoon ground nutmeg
¼ teaspoon salt
1 egg
½ cup vanilla soy milk
¼ cup vegetable oil
1 cup pure pumpkin not pumpkin pie filling
1 tablespoon pepitas (green pumpkin seeds) if desired
Instructions
Preheat oven to 400° F. and grease a 12-cup muffin tin with a floured baking spray.

in a large bowl, whisk together the flour, dark brown sugar, baking powder, cinnamon, baking soda, cloves, nutmeg and salt until well combined.

In a medium mixing bowl, lightly beat the egg. Add the soy milk, and vegetable oil and mix.

Add the pumpkin to the egg mixture and combine thoroughly.

Gently pour the pumpkin mixture into the dry ingredients and mix until just combined, making sure not to over mix.

Evenly distribute the batter between the 12 muffin cups. Add a few pepitas to the top of the batter, if desired.

Bake for 18-20 minutes or until a toothpick inserted into the center of a muffin comes out clean.

Place muffin pan on a wire cooling rack and let sit for a few minutes before removing from the pan.
Nutrition
Serving: 1g | Calories: 172kcal | Carbohydrates: 28g | Protein: 3g | Fat: 6g | Saturated Fat: 4g | Cholesterol: 14mg | Sodium: 155mg | Potassium: 170mg | Fiber: 1g | Sugar: 13g | Vitamin A: 3236IU | Vitamin C: 2mg | Calcium: 65mg | Iron: 1mg
Did you make this recipe?
Share it with me on Instagram and make sure to follow me on Pinterest for more recipes.
I hope you'll enjoy these easy Dairy-Free Pumpkin Muffins just as much as we have!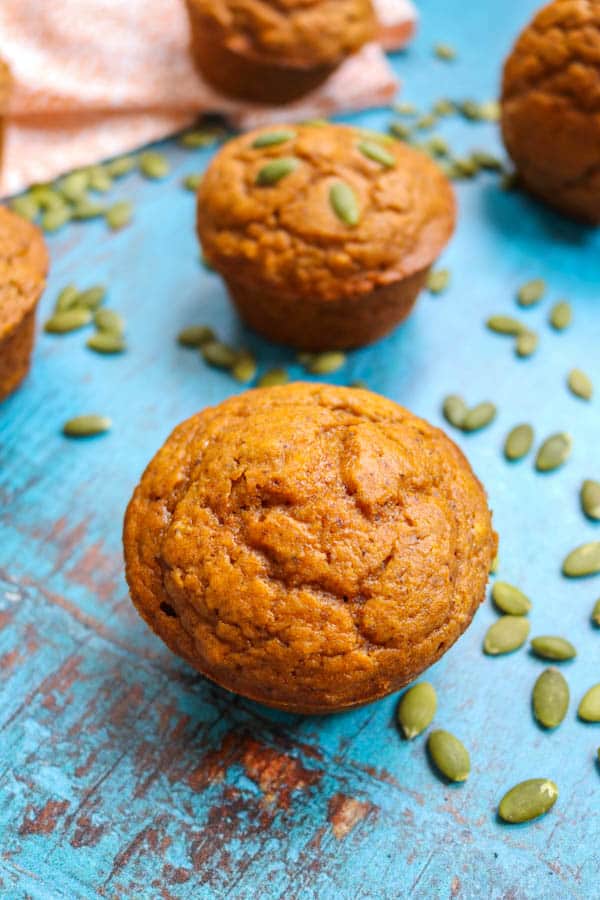 *We are a participant in the Amazon Services LLC Associates Program, an affiliate advertising program designed to provide a means for us to earn fees by linking to Amazon.com and affiliated sites.
These are links that can take you to a product (or products) that I recommend. I do receive a portion of the sales or credit for my future purchases from any items purchased through those links. Your purchases encourage my baking, cooking and butter habit, and contribute to the life of this blog. I thank you so very much for your support. Let's keep having fun in the kitchen!!
Reader Interactions