Strawberry Cream Muffins are made with just the right amount of sour cream and lots of fresh strawberries. These tender muffins are soft and fluffy making them the perfect afternoon snack or quick breakfast for summer!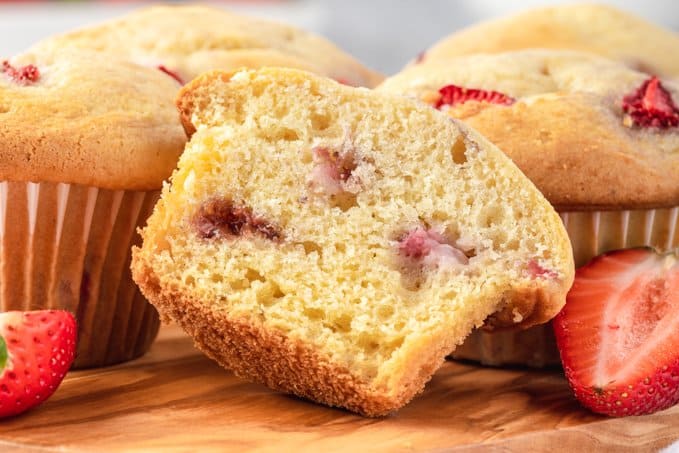 I love finding new ways to add fresh berries to baked goods, especially when strawberry season rolls around. It really is the perfect time of year to make strawberry shortcake, and the best strawberry muffin recipe which is this one! haha
*This post contains an affiliate link(s).
I was given a cookbook by Dorothy of Crazy for Crust to review. As always, all opinions are 100% my own.
This easy muffin recipe with sour cream and juicy strawberries is hands down my new favorite muffin.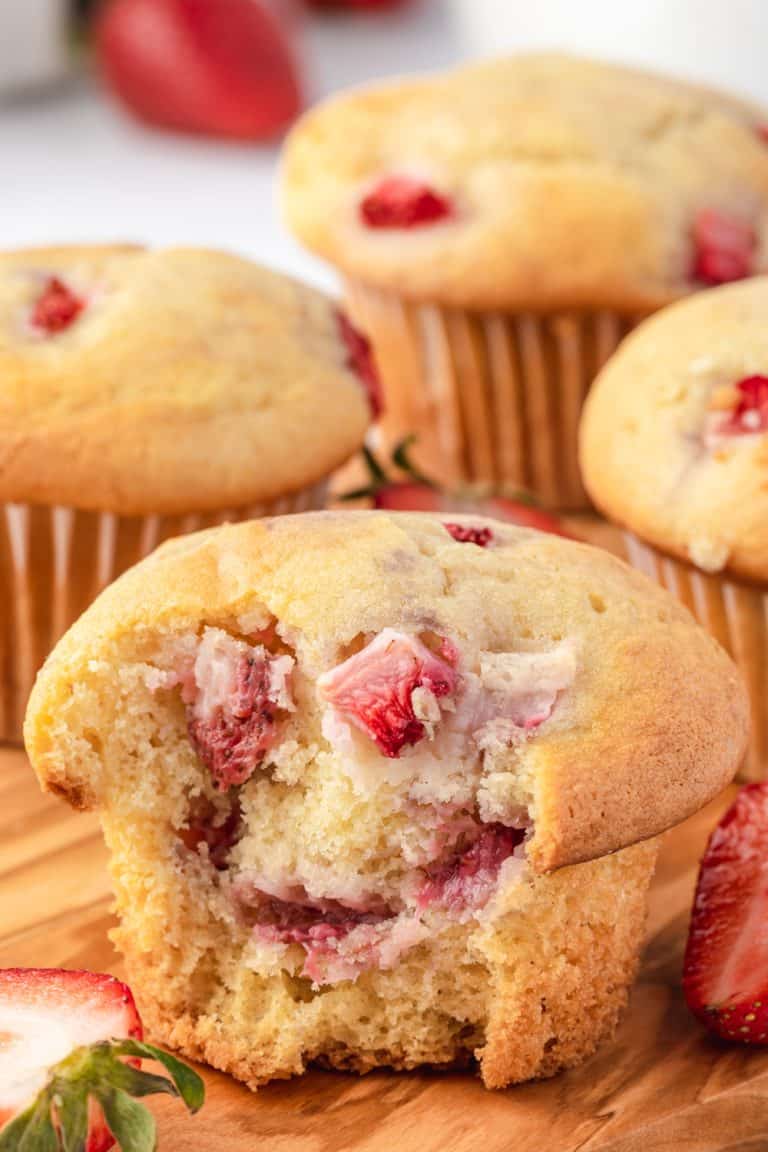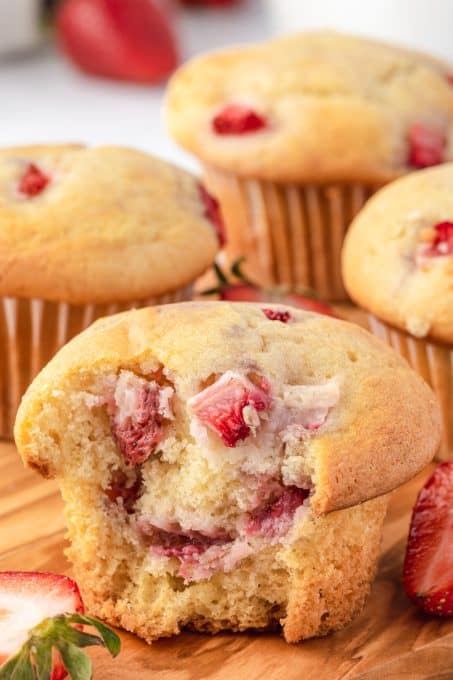 If you love those big, fluffy muffins from the bakery, you're going to adore these homemade Strawberry Muffins. Light, fluffy and bursting with the juicy flavor of fresh strawberries, they taste like summer in muffin form!
It's sour cream that makes all the difference when it comes to muffins with a moist, tender crumb.
Along with adding moisture, the cream lends an acidity to the batter that reacts with baking soda. The reaction creates little pockets of air that puff up as the muffins bake. The result is fluffy, delicious, bakery-style muffins made at home in just 30 minutes.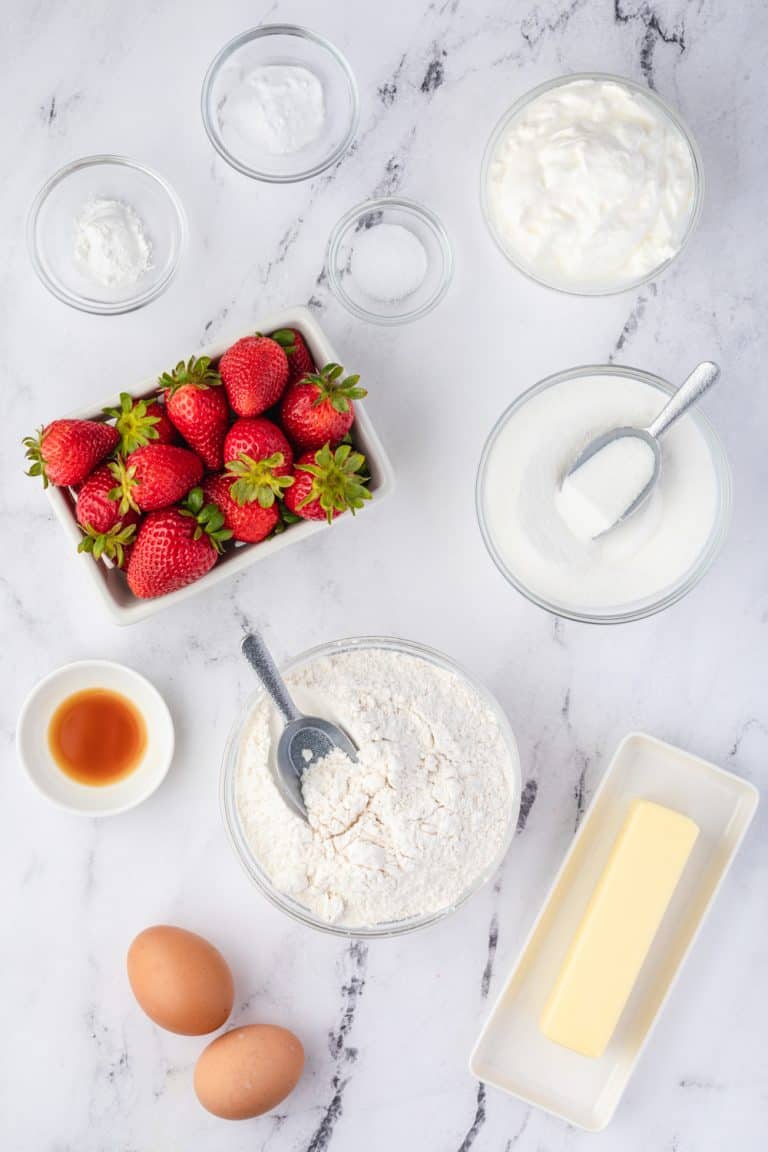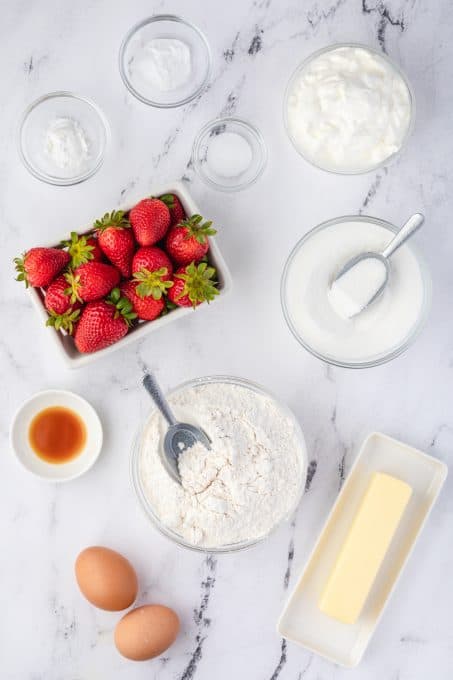 What do I need?
You need these ingredients to make this Strawberry Cream Muffins recipe.
Flour
Baking powder
Baking soda
Kosher salt
Sugar
Unsalted butter
Eggs
Vanilla
Sour cream
Fresh strawberries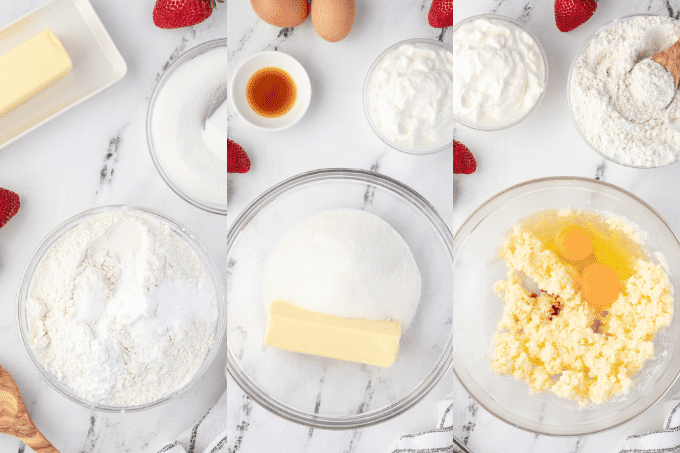 How to Make Strawberry Muffins
Start by washing your berries and removing the stems. Dice the strawberries into bite size pieces.
Line a muffin pan with paper liners. Or spray it with baking spray if you prefer not to use liners.
Combine the first four dry ingredients in a medium bowl and set it aside. Now, cream the butter and sugar together in a mixing bowl with an electric mixer or hand mixer
Once the butter mixture is light and fluffy, beat in the wet ingredients. Add the vanilla extract and eggs first, followed by the sour cream.
Slowly mix in the flour mixture to form a muffin batter. Set aside 1/3 of a cup of the diced strawberries. Fold the rest of the strawberries into the batter.
Now it's time to bake your strawberry muffins!
Spoon the batter into the muffin cups. Fill each one all the way to the top to get muffins with a nice rounded top.
Press a few of the remaining small pieces of strawberries onto the tops of the batter. You can even sprinkle the tops with some turbinado sugar (raw sugar), if you'd like. Bake your muffins in a preheated oven until a toothpick inserted in the center of one muffin comes out clean.
This may take anywhere from 22 to 25 minutes depending on your oven.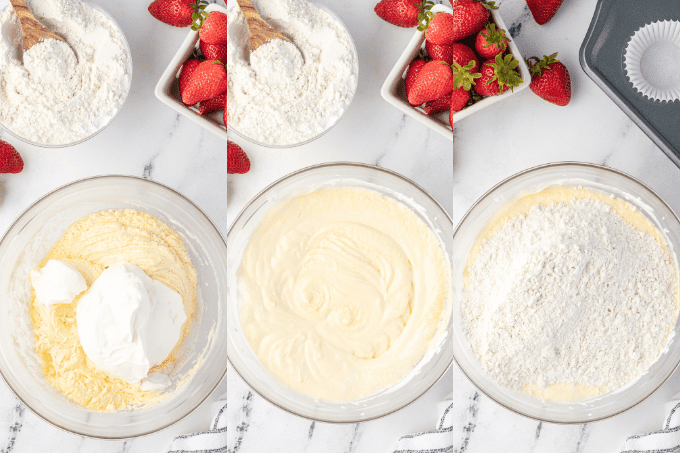 Pro Tips
Let the muffins cool for 5 minutes in the baking pan. Then remove them to a wire rack to finish cooling completely.
Use room temperature ingredients for best results! Room temperature eggs, butter and sour cream incorporate more easily into the batter. This gives the muffins the best texture once baked—and makes your life easier!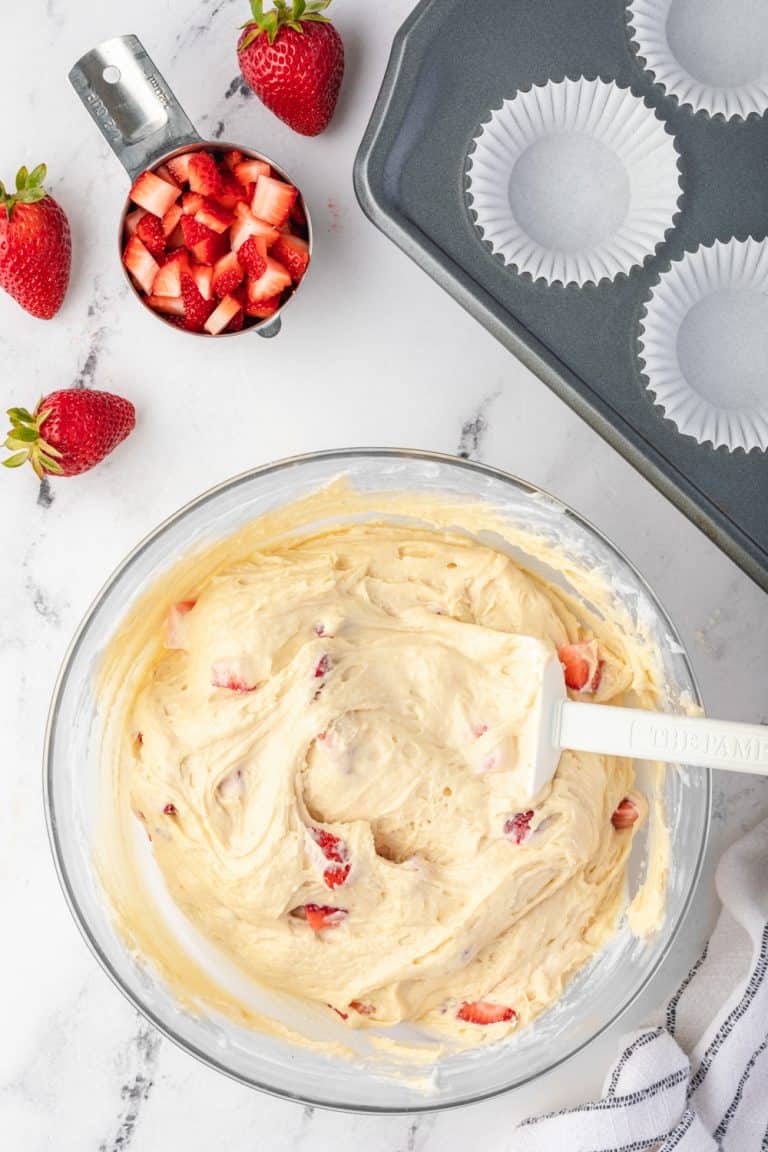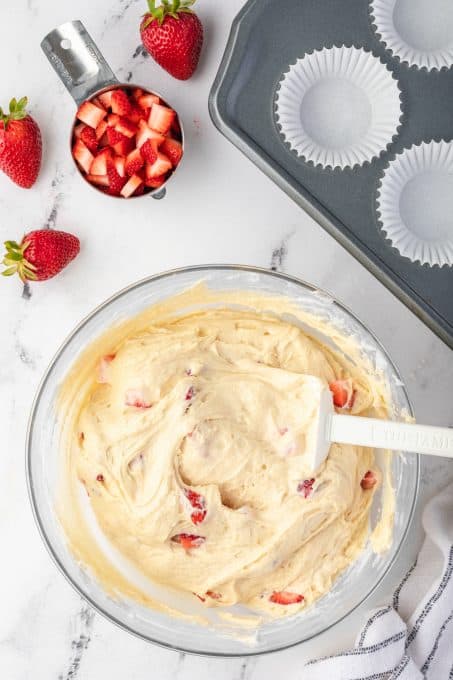 What substitutions can I make?
We've tested a few substitutions that worked well in this muffin recipe.
Butter – This recipe uses room temperature butter for a soft, moist muffin. You can substitute an equal amount of vegetable or melted coconut oil. Applesauce also works as low-fat substitute if you're looking for healthy strawberry muffins.
Sour cream – The addition of sour cream makes the muffins light, fluffy and keeps them moist for days. Plain unsweetened Greek yogurt will give you a similar result.
Strawberries – Fresh sweet strawberries make for the perfect strawberry muffins! You can swap them out for another favorite berry for an equally delicious breakfast recipe.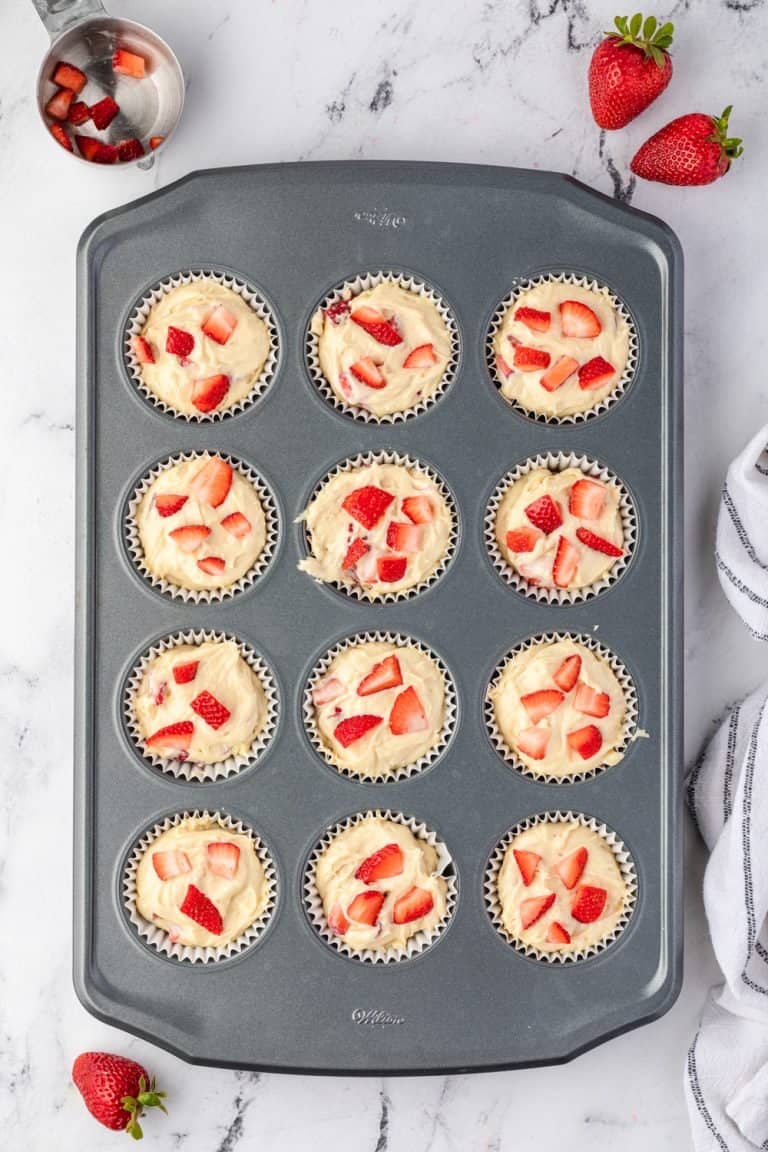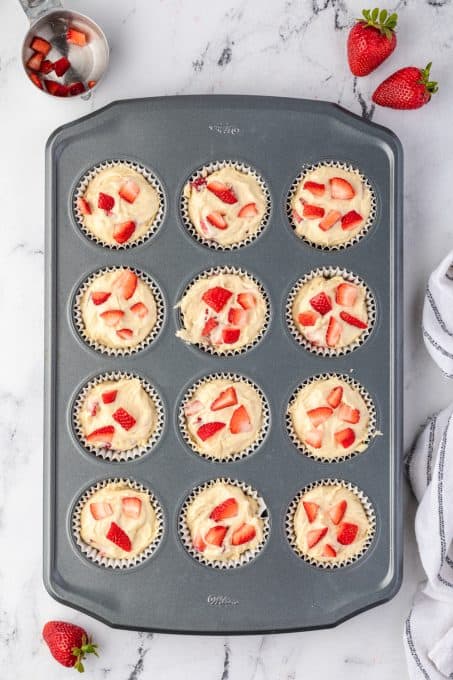 Can I use frozen strawberries?
Yes, frozen berries can be used. Thaw and drain the strawberries before adding them to the muffin mix.
If your frozen strawberries are whole, you will also need to dice them before using them in this homemade muffin recipe.
How do I make these Strawberry Muffins gluten free?
All purpose flour produces the best results, but this recipe works with gluten free flour too. We tested the muffins with Bob's Red Mill 1:1 gluten free baking mix and they were still delicious!
How do I store Strawberry Cream Muffins?
Store your strawberry muffins in an airtight container. They will stay fresh at room temperature for 3 days and can also be stored in the refrigerator for up to 1 week.
Can I use this recipe for jumbo or mini muffins?
This recipe will make 6 jumbo muffins. You will need to adjust the cooking time to 27-32 minutes. Bigger muffins take longer to make.
For mini muffins, cut down the baking time to 12-14 minutes. The recipe will make about 36 mini muffins.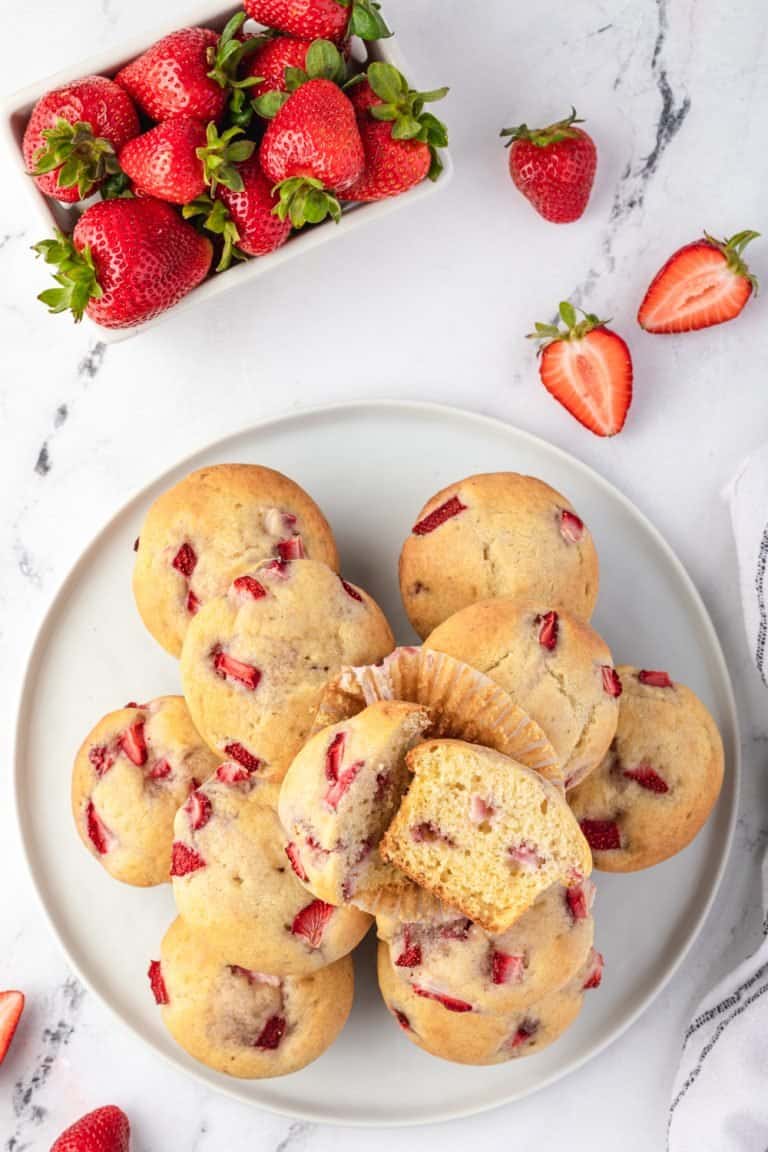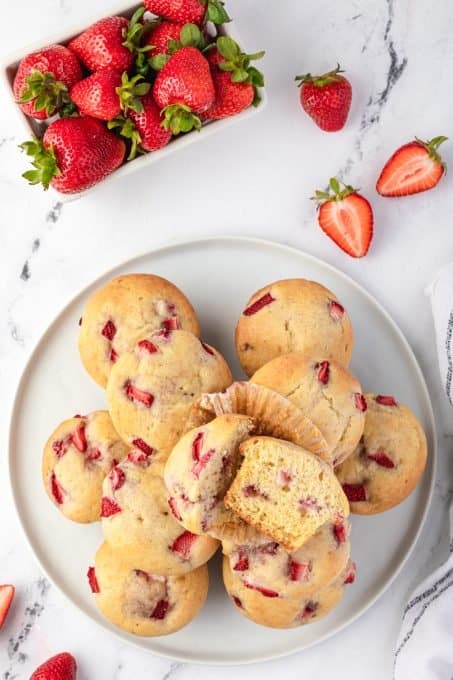 Muffin Recipes
You can never have too many muffin recipes in your recipe box! Everyone loves waking up to the smell of freshly baked muffins.
There are so many different muffin flavors and varieties out there. We have favorites for every season!
Today's strawberries and cream muffins definitely make me thing of warm summer mornings and Muffin Mondays! These Blueberry Muffins and Apple Streusel Muffins are two more recipes with fresh fruit I make in the summer months.
When the weather turns chillier, it's time for breakfast treats with warming sugar and spice like Dairy-Free Pumpkin Muffins and Cinnamon Streusel Muffins.
I had never thought to combine oatmeal and cherries in a muffin until I tried Cherry Oatmeal Muffins! My family requests those year round, along with these Banana Chocolate Chip Muffins.
If you're looking for a healthy muffin recipe, I heartily recommend Banana Oat Bran Peanut Butter Chip Muffins. So easy and delicious!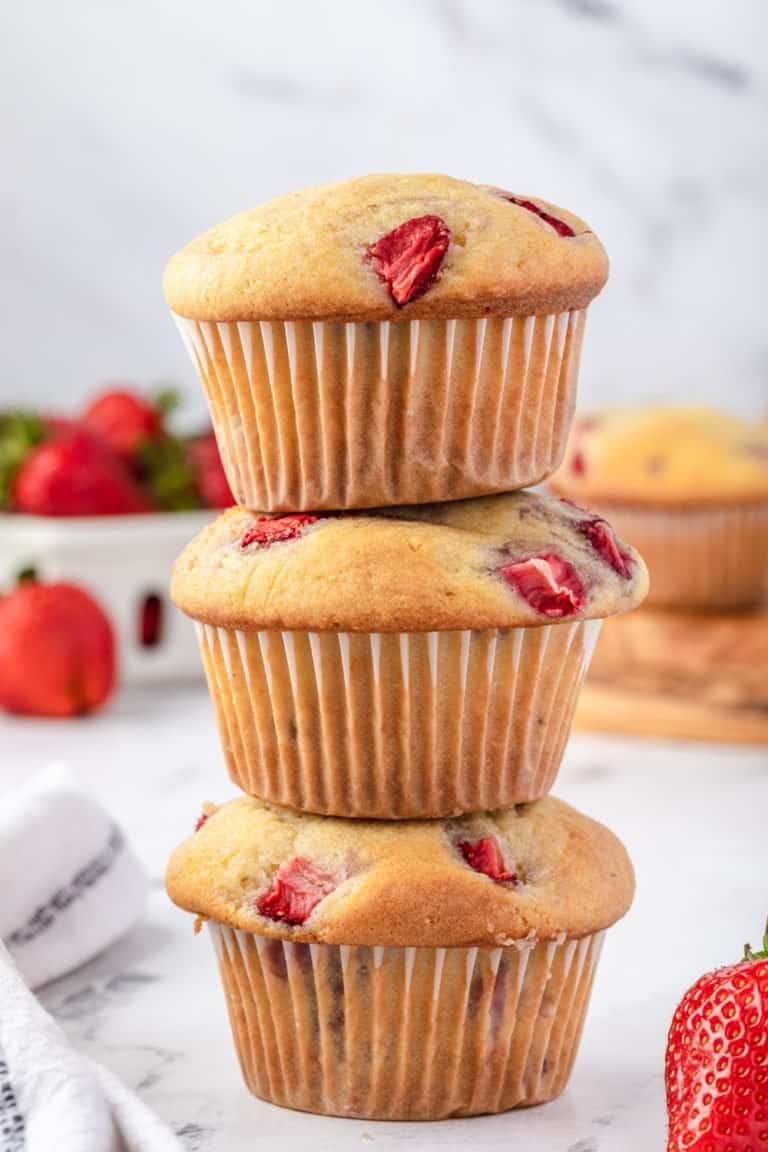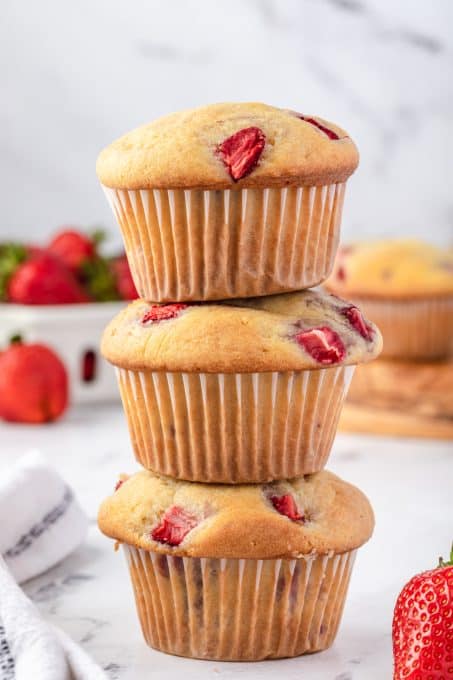 Breakfast Recipes
Make sure to peruse our other top-rated breakfast recipes after you try today's strawberries and cream muffins!
Can you tell we're a little obsessed with sweet breakfast dishes around here?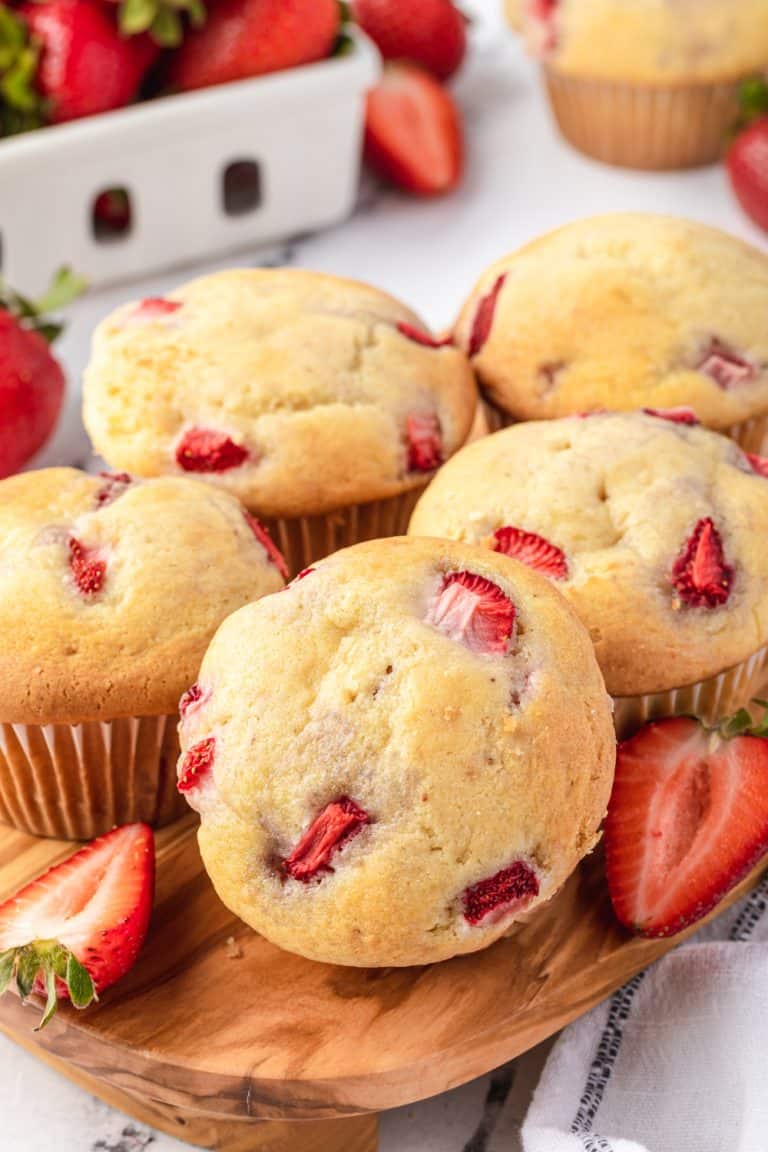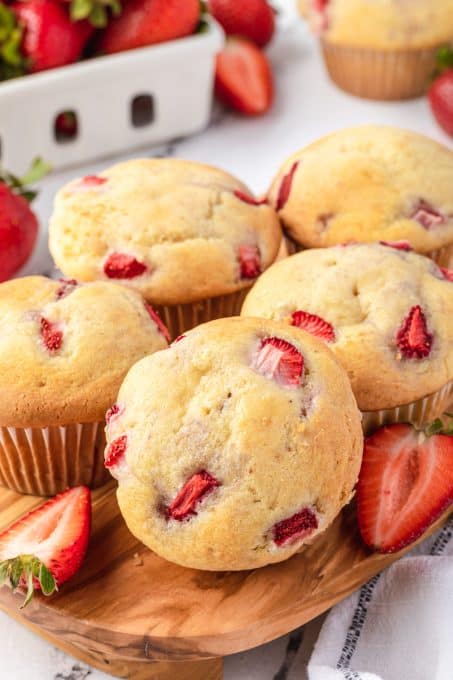 Equipment Needed
SIGN UP FOR THE WEEKLY
365 DAYS OF BAKING & MORE
NEWSLETTER BELOW!
Snatch up all the fresh strawberries you can this summer and bake these amazing bakery-style fresh Strawberry Muffins with sour cream!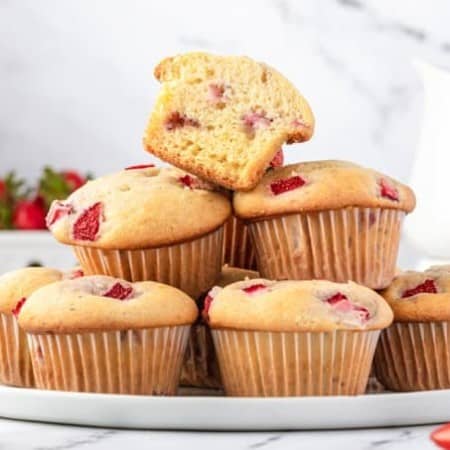 Strawberry Cream Muffins are made with just the right amount of sour cream and lots of fresh strawberries. These tender muffins are soft and fluffy making them the perfect afternoon snack or quick breakfast for summer!
Ingredients
2 cups all-purpose flour place 2 teaspoons from the two cups into a medium bowl
1 teaspoon baking powder
1 teaspoon baking soda
½ teaspoon kosher salt
1 cup granulated sugar
½ cup unsalted butter
2 large eggs
1 teaspoon pure vanilla extract
1 cup sour cream
1 ⅓ cups fresh diced strawberries divided
Instructions
Preheat oven to 375°F (190°C). Line a 12-cup muffin pan with cupcake liners. If you do not wish to use liners you can also spray the muffin pan with nonstick spray.

Whisk the flour, baking powder, baking soda, and salt in a medium-sized bowl. Set aside.

In a separate large bowl, use an electric stand or hand mixer to cream the butter and sugar on medium-high speed for 2 minutes.

Add the eggs and vanilla and beat an additional minute. Scrape the sides and add the sour cream, then beat until well combined.

With the mixer on low speed, slowly add in the flour. Stir until no visible flour remains.

Reserve 1/3 cup of diced strawberries. Place the cup of strawberries into the bowl with the reserved 2 teaspoons of flour. Toss to coat (this will help suspend the berries in the batter during baking. Then fold the floured covered strawberries into the batter.

Spoon the batter into the muffin cups, filling to the top of the cups (see note). Press the remaining strawberry pieces into the top of the muffins. Bake for 22-25 minutes, or until a toothpick inserted comes out clean.

Remove from the oven and allow to cool in the pan for 5 minutes, then transfer to a wire rack to continue cooling until you are ready to serve.
Notes
NOTE: To prevent the batter from spilling over while baking, you may want to fill the muffin cups ONLY ⅔ full instead of filling them all the way to the top. It can happen, but doesn't always and this way you'll be able to enjoy a few extra muffins! 
Nutrition
Serving: 1muffin | Calories: 263kcal | Carbohydrates: 35g | Protein: 4g | Fat: 12g | Saturated Fat: 7g | Polyunsaturated Fat: 1g | Monounsaturated Fat: 3g | Trans Fat: 1g | Cholesterol: 59mg | Sodium: 207mg | Potassium: 121mg | Fiber: 1g | Sugar: 18g | Vitamin A: 398IU | Vitamin C: 11mg | Calcium: 46mg | Iron: 1mg
Did you make this recipe?
Share it with me on Instagram and make sure to follow me on Pinterest for more recipes.
*We are a participant in the Amazon Services LLC Associates Program, an affiliate advertising program designed to provide a means for us to earn fees by linking to Amazon.com and affiliated sites as well as ShareASale.
These are links that can take you to a product (or products) that I recommend. I do receive a portion of the sales or credit for my future purchases from any items purchased through those links. Your purchases encourage my baking, cooking and butter habit, and contribute to the life of this blog. I thank you so very much for your support. Let's keep having fun in the kitchen!!
Reader Interactions