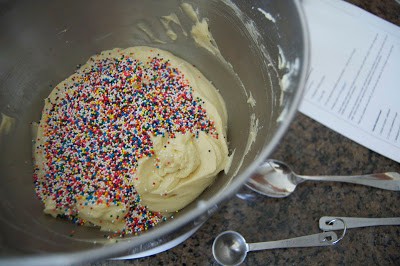 What a wonderful day!!!
But then again for me, July 3rd is ALWAYS a wonderful day!!
Because it's my BIRTHDAY!!!!!
So today and because I'm baking for 365, of course I'm going to bake what I want for my birthday, be it a cake or cupcakes.
Browsing through blogs, I came across a post from Jessica at How Sweet It Is for Homemade Funfetti Cupcakes.
How PERFECT!!! Funfetti for a birthday, AND a 4th of July celebration!!!
The sprinkles with all the pretty colors and and the way they spread throughout the cupcake reminded me of…
FIREWORKS!!!!!!!
Since I was an only child I suppose you could say I was spoiled.
In the town I grew up, Independence Day was always celebrated on the 3rd of July. So, my parents had always told me that the fireworks were for me.
Please, I was 3 or 4. I knew nothing about the history of the U.S., so I took the idea of "my fireworks" and ran with it!
I cannot begin to tell you how cool it was to think that all these people were coming out to celebrate my birthday and see my fireworks!! I LOVED it!! And after the fireworks, the whole neighborhood would go down to our neighborhood beach for a bonfire and everyone sang, "Happy Birthday" to ME!!
Ah, the life! It was pretty darn special!
Then reality set in just like with Santa and the Easter Bunny.
BUMMER!!!!!
Oh well, it was great while it lasted, but it's still great seeing fireworks and having it somewhat associated with my birth.
The great thing is, except for this year, the town Mr. 365 and I moved our family to out west, celebrated the 4th of July on the 3rd with fireworks.
So, the kids have grown up going to see "mom's fireworks". My son loves it.
We were meant to live out here. 😉
Jessica, thank you SO much for the birthday cupcakes. They're beautiful and made me VERY happy!!
Birthday Funfetti Cupcakes
½ cup butter
1 cup sugar
2 eggs
1 tablespoon vanilla
1½ cups flour
1 teaspoon baking powder
1/3 cup milk
1/3 cup assorted colored sprinkles plus more for frosting
Preheat oven to 350ºF.
Place muffin cups in a 12 cup muffin tin.
In a large bowl, combine flour and baking powder and mix well; set aside.
Cream butter and sugar in the bowl of an electric mixer until fluffy and light.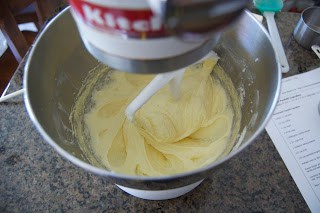 Add eggs, one at a time, beating until thoroughly combined.
Add vanilla and mix in thoroughly.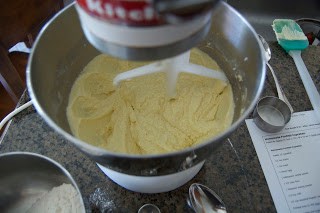 Add half of the flour mixture to the creamed butter/eggs and mix until just combined.
Add the milk while beating on low.
Pour in remaining flour mixture and again, mix until just combined.
Fold in 1/3 cup of the sprinkles.
Fill prepared muffin cups with batter so that they are two-thirds full.
Bake for 18-20 minutes.
Allow for cupcakes to cool before frosting.
Vanilla Buttercream Frosting
1 cup (2 sticks) butter, room temperature
2½ cups confectioners' sugar
1 tablespoon vanilla
1 tablespoon milk, if needed
Cream butter in the bowl of an electric mixer fitted with a paddle attachment until light and creamy.
Add sugar slowly while mixer is on low speed.
After thoroughly combined, slowly increase mixer speed to medium and add vanilla.
Beat for 3 minutes, occasionally scraping down sides of bowl.
If desired consistency of frosting is too thick, add milk 1 teaspoon at a time.
If frosting is too thin, add sugar gradually until desired thickness is attained.
Frost cupcakes and (haha) sprinkle with sprinkles!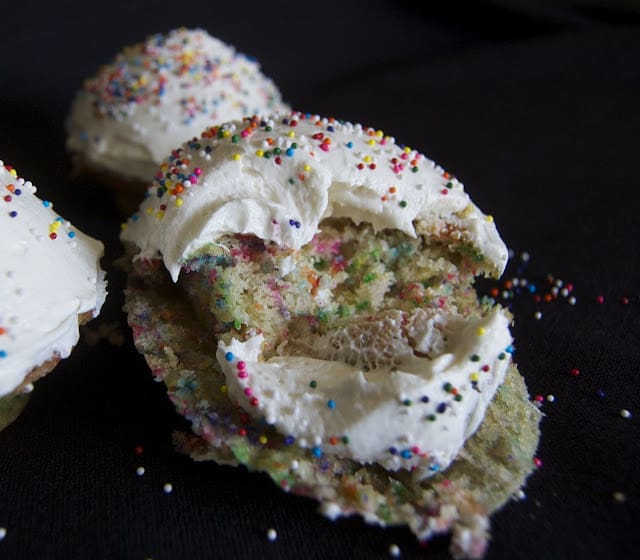 These things were SO much fun to bake and eat!!
I felt like a kid again which is awesome considering I'm just a wee bit past that. 😉
The colors were awesome and I liked the crunch of the sprinkles.
There were quite a few that ended up on the floor though.
Those little buggers have minds of their own when the jump out of the bottle – it's like they were in escape mode!!
I rate everything I bake on a scale of 1-4 with 4 being the best and these Birthday Funfetti Cupcakes earned 3½ rolling pins!
Jessica, thank you so much again for sharing them with us!!
Everyone have a safe and happy 4th of July! Enjoy the festivities!!!
Thank you so much for stopping by. You matter and I'm glad you're here!
BIG, BIG baking hugs!!
Happy baking!!!
.