Birthday Funfetti Cupcakes loaded with sprinkles are the perfect festive dessert! You'll love these delicious homemade sprinkles cupcakes for all kinds of occasions, from a family birthday party to big celebrations.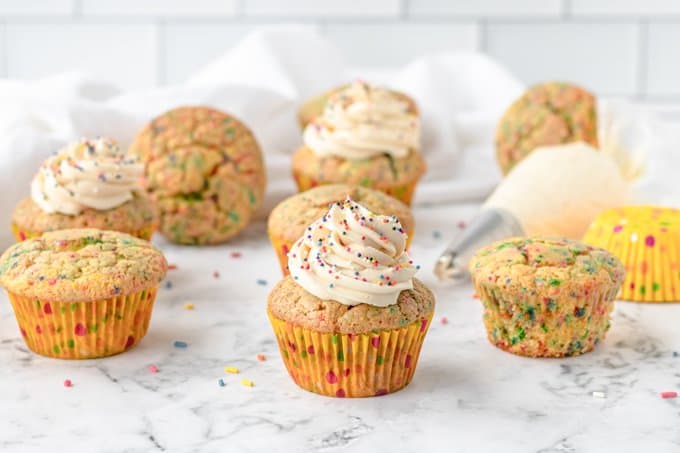 Funfetti desserts turn any day into a party, and these are the perfect birthday cupcake!
*This post contains an affiliate link(s).
I was given a cookbook by Dorothy of Crazy for Crust to review. As always, all opinions are 100% my own.
There's one thing I know for sure: everyone loves sprinkles.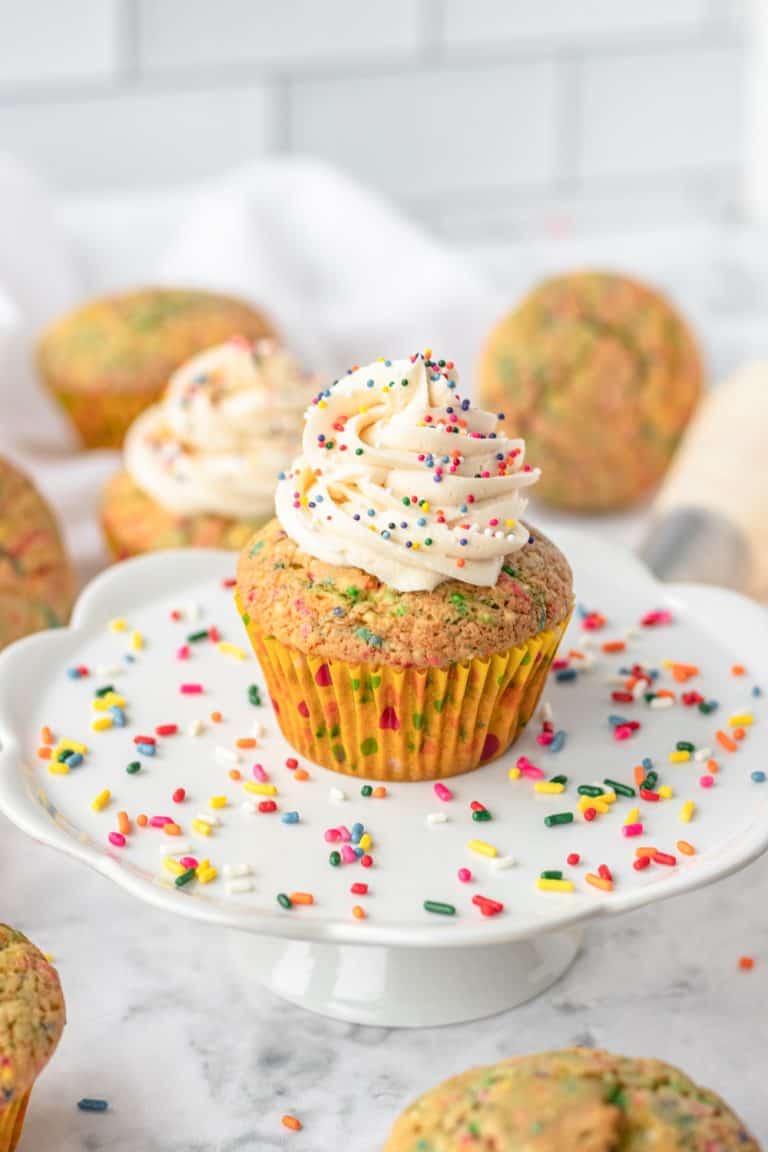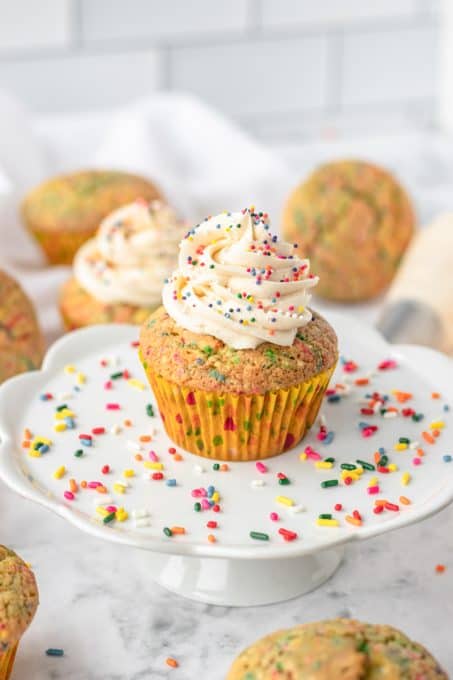 For years, I made Funfetti Cupcakes for family birthday parties using a box cake mix. Then I discovered how much better Funfetti Birthday Cupcakes taste when they're made from scratch.
It hardly takes any more time than using a mix and the results are amazing. You can even change up the color and type of sprinkles to make cupcakes for different holidays and events. So easy, impressive and—most of all—FUN to eat!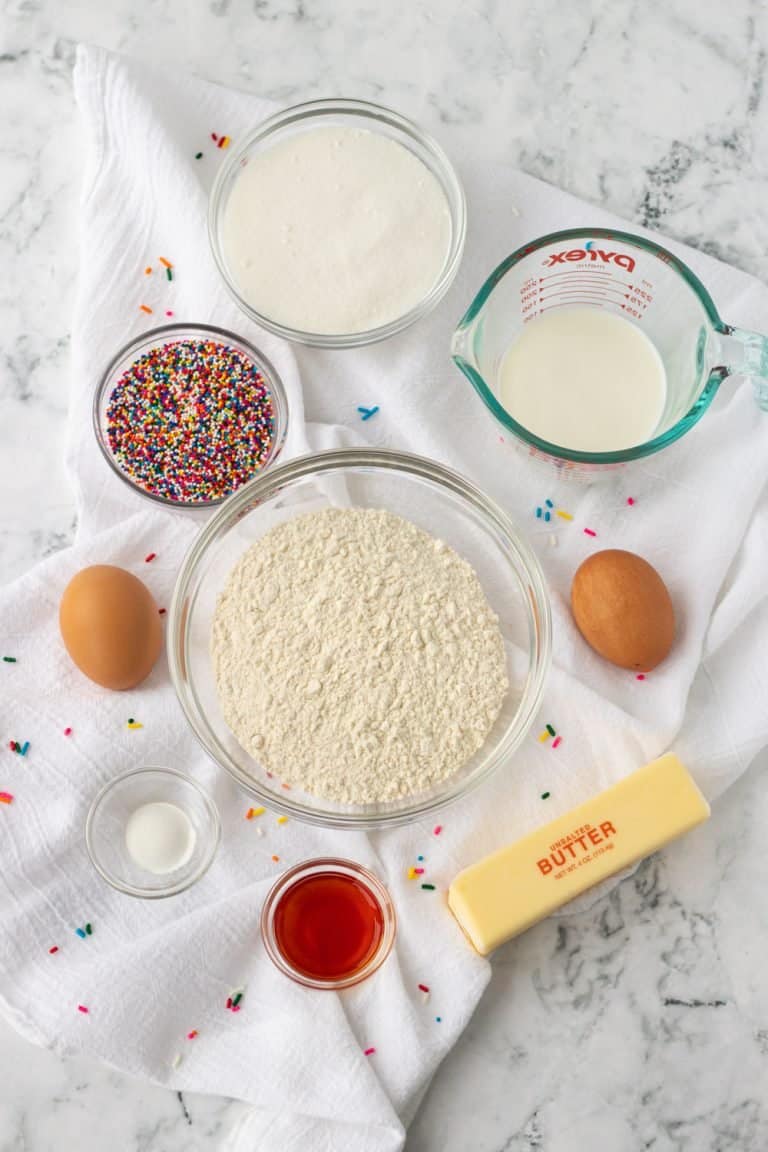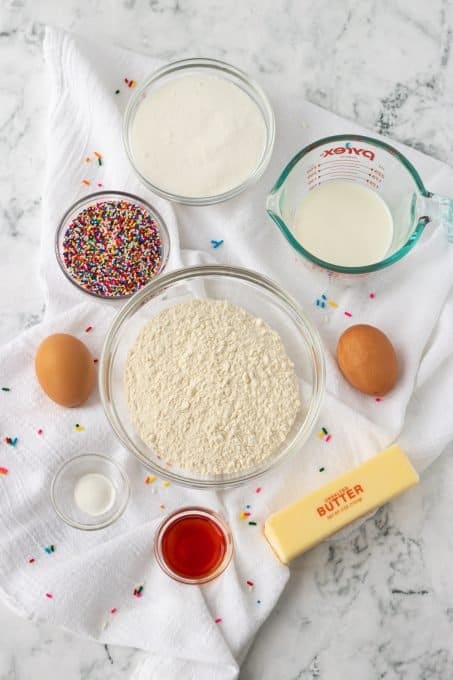 What do I need?
Here are the ingredients I use to make colorful sprinkles cupcakes from scratch.
Unsalted butter
Granulated sugar
Eggs
All-purpose flour
Baking powder
Kosher salt
Milk
For the vanilla frosting you will need:
Unsalted butter
Vanilla extract
Powdered sugar
Milk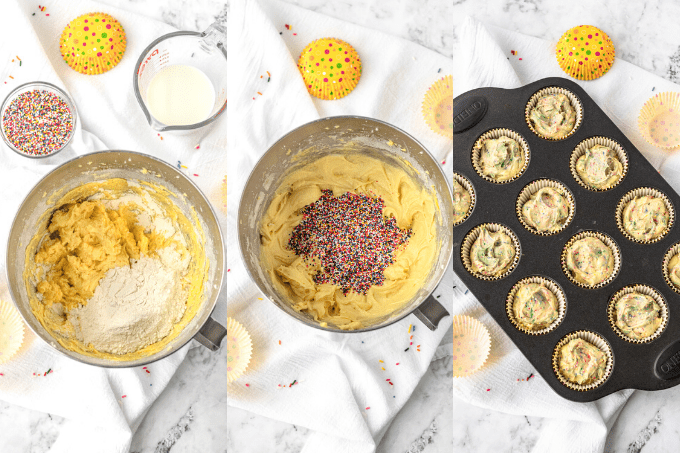 How do I make homemade sprinkle cupcakes?
First, line your muffin pan with cupcake liners then make the Funfetti cupcake batter:
Combine the dry ingredients in a medium bowl.
Now cream the butter and white sugar together in the bowl of a stand mixer on medium speed or with an electric hand mixer until fluffy and light. Using electric beaters, this takes about 3 minutes.
Add the eggs one at a time, followed by the cake batter flavor. Then add half the dry ingredients and the milk. Slowly mix in the remaining dry ingredients until the batter is just combined.
Next it's time to add your sprinkles! Fold in about half the nonpareils and set aside the rest. Divide the muffin batter into a prepared muffin tin and bake!
After the muffins are baked, let them cool for a few minutes in the pan. Transfer the sprinkle cupcakes to a wire rack to cool completely.
While the cupcakes are cooling, it's time to make that delicious creamy Funfetti frosting!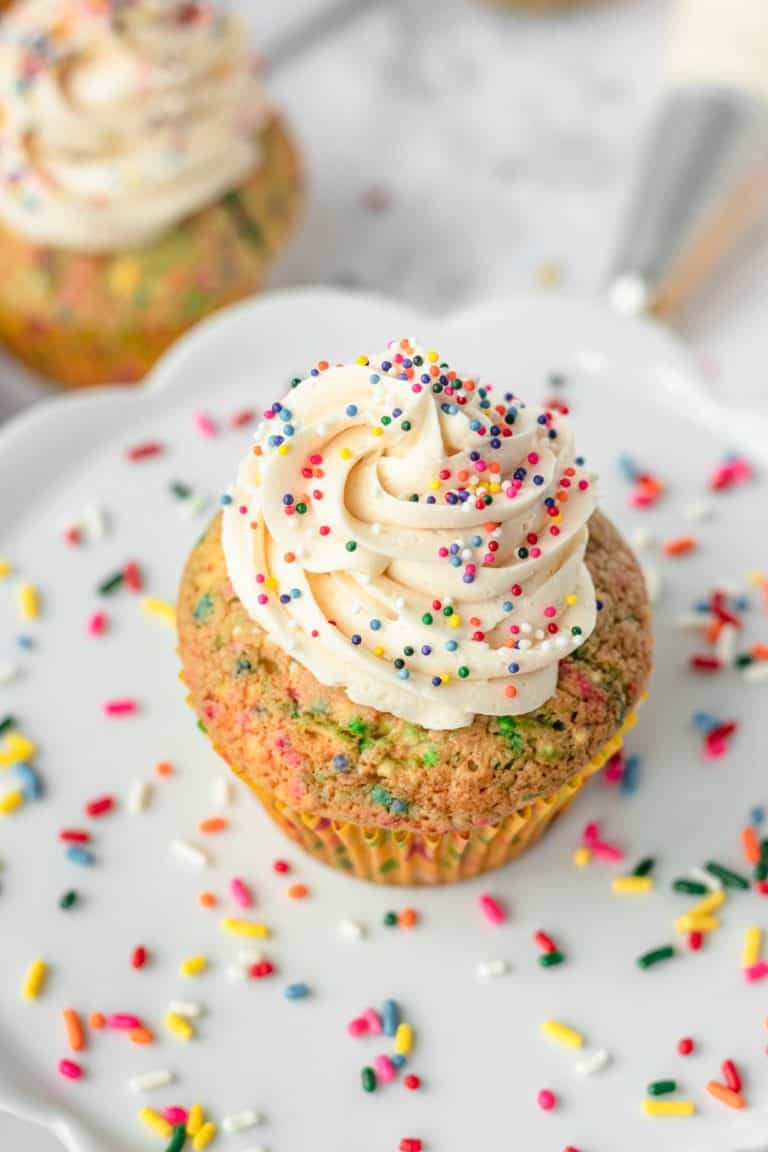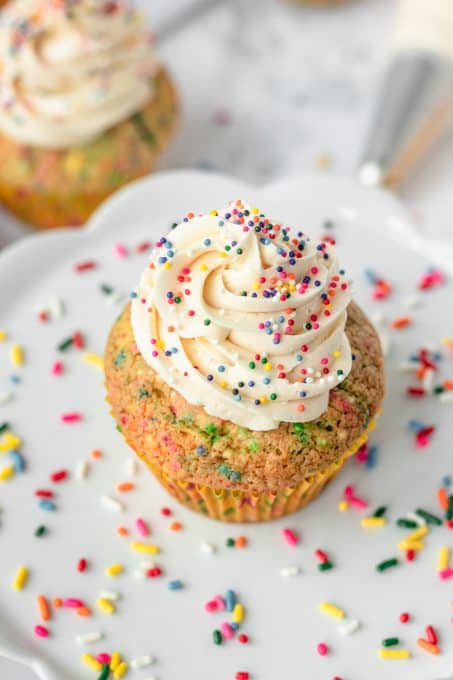 How to Make Funfetti Frosting
No birthday cupcakes are complete unless decorated with some sweet frosting from a piping bag.
For these Funfetti Cupcakes, we made a vanilla buttercream frosting and topped it with extra confetti colored sprinkles!
It's as easy to make as beating softened butter and powdered sugar together, then adding vanilla extract. We add the milk right at the end—just enough to thin it to a thick but spreadable consistency.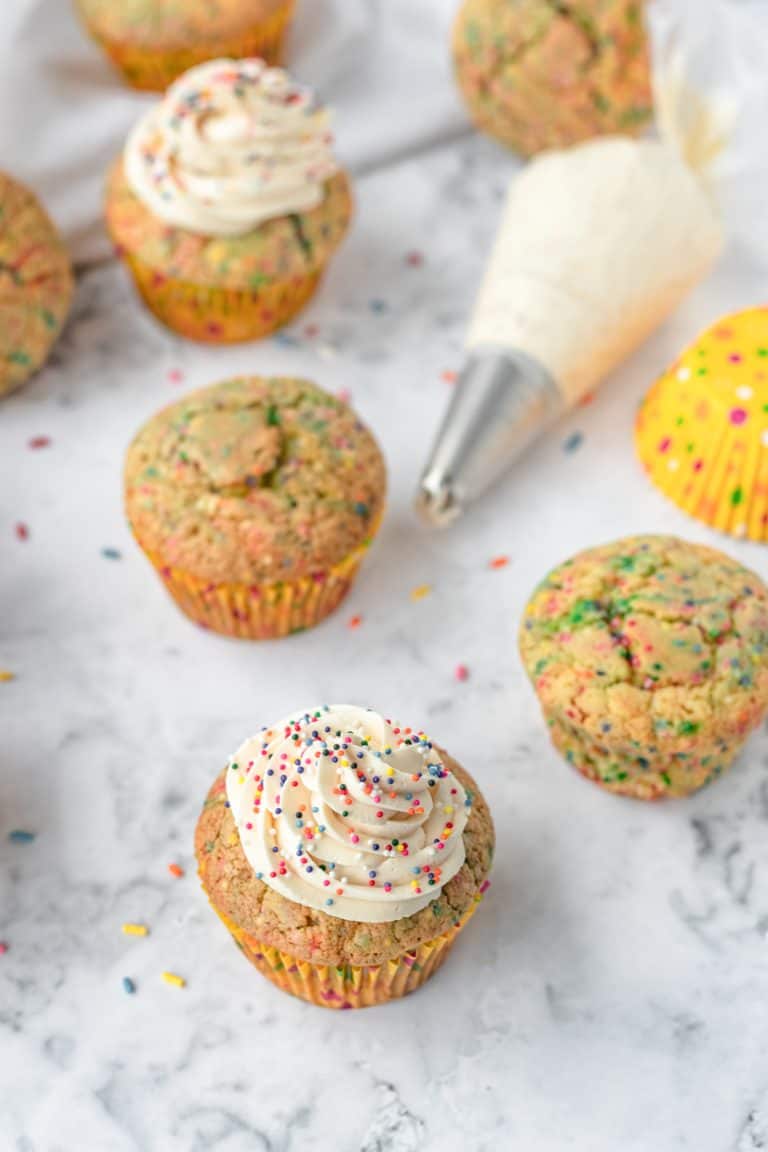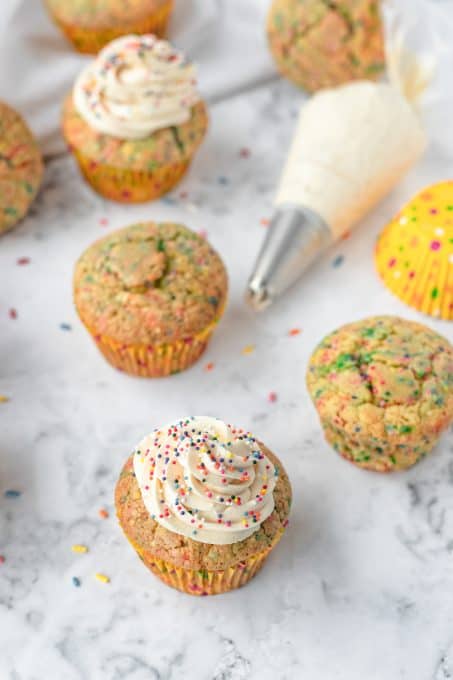 Pro Tips
Learn from my years of experience with these simple tips for BEST homemade Funfetti Cupcakes from scratch.
Use room temperature ingredients. Cold ingredients are much more tricky to fully incorporate into the batter and can cause you to over mix, resulting in dense cupcakes. Take your butter and eggs out of the refrigerator about 20 minutes before making this cupcake recipe for best results.
Cake batter flavor substitutions: If you don't have cake batter flavor, swap it out for pure vanilla extract! Your Funfetti Cupcake recipe will still taste wonderful.
Don't overfill the wells of the cupcake tin. Each well should be filled only about two-thirds of the way to the top. The cupcakes will rise as they bake creating a relatively flat top perfect for holding frosting! Overfilling the wells results in cupcakes with round muffin-like tops.
Storing: Keep your frosted cupcakes tightly covered at room temperature. Enjoy within 3-4 days for best taste!
What kind of sprinkles are best for colorful confetti cupcakes?
I prefer to use colored nonpareil sprinkles in this cupcake recipe. They hold their color well giving the homemade Funfetti Cupcakes a classic birthday cake look. DO not over mix though once you've added them to the batter because they will tend to streak and cause some discoloration.
The long skinny sprinkles called jimmies are another good choice for baking in cupcakes. Do not use sugar sprinkles; they will get absorbed into the batter and you won't be able to see them!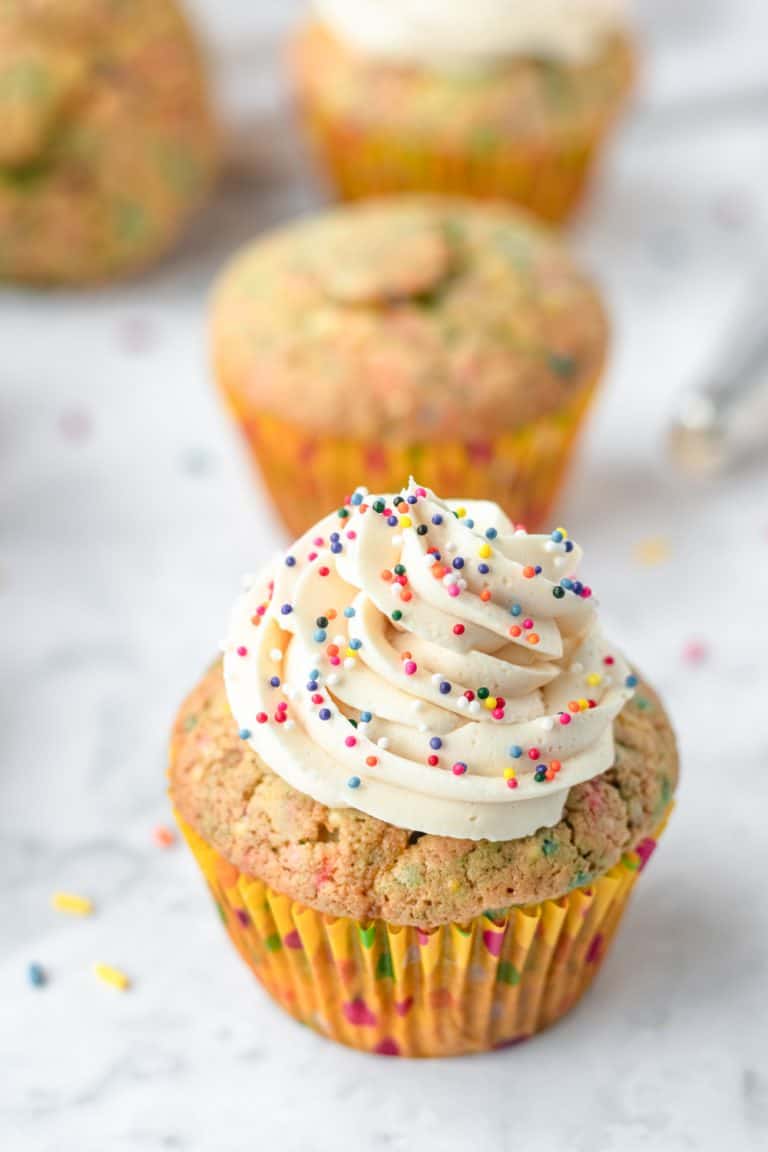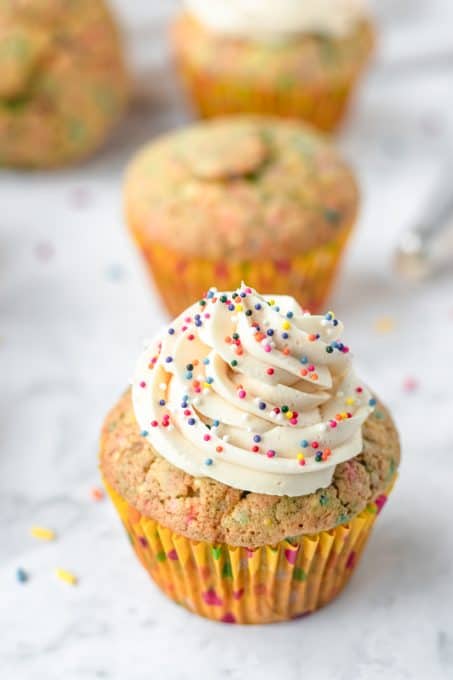 Cupcake Recipes
At my house, homemade cupcakes are suitable for ANY day, not just birthdays!
These Pina Colada Cupcakes are a current obsession of ours. They taste just like the tropical cocktail baked into an easy handheld dessert. Serve them at your summer picnics along with some Strawberry Lemonade Cupcakes!
If you like cupcakes inspired by drinks, try this recipe for Harry Potter Butterbeer Cupcakes! The butterscotch flavor is downright magical. Forgive the pun. I can't resist.
I know some of you chocolate lovers reading this are looking at this vanilla cupcakes recipe and thinking, "But where's the chocolate?" Never fear—I saved this recipe for Double Chocolate Peanut Butter Filled Cupcakes just for you!
Dessert Recipes
After you make these Birthday Cupcakes, make sure to check out these other funfetti recipes with rainbow sprinkles!
SIGN UP FOR THE WEEKLY
365 DAYS OF BAKING & MORE
NEWSLETTER BELOW!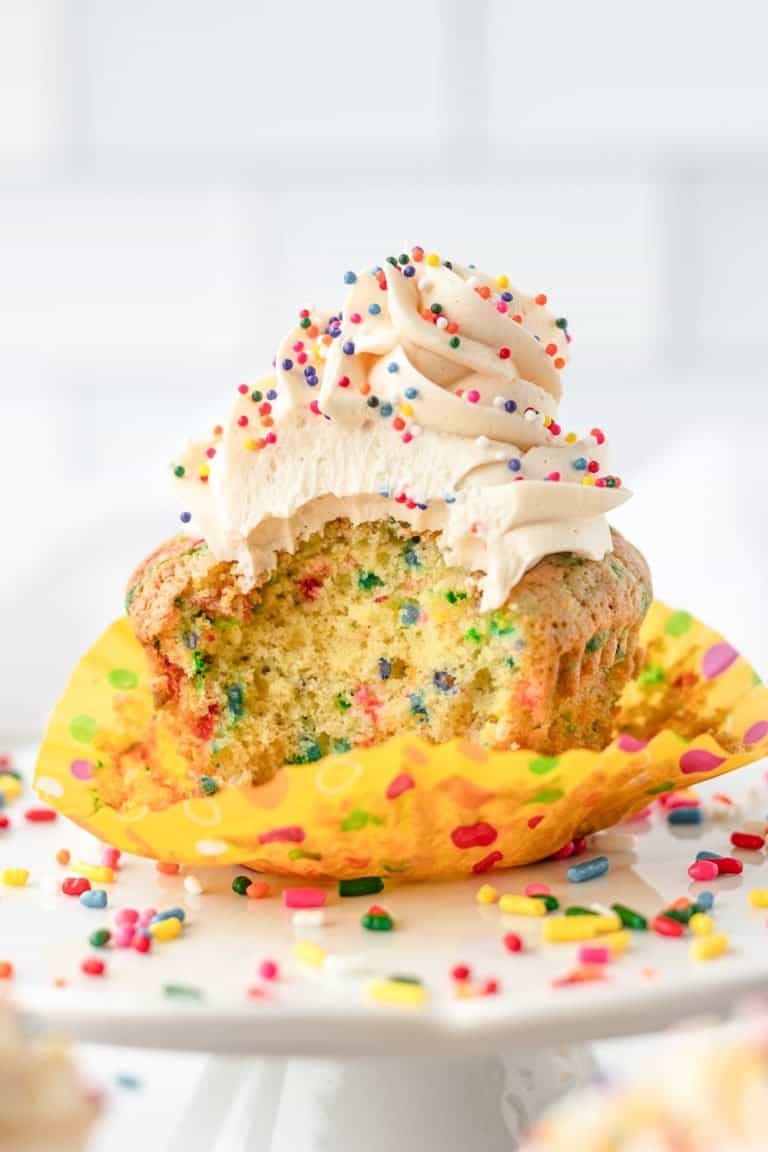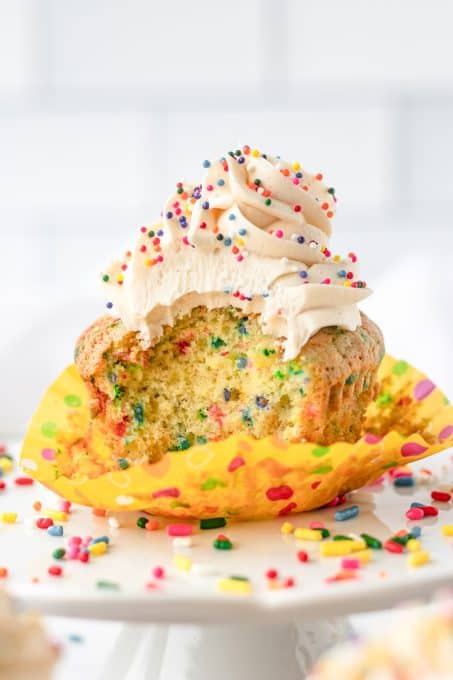 Add some pizzazz to your next party or celebration with a batch of homemade Funfetti Cupcakes! They're the ultimate birthday cupcakes, but you don't even need a special occasion.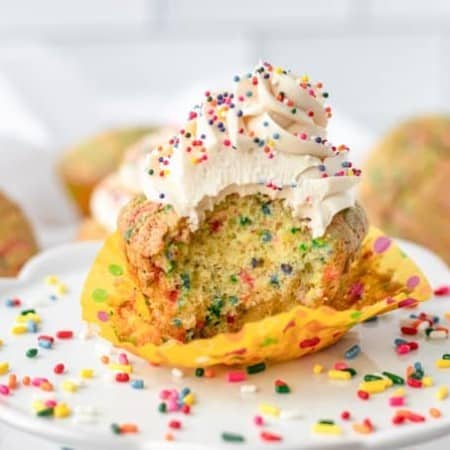 Birthday Funfetti Cupcakes
Birthday Funfetti Cupcakes are loaded with sprinkles for the perfect festive dessert! You'll love these delicious homemade sprinkles cupcakes for all kinds of occasions, from family birthdays to big celebrations.
Equipment
3 medium mixing bowls

1 Mixer

piping bag

piping tip
Ingredients
Funfetti Cupcakes
½ cup unsalted butter room pemperature
1 cup granulated sugar
2 large eggs
1 tablespoon cake batter flavor can substitute 1 tablespoon pure vanilla extract if you'd like
1 ½ cups all-purpose flour
1 teaspoon baking powder
pinch of kosher salt
⅓ cup milk
⅓ cup colored non pareils or colored Jimmie sprinkles, plus additional for decorating.
Vanilla Butter Cream Frosting
1 cup unsalted butter room temperature
2 ½ cups powdered sugar
1 tablespoon pure vanilla extract
1 tablespoon milk if needed
Instructions
Preheat oven to 350°F, and line a 12-cup muffin tin with cupcake liners.

In a medium bowl whisk together the flour, baking powder, and the pinch of salt.

Cream the butter and sugar together in a large mixing bowl for about 3-4 minutes until light and fluffy.

Add eggs, one at a time, beating completely after each addition. Add cake batter flavoring and mix well.

Add half of the dry ingredients and mix until just combined. Slowly pour in the milk while mixing on low. Scrape down the sides and bottom of the bowl, and add the remaining dry ingredients. Mix until just combined.

Fold in the ⅓ cup of non pareils. Evenly distribute the batter between the 12 muffin cups.

Bake for 18-20 minutes. After cooling a few minutes in the pan, transfer cupcakes to a wire rack and cool completely before frosting.
Vanilla Buttercream Frosting
With a mixer, cream the butter in a medium bowl until light and creamy.

Slowly add the sugar while mixing on low. After thoroughly combined, slowly increase speed to medium and add the vanilla. Beat for 3 minutes, scraping down the sides and bottom of bowl as needed.

If the desired consistency is too thick, add the tablespoon of milk, but by doing so 1 teaspoon at a time because you may not need the entire amount. If frosting is too thin, gradually add more powdered sugar until you've reached your desired thickness.

Frost cupcakes and top with additional sprinkles or non pareils.
Notes
Note when using the pure vanilla extract, the cupcakes will be a bit whiter in color. If using the cake batter flavoring, they will be yellow as pictured because of the extract coloring. Also, know that when you add the non-pareils and mix them in that they will most likely streak the batter. If you prefer this not to happen you can substitute the non-pareils for colored sprinkles. 
Nutrition
Serving: 1cupcake | Calories: 462kcal | Carbohydrates: 59g | Protein: 3g | Fat: 24g | Saturated Fat: 15g | Polyunsaturated Fat: 1g | Monounsaturated Fat: 6g | Trans Fat: 1g | Cholesterol: 89mg | Sodium: 18mg | Potassium: 83mg | Fiber: 1g | Sugar: 46g | Vitamin A: 762IU | Calcium: 38mg | Iron: 1mg
Did you make this recipe?
Share it with me on Instagram and make sure to follow me on Pinterest for more recipes.
This post was originally day 153 of my 365 Days of Baking and published on 7/4/11. It has been updated in format and with photos on 5/25/22.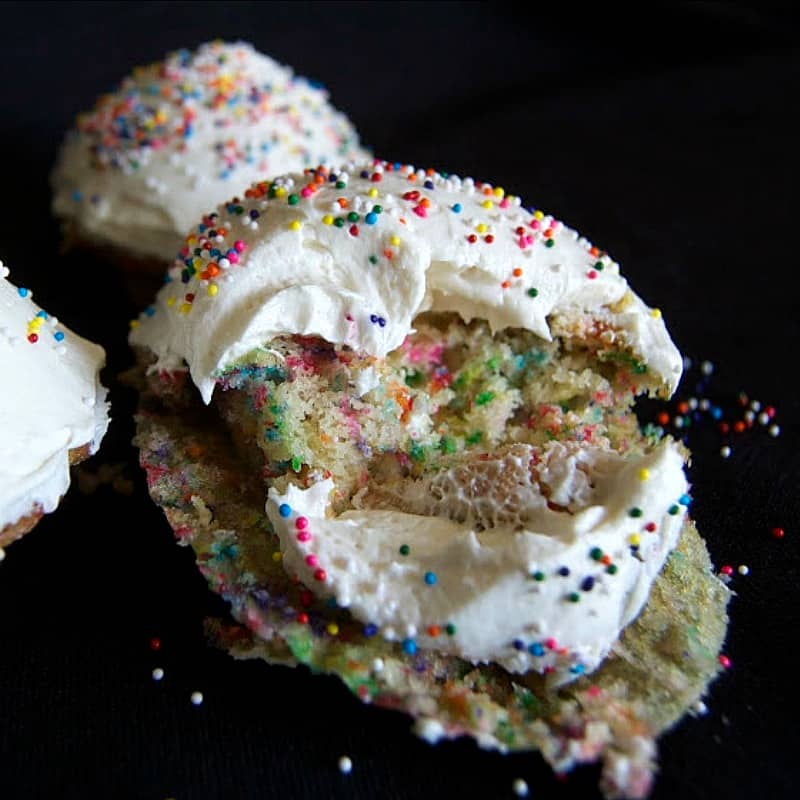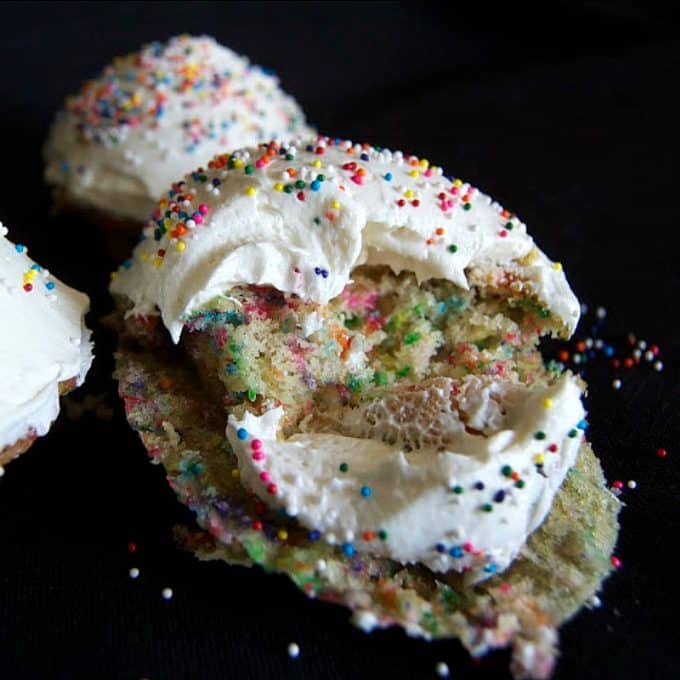 *We are a participant in the Amazon Services LLC Associates Program, an affiliate advertising program designed to provide a means for us to earn fees by linking to Amazon.com and affiliated sites as well as ShareASale.
These are links that can take you to a product (or products) that I recommend. I do receive a portion of the sales or credit for my future purchases from any items purchased through those links. Your purchases encourage my baking, cooking and butter habit, and contribute to the life of this blog. I thank you so very much for your support. Let's keep having fun in the kitchen!!
Reader Interactions